When choosing Easter gifts for kids, we have a chance to reinforce the true meaning of Easter. Here are some great options.
I'm not sure why, but as a Christian I have ambivalent feelings about Easter baskets and the over-commercialization of Easter.
This might be where you roll your eyes and say, You take everything too seriously, don't you?
Yep. Guilty on all counts.
However. Of all the holidays, this one holds the most meaning for me, and for all Believers.
And for my kids, I want them to know what Easter is really all about: the love of a Savior who took on the sins of all mankind – so that we could have a relationship with Him and a future home in heaven.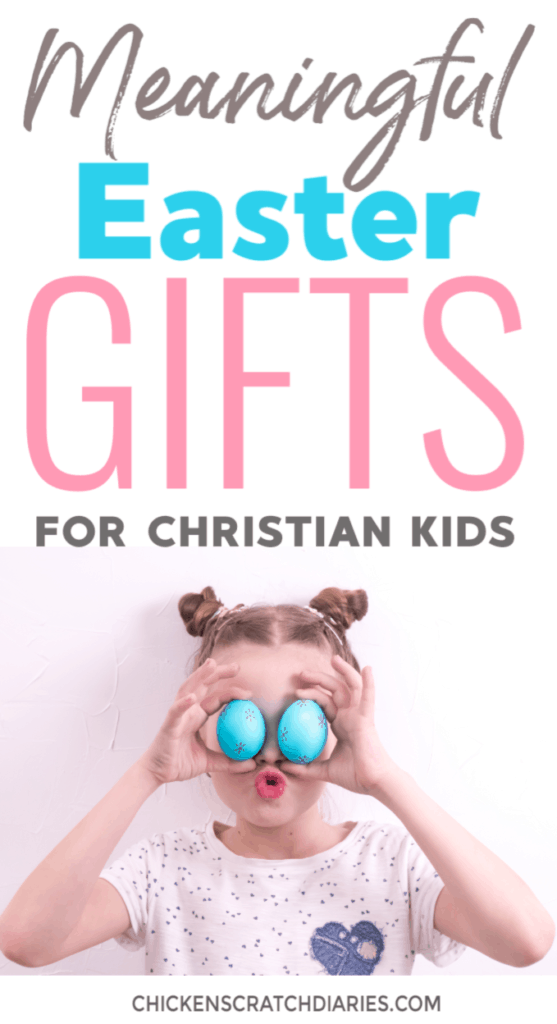 This post likely contains affiliate links. Please see our disclosure for more info.
It's Resurrection Sunday- the day that changed everything, for everyone willing to repent and accept this amazing gift.
Now that's something to celebrate! I guess the question I face each year, then, is how to appropriately celebrate this season, which really should be our focus year-around.
We celebrate at church and while gathered around the dinner table with extended family later that day. These are memories I'll always savor.
And, of course, there's always those Easter eggs to hunt down in the back yard because that's what people do, right?
Table of Contents
Top Reader Picks from this Post
Meaningful Easter Gifts for Kids
But giving gifts is NOT my love language, sadly.
So this, combined with my hope of conveying the right message, means that I've had a hard time justifying a reason to buy my kids gifts or fill an Easter basket with meaningless trinkets.
Or, I may just be turning into an Easter Basket Scrooge. 🙂
But maybe you're like me and if you're going to give Easter gifts to your kids, you want it to reflect the true meaning of Easter even if in a small way.
If so, I think you'll like this list of gift ideas that can help to encourage your child in their faith.
Some of these would make great Sunday school gifts for kids too!
Read next: Bunny Tail Cinnamon Twists- Recipe
Christian Easter Gifts For Babies through Tweens
This cute stuffed lamb sings "Jesus Loves Me". Perfect for babies and toddlers and would actually make a great gift for baby showers too!
I loved muslin swaddles for my babes, so these oversized blankets with Jeremiah 29:11 printed on them caught my eye. This would be a keepsake for your baby/toddler as well as a very practical gift.
I remember riding my bike to the dollar store to buy these pencils as a kid.
These come in a variety pack that you could easily split between several kids or an entire class at church. These bear messages such as "Jesus Loves Me".
Teach the Bible to your preschooler the fun way with this Beginner's Bible Sticker and Activity Book. Reusable stickers are SO much better than the alternative! (And very inexpensive.)
We have several reusable sticker books at our house. They're also a great item to include in busy bags to take to church.
This is a really fun visual aid for retelling the Easter story. We did our own version of Resurrection eggs one year but having this set with the items already included in the eggs would have been much easier!

>Be sure to read next: Resurrection Eggs- Printable Activity Craft
Kids 6 and under will enjoy the colorful illustrations in this very popular, easy-to-read Children's Bible.
• Related content: 30 (Budget-Friendly) Gifts Christian Kids Will Love
The "God Gave Us.." books are some of our family's favorites, including this one. They tell Bible truths in a straightforward way that kids can grasp.
The Donkey who Carried a King
A beautiful book with an even better message.
Conveying the power of prayer to young kids — it's never too early to start!
A colorful Bible that will appeal to younger girls through tweens, with wide margins to encourage note-taking and journaling.
A combination of journal + crafting medium, this fun book can also be used for recording prayers and scripture.
If your kids love bullet journals and the "Wreck This Journal" they would probably like this too.
My older girls received this as a Christmas gift and we've really enjoyed going through it together. It tells pieces of Bethany's story (as depicted in the movie Soul Surfer), and highlights her admirable faith and determination after losing her arm to a shark attack.
We have the corresponding Girl After God's Own Heart devotionals (for kids and tweens) so I know this one is a winner (at least in our house!).
Kids can take Scripture wherever they go with these wristbands with a message.
Christian Gift Ideas For Teen Girls
You can never have too many Bibles! My oldest daughter has this Bible that she picked out herself, and it's a great choice. It's made with thicker paper and wide margins to help her discover the practice of note taking and deeper study.
A fun and necessary accessory for Bible journaling.
• Related post: The Best Art Gifts for Your Creative Kid
If your child is newer to Bible journaling this kit would have everything they need to get started, including highlighters, special pens and stencils.
I know that my preteen would LOVE this necklace. She's been begging for some new jewelry to wear to church and this would suit her style for any occasion.
I would consider this room decor + useful Bible study tool. My oldest daughter has these, and likes to leave them on her night stand where she can see them.
We've been working on Scripture memorization, so I love gifts that can remind my child how important it is to hide God's word in their hearts.
And one more from Sadie Robertson. This devotional has received great reviews and it's on our list next!
We love decor with a message, like this set of 4 wall plaques.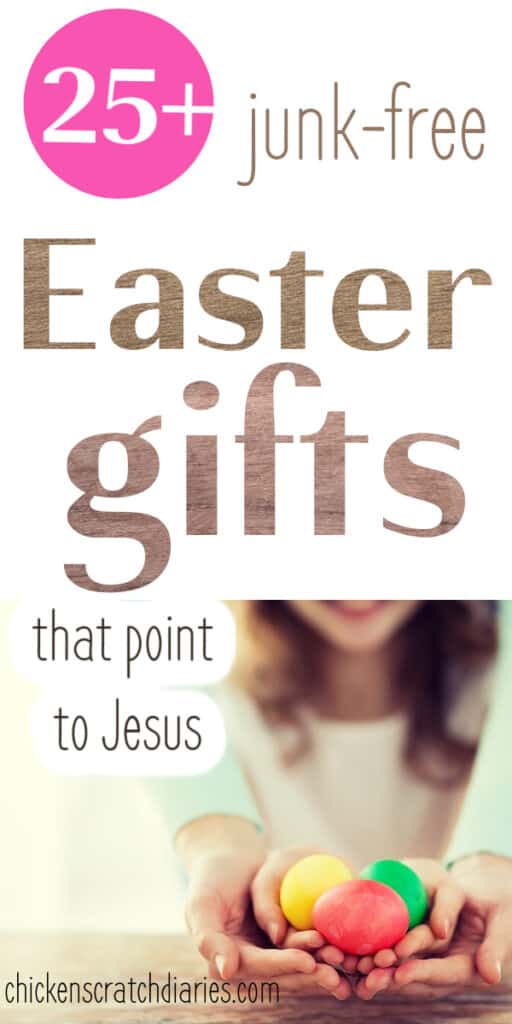 Christian Gifts For Teen Boys
An easy-to-carry compact Bible for carrying at school or anywhere.
This book tells it like it is, which most boys can appreciate. It encourages them to take Jesus seriously by addressing challenges that teens face – and how to confront them through prayer.
We used the video Bible study based on this book in our Youth class at church and it really hit home. I would highly recommend this book for young men (or any sports fan).
A practical, faith-based guide to everything a young man needs to survive in life.
A useful gift for your (older) teen outdoorsman.
Necklace with engraving of Proverbs 4:23 : "Above all else, guard your heart, for everything you do flows from it."
For the coffee fans. Fill it with his favorite k-cups! Great conversation starter at school or work.
Christian Gift Ideas for Every Season
You may have noticed that finding quality religious Easter gifts for kids isn't always easy.
So if you find yourself struggling to find gifts that have meaning this Easter, I hope this list makes your shopping a little easier.
Many of these ideas would be great for birthdays, Christmas, graduations and Sunday School promotions as well.
No matter what, I pray that we can all take time to reflect on the true meaning of Easter and find joy in a living, loving God.
You might also like:
• 30 Inspirational Gifts for Kids
• Resurrection Craft Activity for Kids
• Gifts for the Woman Who Wants Nothing (that she will use and love)
• 5 Meaningful Christmas Eve Traditions for Families
• 50 Fun Questions to Ask your Kids- to Grow Your Relationship and Their Faith
• Unique and Inspiring Gifts for Christian Women – that also Give Back