If you've ever been frustrated with how to keep your kids quiet and engaged at church and other places, you need to discover the magic of busy bags!
While we work hard at limiting screen time (especially for the younger two kids), it seems that their attention spans are, unfortunately, conditioned to the fast-moving pace they're accustomed to on a screen.
So it's no wonder that when they need to be quiet and busy without screens, they have a hard time staying engaged with a coloring book and crayons.
But with a little preparation, you can make some awesome busy bags that your kids will enjoy and look forward to.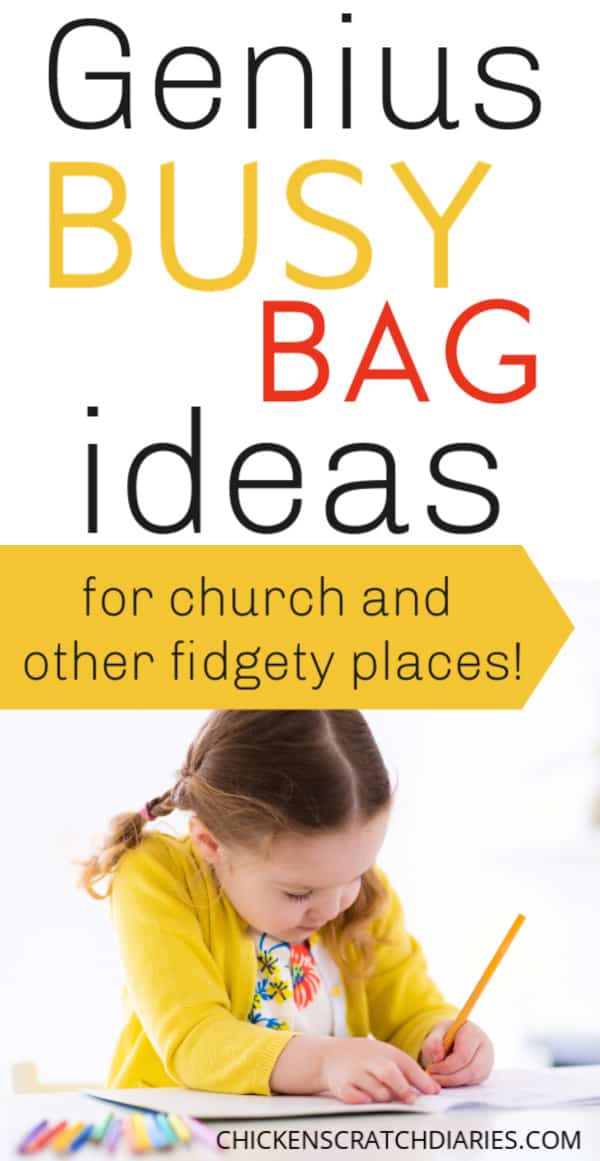 This post likely contains affiliate links. Please see our disclosure for more info.
Top Reader Picks from this Post
The magic of activities-in-a-bag
Not only is it important to have screen-free fun, it's necessary in places where screens would be a distraction, such as in church.
(We also don't allow them in the car unless it's a long trip. It's just a bad habit we didn't want to start.)
Keeping their hands busy doesn't mean that their minds can't engage with the sermon, either.
Side story: I was always doodling pictures as a kid in church and I made the decision to follow Jesus at age 6, after responding to our pastor's message.
Kids absorb more than we realize.
I'm going to share some no-brainer busy bag ideas, aka "quiet bags" for church or wherever you need them – to make it easy for you to assemble your own.
Where you might need busy bags
My motivation for finally putting together some busy bags was for church – where it was most often necessary!
We've visited some churches where busy bags were given out at the front door for families. I think it's a great ministry to visiting families and members alike.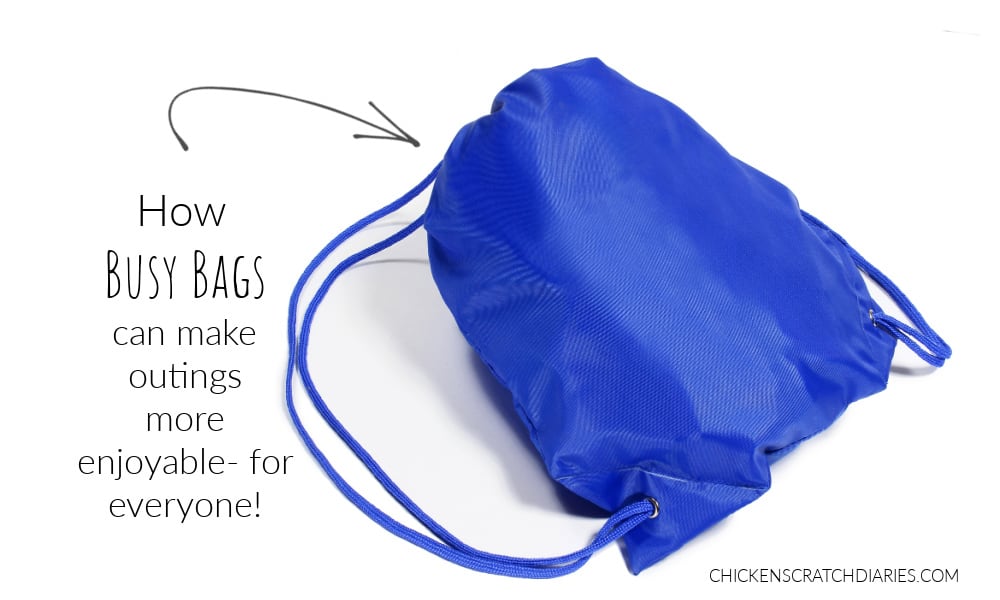 So, if you have success making some of these for your kids, consider making a dozen more to share the love!
But there are lots of reasons you might want to have a stash of busy bags handy:
While waiting at restaurants
Long car trips (30 minutes can be LONG for some kids)
At the doctor's office (when you have to take them to your appointments, especially- usually no toys around)
While you work at a home business OR at your office and need to concentrate
While homeschooling and you need to entertain the younger kids
While cooking dinner
When you just want kids to take a break from the screens
Tips for choosing the best church busy bag activities
Simple toys and activities win every time.
Store away the busy bags in a place where the kids can't play with them throughout the week. Give them something to look forward to for these quiet times, otherwise the novelty will wear off quickly.
Rotate items in and out of the busy bags
Less is more. Kids get overwhelmed with too many choices.
Avoid lots of tiny pieces that might get easily lost or are difficult to pick up quickly.
Take into account your child's individual skill level. Don't pack complicated items in busy bags for toddlers. (Things that will frustrate your kiddo.) That kinda defeats the purpose of a quiet bag.
Same as above – consider your child's age and how they will play with the items you choose. For instance, my 3.5-year-old loves littlest pet shop toys, but I discovered she only wants them to talk to each other (and tries to make me play and talk with them) and that's less than ideal!
NO bouncy balls or other projectile objects!
Putting together a few busy bags doesn't have to be expensive. You can likely find similar items to the ones I'm sharing at thrift stores and garage sales, and I've seen many of these at children's resale shops.
Again, just 2-3 items is all you need per bag. You can build a "stash" over time for swapping out items.
The specific items I'm linking to are on Amazon, simply for convenience sake.
The busy bags we like to use
First, the busy bag itself: the best idea I just recently found was using drawstring backpacks.
We seem to get them for free at least a few times a year and I don't know what to do with all of them between our 4 kids.
The backpacks are my favorite because my kids can wear them and put their Bibles and Sunday School papers inside, too.
I don't enjoy being the Sunday Morning Pack Mule (anyone else?). Backpacks just make busy bags for church that much easier.
If you don't have a plethora of freebie backpacks, you can get them on Amazon too.
Having several on-hand will keep you from having to repack them as frequently.
Just stuff & keep them up in the closet, and rotate as needed!
Another option is to use plain canvas bags like the ones shown above, which your kids could also have fun decorating at home.
Busy Bag ideas for toddlers, preschool and younger elementary kids
Rather than sorting these by age, I'm just going to list items that could work for any age where a child probably isn't old enough to sit still and listen to the sermon without keeping their hands busy at the same time.
Toddler church activities are often the hardest to come up with. However, my three-year-old and six-year-old both enjoy these various items, so I believe they'll fit a range of ages.
Of course, choose items that would be most appropriate for your child(ren).
Busy Bag Free Printables for Church
Check out this site for free Bible coloring pages you can print at home.
Stuff them in your church busy bags with the twistable crayons and you're ready for Sunday, or wherever else you might be headed with little ones!