This site contains affiliate links to products. As an Amazon associate, I earn from qualifying purchases. Please read my disclosure for more info.
I'm pretty particular about what I buy my kids for Christmas, especially in recent years.
At our house, we really try to not buy into the hype that surrounds many of the popular Christmas gifts for kids.
We don't stand in line at Black Friday and we really try not to emphasize STUFF over the meaning of Christmas.
When I start making Christmas lists, I like to carefully choose presents my kids will remember for a long time -or at least until Spring! 😉
I also want to choose at least a few gifts that reflect our goals and values as a Christian family — all while sticking to our Christmas budget!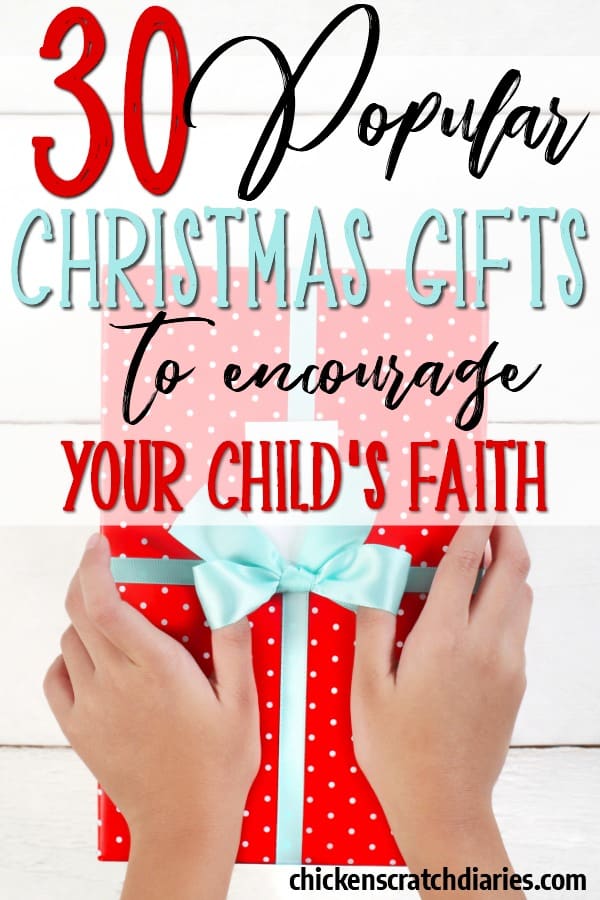 This year I decided to round up the best Christian Christmas gifts for kids. These aren't elaborate gifts, but they do have meaning and that's what I love about them.
At any rate, it still takes time to hunt down a few presents that each of my four kids will enjoy.
I've spent some time browsing and narrowing down my top picks for each age group to help out all the busy moms (and grandmas, aunts…) like me.
30 Christmas Gifts for Christian Kids
Listed below are some of the best Christmas gifts on a budget for kids of ALL ages.
We own many of the items on this list, and these are gifts specifically aimed at encouraging kids in their faith.
Of course, I'm writing this at Christmas time but these gifts would be great picks for any occasion.
The best part? Each of these affordable Christmas gifts for kids can be found Amazon, which is perfect when you have little time to shop, especially alone!
Read Next:
• The Secret for Getting Organized & On Budget This Christmas (Free Printable!)
• Inviting Jesus in: 5 Meaningful Christmas Eve Traditions for Families
• 35+ Children's Books that Teach Values and Morals
• Gifts for the Woman Who Wants Nothing (that she'll actually love)
*This post was originally published on 11/4/18 and last updated 11/1/19.
Ages 0-4


This Noah's Ark Shape Sorter from the high-quality Melissa and Doug toy line is not only the cutest.thing.ever but it will keep your toddler entertained for hours. It comes with 26 animal blocks and it's built to last for many years!


The perfect conversation piece for your baby to evangelize at the playground. 🙂 🙂 But seriously, I laugh out loud every time I see this. Who wouldn't want some pictures of their baby in this awesome shirt?


You can't beat a good lift-the-flap book for babies – all the way through the preschool years. We must have a dozen but this one is especially cute!
It's never too early to start reading to your child. PLUS, books typically fall into the "cheap Christmas gifts for kids" category and they'll last a lot longer than a cheap toy.
Another great Melissa and Doug toy – these stacking blocks can be used as a teaching tool while helping to build fine motor skills. I love the nesting feature as well – a great space saver! (P.S., kids LOVE these. We've had the same set for many years now.)
Ages 3-7
At Christmas, devotions for kids is one item that's always on my list. I'm pretty sure I learned all of the Important Lessons of Childhood from the Berenstain Bears. They've been helping parents communicate important truths to kids since 1962 (for real)!
In this Devotional, kids not only learn life lessons but they will see that these truths come from a very personal, loving God. I think there are a lot of great conversations that will springboard from these daily readings!


WHERE HAVE THESE BEEN ALL MY LIFE. I just bought a similar Melissa and Doug reusable sticker book for my son a few months ago and let me tell you — genius! I have always hated regular stickers and banned them from my house a long time ago!
If you're looking for budget friendly Christmas gift ideas, reusable sticker books like these provide hours of (non-furniture-destroying) fun. 🙂
This is one of those classic Christian gifts for toddlers that just never gets old or forgotten. My younger kids love to play with my (extremely fragile) nativity set and beg me to keep it up longer each year.
So, I'm gifting this playset to my youngest this year (finally, right?).


This is a newer book – written by Chris Tomlin who authored the song by the same title – which I predict will become a classic. (I mean, can you even listen to this song without tearing up? Just try it.)
I can't wait to read this one with my two youngest – what a great message!
Kids can act out the stories of Jesus traveling with his disciplines (and more) with this play set.
Let's be honest, my son will probably pretend they are superheroes that fight each other. A little redirection might be needed! But a cute idea nonetheless.
This 3-in-1 book collection by Lisa Tawn Bergren includes God Gave Us the World; God Gave Us Love and God Gave us Heaven.
I bought this two Christmases ago for my son, now 4, and it's still one of his favorites.
You might be familiar with the original book, God Gave Us You, which we also love at our house. It's simply a must-read and it's always at the top of my recommendations for Christian gifts for children.
Ages 6-11



This devotional book has a five-star rating and when you flip through the pages, you'll see why.
With photos, illustrations and animal facts that speak right to the science-loving kid, this has quickly become my ten-year-old's favorite devotional. (In fact, she can never stop at just one day's reading.)
What better way to encourage learning than by discovering the Earth's creator and His master plan that set everything in motion!


You can't go wrong with Buck Denver! This creative collection of videos comes from the creator of Veggies Tales, Phil Vischer.
You may be familiar with the Buck Denver "What's in the Bible" series. It teaches about the history and foundation of the Bible in such a fun way (think puppets teaching apolgetics) that I even find it entertaining AND educational as an adult.
We just bought this video and it's amazing AND hilarious. I have actually seen it twice so far and wouldn't mind watching it again.
Just a fair warning: You'll probably get the songs stuck in your head – but it could be much worse! (Dora the Explorer comes to mind.)


Yep, another science book! I have a science-and-animal lover so I'm always on the lookout for a great science book that teaches from a Creation standpoint.
I also see it as one more tool to keep us busy on snow days and summer break! P.S., also check out the Institute for Creation Research for more book ideas for kids on science and Creation.


If your child loves the comic-style books that are popular right now such as Diary of a Wimpy Kid, Big Nate or Dork Diaries, they will likely be enthralled by the Action Bible.
My ten-year-old has read this Bible cover to cover maybe twice already?
This Bible has been around for many years and the format tends to appeal to both boys and girls. It tells the Bible stories in chronological order and it will keep your reader on the edge of their seat!
This game is recommended for ages 10-14 but I think it could easily fit into this age group and into the teen years.
It's an awesome tool for learning more about the Bible and it can keep your family busy for HOURS.



For the 8-12 year range, I really like this devotional and it's sparked some thoughtful conversations between my two daughters at bedtime. It's easy to digest but not "fluffy", if you know what I mean.
Read Next: Teaching Our Daughters Girl Power, God's Way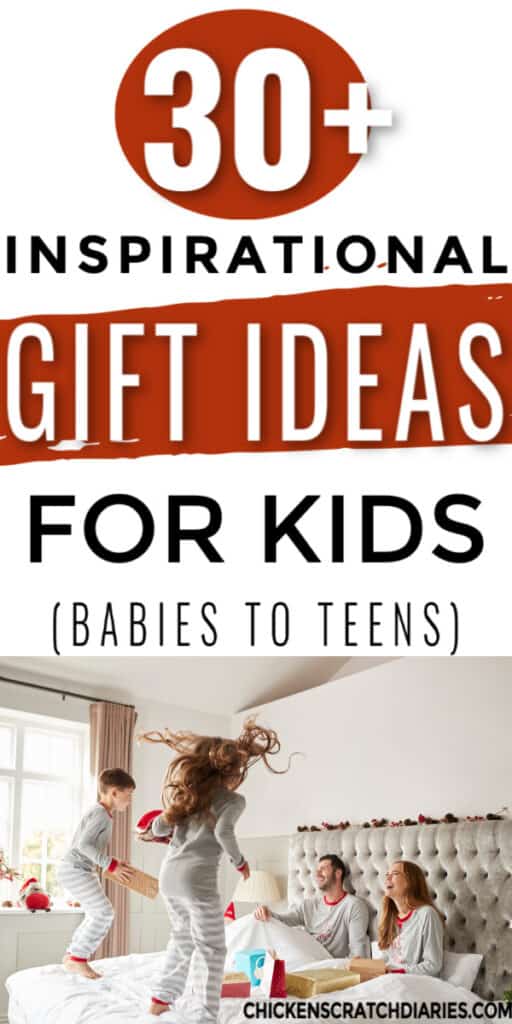 Ages 12+
Faith-Based Apparel
It can be hard to find Christian gifts for kids, but especially for the preteen / teen in your life.
My 13-year-old steals my Christian t-shirts all the time so it's safe to say these would be a winner at our house. (Her official uniform is t-shirts and zip-up hoodies lately.)
Let your preteen/teen daughter make a statement with these "Grace Wins", "Blessed", "Be Kind, Be Brave" or "It Is Well With My Soul" t-shirts.






For guys, take a look at these "Amazing Grace" "I Am Not Ashamed" and "He Died So That We May Live" tees or "Cross Training" hoodie.










This would be a great gift for the student athlete in your life – boy or girl.


A genuine leather wallet with Joshua 1:9
inscribed on the front. I love this simple design!


"I can do all things through Christ who strengthens me."
One of my favorite verses and a great reminder for the tough teen years especially.


I've recently used some of Jonathan McKee's materials for Bible study in our Youth class at church and it's been a great experience for us. This book covers topics specifically relevant to guys, and I think it addresses some incredibly important details – in a very relatable way.


Any journal can record prayers, but this one is formatted for this specific purpose. It's also beautifully inspiring; the perfect Christmas gift on a budget for the creative girls in your life.


We have several books by Elizabeth George and my girls have requested more by this author. They are really encouraging and we've enjoyed reading them together.
This one is recommended for teens but depending on maturity level, girls ages 12-16 would probably enjoy this book.
I hope you find that these popular Christmas gifts hit the mark with your kids like they did with mine!
For more Christian inspirational gifts for the non-kids in your life, I recommend taking a look at Dayspring. I have found many affordable gifts for my mom, sister and the graduates in my life (just to name a few) at Dayspring.
While I like to remind myself that the best Christmas gifts for kids are the kind that don't come under the tree (thanks, Dr. Suess for this reminder!), this selection of gifts can reinforce the message of faith and truth that you seek to instill in your kids.
Happy shopping! Leave me a comment below and let me know if this Christmas gift guide was helpful for you! 🙂
You might also like:
• Over 60 Gifts for Kids who Love Arts and Crafts
• Easter Gifts for Kids – to Encourage Their Faith
• Unique Christian Gifts for Women – that also Give Back
• Favorite Online Bible Study Tools -Series Introduction