This site contains affiliate links to products. As an Amazon associate, I earn from qualifying purchases. Please read my disclosure for more info.
I'm pretty particular about what I buy my kids for Christmas, especially in recent years.
At our house, we really try to not buy into the hype that surrounds many of the popular Christmas gifts for kids.
We don't stand in line at Black Friday and we really try not to emphasize STUFF over the meaning of Christmas.
When I start making Christmas lists, I like to carefully choose presents my kids will remember for a long time -or at least until Spring! 😉
I also want to choose at least a few gifts that reflect our goals and values as a Christian family — all while sticking to our Christmas budget!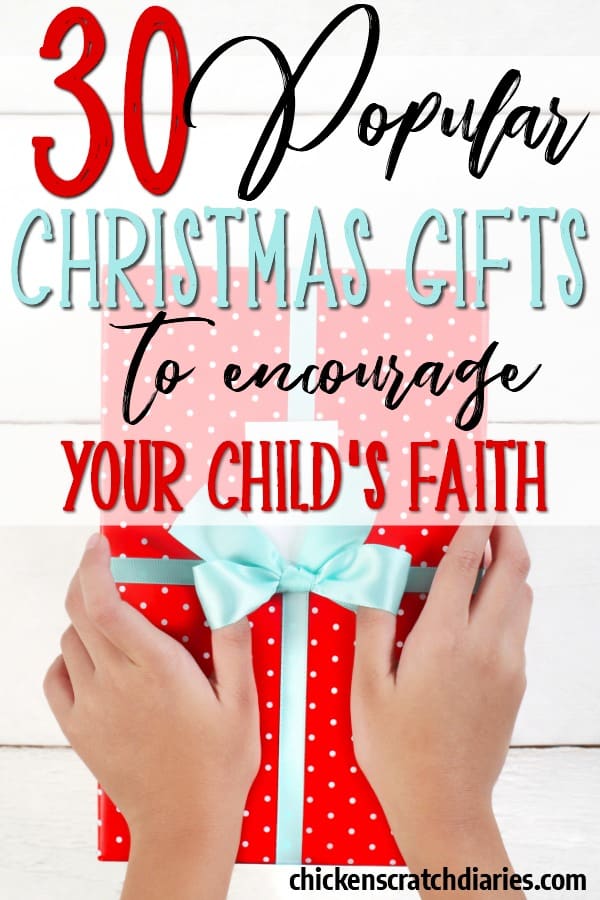 This year I decided to round up the best Christian Christmas gifts for kids. These aren't elaborate gifts, but they do have meaning and that's what I love about them.
At any rate, it still takes time to hunt down a few presents that each of my four kids will enjoy.
I've spent some time browsing and narrowing down my top picks for each age group to help out all the busy moms (and grandmas, aunts…) like me.
30 Christmas Gifts for Christian Kids
Listed below are some of the best Christmas gifts on a budget for kids of ALL ages.
We own many of the items on this list, and these are gifts specifically aimed at encouraging kids in their faith.
Of course, I'm writing this at Christmas time but these gifts would be great picks for any occasion.
The best part? Each of these affordable Christmas gifts for kids can be found Amazon, which is perfect when you have little time to shop, especially alone!
Read Next:
• The Secret for Getting Organized & On Budget This Christmas (Free Printable!)
• Inviting Jesus in: 5 Meaningful Christmas Eve Traditions for Families
• 35+ Children's Books that Teach Values and Morals
• Gifts for the Woman Who Wants Nothing (that she'll actually love)
Ages 0-4


This Noah's Ark Shape Sorter from the high-quality Melissa and Doug toy line is not only the cutest.thing.ever but it will keep your toddler entertained for hours. It comes with 26 animal blocks and it's built to last for many years!
The perfect conversation piece for your baby to evangelize at the playground. 🙂 🙂 But seriously, what could be more adorable – and true. Who wouldn't want some pictures of their baby in this awesome shirt?


You can't beat a good lift-the-flap board book for babies – all the way through the preschool years. We must have a dozen but this one is especially cute.
It's never too early to start reading to your child. PLUS, books typically fall into the "cheap Christmas gifts for kids" category and they'll last longer and hold more meaning than any plastic toy.
Another great Melissa and Doug toy – these stacking blocks can be used as a teaching tool while helping to build fine motor skills. I love the nesting feature as well – a great space saver! (P.S., kids LOVE these. We've had the same set for many years now.)
Ages 3-7
At Christmas, devotions for kids is one item that's always on my list. I'm pretty sure I learned all of the Important Lessons of Childhood from the Berenstain Bears. They've been helping parents communicate important truths to kids since 1962 (for real)!
In this Devotional, kids not only learn life lessons but they will see that these truths come from a very personal, loving God. I think there are a lot of great conversations that will springboard from these daily readings! We have loved this devotional at our house with both of our 2 younger kids (ages 3 and 6).


WHERE HAVE THESE BEEN ALL MY LIFE. I just bought a similar Melissa and Doug reusable sticker book for my son a few months ago and let me tell you — genius! I have always hated regular stickers and banned them from my house a long time ago!
If you're looking for budget friendly Christmas gift ideas, reusable sticker books like these provide hours of (non-furniture-destroying) fun. 🙂
I also found these new sets from the Beginner's Bible line this year and the smaller size would fit in most stockings! Includes both reusable stickers and activity pages.
This is one of those classic Christian gifts for toddlers that just never gets old or forgotten. My younger kids love to play with my (extremely fragile) nativity set and beg me to keep it up longer each year.
So, I'm gifted this playset to my youngest last year (finally), and they actually enjoy playing with it all year long.


This is a newer book – written by Chris Tomlin who authored the song by the same title – which I predict will become a classic. (I mean, can you even listen to this song without tearing up? Just try it.)
I can't wait to read this one with my two youngest – what a great message!
Kids can act out the stories of Jesus traveling with his disciplines (and more) with this play set.
I love these figurines that can help teach Bible stories at the same time. Would be great to use for Sunday School as well. (My son is 7 and I think he would still enjoy playing with these sets.) There are several to choose from such as David and Goliath, Jesus Walks on Water and Daniel and the Lion's Den.
My three-year old is OBSESSED with the Water Wow "paint" sets. It's sort of like water-colors, except mess-free. It comes with a pen that you fill with water and the color appears when you brush the water-pen across the picture. After it dries, you can re-paint the picture again and again. (P.S., cheap entertainment alert.)
Read Next: Teaching Our Daughters Girl Power, God's Way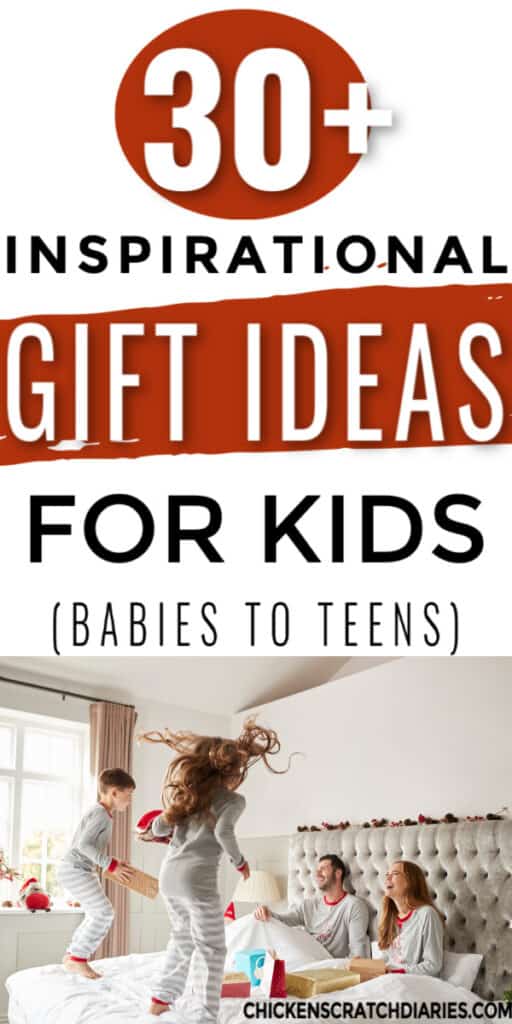 Ages 13+
I hope you find that these popular Christmas gifts hit the mark with your kids like they did with mine!
For more Christian inspirational gifts for the non-kids in your life, I recommend taking a look at Dayspring. I have found many affordable gifts there for my mom, sister and the graduates in my life (just to name a few).
While I like to remind myself that the best Christmas gifts for kids are the kind that don't come under the tree (thanks, Dr. Seuss for this reminder!), this selection of gifts can reinforce the message of faith and truth that you seek to instill in your kids.
Happy shopping! Leave me a comment below and let me know if this Christmas gift guide was helpful for you! 🙂
Need more gift ideas? Check out our new shop below!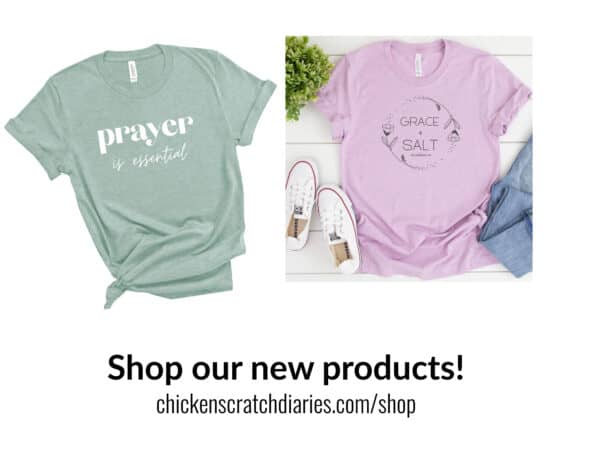 You might also like:
• Over 60 Gifts for Kids who Love Arts and Crafts
• Easter Gifts for Kids – to Encourage Their Faith
• Unique Christian Gifts for Women – that also Give Back
• Favorite Online Bible Study Tools
• 50 Questions about Faith and Family – for Kids
*This post was originally published on 11/4/18 and last updated 10/10/20.