This site contains affiliate links to products. As an Amazon associate, I earn from qualifying purchases. Please read my disclosure for more info.
If you also have a child who thrives on creativity, you might feel like you're attempting to re-invent the wheel when it comes to choosing birthday and Christmas gifts. This list of art gifts for kids will be a helpful tool this time around!
I know I've personally spent many hours combing Amazon for unique and fun gifts that will inspire my kids who love to paint, craft, write and draw to their heart's content.
Below, we've compiled over 60 of the top picks that kids love. (At least, my budding artists give these a thumbs-up!)
Take a look at these creative gift ideas for the art-loving kid in your life.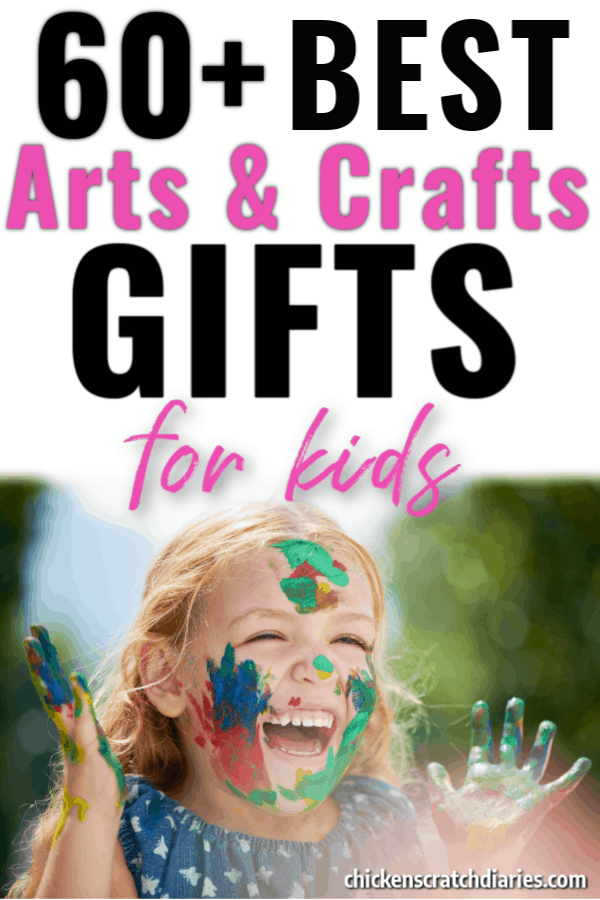 Budget-Friendly Art Gifts
Paint your own suncatchers. I don't know a child who loves arts and crafts and DOESN'T love these!
Includes 12 suncatchers and supplies to make 20 projects. Recommended for ages 6-15.
Bright colors hide beneath the black coating on each note. Includes and wooden stylus for scratch-off fun and rainbow surprises. 125 cards are included.
These would be great for taking on the go for doctor's appointments or the like.
Create your own unique designs on adorable title squares. Attach a magnet on the back and stick these on the fridge or a metal desk or door.
Includes paint and brush. Recommended for ages 8 and up.
This fun kit makes five emoji bead bracelets. Includes beads, cords, and a easy to follow instructions.
Create a one of kind windchime with this kit. This kit combines the science of wind with the fun of arts and crafts.
Great for ages 8 and up.
This 12 X 18 portfolio has nine expanding pockets to store your child's most treasures works. There's 4 X 6 photo window on the front to add a personal touch.
It's the perfect art gift to encourage your beginning artist.
A simple journal can become a loving personal gift very quickly. It's often a favorite gift for my two girls!
Add some nice pens or felt tip markers to the make it a set.
Write a note of encouragement inside the cover, and it's ready to go.
There are never enough gel pens! This set has good reviews and includes glitter and neon pens.
If your kids like to scrapbook, these are a must. My teen uses them a lot with her Fujifilm Instax mini photo projects.
Moderate-Budget Art Gifts
Science and creativity in one! The set includes fun shapes like stars, cats, and cupcakes and facts about the "chemistry of clean".
Also includes a 36-page book. Recommended for ages 6+.

The evenly lit surface of this board makes tracing lines easy to see. What's even more fun? You can use those board in the dark.
Camping trips, nighttime car rides or road trips, and sleepless night just got way more fun!
Includes pencils, tracing paper, and over 100 traceable images. For ages 6 and up.
Kids will walk away with sewing skills after using this kit. Love that!
Makes five animals and is the perfect project to do with friends. Could be used for a unique birthday party activity.
Recommended for ages 7-12.
This kit includes three 8.5-inch string art canvases, 170 pins, and 60 yards of string. Everything you need for three projects.
This particular kit is the bird edition, but they have owls, pandacorns, and ice cream cone patterns too!
This is such a creative way to teach and spread kindness! The kit includes enough supplies to make 12 paper flowers.
176 sheets of bright and fun colored paper, 12 flower stem wires, hanging vase with lacing ribbon, 12 leaf tags, and a Renegade mask to conceal your identity. Recommended for ages 8 and up.
This box is filled with mixed media goodness!
This STEAM box is filled with 7 creative challenges. Kids will make their own mobile, sculpture, self-portrait and more.
It's kind of like a grab bag of projects and includes 7 cards with prompts to help get the creativity going!
This is a unique puzzle kit. Includes 4 animals and 12 markers.
Each animal is covered in gorgeous designs begging for bright colors and your child's creativity.
This complete kit includes everything you need to create 3 water globes. Use colorful modeling clay to create a custom seascape.
Recommended for ages 6 and up.
So retro, so fun! Color images on the special baking sheets and watch your creations shrink into treasures you can keep forever.
Includes 6 8 X 11 sheets. Color, bake, shrink!
Air dry clay is the best! It's so fun to work with and dries quickly.
My 5-year-old and 10-year-old both love modeling clay. It's also easier to clean off of your skin than regular clay because it's not sticky or greasy.
This set includes 24 colors, tools for shaping, idea booklet, and bags to keep your creations.
This colorful case includes everything your budding artist needs to get going in any direction. It's perfect for all ages and great for taking supplies to homeschool co-op or friend's house.
The set includes 64 Crayola crayons, 40 washable markers, 1 rainbow art storage case, 20 short colored pencils, and 15 large paper sheets. Also comes in pink!
Does your local area participate in rock painting? I love this trend! (I mention a project we did in this post too.)
It's such a fun way to spread positivity and love to total strangers. Do your kids look for rocks or paint them and leave around town? This kit will be perfect for them!
Includes waterproof paint and 10 rocks.
Where are my glitter lovers?
I frequently joke about sand and glitter being the 2 things you'll never get rid of. BUT my kids love it, so if glitter doesn't scare you away, this is great kit!
The set includes over 50 pieces for creating glitter goodness. Recommended for ages 5 and up.
This is such a cool way to practice eye hand coordination and it's perfect for kids from 3 yrs. and up.
Bonus- it includes 3-D glasses. So fun!
(And no glitter to clean up! Ha.)
This is a portable Art Set that allows the mess of sprinkles and shaking without the clean-up.
Get crazy creative with 12 project sheets, 5 bottles of sprinkles, and 6 glue tubes.
Recommended for ages 6 and up.
Everything you need to paint and plant your mini flower garden.
The kit includes a planter (12 X 4.5 X 4 inches), plastic liner, soil, 3 seed packets, 6-color paint strip, 2 paint brushes, paint palette, 3 wooden plant markers, shovel, watering bottle, and beautiful instruction booklet.
Fun, creative, and educational all in one!
Build and paint three wooden cars. Little boys will especially enjoy this one.
Includes 42 pre-cut and pre-sanded wooden pieces to make 3 cars, sandpaper, 2 paint brushes, 12 pots of acrylic paint, 3 pots of glue, 3 sticker sheets, and easy-to-follow instructions.
This is an adorable mixed media kit that includes 16 different projects.
Each one makes a great art gift for children as young as 3 years old. Perfect for keeping little ones busy!
This mat is 30 X 30! Large enough for one than one child to play with.
This is the perfect fit for spaces that can't be covered in paint and glitter. This is a mess-free activity!
This stencil set includes 15 stencils with wide frustration-free lines.
It's perfect for taking on the go and comes with a little backpack and pencil case.
This kit includes all the supplies needed for seven projects. Includes 32 craft sticks, 85 stickers, 42 paper shapes, a glue stick and easy picture instructions.
This is easy enough for preschoolers and perfect for a small group.
Mess-free? Yes, please!
This would be perfect for car rides! The carrying case holds mess-free markers, stamps, and 24 blank pages of Color Wonder paper.
Great for keeping toddlers busy wherever you go.
A childhood favorite of mine for sure! Spirograph tins are a must!
This set includes 7 wheels, 1 ring, 1 rack, spiro-putty, 2 pens, 10-page guidebook, design paper, stored in a collectible tin with snap-in storage tray.
This 100-piece kit is filled with classic Crayola goodness. This is a great art gift idea for back-to-school!
It's also perfect for travel for families on the go. The travel case makes clean up easy. Just throw it all back in the bin!
Every creative kid likes to have they're favorite tools and supplies on hand and visible. This storage caddy makes a great art gift for kids who are always crafting!
Includes 8 brightly colored containers on a 12" tray. Lots of fun to fill and rearrange.
There are enough supplies in this kit for up to 36 projects! It's a 123-piece set that includes everything you need for tie-dye fun.
I would also recommend this art gift for a birthday in particular. It's a gift, group activity, and keepsake for your guests!
You simply can't go wrong with sand art. I remember doing these at local craft fairs as a kid and they never get old!
Design your own sand art with these easy to use kit. Includes 10 bottles and 10 bags of sand. It's recommended for ages 3 and up.
Premium Art Gifts

This is a great art gift for kids who want to learn how to paint and feel like a pro while they're doing it!
And how many of your kids have enjoyed those painting workshops that are all the rage right now? Now you can bring that experience right to your own table.
This set includes everything your painter needs to get started. Pair it with extra canvases, brushes, paints.
I did spot this tabletop easel that would be a less expensive alternative for beginners.
This is a great set for older kids or teens who are serious about art and includes everything they need to get a wide range of use.
You could get a ton of use of this all throughout the school year especially for homeschooling families!
Includes: 24 colored pencils, 24 oil pastels, 24 watercolor cakes, 3 Mixing trays, 2 drawing pencils, 2 paint brushes, sharpener, ruler, eraser, Field Sketch Book, Watercolor Paper Pad, Drawing Sketch Pad, 15-Piece Brush Set, 10-Well Plastic Palette & Color Mixing Wheel. Wow!
If you have an older child who loves to draw, they have probably asked their parents for these pencils.
They're on my "best art supplies for kids" list because they can't be beat!
It's true that they're pricier than the average colored pencils, but they are high quality. Smooth writing, bright colors. They make a great art gift for boys and girls alike!
This is another very popular request among young aspiring artists!
If you're purchasing a gift for a teenage artist (or tween), these markers will score you major brownie points.
It includes high quality dual-tip markers. Your artist can create a variety of styles.
Art Book Picks
Books make great art gifts for your creative child! Write a personal message inside the front cover to encourage your young artist.
One of these picks could be a book that inspires them for years to come.
If your kids are into the "cute" style of art or "kawaii" and they love learning how to draw things, then this book is for them! My 10-year-old daughter is obsessed with this drawing style right now.
Includes steps for adding charming appeal to any drawing project.
There's also another title by the same Author, How to Draw Cute Animals. Super adorable.
This book is filled with a Hodgepodge of creative writing inspiration. Prompts, poems, and encouragement from writers and poets.
Perfect for the aspiring writer!
25 projects designed to foster original thinking through process art.
With an introduction title of "We Are All Artists" this is sure to inspire the creative kids in your home.

This one has amazing reviews. Gorgeous images that are begging for a set of colored pencils to bring them to life.
I love that this coloring book is all about positive affirmations for girls to help them grow in their self-esteem!
You might want to frame the images and hang them on the wall!
This is a great idea for teens who love drawing and art and want to learn a new and useful skill.
Would also be perfect for bullet journaling!
Learn five different alphabet styles with this book for beginners.
Create your own comic with these blank comic book templates. Over 100 8 X11 pages.
My comic and graphic-novel loving daughter would be thrilled with this pick! She spends many hours reading AND drawing her own comics.
Homeschooler? These would be great for making writing assignments a little more fun.
Have a future author in the family? This book will walk them through the stages of writing their very own book.
It's filled with writing prompts to help develop skills and build confidence.
This book is filled with 52 projects including drawing, painting, printmaking, and paper crafts.
Awesome art gift for kids who love to use mixed media and make a wide variety of projects.
You could make one project a week and complete the book in one year!
More Lab Series titles:
Paint by Sticker (Great for little ones and mess-free!)
Picking the Perfect Art Gift
If you're shopping for a gift for a kid who loves art, you can't go wrong with any of these ideas.
In fact, there are so awesome many gifts for artists in this list that the only problem now is choosing just one! 😉
However, I always take into account the child's personality and current interests (which tends to change each year) and that helps me to narrow it down a bit!
Art gifts are unique in a sense, because you get to encourage a talent they can cultivate and enjoy for years to come. Who knows, it might even lead to a career path later on.
So, I hope you have fun providing inspiration for your creative, right-brained kid!
You might also like:
• Awesome Faith-based Gifts for Kids of all Ages
• Practical Gifts for Practical Women
• Rainy-Day Activities to Keep Kids Busy Indoors