Struggling to find the perfect Christian gift for a special friend? These unique picks may be the solution you need.
Finding that encouraging, faith-focused gift that's just right can take some work.
It's even more challenging choosing something your friend/co-worker/family member hasn't already received for every birthday or Mother's day for the last 10 years!
Finding unique Christian gifts that are meaningful can be a tall order, but I think I've found SEVERAL great options.
The items on this list are some of my favorite picks because they're not only from faith-based organizations, but these companies also give back to very worthy causes.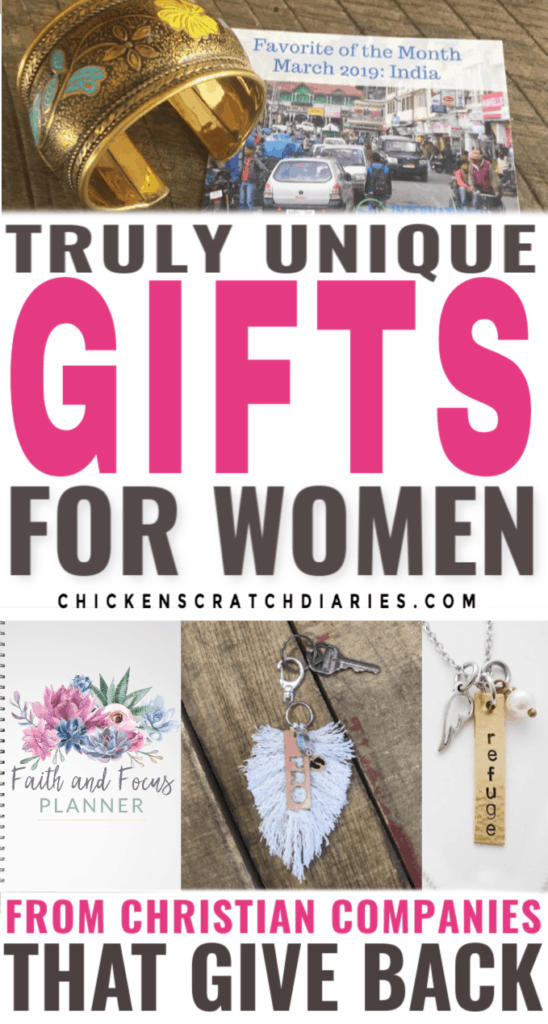 This post likely contains affiliate links. Please see our disclosure for more info.
SUBSCRIPTION GIFT IDEAS
A subscription is the gift that keeps on giving, and there are some great Christian gift ideas on this list that you may have not heard about yet.
ArtzaBox
Your gift recipient can experience the Holy Land through Artza subscription boxes. In fact, it's like a Holy Land tour in a box!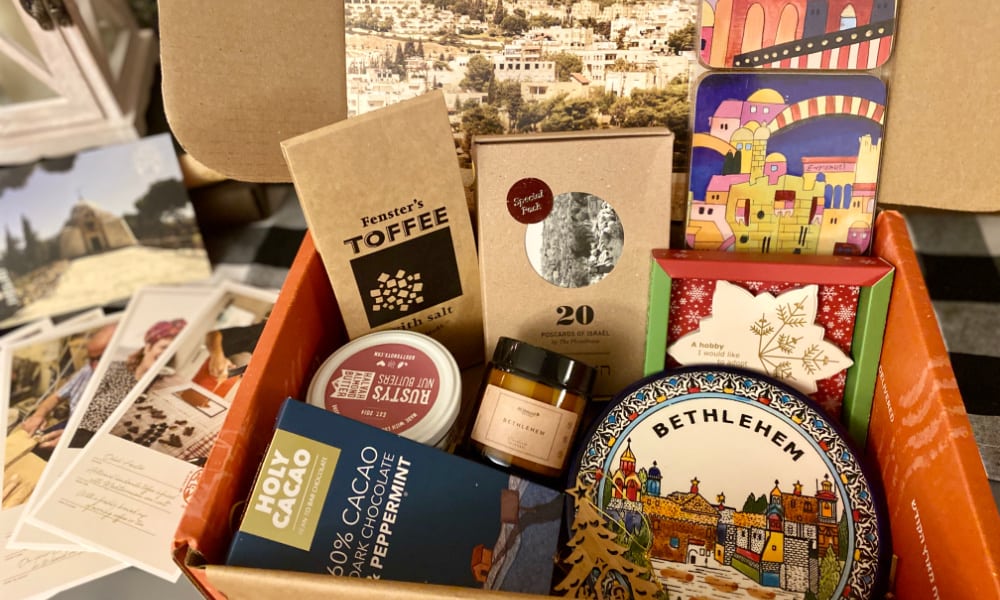 Each box contains a collection of hand-picked items from Israel, including food items, beauty products, unique games and more.
I was blown away by the variety of beautiful items that came in my box all the way from Bethlehem, just in time for Christmas!
Artza works with local businesses and artisans in Israel to provide a variety of quality handcrafted items in every box. Each contributor is featured on the beautiful cards you'll receive in your box, which gives you a glimpse into life in the Holy Land.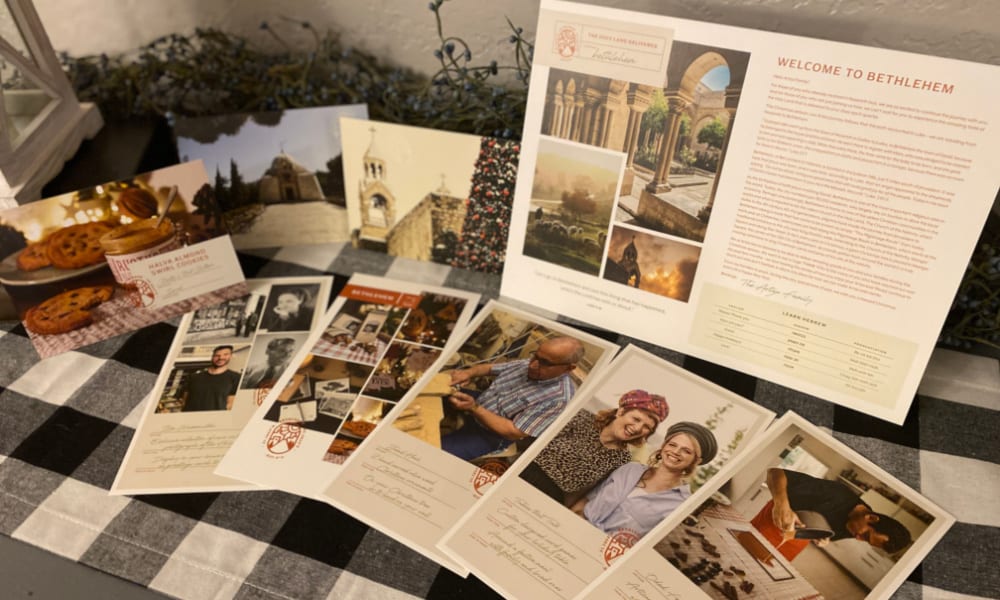 You can choose from two subscription options, and take 20% off when you enter code DIARIES20 at checkout!
God's Glory Box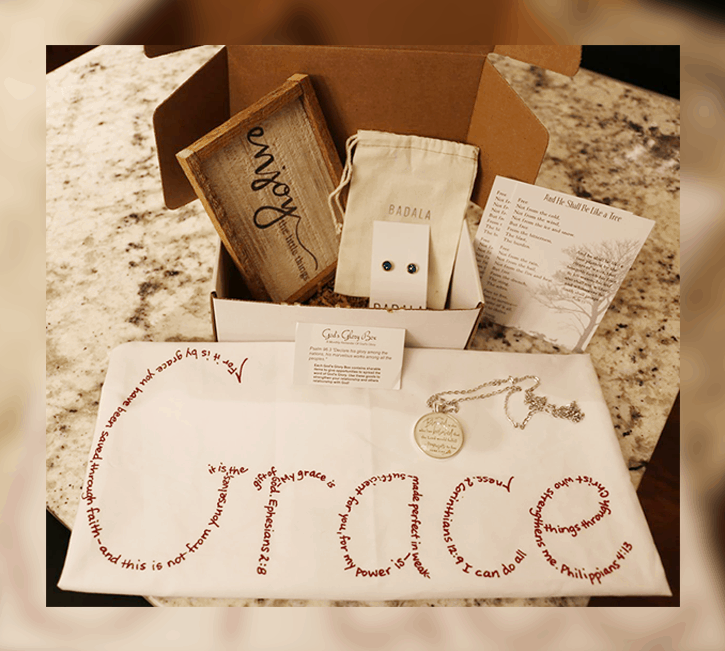 God's Glory boxes contain handpicked, high quality Christian items that you might not even know existed!
Christian t-shirts, books and jewelry are just a few of the items that they offer, with free shipping every time.
You can get $5 off a one-month subscription with code:

csdiaries5

or $10 off a 3-month subscription (or longer) to God's Glory Box with code:

csdiaries10

!
For each box purchased, God's Glory Box donates 5 meals through FeedingAmerica.org.
Box of Blessings from International Blessings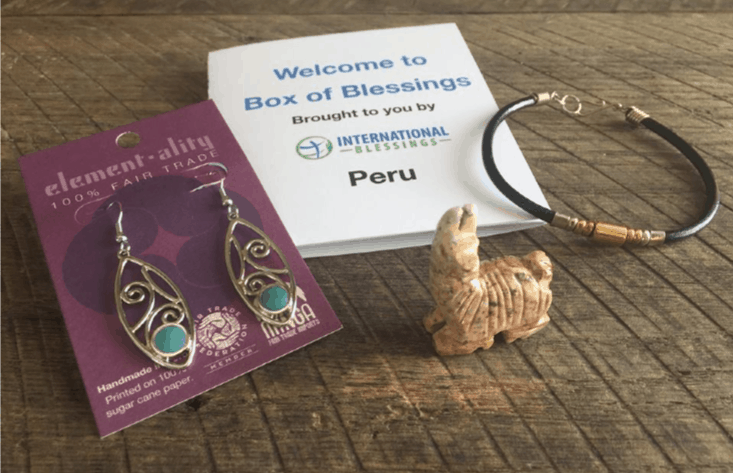 This subscription box is unique because it contains handmade items from all over the world which tell the story of the culture they originate from and the women who create them.
Sarah at International Blessings works with artisans in impoverished countries and markets them – which helps them support their families and rise OUT of poverty.
Each Box of Blessings monthly subscription contains 3-4 items such as beautiful jewelry, hair accessories, and home and kitchen items that women will use and love. You can also choose the "Favorite of the Month" option to send one handpicked item to your gift recipient each month.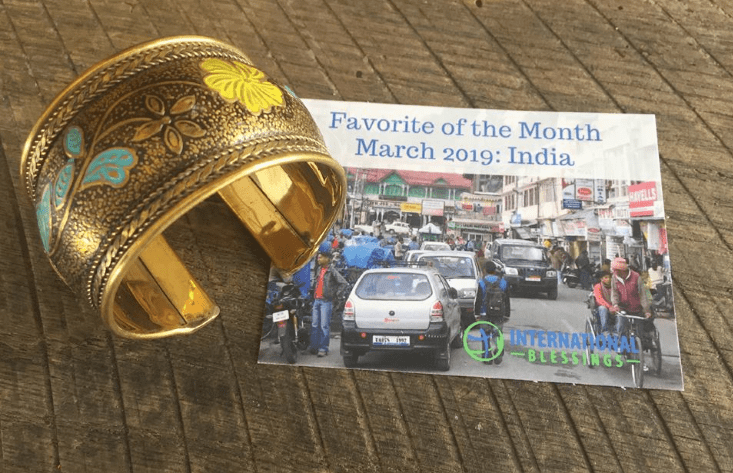 It's so much more than a beautiful gift; these boxes help empower women and families globally and make a huge impact in their lives! What could be better?
You can check out the gifting options, and read more about the mission of International Blessings.
Faithbox
I love to buy new devotionals and other faith-based trinkets for my fellow mom friends and creating gift baskets. But sometimes it can take me forever to find a few simple ideas to put together.
Enter: Faithbox.
You can choose the regular monthly subscription OR select a past box on a specific topic such as "Anxiety", "Happiness" or a Holiday-themed Faithbox.
For example, the Anxiety box from the past box selection includes aromatherapy dough (who knew this existed!) and Fearless by Max Lucado.
Faithbox partners with companies that give back to their communities through poverty-reducing initiatives or "get one and give one" sharing.
Pureflix
Pureflix is known as the Christian alternative to Netflix. There is a huge selection of movies and original series and you can watch them on a wide variety of devices.
I am gifting Pureflix to a relative who loves Christian movies because I know she will enjoy the convenience and quality of this service. And, it will save money on the endless Christian DVDs she likes to buy! 😉
You can browse the selection of content and choose your gift subscription here.
Pureflix gives back by partnering with several organizations including AdoptTogether and Convey of Hope.
Read next: 7 Family-Friendly Apps Your Kids Will Love (so you can ditch YouTube)
ORGANIZATION AND GOAL SETTING GIFTS
You can probably think of some women in your life who are go-getters and simply enjoy practical gifts they can use every day.
Cultivate What Matters Planners and Journals
If you know a woman who loves to plan and stay organized, the 6-month intentional goal planner would make a beautiful gift.
These faith-based goal-setting products are meant to help women achieve their dreams, in a practical way.
Another great pick from Cultivate What Matters is their
Write the Word journals
(choose a journal focused on topics like faith, joy and gratitude). You can see the full collection of journals
here
.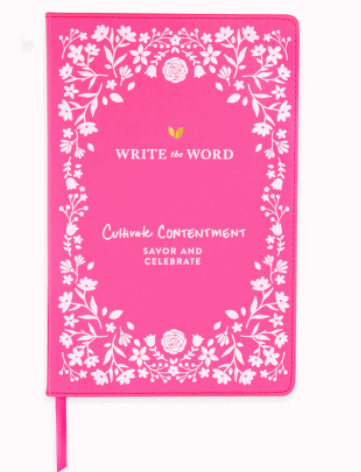 Each purchase made from this site goes to an organization that helps to plant Gardens in low-income schools.
Danielle Roberts Planners and Devotionals
For the boss-mom in your life, the Faith and Focus Planner is an excellent choice.
It goes along perfectly with her book, Created for This: Digging into God's Word While Growing in your Faith and Business.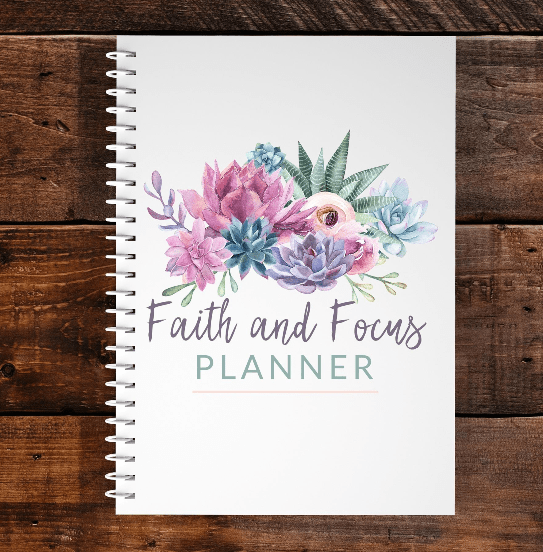 Danielle gives back from her business to two organizations: Tutapona, a counseling program for refugees in Uganda and Iraq; and A21.org, which brings awareness and frees people from human trafficking.
Dayspring Bible Accessories
Dayspring is known for their inspirational greeting cards, but they also make beautiful Bible accessories such as this Organization bag which is a great idea for women who enjoy Bible journaling.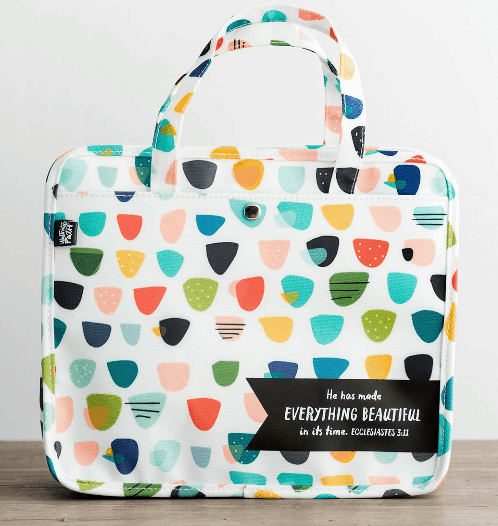 Another item I love, and I'm guessing other moms would too, is their collection of floral Bible cases.
(The struggle of finding pens, notepad and Bible all at once is very real!)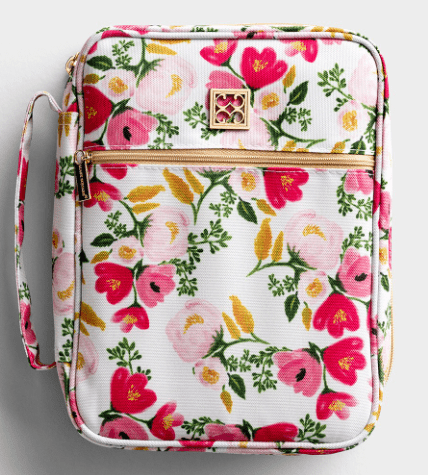 Dayspring is a Christian company that gives to various local, national and international charities chosen by their employees each year.
FOODIE GIFTS
When in doubt, food always makes a great gift- especially when it has a special story behind it.
Seasonings from Israel
If this isn't a fun and unique gift idea for your favorite foodie, I'm not sure what is!
The spices sold at the Jersualem Gift Shop ship directly from the Holy Land. They also have other food gifts available such as chocolate, coffee and tea.
The Jerusalem Gift Shop helps support struggling artists and manufacturers in Israel.
Pirate Ringo's Salsa
Pirate Ringo's Salsa is a company run by Christian principles, and they deliver three types of salsa to suit various salsa-lovers' fancies.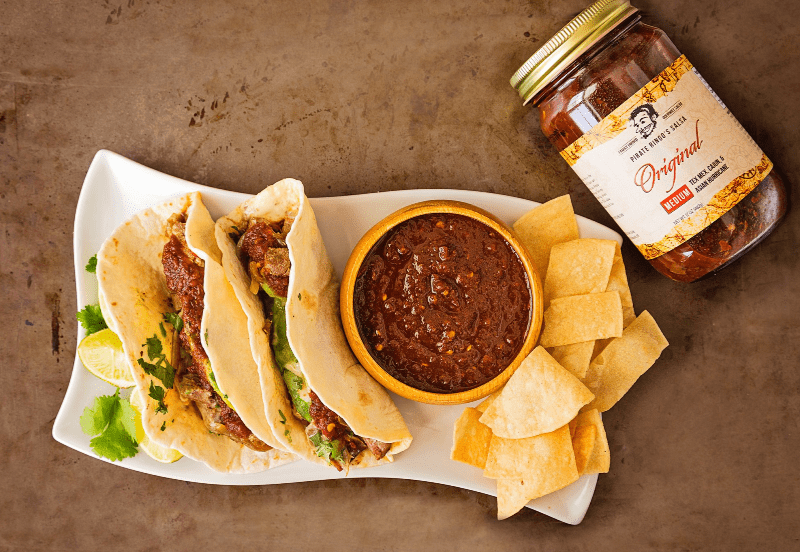 The owners tell me a few ways they give back are by hiring retired persons on a fixed income, for example, and providing an expense-paid vacation to worn out/burned out ministry couples and families who need a sabbatical. (How cool is that?)
GIFTS THAT SUPPORT MINISTRIES IN THE MIDWEST
I have to include a shameless plug for a selection of gift ideas that are near-and-dear to ME as a Midwest girl who also works for one of these ministries!
Custom Pro-Life Jewelry
Make a statement about the sanctity of all human life with one of these pieces from Ozarkian Heart.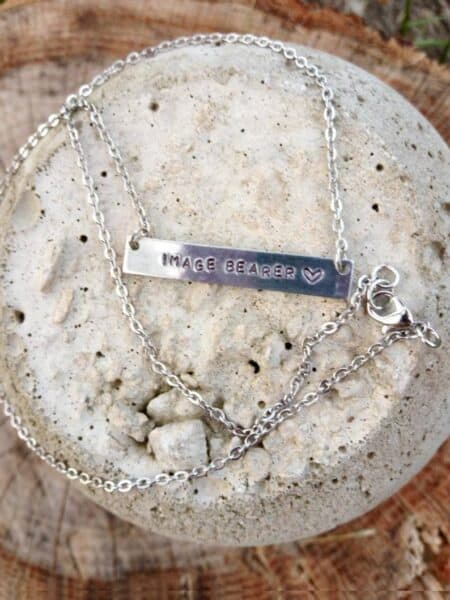 I (the author of this blog) am the director of a Missouri-based Pregnancy Resource Center which provides education, life-affirming resources and support for women facing unplanned pregnancies.
Needless to say, I love the simple statement on this necklace that declares God's love for all people, including the unborn.
You can browse all life-affirming jewelry designs from Ozarkian Heart's shop here.
Wings of Refuge Necklaces
The Wings of Refuge necklaces from Pressed Jewelry are a statement piece that also helps rescue those caught in modern-day slavery.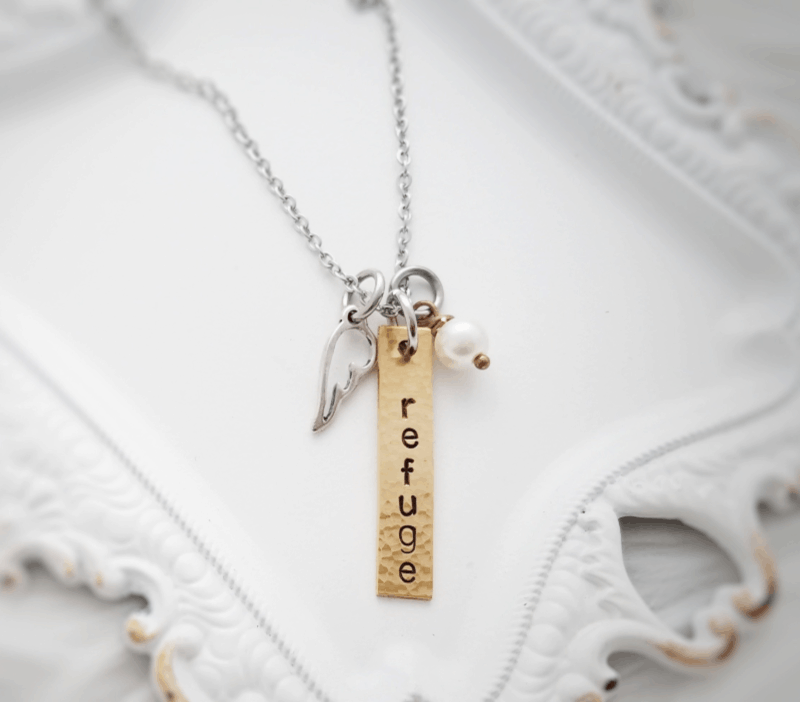 Profit from this item goes to the Wings of Refuge, an Iowa-based ministry that restores victims of sex trafficking.
Check out the other Pressed apparel and jewelry items in as well!
Gift one…or get one!
With all these great gift options that DO GOOD, you might be tempted to gift one to yourself as well!
Just consider these Christian gifts that give back as self care – and for a great cause!
Originally published 4/17/19 and last updated 12/5/20.