Muslin swaddle blankets are on nearly every new mom's wish list these days.
With my last two pregnancies, I spent a lot of time searching for the BEST, budget-friendly options in 100% cotton, organic cotton and bamboo muslin swaddle blankets.
I discovered these amazing blankets when baby #3 was born and I was hooked after I bought my first Aden + Anais muslin swaddle.
Why are they so great? For one, they're very oversized, which makes swaddling those newborns so much easier.
I remember fumbling with those silly flannel receiving blankets with baby #1 that were NEVER large enough to actually swaddle a baby. The large size makes a huge difference!
Second, they're breathable, meaning they make a great nursing cover and, of course, reduces the risk of baby overheating.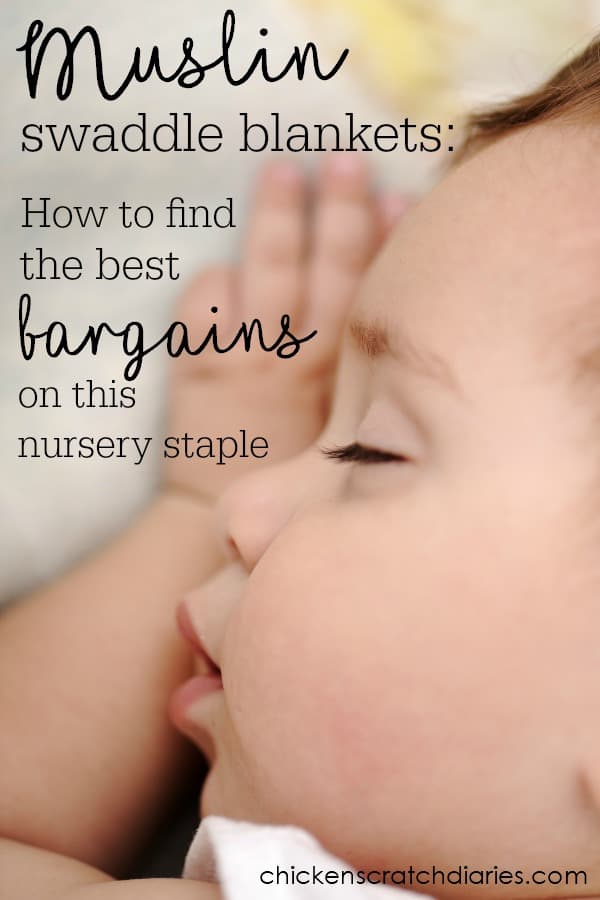 This post likely contains affiliate links. Please see our disclosure for more info.
Because they're large-yet-lightweight, they are easy to pack in a diaper bag, throw over a stroller on a sunny day, and also double as a burp cloth.
Muslin blankets are soft, durable and wash up nicely, which is important to this practical mama!
Related: 5 "Must-Have" Crunchy Baby Items – and their Practical Alternatives
Since falling in love with muslin blankets of all kinds (bamboo, organic cotton – I adore them all), I've been on the hunt for ways to find these blankets at the lowest prices.
If you've ever shopped for these swaddles before, you probably know that muslin baby blankets are typically not cheap!
A single-layer Aden + Anais blanket (the first brand to introduce these blankets in the US) can run more than $18 at a boutique, which is a little steep for my budget.
At the same time, it's often true that you get what you pay for, and although you can find cheap muslin swaddle blankets from various sources, some are a much better quality than others.
Tips for Finding the Best Muslin Swaddle Blankets at the Lowest Prices
Here's my favorite places to to shop for what I've found to be the best muslin swaddle blankets online:
#1. Nicki's Diapers
I've discussed my love-hate relationship with cloth diapers a little in previous posts, but the vast majority I've purchased have come from Nicki's Diapers.
While shopping for cloth diapers I stumbled upon their muslin swaddle blankets which I L.O.V.E. so much.
They carry a variety of brands including Aden + Anais, but my favorites are the Nicki's Diaper brand This brand costs significantly less than A&A and in my opinion the quality is just as amazing!
They currently offer single-layer bamboo swaddles, 4-layer bamboo blankets and even 48×70 adult-sized muslin throw blankets. Yes, you can have your very own cozy baby blanket for snuggling up on the couch with. 😉
If you sign up for the company's e-newsletter you can find out when the best sales are happening.
They often have offers that include gifts such as a free bamboo blanket with a certain purchase threshold, so if you're planning to buy a cloth diaper stash for your new baby, you could score a free blanket and try out this brand!
You can also check out their "Seconds and Gently used" category for even better discounts. In addition, Nicki's offers free shipping on orders over $10 which is pretty amazing.
Related: Cloth Diapers vs Disposables: 7 Questions You Need to Ask Yourself Before You Decide
#2. Amazon
You can find a variety of off-brand (or lesser-known brand) muslin blankets on Amazon at much lower prices than most boutiques.
This 4-layer Hudson Baby blanket is one of my favorites and it's an incredible value for the quality. I actually like this one more than the original Aden Dream Blanket, which isn't quite as soft!
You can also find single-layer packs at low prices like these solid-colored swaddles that are great for newborn photos.
#3. Baby Mall Online
This site is really a hidden gem for a variety of discounted baby items, but especially for muslin blankets.
You can often find multi-pack swaddle blankets for a steep discount.
Check out their Touched by Nature brand organic cotton baby clothing while you're there. I've purchased several clothing items and they're amazingly cheap for organic cotton and sooo soft! Toddler sizes are also available.
As a bonus, they recently started offering free shipping in the US!
#4. Walmart.com
At Walmart online, you can find some hefty discounts on a variety of name brand items, including muslin swaddles.
I've ordered so many things I would have never thought Walmart even carried.
Many items are available with free two-day shipping on $35 or more.
These classic swaddles are just one example of what you might find on Walmart.com.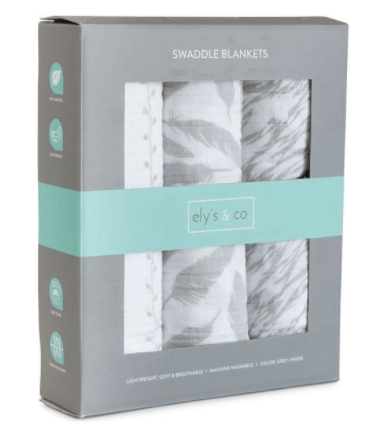 #5. Bambino Land
Bambino Land carries a HUGE variety of muslin swaddle blankets of all kinds: single layer, 2-layer blankets, large throw blankets ("Big Bambinos"), and they come in regular 100% cotton, organic cotton as well as bamboo.
The prices are much lower than the other big brands and the quality is excellent.
I've owned several and have given a few as gifts also. My personal favorite are the organic cotton (again, insanely soft!).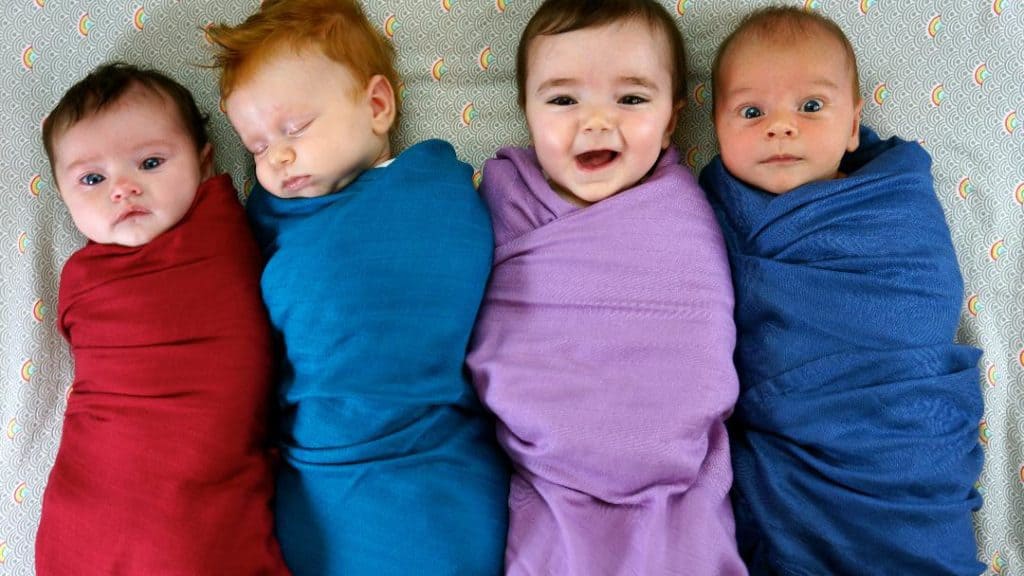 I love that Bambino Land is owned by another mom just like me with a small business and she goes out of her way to serve her customers.
Bambino Land also carries the larger muslin throw blankets so you can pick one up for yourself, your bigger kids – or another mom-to-be!
You can sign up for the Bambino Land email list and then join her private Facebook group to get the inside scoop on current deals (which are frequent and worthwhile!).
If you're looking for a bargain, these 5 sources should help you to save on the best muslin swaddle blankets, without sacrificing quality.
Happy shopping – and saving!
You Might also like:
• What To Do When You Find Out You're Pregnant
• Preparing for Baby: the Online Courses Every New Mom Needs
• Life with a Newborn: How to Make it Through the First Few Weeks
• Cloth Diapers vs Disposables – 7 Questions You Need to Ask Yourself Before You Decide
• How to "Bounce Back" Postpartum and what that REALLY means