Throughout my posts, you will see products and services mentioned that I personally use as I believe they are a benefit to me in my personal life and/or my business.
Below you will find a list of many of these items all on one handy page! They're sorted by category for your convenience. I will continue to update this page, so check back frequently.
*Please note, this page may contain affiliate links (read full disclosure here). This means that when you click through some of these links, I may receive a commission from products or services purchased by you, at no additional cost to you.
Parenting Books

Love & Logic contains popular techniques that are often used by teachers in the public schools. It features simple discipline techniques that anyone can implement right away.
Boundaries with Kids is a great resource that I've used as a teaching tool in parenting classes, and I've also implemented it in my home. It stresses Bible-based instruction, the need for setting limits with love and instilling strong character in our kids.
*Read more about my parenting journey in these popular posts:
The Difficult Task of Discipline – and Why it Matters!
Parenting in the Digital Age (Confidence-boosting advice)
Raising Responsible Kids (instead of entitled ones)
Helping Your Girls through Roller Coaster Emotions
Resources & Books for the Christian Life/ Motherhood
Books I'm Reading
Bible Study Websites
• Doorposts Blog and the Blue Letter Bible
Other resources I love:
Girls Created to Shine: This is a 12-week course that I really enjoyed leading my girls through (currently age 13 and 10). It has helped us have better conversations about their (our) identity in Christ and dig deeper into Scripture together. *Use coupon code: FRIENDSSHINE50 for 50% off!
Right Now Media : A huge video library of Bible Studies from today's popular Christian speakers and authors- a great resource for Churches and small groups.
MamaBear Apologetics: Awesome resource for moms on how to teach kids to defend the faith. (See the book too!)
Intoxicated on Life: Solid Christian Parenting Tips, Natural Health and Homeschooling
Proverbs 31 Ministries: Devotions and podcasts for Christian women.
The Bible Project: Visual Storytelling Meets the Bible! This has been an incredible free tool for our Sunday School class and my personal study.
Institute for Creation Research: Scientific discoveries and current research that points to the evidence of Creation, from leading scientists. You can also sign up for the free Acts & Facts magazine here.
Money Saving/ Time Saving Tools
If you don't have an online savings account you're missing out! The Capital One 360 Savings account has been a lifesaver (and money-saver, of course!) for our family in the past few years. I have an account that's linked to my brick-and-mortar bank and I can easily schedule deposits and transfer funds between the two. I love that you can set up several "accounts" within your main savings account (For instance, "Vacation fund", "Christmas fund") so that I can set specific savings goals. You don't have to worry about having a minimum balance, there's no fees and they offer competitive interest rates as well. It's really a no-brainer!
If you shop online, EVER, you should be using Be Frugal. Simply create an account, select the website you're going to buy from; shop as usual; earn cash back! Literally no effort required. Earn $10 for every friend you refer too! (see terms and conditions)
Natural health & wellness products/companies
The best place in my opinion to buy 100% pure, therapeutic-grade essential oils, at a fraction of the cost of their competitors. As a direct-to-consumer essential oil company, you will not only save money when you purchase from Rocky Mountain Oils – you'll also receive free shipping on every order!
Over the last few years I've been reading more and more about the potential health risks that mainstream feminine hygiene products can cause because of the chemicals they contain. A few great alternatives I've found include the brands: L. Organics, and Lola.
Castile soap is an amazing product for creating your own cleaning products at home, the natural way.
For starters, check out my Foaming Hand Soap recipe that I make with Dr. Bronner's. This recipe has not only saved me tons of money but has brought a lot of relief to my chronic dry, chapped hands!
I have tried many natural dishwashing detergents without great luck, but Mrs. Meyer's Automatic Dish Packs have worked great even with our hard water. I like that they're 97% naturally derived and cost about the same as the other brands (which are loaded with chemicals we probably don't want on our dishes and consequently- in food).
I like the idea of a naturally-derived dish soap and I especially like the pump design! After using this for a long time, I can't go back to Dawn. I like the light scent that doesn't make my dishes smell like blue Dawn for a week, doesn't irritate my allergies, and when I wipe my counters down, they really shine.
Another "green", fragrance-free detergent that I've had good results with at my house. You can read more about why I chose this detergent in my post: The Problems with Homemade Laundry Soap (and other laundry hacks)
Red Raspberry Leaf tea is used by many women to help naturally balance hormones, among other health benefits. I've found that it helps with mood swings, helps me to relax before bedtime and it's great to drink with a little honey. It is also used by some as a natural fertility aid.
• Read more about easy, "natural" swaps you can make in this post: A Practical Mom's Guide to a Healthier Home This Year.
Baby Items
I'm in love with the Earth Mama Angel Baby Body Wash in Natural Orange Vanilla. It's been a great alternative to other baby washes that contain potentially harmful chemicals and synthetic fragrances.
After battling constant diaper rashes with our other three children in the past, I tried out the Honest Company with baby #4 and have really been impressed with the quality – and no more diaper rashes!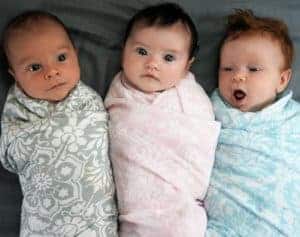 Organic Muslin and Bamboo Blankets, Crib Sheets, Burp Cloths, Bibs and more! We especially like the 2-layer blankets and the leg warmers at our house! Seriously some of the softest baby products I've ever used (and they offer much lower prices than their competitors.)
(Read more about the above products here: "Top 5 Baby Products for the Natural-Minded Mom").
Blogging Resources (For Other Bloggers and Online Marketers!)
I currently use Siteground for hosting this website and I would highly recommend them. My website has never been as fast as it is now and customer service is very prompt to answer my questions via phone or live chat.
If you're going to start a blog that you want to monetize (make a profit through affiliate marketing, advertising, etc), you need to be self-hosted. Starting a blog has been one of the best decisions I've made (career-wise and on a personal level!).
Carly Campbell's Pinteresting Strategies course is, in my opinion, the best resource available for anyone who really wants to understand how Pinterest works – and how to use it to your advantage as a blogger. It's jam-packed with information on how exactly she was able to receive over 200,000 page views per month just 7 months after launching her blog by using a unique manual pinning method that she developed on her own.
Six weeks after implementing the methods as a new blogger, I increased my blog traffic more than 5x! I also feel like I have a much better game plan for Pinterest than I did before. I'm not just pinning things at random — I understand how Pinterest views my activity and I can adjust my strategy accordingly.
After manual pinning for several months, I felt confident enough to start using a scheduler again once armed with the knowledge of how to use it intentionally. So don't let the idea of "manual" pinning scare you away – I still recommend this course for a solid understanding of Pinterest. Not to mention – it's priced much more affordably than other Pinterest courses out there.
This course was just updated in October 2018- it was previously an e-book. I typically DON'T like video based courses but this has a good balance of written material + video, and the videos are incredibly helpful to understand this strategy.
This is another course by Carly Campbell (can you tell I like her style?). It's totally worthwhile and I think it's ESPECIALLY relevant for mom bloggers because she gives some concrete examples for this niche.
It's also super detailed and packed with a lot of actionable tips I was able to implement very quickly.
I had taken another big-name affiliate marketing course when I was a new blogger and while it was great for understanding the basics of affiliate marketing and proper disclosure, etc., I felt it barely skimmed the surface of how to realistically make money because it was short on real-life examples that worked for ANY niche. (It was also 4 times the price of this course!) Obviously, I don't promote courses I don't think are worthwhile so I'm not even going to mention it here!
Check out Affiliate Marketing for Bloggers Here.
PicMonkey is the photo editing software that I use to edit my graphics for my blog and on Pinterest. Along with implementing ideas from Pinteresting Strategies, I have spent more time improving my graphic design (Pinterest pins especially) and over the last month, my Pinterest views, saves and blog traffic has grown exponentially! Having professional-looking graphic images on your blog and on Pinterest is critical for growing your blog.
You can get a free 7-day trial for PicMonkey here.
Tailwind is another great scheduling tool for automating your Pinterest activity. You can fill up your "queue" with relevant content from other bloggers all at once and then schedule it to slowly pin these to your Pinterest boards (or group boards) over time. This means you can spend just a few hours a month curating and scheduling content for an entire month!
You can get a free month of Tailwind Plus with my affiliate link here: Sign up for Tailwind.

Whether you are scheduling pins or manually pinning- I highly recommend joining Tailwind Tribes to expand your reach and find great content in your niche. They're very similar to group boards on Pinterest – but much easier to maintain. In my opinion, using tribes is a great strategy for growing your reach (in addition to using Pinterest group boards) as it can sometimes to be hard join quality group boards right away, when you're a new blogger.
I use the Isabelle theme from BluChic and can highly recommend their web themes. Easy to set up, customize and their customer support has been amazing any time I have questions. (Which is often.)
I recently switched from Mailchimp to Mailerlite for sending regular updates and freebies to my email subscribers. This allows me to keep everyone in the loop about new material on my website, great resources I've found that they might be interested in, or special offers and coupons for products that I am affiliated with.
Check out Mailerlite here and you'll receive a $20 credit on your new account. if you have started a blog but have not set up your email provider yet — you should do it right away! Unlike social media platforms, your email list belongs to you and it can be a valuable asset for monetizing your blog and growing your audience.