Cinnamon puff pastry twists with Easter bunny tails: make these for a fun Easter or springtime treat!
Easter is a big deal at our house. It's a celebration, after all. HE is risen!
While I don't normally focus on Easter bunnies (we don't even do Easter baskets) – we love fun desserts as much as the next family.
The great thing about these pastry twists is the kids can help make them, too. It's a really simple Easter bunny recipe that anyone can make (honestly).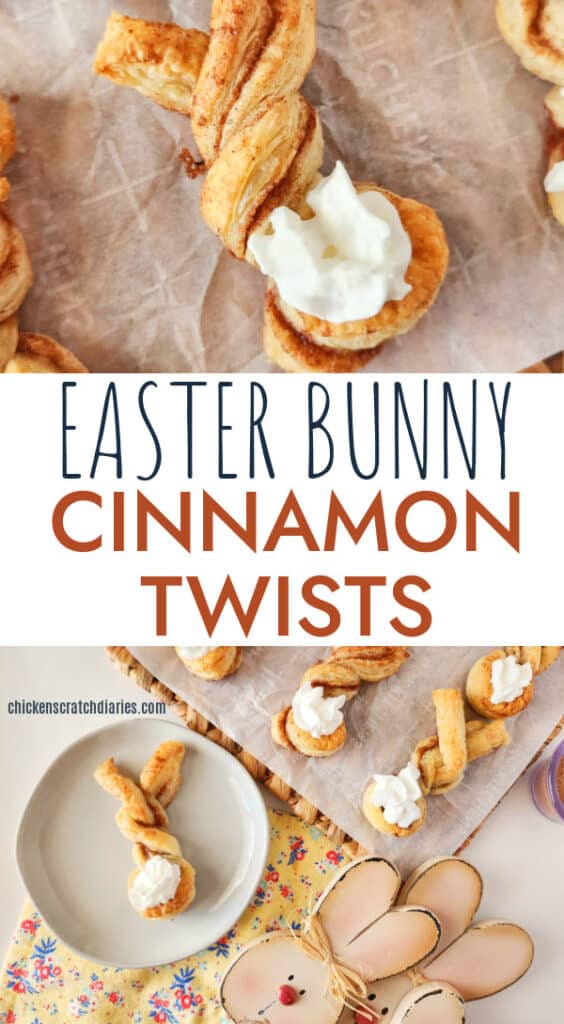 This post likely contains affiliate links. Please see our disclosure for more info.
What you need to make Cinnamon Twist Easter Bunnies
To make puff pastry cinnamon twists, all you need is:
Frozen puff pastry, thawed (usually comes in a 17.3 ounce package)
Butter (melted)
Granulated sugar
Cinnamon
Whipped cream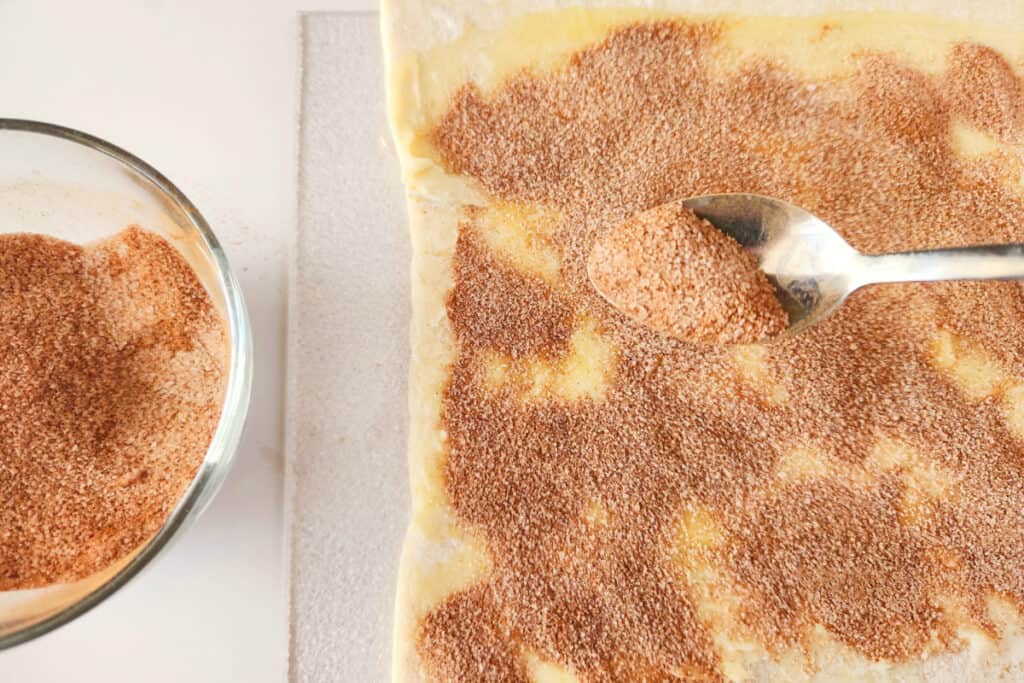 Alternative ingredient ideas
You could get creative and try a lot of different things to make your Easter pastries unique and just as delicious!
For instance, try a cinnamon with a deep, rich flavor such as Ceylon cinnamon.
Adding a little brown sugar to your cinnamon-sugar mix would give it a bit of a sticky-bun flavor.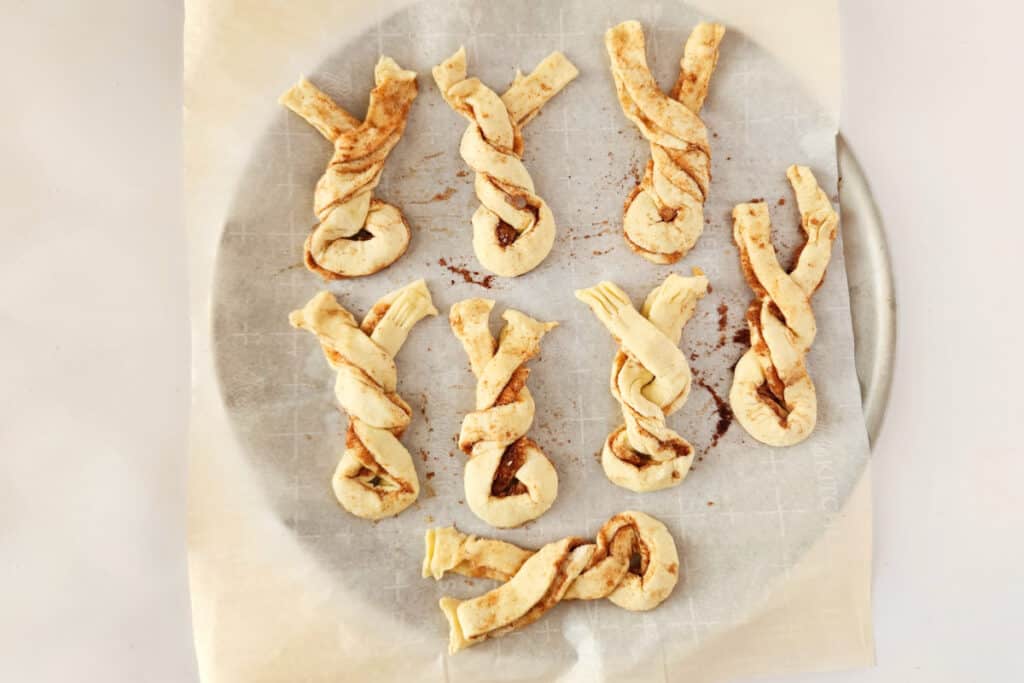 If you wanted something completely different, instead of making puff pastry cinnamon twists, you could do puff pastry jam twists. Simply substitute the cinnamon and sugar for a thin layer of jam (think seedless raspberry or even blueberry would be festive).
This recipe uses basic whipped cream in a can (which makes the bunny tails a little easier to make). However, you might prefer to make your own whipping cream with heavy cream.
Homemade (or store bought) white frosting would work, too. You could experiment with different decorating tips to get the desired look for your bunny tails.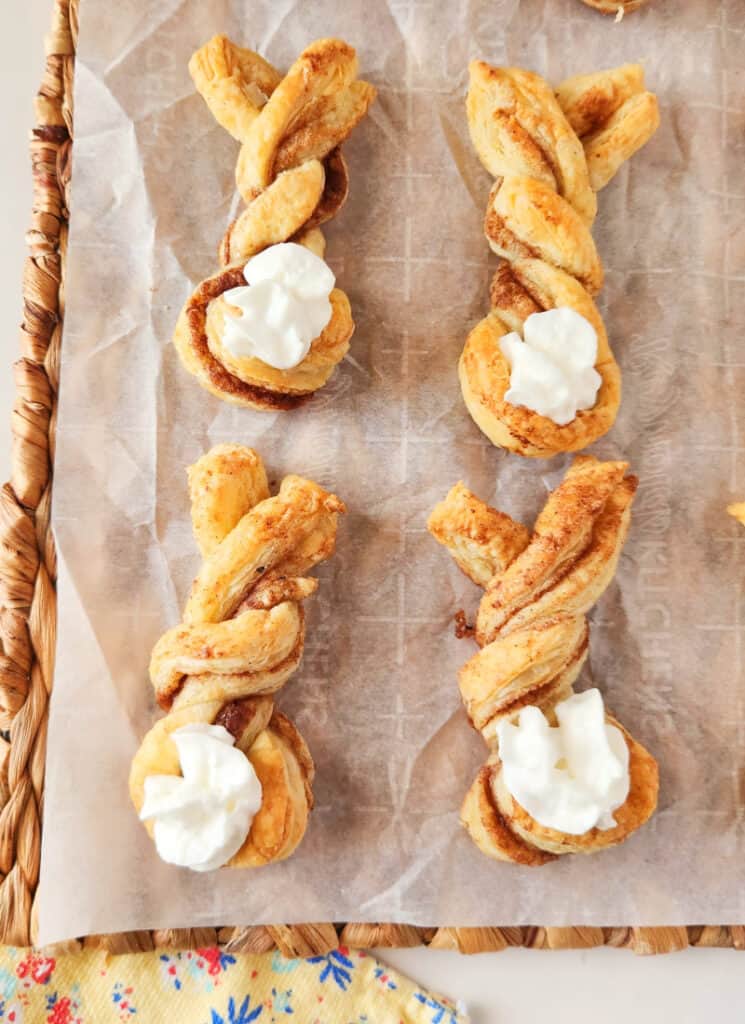 Quick Tips for the best Cinnamon Puff Pastry Twists
For the best results, you want to make sure your puff pastry sheets are completely thawed. At the same time, you don't want them to be way over-thawed.
When the dough gets warm, it can become very hard to work with. The sheets will stick together easily. So you want them thawed, but still cold and pliable.
Also, it may seem obvious, but let your cinnamon twists completely cool before adding your whipped-topping bunny tails!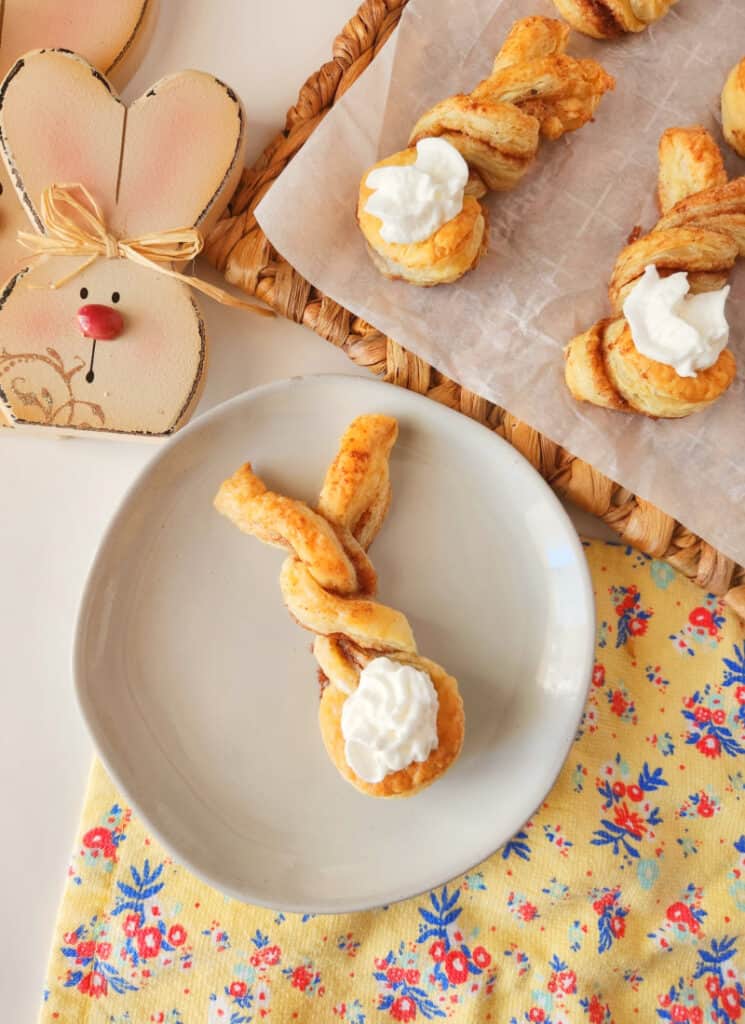 Enjoy these sweet puff pastry twists for Easter this year, and be sure to let the kids help in the kitchen!
You will make the best memories and teach your kids valuable skills at the same time.
Easter Bunny Cinnamon Puff Pastry Twists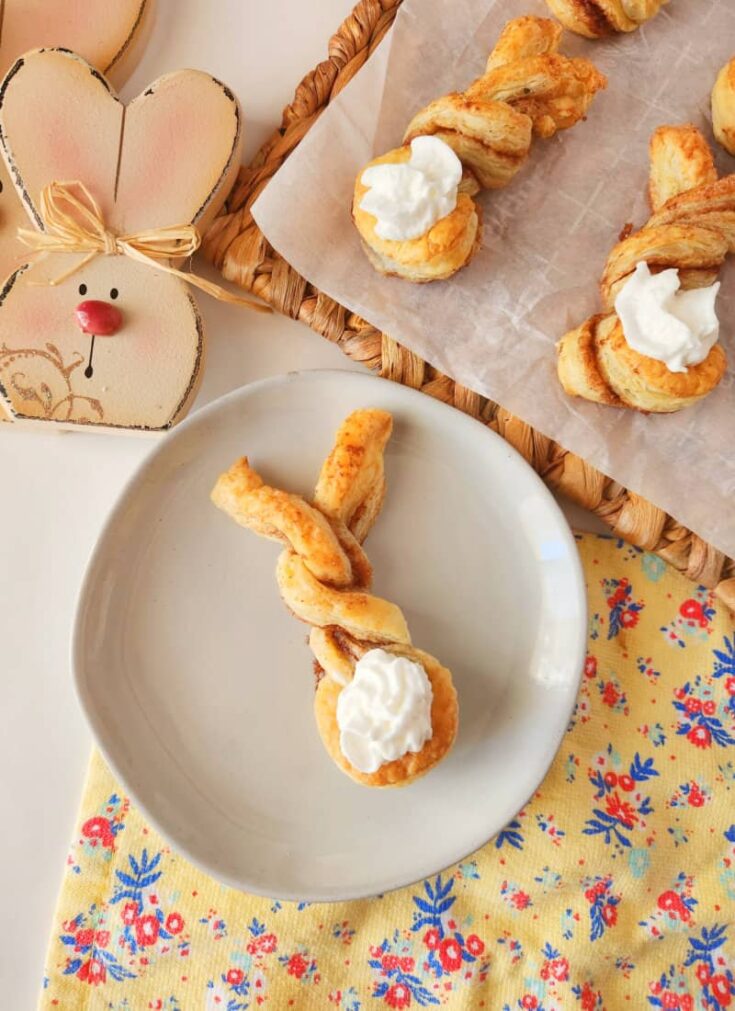 Light puff pastry twists with layers of flaky sugar and cinnamon, finished with whipped cream Easter bunny tails.
Ingredients
1 package puff pastry (frozen)
2 Tablespoon butter, melted
2 Tablespoons granulated sugar
1 teaspoon cinnamon
Whipped cream (or white frosting)
Instructions
Preheat oven to 400 degrees F. Line a baking sheet with parchment paper and set aside.
Let the puff pastry thaw and unfold onto a cutting board.
Spread melted butter on one piece of the puff pastry, leaving a margin of a half inch on top and bottom.
In a small bowl, mix together the cinnamon and sugar and sprinkle on top of the melted butter on the puff pastry.
Lay the second piece of puff pastry on top of the cinnamon sugared puff pastry.
Crimp the top and bottom of the puff pastries together with a fork.
Using a pizza cutter, cut the puff pastry into 15 strips.
To assemble the bunnies, first place a strip of pastry in a U shape.
Fold one side over the other and repeat one or two more times.
Press each twist firmly down on the prepared baking sheet (on the parchment paper) and separate the end of the twists so that they resemble bunny ears.
Bake for 20-25 minutes until golden brown.
Once completely cooled (important!), spray or spoon your whipped cream in the loop of each twist, making it resemble a fluffy bunny tail.
Serve and enjoy your sweet pastry treat!









































You might also like:
Printable Easter Resurrection Eggs Activity
Easter gift ideas that point to Jesus
Sweet Glazed Strawberry Scones
Easy Peanut Butter Heart Cookies