As a Christian mom, I find myself constantly examining the messages our kids are receiving from the world versus the truth God has already given us in His Word.
If you've noticed, the pursuit of self-actualization is one of the pervasive themes in most self-help books and articles today, and it's even filtering into some pulpits across the country.
Here is my response to the "be your best self" philosophy, and three grounding principles I pray my kids will embrace in its place.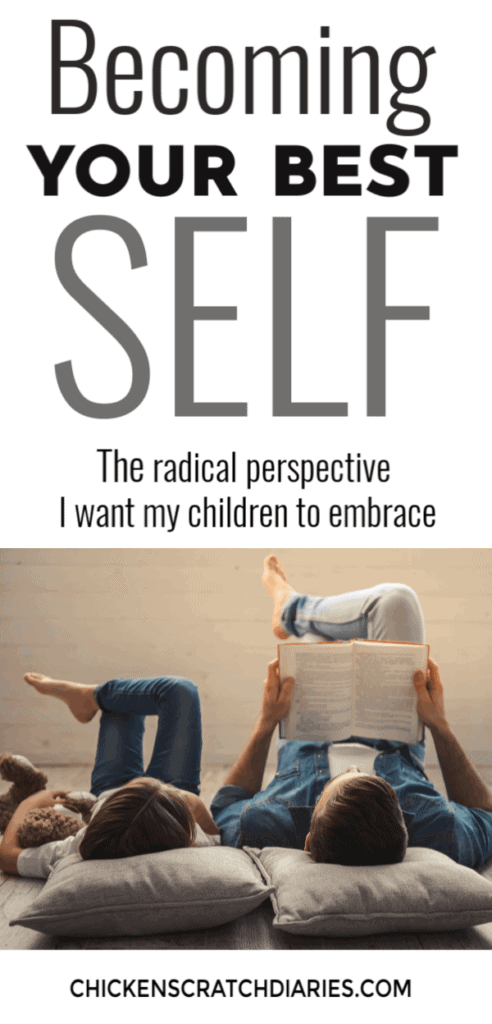 This post likely contains affiliate links. Please see our disclosure for more info.
Dear child:
There are voices out there, loud voices that coin catch phrases and hashtags and sell a lot of t-shirts.
Some of these will fade away into the next sunset (rest in peace, YOLO), and others persist, like the cultural yearning to always be the "best version of yourself".
In fact, there are entire books devoted to discovering your "true you" and telling you how to achieve that very thing.
It sounds motivational and especially empowering, doesn't it? What version of anything would you want to be except the best one, anyhow?
And it might seem logical that uncovering your best self is the path to true happiness.
Here's the thing, though:
I have no doubt you'll ever give anything less than your best. I believe in you one hundred percent, and all you are capable of achieving.
But when you're striving for the best version of you, the temptation to become your own idol is very real.
As a child of God, I believe you will do great things if you focus on His plans for you and not simply the things you think will bring you the most happiness and fulfillment in life.
So I want to give you some honest advice about realizing your full, God-given potential.
Keep in mind, you won't find this wisdom to be readily available in your social media feed. These concepts are harder to grasp and they don't sell as many t-shirts — but they speak to a truth that has existed before Time itself.
Let these three reminders hold you steady – the YOU who is already known and beyond loved.
#1. Focusing inward won't inspire lasting joy
In the world's version of Happiness 101, satisfying your own wants and needs, in whatever way you see fit, is the key to happiness. The perfect combination of the right hair, clothes, relationships and abilities all equate to the perfect, happy life.
But do they really?
I know you've faced disappointments before. The bad hair days, the friends who let you down and the times you just didn't make the grade, make the cut or quite fit in.
So often, the people and things that are supposed to fulfill us can disappoint us instead.
Simply put, spending too much time wrapped up in our own thoughts and pursuits of what WE want is a sad way to live.
It's sad because the more time we spend trying to figure out how to please ourselves, the less desire we have to serve others.
It's also sad because the very things we think we want may or may not be part of God's plan for us at all.
The road to emptiness is paved by self-absorption.
So what do we do? Where should our focus be?
Matthew 6:33 tells us to seek first the kingdom of God and His righteousness – and he'll provide all those other needs that vie for our attention – in his timing and within His will. It's a matter of prioritizing the things that matter – the things of God, and trusting Him with the rest.
God cares about all the little things in our lives, and we shouldn't hesitate to bring our needs before him in prayer. But remember that it's SO easy to get wrapped up in the temporary.
So instead, constantly train your thoughts to consider what God wants for you and how you can glorify Him with your life.
And that's where we find REAL joy- in serving God and serving others. It brings us a deeper, lasting happiness that isn't dependent on other people or things.
It comes from our relationship with God, which no person or circumstance can take from us.
Read next: Staying Kingdom-Focused in a Selfie-Saturated World: A Letter to my Daughter
#2. Achieving your "best" won't satisfy your soul
Don't get me wrong: We shouldn't be content to be lazy, or settle for sub-par standards. God requires our best efforts in the things he has called us to.
Having the right goals and dreams, in fact, can motivate us to do great things AND help others – and we can find a certain degree of fulfillment in this.
But there will also be times that chasing after what you want might conflict with the needs and wants of others.
The world will tell you to simply go after what YOU want regardless. Don't let others stand in the way of YOUR dreams, right?
Certainly, we are called to pursue truth and justice despite obstacles in our path.
But it's always important that we check our ambitions against the truth found in Scripture. This will reveal to us whether the plans in our hearts resemble Godly pursuits, or selfish ones.
And Philippians 2:3 reminds us to "Do nothing from selfish ambition or conceit, but in humility count others more significant than yourselves."
Putting others first is radically different. It goes against human nature.
But it also changes our perspective on life entirely.
And of course the other problem with seeking the best version of yourself: How do you know when you're the best version – and what do you do after you've reached this milestone?
I suppose you should be able to coast through the rest of life, right?
Wouldn't that be nice! But that nagging problem of discontent will eventually catch up to you, even in your self-actualized state of being. (Hint: it doesn't exist).
Experience teaches us that there will always be things outside of our control that brings us unhappiness. We will strive, and we will struggle.
True contentment does not result from simply being our best or leveling up to a self-determined standard of greatness. It can be found by following God wherever you are right now. And letting Him lead you in the next step, and the next.
Our Christian walk is a daily, moment-by-moment process.
We don't wake up one day and "arrive" at our fullest potential as a person, and certainly not as a believer.
We are the masterpieces of our Creator, and simultaneously, a work in progress.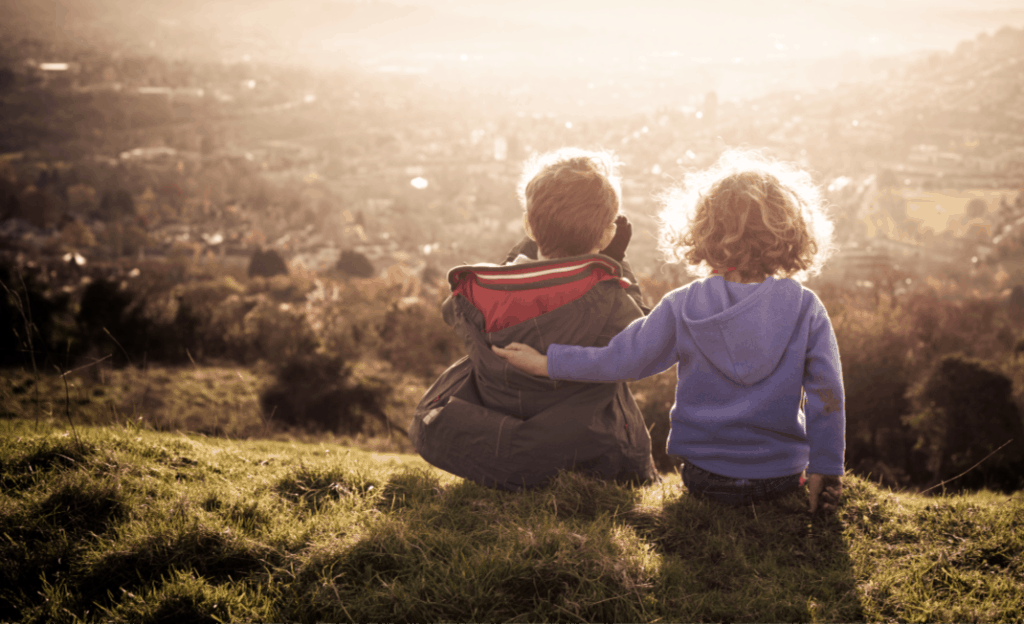 This is why we must continually seek God by spending time with Him, reading Scripture, knowing His heart.
Because ironically, our lives are not all about us. And we could be missing God's very best for us, when we're solely focused on the idols of our own efforts.
#3. The best version of yourself isn't found in you
Striving to be a better person – perhaps a kinder, more empathetic person who positively impacts the world – is never a bad thing.
In fact, I think the idea of continually pursuing something above the status quo is something most people, Christian or not, would value.
But this isn't by chance- it's by design. God has "set eternity in the human heart" (Ecclesiastes 3:11).
We long for more, because we were made for more.
So in pursuing more – the caution is to realize that the destination of becoming your best self – a vague idea with temporary rewards – isn't your overall goal.
Instead, as Christ-followers, we should want to be like Jesus. Our desire to be better should come from wanting to reflect the nature of Jesus and draw others to Him.
As you work towards your goals, as you interact with friends, even as you order food in the drive-thru — my hope is that you don't just try to be the best version of your human self.
My hope is that you emulate your Savior.
The truth is, even on our best days, we will fall short. Our efforts, more often that not, won't be enough. We'll say things we shouldn't. We'll do things we regret.
We won't always put our best foot forward, even if we think we have an idea of what that means. We're simply flawed people in need of more grace than we can merit.
We need to be reminded of the One who takes those faults, redeems them, and shines His beauty all the more through them.
A life spent following Jesus, allowing his inherent goodness to spill out over everyone we encounter, is the best version of anything we can hope to become.
So, dear child of mine: if you want to know the secret to being your best self, it's this:
Lay your self down.
Real, lasting happiness doesn't come from having all your desires met in exactly the way you hope, and according to your best-laid plans.
God loves you far too much for that.
Recommended Resources:
Mama Bear Apologetics: Empowering your kids to challenge cultural lies
Also on our site: