Looking to cook less and enjoy life more this summer? These freezer meals for summer are delicious, satisfying and can be prepped ahead of time to keep you out of the kitchen on hot days!
Ah, summer. It's really my favorite season.
First, there's gardening (then eating delicious produce, with any luck).
There's watching the kids play in the yard, mini trips and a slower pace that is just the best in my book.
But although I'm a warm-weather fan, I'm not a huge fan of cooking and warming up the kitchen.
I'm sure most of us would probably rather be doing anything than slaving away over a stove in summer (or in any season, honestly!).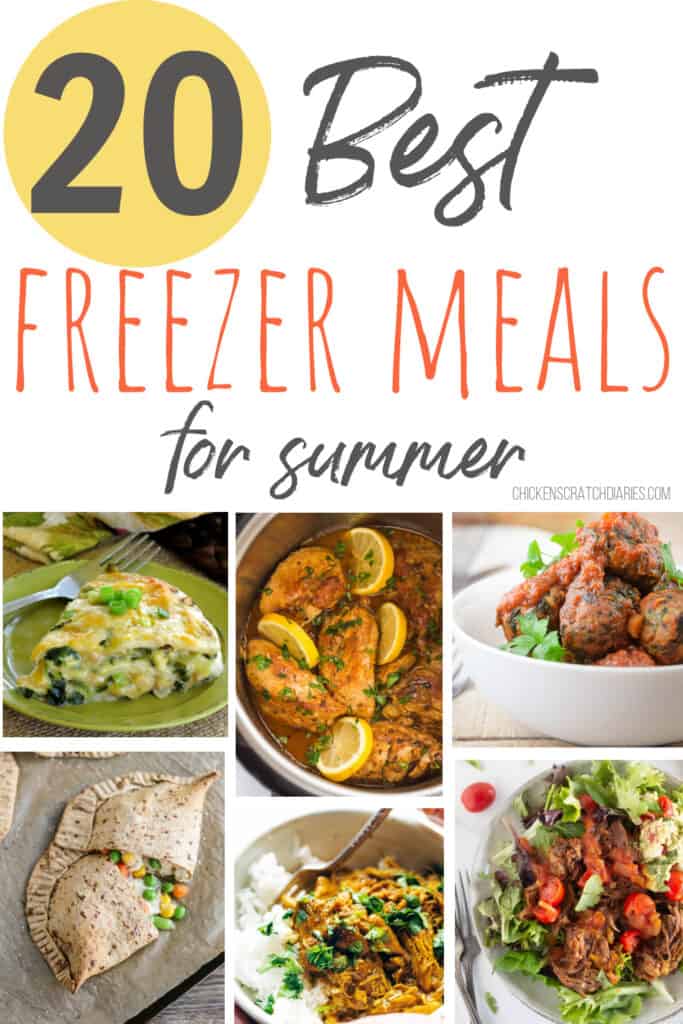 This post likely contains affiliate links. Please see our disclosure for more info.
Table of Contents
Freezer to Oven Meals
I've learned that the solution to hot summer days are freezer-to-oven meals! OR, freezer-to-Instant Pot OR freezer-to-grill meals. You choose.
Freezer to crockpot meals are another great option if you're home most of the day.
(Am I the only one nervous about leaving a crockpot unattended since the fated This is Us episode??)
You can spend just a few hours on a weekend prepping these meals, and then all you have to do reheat them for dinner in no time!
There's nothing better than NOT having to think about dinner on a daily basis. For real.
Make ahead meals for summer: More reasons to love them
And there's even more to love about make ahead freezer meals. They have SO many uses.
For instance, think:
Summer freezer meals for new moms
Make ahead meals for traveling
Freezer meals for the beach
Freezer to oven meals for after a surgery
All of these are great ideas for eating well…eating on a budget while traveling…or for blessing others.
I have a friend who never leaves for a trip without her freezer meals and her Instapot!
How to make ahead meals and freeze them
There are many meals you probably already make that you could convert to freezer meals.
It really boils down to thinking ahead about what types of ingredients freeze well and what do not.
Foods that are easy to make ahead and freeze include things like:
Meats
Cheeses (unless it's a topping; I usually add before cooking)
Most sauces and marinades
Beans (as long as they're not overcooked before freezing!)
Rice (if not overcooked)
Veggies that will be cooked
Foods that don't freeze well include things like:
Fresh veggies (diced tomatoes and lettuce for tacos, for example)
Condiments (sour cream, mayo tend to change in texture unless well-blended with other ingredients)
Cooked eggs
Fully cooked pastas
For the recipes I'm linking to in this post, they will have instructions for freezing them ahead (what ingredients to freeze and what not to), either in the recipe itself or in the footnotes/alternative methods at the bottom of each page.
Best freezer meals for summer
Below are over 20 of the best freezer meals for summer.
Bright colors, seasonal veggies and easy (or no) prep work make these perfect for summer.
Many of these picks are also healthy summer freezer meals that you can feel good about serving your family.
And, we chose a wide variety of meals and flavors that will make it easy to please a wide audience (aka, even picky kids)!
1| One Pan Mexican Quinoa
Quinoa is an overlooked grain in our house, but this One Pan Mexican Quinoa might just change that!
(See Freezing Instructions near end of the post.)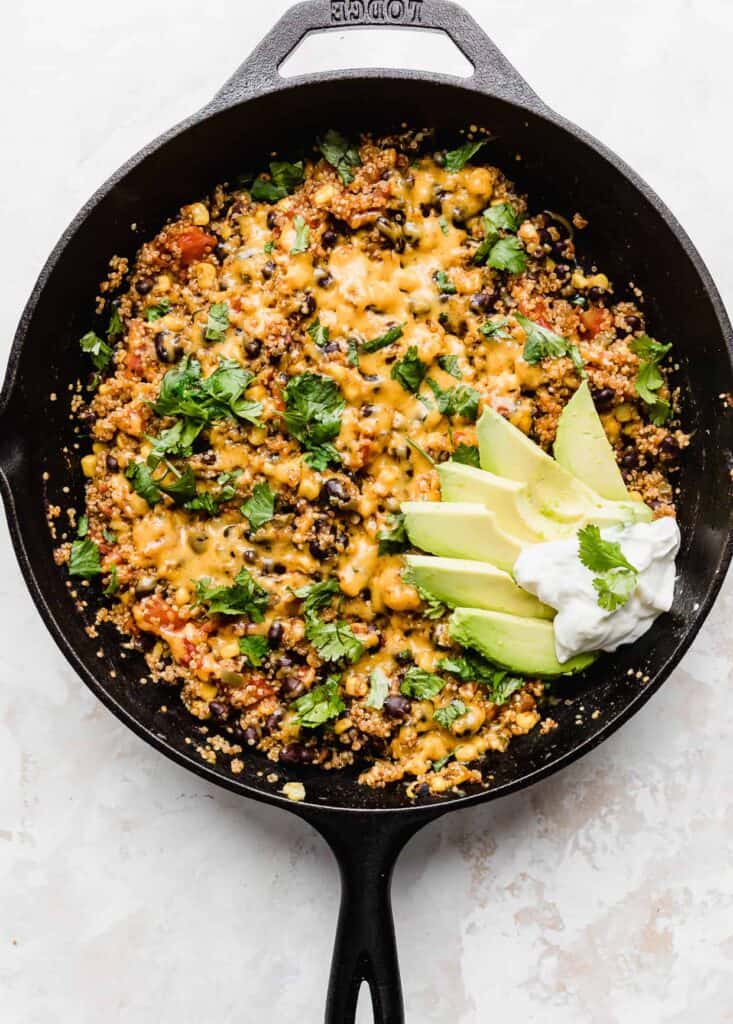 2| Lemon Garlic Chicken
This is actually an Instant Pot meal, which you could easily convert to a stovetop meal in a dutch oven.
Lemon Garlic Chicken is a delicious main dish you can completely cook and freeze ahead for a super-fast supper.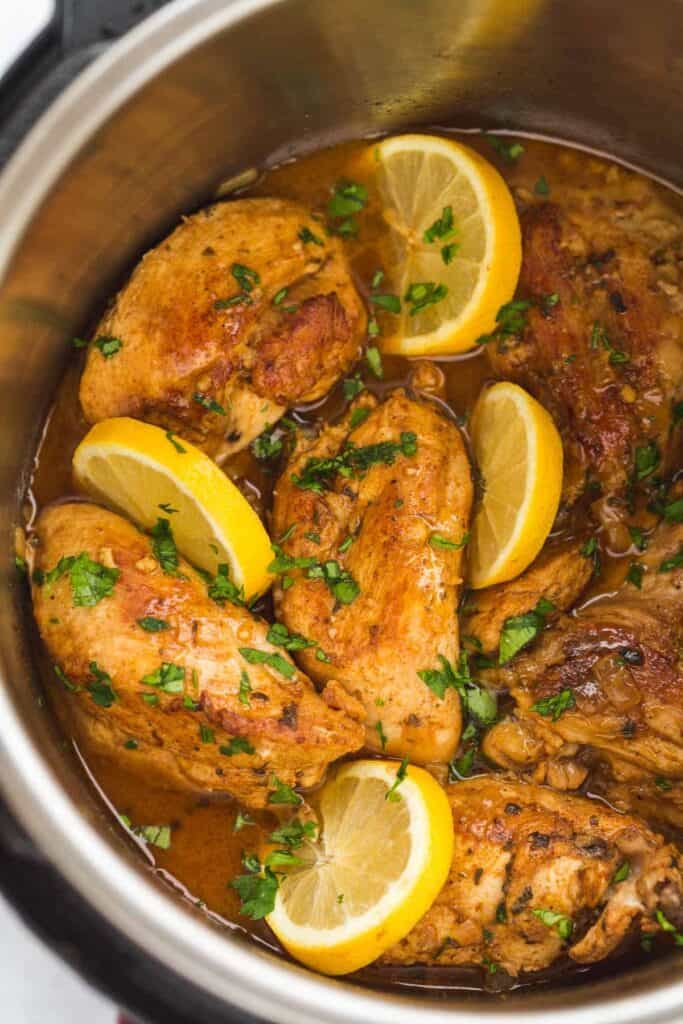 3| Chicken Enchilada Pie Casserole
This one had me at chicken + enchilada + pie. 😉
And, this Chicken Enchilada Pie Casserole is another great way to use the leftovers from my simple roasted chicken recipe.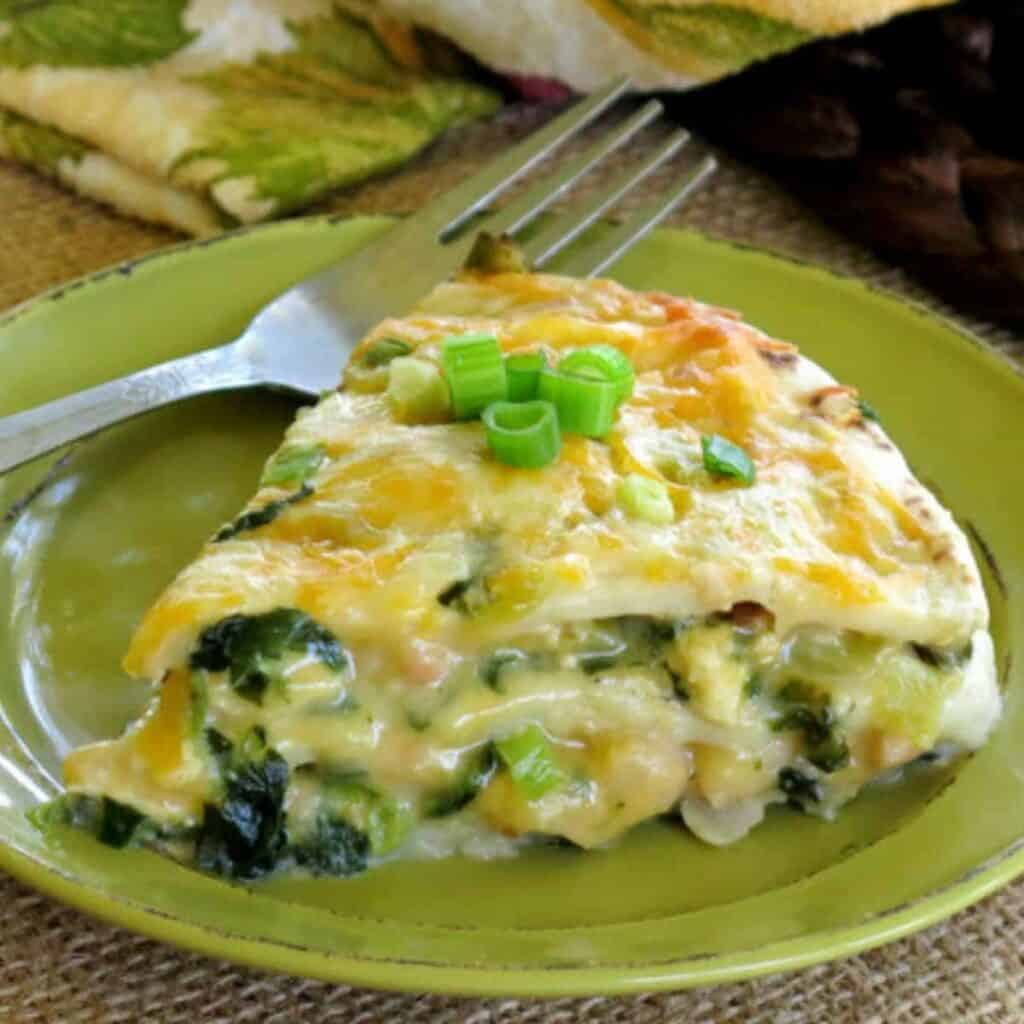 4| Turkey Meatballs with Tomato Sauce
Meatballs are a family favorite in our house.
What I love about Turkey Meatballs with Tomato Sauce is that they're versatile and pack in lots of extra veggies as well!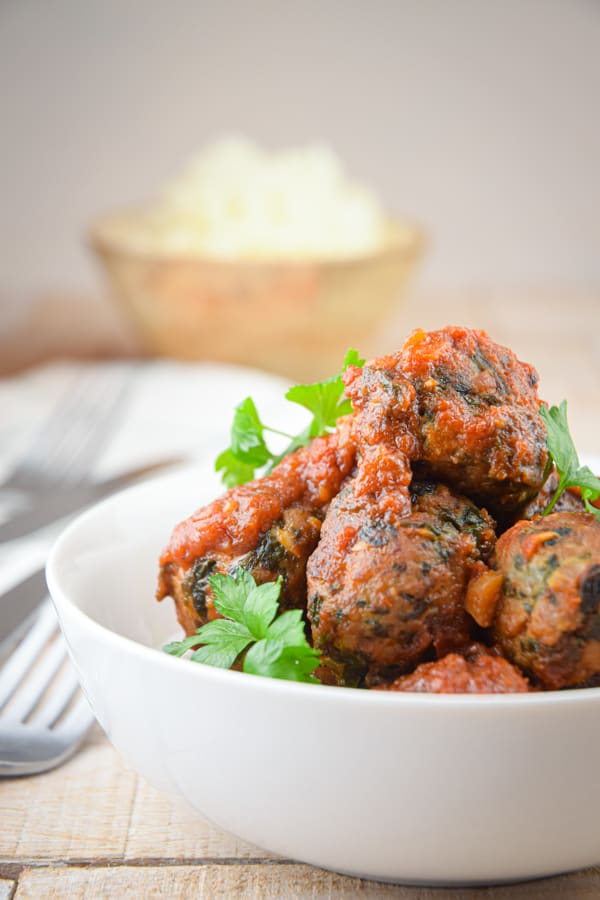 5| Coconut Lime Chicken
Nothing says summer like Coconut Lime Chicken on the grill.
To prep, you'll make the homemade marinade, pop it into freezer bags along with fresh chicken breasts, then freeze. There's so much flavor packed in; it's a must-try.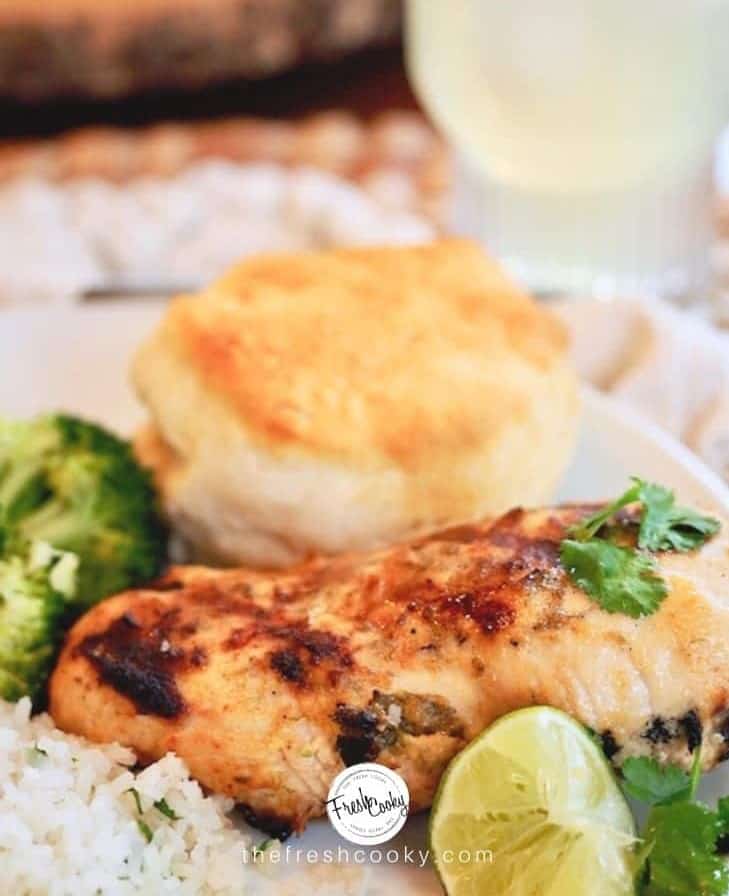 6| Chicken Pot Pie Hand Pies
Anyone else consider chicken pot pie the ultimate comfort food?
These chicken pot pie hand pies are a fun twist on the classic.
It's comfort food that's less messy than the traditional method, and a lot less work when you make in batches and freeze ahead.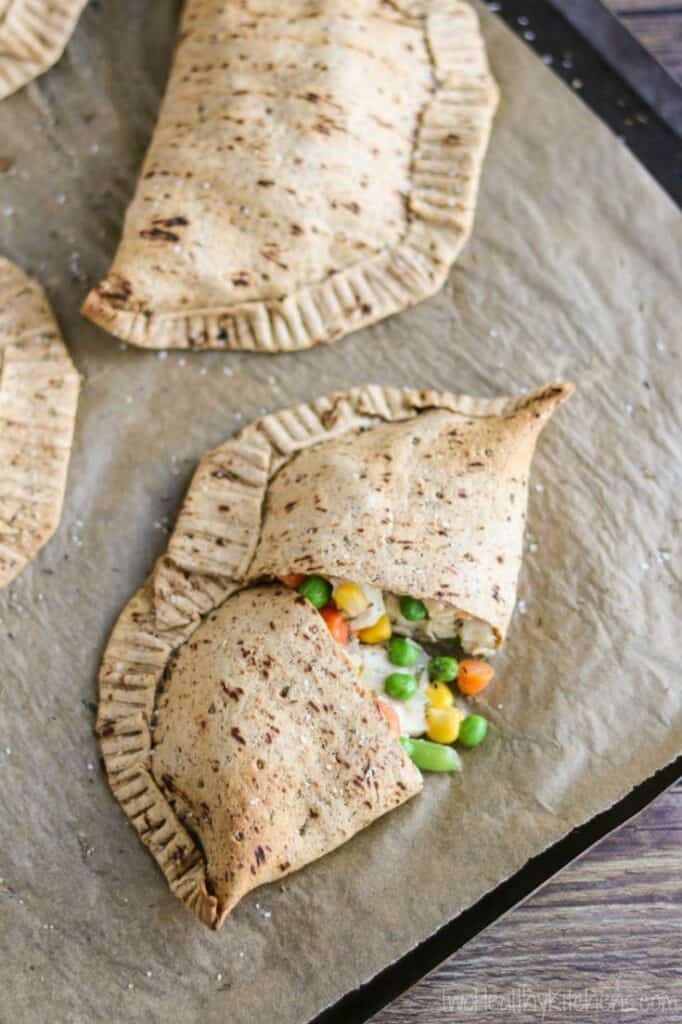 7| Keto Shredded Beef
Shredded beef can be used for dozens of meals (like burritos, nachos, or serve on a bun); and it's simple to make ahead and freeze for later.
This Keto Shredded Beef is a clean, healthy version you'll feel good about serving your family.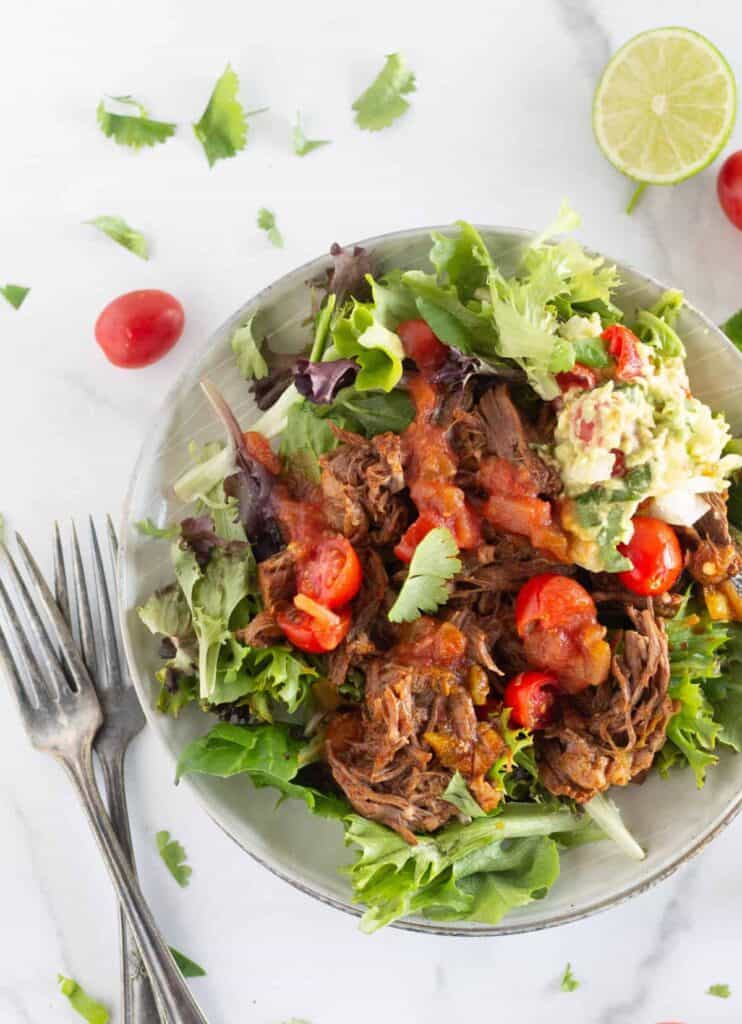 8| Vegetarian Chili Mac
By skipping the beef, you save a little more time in prep work and can make a little lighter chili mac for summer.
To freeze this Vegetarian Chili Mac, add the uncooked noodles to the rest of the ingredients in the freezer bag. Thaw and then add the water and cook through the day of, adding the cheese at the end as directed.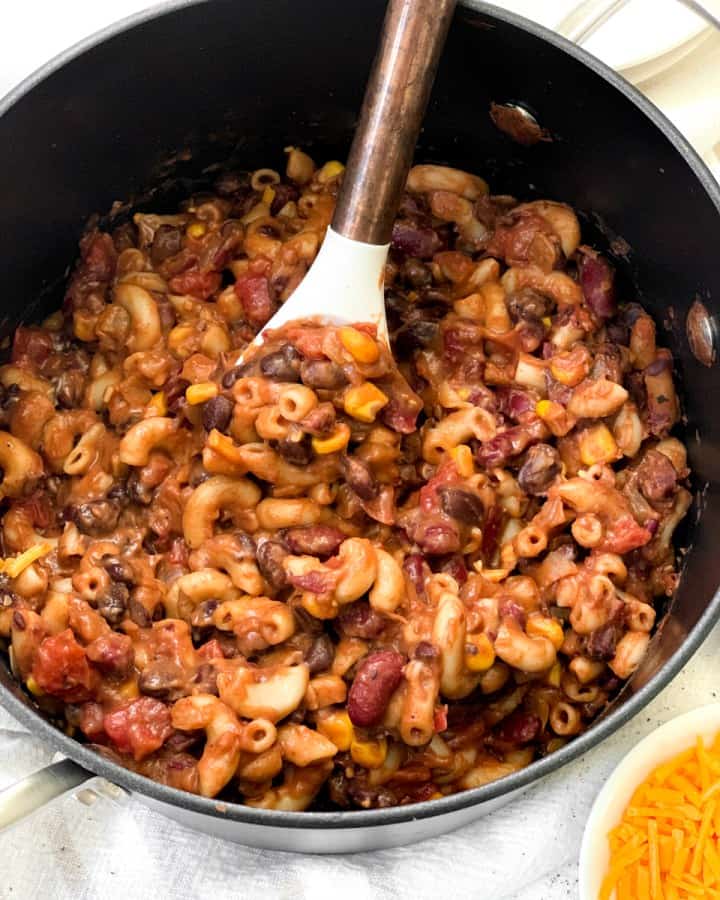 9| Lemon Chicken White Bean Soup
You may not think of soup as a summer dish, but with fresh lemons you really can't go wrong with this. Serve it on a rainy day!
You can make Lemon Chicken White Bean soup ahead of time and just add the cooked pasta on the day you plan to serve it.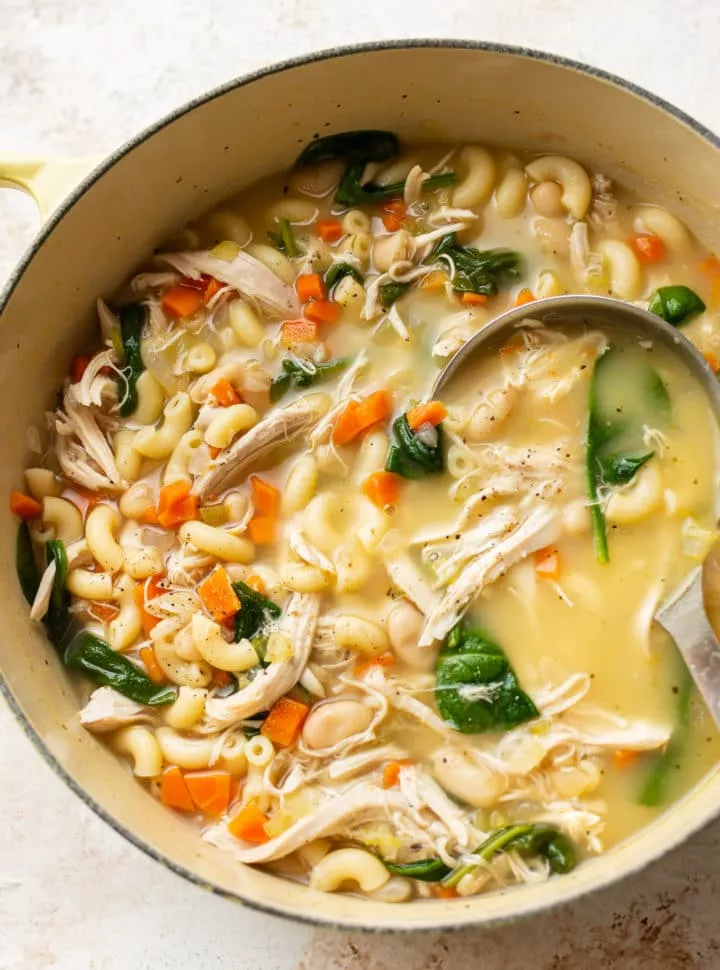 10| Best Vegetarian Lasagna
Veggies and summer just go hand-in-hand! This Vegetarian Lasagna is a perfect warm-weather dinner option.
Love and Lemons gives these instructions after freezing: Take the frozen casserole and cover it with foil and bake for about 1 hour at 350, or until warmed through. To brown the cheese on top, uncover the dish for the last 20 minutes of baking.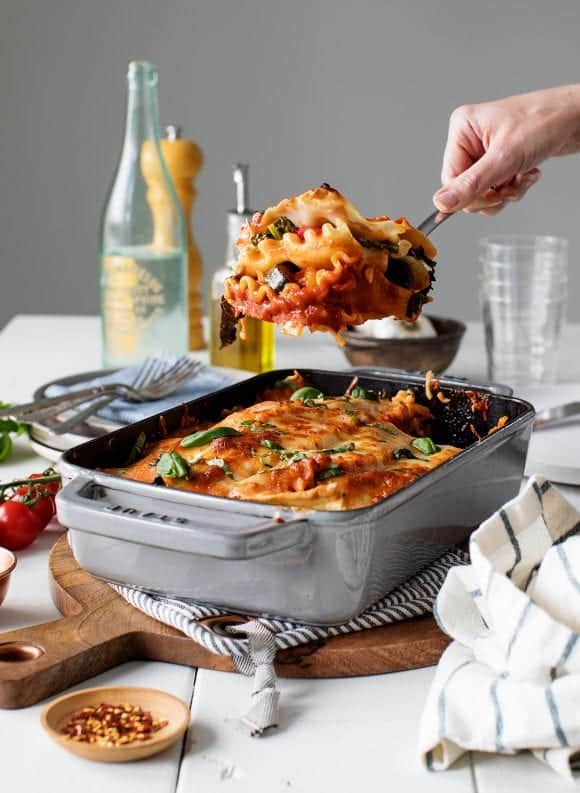 11| Creamy Sun Dried Tomato Pasta with Chicken
Since tomatoes are also synonymous with summer at our house, I had to include this beautiful pasta dish.
Creamy Sun Dried Tomato Pasta with Chicken can be made ahead and Laura suggests adding a little water when you re-heat it.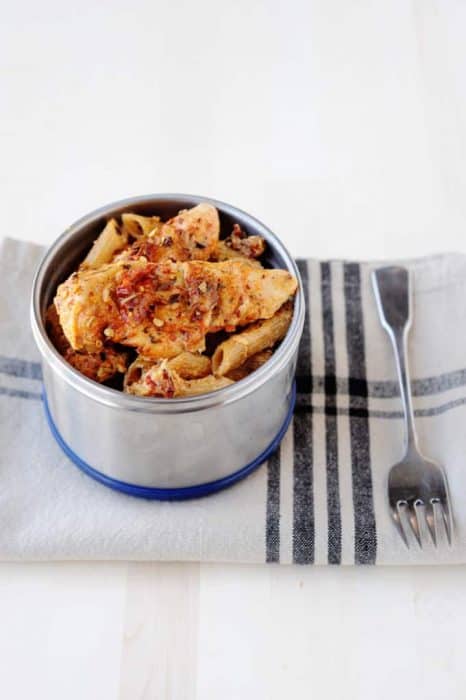 12| French Dip Sandwiches
This recipe is intended for the crockpot and it's one of the easiest freezer meal ideas on this list!
Just add the ingredients to Slow Cooker Roast Beef French Dip sandwiches to a freezer bag and it's ready to pop into the crockpot for busy days.
(Or you can convert to dutch oven/stovetop method.)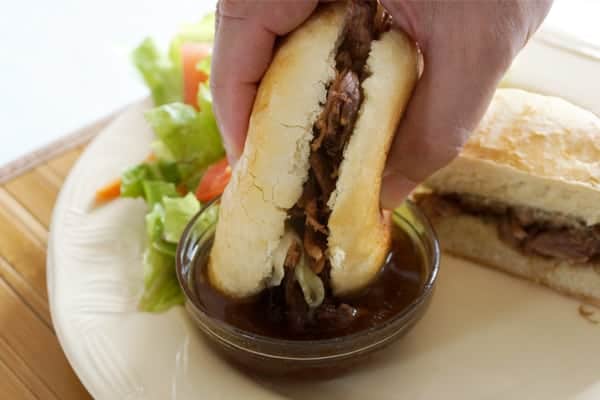 13| Pesto Chicken and Vegetables Freezer Meal
I love the idea of make ahead meals to freeze for later, which do not require pre-cooking the meat.
Pesto Chicken and Vegetables only takes a little prep work chopping the veggies.
Then you can freeze; thaw when ready, dump and slow-cook. No heating up the kitchen at all!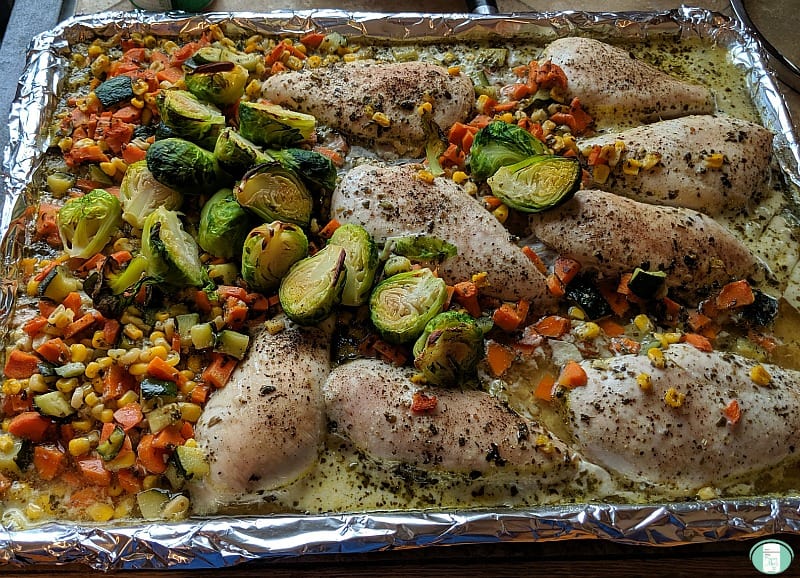 14| Cheesy Broccoli and Bacon Quiche
Since broccoli is on short list of veggies my son will eat, I love the idea of incorporating it into a quiche…which is almost like a pie..which is almost a dessert, right? 😉
This Cheesy Broccoli and Bacon Quiche can be made ahead of time, wrapped with tinfoil and frozen until you're ready to dig in.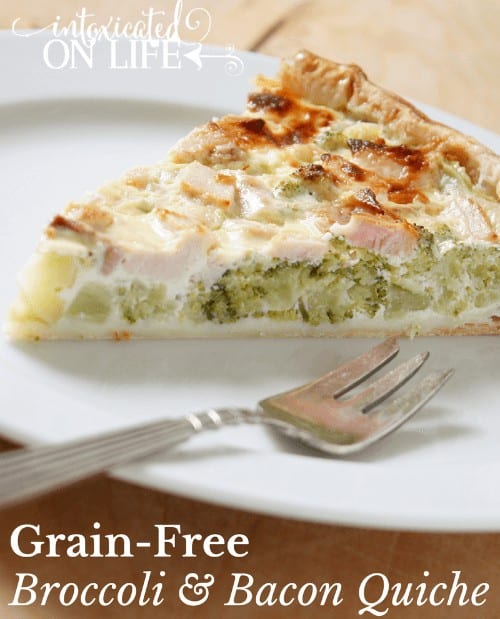 15| Honey Lime Chicken Enchiladas
Honey Lime Chicken Enchiladas become freezer-friendly by using sturdy corn tortillas and wrapping tightly with tinfoil.
I would top with the fresh cheese at the time of cooking instead of freezing for this recipe.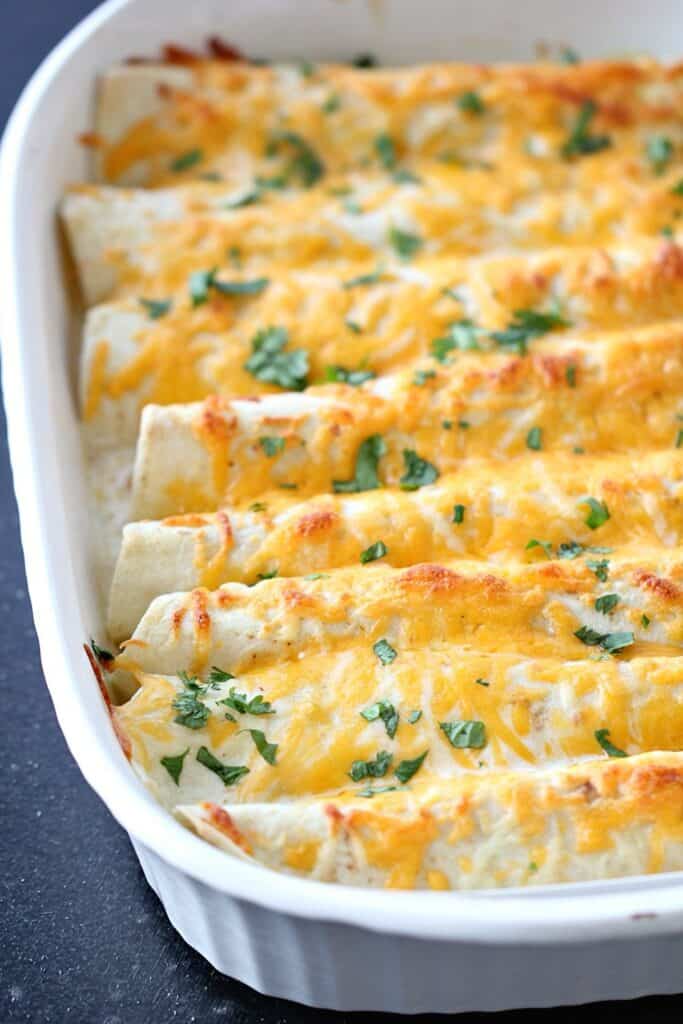 16| Coconut Tandoori-Inspired Chicken
When I think of coconuts, I think of a refreshing, tropical treat that's perfect for a summer meal.
Coconut-Inspired Tandoori Chicken uses chicken thighs and lots of fragrant seasonings. I can almost smell it!
This recipe is fast and easy to assemble and freeze ahead.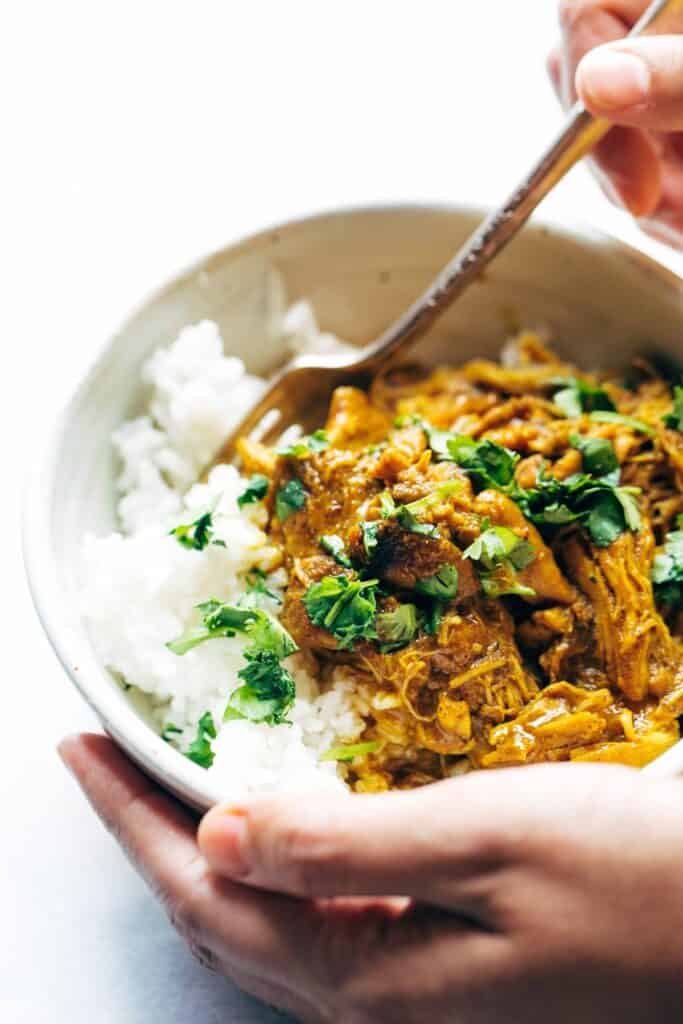 17| Hawaiian Chicken Bowls
These Hawaiian Chicken Bowls take very little time to prep and freeze for a fast, satisfying summer meal.
It is also gluten-free, paleo, and can be made whole30 and AIP!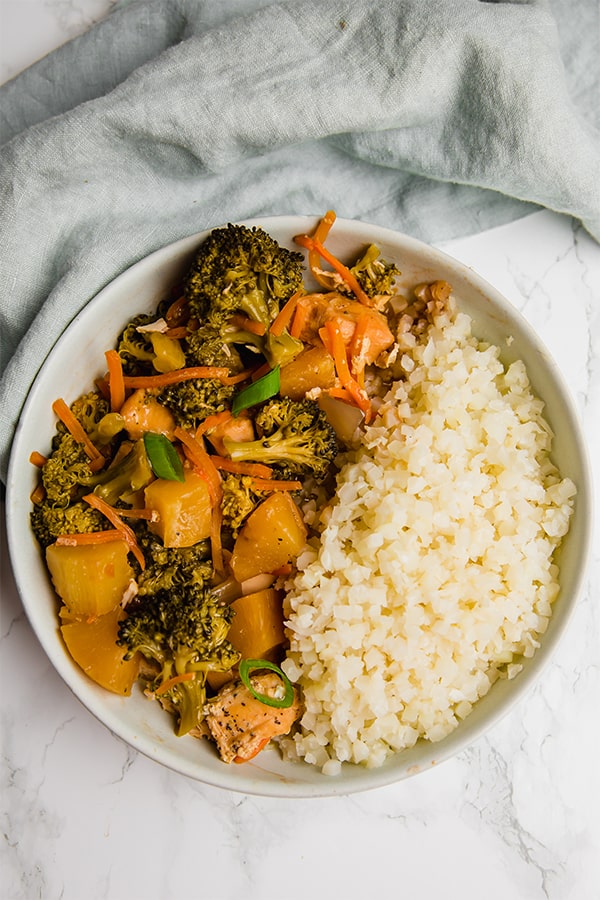 18| Garlic Lovers Beef Rigatoni Casserole
Personally I'm a huge fan of using lotsa garlic to flavor my Italian dishes (and much more), so this freezer-friendly dinner caught my attention immediately.
Garlic Lovers Beef Rigatoni only uses a few ingredients, so it would be really fast to make and freeze ahead for a new mom, or a summer weeknight with the family.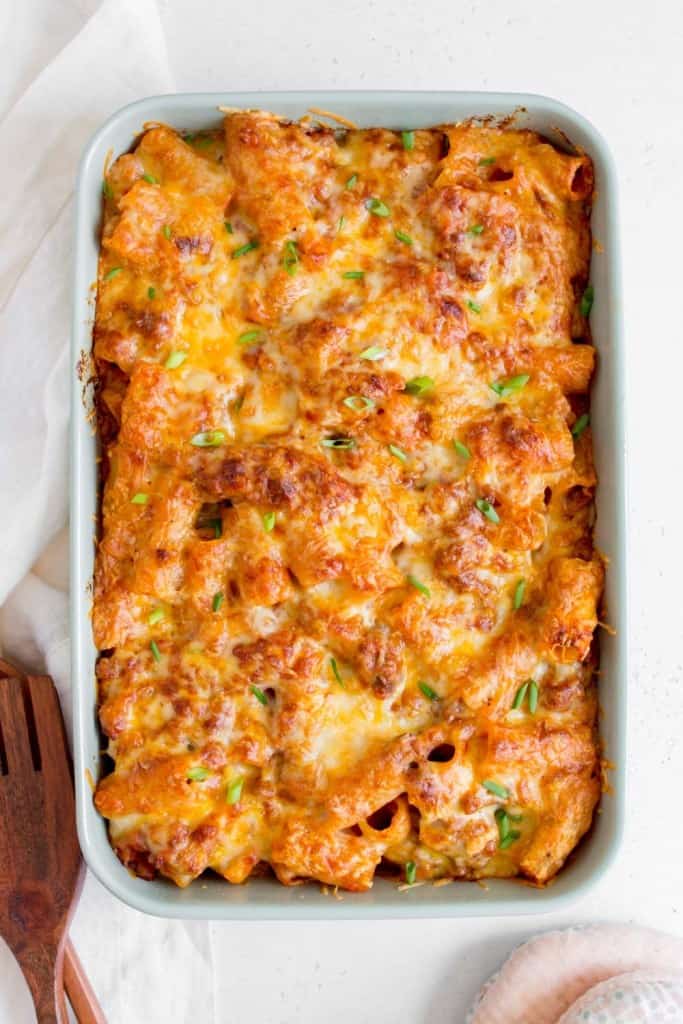 19| Lemon and Basil Pork Chops
Nothing says "fresh" quite like lemons. Lemon and Basil Pork Chops can be cooked on the grill (yum!) or in a grill pan for an easy summer freezer meal.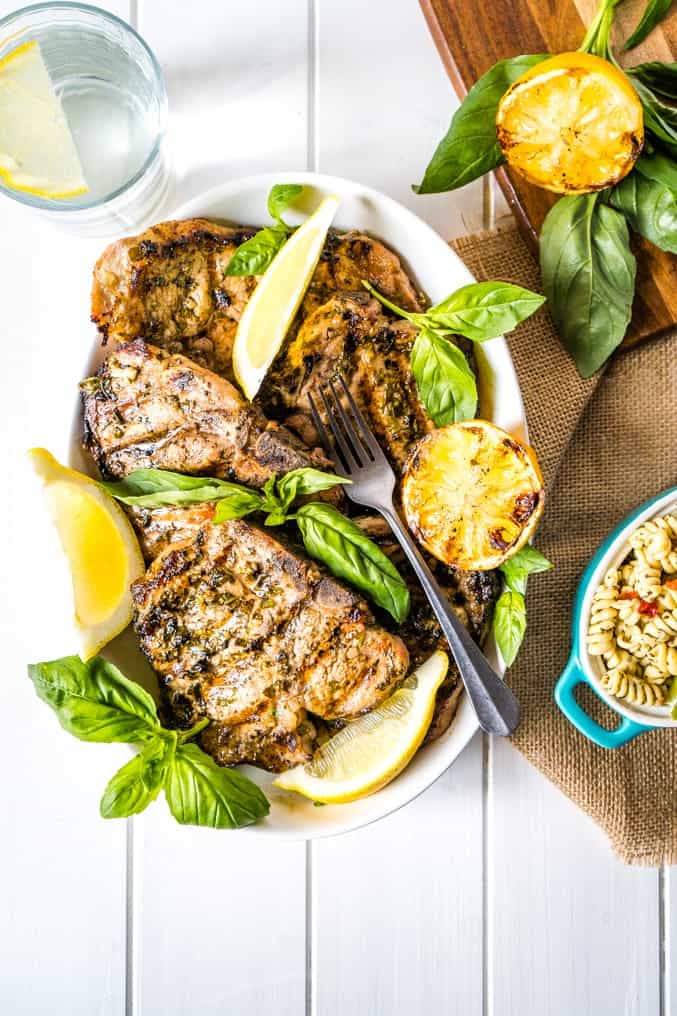 20| Vegetarian Freezer Burritos
I am always looking for new ways to use garden veggies in the summer, and these Vegetarian Freezer Burritos accomplish that!
You could use a variety of different veggies as well.
My favorite whole-wheat tortillas by far are those I get from Azure Standard.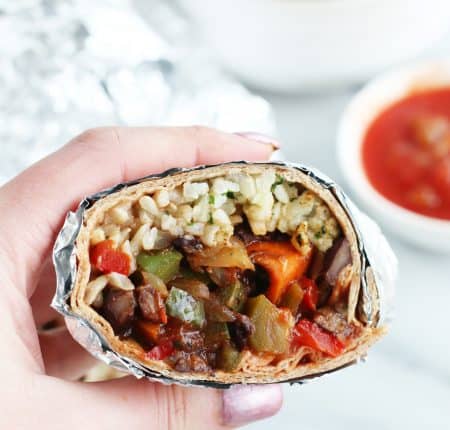 21| Vegetable Potato Chowder
I am going to call this another rainy-day summer meal. Also a great way to use up those veggies.
It's so bright and colorful; who can resist?
Try Vegan Vegetable and Potato chowder with some rustic homemade bread!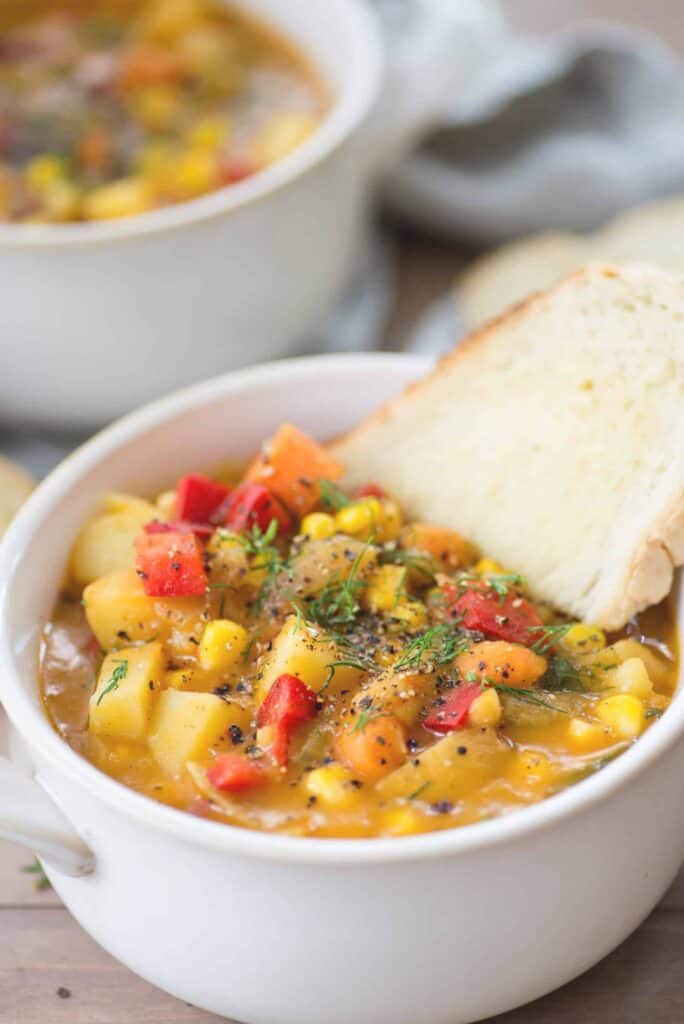 22| One-Pan Balsamic Chicken and Veggies
Roasting meats + veggies in the oven is one of my absolute favorite ways to make a quick, healthy dinner.
One-Pan Balsamic Chicken and Veggies can be made ahead as a freezer meal. Choose sturdy veggies like bell peppers, sweet potatoes and the like, for best results.
I would make marinade the chicken and veggies seperately as instructed, and freeze; then make extra basalmic glaze to drizzle over everything the day you plan to cook it (after thawing). If using tomatoes, add those the day-of as well.
Easy Freezer Meals make Summer more fun!
Let us know your favorite freezer meals for summer!
I hope these recipes inspire you to stress less and enjoy summer more, with only a little meal planning needed!
>> Check out our Money-Saving Meal Planner -to get organized and start spending less on food.
You might also like:
• Pork Chops with Apples in the Instant Pot
• The Best Crockpot Freezer Meals
• Air Fryer Pizza Rolls: An Easy Snack for Kids to Make
• 25 Budget-friendly Instant Pot Dinners