If you haven't discovered the wonders of the Instant Pot yet, you're missing out!
I bought one over a year ago and it took me a few months to work up the confidence to use it regularly.
What seemed like an intimidating appliance has now become one of my absolute favorite tools for quick + outstanding meals!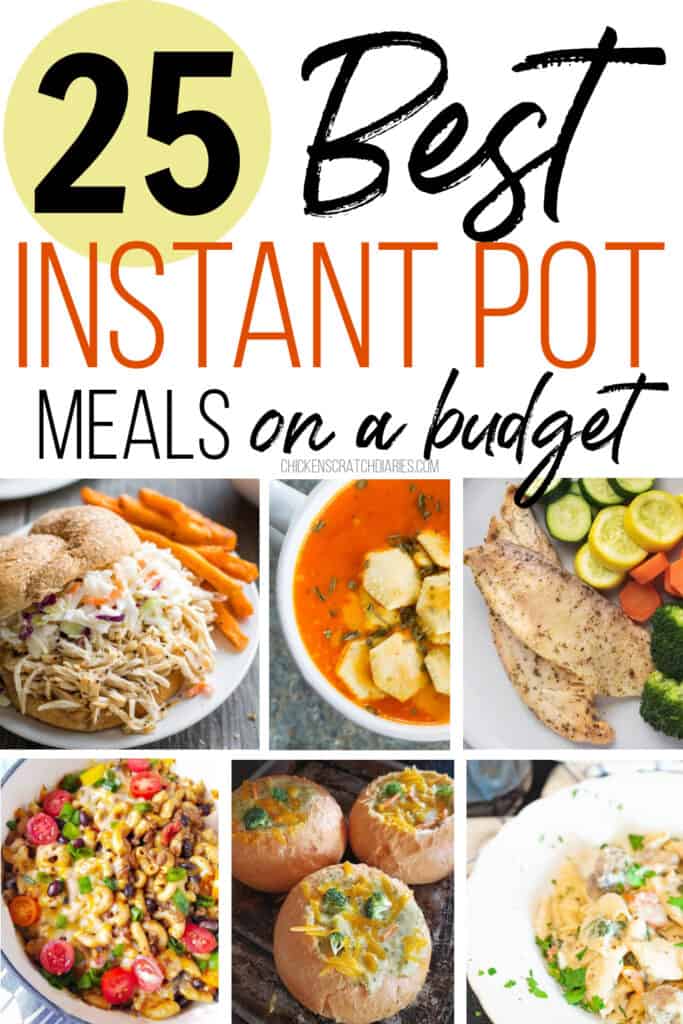 Sure, you might feel like you're cheating on your Crockpot at first.
And it's true that I've used my slow cooker a little less since getting hooked on the speed of the Instant Pot.
Slow cooker meals still have their purpose in my life, but I am just thankful to have options!
This post likely contains affiliate links. Please see our disclosure for more info.
Benefits of the Instant Pot
If you haven't already taken the pressure-cooker plunge, you might be wondering what's so great about them, anyhow?
I remembered the old days of pressure cooking which pretty much turned food into a boiled mush if you weren't careful.
But today's digital method is much more precise and produces meals infused with so much flavor, in…an instant (almost).
Just a few of the things that make the Instant Pot a wonder-machine:
It produces the most tender cuts of meat (not boiled mush!)
Drastically cuts down on cooking time (versus stovetop/oven/slow cooker)
Reduces dependency on the microwave (healthier method)
You can use the sauté function for one-pot meals with one-pot cleanup (quickly pre-sear meats, then switch to pressure cook function to finish. Easy!)
Read next:
Instant Pot Green Beans with Bacon Recipe
Pizza Roll Ups- Air Fryer version
Freezer to Oven Meals for Summer
Healthy Chicken Sausage Sheet Pan Supper
What type of Instant Pot do you need?
The main thing to consider is your family size. For our family of 6, I opted for an 8-quart Instant Pot.
The average family can probably get by easily with the 6-quart version, however.
Although I use and trust the Instant Pot brand, I have also heard rave reviews about the Ninja Foodi pressure cooker.
Favorite Instant Pot Meals (on the cheap)
These are some of the best frugal Instant Pot meals I've found that are easy to make.
You'll want to work them into your meal rotation and save time in the kitchen!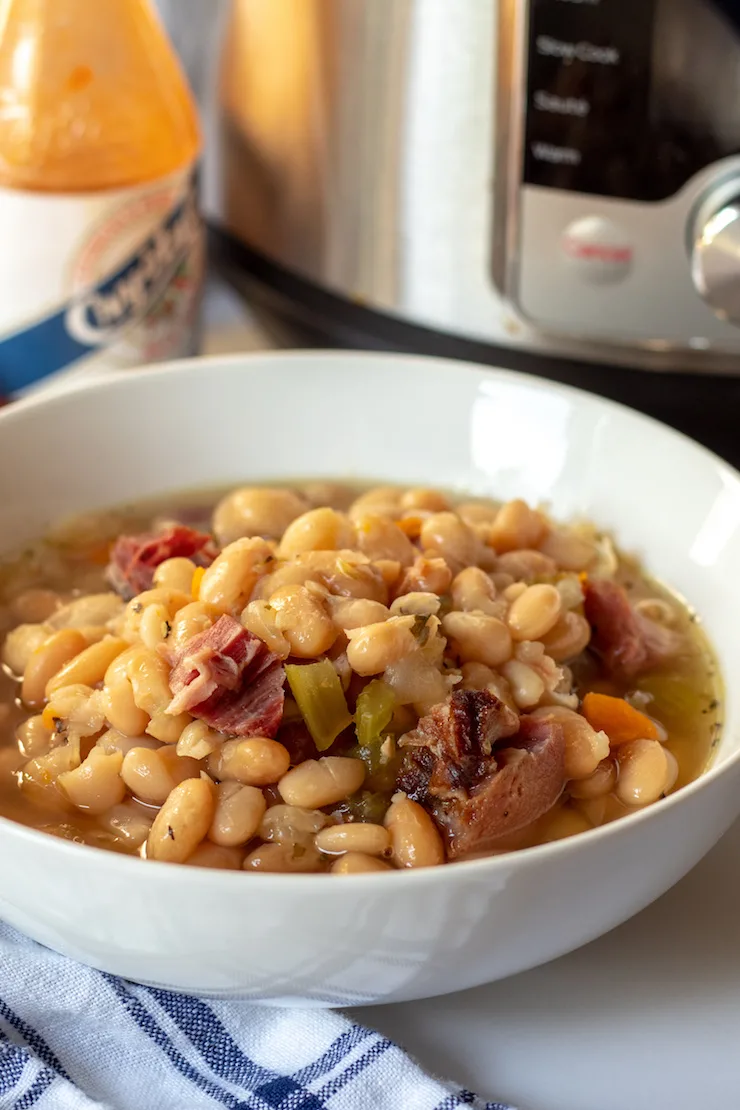 We've made this white bean IP recipe over and over this fall and winter. It's a flavor-packed and almost like vegetable soup meets ham & beans.
The best part- this recipe does NOT require you to soak the dry beans ahead of time! No stressing when you forget to do this the night before (like I always do.)
We used leftover ham from holiday dinners, but using the ham bone would be even better if you want to try it!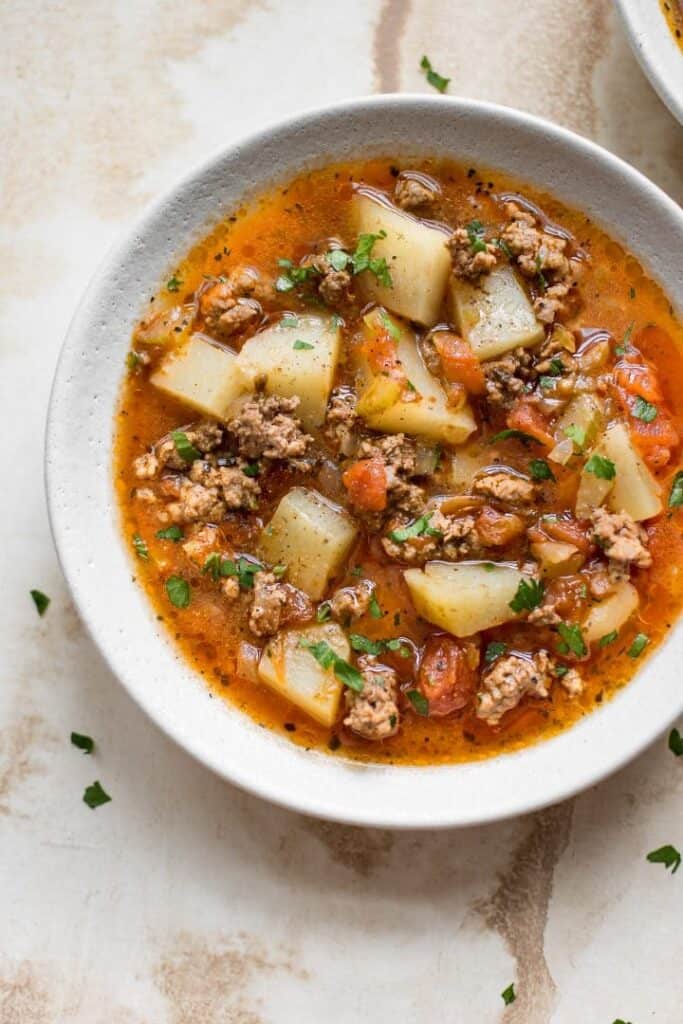 Since we've started buying a 1/2 beef and filling our freezer instead of buying it by the pound, ground beef is a very economical staple at our house!
Hint: veggies like carrots and celery can be chopped and frozen ahead of time to make dinners like these even faster.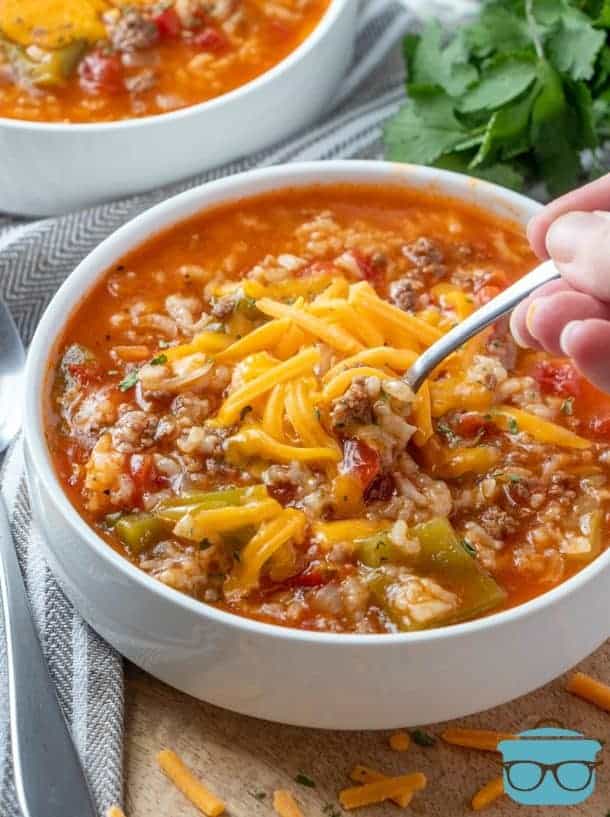 I'm thinking this would be a great way to use our abundance of bell peppers from the summer veggie garden.
Doesn't it look delicious?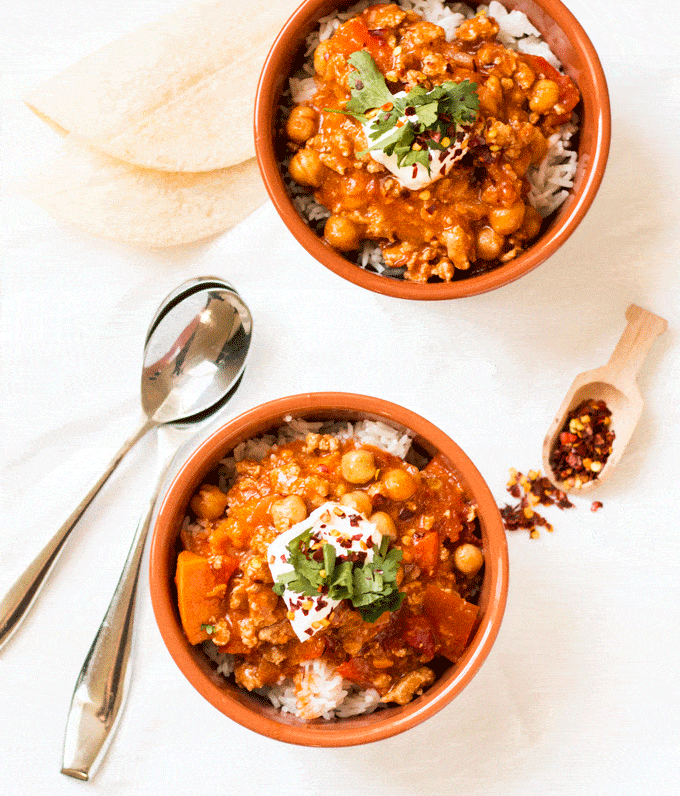 Healthy and kid-friendly; a delightful twist on classic chili. I love the idea of serving it over rice, too.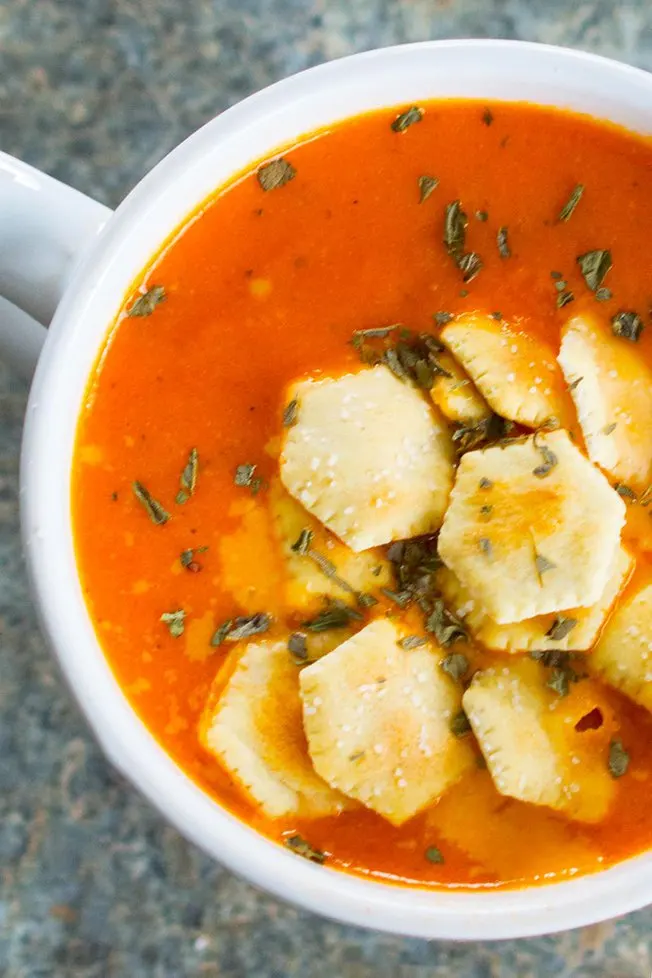 I was excited to see that this recipe uses diced tomatoes, because it's one of my pantry essentials I always stock up on when it's on sale.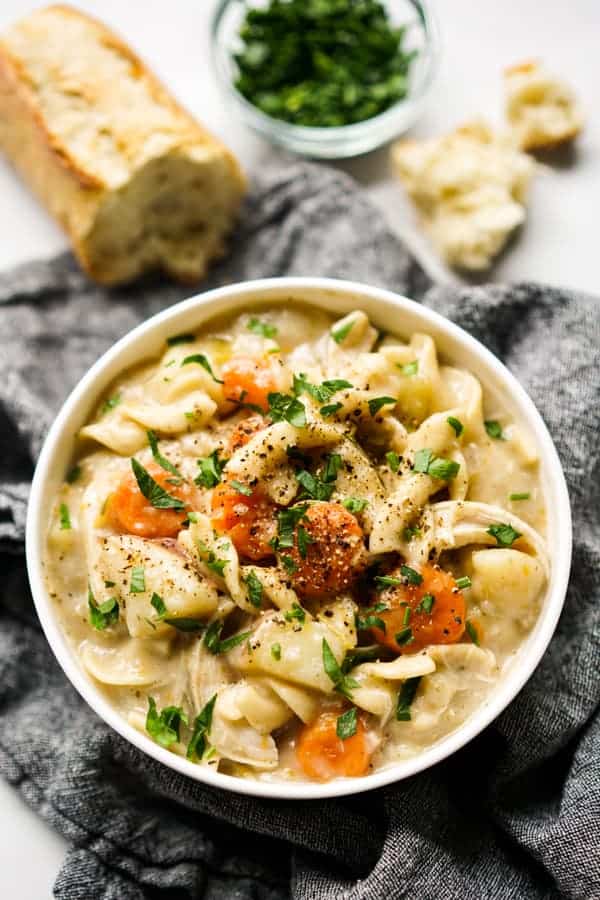 A hearty comfort food in a bowl – one of our family's favorite meals.
You could also substitute turkey for the chicken. Turkey and noodles is the perfect way to use up the rest of the Thanksgiving leftovers!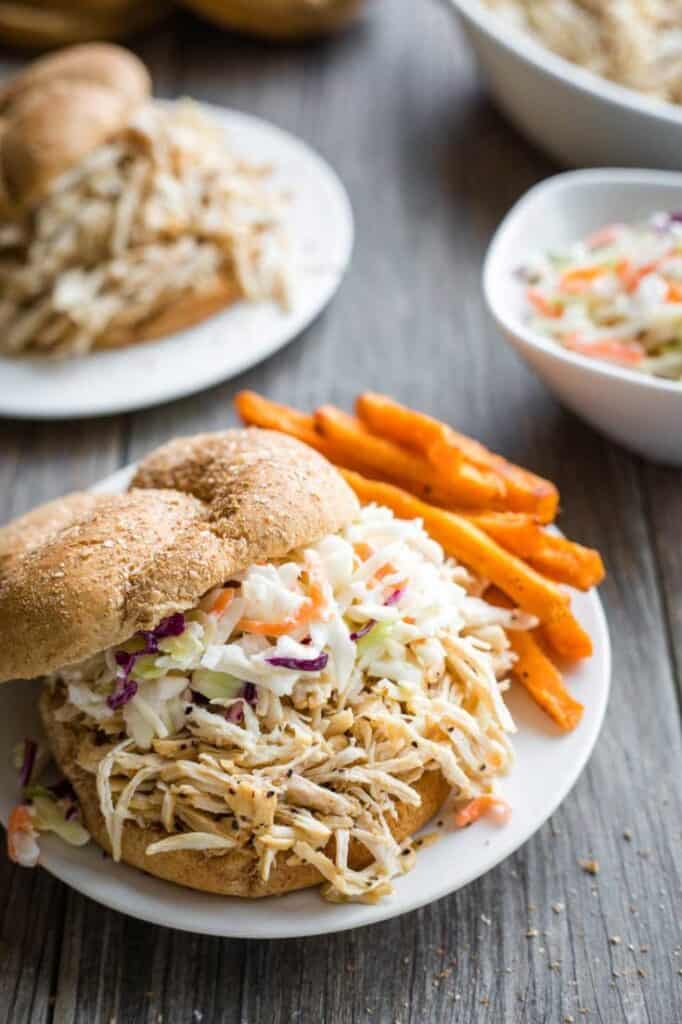 Instant Pot BBQ chicken would be great served on our honey wheat buns!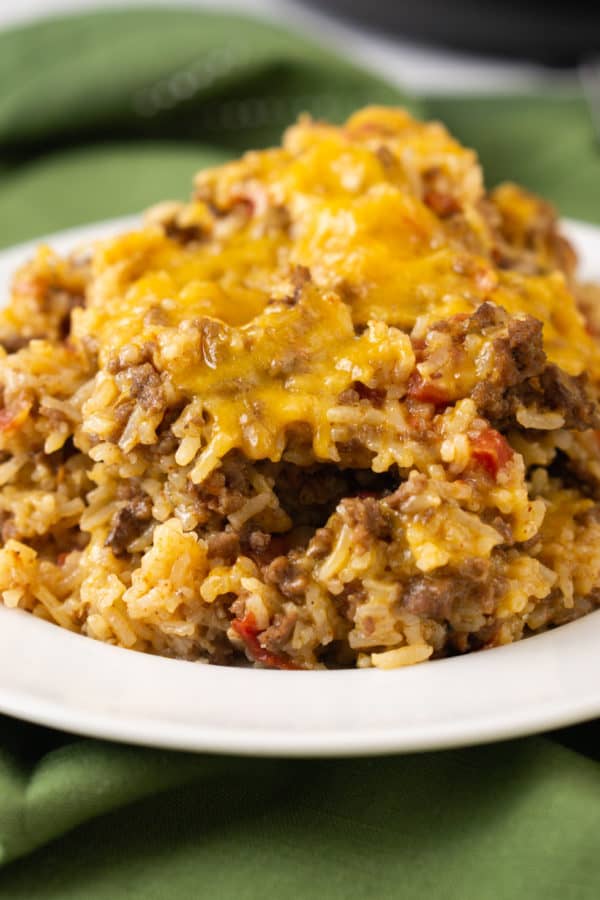 This recipe takes 30 minutes or less and is simply a bowl of cheesy goodness. It's a filling meal by itself or you could also serve on tortilla chips.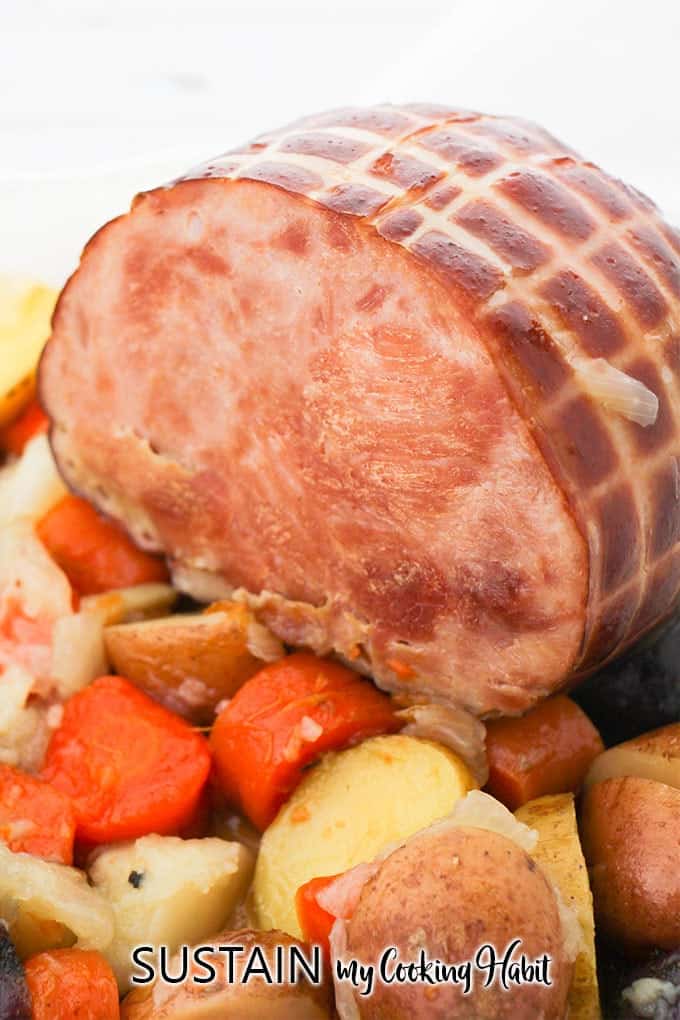 Precooked ham makes a time-saving and dollar-saving dish alongside flavorful root veggies.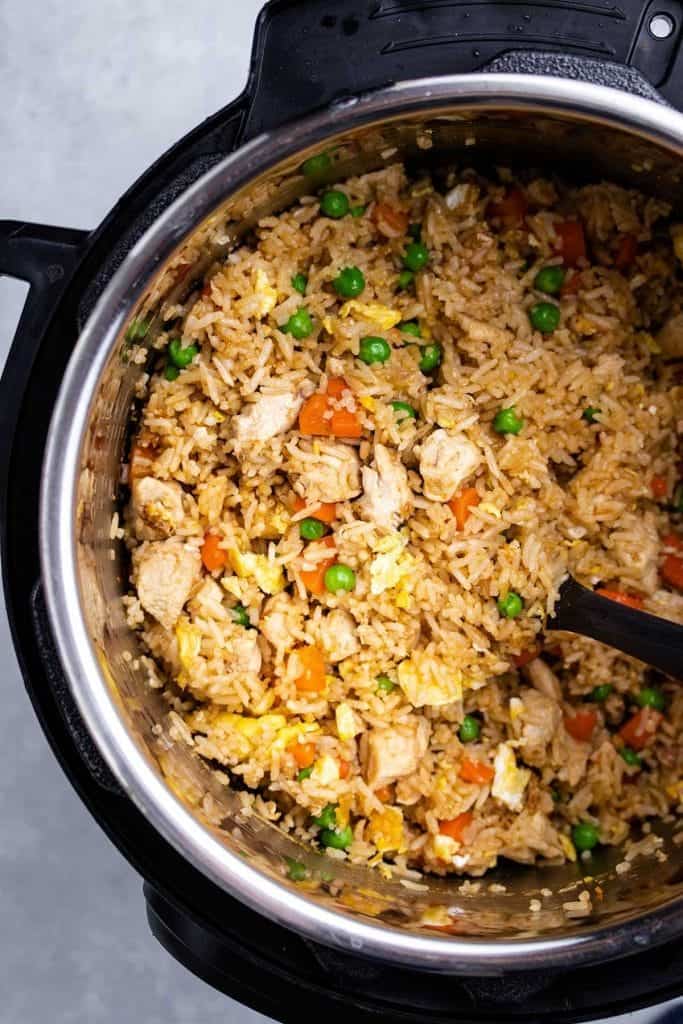 Fried rice was one of the first dishes I learned to make as a newlywed on a tight grocery budget! Making in the Instant Pot gets dinner on the table fast.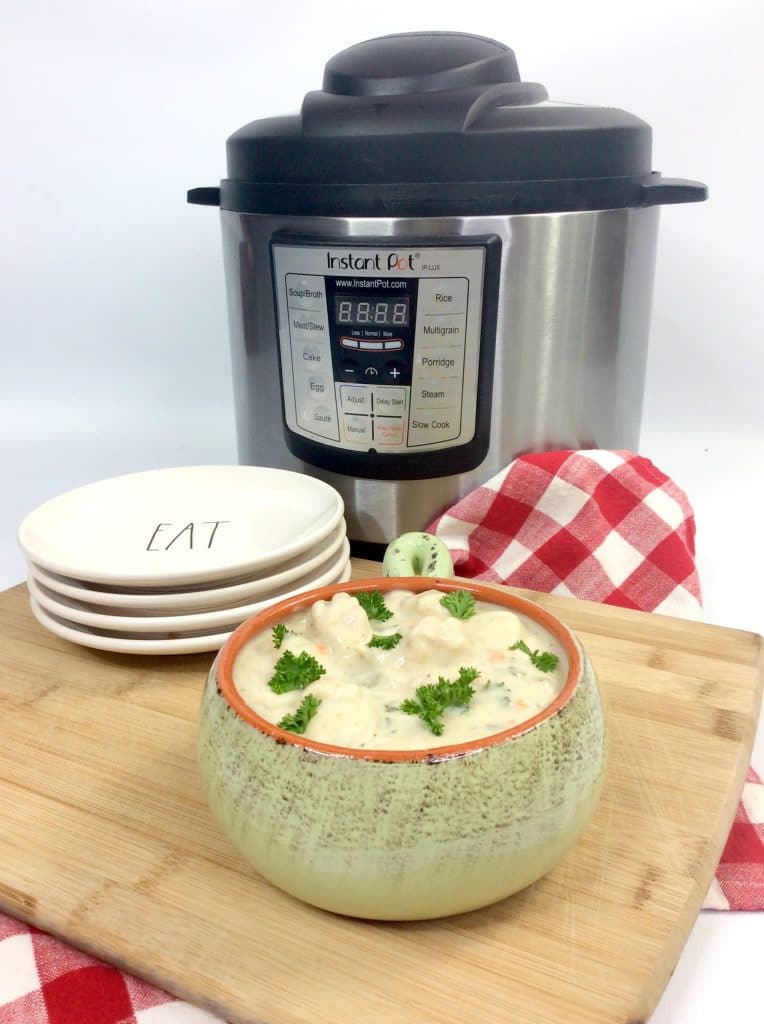 This creamy restaurant-inspired dish can be made at home for a fraction of the restaurant price tag.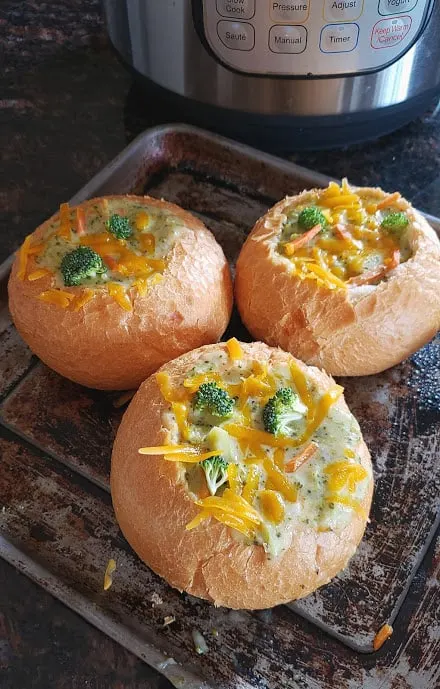 One of my children begs for brocolli cheese soup almost weekly. This version uses simple ingredients including my favorite Better than Buillion and matchstick carrots which make prep work so easy.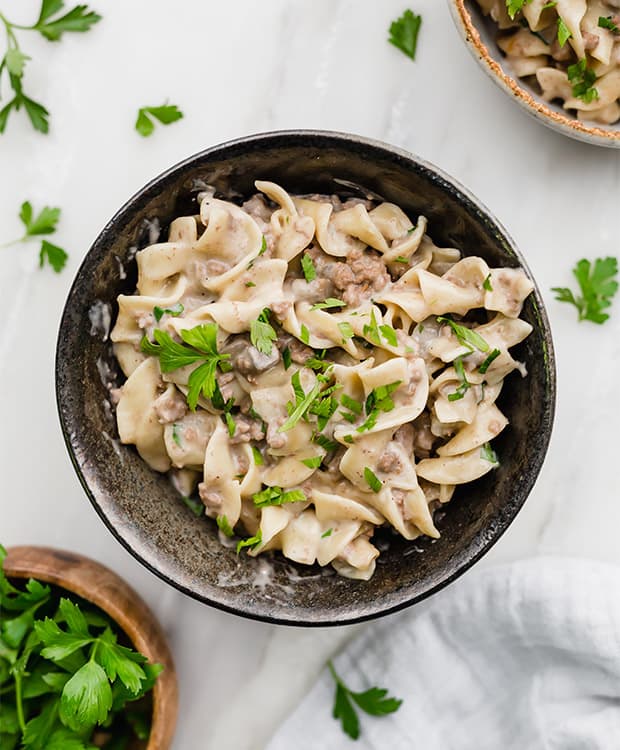 Beef stroganoff is a classic family-friendly meal and goes well with almost any veggie or even a side salad.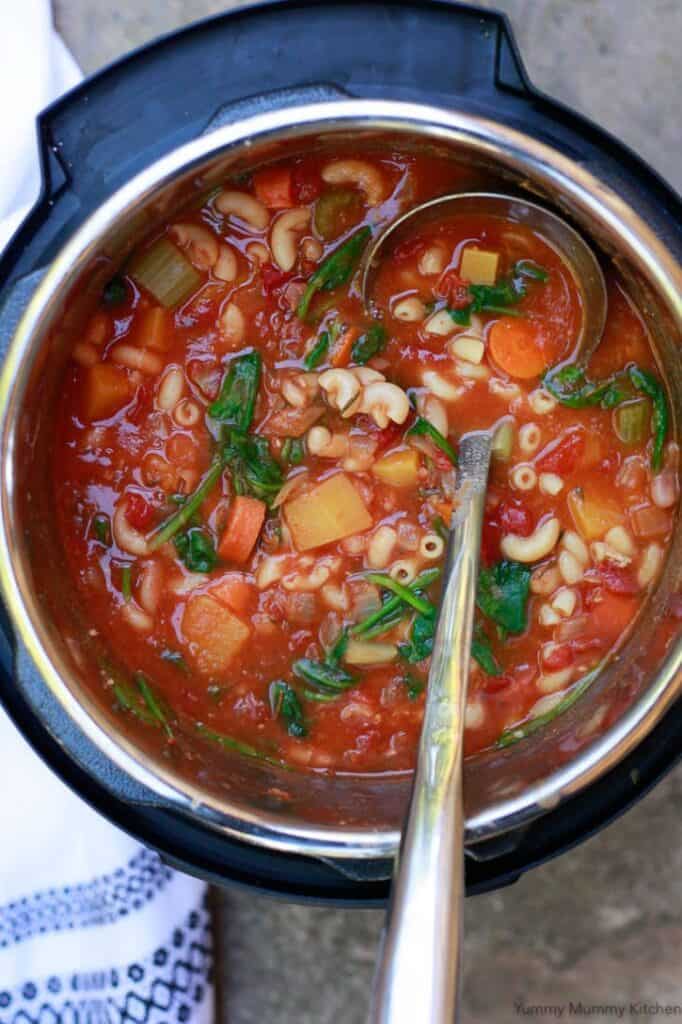 Minestrone soup is one of my all-time favorites! The butternut squash gives it a nice twist on the classic, and another great way to use up extra garden veggies.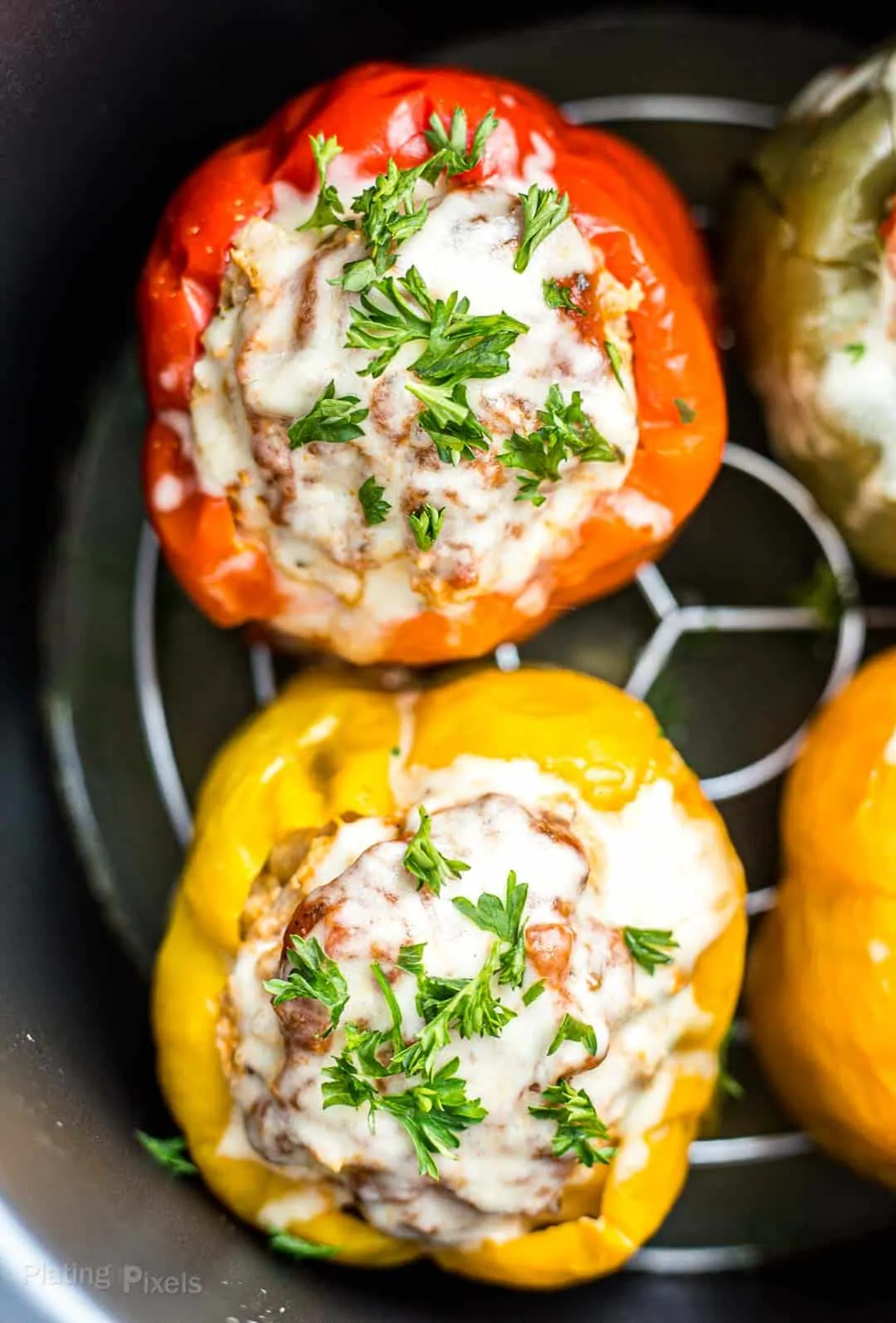 By cooking stuffed peppers in the Instant Pot, there is no need to brown the meat ahead of time. One of our favorites!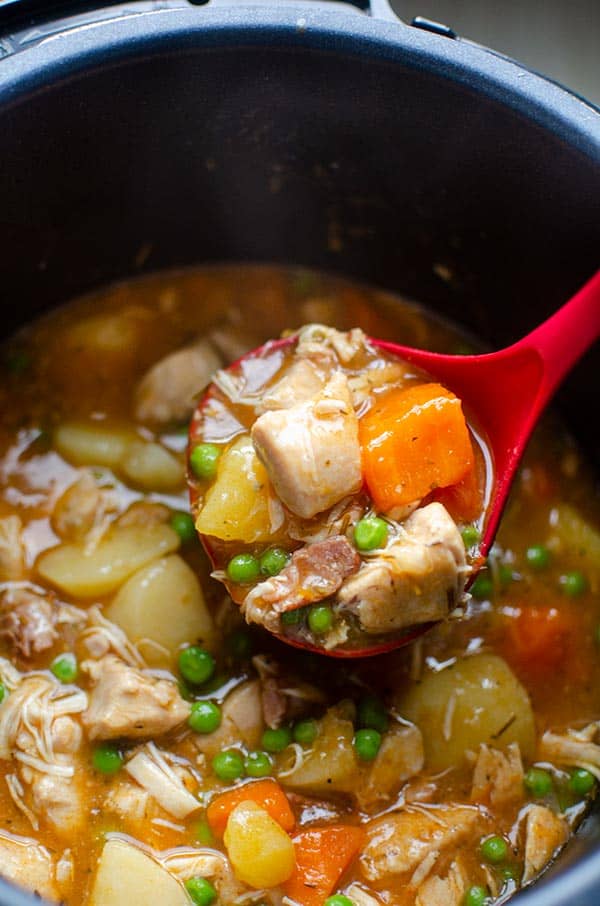 A hearty stew with minimal fuss. We almost always have a stash of frozen chicken from Butcherbox for meals like these.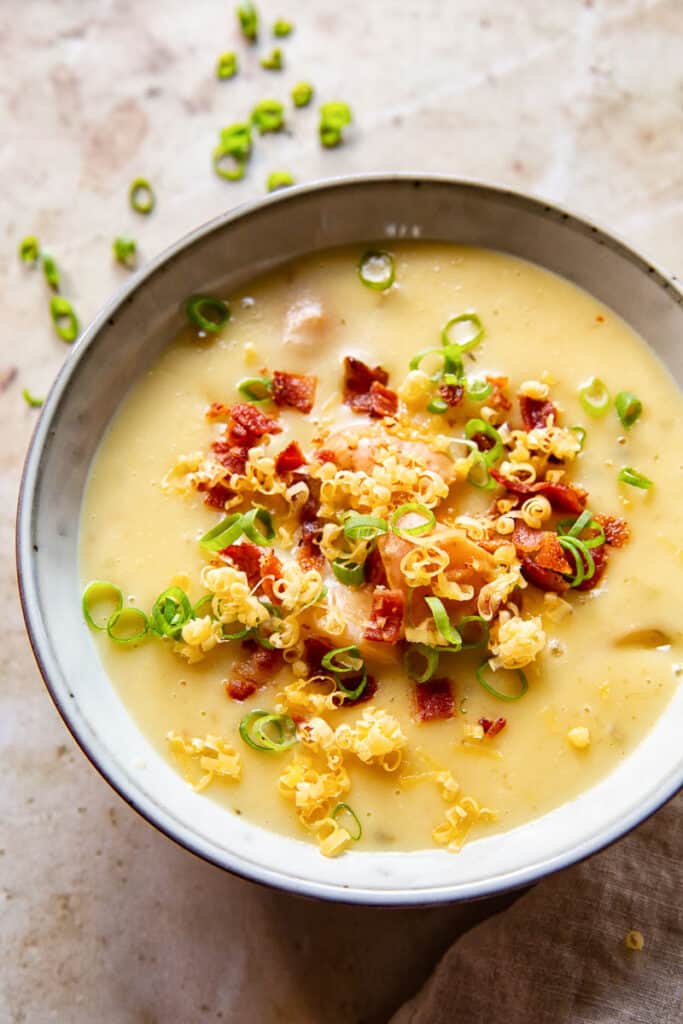 You can't go wrong with potato soup in all its melty cheesy goodness.
If you cook batches of bacon ahead of time and freeze, you can get out small amounts at a time for recipes like these and save even more time.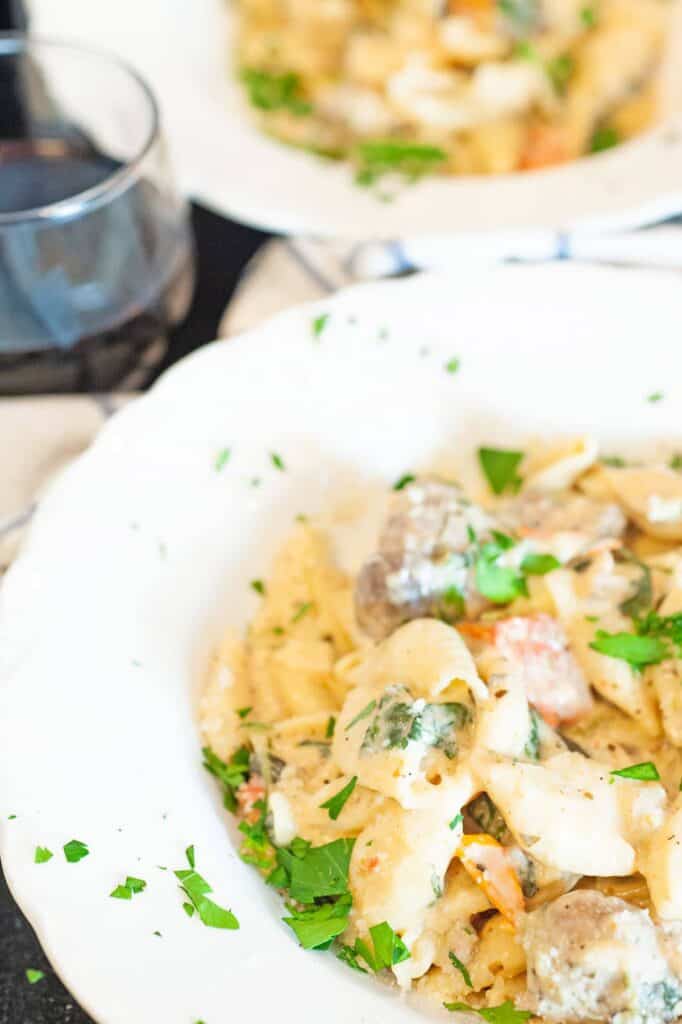 There are so many layers of flavor to this beautiful dish, and it only takes around 30 minutes from start to finish!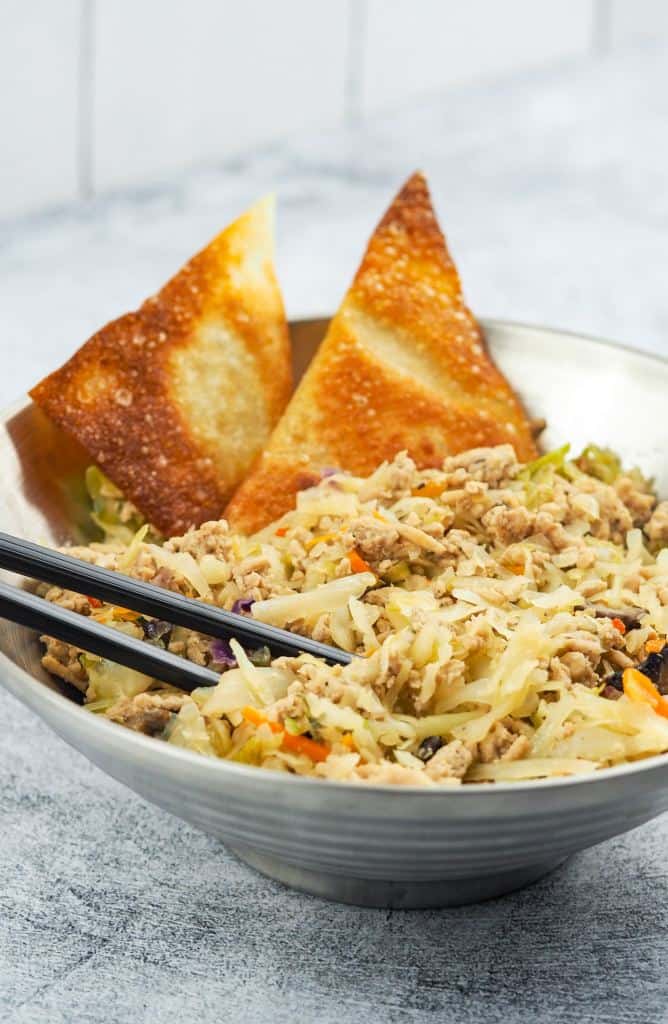 Cabbage is a well-known frugal dinner staple, and this idea is just brilliant! The egg roll "chips" are so fun and unique as well.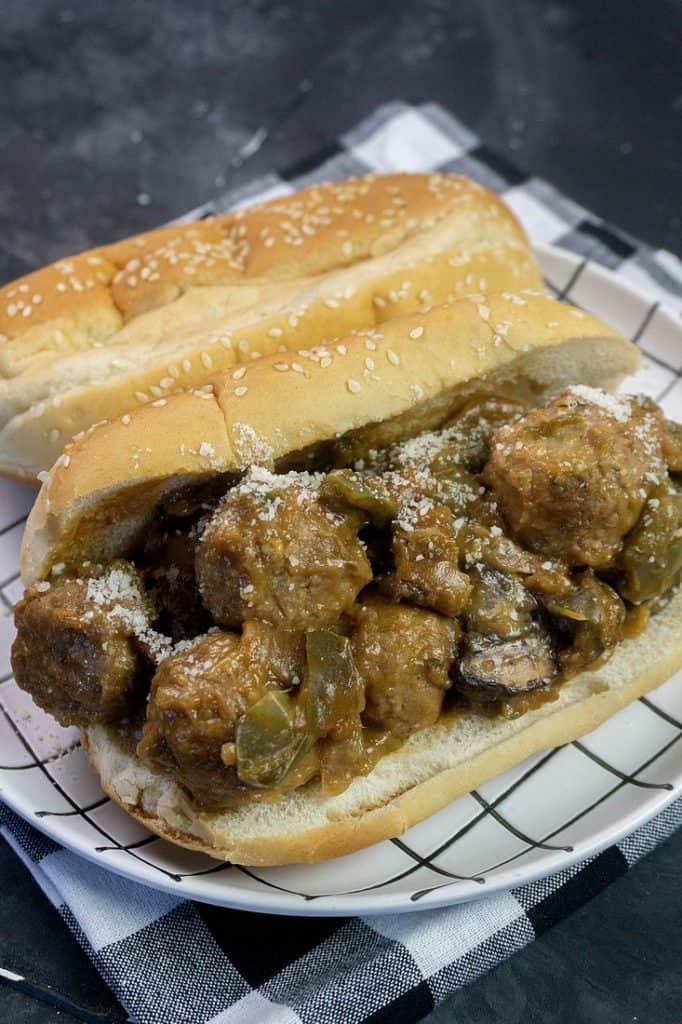 I love making meatball sandwiches when we need a quick dinner; it's simple and satisfying.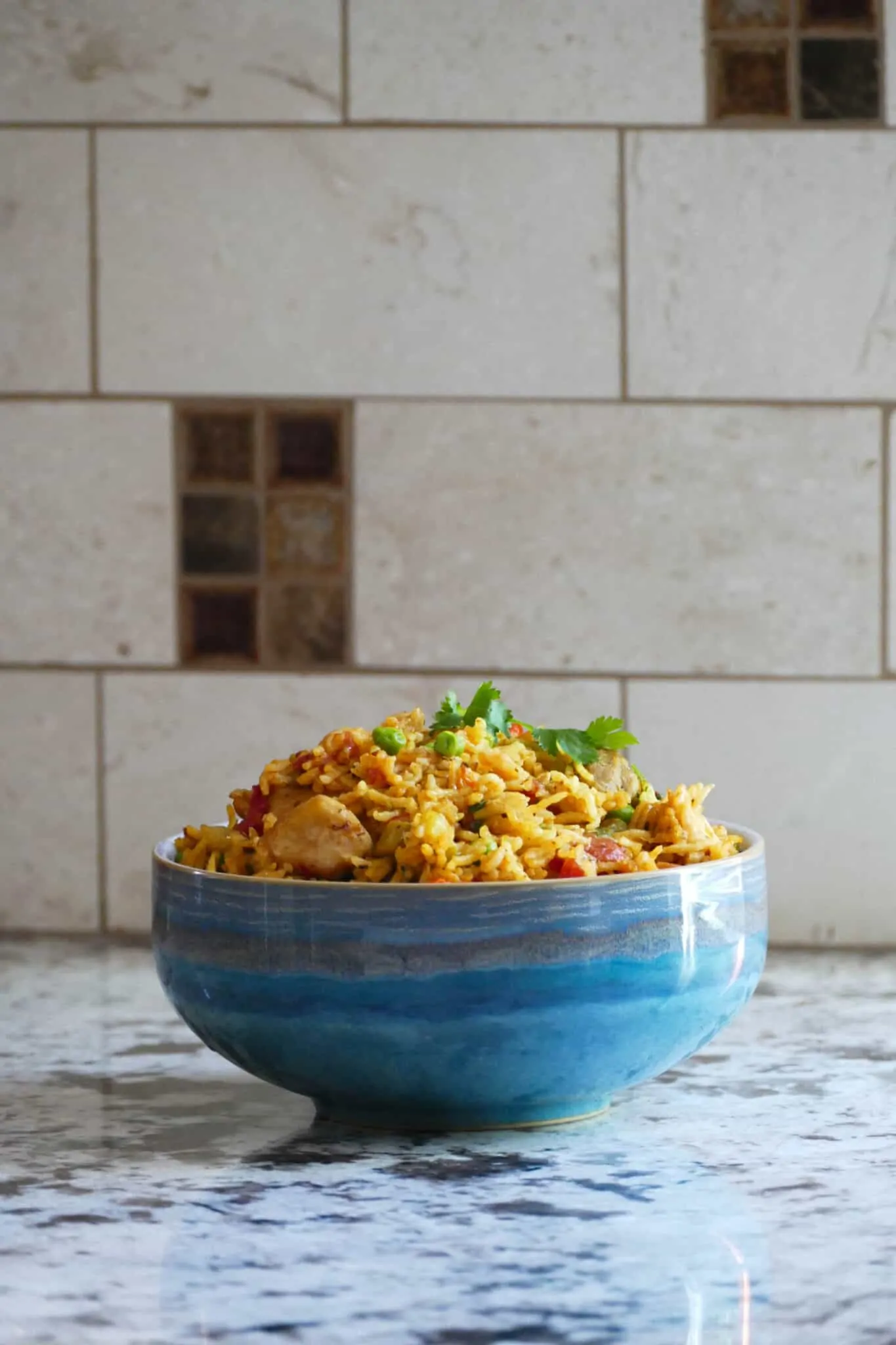 Seasoned rice, veggies and chicken make for a warm and tasty supper-in-a-bowl.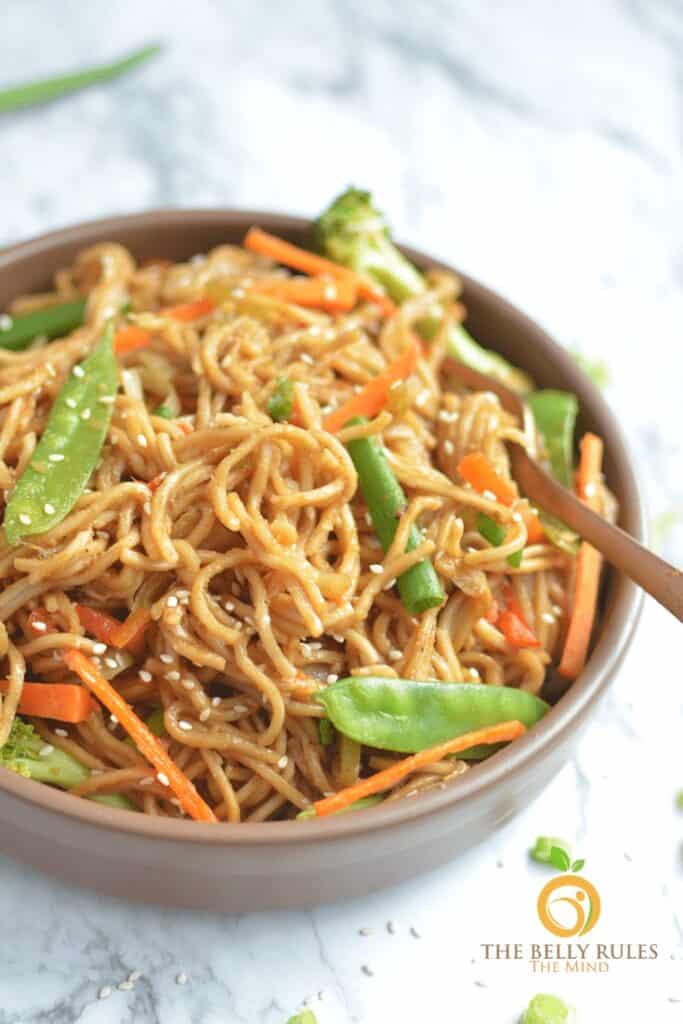 If you really want to save money or eat more plant-based foods, choose a few meatless meals per week like this vegetable chow mein – a Instant Pot meal you can make in 15 minutes.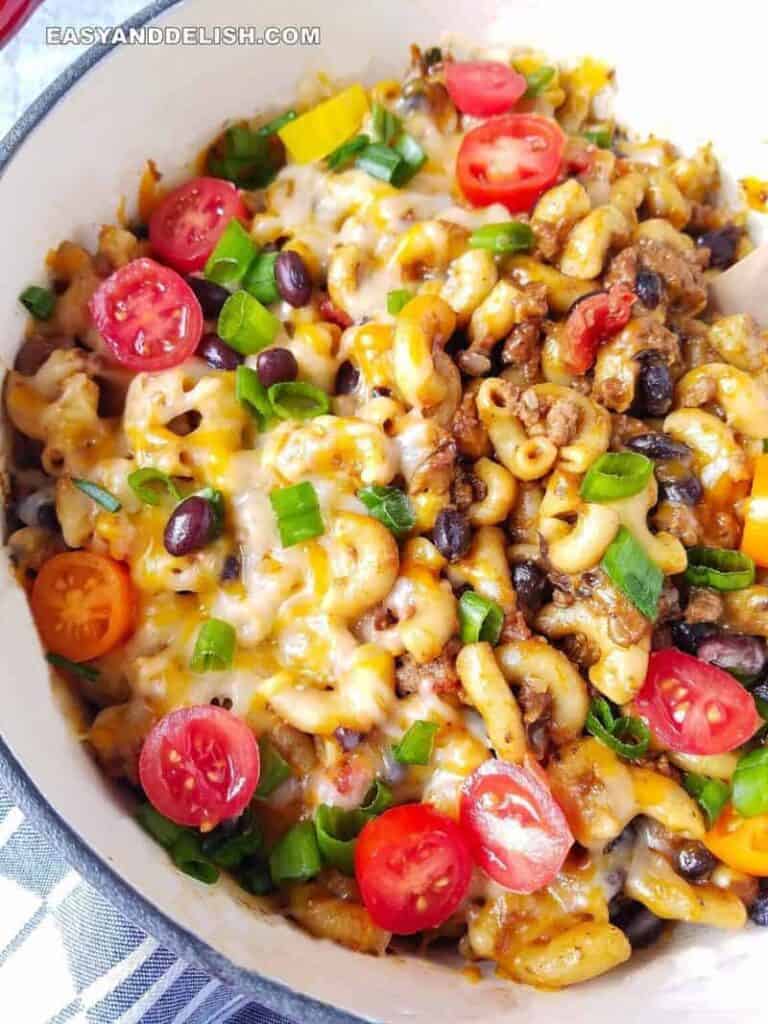 Black beans are a great source of protein. Garnish this pasta with some fresh veggies for a complete and colorful plate.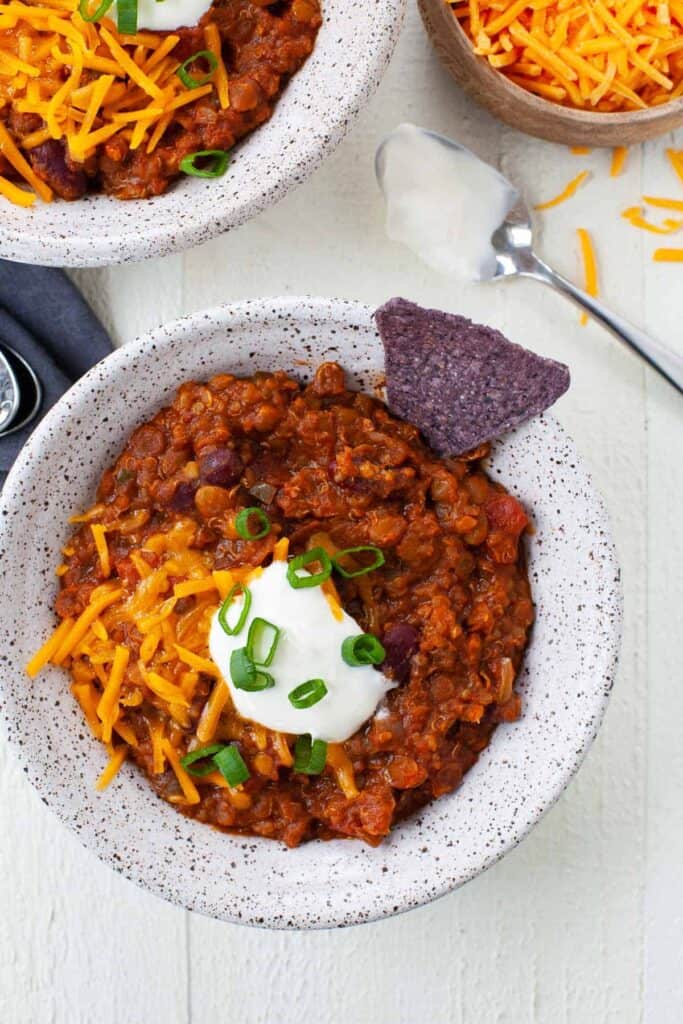 We are huge chili fans at our house, and this meat-free version includes my favorite seasoning (chipotle powder) AND cocoa powder for a rich flavor you have to try for yourself.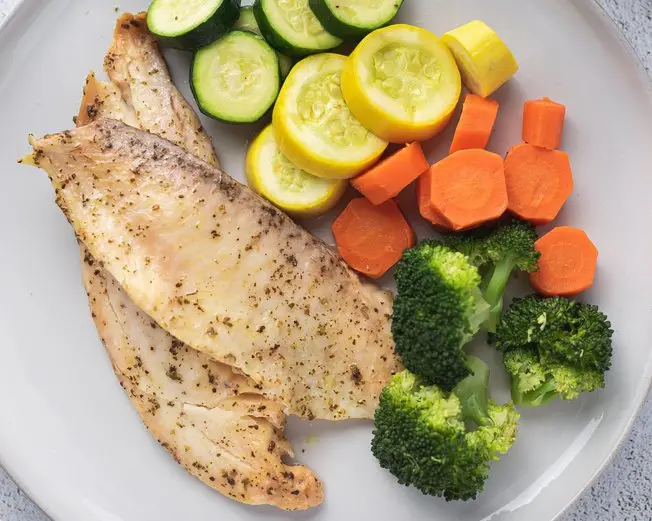 Who doesn't love a dinner that takes 5 minutes' cooking time? Flaky fish and fresh steamed veggies create a healthy, one-pot delight.
With an Instant Pot, cheap meals don't have to be boring!
I hope this list inspires you to dust off that Instant Pot you got for Christmas and put it to work! It really is worth the learning curve.
You can eat well and feed your family satisfying foods, and these low-cost instant pot meal ideas prove how easy it can be.
Related Products:
You might also like:
20 Quick Dinners (that hardly need a recipe)
The BEST Instant Pot Green Beans
Rosemary Pork Chops with Apples- in the Instant Pot