Wondering what to serve with chicken apple sausage? Try this easy, healthy chicken apple sausage sheet pan dinner!
A while back, I bought some chicken apple sausage which sounded delicious as well as healthy.
But at first, I honestly wasn't sure what to serve with my chicken apple sausage.
Then I remembered I had recently made this awesome sheet pan meal with chicken and root veggies.
Why not try another version with sausage instead?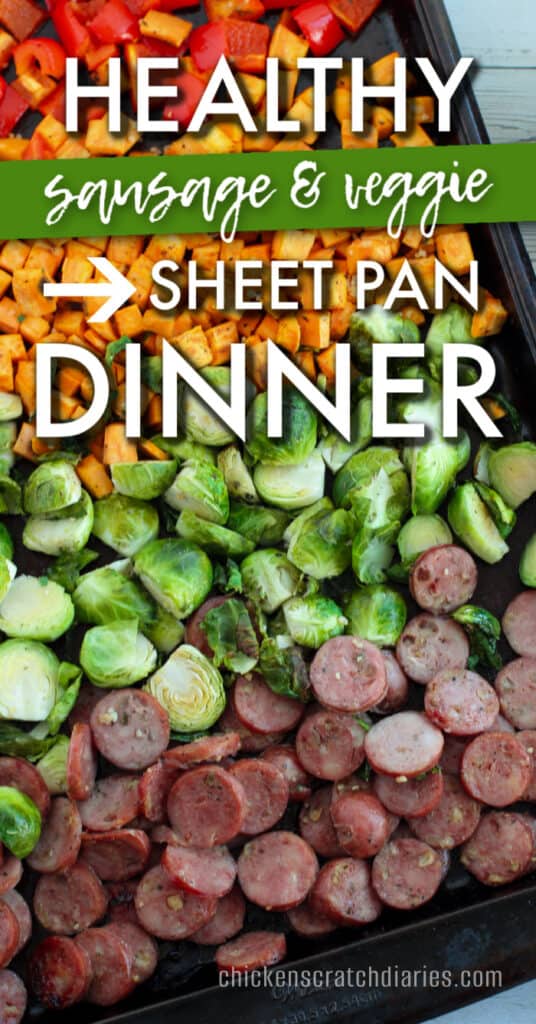 If you haven't gotten on the sheet-pan-meal train yet, this might be the recipe that hooks you.
This post likely contains affiliate links. Please see our disclosure for more info.
Where to find chicken apple sausage
You can find Aidell's chicken and apple sausage from chains such as Target and HyVee.
(It's a popular brand.)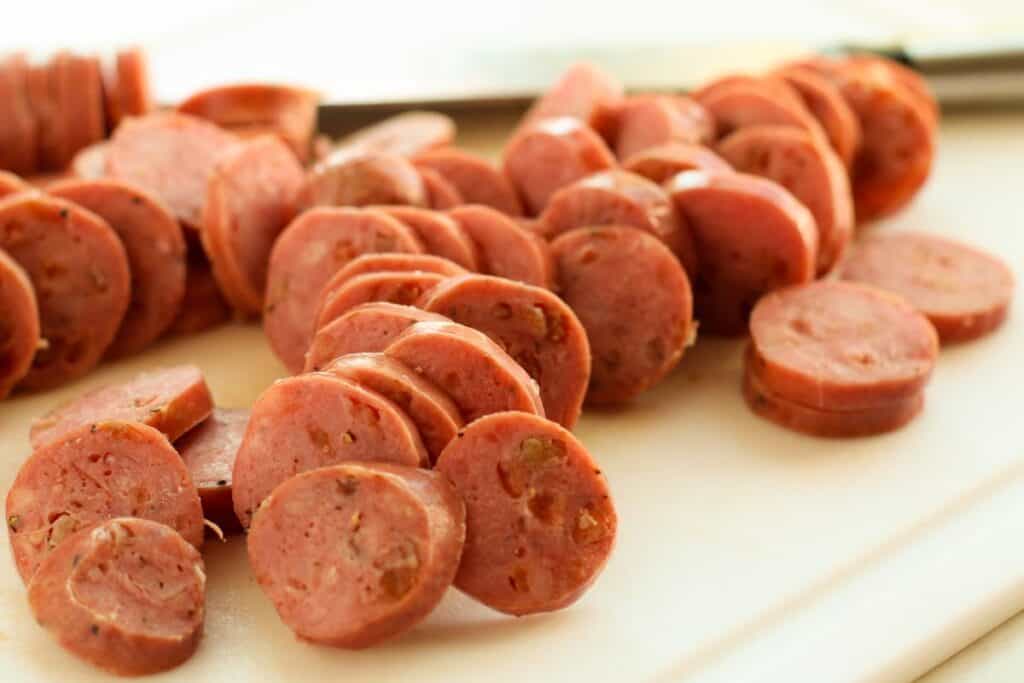 When we order our ButcherBox a few times a year, I stock up on sausage for our freezer, among other items.
(We've tried the Apple Gouda, Italian Pork sausage, Mild Italian Chicken, and of course, Apple Chicken Sausage).
So, it's usually some type of ButcherBox sausage that I use, although I love the apple chicken sausage in this particular recipe.
P.S., this particular version is Whole30 compliant, if you happen to be doing the Whole30 plan at the moment.
In short, you can substitute other types of sausage, whatever is locally available to you, as needed.
Read next: Our Honest Butcherbox Review for Families
Making the perfect sheet pan meal
If you're not familiar with roasting your whole dinner on a sheet pan, well, you're in for a treat!
When done right, it's a delicious, and healthy way to do dinner.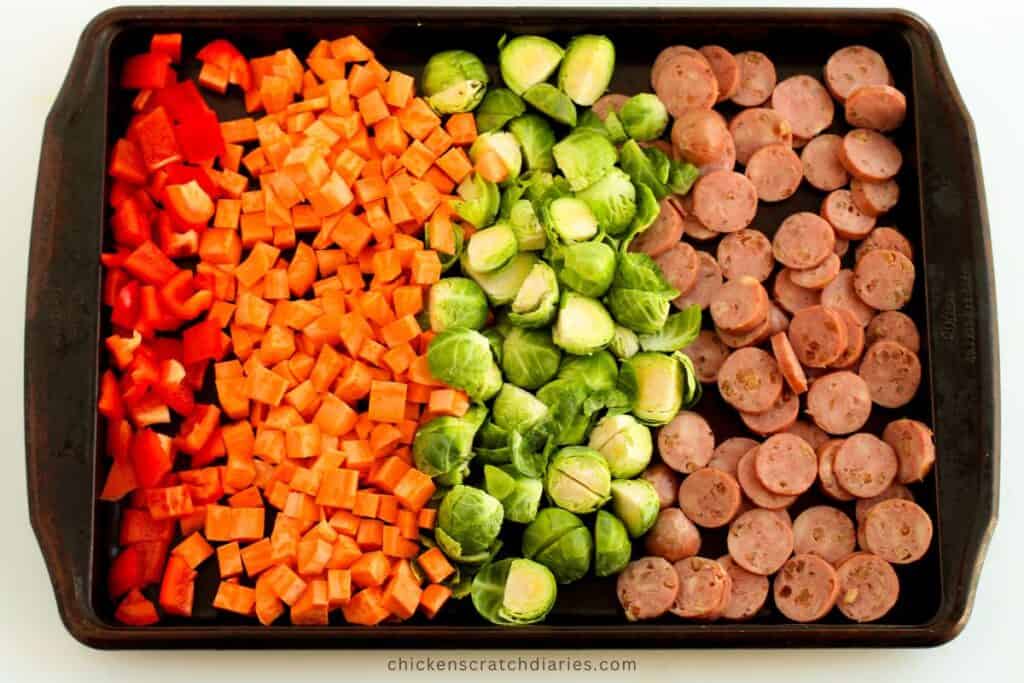 Did I mention, it falls into the coveted quick-and-easy meal category?
A few tips: Chicken Apple Sausage Sheet Pan dinner
Consider parchment liners for your baking pan. These simply make clean up EXTRA simple. I use them for everything from cookies to homemade bread, and especially for veggies that might ooze some caramelized goodness.
Know thy oven. Some ovens run hotter than others. I like to roast on at least 400 degrees F, but you might even have better results up to 425 degrees depending on your oven.
How to make chicken apple sausage sheet pan dinner (or any variation)
There are very few steps for sheet pan meals.
Which is why we make them so frequently at our house!
If you can chop some veggies and sausage and mix some spices and oil together, you can make this meal.
It's basically foolproof.
It is also a great type of meal to help teach kids how to cook.
They can learn basics of using a knife, measuring ingredients, and how to prepare and enjoy healthy foods.
I also recommend experimenting with different veggies, meats and herbs to see what combinations your family likes best.
In general, if the pieces are cut into roughly the same sizes, they should cook at a similar rate when roasted.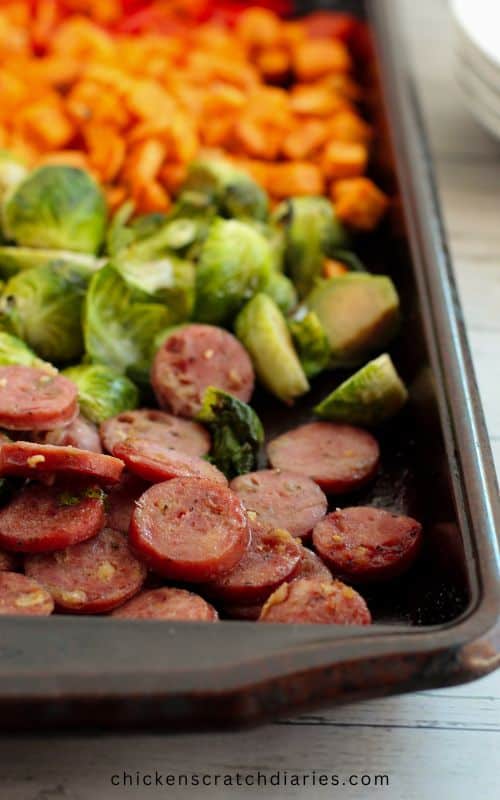 Healthy Apple Chicken Sausage Sheet Pan Dinner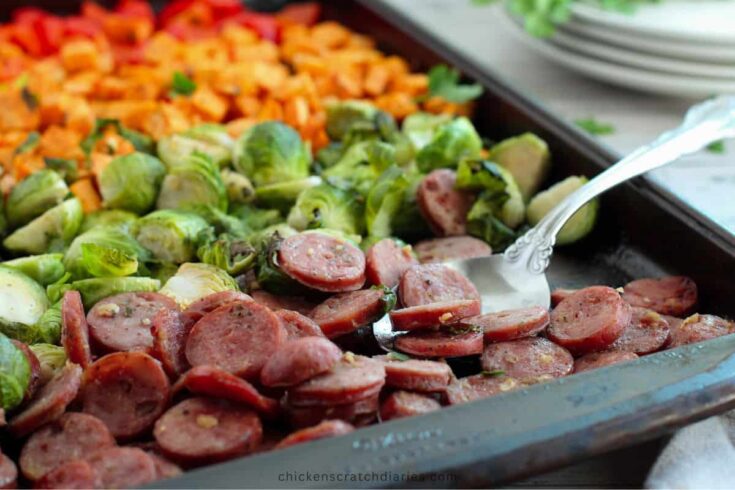 A simple, healthy sheet pan meal that combines sweet apple chicken sausage with hearty roasted veggies for a colorful and easy dinner.
Ingredients
1 - 12 oz package (or larger) of Smoked Chicken Sausage
2-3 medium sized sweet potatoes
1 lb fresh Brussels Sprouts
1 red bell pepper
2 teaspoons minced garlic
2 tablespoons avocado oil (can substitute olive oil)
½ teaspoon salt
¼ teaspoon pepper
¼ teaspoon dried parsley
¼ teaspoon dried basil
¼ teaspoon onion powder
Instructions
Preheat the oven to 400 degrees F. Grease a large baking sheet (or use parchment paper to line) and set aside.
Prep the sausage and vegetables. Start by slicing sausages into 1" thick coins.
Trim woody stem off of Brussels Sprouts and cut in half.
Peel sweet potatoes and cut into ½" cubes.
Remove the stem and seeds from red bell pepper and chop into 1 inch pieces.
Place the sausages in a section at one end of the baking sheet, followed by Brussels Sprouts, sweet potatoes and then red bell pepper. Be sure ingredients are spaced well without much overlap so they roast evenly.
In a small bowl, add avocado oil, minced garlic, salt, pepper, parsley, basil and onion
powder and stir.
Spoon the mixture over the sausages and vegetables. Gently toss to coat.
Bake in preheated oven for 20 minutes, flipping halfway through.
Enjoy this meal with wild rice or quinoa. Or, serve with a side of crusty french bread.



Notes
This recipe is a great meal prep option. Simply bake as directed and allow to cool before placing in meal prep containers over wild rice or quinoa if desired.
You can swap vegetables and meats for your favorite versions. Sweet potatoes may be swapped for cubed white, red or fingerling potatoes. Vegetables may be swapped for broccoli, zucchini, carrots, onions, etc. This recipe is a great way to use up extra veggies
you may have on hand!
Garnish with fresh parsley, a sprinkle of parmesan cheese or crushed red pepper for variety.
Recommended Products
As an Amazon Associate and member of other affiliate programs, I earn from qualifying purchases.
You might also like:
Budget-Friendly InstantPot Meals