If you think you don't know how to roast a whole chicken in the oven, or the thought intimidates you, this recipe is for you. This simple whole roasted chicken recipe can be made with pantry staples and requires very little prep in exchange for tons of flavor!
Years ago, as a new wife, I used to only buy whole roasted chicken in the deli at the grocery store.
I figured it was roughly the same price and less work than doing it myself.
Little did I know that I'd be hooked after roasting my own chicken at home just once!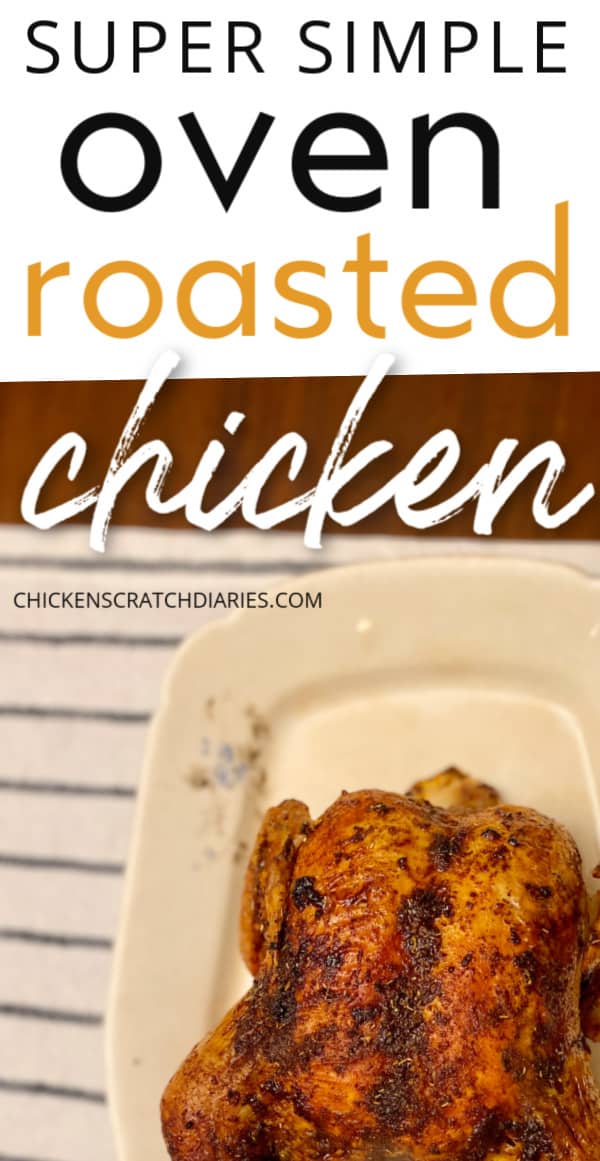 The wonderful smell, ability to choose the size and quality of chicken and having control over the spices are just a few reasons I now LOVE to roast chicken in the oven.
Table of Contents
What to look for when buying whole chicken
I buy a whole chicken about once a month when there's a good sale on quality chicken at our local grocery store.
When I can find a good price on free-range organic chicken, I go for it.
I'm not 100% all organic, all the time. Trust me, I know there's a price difference on organic chicken and it's not that subtle.
But I could NOT believe the difference I noticed in the flavor and juiciness of the organic/free range chicken.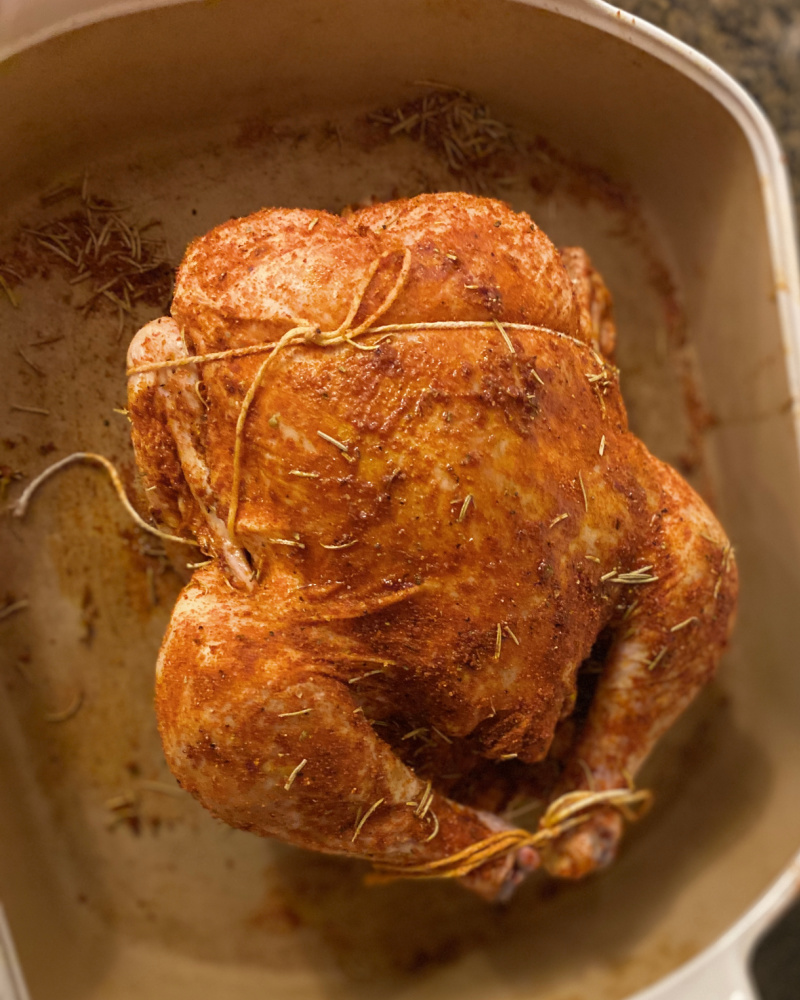 So anytime you can work it into the budget or find a great deal, roasted organic chicken is definitely worthwhile.
Less veins and gristle, more tender chicken = deliciousness.
This post likely contains affiliate links. Please see our disclosure for more info.
*My absolute favorite organic chicken comes from Butcher Box. You can read my full review of ButcherBox here.
What size chicken should you use?
You can use any size chicken for this recipe. Mine are usually in the 3.5 to 5-pound range.
You will simply need to keep an eye on the temperature and adjust the time according to the weight (see recipe). We like this thermometer a lot.
You'll get more bang for your buck – and save time later – by buying a larger chicken and saving the leftovers for other meals.
Don't pass up the chicken stock!
And don't forget to save the carcass (appealing word to use in a recipe, right?) for making homemade stock later on.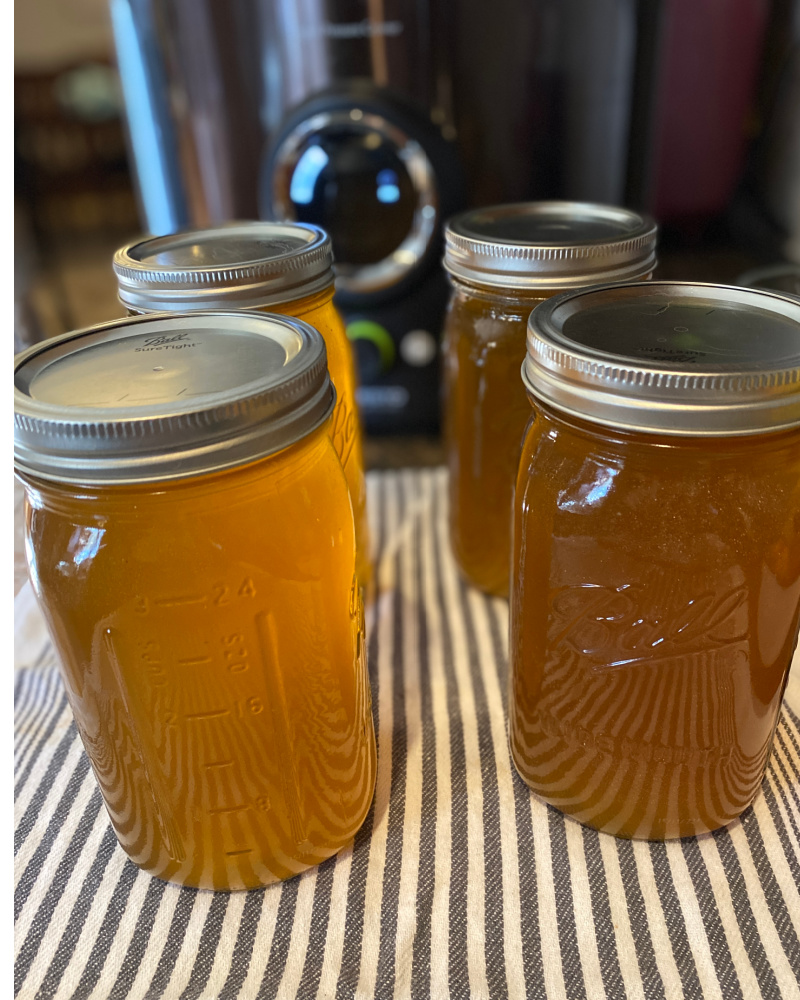 Just throw it in a gallon ziplock bag and freeze it if you don't have time to make stock right away. You'll be glad you did.
There is no comparison to stock made from chicken in your own kitchen, trust me! (And it's practically free.)
>>Get more meal planning help here.
How to make Simple Whole Roasted Chicken
Below are the ingredients list and step-by-step instructions for making this whole roasted chicken recipe in the oven.
Recipe card is included at the bottom of the post.
Ingredients
One 2.5 to 3 lb chicken
2.5 tsp paprika
1 tsp onion powder
1/2 tsp dried oregano
1 tsp dried rosemary leaves
1/4 tsp cayenne pepper (optional)
1/2 tsp black pepper
1 tsp salt
3 TBSP melted butter OR olive oil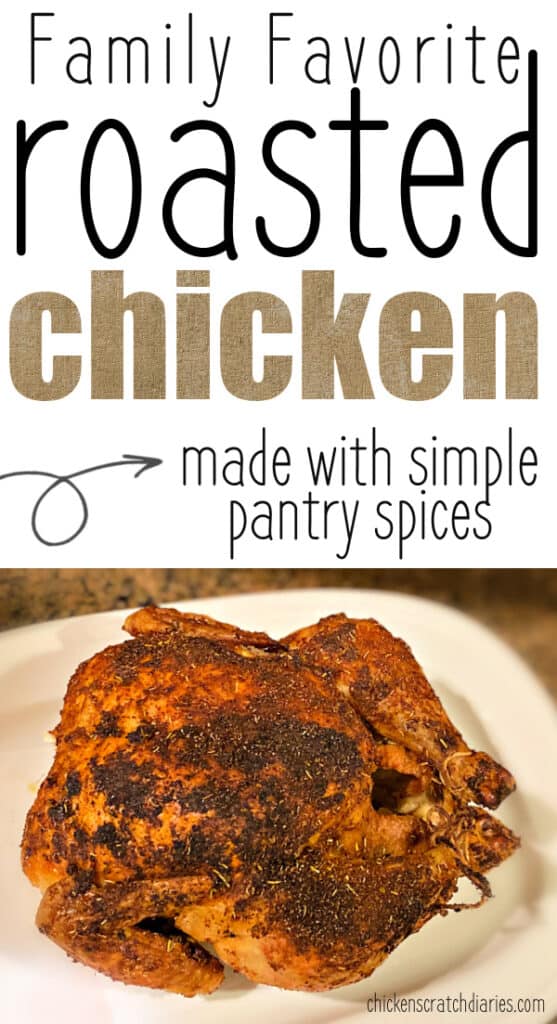 Instructions: Whole Roasted Chicken Recipe
#1. Rinse and pat chicken dry and place in baking pan.
I love my Pampered chef stoneware baking dish for this, but you could also use a cast iron skillet or a dutch oven.
Don't forget to remove the package of giblets, if included.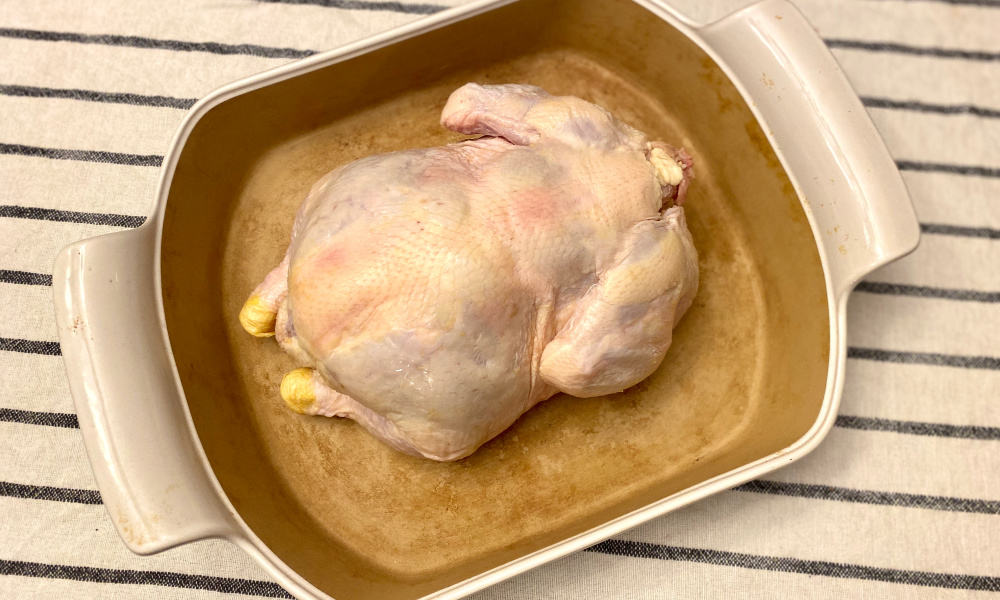 #2. Gather your spices:
Paprika, onion powder, rosemary, oregano, garlic powder, cayenne pepper (optional), salt and black pepper.
You can totally experiment with your favorite spices!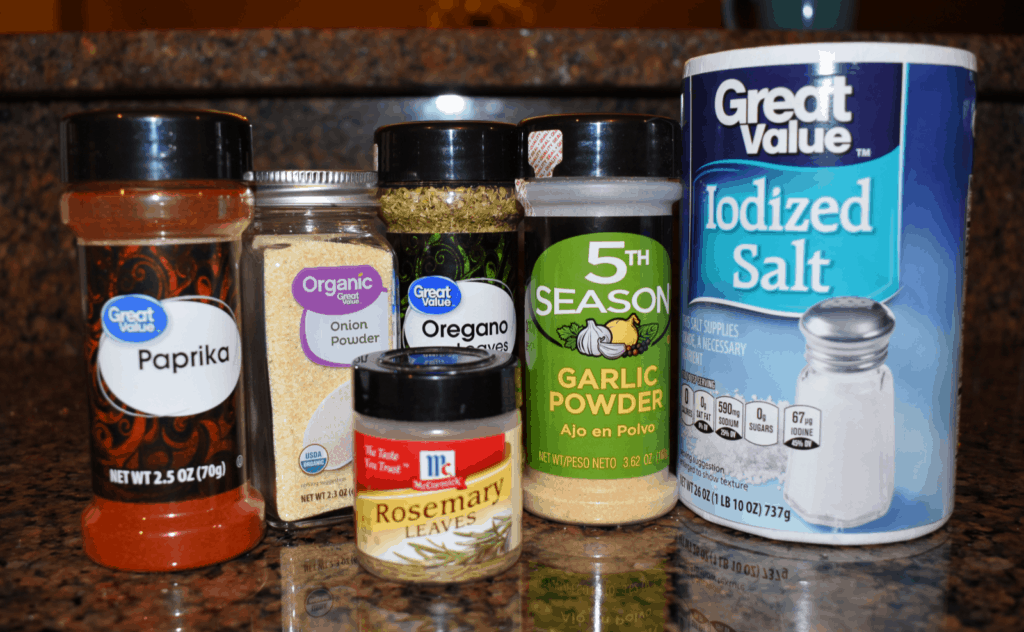 #3. Mix spices together in a small bowl:
Approximately: 2.5 teaspoons paprika, 1 tsp onion powder, 1/2 tsp oregano, 1 tsp rosemary leaves; 1/2 tsp garlic powder; 1/4 teaspoon cayenne pepper (optional); 1/2 tsp black pepper; 1 teaspoon salt.
#4. Baste chicken:
Using 3 tablespoons of melted butter OR 3 tablespoons of olive oil. (I prefer butter.)
Note: you may want to leave your chicken on the counter for approximately 30 minutes before prepping.
If the chicken is TOO cold, your melted butter will congeal which makes it harder to rub the spices around evenly.
(You won't have this issue with olive oil, though.)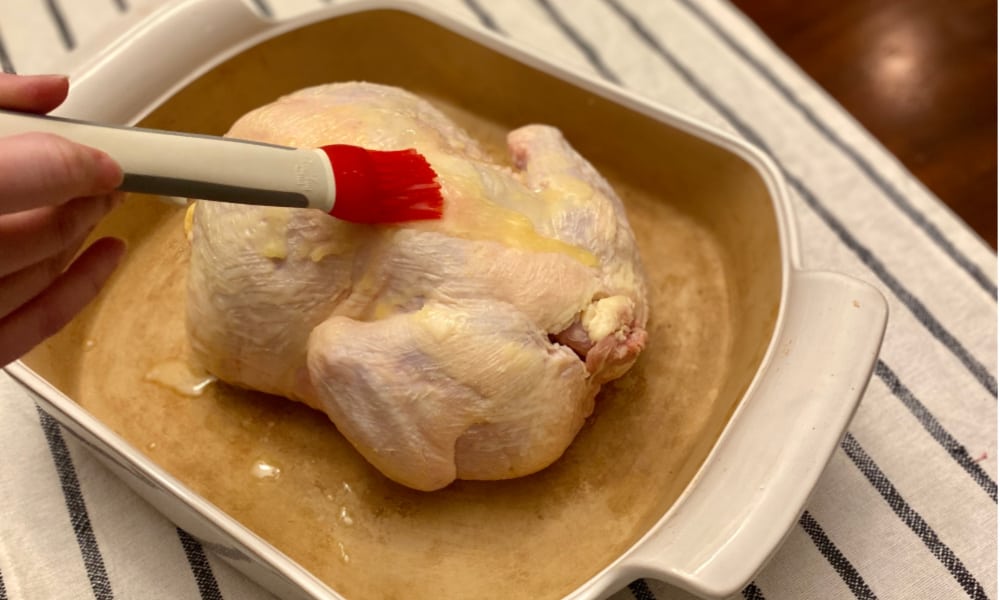 #5. Sprinkle/rub spices all over chicken.
Start with the back side, then turn chicken over and coat entire bird, leaving breast side up.
Try to distribute spices evenly, but you especially want a good coating over the breast.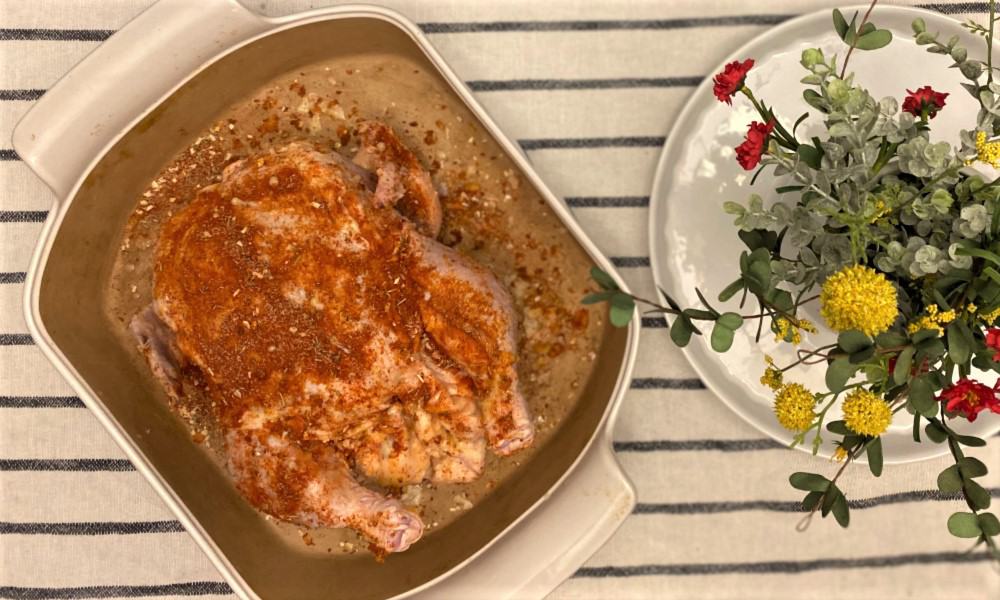 #6.  Place in oven preheated to 375 degrees F.
Bake until chicken reaches 165 internal temperature, or about 1.25 to 1.5 hours for a 2.5-3.5 lb chicken.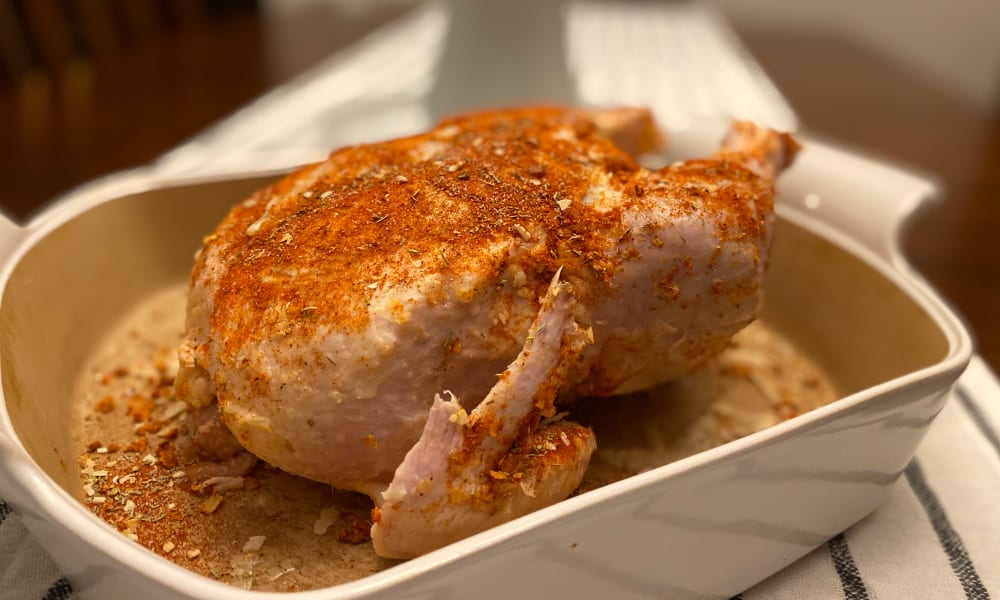 You can baste chicken in the pan juices towards the end of the cooking (about 45 minutes in).
Just wait until the spices have mostly baked onto the chicken so that you're not effectively rinsing them all off!
I usually baste the chicken with the pan juices again before carving it.
#7. Let rest for 5 minutes; carve and enjoy!
Freeze any leftover shredded chicken for up to approximately 6 months.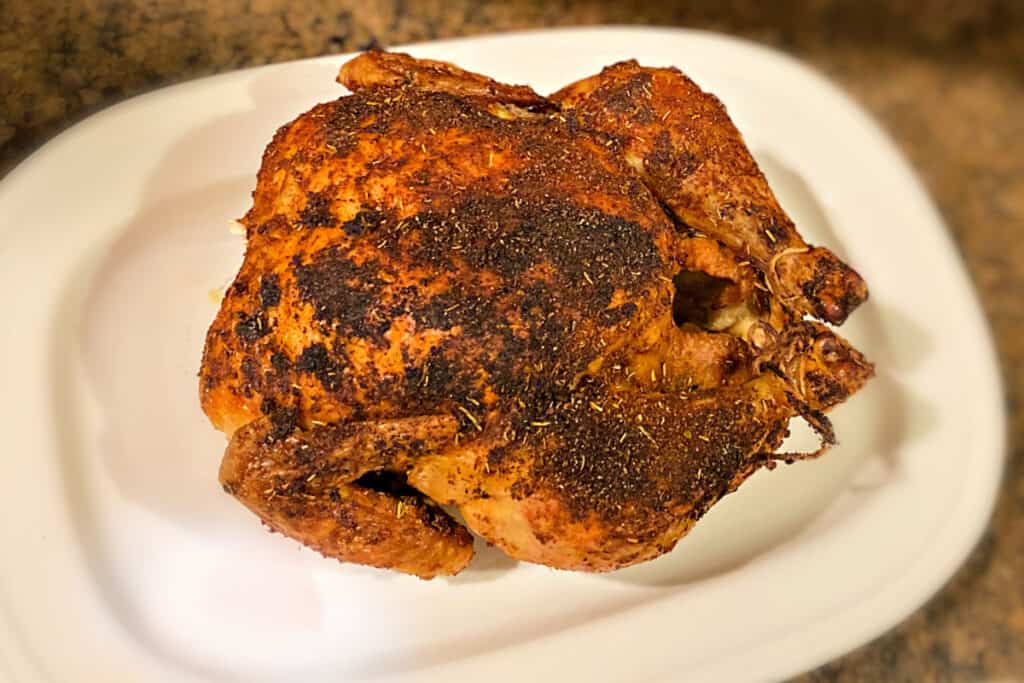 Simple Whole Roasted Chicken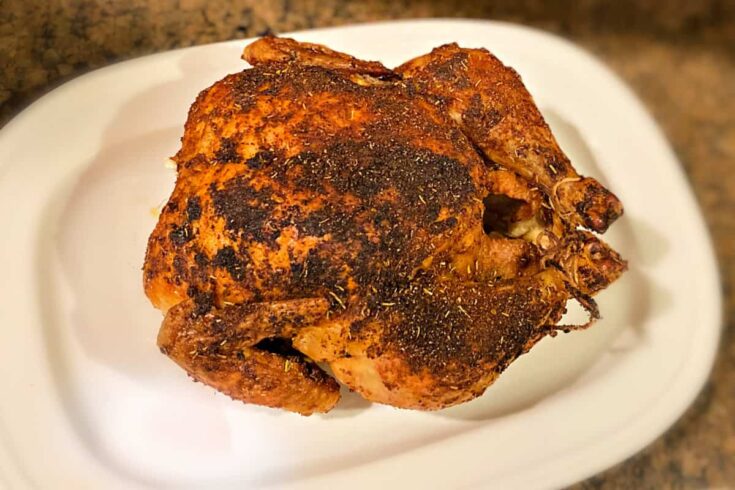 Blend these spices, or try your own favorites!
Cook Time
1 hour
15 minutes
Total Time
1 hour
25 minutes
Ingredients
1 2.5 to 3 lb chicken
2.5 tsp paprika
1 tsp onion powder
1/2 tsp oregano
1 tsp rosemary leaves
1/4 tsp cayenne pepper (optional)
1/2 tsp black pepper
1 tsp salt
3 tbsp melted butter OR olive oil
Instructions
Preheat oven to 375 degrees.
Wash and pat chicken dry. Remove giblets; place in stoneware baking dish, cast iron skillet or dutch oven. (Semi-shallow dishes work best.)
Rub chicken down with 3 tablespoons melted butter or olive oil.
Mix together spices in a small bowl.
Sprinkle spices over all sides of chicken and lightly rub to distribute.
Bake at 375 for approximately 1 to 1-1/4 hours or until internal temperature reaches 165 F. (Baste chicken in pan juices about 45 mins into cooking, if desired.)
Let rest for 5 minutes; carve and enjoy!
Nutrition Information:
Yield:
12
Serving Size:
1
Amount Per Serving:
Calories:

288
Total Fat:

19g
Saturated Fat:

6g
Trans Fat:

0g
Unsaturated Fat:

11g
Cholesterol:

114mg
Sodium:

298mg
Carbohydrates:

1g
Fiber:

0g
Sugar:

0g
Protein:

27g
You might also like:
• ButcherBox Review 2020: Organic chicken (and much more), delivered!
• Turkey and Rice Soup (perfect "get well" soup)
• Instant Pot Green Beans with Bacon
• Favorite Slow Cooker Meals (that you can freeze ahead)
• Quick and Easy Dinners you won't need a recipe to make