Hawaiian pineapple chicken stir-fry is one my favorite quick weeknight meals. It also makes the best leftovers!
Skillet dinners are one of my saving graces in the kitchen.
Anytime I can cook an entire meal on the stove top, it's a bonus. When that meal happens to be full of healthy fresh veggies — even better.
Hawaiian pineapple chicken stir-fry is also a dish you can easily double or triple and meal prep ahead of time to to eat all week.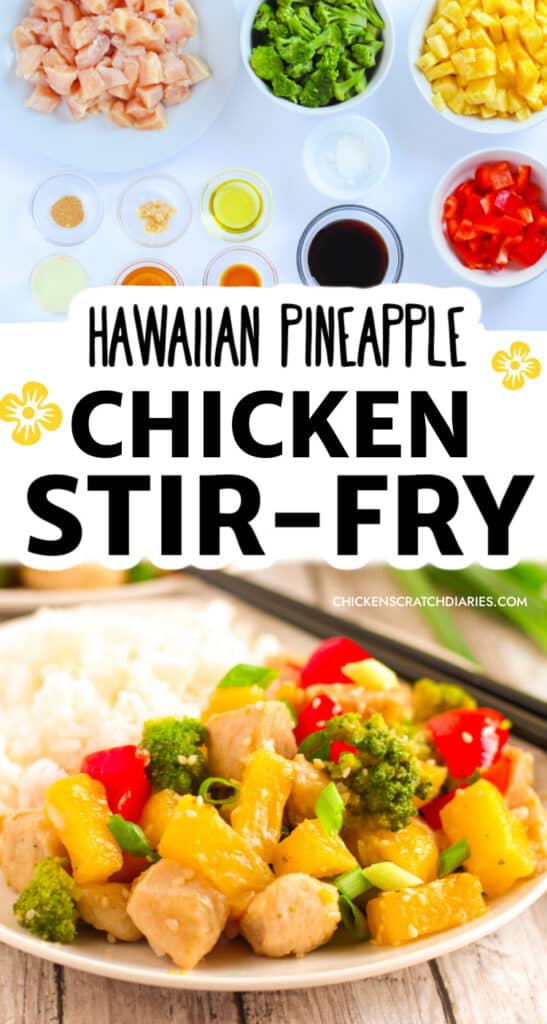 This post likely contains affiliate links. Please see our disclosure for more info.
Ingredients for Hawaiian Pineapple Stir Fry Recipe
I like to keep our freezer stocked with boneless/skinless chicken tenders that I can easily transform into a quick meal such as this one.
Butcherbox has been our family's favorite source for chicken for several years now. (See my full review here.)
As for the veggies in this recipe, you can certainly use frozen if that's what you have on hand; you will just need to cook your veggies a little longer, or thaw them beforehand.
Fresh pineapple can always be substituted for canned pineapple as well. Honestly, there's just no way I can cook a fresh pineapple before my kids eat the whole thing! 😉
Bonus: when you buy canned pineapple you get the pineapple juice included, which you'll also need in this recipe.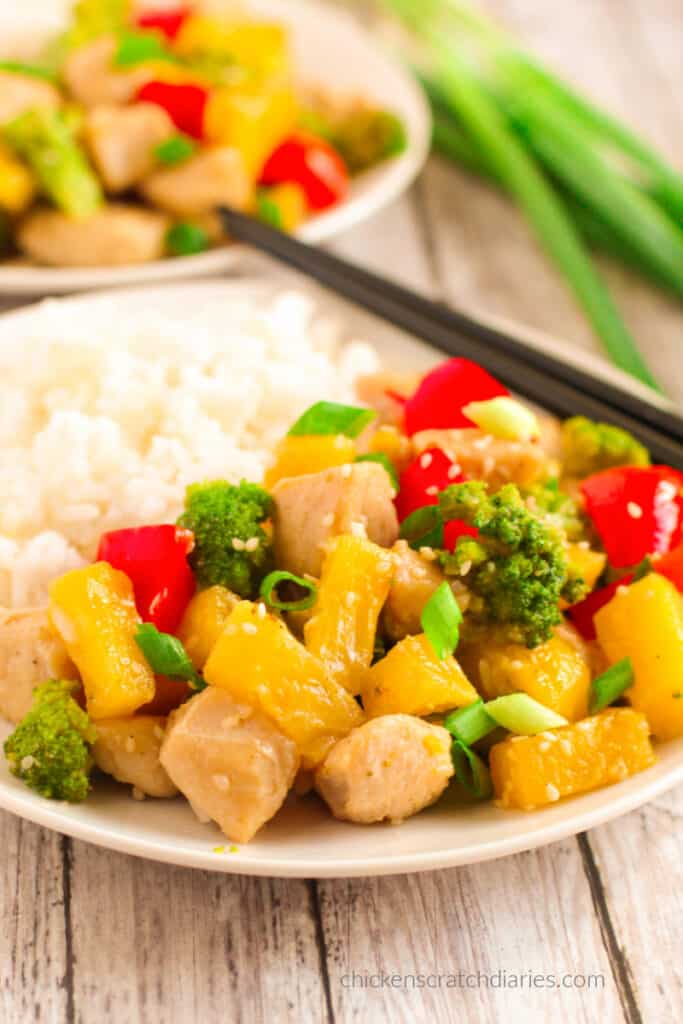 Olive oil or avocado oil works great in this dish- whichever you prefer.
If you're sensitive to soy sauce like I am, try making a soy-free stir fry using coconut aminos instead. (I like this brand, and NOT Braggs- it's far too salty in my opinion.)
This recipe uses a combo of soy sauce along with Teriyaki sauce. Once again, you can avoid soy if you need to by using the Coconut Secret teriyaki sauce.
Another swap I've enjoyed recently is tapioca flour in place of cornstarch.
The remaining ingredients are pretty straightforward: sesame oil, honey, minced garlic, and ground ginger.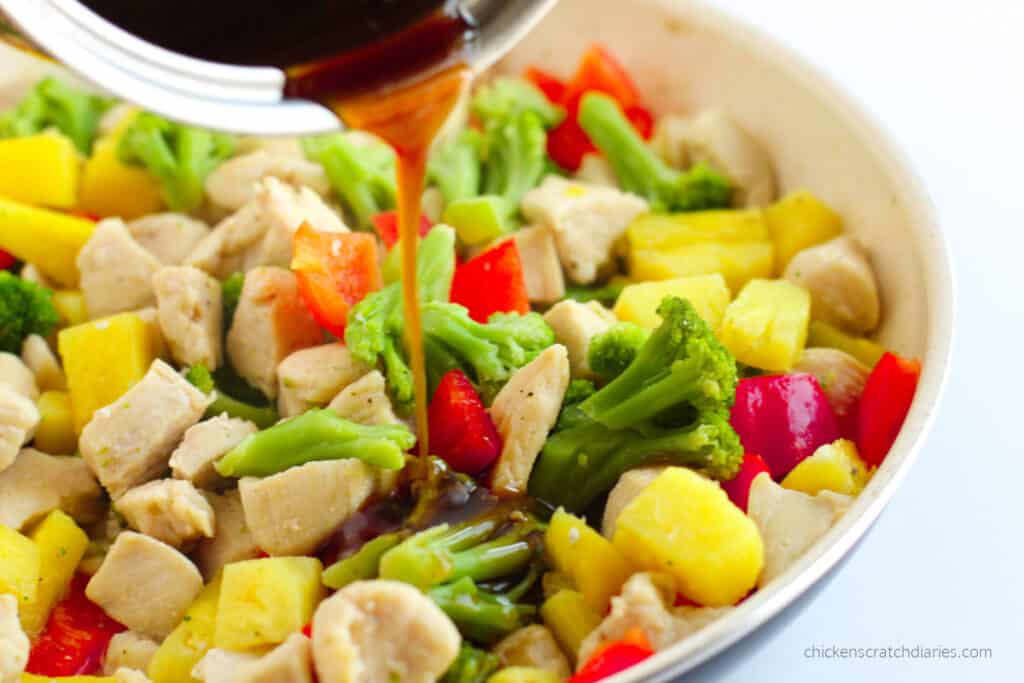 Want spicy pineapple chicken stir-fry?
I don't blame you; spicy is my preference, too. Although my kids — not so much.
If you want to kick it up a little, simply add some red pepper flakes toward the end of the cooking process. Just a pinch will do (or more if you prefer!).
Healthy pineapple chicken stir fry?
If you're hoping for a healthy pineapple chicken stir fry, this recipe is a pretty good choice, especially if you are using the Coconut Secret brand of soy sauce and teriyaki sauce that I mentioned above.
This version still has a sweet tang but it uses coconut tree sap which is naturally sweet and also organic.
When using other brands, you will need to watch the sugar and/or corn syrup content and artificial flavors.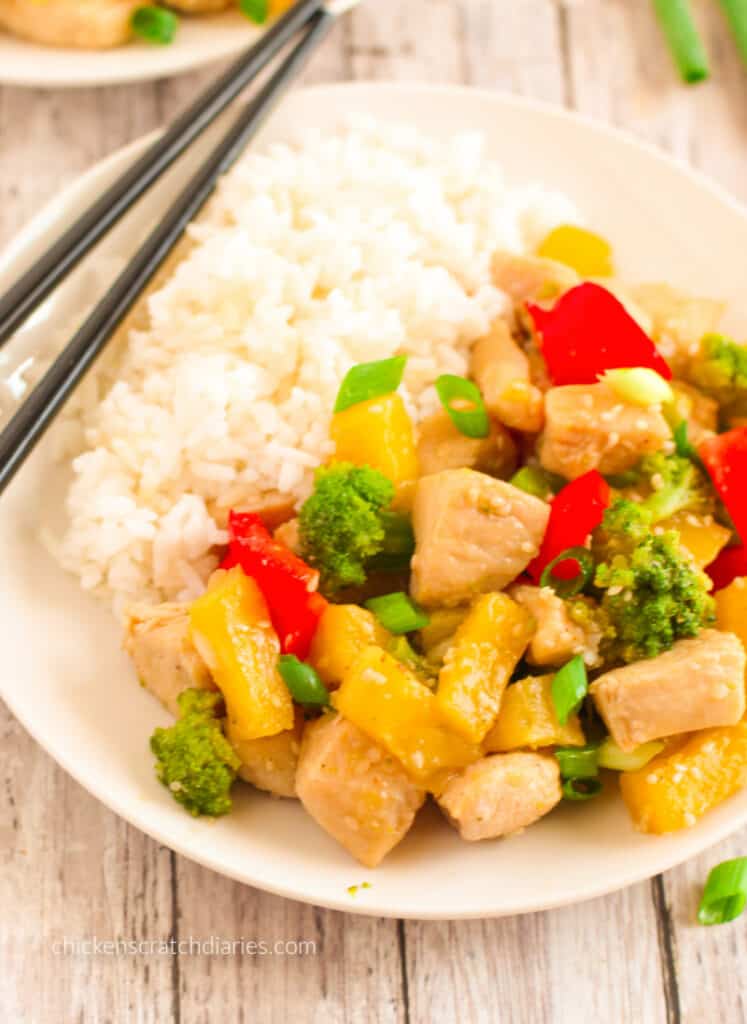 The honey and pineapple adds a little added sugar as well (although natural).
I like to be sure and buy pineapple tidbits in 100% juice instead of those with added sugar.
Hawaiian Pineapple Chicken Stir-Fry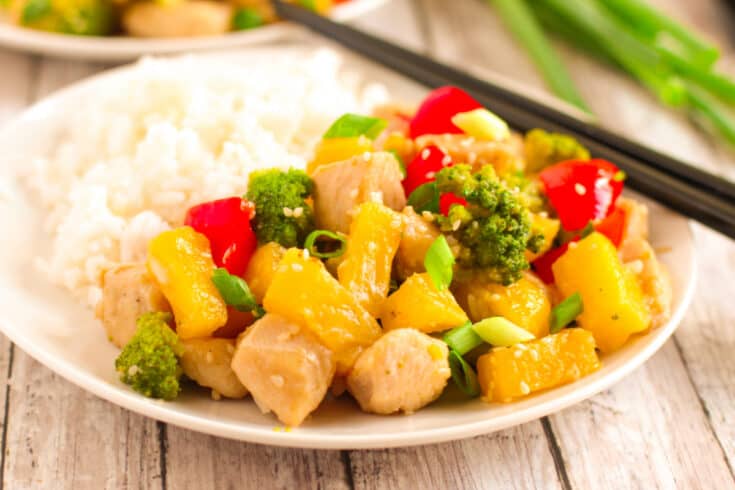 Pineapple chicken meets stir-fry in this sweet and tangy hawaiian-inspired dish that can be ready in just over 30 minutes!
Ingredients
Stir-Fry Ingredients
1 lb boneless, skinless chicken breast tenders (or about 4 boneless/skinless chicken breasts)
1 Tablespoon avocado oil or olive oil
Salt and pepper to taste
2 cups fresh broccoli florets
1-2 colorful bell peppers (red, orange)
One 20-oz can pineapple tidbits
Optional garnishes: sliced green onions, toasted sesame seeds
Sauce Ingredients:
2 Tablespoons soy sauce or coconut aminos
1/4-1/2 cup Teriyaki sauce (according to your preference)
1/4 cup pineapple juice
1 tsp sesame oil
3 tablespoons honey
2 teaspoons minced garlic
1/4 tsp ground ginger
2 teaspoons cornstarch or tapioca starch/flour
Instructions
Add a tablespoon of avocado oil (or olive oil) to a large skillet on medium heat. Once the oil begins to shimmer,
add the cubed chicken to the hot pan. Sprinkle the chicken with salt and pepper and cook for about
4-5 minutes, turning several times.
Add broccoli, chopped red bell pepper(s) and pineapple to the pan. Stir and continue cooking for an
additional 5 minutes or until the chicken is cooked through and the vegetables are tender-crisp.
While chicken and vegetables are cooking, prepare the sauce. Add soy sauce, teriyaki sauce, pineapple juice,
sesame oil, honey, minced garlic, ground ginger and cornstarch (or tapioca flour) to a small bowl. Whisk to combine.
Pour the sauce into a small saucepan on medium heat. Allow the liquid to come to a simmer. Whisk
and continue cooking for about 3-4 minutes or until the sauce begins to thicken.
Pour the sauce over the cooked chicken and vegetables. Toss to combine.
Serve Hawaiian pineapple chicken stir-fry over rice if desired. (We like Jasmine rice.) Garnish with sliced green onions and toasted sesame seeds. Enjoy!



You might also like:
Sausage and Veggie Sheet Pan Meal
Favorite Budget-Friendly Instant Pot Meals
20 Quick Dinners (no recipe needed)
Oven Roasted Whole Chicken Recipe