Kids eating you out of house and home? This list of cheap lunch ideas for kids can help make meal planning simple, and much easier on the grocery budget.
With an extra-long "summer" last year (2020), I wasn't surprised to find our grocery bill getting quickly out of hand.
I've always found it more difficult to pack cold lunches than to make lunch at home because there are just more options when a stove is involved.
However, when we're all at home every day for days on end, the running list of "lunch ideas for kids at home" (in my head) starts to get old fast!
Anyone else?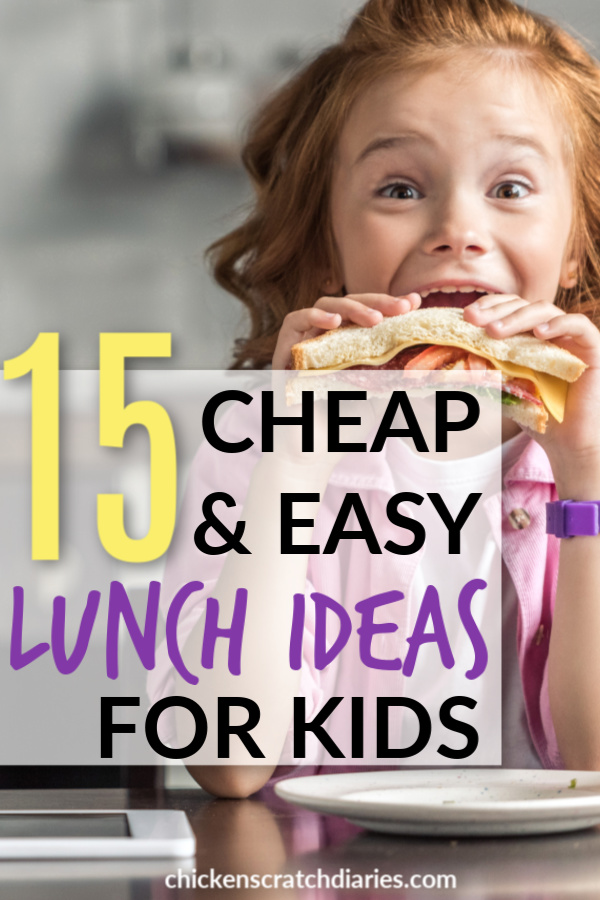 This post likely contains affiliate links. Please see our disclosure for more info.
Table of Contents
Cheap and Easy lunch ideas: a kid-friendly collection
I took some time recently to brainstorm a list of cheap lunch ideas for kids.
This way, I can quickly plan our lunches for the week and I'm not tempted to grab fast food.
(I save those trips for when we just really need a change of scenery!).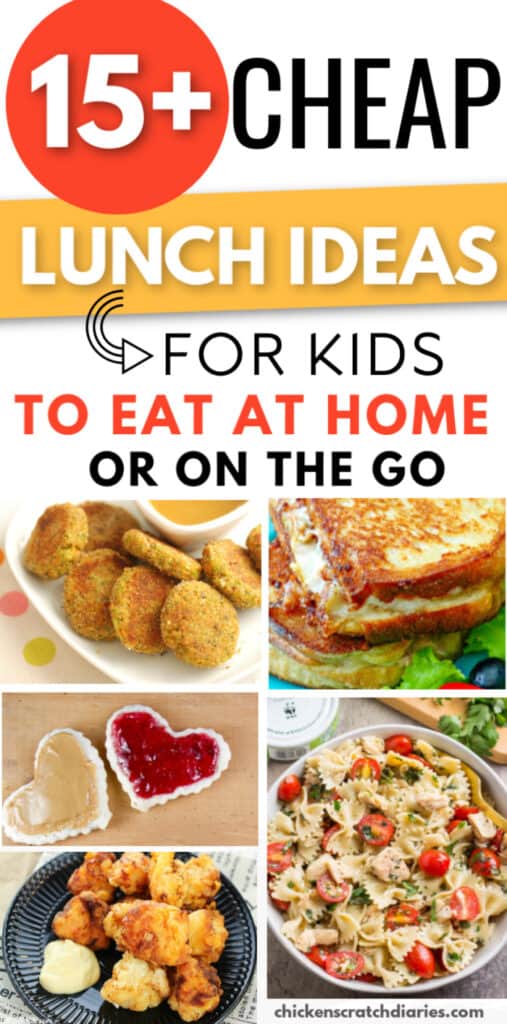 Hopefully these options will help you save money on groceries and take some of the guesswork out of lunch time, too.
If you're looking for cheap kids lunches to pack for school, try this post too!
1. Healthy Tuna Pasta Salad
A quick lunch that's also clean eating, Healthy Tuna Pasta Salad is an excellent choice for kids.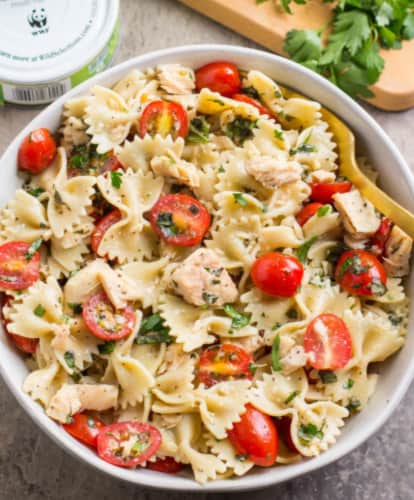 2. Grilled Chicken Broccoli Wraps
Some kids, like my son who won't eat raw brocolli, will eat it in a different way.
Grilled Chicken Broccoli Wraps fit the bill perfectly and only require a few ingredients.
3. Pizza Stuffed Crescent Rolls
With Pizza Stuffed Crescent Rolls, you get the kid-friendly approval rating of pizza with half the effort. To make it even more budget-friendly, you could make your own crescent rolls and triple this recipe to enjoy for several days (or freeze the extras) .
4. Creamy Ham & Pea Pasta
For lunch OR dinner, this 15-minute Creamy Ham and Pea Pasta is an easy pick for kids. Very few ingredients and lots of flavor.
5. Homemade Uncrustables
Until my younger kids decide that bread crust on their PB&J Sandwiches isn't evil and vile 😉 , uncrustables are a fuss-free option and simply an easy lunch idea for kids that mine never get tired of!
My friend Lauren gives instructions on how she makes her Homemade Uncrustables and simply freezes them, 48 at a time!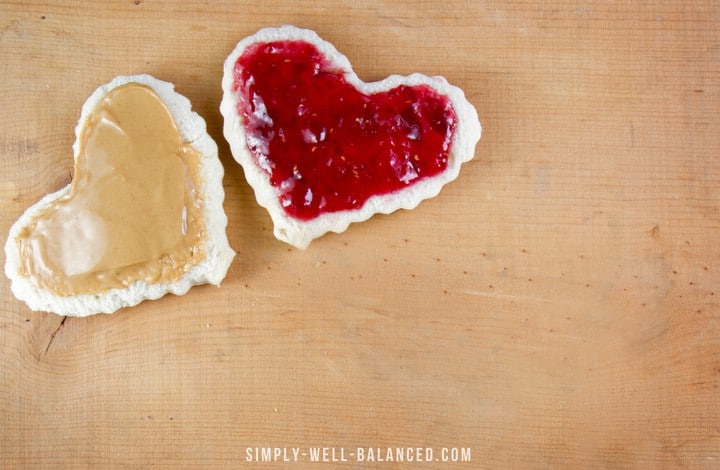 6. The Perfect Tuna Melt
A great source of protein on the cheap! Try this easy Perfect Tuna Melt recipe from Sarah Titus.
7. Chili Mac
For dinner or lunch, Chili Mac and Cheese is a classic twist on frugal chili (which my kids get a little tired of sometimes!).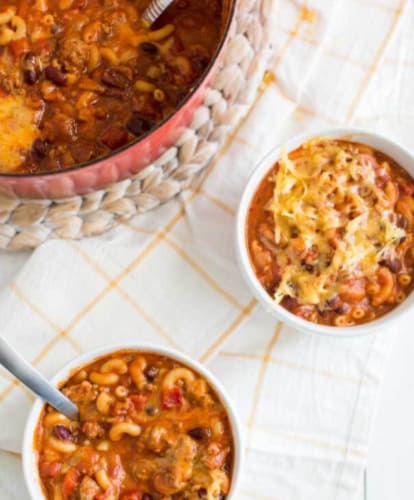 Read next: The best cheap Instant Pot Dinners
8. Healthy Veggie Nuggets
If your kids love chicken nuggets- this is a healthy alternative to try. Healthy Veggie Nuggets are a genius, fun way to get kids eating their veggies.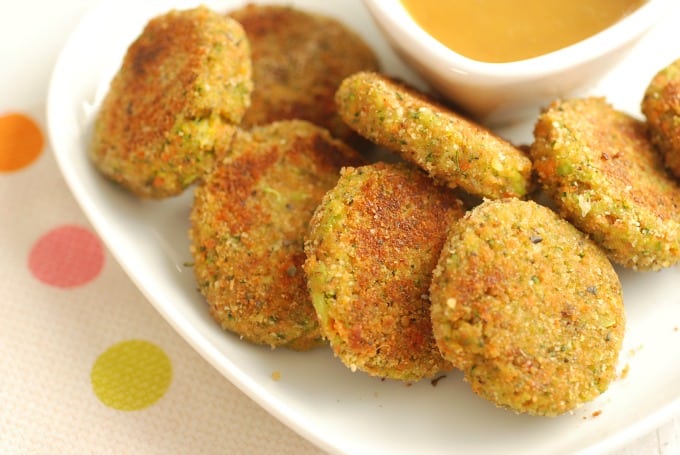 9. Bacon Cheddar Ranch Pinwheels
Delicious, easy and full of creamy goodness. Bacon Cheddar Ranch Pinwheels are an easy lunch to meal prep ahead of time, too.
Also read: 20+ Make ahead summer dinner ideas
10. Spinach Cheesy Muffins
Another sneaky hidden veggie option, these Spinach Cheesy Muffins are ideal for younger kids especially, who might turn their noses up at sandwiches.
11. Ham and Cheese Bagel Quiches
Breakfast for lunch = a win for my kids. And let's be real, I rarely get up early enough to make a creative breakfast, so Ham and Cheese Bagel Quiches are a fun lunch idea for us.
12. Copycat Chik-Fil-A Nuggets
Copycat Chik-Fil-A nuggets is a recipe you'll want to be sure and print, because it's a frugal alternative to the real deal at a fraction of the drive-thru price!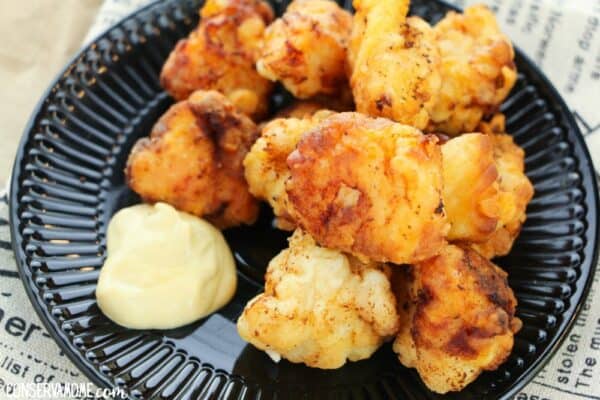 13. Easy Instant Pot Chicken and Noodles
The Instant Pot is becoming my newest beloved kitchen accessory, and this SUPER simple Chicken and Noodles Recipe is fast enough to whip up for a weekday lunch!
14. Best Meatball Subs
Meatball subs are a favorite at our house! You can't go wrong with gooey mozzarella and meatballs.
Read next: EveryPlate Review: Is it an Affordable Meal Kit for Families?
15. Tostadas
What I love about Tostadas is that not only are they a budget-friendly lunch option for kids, but you can easily customize them with as few – or as many – of your favorite toppings as you want.
16. Loaded Mashed Potato Cakes
Use up your leftover mashed potatoes, add a few yummy ingredients like bacon and cheese and make these Loaded Mashed Potato Cakes. Definitely a fun alternative to plain baked potatoes!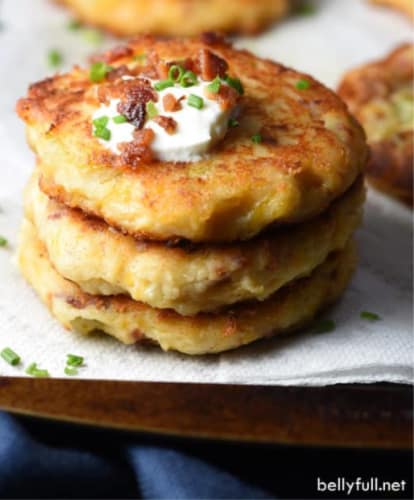 17. Skillet Chicken Sausage with Apples
If you want a lunch that's super fast and appeals to kids, Skillet Chicken Sausage with Apples will fit the bill.
18. Black Bean and Cheese Quesadillas
We also love quesadillas at our house, and black beans are another low-cost source of protein. Serve these Black Bean and Cheese Quesadillas with some sour cream or salsa on the side!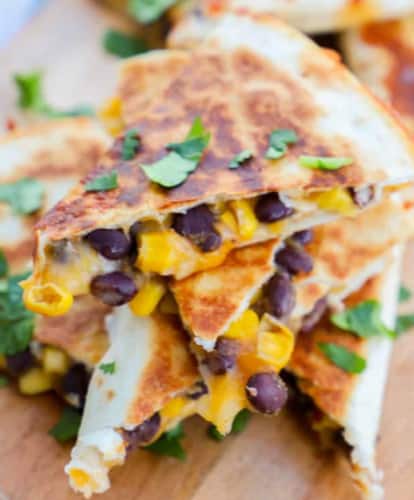 Cheap lunches for kids at home or on the go
Most of these recipes work the best as kids' lunch ideas at home, but with a quality thermos or leak-free container, they could easily translate to school lunch ideas as well!
Need more simple lunch ideas? Try our printable Money-Saving Meal Planner that includes 20 quick and easy recipes that work great for lunch or dinner.
You might also like:
•Packable lunch ideas (printable list)
•Best Freezer Meal Ideas for Summer
•Easy Dinner Recipes that don't actually require a recipe
•How to Make your own Sandwich Bread
•Freezer to Crockpot Dinners: Make ahead a week of meals