Have you noticed that food prices are on the rise? (Yeah, that's an understatement.)
Many families are starting to get serious about meal planning, maybe for the first time.
If that's you, the good news is – even if you've never planned weekly meals before – you can get started this week.
The key to meal planning is having a few simple tools on hand, and a solid strategy.
Our Money-Saving Meal Planner is designed to help you conquer meal planning.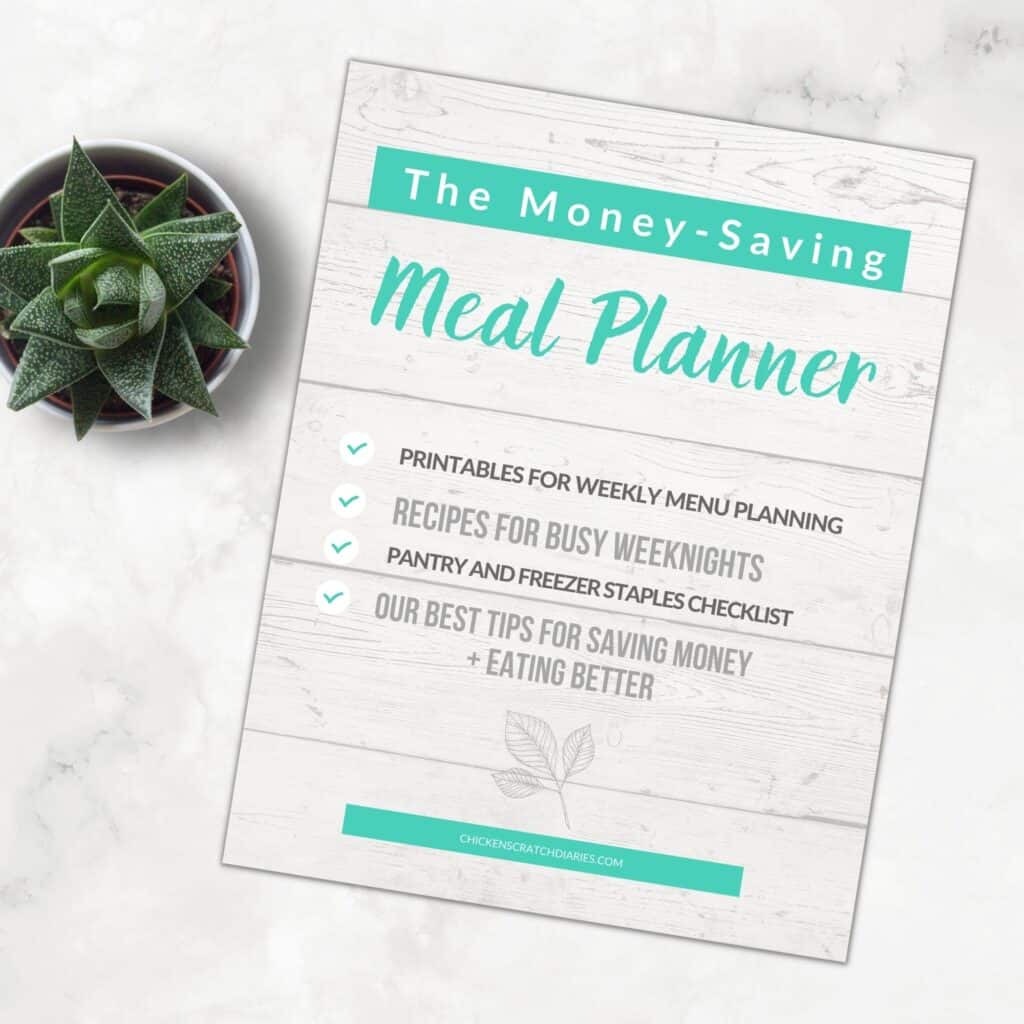 How having a meal plan saves you money
If you want to save money on groceries, the first step is to have a plan.
Making a grocery list is important, but I believe a simple system is even better.
My system includes a Menu Master List, a Grocery List and a Weekly Meal Plan.
The Pantry and Freezer staples checklist is an added bonus for those who want to stay ahead of food shortages and always have essential ingredients available.
Once you use this system consistently, it becomes an easy routine.
There's less of a temptation to grab a to-go meal, when you have an organized plan for meals you can make at home every night of the week!
A meal plan that doesn't tie you to specific foods
I believe the easiest way to plan meals is to start by cooking what you already love and know how to make.
I've found done-for-you meal plans to be rigid and difficult to stick to, because my family has such varying preferences.
Many families may have food restrictions or sensitivities that make this even more difficult.
flexible templates + insipration
Our plan allows you to fill in your list with recipes you know how to make currently, while adding in additional recipes whenever you have the time to try something new.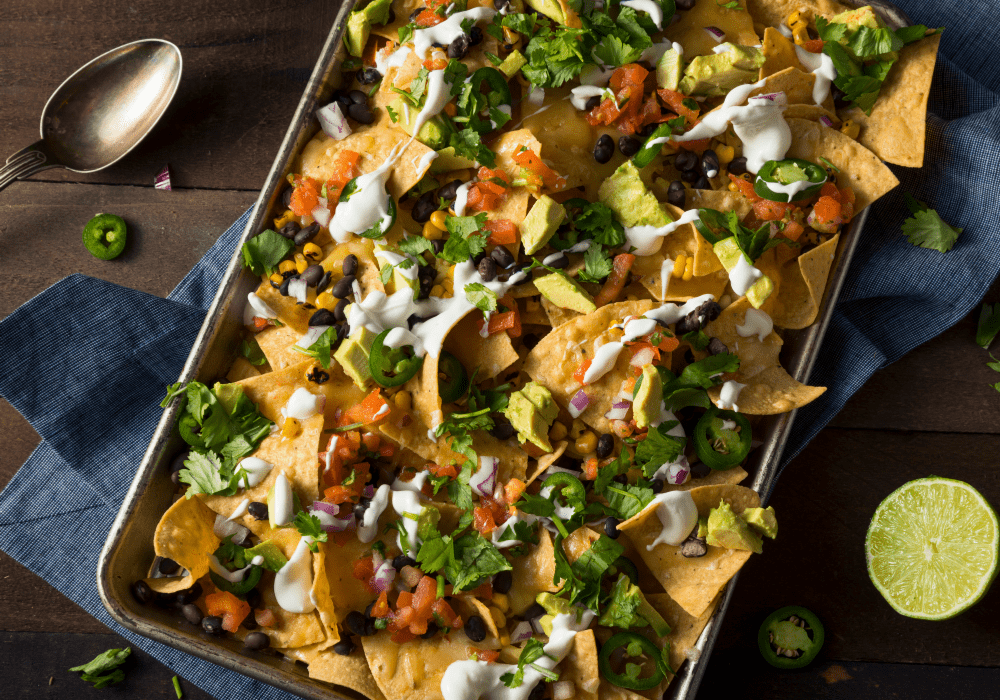 You can find inspiration from our 20 Quick Weeknight Meals (included)! Or make that new recipe making its rounds on Pinterest. It's up to you!
I don't tell you what to cook; I give you the tools to organize your meals and get into a shopping and planning routine that works for YOU.
Your Money-Saving Meal Planner includes:
Beautifully designed meal planning PDF templates for creating a Menu Master List (your favorite meals, sorted by category); a Weekly Menu; and a Grocery Shopping List. Print more copies as often as you need to. Our templates give you flexibility to cook meals your family will actually eat!
A Pantry and Freezer Staples Checklist of basic items most households should keep on-hand to be prepared to make common meals and snacks from scratch (saving trips to the store and $$ in the long-run)
20 Quick Weeknight Meals– these are 20 printable recipes — our family's go-to's that are easy to make and keep us from the fast-food temptation!
15 Best Tips for Saving Money and Eating Better– a 3-page rundown of my personal strategies for saving money on groceries for our family of six, while eating well. Because creating routines and knowing how, where and when to shop is just as important as meal planning.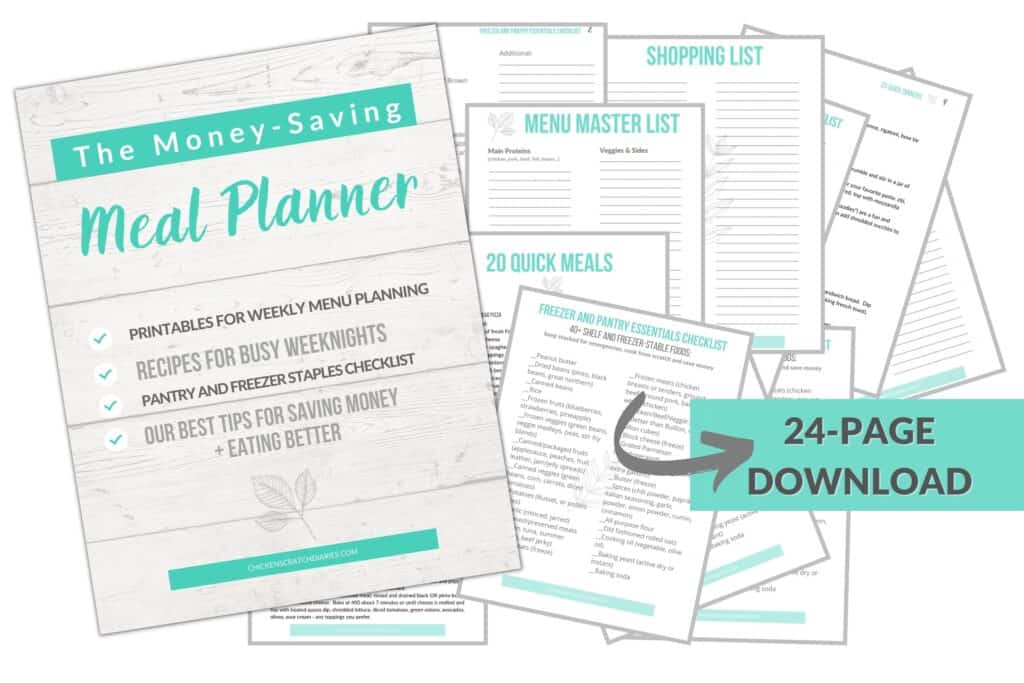 Download the Money-Saving Meal Planning guide for just $6.99 and let the organization begin.
Create new habits and see lasting change
The truth is: our habits can make or break the grocery budget!
These printables are designed to help you create better habits, which turn into a simple, repeatable process week after week.
This allows you to be consistent and intentional in deciding each day's meals- without the 5:00pm what's-for-dinner panic moment!
So start planning, and see how much (money + stress) you can save this month.