Do you dread figuring out what to pack in your kids' lunch boxes like I do? I'm always on the hunt for new school lunch ideas, especially at the start of a new school year.
Coming up with a variety of school lunch choices is one of the hardest tasks for parents during back-to-school season.
When it comes to packing those lunch boxes, it seems like every mom I talk to has the same issues in this area: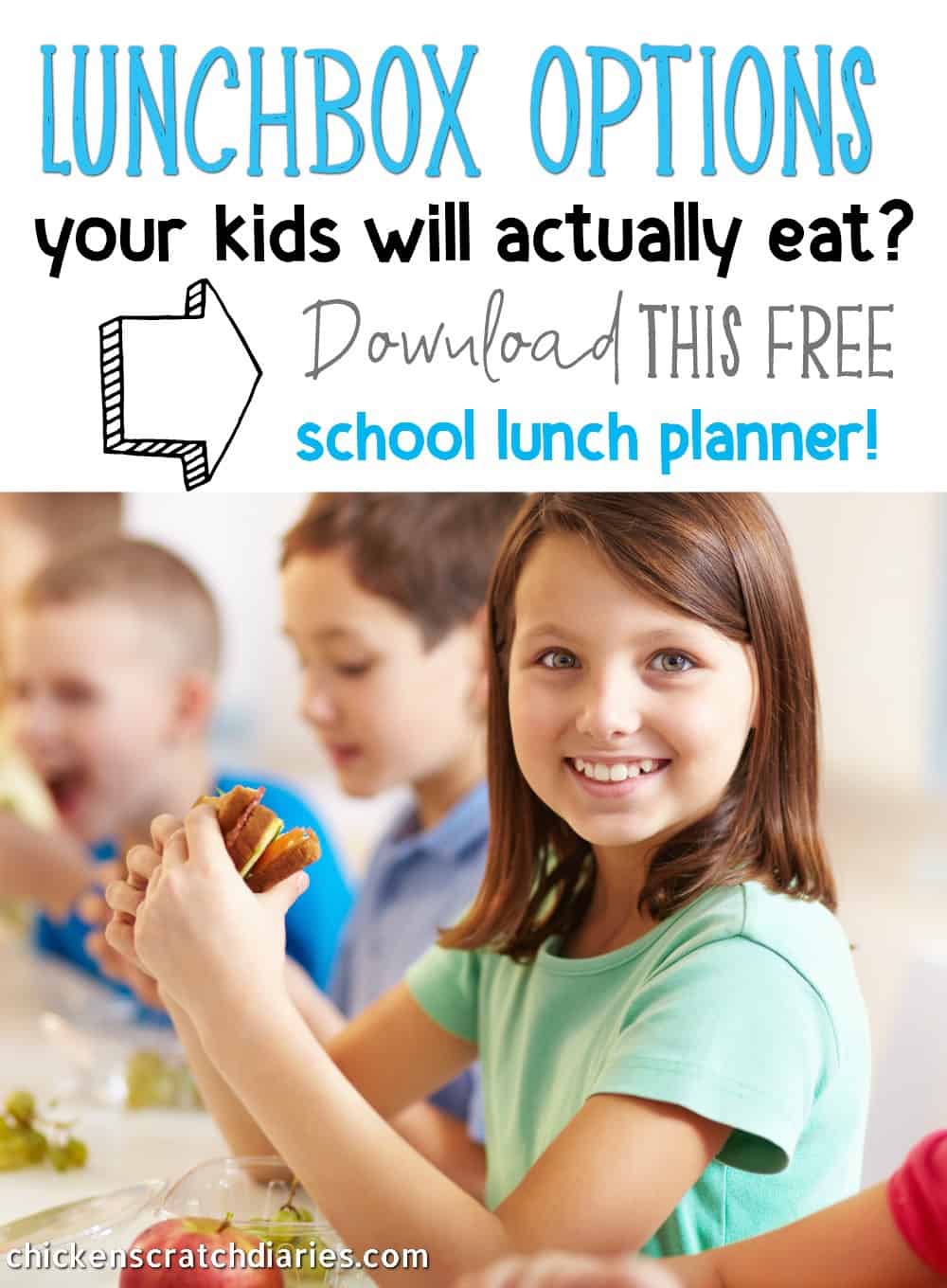 Picky eaters
No ideas or variety of menu options
Trouble remembering what we planned to pack for the whole week after grocery shopping
Lack of EASY things to make that don't require a microwave
Even if we get #1 through #4 figured out, a lot of the easy options aren't as healthy (or cost effective) as we'd like for them to be.
This post likely contains affiliate links. Please see our disclosure for more info.
Related Content:
Basic Guide to Creating a Weekly Meal Plan on a Budget
Easy Budget-friendly Lunch Ideas for Kids at Home or On-the-Go
Air Fryer Pizza Roll-Ups: Kid Friendly Lunch or Snack
So, being the organizer/planner that I hope to be, I was determined this year to do something about these problems!
School Lunch Planning – Simplified
My motivation came from my 11-year-old, whose only request as we were discussing this topic was: "I don't ever want to see another cup of yogurt in my life."
We obviously got stuck in a yogurt-filled rut last year when we ran out of other ideas!
Every time I researched ideas online, it seemed like all I found was cutesy pictures of fruit cut into flowers and whatnot.
I concede, flower-fruit is totally cool. But who has the time?
And on Pinterest, I would run across articles boasting "76 Awesome School Lunch Recipes" and would totally give up in overwhelmed-ment. (That's totally a word because I just said it out loud.)
Because the fact is, most of us don't need 76 new recipes to learn.
We just need a basic list of easy-to-make ideas and maybe a few new recipes to try out on the weekend, obtain kid approval and add to the school-lunch arsenal.
So that's exactly what we did!
With my kids' help, I compiled a one-page list of ideas, broken down by category (Main Dish/Protein; Veggies; Fruits, etc), and included 10 new recipes for you to try out if you need them.
School lunch Menu organization
Here's how I keep my kids' lunches organized with the school lunch planner:
Take page 1 (I call it the Master List) and place it in a clear plastic sleeve. (Try this one from Amazon — or for multiple kids, try these and use a different color for each child.)
Attach to your fridge or inside of a kitchen cabinet (where you'll see it frequently).
Using a fine-tip dry erase marker, go over this list with your kids and check off the items you plan to buy/pack for lunches during the week.
Use this list to help make your

grocery list

, and to remember your plan throughout the week.
Wipe off & repeat each week!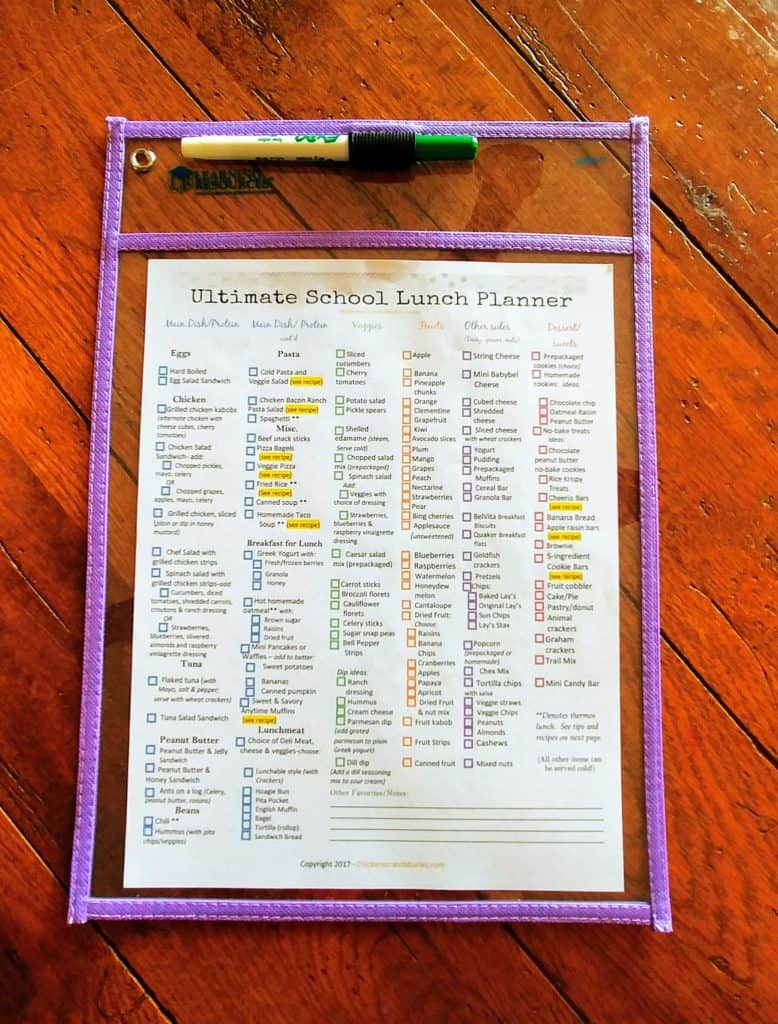 What's Inside
Overall, these are healthy, common sense ideas and recipes that are budget-friendly, easy to prepare, and with ingredients readily available at any grocery store (with the exception of some seasonal fruits & veggies of course).
I decided to include mostly cold lunch ideas for kids, with the exception of a few thermos lunch options. The items on this list are all things that my kids eat regularly.
I'm a pretty avid label-reader so if you're wondering why I picked certain specific items, it's likely because I feel like it's a good choice for my kids, it's a budget-friendly option, or it's the "lesser evil" out of the available options for that category.
For example, I prefer to buy Baked or Original Lays chips instead of Cheetos and unsweetened applesauce because of the high sugar content in other varieties.
Read Next: Peanut Butter Chocolate Chip Energy Balls: No-Refined-Sugar Snack for Kids
Oh, and don't pay attention to the dessert category if you're focusing on that word "healthy" above- dessert is supposed to be a treat! 😉
Although yogurt is still an option on the lunch box planner printable, there are certainly MANY more options that will make my kids happy- and I'm sure yours as well!
Even for my picky child, there are TONS of things she will actually eat on this list.
So, enough rambling- you've got lunches to pack!
YOUR FREE DOWNLOADS
>>Simply sign up for free below to open -and print- the School Lunch Planner and the School Lunch Recipe pack.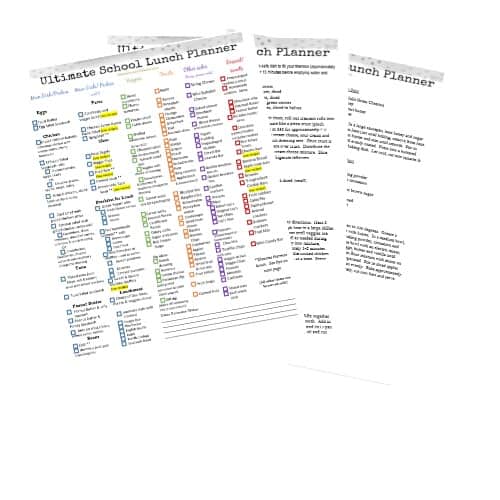 I hope these printables make your lunchbox planning much easier this year!
Related Products:
You might also like:
Back to School Tips: Get organized and stay on budget
29 Fun, Cheap (or free) Summer Activities for Kids and Families
Our Family's Favorite Crockpot Freezer Meals 
Quick and Easy Dinners for Busy Weeknights
Essential Freezer and Pantry Staples You Should Keep on Hand