Need an awesome snack that's easy to make AND a healthy alternative to store-bought cookies? Enter, Peanut Butter Chocolate Chip Energy Balls for Kids!
We've made no-bake cookies and bars of several varieties over the years.
They're great time-savers but most of the recipes I have are chock-full of refined sugar.
I'm all about moderation, but lately I've been searching for healthier snack ideas that we can make at home.
Homemade snacks save money, of course, but they also allow us to cut out preservatives, food coloring and other questionable ingredients.
Kids are crazy enough without all that nonsense! 😉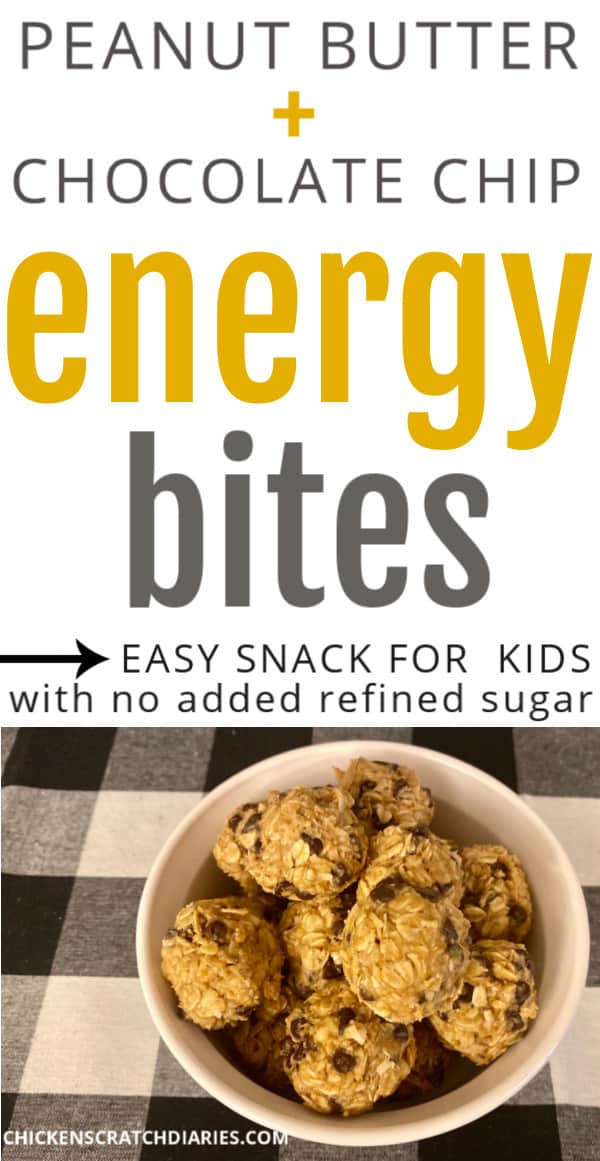 A quest for healthy homemade snacks
The main reason I first started experimenting with energy balls was because I wanted healthy breakfast ideas that we could make ahead of time – and that my kids would actually eat.
Breakfast time is like rush-hour at our house, and trying to get four kids out the door is NOT fun.
The simpler I can make our morning routine, the better for all of us.
I also felt so guilty for pushing my son out the door with only half of his oatmeal eaten or worse, no breakfast at all when he just wouldn't get out of bed in time.
This post likely contains affiliate links. Please see our disclosure for more info.
Healthy-enough energy balls (that actually taste good)
Many of the energy ball recipes I previously tried contained ingredients I just don't readily have on hand, or are expensive to buy (looking at you, chia seeds).
So the ingredients I finally chose were to meet my goal of healthier, but also appealing to kids and easy to take on the go.
As you'll see, I snuck in a few ingredients with the help of a food processor, and I don't feel bad about that at all. My kids are none the wiser.
Maple syrup and honey are the key to holding the mixture together without adding any refined sugar!
These energy balls were a hit at my house (even with my ultra-picky 6-year-old) and we've been making them nonstop ever since.
I find myself grabbing a few of these for breakfast and a quick snack when I'm craving something sweet.
They're a great way to curb the temptation for sugary snacks in the afternoon.
Also read:
•Pecan Dessert Recipes for any occasion
• Air Fryer Recipes for Kids: Try these Pizza Roll ups!
How to make peanut butter chocolate chip energy balls
Below are the ingredients and step by step instructions for these simple energy balls for kids.
(Printable recipe card is included at the bottom of the post.)
Ingredients
3 Tablespoons raw local honey
Instructions
1| In a food processor or blender, add 1/2 cup of walnuts and 1/2 c. unsweetened shredded coconut; pulse a few times, into a fine mixture.
This makes them easier to mix – and hide if your kids are afraid of nuts and coconut like mine are!
Walnuts have antioxidants, omega-3s and are loaded with tons of nutritious stuff. And we know that unsweetened coconut also has many health benefits. Both add to the sweetness of these energy balls without added refined sugar.
2| Add the walnut/coconut mixture to a large bowl, along with 3 Tablespoons of raw local honey, 1 Tablespoon of maple syrup, 3/4 cup mini semisweet chocolate chips and 3/4 cup creamy unsweetened peanut butter.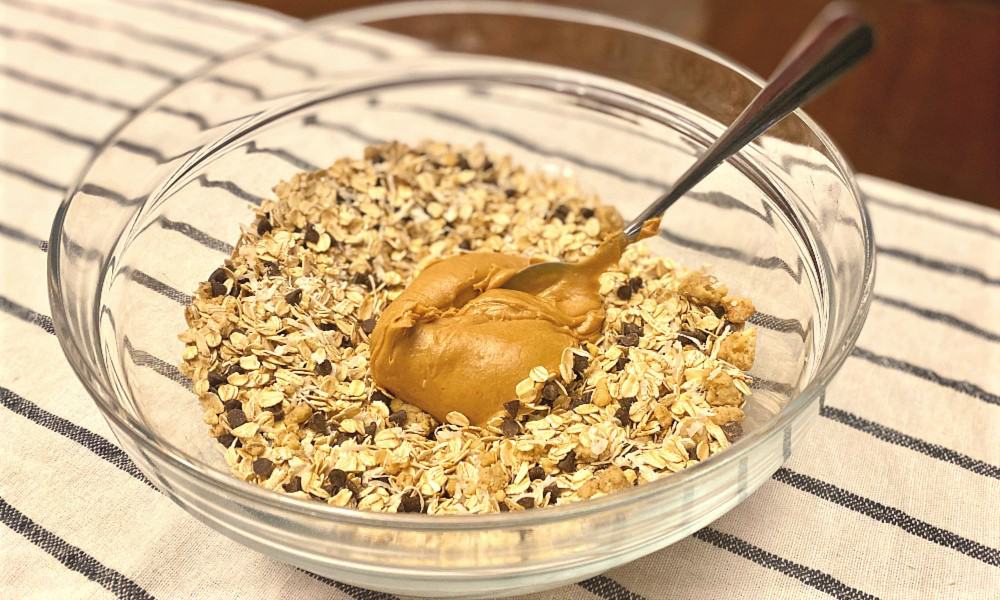 3| Use a cookie scoop to make each energy ball approximately the same size. Roll into 1-inch balls with your hands, firmly. Makes approximately 28 balls.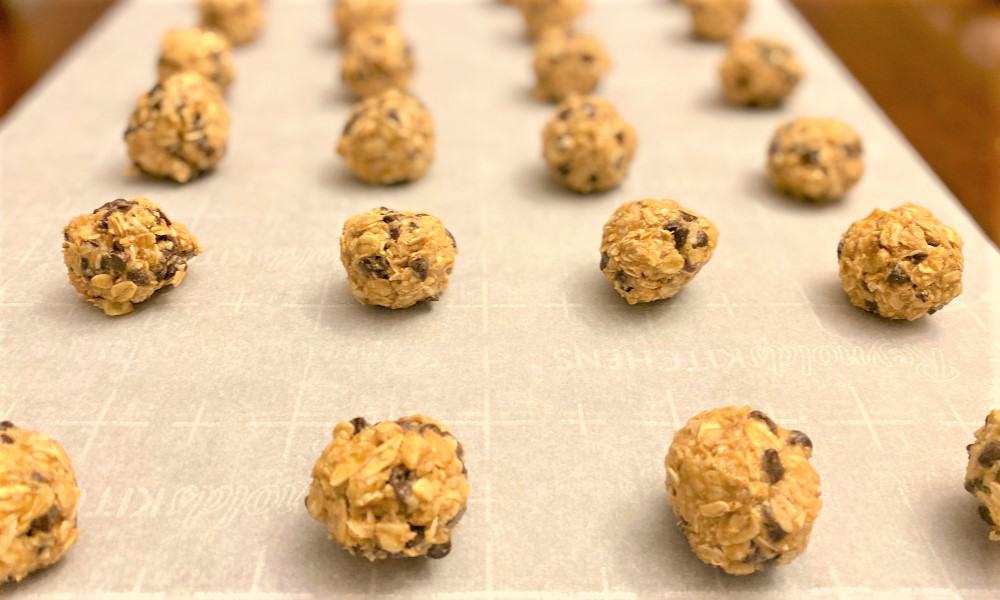 4| Transfer to a container with a lid and store in the refrigerator.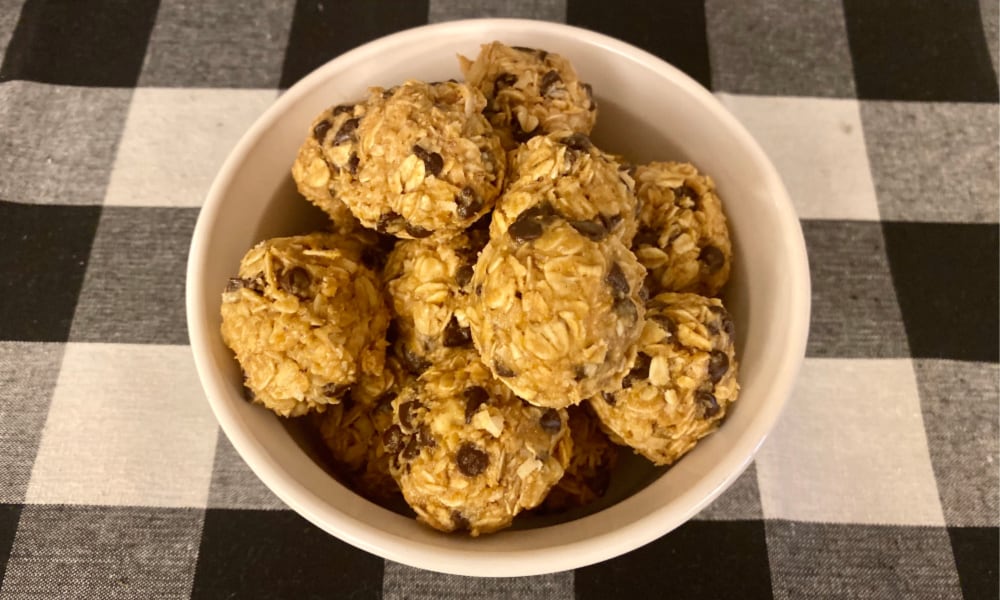 That's it! You can quickly mix up a batch of energy balls for kids before they come home for school, or make them ahead for breakfast the next day.
Feel free to experiment with other ingredients.
You could substitute the chocolate chips for raisins or chopped dates, add a little cinnamon, or try dicing up a variety of your favorite dried fruits. Any healthy toppings you can mix into your oatmeal would likely work with these energy balls.
Enjoy!
Yield: 28
Peanut Butter Chocolate Chip Energy Balls for Kids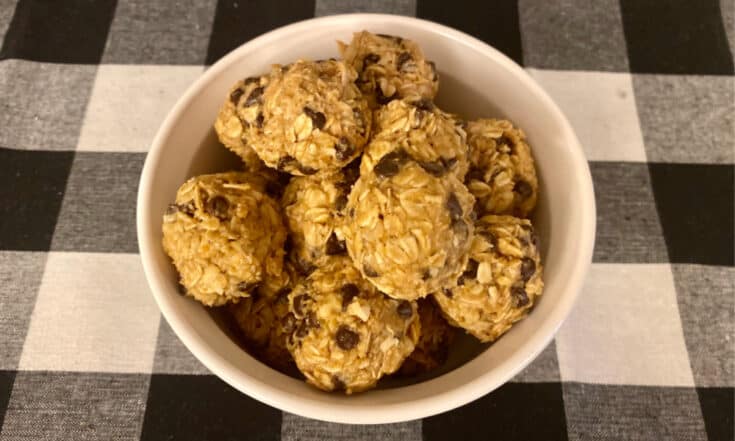 Ingredients
1/2 cup walnuts
1/2 cup shredded unsweetened coconut
3/4 cups creamy unsweetened peanut butter
2 cups old-fashioned rolled oats
3 Tablespoons raw local honey
1 Tablespoon Maple Syrup
3/4 cup mini semi-sweet chocolate chips
Instructions
Add the coconut flakes and walnuts to a food processor or blender and pulse into a fine mixture.
Transfer the coconut/walnut mixture to a large bowl.
Add the peanut butter, oats, chocolate chips, honey and maple syrup.
Stir all ingredients to combine.
Form each energy ball, starting with a cookie scoop, then by pressing firmly and rolling into a ball with your hands.
Transfer to a lidded container and keep in fridge. Makes approximately 28 energy balls.
Nutrition Information:
Yield:
28
Serving Size:
2
Amount Per Serving:
Calories:

118
Total Fat:

8g
Saturated Fat:

2g
Trans Fat:

0g
Unsaturated Fat:

4g
Cholesterol:

0mg
Sodium:

27mg
Carbohydrates:

11g
Fiber:

2g
Sugar:

5g
Protein:

3g
Related:
*Keep kids busy by teaching them to cook! Check out the Kids Cook Real Food course available here.