Need quick dinner ideas for tonight?
Or maybe you're meal planning and you want some easy recipes to fall back on during busy weeknights.
As much as I enjoy cooking, I totally understand the need for simple, no-fuss family dinner ideas.
Cooking is NOT fun when it is too complicated, time-consuming or just doesn't fit into your family's schedule.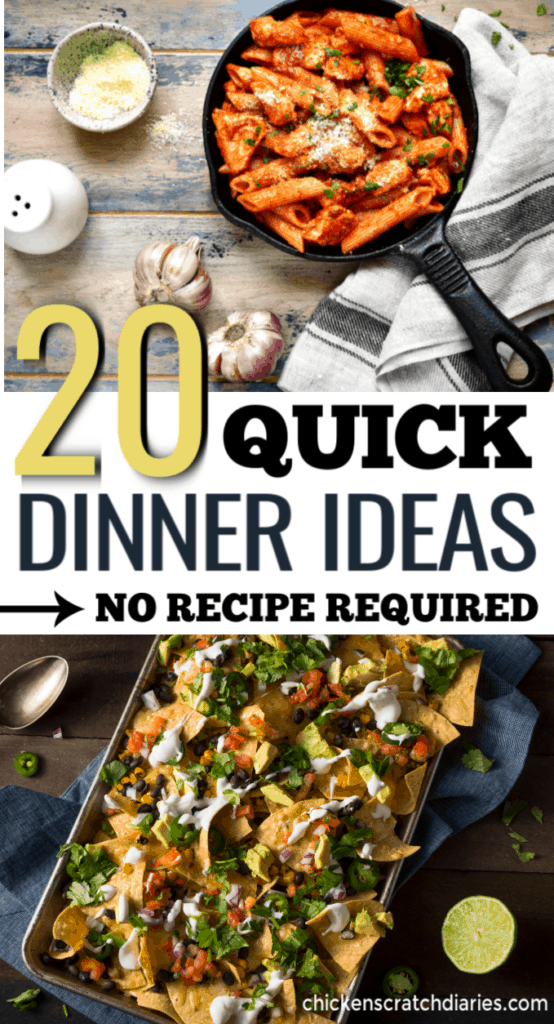 Even when I'm relying on simple dishes, I try to stick with meals that are:
Healthy-ish and homemade
Filling
Fairly quick to prepare- and clean up!
Each of our four kids has different meal preferences (as in – some are pickier than others).
Because of this, I usually only try 1 to 2 new recipes each week.
I figure with a handful of new ideas each month, surely there will be at least a few that will satisfy everyone and we can add to our monthly meal rotation.
(You can read about how I meal plan here.)
This post likely contains affiliate links. Please see our disclosure for more info.
Quick Meals that take little effort
Besides a few new recipes, I generally rely on simple tried and true recipes, crockpot meals —
–Or easy, no-recipe-needed meals like the ones I'm sharing today.
I call them "no-recipe" because they're very basic:
You can pretty much glance at this list and be able to make them without detailed instructions.
You don't necessarily need to measure exact quantities of ingredients either.
Another great thing about these quick dinner ideas is that you can completely customize them for your family's size, and with your family's preferences in mind.
Here are 20 meals that our family loves. I hope yours does, too!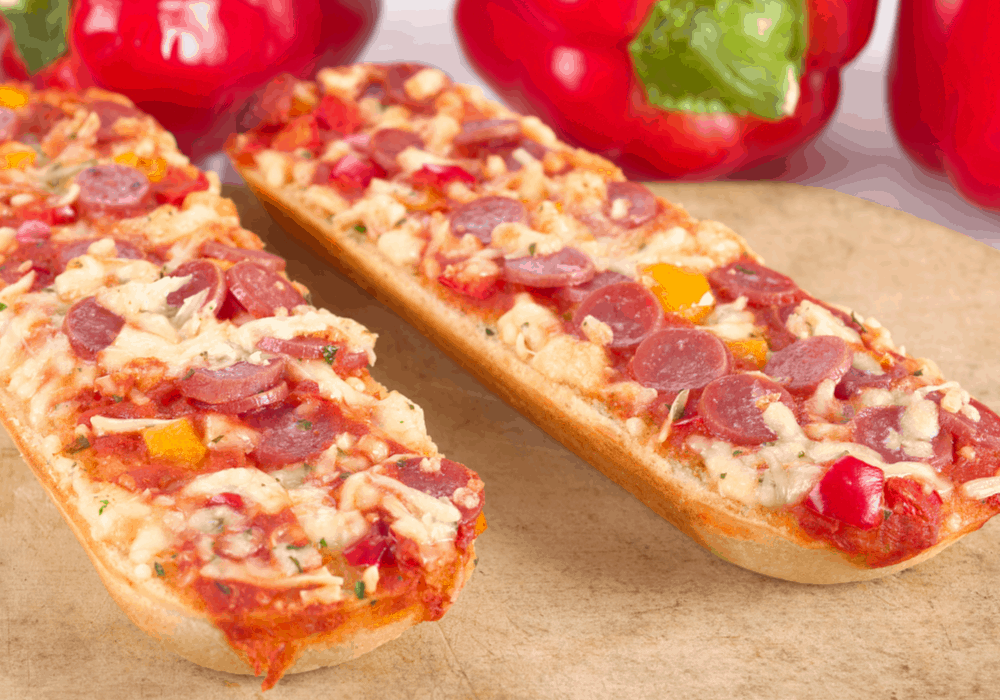 #1. French Bread Pizza
It's super simple:
Buy 1-2 loaves of french bread from the bakery section of the grocery store
Cut it in half lengthwise
Add toppings to the two long pieces, or cut into smaller sections and top them individually.
Then add marinara sauce, mozzarella cheese and your choice of pizza toppings.
Try: pepperoni, sausage, beef, chicken, bacon, ham, peppers, onions, pineapple, olives, tomatoes, mushrooms, or spinach.
Bake approximately 8 minutes at 350 degrees.
#2. Loaded Baked Potatoes
I love to bake potatoes in the microwave for a quick meal.
For our family, I take 6 russet potatoes, wash and dry and arrange them in a glass pie plate.
Then I drizzle about 2 teaspoons of olive oil and rub all over the potatoes (it keeps them moist). Sprinkle with salt. (Sea salt is great if you have it).
Microwave using your baked potato setting or until done, turning over halfway through.
For 6 potatoes it usually takes at least 15 minutes total, depending on size of potatoes.
Split baked potatoes in half and top with butter and your favorite toppings such as bacon, crumbled sausage, shredded cheddar, onions, sour cream.
#3. Omelets
Chop diced veggies and meats of your choice – a few handfuls of each.
Ideas: ham, cooked/chopped bacon, shredded cheddar or monterrey jack cheese, onions, bell peppers, tomatoes, mushrooms.
Heat a large nonstick skillet on low-medium heat and melt 2-3 tablespoons of butter in it.
Beat together approximately 6 eggs per omelet, along with about 5 tablespoons of milk (this size omelet serves about 3 people in our family).
Pour just the egg mixture into the preheated skillet.
Once mixture is firm when lifted with a spatula on one corner, add the toppings onto one-half of the skillet; then fold half the eggs over the toppings onto the other half of the skillet.
You can then cut the omelet in half or thirds for easier turning, and turn each section once more until eggs are cooked through (no longer runny).
#4. Quesadillas
Preheat skillet on medium-low heat. Add a few teaspoons of vegetable or olive oil.
Chop grilled chicken, bell peppers, onions or other preferred vegetables.
Add a tortilla to skillet (any size you prefer); top with shredded cheddar, desired meat/veggie filling, more cheese, and second tortilla.
Cook approximately 2-3 minutes on each side until crisp.
Slice into pizza wedges and serve with salsa.
#5. Stuffed Bell Peppers
Prepare up to 6 stuffed bell peppers by coring and seeding them and removing the tops.
Stand them up in a greased baking dish side by side. Preheat oven to 350 degrees.
In a skillet, brown 1/2 pound of ground beef or sausage and 1/2 cup diced onion and some minced garlic.
Make 1-2 cups of instant rice (I use instant brown rice).
Mix together the rice, cooked meat and onion and add chili powder, garlic powder, salt, pepper and cumin to taste.
Add approximately 1 cup salsa and mix.
Cut up a large block of cheddar cheese into small cubes. Add a few cubes to the bottom of each pepper.
Add rice/meat mixture on top of cheese cubes, then top with a few more cheese cubes.
Bake at 350 for approximately 30 minutes, until cheese is melted and peppers have a slightly roasted appearance (or to desired doneness).
Read next: Best Summer Freezer Meals: 20+ Ideas