Have you always thought meal delivery services could never be affordable or practical for your family? I know I did! After trying it out, though, I'm hooked. Read my EveryPlate review below for all the details.
A few months ago, a Facebook friend posted a question: "What's a good meal delivery service that you've tried?"
Having four kids – same as her – I quickly responded in the negative. "There's no way those could be affordable, or feed 6 people!", I said. "Don't waste your money."
So trust me when I say that I truly never had any intention of trying a shipped-to-your-door meal kit.
However, my curiosity got the best of me. That, and I had a coupon.
(Who can resist a coupon for food you don't have to shop for??)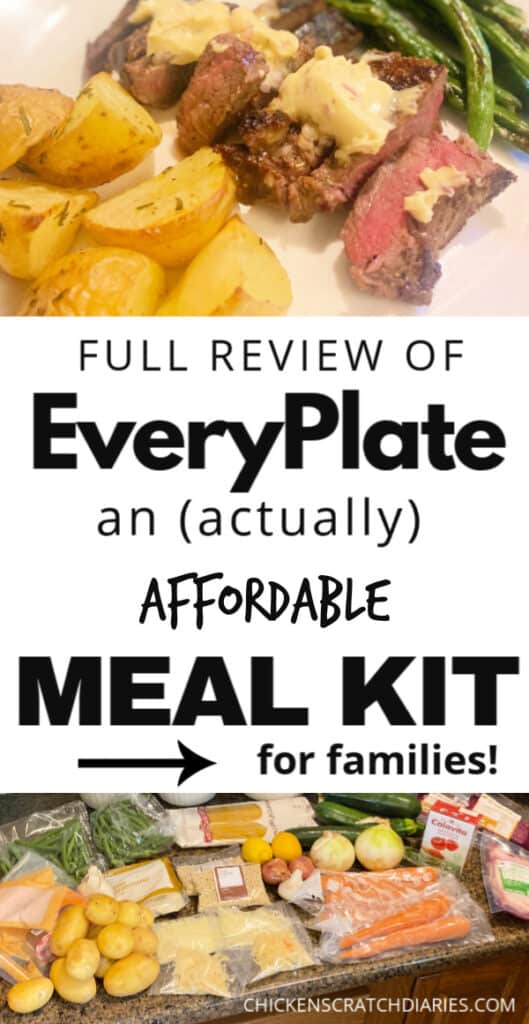 After our first week trying EveryPlate, I was sold on not only the concept, but the affordability and how much time it's saving me.
Lesson learned: Keep an open mind, especially when it might simplify dinner time for this busy mom.
This post likely contains affiliate links. Please see our disclosure for more info.
An EveryPlate Review for Families
Affordable meal kits – even for larger families?
I didn't think such a thing existed, but EveryPlate serving sizes are actually pretty generous, making the price per plate even less than what I had anticipated.
So, if you have 3-4 kids like me, read on to see how the 4-serving/meal box might just work for you. There are a few options to make this pretty doable.
How it Works
To order from EveryPlate, you simply:
Create an account and log onto the website
Choose your preferences
Choose how many meals you would like per week (from 3-6)
Select which meals you would like from the menu (several options per week to choose from)
That's it!
After your first order, you will continue to receive a new shipment each week unless you choose to cancel or skip a week.
There are about 3 different days of the week you can choose to have your boxes arrive at your house (Look under "Plan Settings").
You can also leave delivery instructions such as where you would like the driver to leave the box.
EveryPlate Pricing
In short, if you order the box containing 3 meals of 4 servings each (4 people), the total is currently $59.88 plus $8.99 shipping.
This comes out to $22.96 per meal with shipping, or $5.74 per serving.
However, we found the 4 "servings" pretty easy to stretch to feed 6 people, making our actual breakdown $3.83 per plate (including the shipping).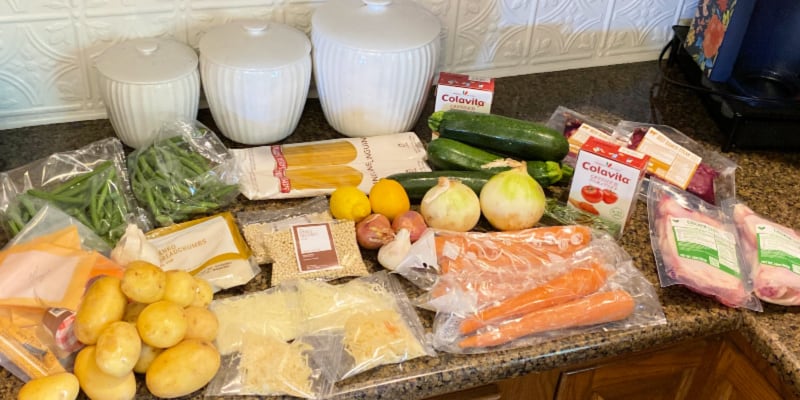 For reference, our family consists of me and my husband, and four kids ages 14, 11, 6 and 4. The 6 and 4-year-old aren't big dinner eaters most of the time.
(And our 11-year-old can be picky.)
The meals containing chicken breasts, pork chops and steak were easiest to stretch as you can slice, dice & split those into whatever portions your kids will actually eat.
Things like chicken legs were a little harder to split between plates, but not impossible.
*Note: You CAN double up on servings for any or all meals that you choose each week off the menu. You just can't add single servings.
Premium Meals
When you're choosing your meals for the week, keep in mind that there are usually 2 menu options that are "premium" choices such as steak or a pricier seafood dish, and there is an up-charge for those meals.
This information is easy to identify as you're browsing the menu, so you won't have any surprises when you check out.
Quality of food
One of the MAIN things that has impressed me with our EveryPlate deliveries is the quality of the food.
We live in a rural area, and when farmers markets are open and gardens are producing, there is quality produce to be found.
At the grocery store most of the year, it can be a little hit-or-miss though.
For instance, the week I received our first EveryPlate box, I had just been to the grocery store and couldn't find any zucchini that was worth purchasing.
The zucchini that came in our box was beautiful, though!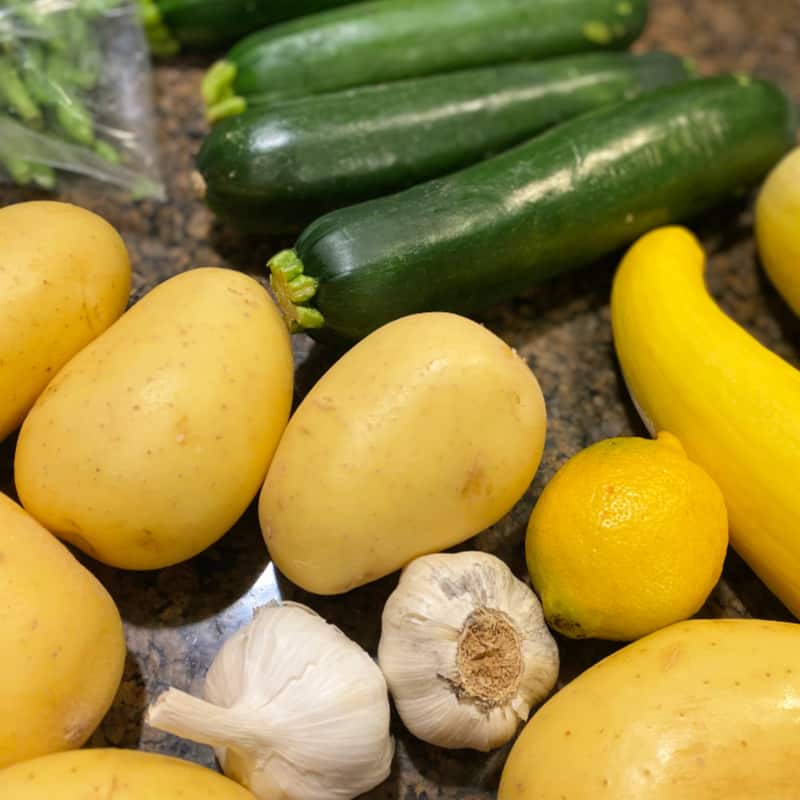 As for the meat we've tried so far, I also have no complaints.
Living in the midwest, we buy beef from local farmers so I'm sticking to the chicken, pork or seafood options in our EveryPlate boxes, for some variety in our diet.
Also read: ButcherBox review: Our favorite organic chicken – delivered to your doorstep
Is the convenience worth it?
Even though you have to cook the meals yourself, it really couldn't be easier to order, prep and serve.
For me, not having to plan and shop for three meals a week is a huge timesaver!
And you can choose up to 5 meals per week, if you really want meal planning to be hassle-free.
Recipe cards are included for each meal, with pictures and step-by-step instructions.
My husband and daughter even thought it was fun to be involved in the prep work and cooking, saving me even more time in the kitchen. 😉
Are additional ingredients needed?
In your box, all the ingredients needed for each meal come in individual packaging- even the herbs.
The only thing you typically will need on-hand are simple pantry and fridge staples like butter, oil, and salt and pepper.
If you want to stretch your meal a little farther, you could always add another side dish like bread or another vegetable.
So far we haven't needed to do this, but it might be a good option for picky kids or more than 6 people.
P.S. – the meat is usually found on the very bottom of the box under another layer of ice pack material to keep everything clean and uncontaminated.
My friend almost thought her meat was missing from the first box she ordered, so don't forget to keep digging!
Is EveryPlate Healthy?
So far, the meals we have cooked have been healthy, fresh and centered around whole foods. Most meals contain a good balance of protein, veggies and grains.
This is another reason to give EveryPlate a try, if you are like me and get tired of trying to balance out every meal and end up throwing mac-n-cheese on the menu as a side dish, too often.
There is something about having all the veggies in a nice little corner of the fridge together, to make a healthy dinner that much easier to assemble!
Overview of our first EveryPlate box
Our first three meals were: Zuchinni Parmesan, Apricot Dijon Chicken Legs, and Dijon Butter Steak. Below is a short, honest review of each meal.
Zucchini Parmesan over Linguine Marinara with Crispy Breadcrumbs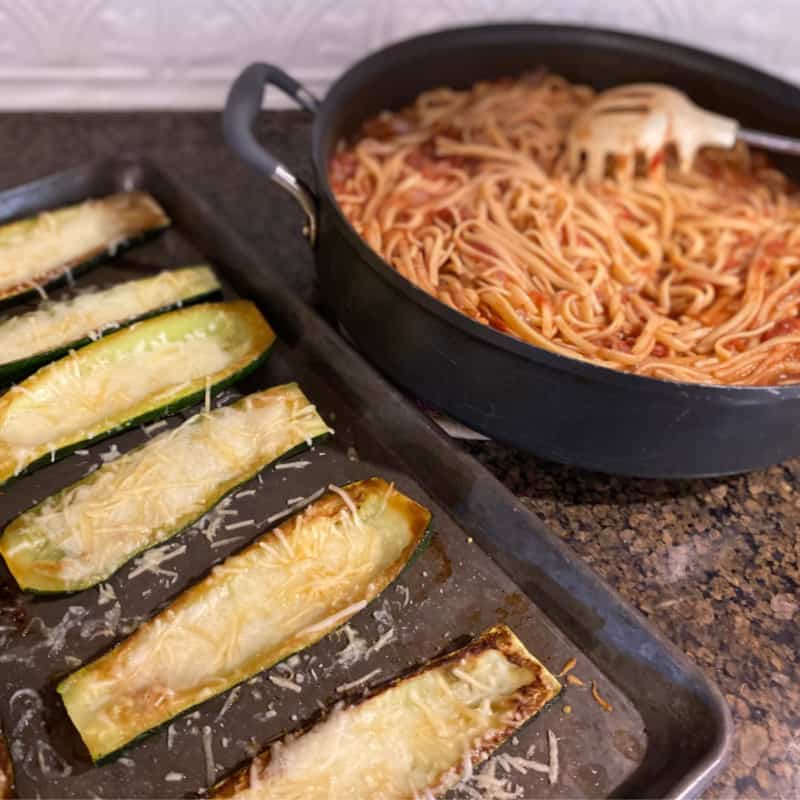 This was the first meal we tried. I thought it was great; especially the zucchinni with the mozarella, parmesan and panko topping- yum!
Next time, I might add a bit more Italian seasoning to the sauce for extra flavor.
The crushed tomatoes came in little refrigerated containers and felt "fancy", where I would usually opt for jarred spaghetti sauce otherwise.
It took a little longer than the 35 minutes on the recipe card.
The process itself (scooping out zucchini seeds, boiling linguine, making the sauce) wasn't hard, but it did involve several steps.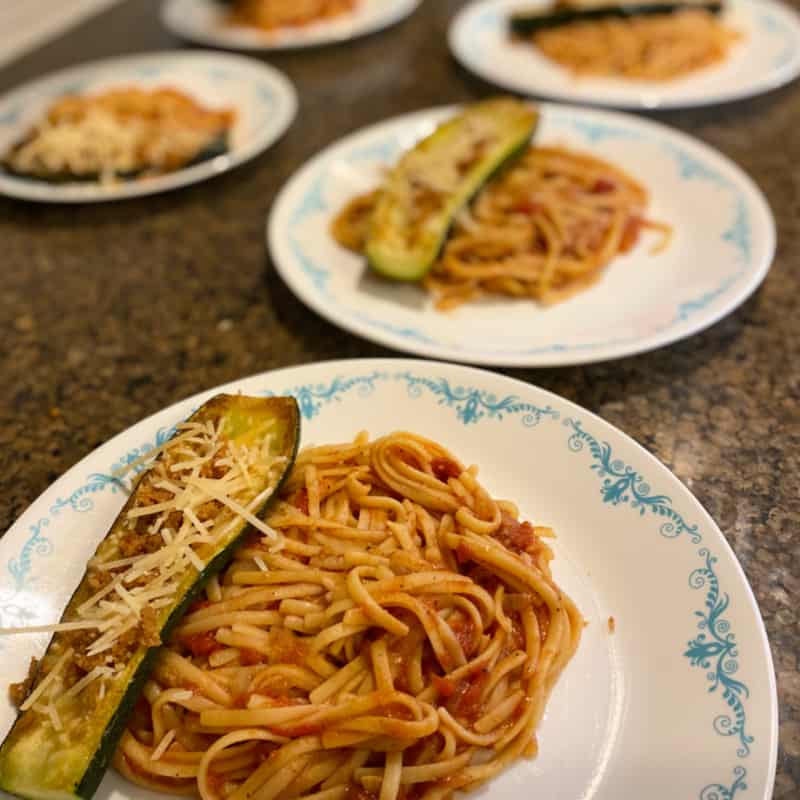 Stretching this meal to 6 plates was easy, and we actually had some leftovers with this meal.
Apricot Dijon Chicken Legs with Roasted Carrots and Lemon Garlic Couscous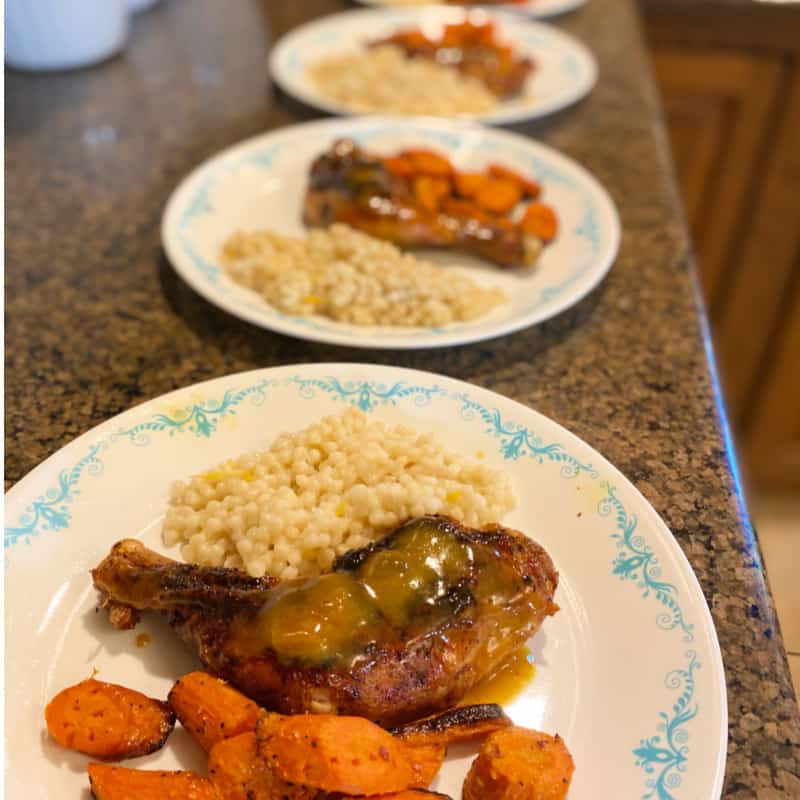 These chicken legs were larger than the typical chicken legs I find at the store, so that was a nice bonus for our large-ish family.
Israeli couscous was something I had never tried before, and I LOVED it with the lemon and garlic.
This is definitely a side dish I will make again on my own.
Dijon Butter Steak with Rosemary Potatoes and Roasted Green Beans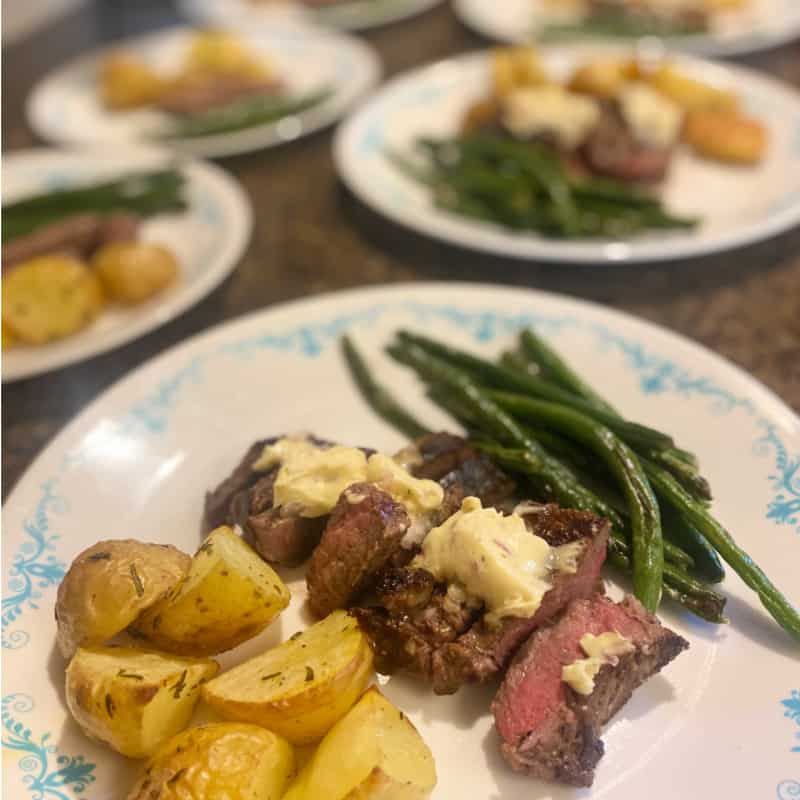 Even though I normally buy beef locally, I wanted to try this recipe for our first box.
It was a premium meal, but I have to admit it was worth every penny. And still way less than we'd pay at a restaurant, I might add.
The garlic butter with shallots made the steak extra-yummy. This will be easy to replicate in the future as we have a freezer full of beef currently!
I was also impressed that it came with fresh rosemary sprigs. Fresh herbs, great quality meat and produce = win/win/win.
Every Plate Discount Codes
You can get $20 off your first EveryPlate box here!
After your first order, you will also get a link to share with friends.
When they checkout through your link, you can get a discount on your future boxes, making it an even more affordable meal kit for your family!
EveryPlate: For inspiration, saving time, and gifting
Even if you just want to try EveryPlate one time, I don't think you'll regret it.
One of the things I love is that it has given me an idea bank of new cooking techniques, and introduced me to ingredients I probably wouldn't have chosen otherwise.
It would also be great to send a box to a friend or relative that loves to cook but also hates shopping. (Surely I'm not the only one!)
Overall, I appreciated the time-saving aspect of having a meal kit delivered to my home with delicious, healthy ingredients all ready to go.
If you try EveryPlate, be sure to comment and let us know your thoughts, and your favorite recipes!
Related Products: