Are you an anxious mom? If so, these Bible verses about worry and stress can help put your fears into perspective.
You may not realize it, but fear is usually what feeds anxiety: fear of the future; fear of the what-ifs.
Sometimes as moms we take on the role of "professional worrier".
It's our job, right?
And it's understandable that worry and stress can accompany everyday mom-life.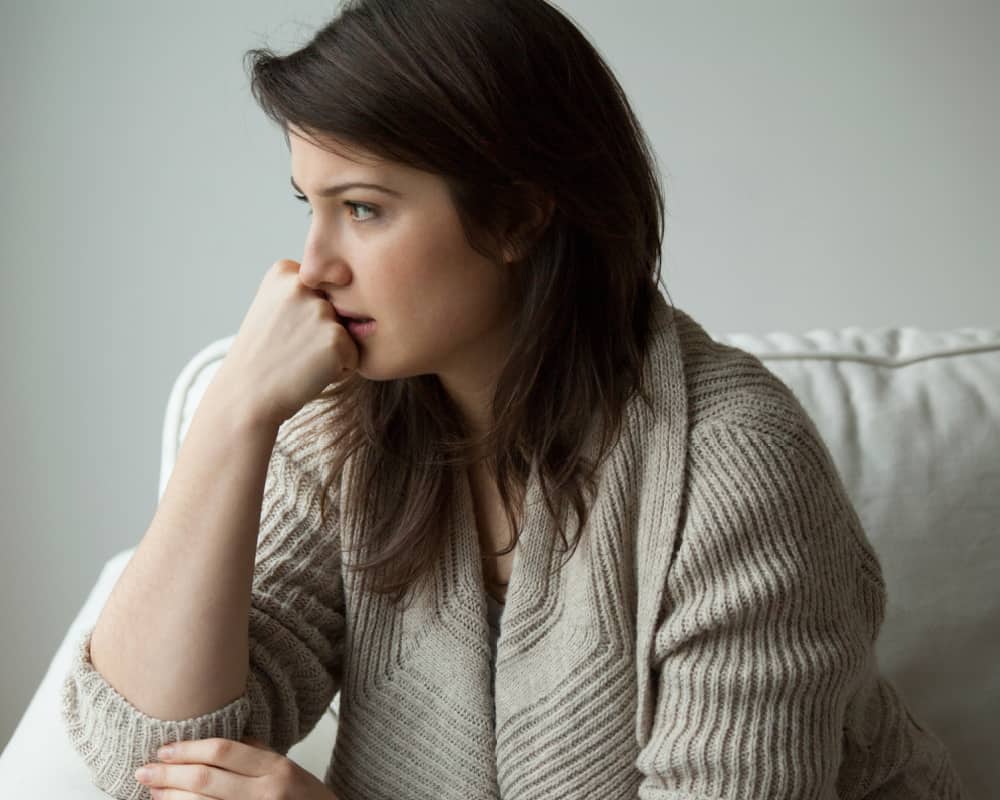 There's the lack of sleep, the sibling wars, the bills to be paid, picky eaters, messy houses, potential toxins in everything … STRESS triggers abound.
And these are only the minor things, really.
This post likely contains affiliate links. Please see our disclosure for more info.
A call to trust
I used to worry constantly without second thought – and I'm not immune to it now.
But as I grow in my motherhood journey and in my walk with Christ, He keeps challenging me in this area, over and over again (and continues to do so).
I'm realizing that worry is something I have to intentionally address.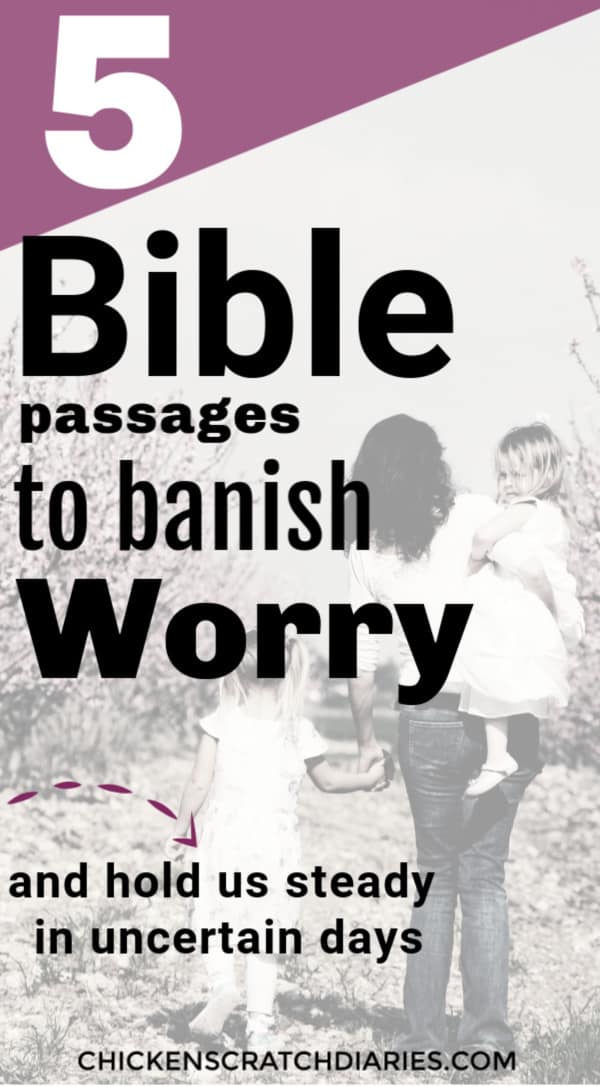 I can't let fear take root.
I only have control over certain things in life, and I have to be willing to relinquish my mental "control" of everything else.
If I really want to exercise my faith, I must let God handle my worries and trust that he CAN.
Bible verses about anxiety and stress
Thankfully, there's not just one Bible verse on worry; there are many passages to remind us to bring our worries to God.
Through prayer and studying Scripture, we can resist the urge to succumb to the black hole of fear, which leads to worry and doubt.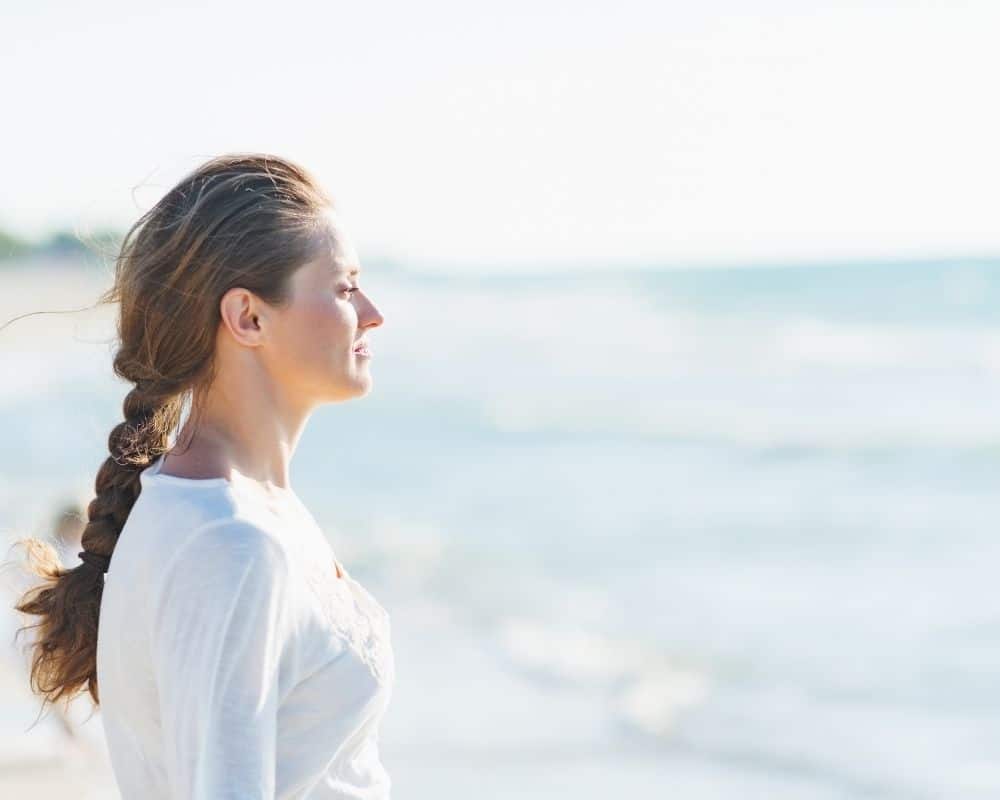 Those things that lurk in our minds and threaten to engulf us, hold no power against the truth of the Word.
Below are five bible passages about anxiety that can show us what to do when we're worried, and how we can find peace.
#1. Philippians 4:6-7
"Do not be anxious about anything, but in every situation, by prayer and petition, with thanksgiving, present your requests to God. And the peace of God, which transcends all understanding, will guard your hearts and your minds in Christ Jesus."
I've probably quoted these verses in other blog posts, because I rely on them almost daily!
At the time I memorized this passage, I was having a lot of stress about my job and I was unsure what my next steps needed to be.
The work-life balance was not happening for me back then, and I knew I needed to make a change. But, I wasn't sure what the change needed to be, or what it would look like for our family.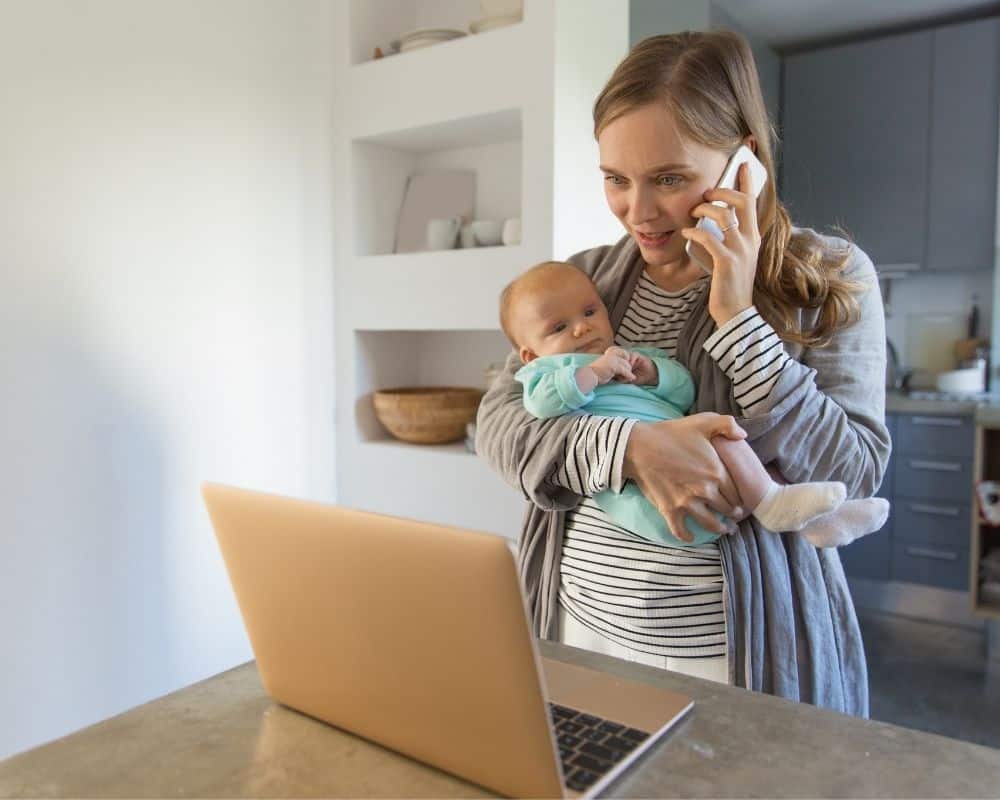 What I learned through these verses? God is faithful to answer our prayers, and he's faithful to offer peace while we're waiting.
As a mental exercise, you can picture Jesus standing at the "door" of your mind, guarding it before those anxious thoughts are allowed to invade.
Read next: 28 "God is faithful" Bible verses
#2. Matthew 6:25-27
"Therefore I tell you, do not worry about your life, what you will eat or drink; or about your body, what you will wear. Is not life more than food, and the body more than clothes? Look at the birds of the air; they do not sow or reap or store away in barns, and yet your heavenly Father feeds them. Are you not much more valuable than they? Can any one of you by worrying add a single hour to your life? "
(read the entire passage through verse 34 for further reinforcement. Also found in Luke chapter 12.)
It's natural, even responsible, I think, to have a running mental list of our family's needs and wants – and to desire to have a plan for meeting those needs.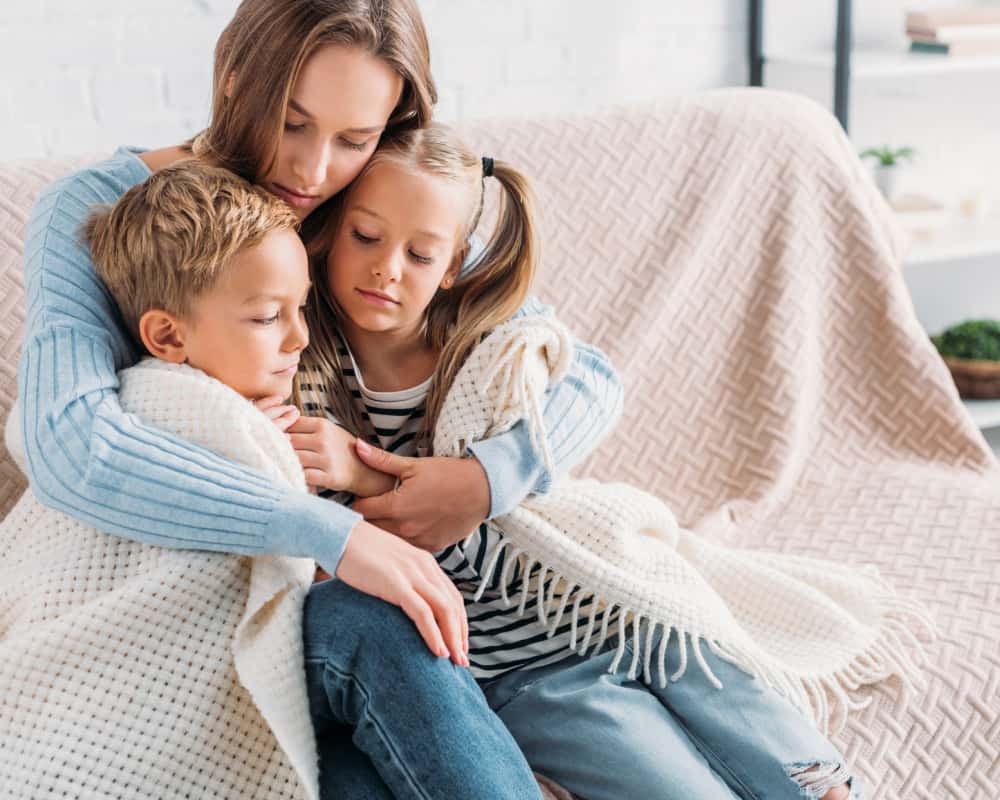 As moms, we have a heightened sense of the needs of those we love, and that can be exhausting at times!
He knows- and provides
However, God knows our concerns and always has a plan to meet our needs, even and especially when we're not sure what that's going to look like- the how and when.
We can see in this passage that we are His most valuable creation.
Though God loves all He created, he chose to have a relationship with us.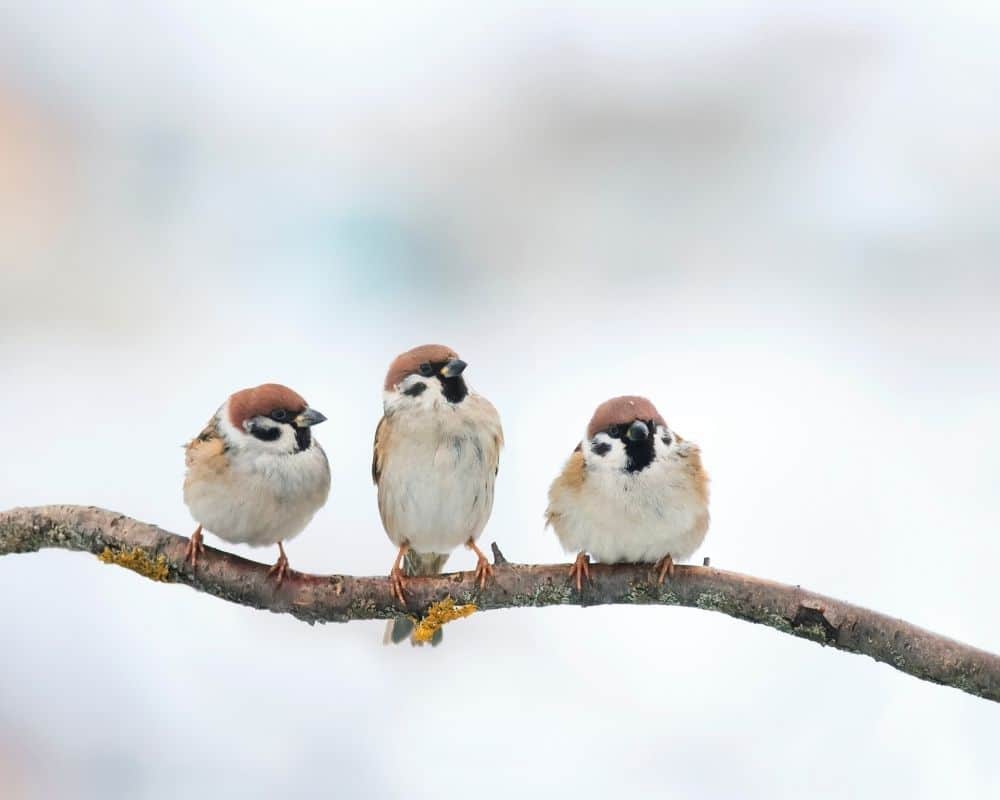 Just like we adore our kids and want the best for them, our Heavenly Father wants what's best for us – and he is more than capable of providing.
More than that, He knows how to provide the things which will ultimately benefit us the most.
With these truths in mind, we see that our worry is not productive either!
I wonder how many hours I've spent worrying in my life, when I could have been praying about them, then resting my mind.
• Related post: 7 Warning Signs You're Doing Too Much as a Mom- and How to Stop
#3. Psalm 139:23
"Search me, God, and know my heart; test me and know my anxious thoughts".
Psalm 139 is a beautiful passage. In it, David pours out his heart in praise to the God who knows all, and sees all.
He acknowledges that our Creator knew us before we were even conceived and nothing that happens in our life today escapes His attention.
When you're anxious, is your first thought to simply praise God for who he is?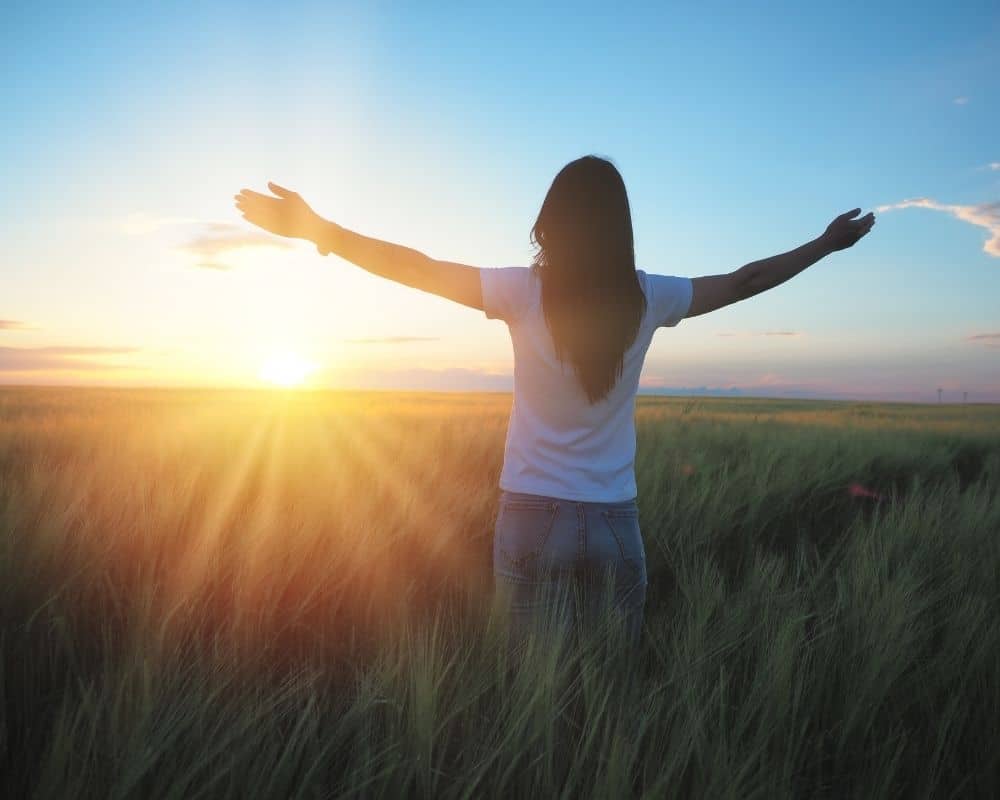 I'll admit that most of the time, this is NOT my natural response!
I want to cry out for help. I want to list all the ways I'm struggling and suggest how God can fix it. 🙂
A posture of submission
No matter our response, God hears us. This is true.
But reading the context of this verse within the whole chapter helps us to understand that giving God praise is a logical response to ANY situation, any stress that we're facing.
One of the most obvious reasons is, when we turn our attention away from our worry and focus on who HE is, it changes our perspective entirely.
The very next verse, Psalm 139:24 says, "See if there is any offensive way in me, and lead me in the way everlasting."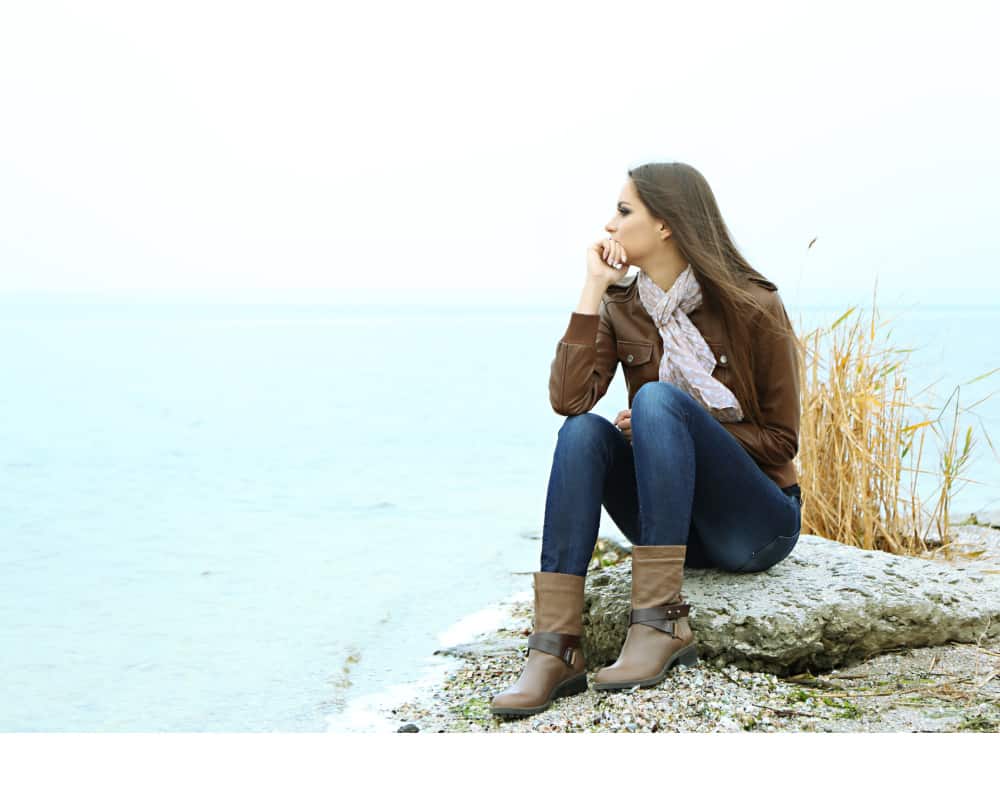 Am I humble enough to ask God to search me and know my anxious thoughts…and confess that worry as offensive to God – as sin?
Once our thoughts are exposed, we can deal with them the right way.
We can repent, turn from our worry and meditate on His promises instead.
• Read next: Back to School Prayer Guide + Free Printable
#4. 1 Peter 5:7
"Cast all your anxiety on him because he cares for you."
Remember Peter? He knew what it was like to be afraid.
He denied Jesus three times because he was afraid. He was invited to walk on water alongside Jesus, but he faltered.
He was one of Jesus' own disciples and closest friends, yet he struggled with fear and doubt just like you and I do.
Ultimately, Peter was an overcomer, and this is evident in his continuing ministry and the encouragement to believers that he gives us in this verse.
Cast ALL your anxiety on him.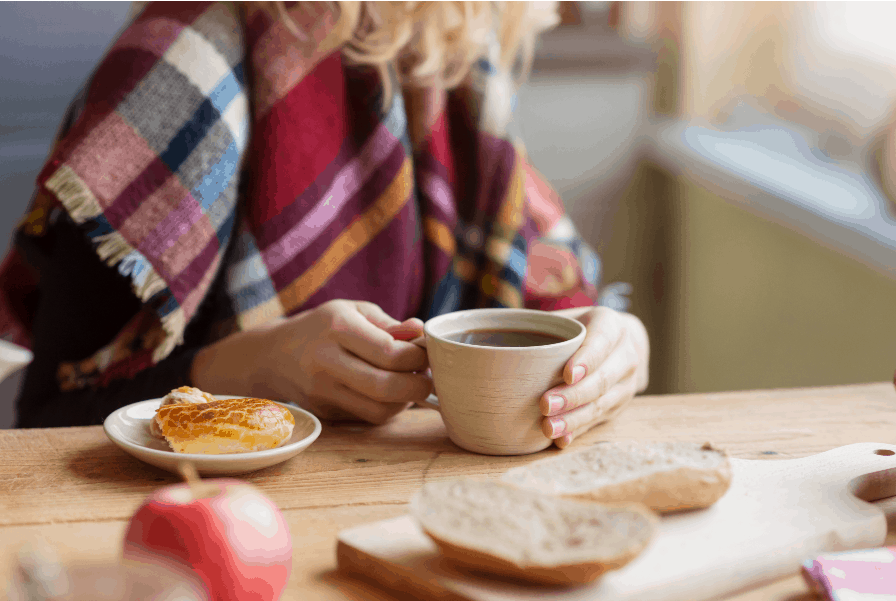 Peter knew there was incredible power in surrendering anxiety, because he had experienced it firsthand.
God cares for us more than we can understand or imagine, and he doesn't want us to suffer under the weight of our burdens, including worry.
#5. John 14:27
"Peace I leave with you; my peace I give you. I do not give to you as the world gives. Do not let your hearts be troubled and do not be afraid."
As believers living under the New Covenant, we have direct access to the Holy Spirit to guide us and help us with anything we face.
We know that the Christian life will not be without problems, and in fact we should expect struggle.
We live in a sinful, fallen world. Disease, poverty, violence and death affect every one of us.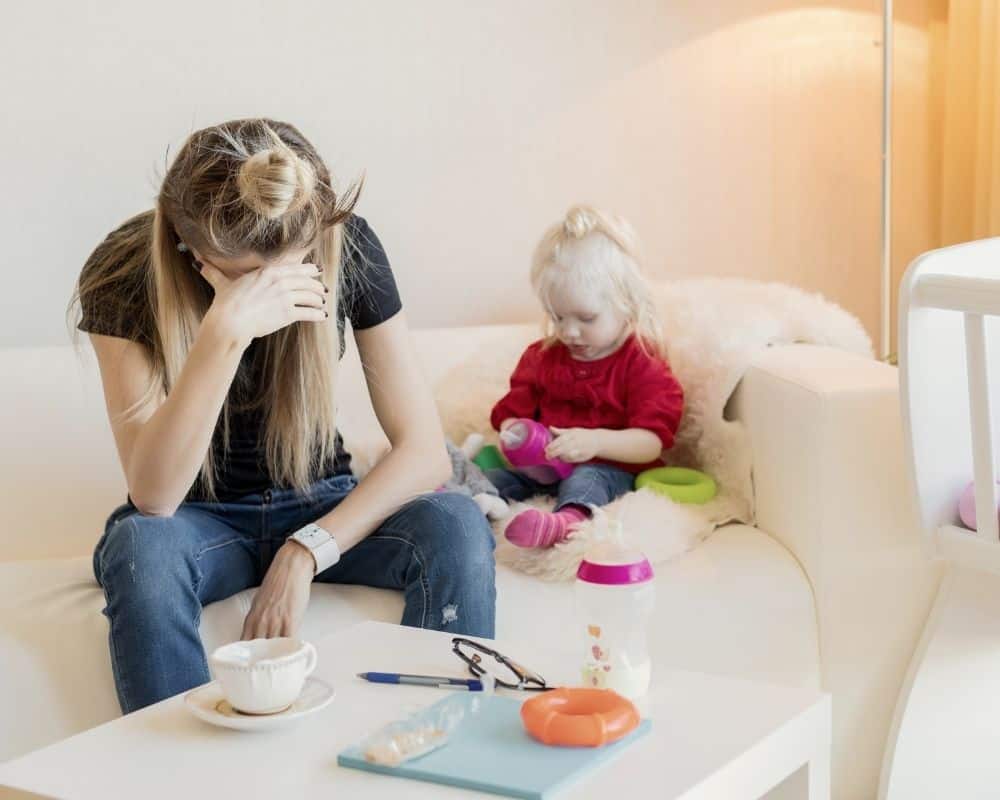 The worry can keep us up at night, or it can drive us to our knees.
When I choose to kneel, though, I'm reminded that peace is not just a wish or a hope (the temporary kind of peace that the world gives), it's real, and lasting and tangible.
Read next: In the Struggle: 10 Bible Verses that bring Comfort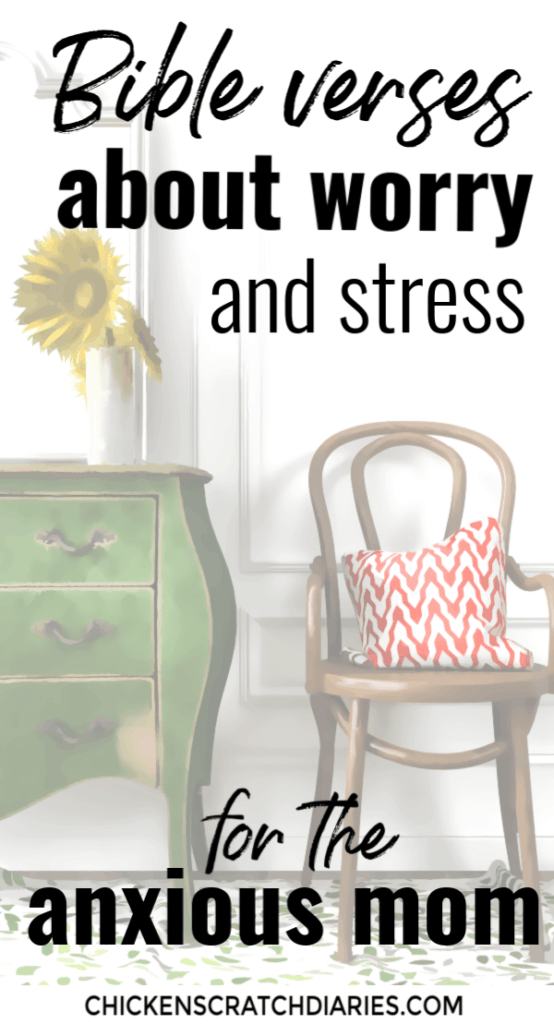 Scripture and prayer: the Christian mom's best weapon against worry
Christians will never be immune to all the factors that fuel our fears.
But the peace Christ promised his disciples in these verses is still available to us today.
Jesus left us the Holy Spirit to make sure we always had direct access to Him.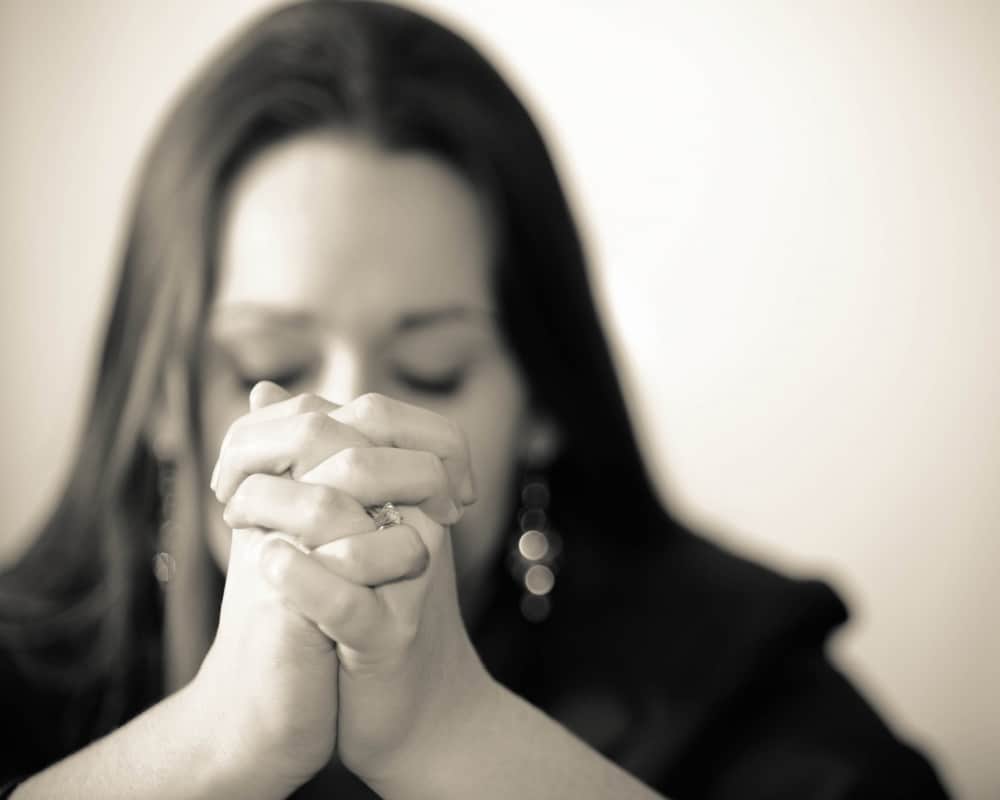 He is always with us, and we have nothing to fear.
This should make every mom (any person, really) feel relieved!
We have enough to keep us busy, without trying to do God's job on top of our own. (Tempting as it might be.)
Thankfully, these Bible verses about worry and stress assure us that we can retire at any time from our role of professional worrier.
God is big enough to handle every circumstance we face, and He is already interceding on our behalf.