Spend 5 minutes on social media or listen in on any mom's conversations at the coffee shop, and you'll likely witness an example or two of fear-based parenting.
Not long ago, I realized that I'm just as guilty as anyone. I'm that mom in the coffee shop.
Even though I try to avoid being the helicopter parent (truly, I do), the temptation is ever present.
I mean, we all know we can't bumper-pad every aspect of our kids' lives. We're aware of how unhelpful this approach really is.
Deep down, we want our kids to experience the joy and freedom of being a child, without an out-of-control anxious parent dictating their every move.
But there is a remedy to fear-based parenting, and it's found in learning to trust God with our kids.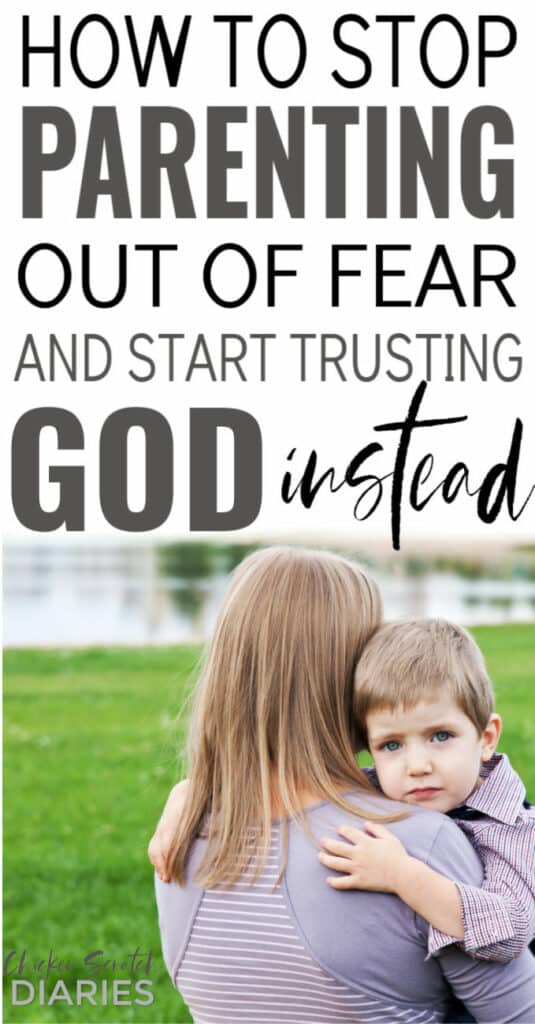 This post likely contains affiliate links. Please see our disclosure for more info.
And although we probably understand the need for trusting, the reality is we often have a hard time knowing how to live it out.
In what ways do we hold on, and in what ways do we let go? Where exactly is the line between caution and confidence?
This is an area where I'm continually challenged as a mom.
Below are just a few truths God has been teaching me about trusting Him with my own four children.
1| He loves them more
We teach our kids to sing, "Jesus loves me, this I know". It's such a familiar song that we almost lose the gravity of its meaning.
But think about it: God who created the universe and everything in it didn't stop there on Day 6. He not only created us, He pursues us and willingly chooses to love us.
It's what He is, and it's what He does.
God loves us more than we are capable of loving. His love for our kids is perfect and His actions will always flow from this perfect love.
He knows their quirks, their personalities, their rebellious tendencies.
He knows their sins and he knows what it will take to draw our kids to Him.
God knows them better than we do, and we can know without a doubt that nothing in their lives escapes His notice.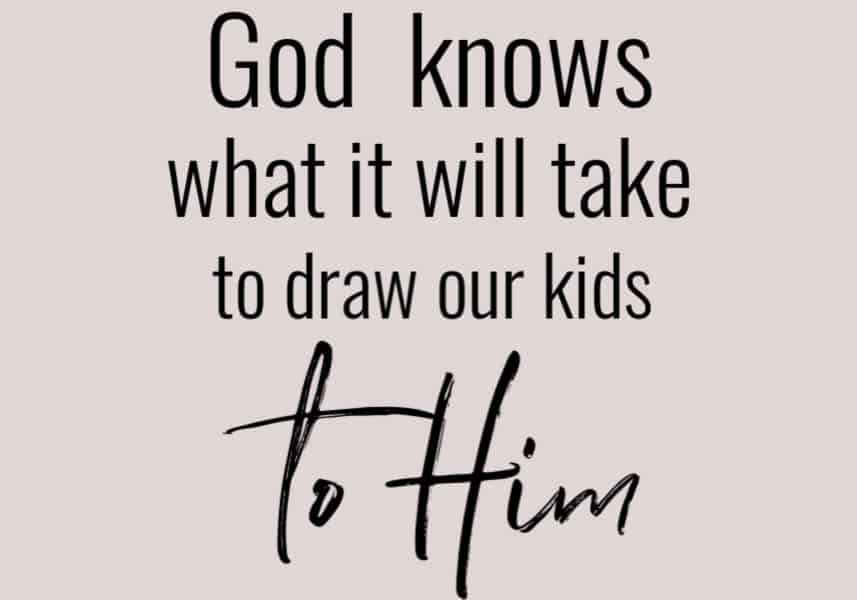 2| His plans are good
When I pray with my kids at night I often find myself praying that we will always remember to trust Him, even when bad things happen and we don't understand why.
To be honest, this prayer is just as much for me as for them. The more I repeat this truth, the more likely I can rest in it when I need it the most.
My hope, though, is that my children will be able to see God's inherent goodness in every situation.
Even when friends say hurtful things, when things don't go as planned and even when loved ones die.
Romans 8:28 says, "And we know that all things work together for good to them that love God, to them who are the called according to his purpose."
But let's keep in mind: Sometimes this plan of ultimate goodness will agree with our view of what is "good", and other times it won't.
The truth is… we don't have access to the master blueprint revealing the bigger picture. Not yet.
God's sovereignty surpasses our current situations and even our pain…and his sovereignty makes him ever-capable of walking us through it.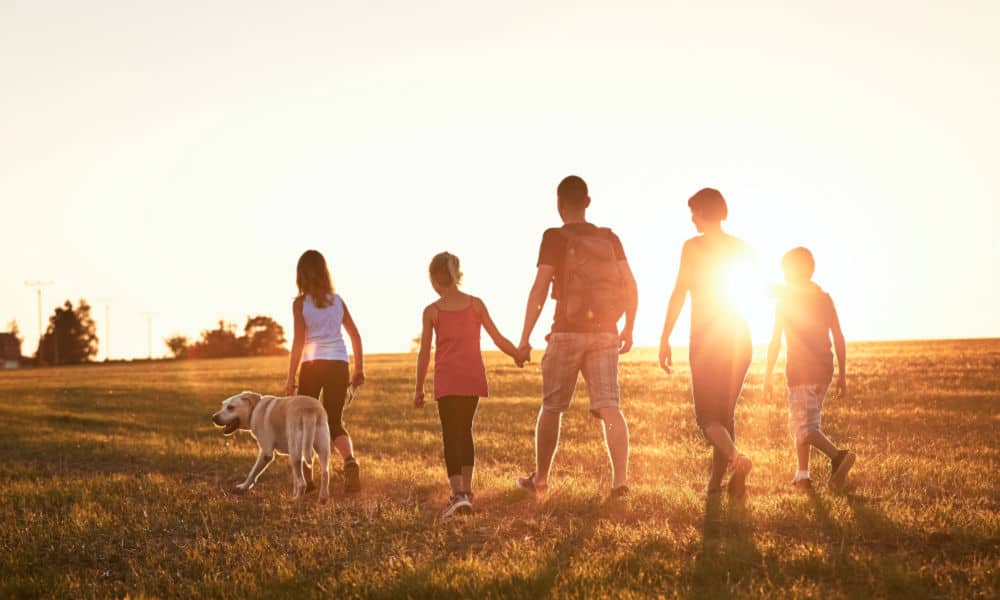 3| Prayer is our greatest tool
This is really the key component to trusting God with anything, and it's our most powerful tool for parenting with faith instead of fear.
When we pray for our kids, we are demonstrating our faith and growing it at the same time.
Yes, God already knows what they need. I've been tempted to think I can sound redundant with some of the things I pray for, but I know better!
We can wait in expectation as we draw near to him and plead on behalf of our children: for their lives, their health, their relationships and most of all their relationship with Him.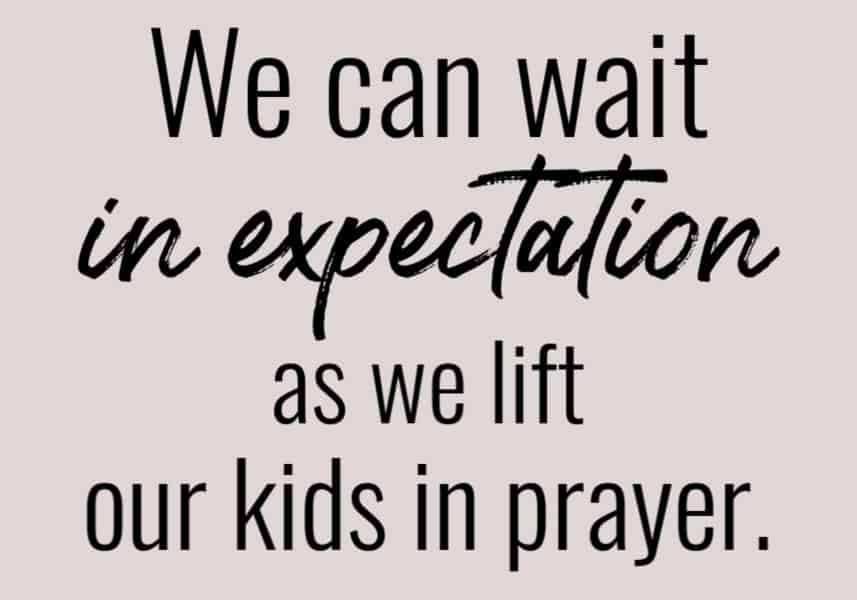 If you've ever felt that peace that comes from a simple, honest plea over your child, you know the power of prayer.
How fortunate we are to know that when we're not with them, God is always right there. And He remembers our prayers.
Read next: "God is in control" Bible Verses from Genesis
4| Trusting is a continual process
When you feel like learning to trust God with your kids takes every ounce of intention you have, you're in the right place.
It takes time to throttle our desire for control, and admitting the struggle is the first step to recovery!
Sure, we have control over certain things with our kids: what we feed them, the places we let them go, their education, whether or not we bring them to church and teach them the Word at home.
So often, though, the things we fear the most are really outside our jurisdiction.
Eventually we'll encounter situations where we've done our best but we're at the limit of our own energy and effort.
My grandma has often kept me in check when I worry about preservatives in food and whether I should buy organic beef and blah blah blah (fill in the blank with your parenting worries).
She'll put her hand on my arm and say, "Just do what you can and pray over your food."
Little by little, as we learn to trust God – by practicing it – our need for control diminishes. He proves Himself capable, over and over again, doesn't He?
We learn that acting out of fear won't dictate the outcome; it only weakens our ability to cope with unexpected outcomes.
We can and should ask God for wisdom, but then we also have to trust that He who gives it is also working a plan within it.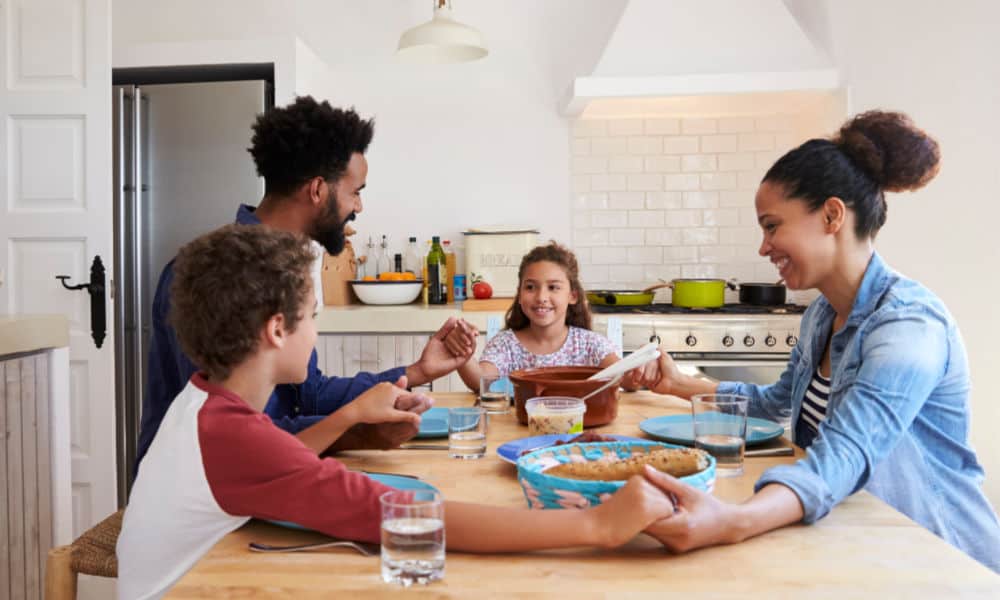 Am I really trusting God with my kids?
Here are a few questions you can ask, the next time you're unsure if you're being cautious or parenting out of fear:
• Am I relying on the wisdom found in the Bible to make the best decisions I can for my child?
• Do I focus more on my kids' problems than I focus on what God is capable of doing for them?
• Do I allow my kids to struggle and grow when necessary, or am I always in rescue-mode?
• Have I prayed for my kids today?
• Do I pray for them every time I start to worry – or do I obsess over the what-if's instead?
• Do I really believe God is capable of answering my prayers?
• Do I believe God is good, no matter the outcome?
• What does the Bible say about worry? (See this post for Scripture on worry and anxiety.)
Only God knows the future
We must strike a balance between a righteous desire to lay a secure foundation – and realizing that only God knows what our children's futures will hold.
Otherwise, we can easily believe that self-reliance is the key to our kids' ultimate happiness and well-being. If we only try harder, research more, discipline better…all will be well.
When we fall prey to this thinking, we undermine the necessity of releasing our kids to God, every day.
Grandma has the right idea, simple as it might sound.
You might also like:
What our kids need most is to see our radical confidence in a trustworthy God.
You might also like: