This post may contain affiliate links. This means that I may receive a small commission (at no extra cost to you) when you buy products by clicking through links on my site. Please read my disclosure for more info.
In your mind's eye, picture a serene, still, dark night.  Let's say 2:00 am.  Everyone is in bed.
The only sounds that can be heard are the gentle hum of the refrigerator, the irregular chirp of a lone cricket; maybe a pickup truck rumbling quietly down the highway off in the distance.
Now that we've set the stage for your peaceful night's rest, I want to talk about what it's like at my house at 2 am.  SPOILER ALERT:  It's nothing like what I just described above.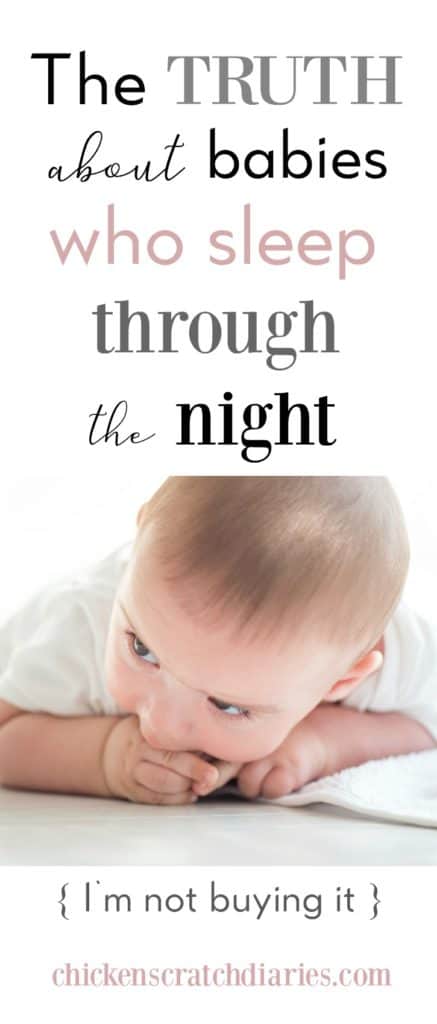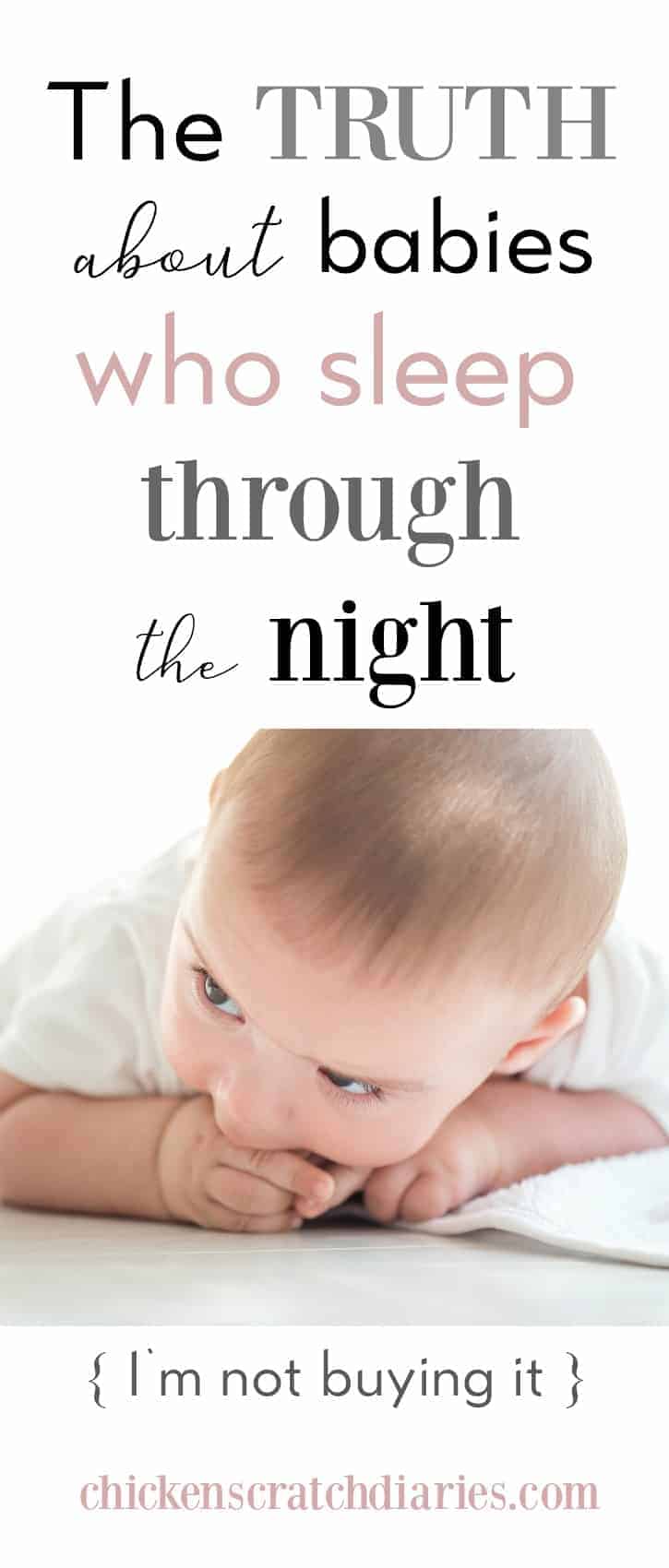 You see, at my house, when there's a baby around, there's no such thing as a "silent night".  I have YET to experience this peaceful slumber for the last year, because my babies don't sleep.  In fact, not ONE of my four children slept through the night as babies (or even through half the night) until they were — wait for it — ONE YEAR old.
I am not kidding.  I am not looking for pity.  This is, simply, my sleep-deprived reality.
My babies were well-fed, happy, healthy, sweet and the embodiment of all that's good and right about life — but they never slept at night.
And yet, at least once a week, a friend, a co-worker, an acquaintance or random stranger at Wal-Mart will somehow mention, offhand, that their three-month-old is "finally" sleeping through the night.  Finally?  I've developed a pretty good poker face over the years, but when I hear about these mystical, go-down-without-a-fuss, sleep-for-12-hours babies, I about lose it.





Where do they come from?  And why do all the tips, tricks, and sleep-help books in the world not seem to have any measurable effect on my offspring during that exhausting first year?  Well, I've figured it out, and I'm about to share the truth with you.

Related Article:  How to Bounce Back Postpartum – and Feel Like a Human Again

Here's my theories:

1.  Genetic engineering.  You heard me:  Sleep By Design.  There's all kinds of crazy things happening these days in the world of medical science.  They've cloned sheep, for goodness sake.  Someone discovered that classical music in utero makes kids smarter. (It'll be proven in about 18 years when there's a sudden explosion of geniuses being accepted to Yale, I guess.)

With all these rapid advancements, I'm pretty sure that some parents are paying big bucks for the magical Sleep Gene Enhancement.  In a few years, it will just be another checkbox option on the OB intake form (right next to: breastfeeding?  bottle feeding?).

2.  Selective Parental Deafness.  We all know that little kids pick up the slightest whisper across the room when we're saying something we shouldn't — then go completely deaf when we ask them to pick up their shoes (all 48 times).  I think some parents are unknowingly adapting this trait for their own survival.
So the baby starts to fuss at night, and the Selective Parental Deafness (SPD) just kicks in.  They don't even hear the baby.  The baby then also has to adapt by fixing his own bottle and finding his own favorite Netflix shows to put himself back to sleep.  Mom is never the wiser.

3.   PTSD.  Post-Traumatic Sleep Disorder.  This is usually brought on by intense, prolonged periods of not sleeping for more than three consecutive hours for months (or years) on end.  Can be related to having a nursing baby that thinks you're an open-24-hours diner.  Days turn into nights and nights become a blur of wishful thinking.

When asked how the baby's sleeping, you get a sort of blank stare from these poor moms.  They really aren't even sure what day it is.  But, they want to look like they've got their game on, so they invest in LOTS of under eye concealer and nod and say, "Great!"

4.  The Overachiever.  You know, the parents that say their baby was rolling over on day 2 and walking at 6 months?  Uh-huh.  I think this type of my-baby-is-better-than-yours competition happens everywhere you go.  And really, who wants to admit their 9-month-old can say six words, yet can't seem to figure out something as simple as learning to stick to a night time routine?




Those kind of babies will never make the waiting list for that prestigious preschool across town.  I can totally see why the competitive moms are claiming their baby sleeps through the night from the get-go.  Kudos for trying.

I'm sure there are other theories out there, and someday, when I'm a little more alert and well-rested, I'll research them.  But for the love of Pete, if your baby sleeps all night — be thankful and enjoy your Z's — just DON'T go around bragging to every mom you see.  It might send her right over the edge.
On the flip side, now that I understand the science and psychology behind this "phenomenon" of all-night-sleeping babies, it really does make me feel a little bit better.
Well, that, and the fact that my baby just turned one, so I know that sleep — sweet, consistent, drool-inducing sleep — is just around the corner.
You might also like: