Need a pick-me-up? A bowl of comfort might just be the remedy. These are some of the best cold weather recipes we've tried.
During the fall and winter months, I find myself with a perpetual mug in-hand.
(Coffee and herbal teas are my vices of choice.)
I also seem to go into nesting overdrive and want to cook more than usual, which my family is thankful for. I guess I starve them all summer on salads and BLT's. 🙂
The bottom line is, when it's cold outside, we like to EAT.
And I'm always on the lookout for cold-weather comfort foods that will satisfy!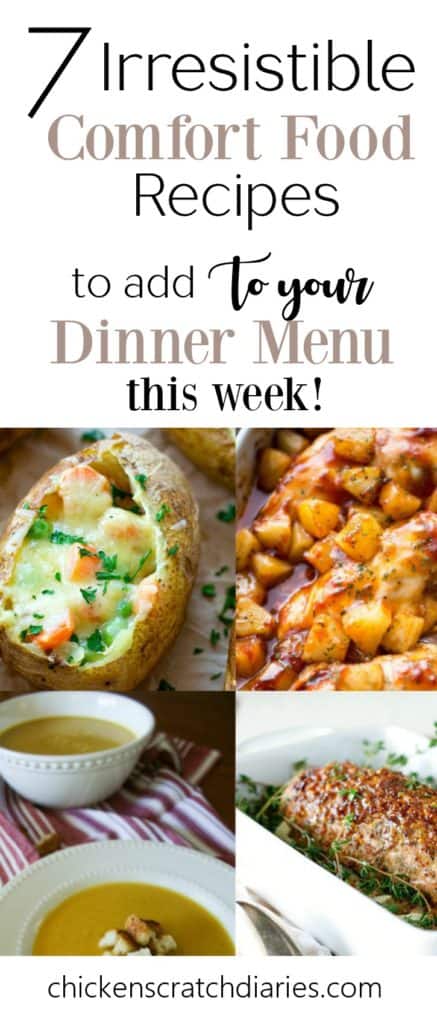 This post likely contains affiliate links. Please see our disclosure for more info.
Read Next:
• Favorite Apple Crisp for Fall
• The BEST French Bread in a Dutch Oven
7 of the Best Comfort Food Recipes to Make This Fall and Winter
Of course, it's easy to suffer burnout on the same 'ol chili and stew over and over all fall and winter long.
So I've done some searching and have compiled a list of seven amazing dishes from across the web that we deem as the best comfort food recipes for cold weather.
Some of these may have never crossed your mind as comfort food recipes, but in my book they all qualify – and they're delicious!
Check out these great dinner ideas for cold nights and get cooking this weekend: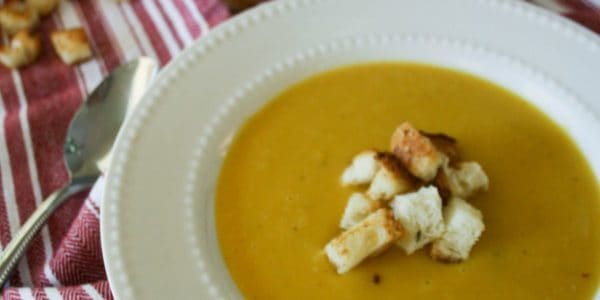 Photo Credit: To Eat, Drink and Be Married
This recipe from To Eat, Drink and Be Married features butternut squash and apples and I can almost smell it simmering in my kitchen! Note to self: I finally have a use for that immersion blender I bought ages ago!
You'll have to try this one for a simple lunch or light dinner menu… and promise me you won't forget the croutons.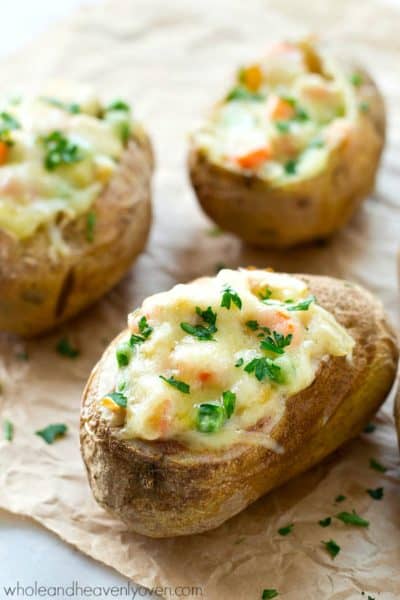 Photo Credit: Whole and Heavenly Oven
So, a baked potato and a chicken pot pie had a baby…and this is what it looks like.
It's like the cutest, most delicious comfort food combo I've ever seen. Get the full recipe at: Whole and Heavenly Oven.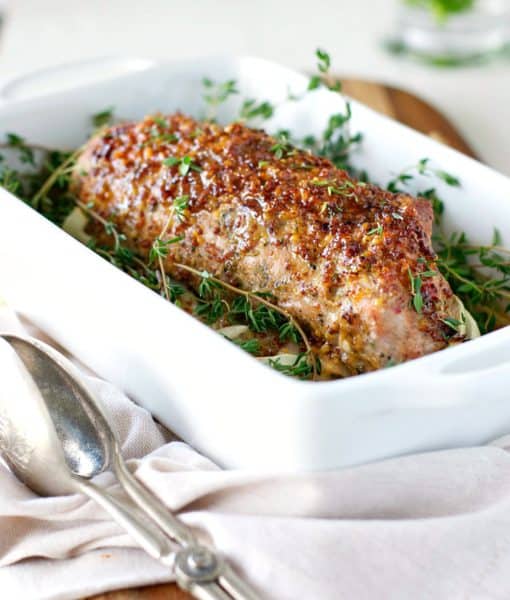 Photo Credit: The Seasoned Mom
Will you just LOOK at the crust on that tenderloin! It's a thing of beauty. I'm not even sure I can eat it, I just want to make it and admire it on my table and pretend like I'm a TV chef.
Back in reality – my crew will totally gobble this up in a heartbeat. Take a look at the full recipe at The Seasoned Mom.
I think it would be great with Italian Oven Roasted Vegetables or a side salad.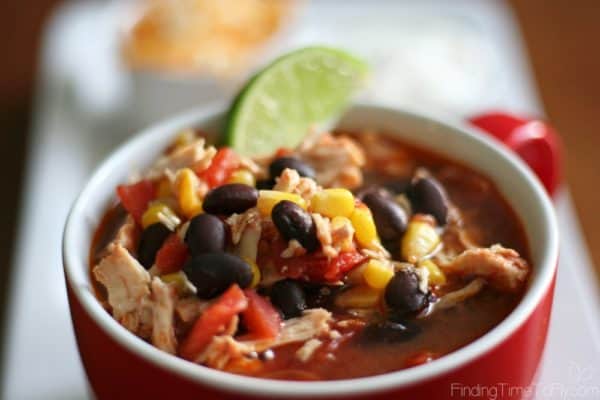 Photo Credit: Finding Time to Fly
This recipe had me at slow cooker. Any time I can whip up something with loads of flavor and minimal effort, it will usually make it into my permanent recipe rotation.
This easy Slow Cooker Chicken Tortilla Soup (from Finding Time to Fly) will taste like it's from your favorite restaurant but at a fraction of the price!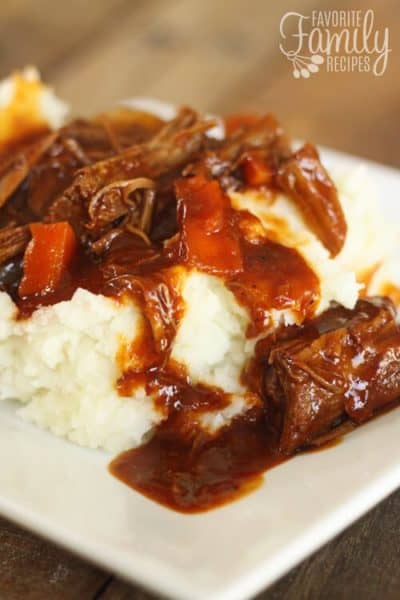 Photo Credit: Favorite Family Recipes
If this doesn't scream comfort food for cold weather, I'm not sure what does! AND it can be made on either the stove top or in the slow cooker.
I also love the idea of serving it over the mashed potatoes, kind of like a Shepard's Pie in reverse! Find out how to make it here at: Favorite Family Recipes.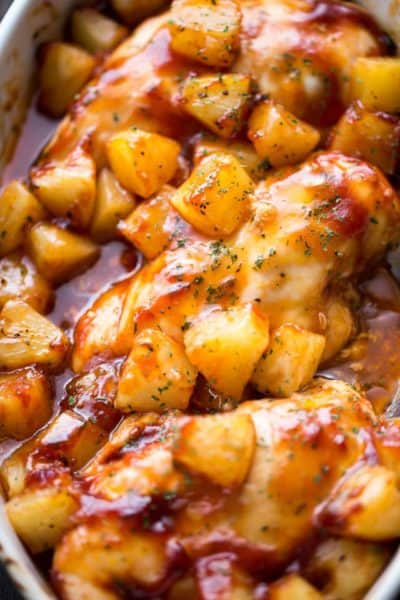 Photo Credit: Diethood
You can bring your summer barbecue indoors with this Pineapple Barbeque Chicken recipe (from Diethood) that bakes in just 40 minutes in the oven. And you can make it with 3 basic ingredients!
You might like to serve it with a side of steamed green beans and these easy Hawaiian Homemade Sweet Rolls. Save the juice from the pineapple in the chicken recipe — it's one of the ingredients for the rolls!
Read this post for where to buy the best chicken – delivered to your doorstep.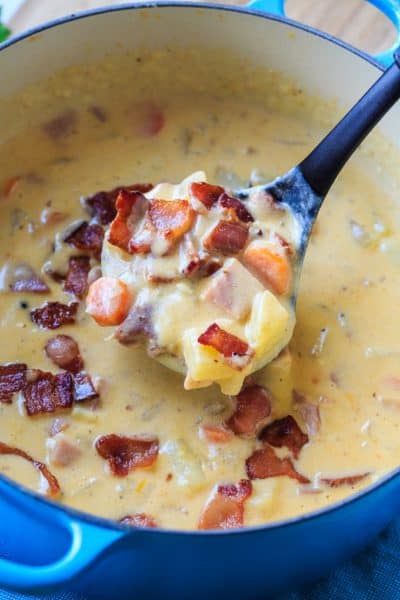 Photo Credit: Spicy Southern Kitchen
This one became a favorite cold weather dish for us last winter.
It involves ham AND bacon drenched in thick and cheesy goodness. How can you go wrong with that?
Seriously, even my two picky eaters (they know who they are, ahem) really liked this soup. You can view the full recipe at Spicy Southern Kitchen.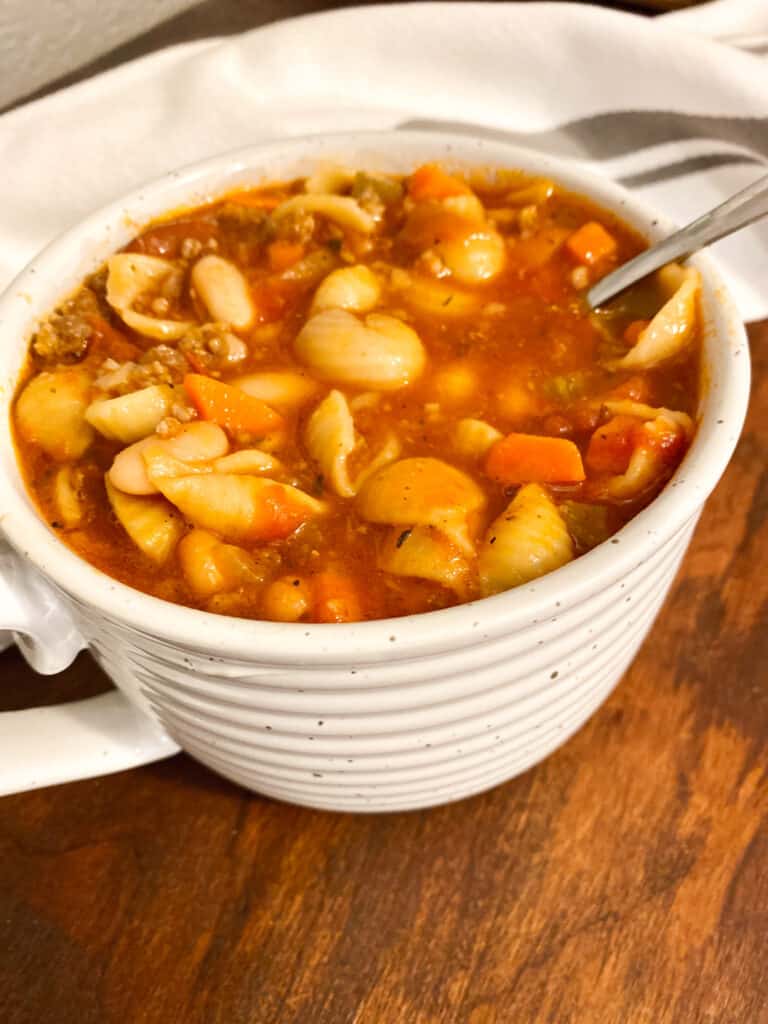 Serve it with my rustic french bread loaf and you won't be sorry.
Like these comfort food recipes for winter?
If these ideas inspired you, you might want to learn more about how to save money with consistent meal planning. Check out our Money Saving Meal Planner.
Winter is a great time to get organized in the kitchen!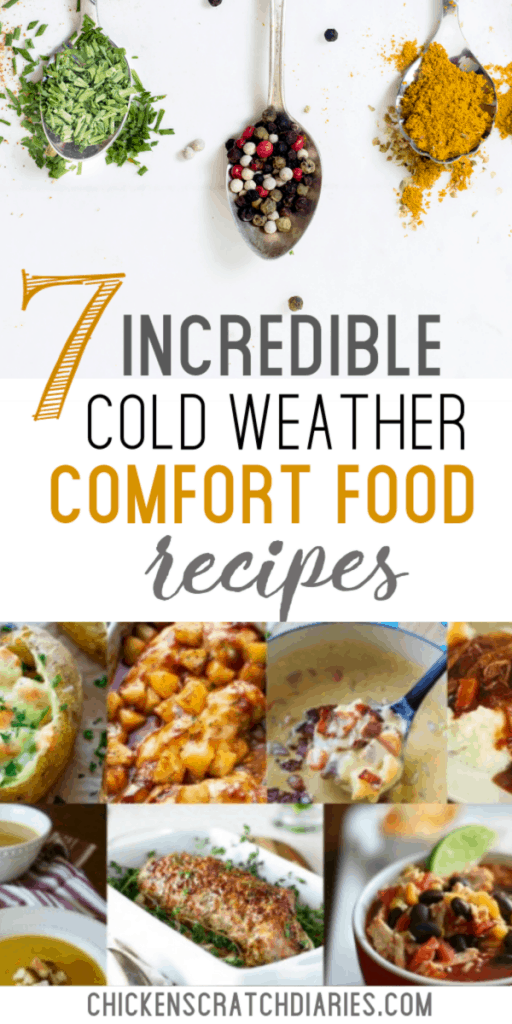 Also check out:
Crockpot Freezer Meals: Our Family Favorites for meals you can prep in one hour and eat all week in the slow cooker!
Sweet and Tangy Homemade Meatballs: These can be made in the slow cooker OR on the stovetop for a quick main dish.
Easy Oven Roasted Chicken: Make this simple recipe with pantry spices – a healthy and delicious alternative to store-bought rotisserie chicken.
ButcherBox: Is online meat delivery ever affordable? Read my review- for curious, hungry families.