This site contains affiliate links to products. We may receive a commission for purchases made through these links. Please read my disclosure for more info.
Overview:  Over the next few weeks, I'm going to share about five websites that offer resources for studying your Bible in an organized, more in-depth fashion.
I will highlight each website in a separate post and share my experiences with each, so stay tuned for all 5 posts in this series!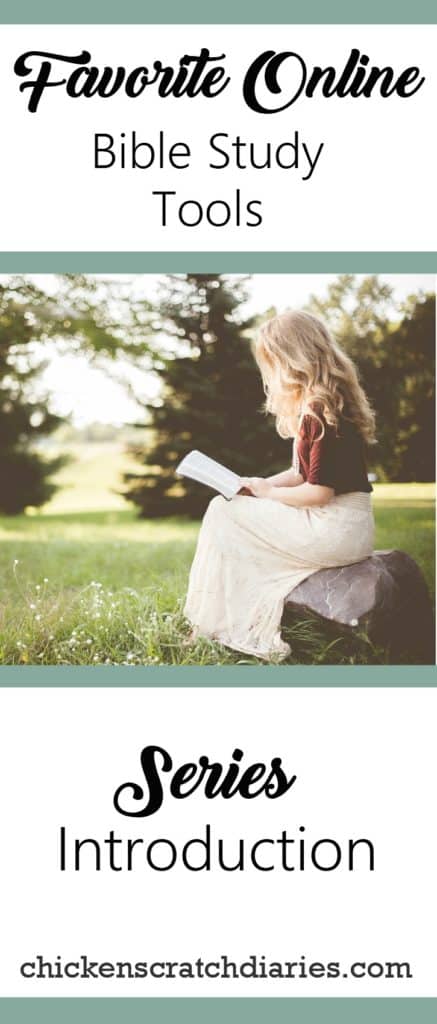 In the meantime, here's why I decided to do this series.  I have to admit that I've struggled, particularly over the past four years, with consistent, meaningful Bible study.
It seemed to get a little harder with each new baby that we had – just a natural result of becoming busier and learning how to divide my time between more little people and all the responsibilities that come with this glorious job we call motherhood.  (Oh, and my other jobs that I get paid to do…that too!)
Sadly, sometimes the quality and consistency of my "quiet time" directly corresponds to how much sleep I've had and therefore motivation!
It's not difficult to sit down for a few minutes, crack open my Bible and read a few verses.  There's absolutely nothing wrong with that method – and something is better than nothing, for sure.  But I often find myself getting distracted and not remembering anything I've read.
It really helps me to have a set study plan that delves into each verse and gives me something to digest, bit by bit, so that it really has time to take root in my heart and mind.  Having an outline of what I'm studying (the topic or chapter) and resources to help clarify difficult passages keeps me focused and excited to dig in each day.
So why online Bible study?  It's simply easier for me, right now.   When Bible apps first became a "thing", I used to think it was somehow sacrilegious to read the Bible in digital format.  Won't people just think I'm surfing the web?  (Who, my cat?  My toddler?  Did I mention I tend to overthink everything??)  I had to kind of re-train that thinking, and I'm so glad I did.
What I found is it's sooo much easier to read from your phone, when necessary, when you spend a good chunk of your day nursing a baby, feeding a baby, or getting a baby to sleep.   Or if you're doing anything else with any number of kids during your day.  🙂
And like I said, something is better than nothing.  But online studies today can provide so much more than the bare minimum– there are a wealth of quality, free resources at your fingertips.
Related Content: 
You might be wondering – wait!  Aren't cell phones the root of all evil according to my earlier post here?  I realize a person could come to that conclusion.  But technology, like a lot of things, isn't inherently evil of course, it's all about how we use it.
So this is the "good" side of having access to so much information out there – when you use it for something that will actually enrich your life.  If you already have the goal of doing a daily Bible study, this will simply be another tool to get you there.  Just make sure you don't end up lost on Instagram instead!
But maybe you need a hybrid approach – use the phone to read the study, and use your Bible for looking up the scriptures.  I won't judge you!  Whatever works and you can be consistent with, go for it!
I'm no Bible scholar.  I'm just a mom who knows that my day goes so much better when it starts in the Word.  Isaiah 40:8 says, "The grass withers, the flowers fade, but the word of our God will stand forever".  We need that reminder, moms (at least I do) :  all the things we struggle with, all the external things that distract us and eat up our time and energy – they're not going to last!  So let's concentrate on what will.
In a practical aspect, I have found that when I'm more consistent with reading my Bible,  I have more patience, I'm more focused on those things I really need to accomplish each day (and which things don't really matter), and I even feel like I have more empathy for others.
If we build our lives on God's word that stands forever, we will have a foundation of truth that gives us the correct perspective on whatever situation we might face in our day.  Thank goodness, we don't have to figure it all out on our own or constantly search for some other cultural "truth" that is constantly revolving.
I hope this is an encouragement to other moms out there who struggle to find that study time in their day, or maybe wonder if the effort is even worth it.  I promise it is!  And, my advice to you is this:  give yourself some grace.
I tend to study at different times during the day, depending on my work schedule and kids' schedules, so every now and then there are days where I collapse into bed at night and realize I never sat down with my Bible (or Bible app) that whole day.  Oops.  (Not to mention, no wonder those days are the most exhausting!)
So when this inevitably happens and you get off track, just remember that tomorrow is a new day to start fresh, and don't let discouragement keep you from the blessings of spending time in the Word.  Happy reading!
~Brandi
Other posts in the Favorite Online Bible Study Series:
Part 3:  Doorposts and the Blue Letter Bible