Looking for a go-to apple crisp recipe for the fall?
This simple apple crisp (or as some call it, apple crumble) is a favorite in our house.
Our local University extension office offers apples from their orchards at steep discounts towards the end of the season – so I like to stock up.
This is the recipe I enjoy making for our family, and for company whenever apples are plentiful here.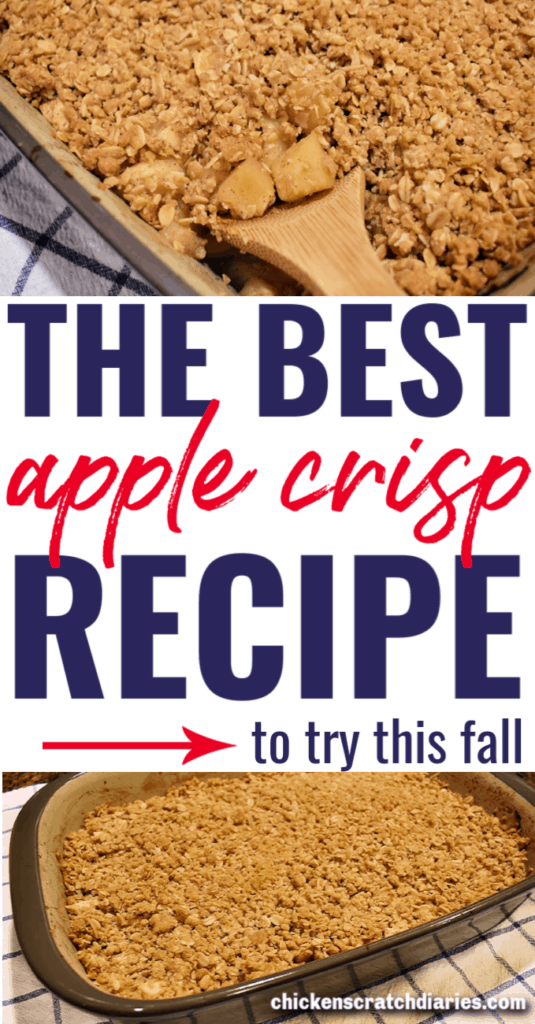 It makes a wonderful, frugal dessert. But let's be honest, it's also great for breakfast or any other excuse you want to come up with.
This post likely contains affiliate links. Please see our disclosure for more info.
A Lighter Apple Crisp
After modifying this recipe many times over the years, I've settled on this easy-to-make version which is lower in sugar (per serving) than many recipes I've tried in the past.
While it's still considered a "sweet treat" and a fully satisfying one at that – it doesn't have a super-heavy crumb topping, nor are the apples lost in a thick pool of syrup.
I experimented with different spices and realized my pumpkin pie spice was good for more than just pumpkin pies! The spice blend creates a delicious aroma and enhances the flavor without the need for more sugar.
This recipe focuses on the flavorful, tender-crisp apples, with a light, crunchy topping that is just right.
How to make apple crisp
Below are the instructions for how I make this simple apple crisp for our family of six. It could easily feed a crowd if you're having company over.
If you're a smaller family, you might get to enjoy it longer than it typically lasts around here!
A printable recipe card is included at the bottom of the post.
Step 1: Peel and Dice Apples
First, peel about 9-10 cups or approximately 4 pounds of apples. Then dice into medium-sized pieces.
I prefer diced apples to sliced in an apple crisp because they're so much easier to dish up!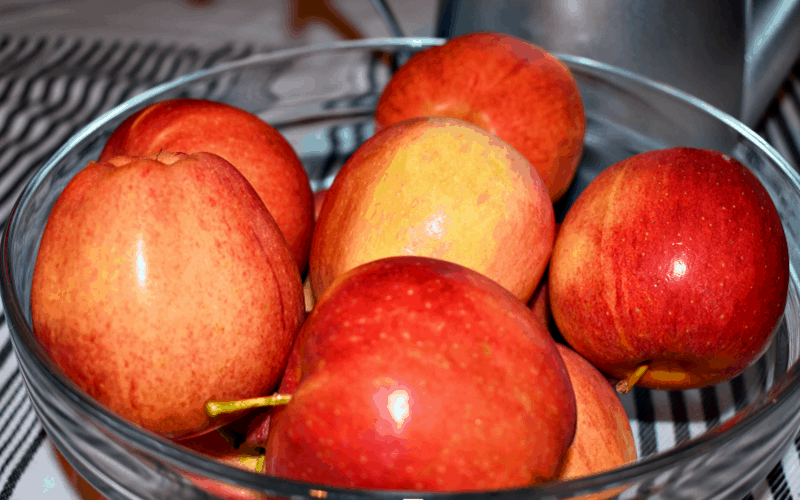 You can read various opinions on which apples are best for baking, with Granny Smith and other tart varieties usually found high on the list.
When not in season, I often use store-bought Gala apples like the ones I purchased above. In my opinion, they hold up well and are delicious for baking.
Step 2: Toss filling ingredients
After dicing apples, transfer to a buttered 9×13 baking dish.
Toss with 3-4 Tablespoons of lemon juice, 1/4 cup sugar and 1 teaspoon of cinnamon.
(I'll often add the lemon juice to the diced apples as I'm chopping them to keep them from turning brown, as it takes a few minutes to peel & chop all 4 pounds!)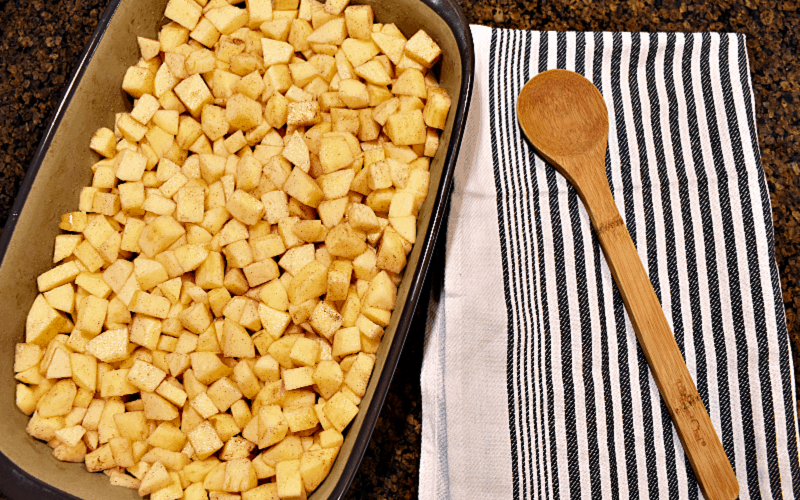 No need to pre-cook these apples. They're ready for the topping.
Step 3: Make the crumb topping
In a large mixing bowl, combine 3/4 cup flour, 1.5 cup old fashioned oats, 1 cup brown sugar, 1 teaspoon cinnamon, 3/4 tsp pumpkin pie spice and a dash of salt.
Slice 1 stick of cold butter into several pieces and add to mixing bowl.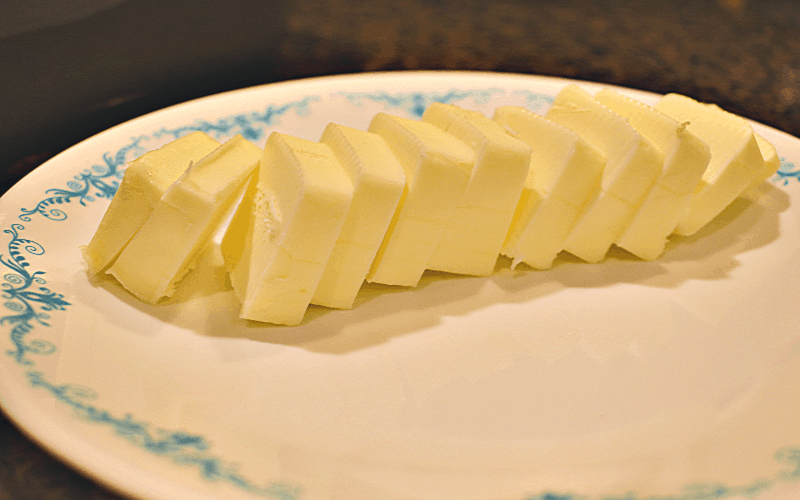 You can either cut in the butter by hand with a pasty blender, or use a stand mixer.
I like to use the whisk attachment on stand mixer, mixing for about 3 minutes on low speed and then 1-2 minutes on medium/high speed until the mixture resembles coarse crumbs.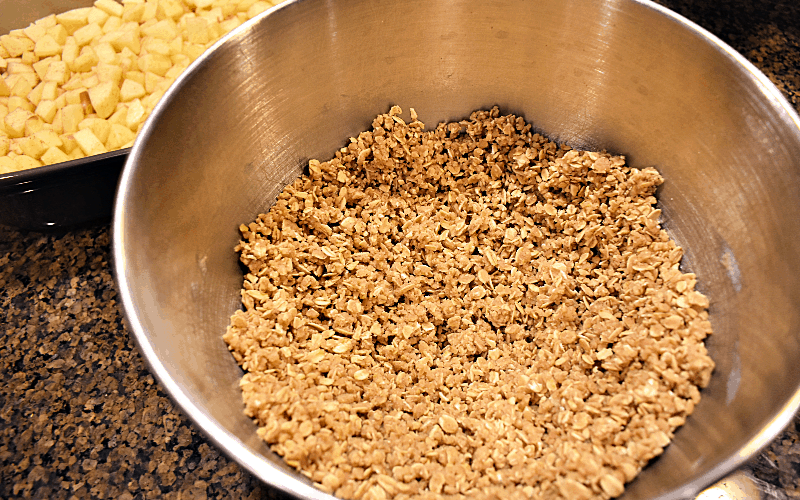 At this point, you can add 1 cup of chopped walnuts or pecans, if desired.
Step 4: Spread crumb topping over apples
This step is the easiest of all: spread crumb mixture evenly over apples.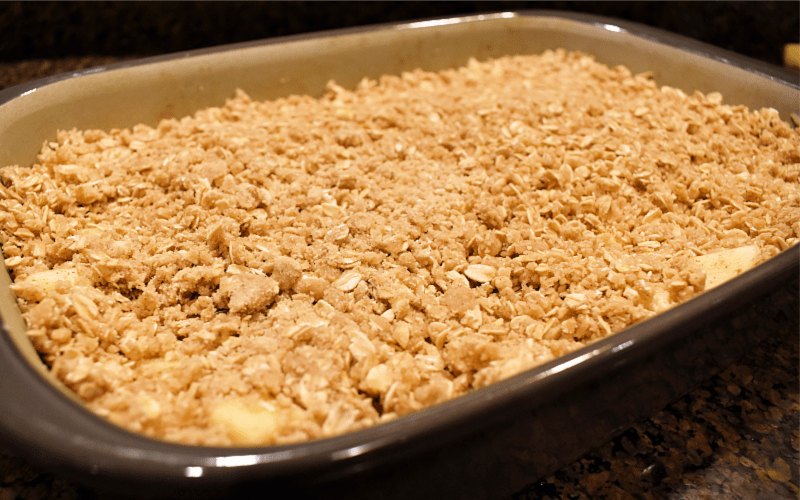 Step 5: Bake and eat!
Bake in Preheated oven at 350 degrees for approximately 45 minutes, or until topping is browned and apples are fork-tender.
If you prefer your apples softer, you can bake another 8-10 minutes.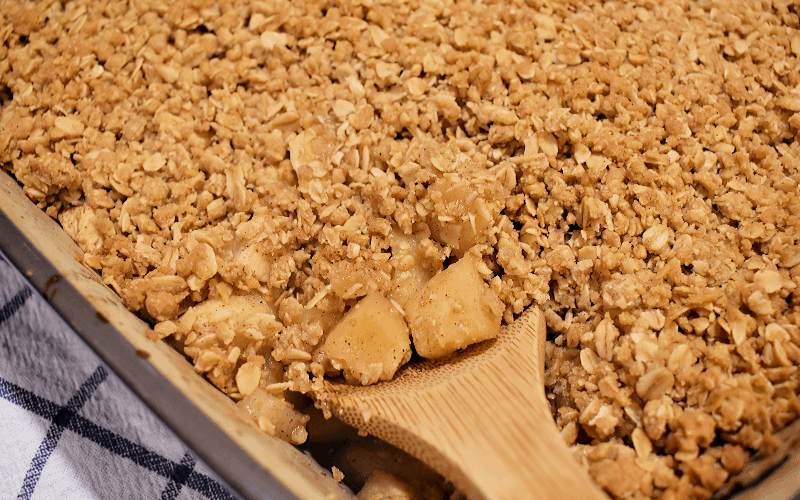 spoon holder credit: husband
This recipe won't become very bubbly (if at all) because again, it's not thick and syrupy (sans cornstarch).
The flavor of the apples really comes through in this lighter, almost-healthy version of apple crisp that's packed with protein as a bonus.
My kids are nut-phobic so I typically choose to omit the nuts although I LOVE them myself.
I've started serving this apple crisp with black walnut ice cream on the side to compensate! Try it – it's amazing!
I hope your family enjoys this fall comfort-food dish as much as we do.
Yield: 15
Crowd-Pleasing Apple Crisp Recipe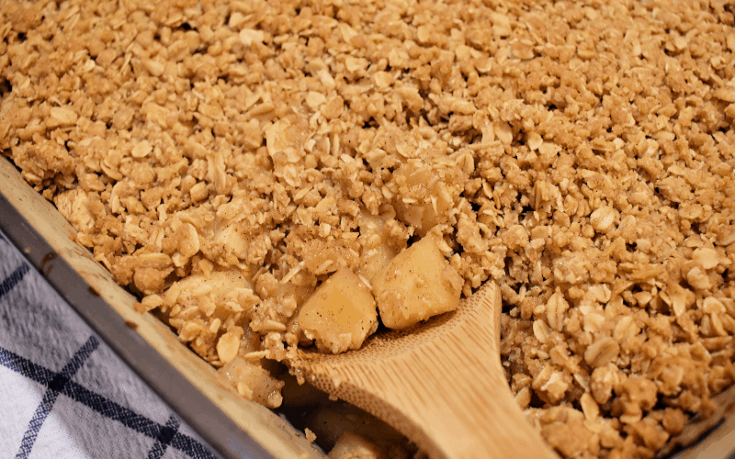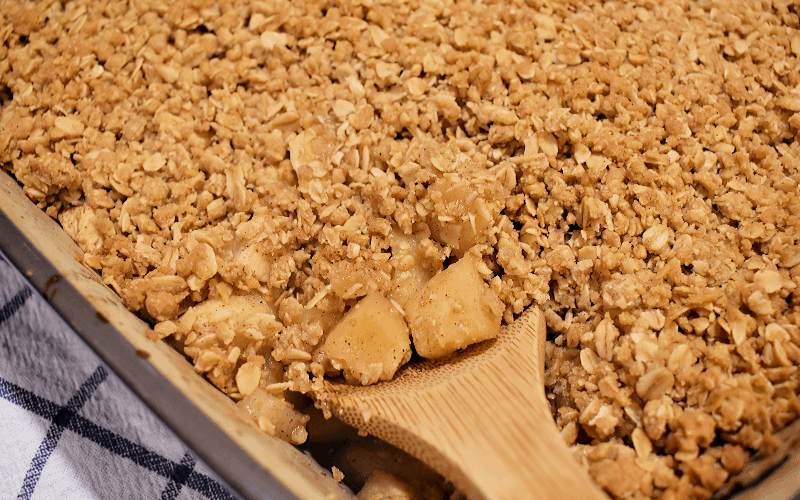 This simple apple crisp recipe is on the lighter side but fully satisfying!
Total Time
1 hour
15 minutes
Ingredients
Filling:
9-10 cups diced apples such as Granny Smith, Braeburn or Gala (approximately 4 pounds)
4 Tablespoons lemon juice
1/4 cup sugar
1 tsp cinnamon
Topping:
1/2 cup (1 stick) butter, sliced (cold)
3/4 cup flour
1.5 cup old-fashioned oats
1 cup brown sugar
1/2 teaspoon pumpkin pie spice
1 teaspoon cinnamon
dash of salt
1 c. chopped pecans or walnuts, optional
Instructions
Peel apples and chop into medium-sized pieces (or medium-dice). Toss with some of the lemon juice as you go, if you prefer.
Transfer apples to buttered 9x13 baking dish.
Sprinkle the 1/2 cup sugar and teaspoon of cinnamon over apples, add rest of lemon juice (4 Tbsp total) and stir to coat. Spread mixture evenly in dish.
Add all topping ingredients to a large bowl, except butter. Stir to combine.
Use a pastry blender to cut in the cold butter. Or, using a stand mixer, mix on low approximately 3 minutes, then on med/high for about 1-2 minutes until mixture resembles coarse crumbs.
Stir in 1 cup chopped walnuts or pecans, if desired.
Spread crumb topping evenly over apples.
Bake in a preheated 350-degree oven for approximately 45 minutes or until topping is browned/crispy and apples are fork-tender.
Nutrition Information:
Yield:
15
Serving Size:
1
Amount Per Serving:
Calories:

541
Total Fat:

7g
Saturated Fat:

1g
Trans Fat:

0g
Unsaturated Fat:

5g
Cholesterol:

0mg
Sodium:

23mg
Carbohydrates:

127g
Fiber:

19g
Sugar:

90g
Protein:

4g
You might also like:
• Frugal 5-Ingredient Bread Recipe
• Chocolate Chip Peanut Butter Energy Bites
• Easy Glazed Strawberry Scones