Our favorite side dish lately is Instant Pot green beans with bacon. You can use frozen green beans plus a few other shortcuts for a delicious veggie dish that cooks in 3 minutes!
As I write this we've just had one of the coldest winters on record in the Midwest.
I can't help but dream of spring and sunshine and fresh veggies to come.
Oh, how I love to grow green beans in the garden.
(Spring, please come more quickly, will you?)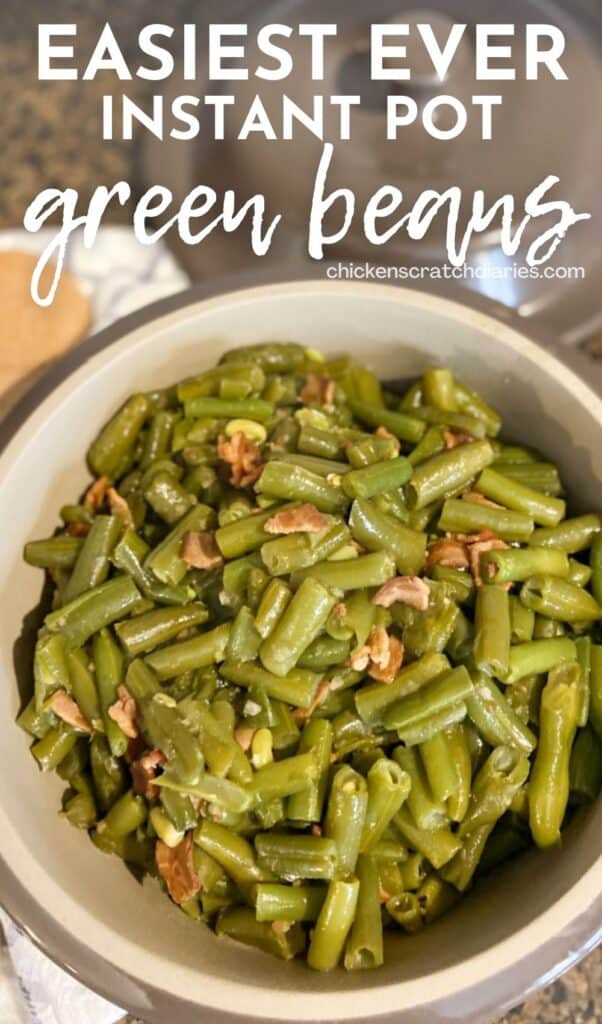 The recipe I'm sharing today started with many pounds of fresh green beans from the garden last summer, and a total lack of desire to pressure-can them!
I'm just not a huge fan of canned veggies, even home-canned.
Needless to say, we cooked up Instant Pot green beans many times and enjoyed NOT having to can them.
This post likely contains affiliate links. Please see our disclosure for more info.
Frozen veggies in the Instant Pot
Right now, I have to rely on frozen veggies so I like to think of new ways to make them as tasty as their summertime-fresh versions.
The great thing about using frozen green beans in the Instant Pot is that they steam nicely without having to add a lot of liquid.
They're actually quite perfect for pressure cooking.
And the best part of course, is how quickly you can make these – without having to fuss over the stove.
Read next:
True Southern Green Beans
Most southerners know that if you want to make green beans like your grandma made them, you HAVE to start with bacon.
And bacon grease is key. It's non-negotiable.
However, if you decide to substitute bacon bits, I won't tell anyone.
You'll just miss out on the extra bacon greasy-goodness.
Read about my favorite bacon here.
How to make Instant Pot Green Beans with bacon
Below are the step-by-step instructions and ingredient list for making green beans in the Instant Pot (aka, the EASY way.)
You'll find a printable recipe card at the end of this post.
Ingredients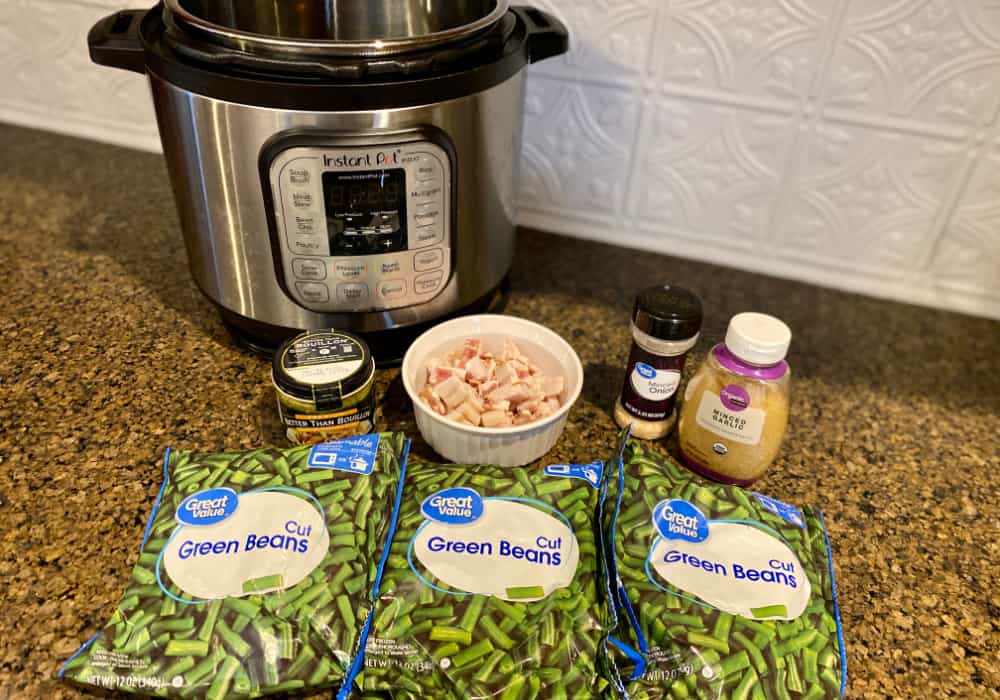 Instructions
1| Turn the Instant Pot to Saute on High. Dump the diced bacon into the Instant Pot, stirring constantly.
2| When bacon is almost cooked through, add the 1 tsp minced onion and 1 tsp minced garlic and saute for 1 minute longer.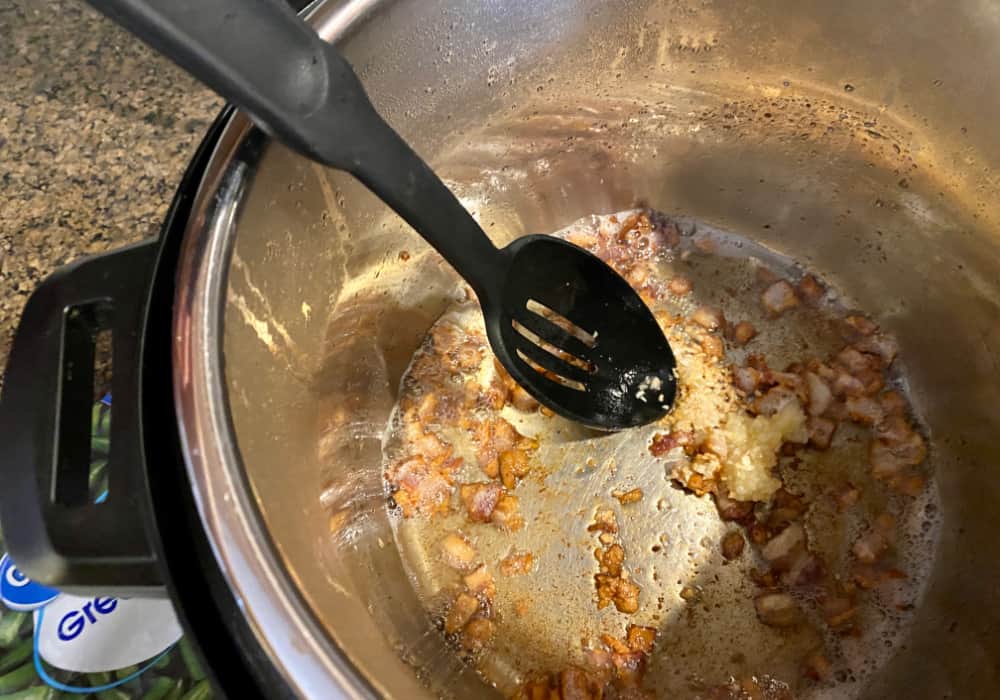 3| Turn off Instant Pot. Add green beans, the Better than Bullion/Water mixture and stir.
Do NOT drain the bacon grease. It will all cook together exactly how God intended in this marriage of green beans and bacon.
4| Lock lid and turn the valve knob to the sealing position. Pressure cook on HIGH for 3 minutes.
5| Once pressure cooking is complete, turn valve knob to venting position for a quick release.
This takes my Instant Pot approximately 5 minutes but your time may vary.
6| Once the float valve goes down, your green beans should be ready!
Carefully turn the lid to unlock and serve. I like to transfer it to a stoneware dish to keep it warm.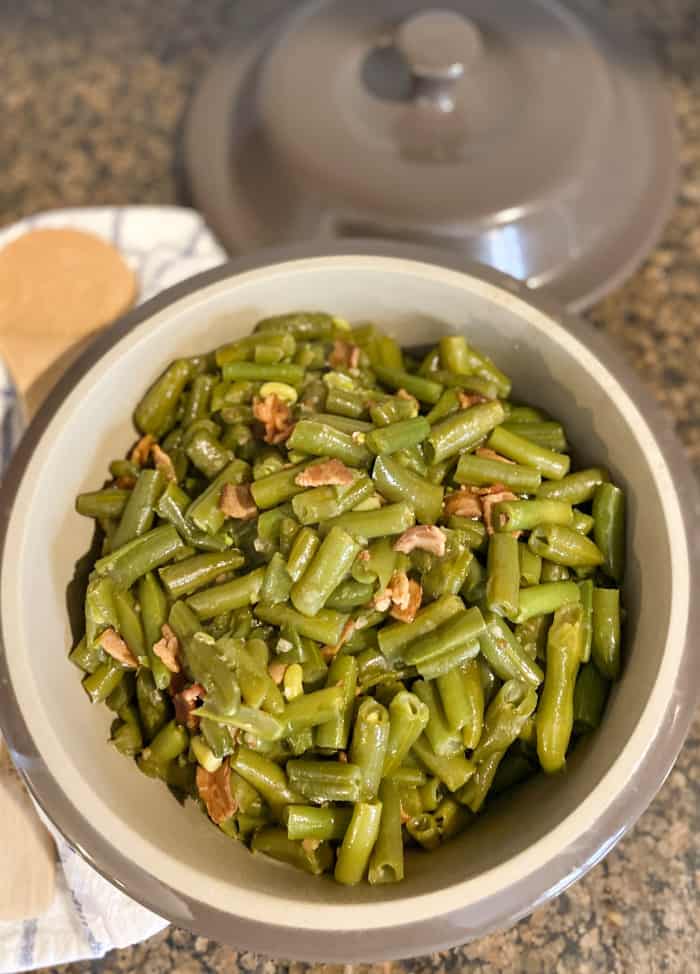 Instant Pot Green Beans with Bacon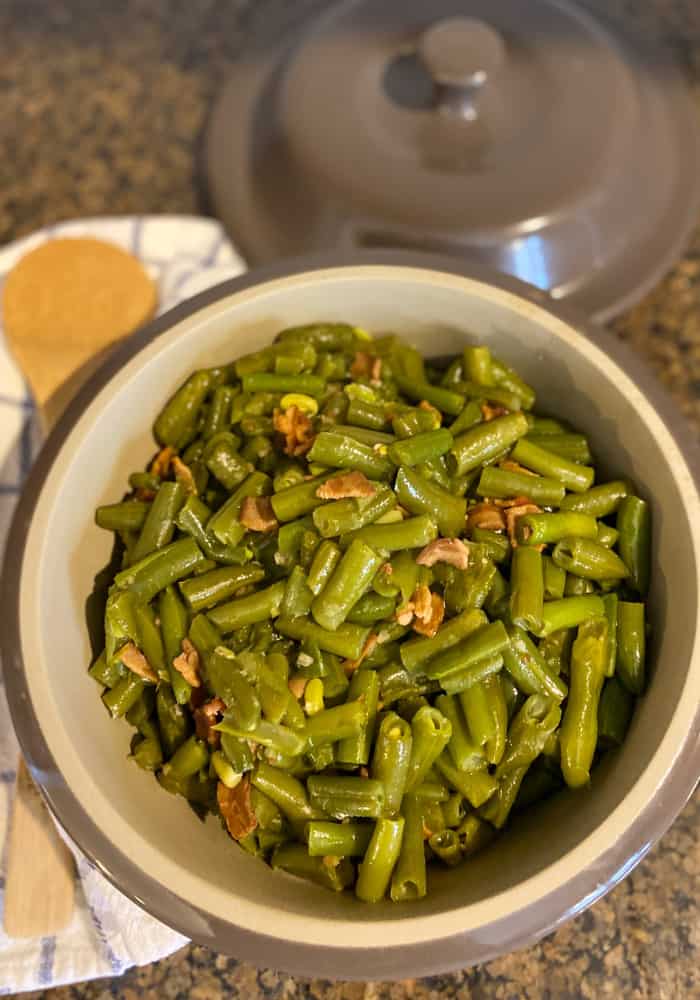 Additional Time
20 minutes
Ingredients
5 slices of bacon, chopped
1 teaspoon (dried) minced onion
1 teaspoon minced garlic (jarred)
1 teaspoon Better than Bouillon Chicken Base + 1/2 cup water 
3 bags of frozen green beans, 12 oz each
Instructions
Saute chopped bacon on high in the Instant Pot.
When bacon is almost done, add the dried onion and minced garlic; cook 1 minute more.
Do NOT drain the grease.
Add the green beans and the Better than Bouillon mixed with the 1/2 cup of water to the Instant Pot; stir.
Lock lid and set vent to sealing.
Pressure cook on high for 3 minutes.
Do a rapid release after pressure cook is complete.
Unlock lid once float valve goes down; serve and enjoy!
Frequently Asked Questions
• How long does the recipe take from start to finish?
In my 8-quart Instant Pot Duo, it takes about 15 minutes to come to pressure; plus the 3 minute cook time; plus 5 minutes to de-pressurize on quick release.
So you should be able to have this side dish ready in about 30 minutes, including cooking the bacon.
• Do I need a steamer basket for this recipe?
Nope. The green beans will cook very quickly and there is no need for a steamer basket.
I would recommend spooning it all into a dish as soon as it's finished, though, to keep the green beans from getting too soggy.
• Can I use fresh green beans? What about canned?
Fresh green beans work great. I haven't found a need to add extra liquid, nor adjust the time with fresh green beans.
I would not recommend using canned green beans as they are already cooked and might turn into baby food in the Instant Pot!
• What are other ingredient substitutions that will work in this recipe?
I have used fresh diced onions (even better) instead of dried; just cook them together with the bacon and add the garlic at the last minute.
Fresh garlic is great as well; I am using shortcuts in this recipe simply to save time!
And I love that I can make this with items I have in my pantry and freezer nearly all the time.
If you use bacon bits, just remember to add butter for flavor.
I have omitted salt in this recipe because the bacon plus the Better than Bouillon usually has plenty of salt already.
You might also like:
Favorite Crockpot Dinners (that you can freeze ahead!)
Sheet Pan Chicken Sausage Meal
Quick, Budget-Friendly Lunch Ideas