A collection of impressive winter treats to bake for the holidays, or any day you need a cozy pick-me-up!
Sometimes, you just need the perfect sweet treat to enjoy with a warm cup of coffee and watch the snow fall.
I have often wondered what people cook in the winter where it doesn't actually snow or get very cold.
Does hot cocoa taste as good? Do you even feel motivated to bake?? So many questions!
It's my official opinion, however, that everyone needs a good aresenal of winter baking recipes to cheer you up when the winter blues start creeping in.
So even if you live in Florida…you have my permission to indulge in some therapeutic cold-weather treats. You're welcome!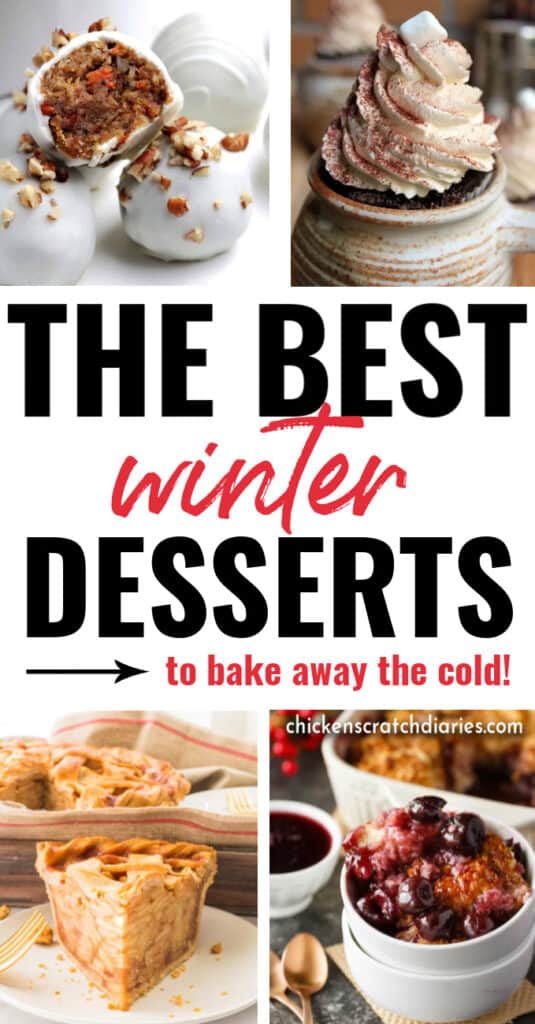 Also read:
• Impressive + Easy Pecan Desserts for the holidays
• Must-Try Cold Weather Comfort Food Meals
This post likely contains affiliate links. Please see our disclosure for more info.
15 Winter treats to bake: cozy + delightful
With recipes like hot chocolate cupcakes, spice cake bars, winter cherry cobbler, and so many more, there is something here for whatever you are in the mood for.
These fun winter baking recipes might even help you get your mind off those frigid temps outside! (Or at least give you an excuse to stand by the oven. Ha!)
15 Best Winter Treats to Bake
We hope you enjoy these winter baking recipes as much as we do!
Stay warm and cozy and let us know your favorite fall or winter desserts in the comments. 🙂