Choose one (or more) of these uncomplicated Advent ideas to make it a memorable Christmas season in your home.
As a Protestant Christian, I didn't grow up observing the historical version of Advent or the liturgical calendar.
But I always deeply appreciated the specific emphasis on anticipating the season- which is not just another season, but a celebration of He who is central to our faith: Jesus Christ.
In recent years, I wanted to be more intentional about making Advent a part of our own Christmas family traditions.
Table of Contents
A Simple Advent, Rich in Meaning
Like everything else nowadays, it does seem like celebrations are far more complicated than they should be.
Even Christmas. A humble birth in a stable should be a reminder for us to keep things simple and sacred, right?
Yet, there's so much advice, opinions and social media noise clamoring for us to do more and more each Christmas season.
Maybe it's time to get back to basics and recapture the joy of Advent as it's meant to be.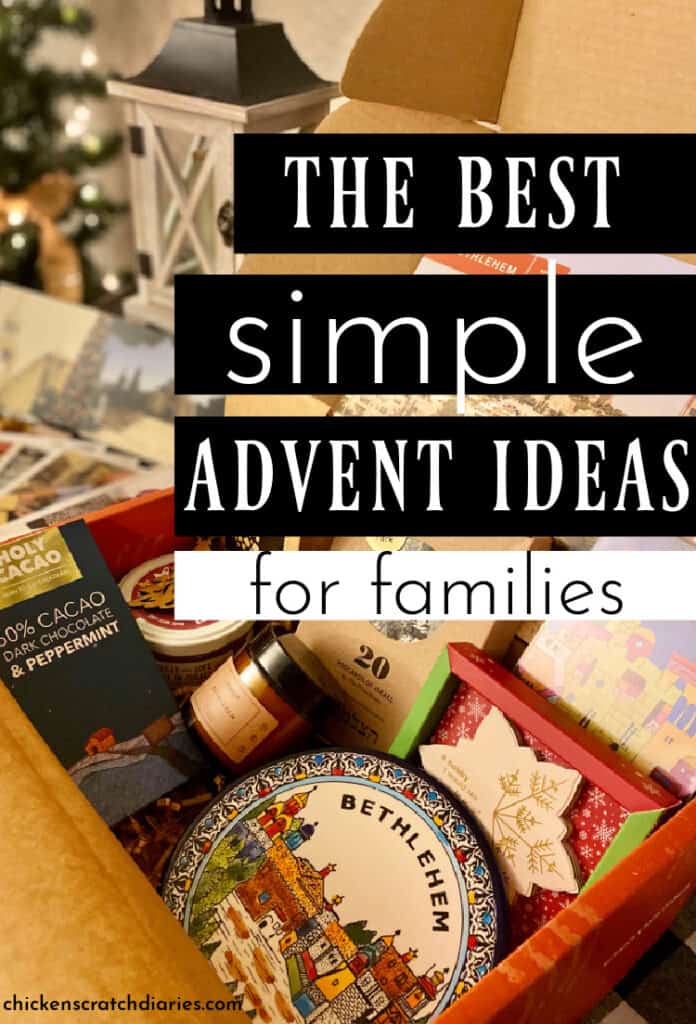 What is Advent?
When we look at the history of Advent, we see it is a tradition that has changed in its meaning and observance over time.
It was first celebrated as a time of preparation for Baptism of new believers (4th-5th century), then later as a tradition linked to Christ's second coming (6th century).
It wasn't until the Middle Ages that Advent became what it is today: anticipation of the birth of Jesus leading up to Christmas.
The traditional Advent observance now begins on the Sunday that falls between November 27th and December 3rd each year, and includes the four Sundays leading up to Christmas. (Source.)
Capturing the Meaning of Advent
There are many traditions you may have heard of that attempt to focus our hearts and minds during Advent.
These include Advent wreaths, Jesse Trees, Advent Calendars, and most importantly, Scripture readings.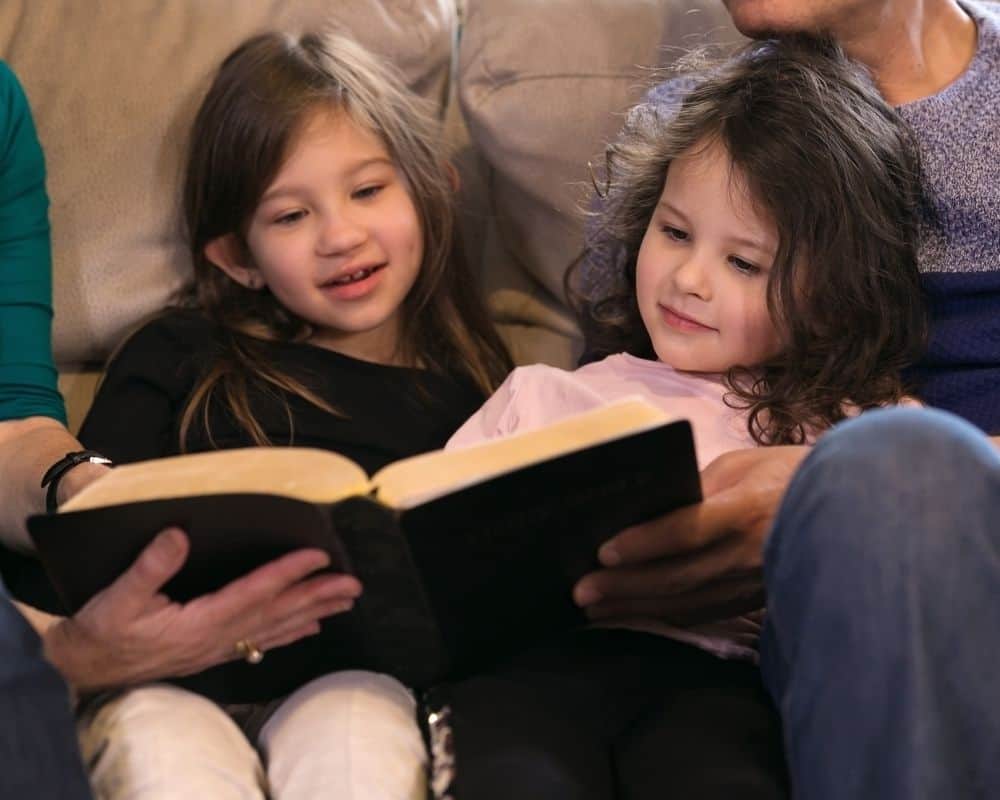 For my family, I think the struggle in the past has been:
Being consistent with a daily Advent tradition
Trying to do it all
Becoming overwhelmed from trying to do it all, and doing nothing in an organized fashion, OR-
Trying to cram in all the special activities in the last week or so before Christmas.
I'm learning, though, to give ourselves some Advent grace!
And also, to prepare a little ahead of time if there are certain traditions we truly want to explore.
An act of remembrance
In reality, all we really need during Advent is an open Bible and an open heart, and a little time set aside to remember.
Like the memorial stones in the Old Testament used to remember God's great acts of love and faithfulness towards his people, we also need markers in our lives to re-center our devotion and reflect on the miracle of our redemption.
Remembering is the important part, and all the specific traditions…a little less so.
So let's not get caught in the weeds of trappings and traditions that we lose sight of the Savior.
Read next:
• Christmas Eve Traditions that keep the Focus on Jesus
• Simple Nativity Craft for Kids (Free Printable)
Advent Activities for Families: Simple but Focused
With that said, here are some ways we have celebrated Advent (either alone or in combination) and maybe some new ideas you can try with your family.
Bear in mind- you can't do all of these at once. We ventured into several last year, simply because – 2020. Need I say more?
My general rule of thumb, however, is: keep it simple!
This post likely contains affiliate links. Please see our disclosure for more info.

These books are a great place to start as they can provide an outline for daily and weekly readings along with supplemental activities.
Jotham's Journey (Book)
For families, my favorite Advent books especially for younger kids is the Jotham's Journey series.
There are four books total, but you only need the first book to start with.
My kids couldn't wait each night to read about Jotham, a (fictional) child who becomes separated from his parents and finds himself on a wild journey through Israel to find them.
Eventually (spoiler alert!) he becomes a part of history as he not only reunites with his family but encounters the arrival of Jesus.
Scripture readings are incorporated into each chapter, and the devotional at the end of each night's reading are beautifully written and impactful.
We give this series four stars!
Hallelujah: Cultivating Advent Traditions With Handel's Messiah (Book)
Cindy's Rollins' book, Mere Motherhood , was instrumental in my life as a new homeschooling mom, and I can't wait to read through Hallelujah this Christmas season.
(You don't need to be a homeschooler to enjoy this one!)
Hallelujah provides a suggested listening schedule for Handel's Messiah and includes specific Scripture readings, daily hymns, poems and ideas for creating your own Advent traditions for your family.
If you have no idea where to start, this book would be a lovely choice to inspire an intentional Advent season in your home.
Unwrapping the Names of Jesus
This is a book I haven't read yet because — I practice what I preach and I can't do it all, either! 😉
But, I've seen it recommended over and over again and I would love to add this to our Advent collection as well.
Unwrapping the names of Jesus provides family devotionals and activities that the whole family can participate in together.
Each week focuses on one of the four traditional themes of Advent: Hope, Preparation, Joy and Love.
There are daily reflections that explore the names of Jesus throughout Scripture and what they mean.
You could also use this book as a tool for Sunday School in the four Sundays leading up to Christmas.
Read next: 30+ Christ-centered Christmas gifts for Kids

You can use any of the below activities to reinforce the anticipation of the coming Savior.
Introduce them alongside your bedtime or after-dinner routine, or during family devotion time.
Advent Wreath
Lighting the four candles of an Advent wreath is a tradition many families enjoy.
The evergreen wreath is a symbol of eternal life we receive through Jesus.
One candle in the wreath is lit each Sunday leading up to Christmas, usually accompanied by a Bible reading on the themes of Hope, Preparation, Joy and Love.
There are many wreaths available that you can buy, or you can make one yourself.
You can also find printable versions for a fun craft for your little ones.
We used this one last year.
Jesse Tree
This is another fun tradition that I knew little about until recent years.
The idea comes from Isaiah 11:1:
"A shoot shall come out from the stump of Jesse, and a branch
shall grow out of his roots."
In most Jesse Tree traditions, you will read a Bible passage each day of Advent which explains the Gospel narrative, from Genesis through the resurrection.
After each day's reading, you place an ornament on your "tree", which could be an actual tree, a branch or a handcrafted tree of your choice (paper, cardboard, etc).
We used the free printable ornaments and reading plan from Faithward last year and added them to our little Charlie Brown tree. (Cinnamon rolls, optional!)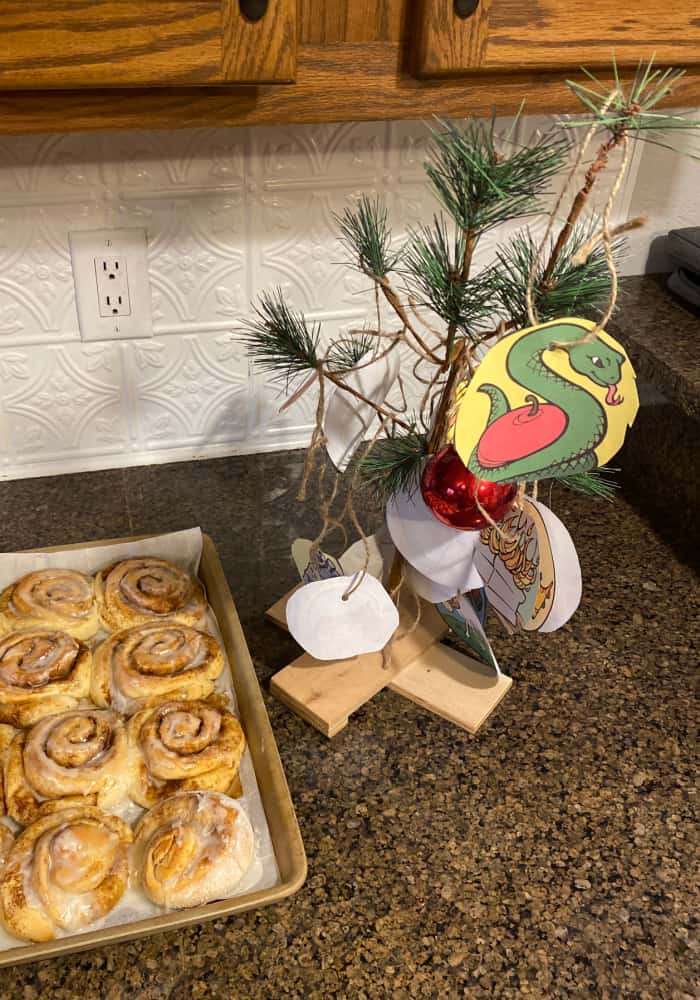 Advent Calendar
Confession: we've never actually used an Advent calendar. But it's a popular tradition, so maybe we should!
Some Advent calendars serve the purpose of simply counting down to Christmas, such as the chocolate advent calendars.
There are many others you can find that are reusable year after year, and tell the story of Jesus as you anticipate his birth.
And as always, there are printable calendars that you can craft together with your kids
Advent Acts of Kindness
Along the lines of an Advent calendar, you can countdown to Christmas by doing "acts of kindness" together.
What better way to prepare our hearts for Him, then to be the hands and feet of Jesus?
You can make up your own list of ideas and simply write them on a calendar, or find a printable Acts of Kindness calendar like this one, with suggestions for each day.
Artza Box
I am kind of a fan of subscription boxes, especially the kind you can enjoy as a family.
When I got our first Artza Box a year ago, I realized what a neat tool it could be for celebrating Advent as well.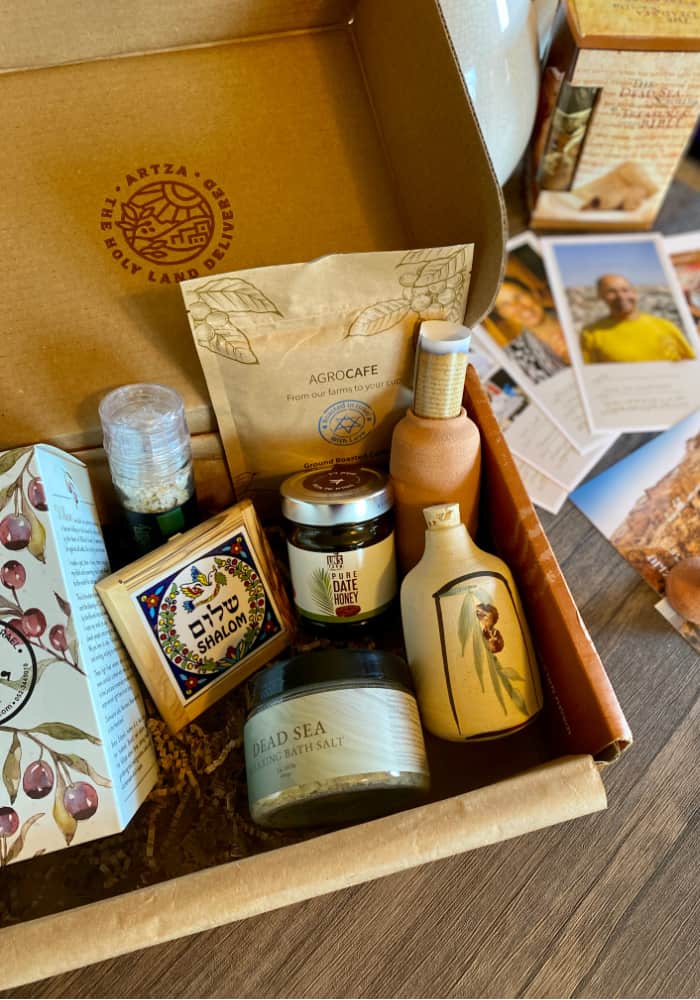 With your subscription, you get a variety of items from merchants and artisans in Israel.
It's like exploring the Holy Land – without having to leave home.
I love the enclosed cards that tell each contributor's story as well as the beautiful hand-crafted items (such as ceramics, games, candles) and unique foods we've gotten to experience together.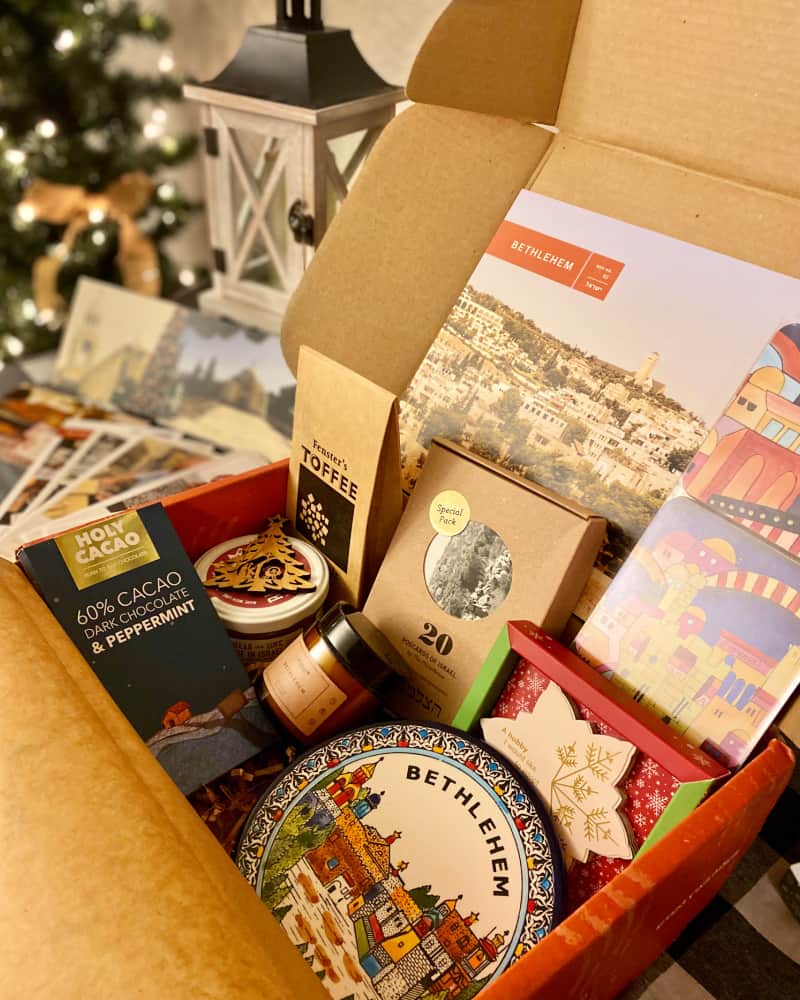 This year, we are using our Artza Box in our homeschool during the Christmas season. And we will give some of the items as special gifts to family members.
You can read more about Artza here. Be sure to use code: DIARIES20 for 20% off your box!
Making your family advent tradition your own
There are an endless supply of ideas that I could list here, but exactly how to celebrate Advent as a family is something you will cultivate over time.
It doesn't have to be perfect, and if you forget a few days (or weeks!), it's ok. Just keep returning to the miracle of Jesus as you go about your day.
During Advent, we celebrate His coming then, and his Future return. And that is a reason to rejoice, every day.
You might also like:
•Christmas Games for Church or Home (Fun for all ages)
•Meaningful Christmas Eve Traditions