Because my kids love to read, I'm always searching for new books to add to our collection at home.
I consider it a double-win when I can incorporate books on values – especially those values we hold important as a Christian family.
I think the days are long gone where you could order just about any book from the Scholastic book order at school and expect that it will communicate messages you want your child to hear.
Times have changed for sure!
Fortunately there are still plenty of great books to be found that teach morals and good character – and have a point!
Not that every book our kids read have to be serious, of course.
But it's always nice to add some well-written, feel-good titles to your home library that also get the kids thinking about important topics from a young age.
Top Reader Picks from this Post
Below are nearly 40 books on values for toddlers through the grade school years, that will inspire your kiddos with well-crafted and timeless lessons tucked inside.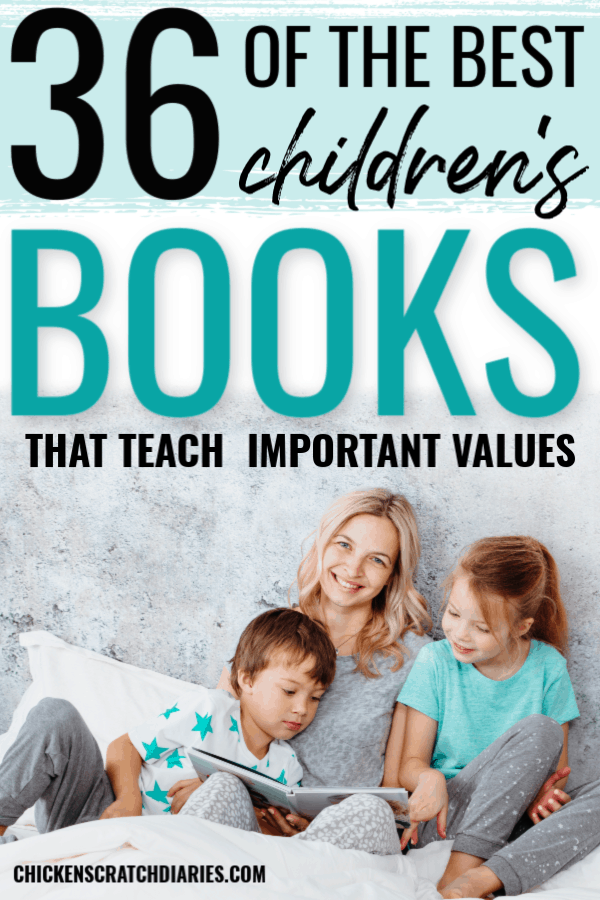 (P.S., don't forget that books always make great Christmas or birthday gifts too!)
This post likely contains affiliate links. Please see our disclosure for more info.
Toddler Books on Values
This is a story of about friendship and the importance of helping others. It's a cute story about a group of farm animal friends who get stuck in the mud. Includes a downloadable party kit!
This children's book on values offers toddlers simple solutions for sharing, even when it's hard, like taking turns, choosing another toy, or waiting for their turn. It even advises on who to turn to for help. So Sweet!
This sweet story of two friends who share toys and practice manners will turn into a favorite children's books on values for you and your toddler. It's an interactive book with flaps and mechanisms to keep little hands engaged in the story.
In this board book, kids will learn they can talk to God at any time from any place. Based on Philippians 4:6, this little book is an important reminder for us all that teaches the importance of prayer.
Little Tiger learns to clean up his mess with his mom and gives examples of sorting through different types of toys like games and books. All the while his mama is loving and encouraging.
All of Michael Dahl's children's books on values are some of my favorite for teaching little ones these important lessons.
In My Heart uses imaginative descriptions of what feelings really "feel" like to teach emotional intelligence in a way that toddlers can understand. Engaging and very original!
A simple message we all need to be reminded of! God made you special and unique and loves you immensely.
In this children's book, Bob and Larry do not disappoint! The words in the book are also lyrics to a favorite Veggie Tales song.
Based on the song, Three Little Birds by Bob Marley, this bright and colorful book is a sing-along!
I love music books for little ones who have a hard time sitting for a story. It's the perfect way to ease them into reading.
Another great children's book on values teaches that violence is never the answer and shows little ones examples of ways to use their hands for good and positive activities.
It's filled with vibrant illustrations to interest new readers.
Books about Values for Preschoolers
Another favorite in our house; kids will subtly learn that all "crayons" have a purpose and must learn to cooperate!
This hilarious book will be enjoyed by preschoolers and grade-school kiddos alike.
A mother and daughter take a walk while appreciating the "little things" like a dog's tail wagging, a bird chirping, and a child's smile.
This sweet book will remind kids and adults how to express gratitude and make you want to take a "Thank You" walk each day!
When Jake discovers that his best friend Sam is more interested in playing video games than playing with him, they both learn the value of building strong friendships in the digital age.
A sweet and timely story that teaches honesty, respect, empathy, kindness, and screen-time limits.
This classic children's book on values written in a poetic style will teach your little ones of the importance of seeing God in everyday miracles that we often take for granted.
A timeless reminder that God is love with gorgeous illustrations and solid Bible teaching for little ones.
Written from a Christian perspective, this book teaches children ages about obedience and peer pressure.
Suggested for children ages 4-8 and teaches forgiveness and healthy relationships.
A beautifully illustrated story about a little mouse with many fears. His mom is always there to comfort him.
This book is perfect for parents looking to alleviate fears in little ones and makes a great bedtime read.
This New York Times Bestseller is the story of a monkey who's in a terrible mood for no good reason. Who can relate?
This book is perfect for your grouchy toddler or preschooler!
Colorful illustrations and rhyming text make it easy for little ones to sit for this engaging story about demonstrating bravery in their daily lives.
The children's book on values follows a little boy who must show bravery even when things don't go as planned.
Meet Maya Cat is based on the Instagram-famous kitty, @meetmayacat.
This cuddly cat will teach children the value of accepting those who are different. A gentle lesson that aims to normalize physical, emotional, and developmental disabilities.
Books on Values for Grade School ages
For kids who struggle with perfectionism, this wonderful book is a must-read! This book works through the feelings of frustration and anger as the girl attempts and at first, fails, to make "the most magnificent thing".
Teaches perseverance, overcoming obstacles and the process of creation that is sometimes more important than the finished product itself.
One of my favorite children's books on values! Who doesn't love this classic that will show your child that even the smallest of trains can do big things?
This is the best book for teaching a lesson in not giving up.
Shel Silverstein's story about the gift of giving will be a book that stays on your family's bookshelf throughout generations.
If you haven't read it before, you're missing out! It's a touching story about true selflessness that will stick with your child forever.
Teach your child the importance of patience in this laughable tale from Mo Willems (former Sesame Street animator).
I think parents and kids will both relate to this one – because waiting isn't easy for anyone!
When their mom goes shopping the kids play soccer in the house and end up breaking a lamp.
They learn a lesson in honesty after telling their mom some stories about what really happened. Sound familiar to any moms out there??
In this faith-based line of "Inspired Kids" stories featuring Little Critter, the importance of telling the whole truth is made very clear.
This furry character has been a favorite among adults and children since 1975, and in this book, Little Critter learns the consequences of lying and why honestly is always the best policy.
This cute picture book is written in rhyming verse that teaches the value of perseverance.
Even though Ricky is different, he's determined! With the help of his friends Ricky learns that being different isn't so bad.
A must-have book for every positive-parenting advocate.
Seeds and Trees teaches a powerful lesson about the power of our words with whimsical illustrations and a rhyming narrative your kids will easily remember.
A sweet children's book on values that takes the saying "When life gives you lemons…" and turns it into a relatable story about a little girl's disappointment when her grandmother gives her a lemon tree for her birthday.
This is a lesson that kids will understand and hits home with the birthday present example. The book touches on lessons in patience, hard work, community, and putting down electronics occasionally. It even comes with a recipe for lemonade!
An entertaining story that teaches the value of manners, recommended for ages 4-8.
Instead of lecturing your kids about having good manners- read them this book! 😉
It's easy to see why this children's book is the winner of several awards! Every Sunday CJ and his grandmother ride the bus, but today CJ wonders why they don't have a car or other luxuries that he sees his friends have.
His grandmother's heartwarming responses will be a lesson in gratitude for children and adults.
This book teaches the importance of showing kindness and including others.
It's perfect for teaching the value of inclusion and being sensitive to quieter children. Stunning illustrations too!
This creative, highly-rated book is written in a "Choose Your Own Story" style (my kids love these!).
The story follows Danny as he encounters everyday challenges that most kids face. As you read through the story and chose endings, your child will learn the importance of making good choices and how those choices affect our day, and eventually shape our lives.
Amos McGee is an old man who visits his friends at the zoo every day.
When his animal friends find out he's sick they go to great lengths to return the favor. One of the sweetest stories you'll read about friendship and putting others first.
Those Shoes teaches an important lesson about following materialistic trends and dealing with the pressure of "keeping up with Joneses" for kids.
The story follows Jeremy, a book who must learn that people are always more important than things- even the coolest shoes!
An adorable story about Clucky, a mama hen who takes her chicks to school where they notice some classmates being treated poorly.
Luckily, mama is there with her magic kettle to turn things around. An engaging story that teaches a lesson in bullying.
This captivating, rhyming story teaches children the value of family over toys and possessions.
Billy is a little boy who's unhappy with his home and toys when a magical tree takes him on an unforgettable adventure.
Teach the values of giving, sharing, and caring with this practical daily guide for finding daily happiness.
This multiple award-winning book is geared for children from preschool to grade school but is a much-needed reminder for adults too.
If you liked The Best Books on Values, you might also like:
• Faith-based Christmas gifts for Kids
• 5 Tips for Teaching Responsible Behavior
• Character-Building Bedtime Story Prompts (free printable)