A full Ark Encounter review with all the details you need to plan your Ark Encounter trip.
When I first heard of the Answers in Genesis Noah's Ark project that opened in 2016, I knew it would be a fascinating sight to see.
It wasn't until this year (2023) that we finally made it happen.
On a bit of a whim, we planned our summer vacation around this destination.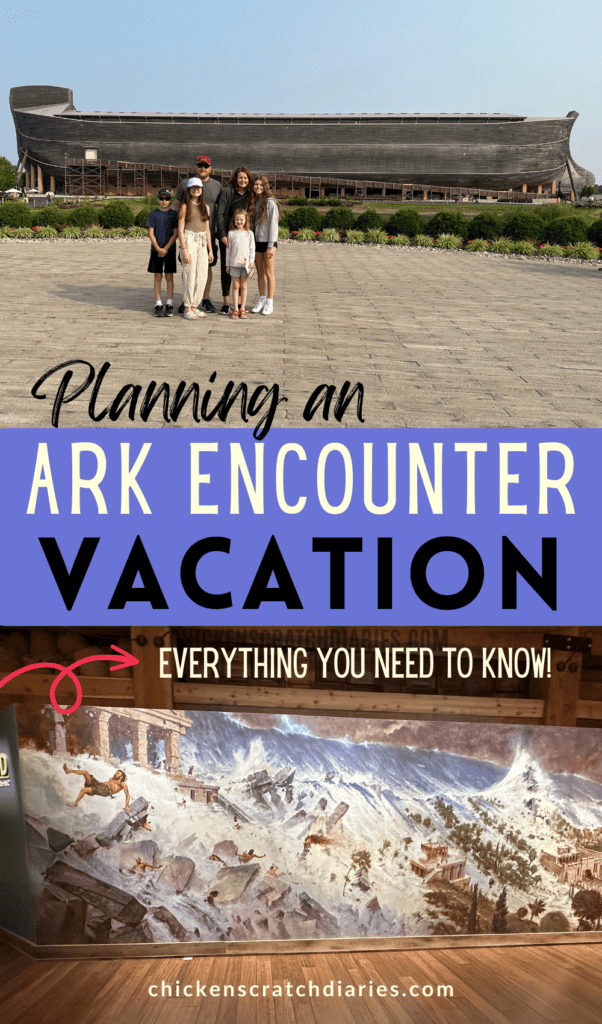 So in this full Ark Encounter Review, I'll detail all the highlights of our Ark Encounter experience, along with:
Where we stayed and played
Things to do at the Ark
Ark Encounter restaurant review
-Plus, a lot of tips you might find helpful before you visit the Ark Encounter.
Planning a trip to the Ark Encounter
The first question when planning a trip to the Ark Encounter is how much time you'll be staying in the area.
If you're passing through the area for just a day or two, you might choose to stay close to the attraction for convenience.
For us, we planned to be in Kentucky for about 5 days, so we were ok with staying within a 30 mile radius.
We knew we would be driving to the Ark one day, and the rest would be spent at the VRBO property we were renting.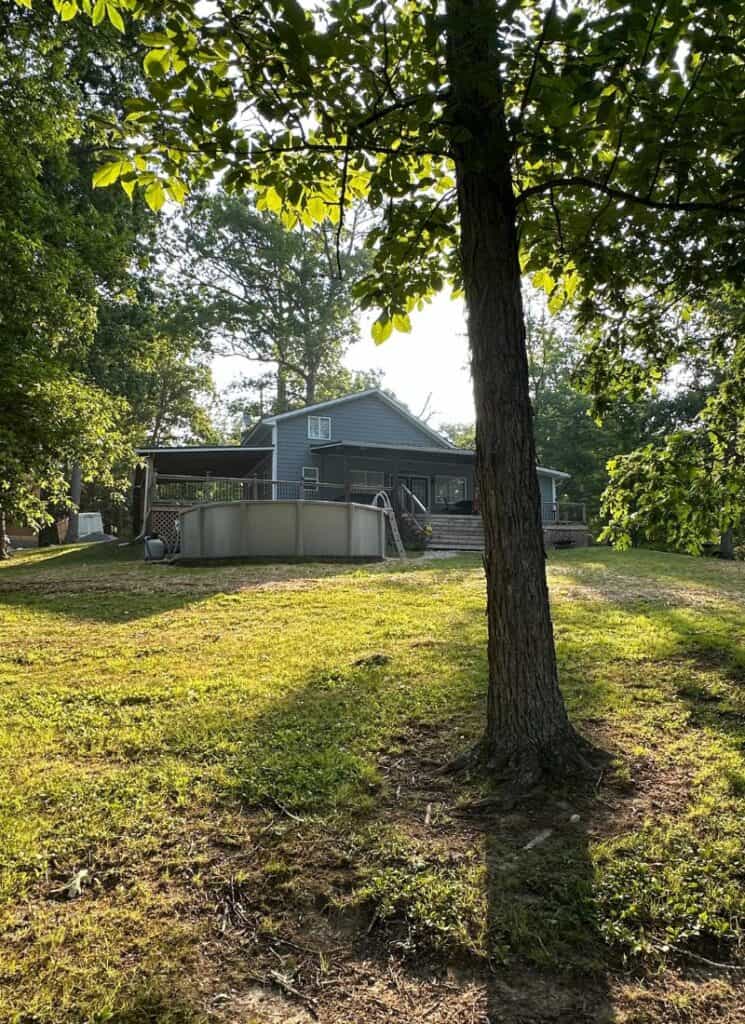 This post likely contains affiliate links. Please see our disclosure for more info.
Ideas for Places to stay near the Ark Encounter
If you want to stay really close to the Ark, there is a Hampton Inn & Suites right next door.
I didn't even know this was the case until we were at the ark!
However, as a family of 6, hotels are pretty much out of the question as we would spill into two rooms.
Renting an Airbnb or VRBO property is typically a cheaper and much more comfortable option for us.
So at first, we looked at several houses in Williamstown, Kentucky where the ark is located.
There are several reasonably-priced rentals that have been renovated to accommodate guests in the area.
But after some research, I realized Williamstown is pretty small and we might run out of things to do after a day or two, if we were limited to a house in town.
Corinth, Kentucky (on Corinth Lake)
For our Ark Encounter vacation, we wanted to be somewhere where there were several things to do without having to drive somewhere every day.
We settled on a house by Corinth lake, about 15 miles south of Williamstown and the Ark.
This house was a great choice for us!
It had a recently-installed swimming pool, a hot tub, and sat directly in front of a peaceful lake where we enjoyed kayaking and fishing every day.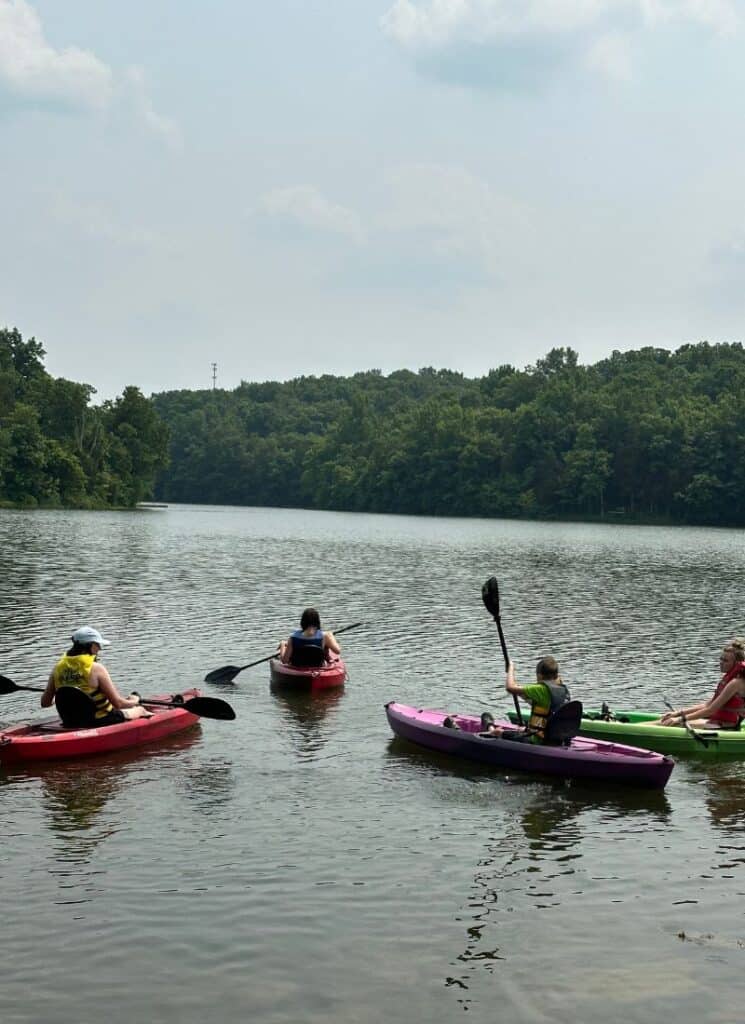 We stopped in Lexington, KY for groceries, about 45 minutes before arriving at the house because there are not many stores in or near Corinth.
There is a Dollar General a few minutes from the house we rented, and a few small mom-and-pop shops in this tiny, quaint lake town.
Cooking our own meals saved a ton of money and gave us flexibility to just hang out together, swim in the pool and relax at the lake.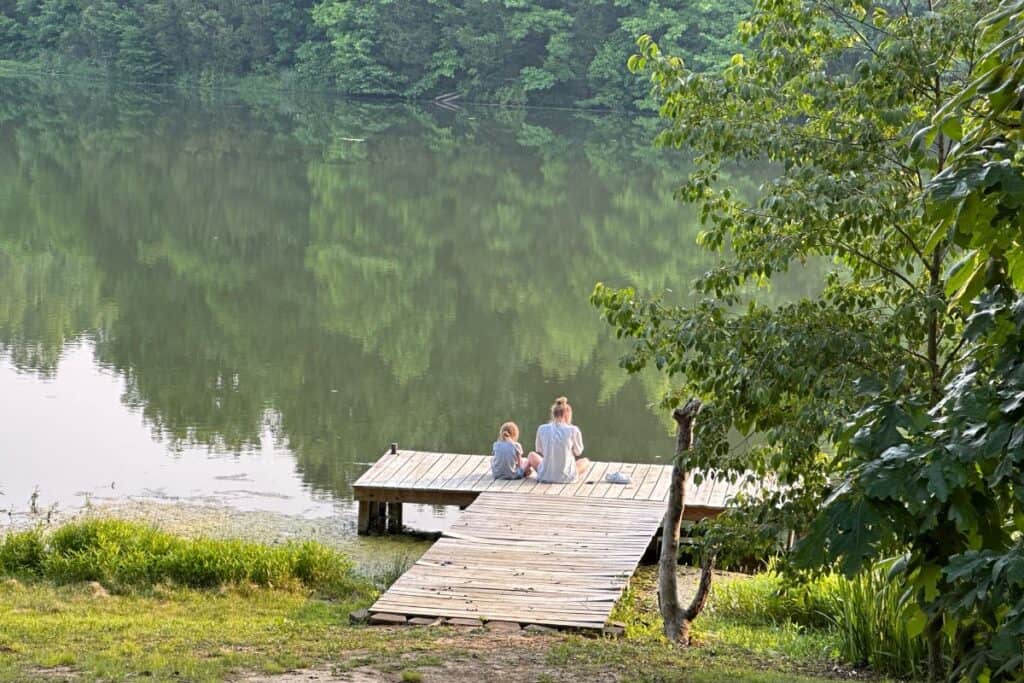 We also returned to Lexington on one day during our stay to visit the gigantic shopping mall and eat at the Cheesecake Factory while there.
My teens were impressed!
Noah's Ark Experience: all the details
We visited the Ark Encounter on a Friday in mid-June and the weather was absolutely perfect.
I had heard from others that it's best to arrive early, so we got there about 8:45, with the park opening at 9:00 AM that day.
Parking was simple, and we only waited in line about 10 minutes before the shuttle buses at the parking lot whisked us off to the Ark.
The buses are really nice (enclosed, spacious).
They continually go back and forth all day between the parking lot and the Ark so there was no waiting for a bus at our arrival or departure.
Arriving at the (Massive) Ark
When you first pull up to the Ark, it is quite a sight to behold.
We couldn't stop talking about how huge it really was in person.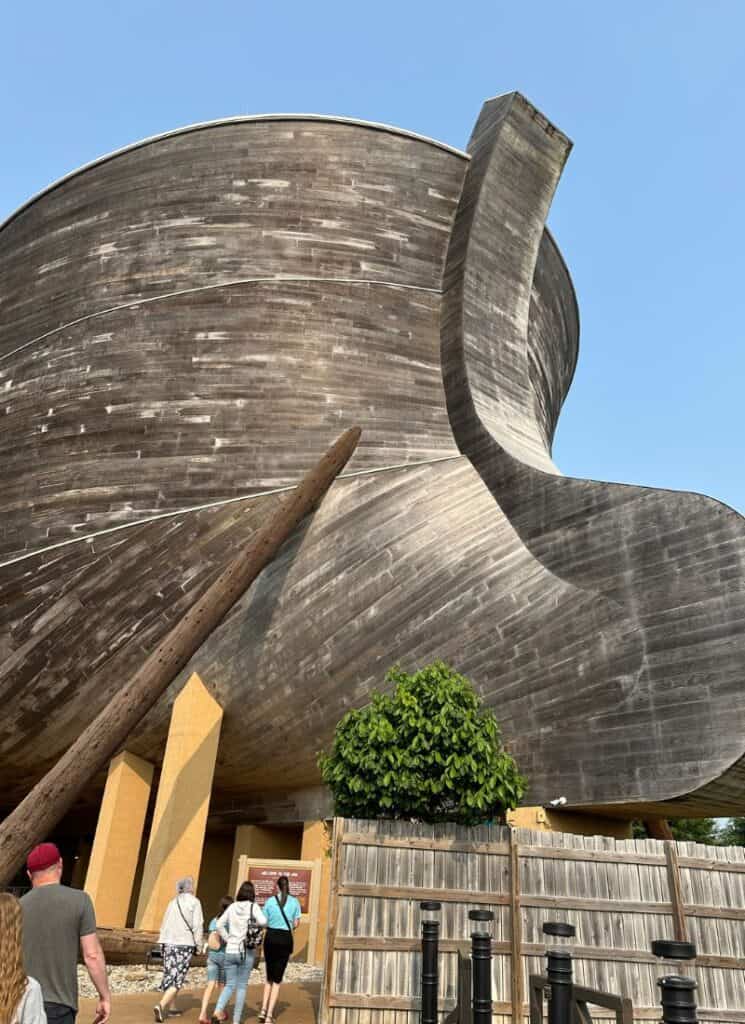 It was built to the dimensions described in the Bible, and it puts the Biblical account into better perspective when you're standing below it.
Fun fact: the exact shape of the original Ark is unknown.
Since we arrived plenty early, it wasn't crowded yet and there were many good photo opportunities in front of the ark.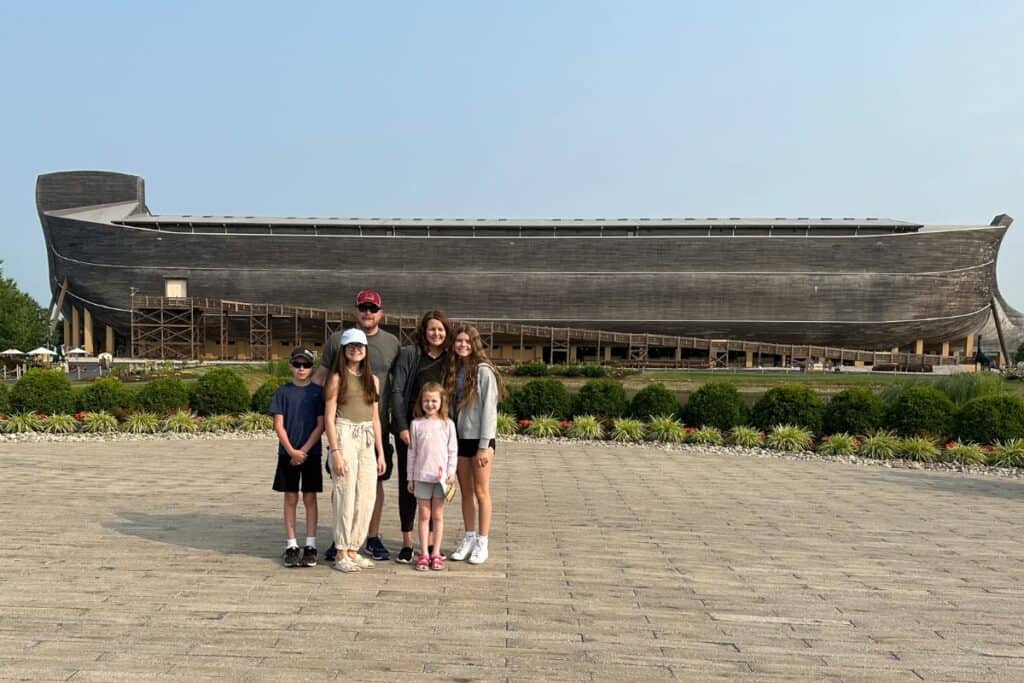 Ark Encounter Review: On Board Details
Of course, the first thing thing to do at the Ark Encounter is to board the ark!
There are ramps, instead of steps, which is great for those in wheelchairs or motorized chairs that are available to rent.
(Single and double strollers are also an option for families.)
Sounds of wild animals set the mood as you make your way up the winding ramp to the first floor of the Ark.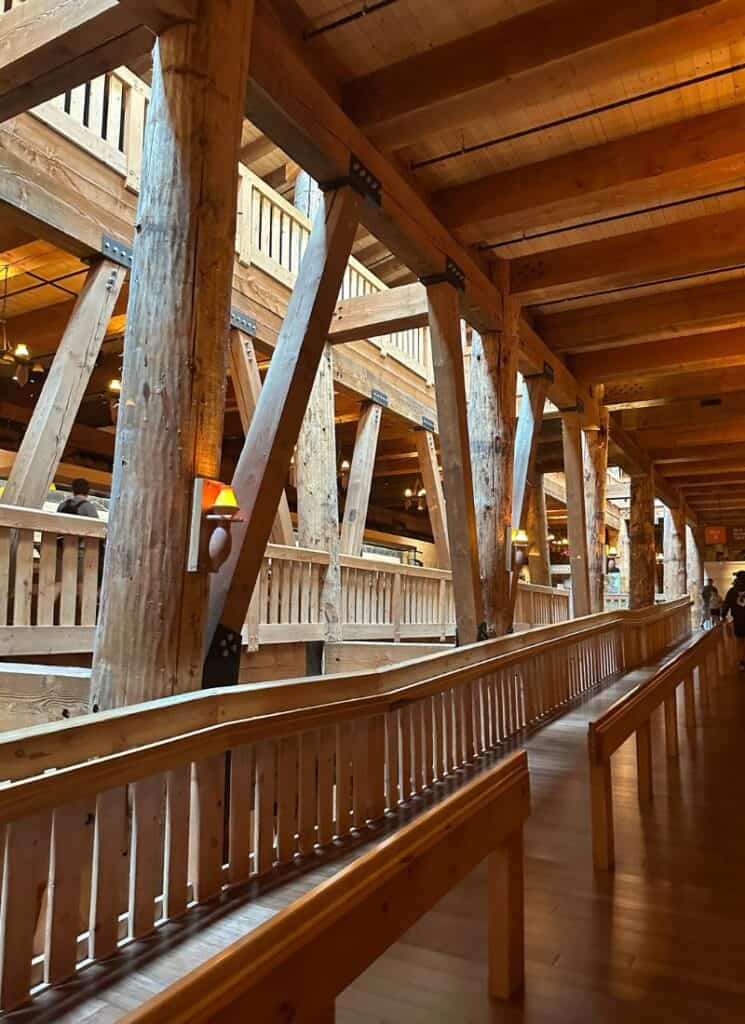 I'll talk more about the exhibits shortly, but I want to answer a few basic, very mom-like questions first.
(Because we're the planners, right? Moms need to know all the stuff.)
What's the Temperature Inside the Ark Encounter?
First, I wanted to mention this (as if I'm 88 years old), because I'm ALWAYS cold everywhere I go indoors.
And I wasn't sure how to dress my kids either.
I really preferred not to be the pack-mule for everyone's sweatshirts!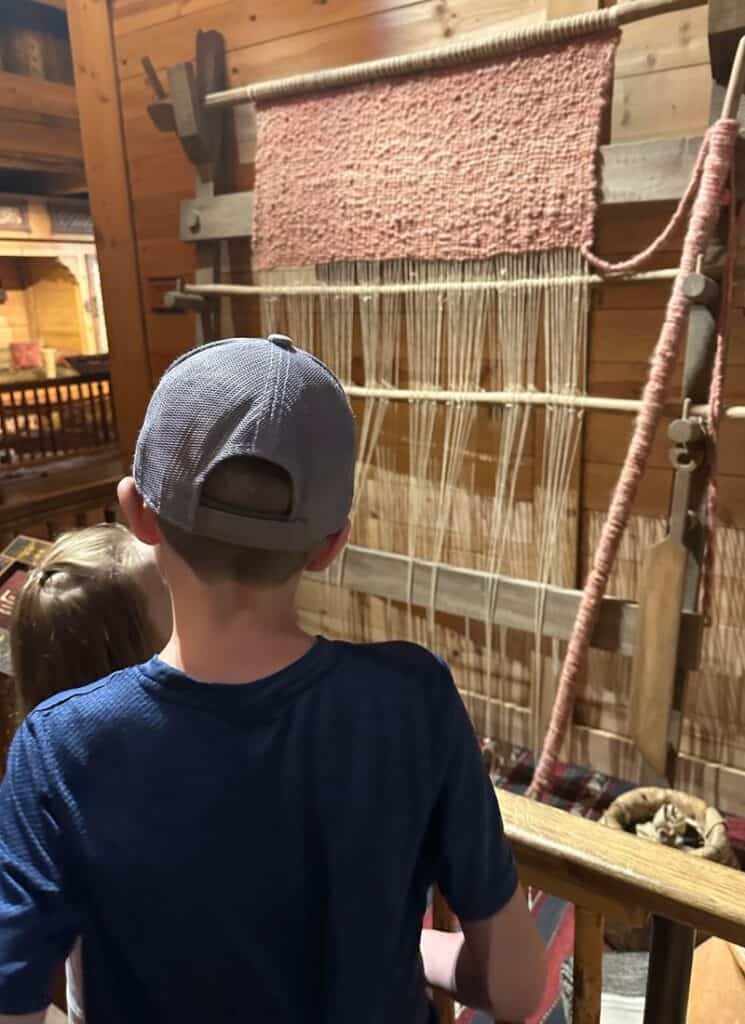 On the day we went, it was a breezy 70 degrees outside and the ark temp inside, whatever it was, was very comfortable.
I did have a light cotton jacket on while inside the ark, but I would have been fine with or without it.
I didn't notice any obnoxious fans or freezing air conditioning, thankfully.
Restrooms on the Ark
The entire Ark is a monument to attention to detail, and the restrooms are no exception.
I mean, obviously they weren't in the "blueprints" of the original ark (too bad for Mrs. Noah).
But wow, these were some nice facilities with stall doors that go all the way to the floor.
They were super clean and we didn't have to wait in line.
There are restrooms on every level of the Ark, and they are large and easy to locate.
(And there were plenty of helpful employees stationed throughout the levels if you need help finding anything.)
How much walking is there at the Ark Encounter?
A LOT. Bring your comfy walking shoes.
I didn't realize how sore I'd be at the end of the day!
The walking is easy, but it's sort of a fast- moving experience especially as people start to fill up the aisles.
There is a lot of reading and you'll want to move along to allow others to do the same.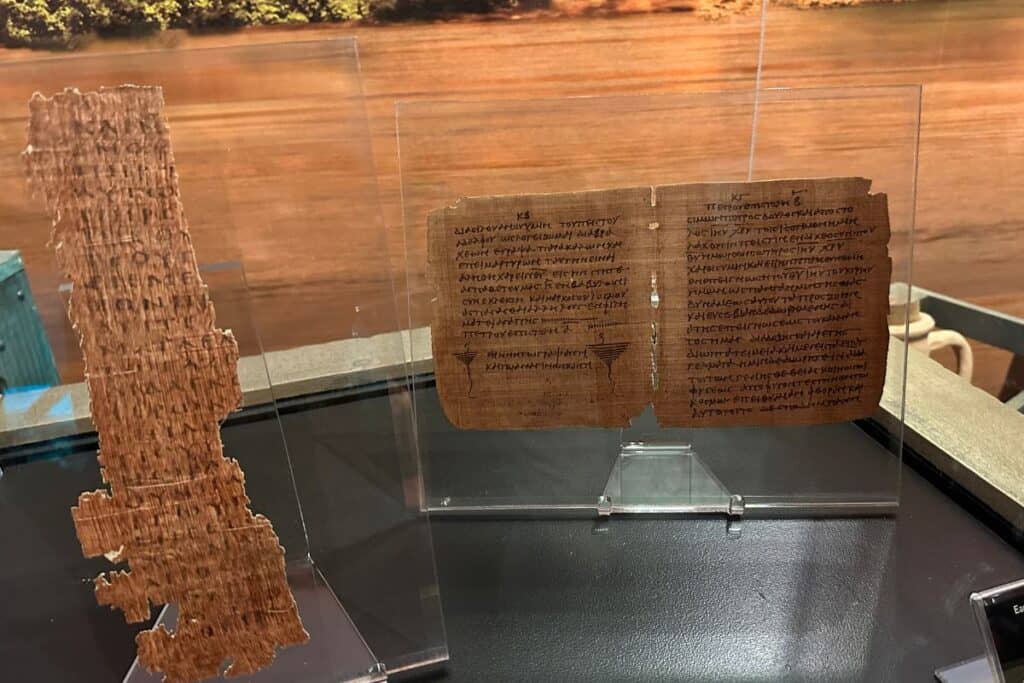 Accommodations
I could tell the motorized chairs were a big blessing for older individuals.
One of our kids had back surgery several months prior to our trip, and if I had to do it over again, I probably would have rented an electric scooter for her.
She has been fairly active since recovery (praise the Lord), but the walking was pretty strenuous for her.
The aisles on the Ark are wide and even though it began to get quite busy around 11:00 AM, I never felt claustrophobic.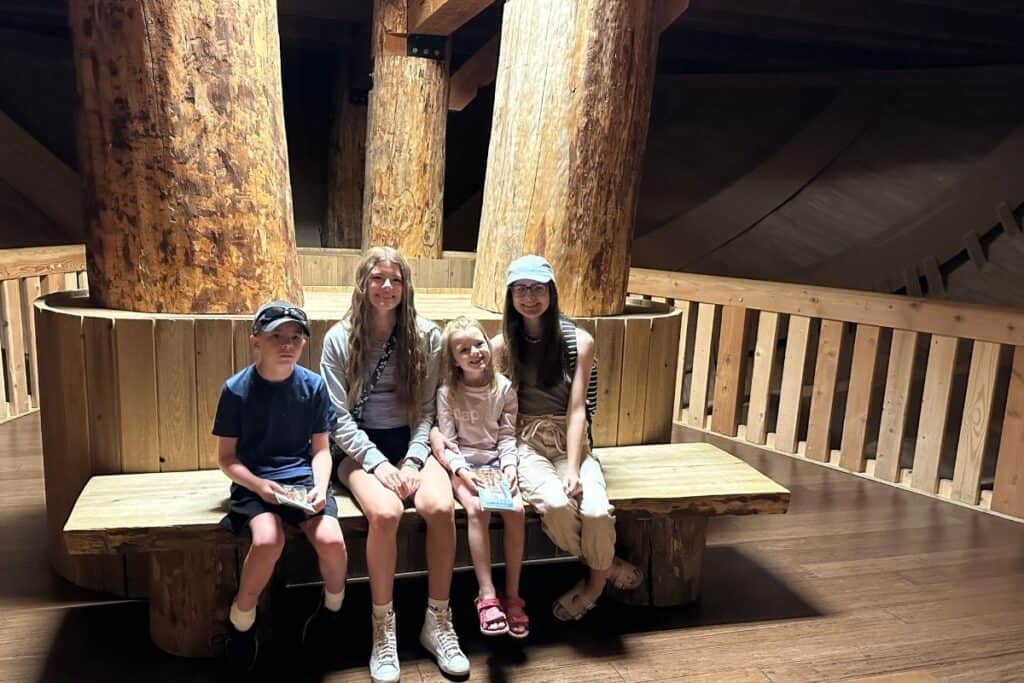 There are plenty of benches throughout each level, so we took little breaks as needed.
How long to tour the Ark Encounter
If you're wondering how long it takes to go through the Ark itself, we were inside about 3-1/2 hours total.
This didn't include lunch or other attractions outside, which I'll detail shortly.
In all, we spent all day – about 7 hours total – on site.
Things to do at the Ark Encounter
From my perspective, the Ark Encounter is a two-part experience:
Stepping into what life might have been like as an Ark passenger
Learning about Biblical Creation and the historical and scientific reasoning that supports the evidence of the Flood.
Each level is recreated in a logical way that could have been very much like the actual Ark was designed.
Keep in mind, there is some creative license taken to spark imagination and fill in the gaps of the intricate details we aren't given in the Bible.
However, you can witness the careful consideration taken into every detail on the ship.
One of my favorite areas was the living quarters.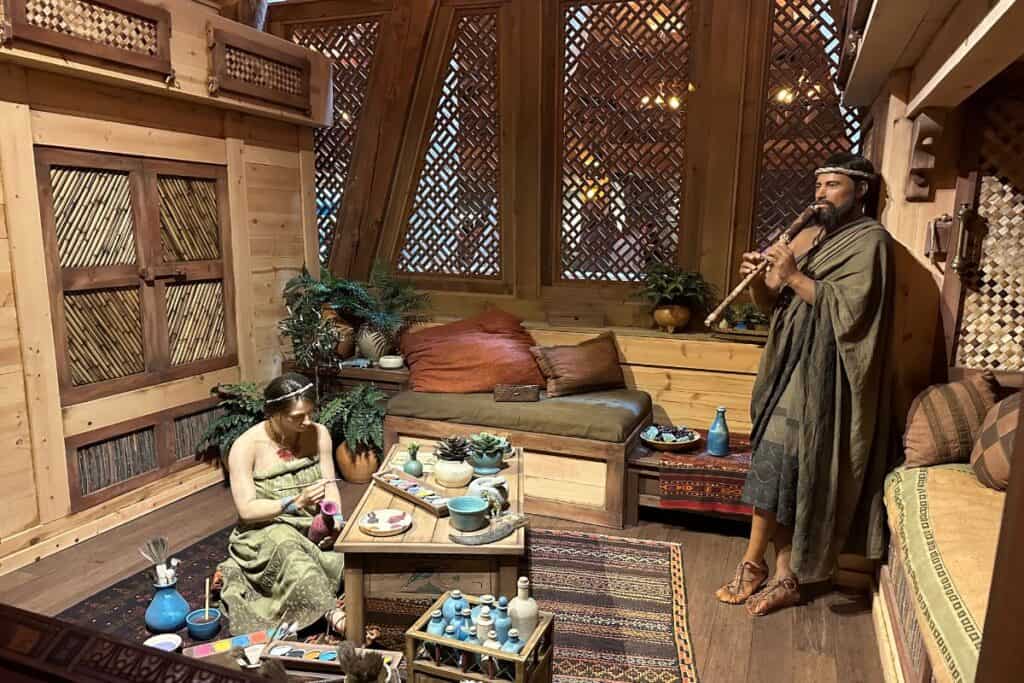 In the image below, you can see an example of vegetables growing indoors, which may have been possible on the upper level of the ark.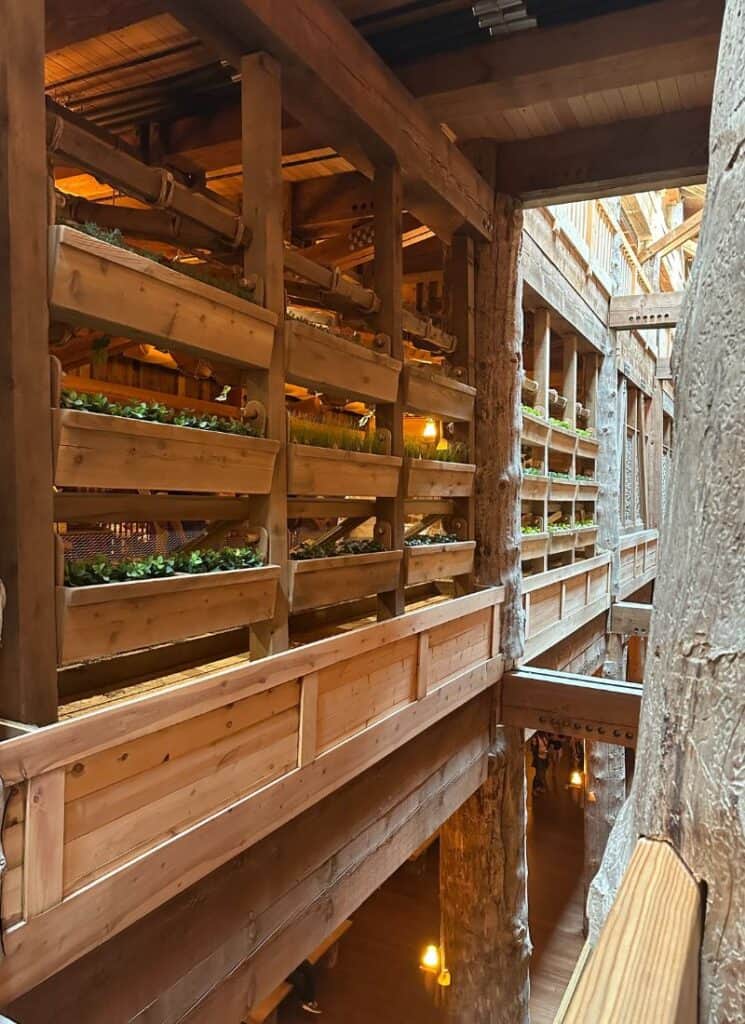 In addition to all the animal cages (which my kids went nuts over), you could also view exhibits showing what water storage, water collection and waste disposal might have entailed.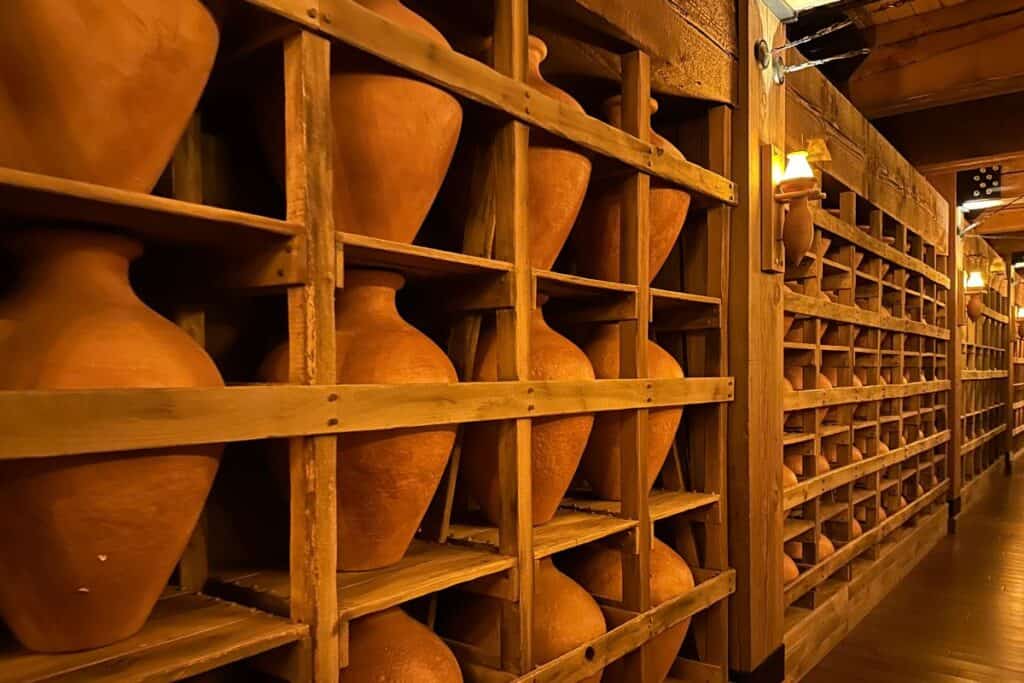 Lots of tiny details I would have never given much thought to, makes the entire Ark an awe-inspiring experience.
I was impacted by the care God showed for Noah's family in providing their needs, and in the instructions they needed to survive.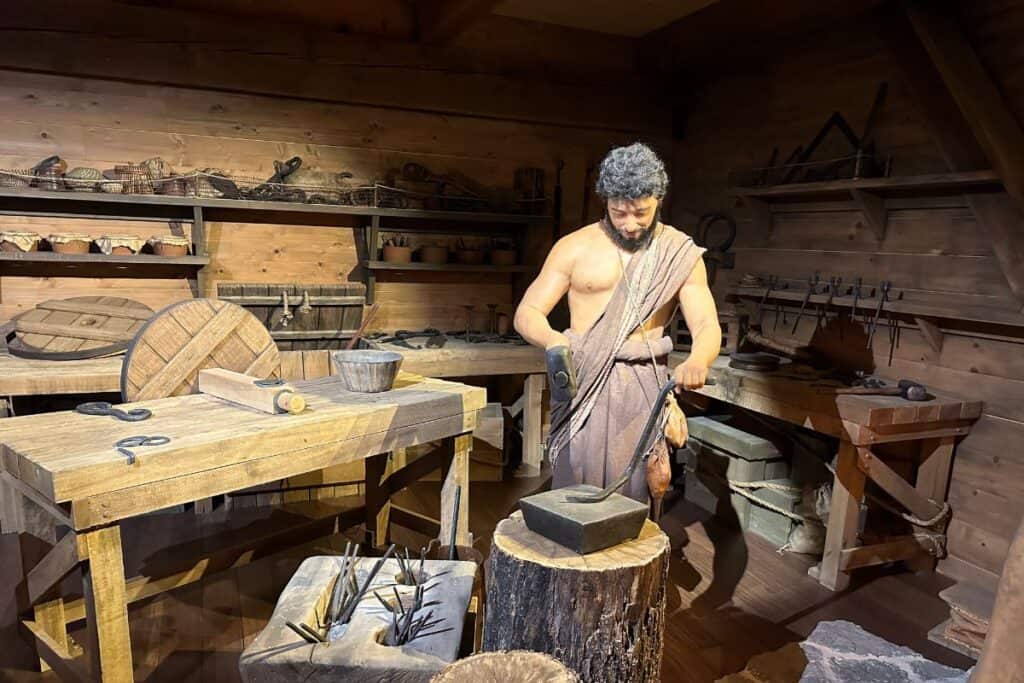 And – the work that must have been so strenuous while on board for an entire year!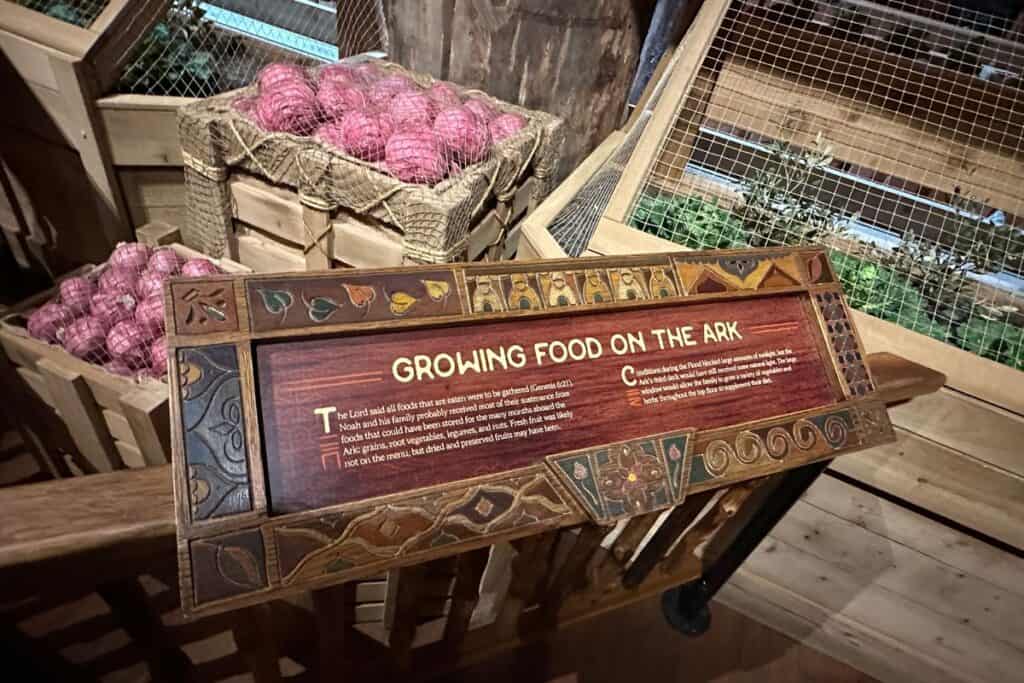 More than anything, being on the Ark reaffirms the faith of Noah and his family as they obediently followed God's exact plans, not just for the Ark- but for the future of humanity.
" By faith Noah, when warned about things not yet seen, in holy fear built an ark to save his family. By his faith he condemned the world and became heir of the righteousness that is in keeping with faith." Hebrews 11:7
Educational Exhibits
There is so much to read and learn while on Board, especially on Level 3.
For kids who aren't reading yet, you may want to take time to read or summarize many of the exhibits.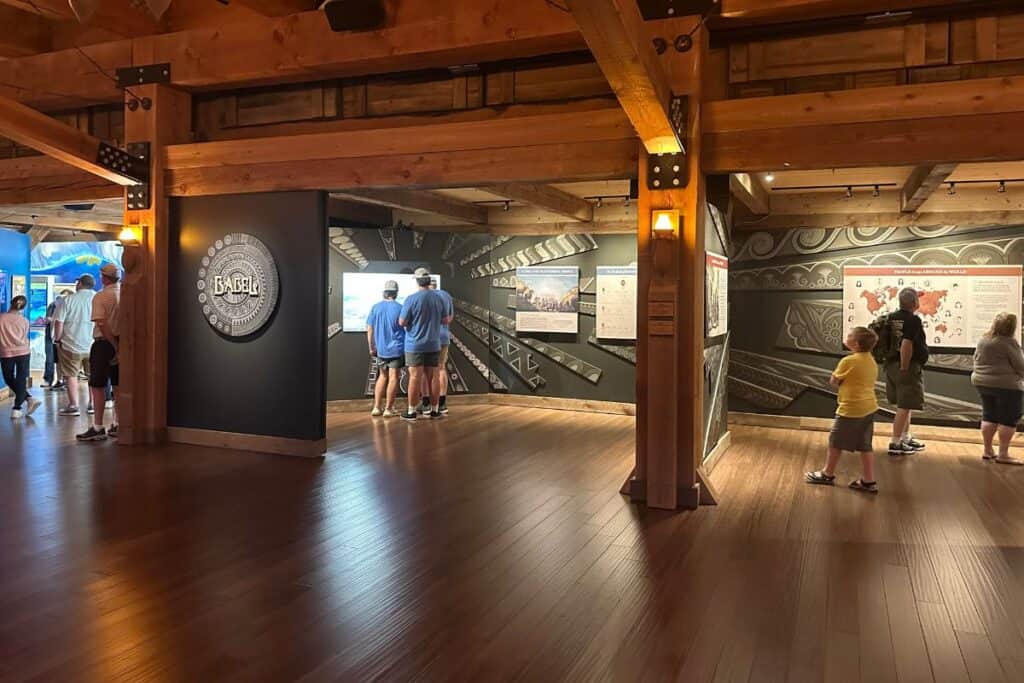 Although, there are awesome visual guides and murals, and short videos along the way, too.
I also appreciated that the Gospel was clearly presented in its entirety at the end of the tour.
You can't tell the Flood story without the reality of man's sin and rebellion against God.
The tragedy of the loss of life is not downplayed in any way.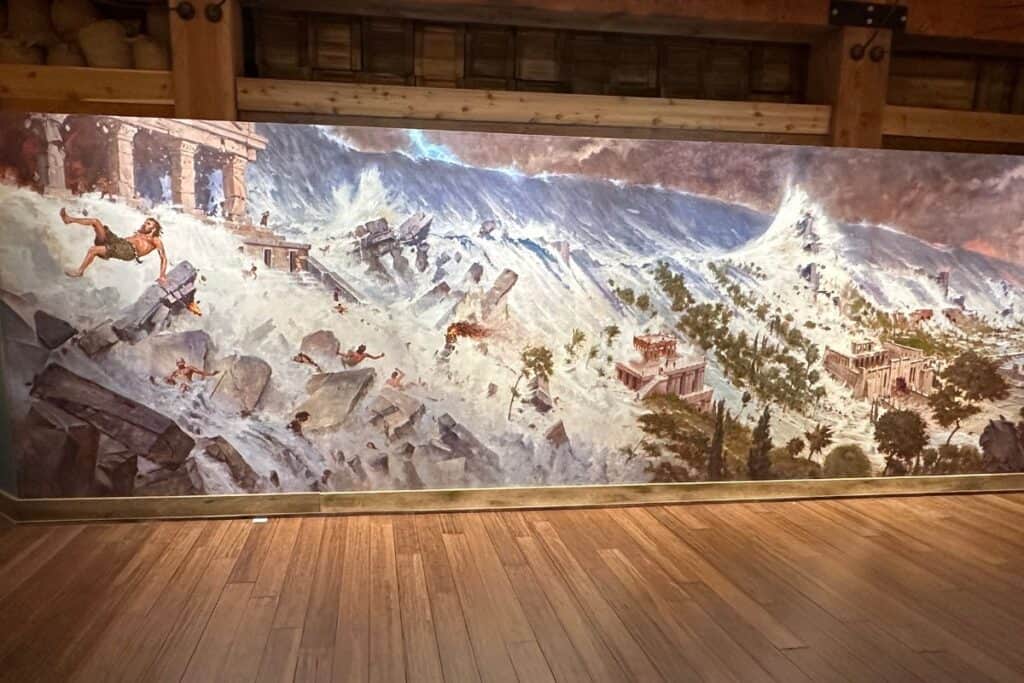 The parallels from Genesis to the Cross are unmistakable by the time you leave.
Read next: "God is in Control" verses from Genesis
Ark Encounter Gift Shop offerings
There is a large gift shop just before you exit the ship, and we spent quite a bit of time browsing the books and souvenirs there.
Prior to this, on Level 2, there is also an open area with snack foods, and fair-trade items from around the world.
I assumed the same items would be in the larger gift shop at the end, and later wished I had purchased a few handmade things I spied on Level 2.
(There were still more fair-trade goods at the large "exit" gift shop- just different ones.)
My younger kids found stuffed elephants and balsa wood crayons that they were excited to give up their spending money for as we left.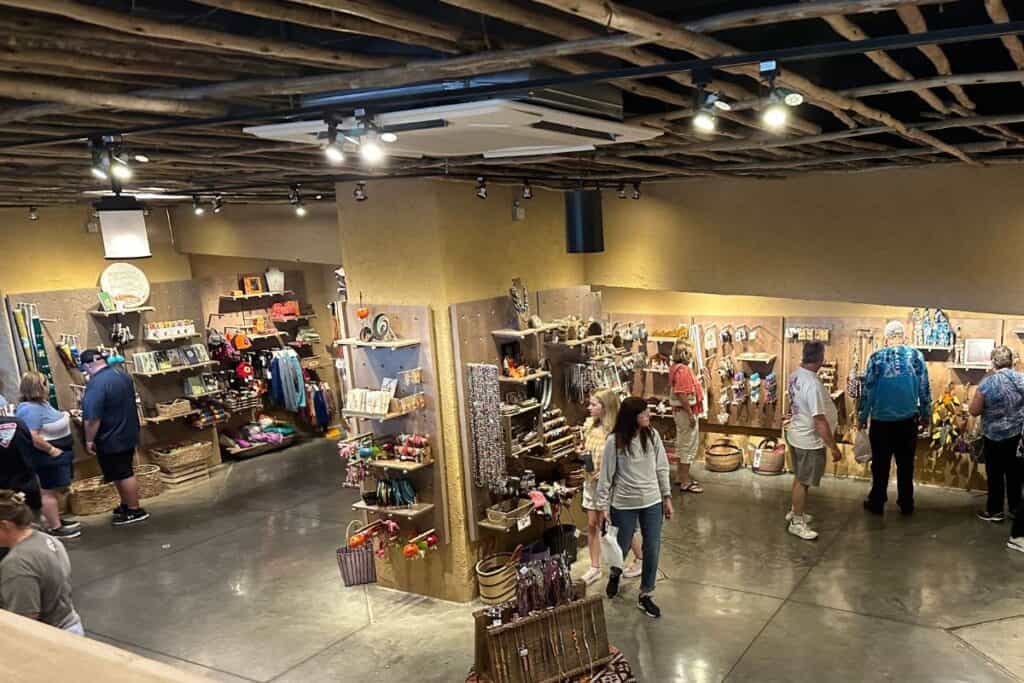 The Ark Encounter Answers Center is in a separate building before you board the buses to leave.
This building also had more books as well as homeschool and VBS curriculum from Answers in Genesis that you can browse.
Tip: *I had a delicious Iced Chai Latte as we left the Answers Center, and the line was much shorter than at the big Gift Shop on the Ark!
Ark Encounter Restaurant Review
We debated on eating at the restaurant, Emzara's Kitchen, but in the end decided to go for it.
We still wanted to tour the zoo and lunch would've been quite late if we waited until we left the park.
I had in my mind that it was probably going to be over-priced and just "ok" as buffets often go.
But honestly, we thought it was great!
And the prices were not bad at all, especially for the variety.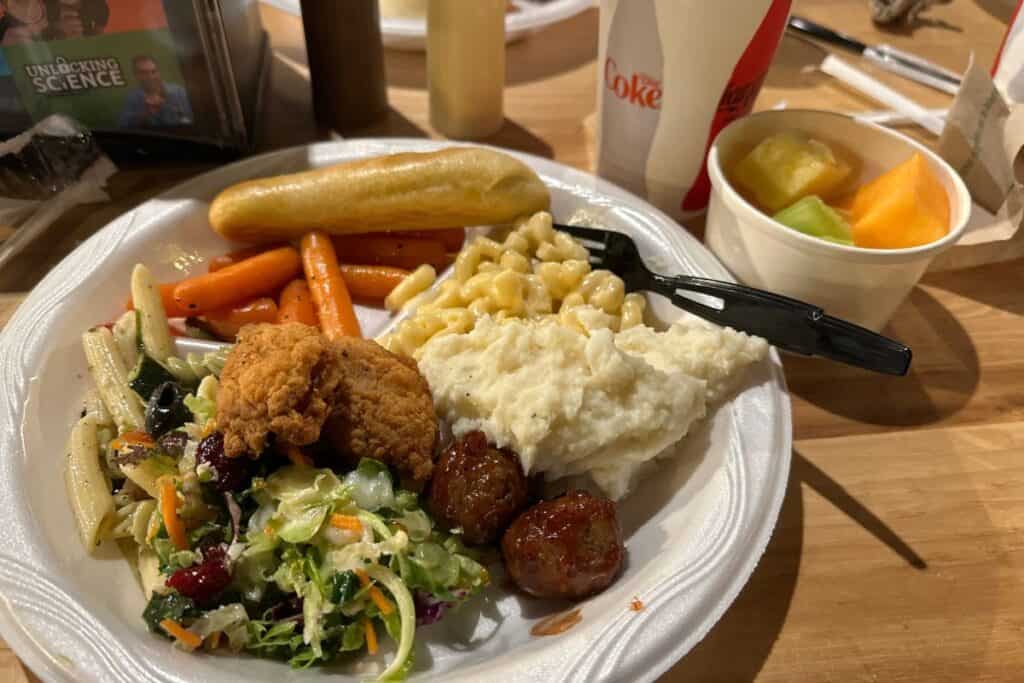 For comparison, we often visit Silver Dollar City in Branson, Missouri and the buffet-style restaurants there are actually more expensive and not as good as the meal we had at the Ark.
We did have to wait about 45 minutes in line before we got our food and found a seat.
Some of the offerings on the buffet were:
Meatballs, barbeque ribs, chicken strips, fried pollock fish, fried chicken, roast beef, cooked baby carrots, herbed red potatoes, mashed potatoes, several types of salad (pasta salad, kale salad, regular salad), rolls, breadsticks, cake and cobbler for dessert.
I give it a thumbs-up especially for picky kids, overall.
My son explained the magic of a buffet to his sister while we waited:
"You just pay to get in and then you can eat whatever you want!"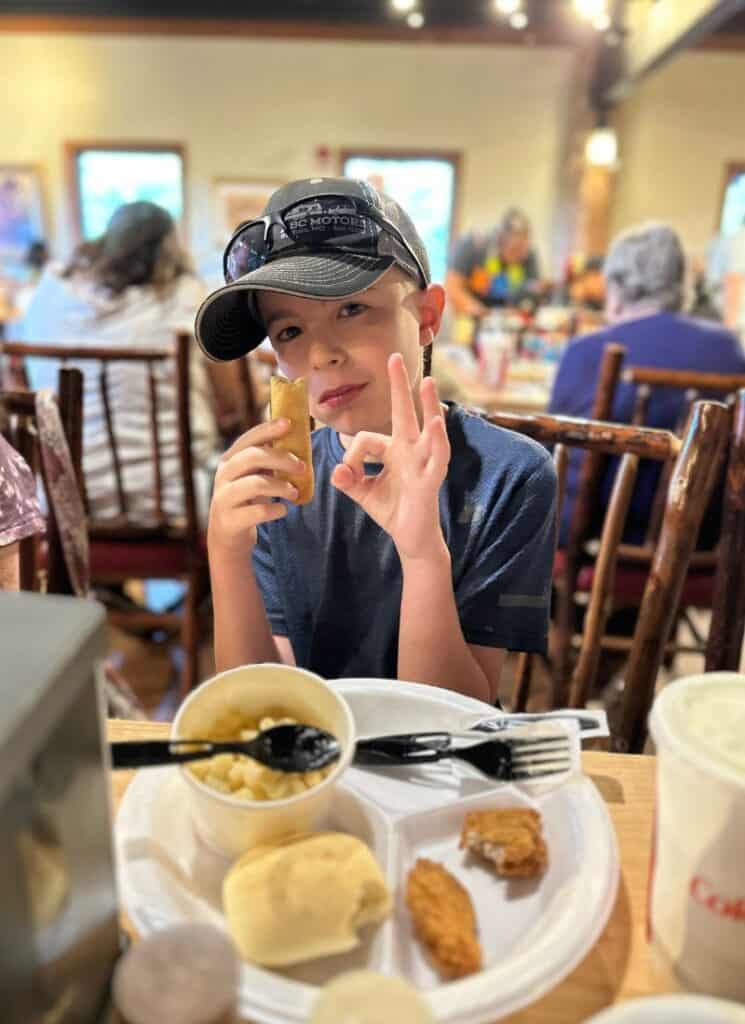 Ark Encounter Zoo
We walked through the Ararat Ridge Zoo after lunch, and it was well worth it.
It's not a large zoo, and after all the walking in the Ark, we weren't too sad about that!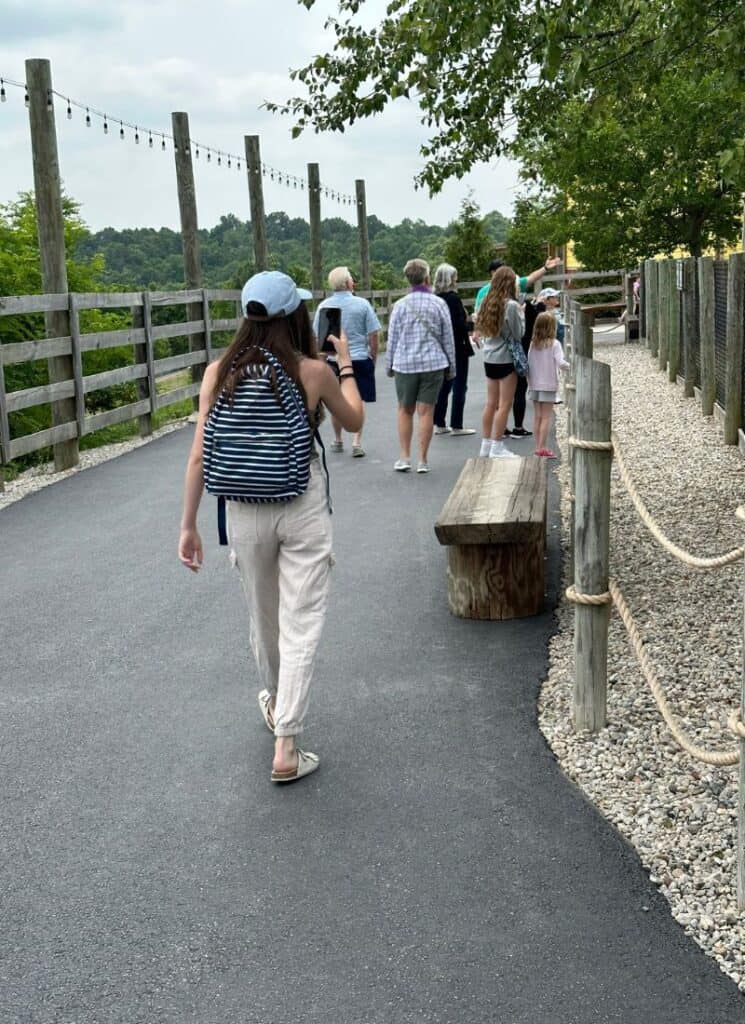 There was just enough to look at and learn, including a memorable presentation at the zebra, zonkey, and zorse enclosure.
My kids especially loved the lemurs, the walk-through Kangaroo tour, and a petting zoo with farm animals at the very end.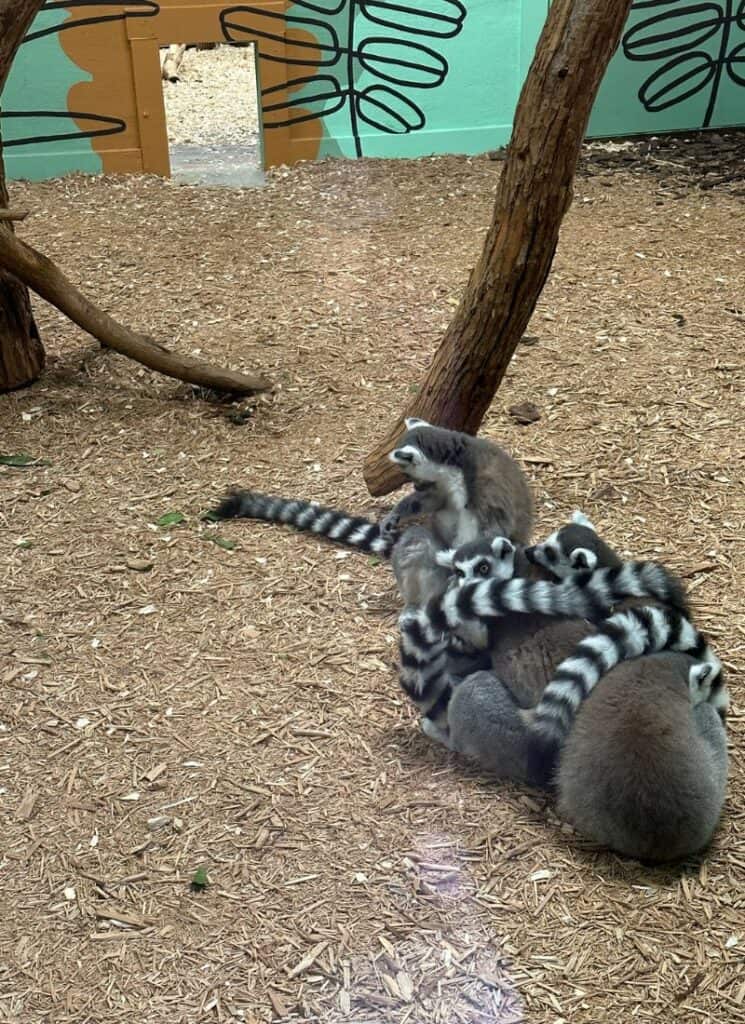 Other attractions at the Ark Encounter
Besides the zoo, there are a few other activities outside the Ark itself such as:
Large playground (for children of all abilities)
An indoor carousel
Camel rides (cost extra)
Zip Lines (cost extra)
Truth Traveler Virtual Reality Show (cost extra)
Ark Encounter Review: Final Ark Encounter tips
I was glad we took tons of pictures, including some of the information plaques that I wanted to read later.
Next time, I'd love to plan and budget a little extra time (and money) for the Virtual Reality show.
My husband and kids were begging – ha!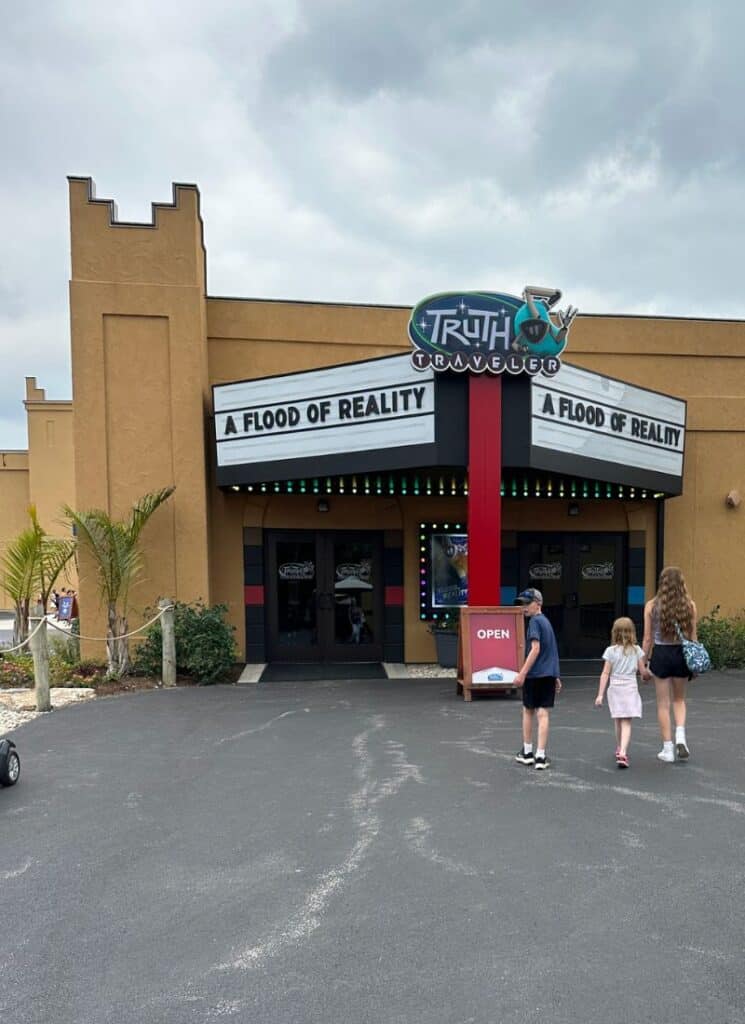 I debated that morning on bringing water bottles (unopened plastic water bottles are allowed).
But my small backpack felt pretty heavy at the end of the day, so I was ok with just buying (pricey!) water halfway through the tour.
Note: Large bags are not allowed; their rules state 16x12x4 is the max, so be aware.
Overall, I would encourage anyone considering an Ark vacation, to go for it!
My kids honestly weren't sure about it before we left, but all ages (7 to 17) agreed it was an awesome trip!
We decided we would love to return when the upcoming City of Jerusalem and Tower of Babel replicas are completed.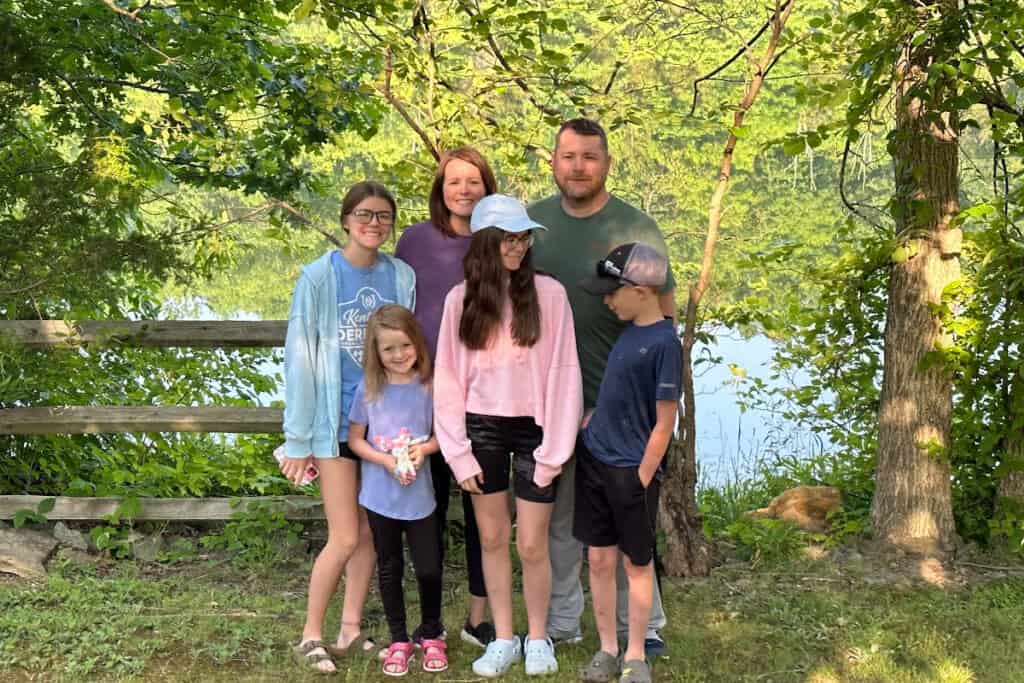 Be sure to share this Ark Encounter Review to Pinterest!
I hope it's helpful for other families planning their Ark adventure.
You might also like:
Practical Foundations for Teaching Children about Faith
"God is in Control": Evidence from the Book of Genesis
Best Apologetics Podcasts for Nerdy Moms
Raising Kids Rural: What to Know
The Reality of Having Four Kids