This site contains affiliate links to products. As an Amazon associate, I earn from qualifying purchases. Please read my disclosure for more info.
Need meaningful, Christ-centered Christmas games to plan for your holiday gathering? Alvin Gan from Bible Games Central shares 5 faith-building game ideas for your family or church kiddos to enjoy.
I remember that once upon a time, Christmas was purely fun and exciting.
The days leading to December 25th were marked by the sounds of joyful Christmas carols, the delicious aroma of Christmas goodies, and the spectacular sights of Christmas decorations.
Ah, simpler times!
But now, as a parent juggling the daily demands of family and work, the added festive responsibilities of putting up a Christmas tree, shopping for Christmas presents, and planning for Christmas dinner sometimes feel like an overwhelming chore.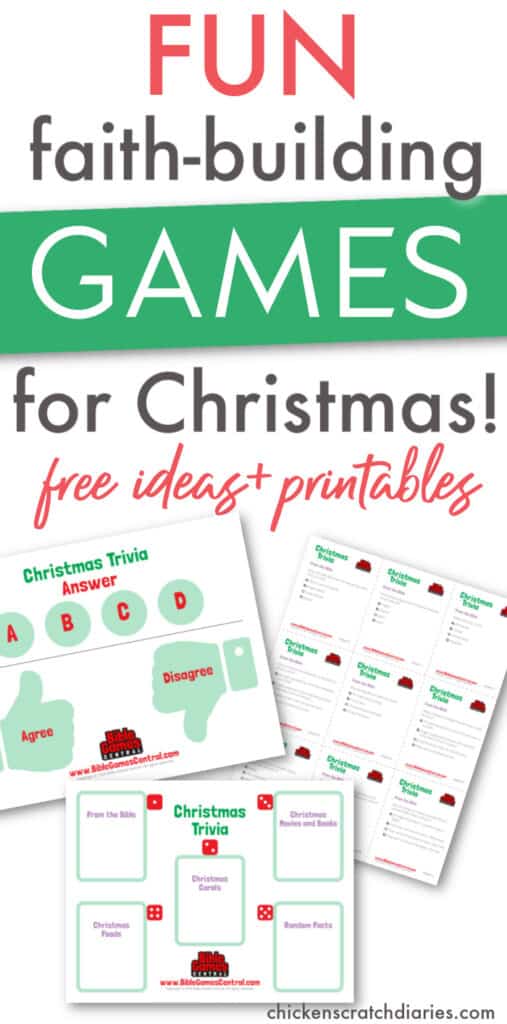 This site contains affiliate links to products. As an Amazon associate, I earn from qualifying purchases. Please read my disclosure for more info.
We all know that Christmas is a glorious season – a special time to celebrate the birth of Jesus Christ, God's greatest gift to mankind.
Christmas not only offers us countless faith-building moments with our little ones at home but is also the best time of the year to share Christ with those who have yet to know Him.
Make it Intentional with Christian Christmas Games
We really don't want to make excuses for ourselves, but sometimes it's hard to remember to put Christ in the center of Christmas.
Well, fret no more! Bible Games Central has put together a collection of super fun Christmas games that are easy to execute and a great springboard for talking about Jesus and the true meaning of Christmas.
There is a good mix of lively and quiet games for both kids and adults. All these Christmas games are provided free and are accompanied by printables to make preparations a breeze. Optional Bible lessons are also provided.
Here are some of our favorites.
Christmas Trivia is the seasonal variant of Bible Games Central's unique version of Bible Trivia. It comes with free printable Christmas Trivia Question Cards and Christmas Trivia Board.
Christmas Trivia Board: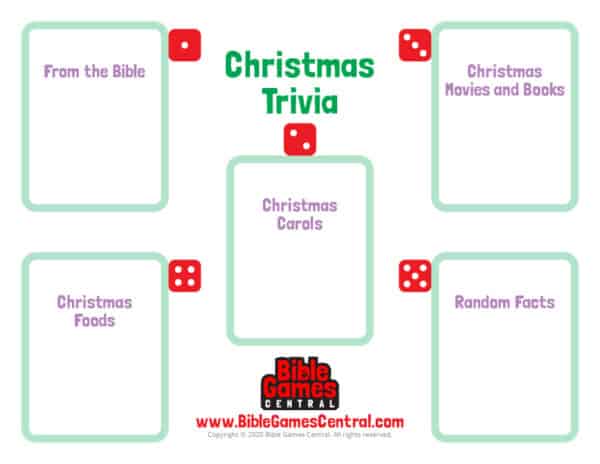 What makes Bible Games Central's version of Bible Trivia and Christmas Trivia unique is its gameplay. Everyone is involved at the same time for every question, and, while still a competitive game, those with less knowledge of the subject matter can still enjoy the game without feeling left out.
How to play
For each question, there will be an Answerer, whose role for that question is, well, to answer it. The player on the left is the Asker, whose role is to read the question. All the other players are Guessers, who can score points by correctly guessing whether the Answerer is right or wrong.
The Answerer begins by rolling the dice. The dice roll determines the question's category: (1) From the Bible, (2) Christmas Carols, (3) Christmas Movies and Books, (4) Christmas Foods, (5) Random Facts or (6) Answerer gets to choose.
The Asker draws the top card of that pile and reads the multiple-choice question aloud.
The Answerer then indicates their answer by placing their token on either A, B, C or D on the Christmas Trivia Board. Once the token is placed, the Answerer's choice is locked in and cannot be changed.
Now it's the Guessers' turn. They must indicate whether they agree or disagree with the Answerer by placing their tokens on either Agree or Disagree on the Christmas Trivia Board.
Once everyone has placed their tokens, the Asker reveals the correct answer. Two points are awarded to the Answerer for every correct answer, while Guessers who guessed correctly get 1 point each. The turn then passes to the next player to be the Answerer, and so forth.
This gameplay allows younger players and those less familiar with the Bible and Christmas traditions to play along and score points throughout the game.
Christmas Trivia is a great game to play with family or friends. You can use the simple Bible lesson provided at the end to talk about the true meaning of Christmas. Some of the Christmas Trivia questions may even trigger an interest in a Christmas movie that you can enjoy watching together!
(If you enjoy trivia games, check out their Bible Trivia game that is based on the same rules.)
If you prefer to stretch out the teaching of the Christmas story over 4 sessions, you may like the following series of 4 separate games. Each game can be played independently and is accompanied by a Bible lesson that covers a small part of the Christmas story.
2. Blanket Name Game
You will need a minimum of 6 players for this game but having more players will add to the fun and the challenge.
Divide into 2 teams. If you have extra players, have 2 helpers hold up a blanket between the 2 teams. Otherwise, the teams will have to take turns to quietly hold up the blanket while remaining hidden from the opponents.
Each team picks 1 player to stand on their side of the blanket (so you have 2 opponents facing each other, separated by the blanket.)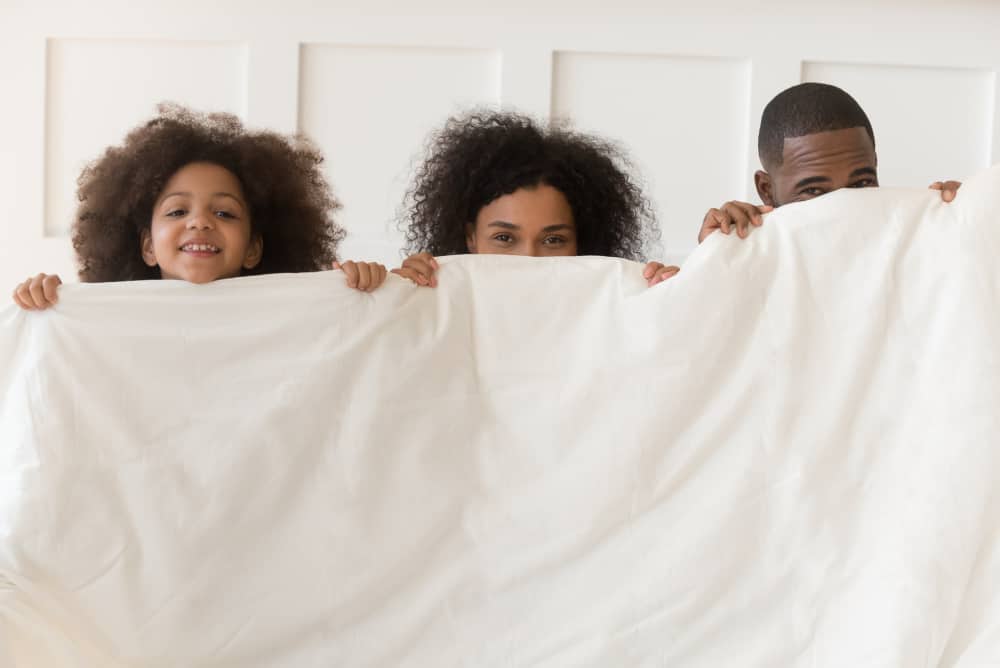 On the count of 3, drop the blanket. The first player who correctly shouts the opponent's name scores a point.
Use this game to introduce the Bible story about Mary being surprised by the greeting of the angel Gabriel.
3. No More Room
You can play this game with as few as 4 players.
Divide into teams of equal numbers, preferably of the same gender unless you are playing with family members. Give each team 1 sheet of newspaper. Place the newspaper on the floor, away from the walls and furniture.
All team members must stand on the piece of newspaper, with no parts of their bodies touching the floor or surrounding objects. Remain standing for 5 seconds.
Next, fold the newspaper in half and repeat. Keep doing this until only one team remains – this is the winning team!
Use this game to introduce the story of how Jesus' was born in an overcrowded Bethlehem.
4. Do You Hear What I Hear
Prepare 5 gift boxes (you can use shoe boxes or tissue boxes as well). Place 1 jingle bell in the first box, 2 bells in the second box, 3 bells in the third box, and so forth. Use sticky tape to seal all the boxes.
Label each box with the free printable "Do You Hear What I Hear? Box Labels", and give each player a copy of the "Do You Hear What I Hear? Answer Sheet".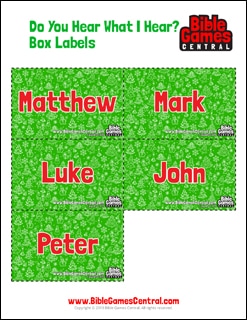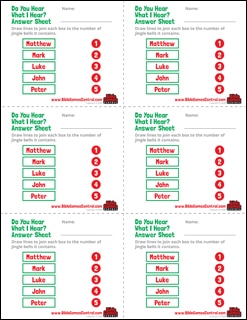 Players take turns to shake the 5 boxes, and guess which box contains 1, 2, 3, 4 and 5 jingle bells. Secretly record your guesses on the answer sheet.
Use this game to introduce the story about angels appearing to the shepherds to announce the birth of Jesus.
This is not just 1 but 5 different Christmas Scavenger Hunt ideas! They are all similar in that players must look for items unique to the Christmas season.
In Christmas Treasure Hunt, players look for hidden clues that eventually take them to the Christmas Treasure.
In Christmas Party Scavenger Hunt players look for 40 Hidden Cards of festive images.
In Christmas Scavenger Hunt Bingo, each player has a unique Christmas Bingo Card, and must look for 5 items in a row to "Merry Bingo Christmas!"
In Christmas Candy Cane Scavenger Hunt, the player who finds the most candy canes wins!
Finally, the Neighborhood Christmas Scavenger Hunt requires players to comb the neighborhood and take pictures with as many of the 40 given festive items as possible.
Use any of these Christmas Scavenger Hunts to introduce the story of the Magi from the east travelling to Bethlehem in search of the King of the Jews.
These are just a few of our favorite Christian Christmas Games. If you like these games, check out Bible Games Central for many more games in this collection, as well as other seasonal and non-seasonal games!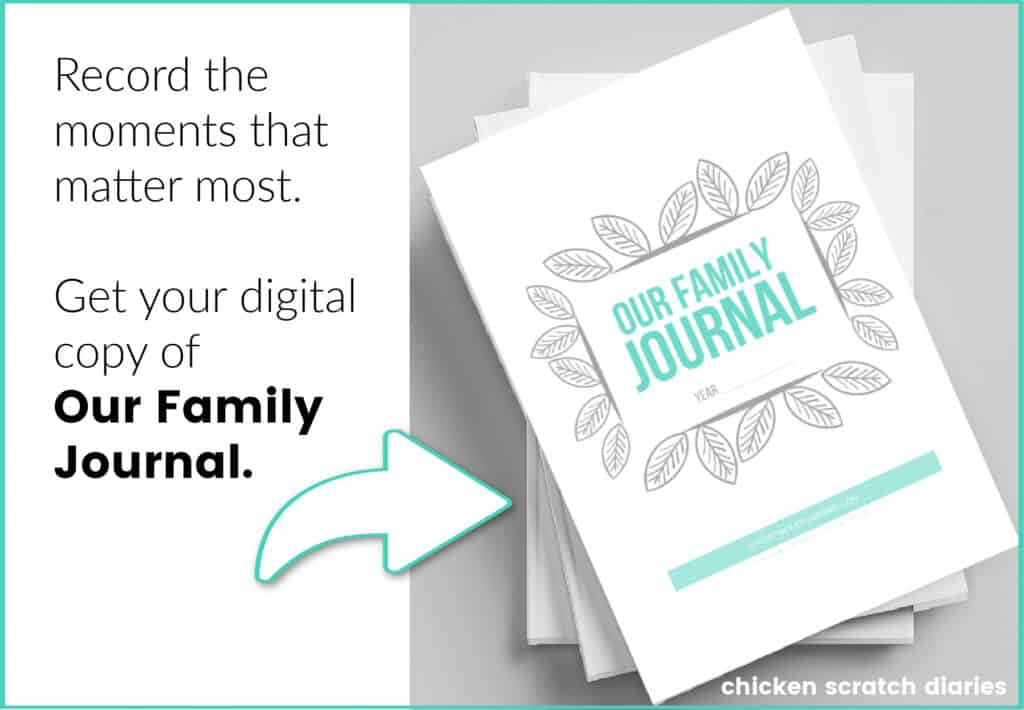 You might also like: