In my search for delicious and hearty soups for dinner, I found these modern takes on classic dishes to be some of the very best on the internet!
If I could serve soup every night for dinner, I probably would. At least – when the temp is 60 degrees or below.
Soups just feel good in a thick bowl, warming hands and bellies. (Much like my other favorite- herbal tea.)
If you're a craver of all things comfort food, you either get it or you don't. You're a soup person, or you're not.
But really, soups can be fun and easy to make (can you say immersion blender??), and also are great reheated for leftovers.
What could be better?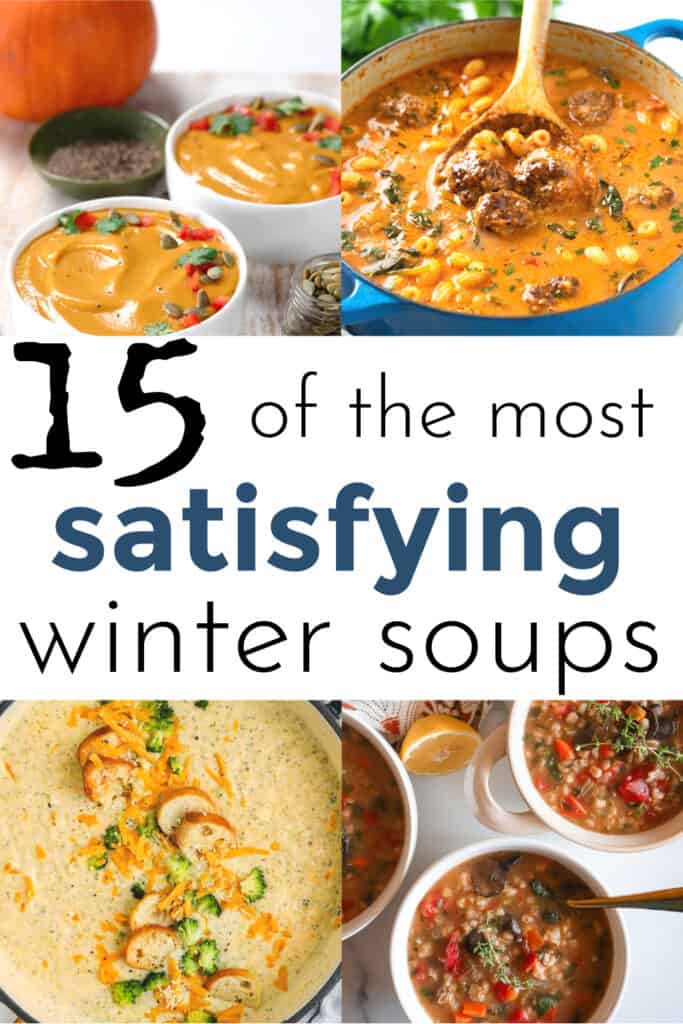 Hearty, Classic Soups with a Twist
These delicious winter soup recipes are the best way to get through the long, cold days this season!
Several on this list are soups you've probably heard of, but many are updated with a modern flare.
It's always great to have classic soup recipes on standby- without being the same boring version you've made 100 times before.
Each of these filling soup dishes are sure to hit the spot on a chilly day.
AND, I'm willing to wager even your picky kiddo can find a new favorite on this list. (Who knew my son would eat broccoli in a soup??)
This post likely contains affiliate links. Please see our disclosure for more info.
Read next:
Comfort Food Meals for Fall and Winter
Slow Cooker Cheesy Potatoes and Sausage
15 Hearty Winter Soups for Dinner
The Best Filling, Comforting Soups this Winter
When the cold temps set in, be sure to have these hearty winter soup recipes ready for a comforting meal.
I'm always thankful for versatile soups that you can easily swap out vegetables and other seasonings in a pinch, and you could definitely get creative with the ingredients in these recipes.
So start adding these ideas to your winter meal plan and let us know how you like them!