Strawberry Scones drizzled with a sweet glaze is the perfect dessert for Valentine's Day and beyond.
I have to admit I didn't always understand the allure of the scone. Scones were apparently not a big part of my childhood cuisine.
Fortunately, these misunderstood bakery treats have made a bit of a culinary comeback in my life.
And for Valentine's Day this year, I was happy to embrace the mystery of the scone in order to create a fun treat that I knew my family would love.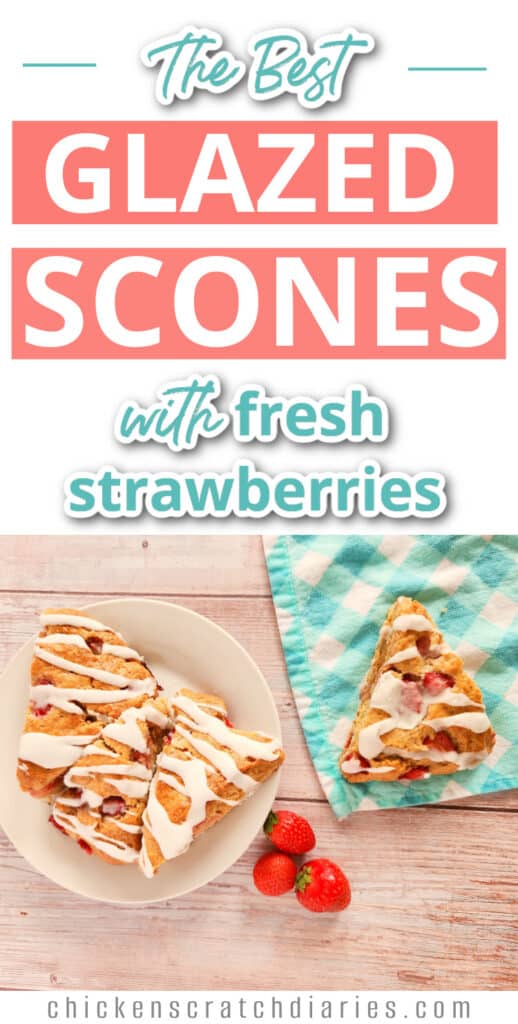 It turns out that scones are just as easy (maybe easier) than whipping up a batch of run-of-the-mill cookies.
When you add fresh strawberries in the mix, they become much fancier than a cookie and I can almost pretend they're healthy, too.
This post likely contains affiliate links. Please see our disclosure for more info.
Fresh Strawberry Scones
We're using fresh strawberries in this recipe, which I highly recommend. If you opt for frozen strawberries instead, be sure to thaw and drain any juices well.
There is something about fresh strawberries that make these scones extra special.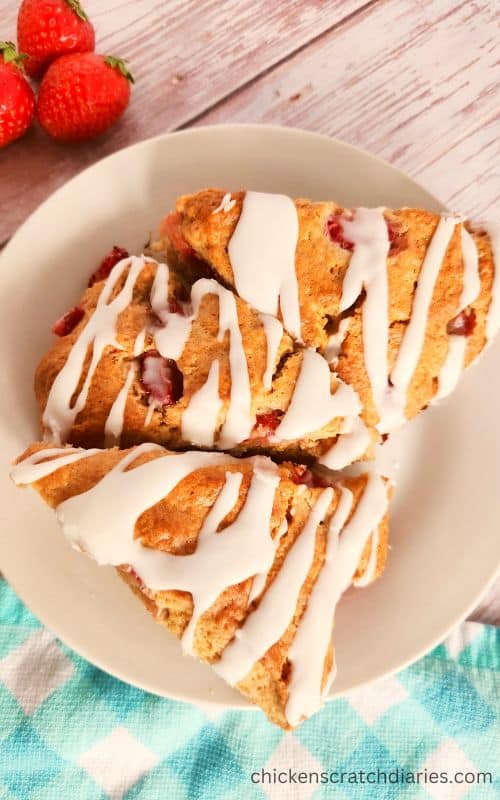 Bright chunks of strawberries plus the creamy glazed topping lends a balanced sweetness to the pastry goodness.
I especially love this choice of berries for a Valentine's Day dessert as strawberries simply belong with Valentine's Day, right?
How to Make Easy Strawberry Scones
As promised, there are very few steps required for making the best strawberry scones you've ever tasted.
Dry ingredients are first whisked together in a large mixing bowl along with the brown sugar.
Next, you will cut the butter into the flour mixture.
A good pastry cutter is really helpful for this task. (I've used the same one for years and years; it's really a cheap investment if you don't already own one.)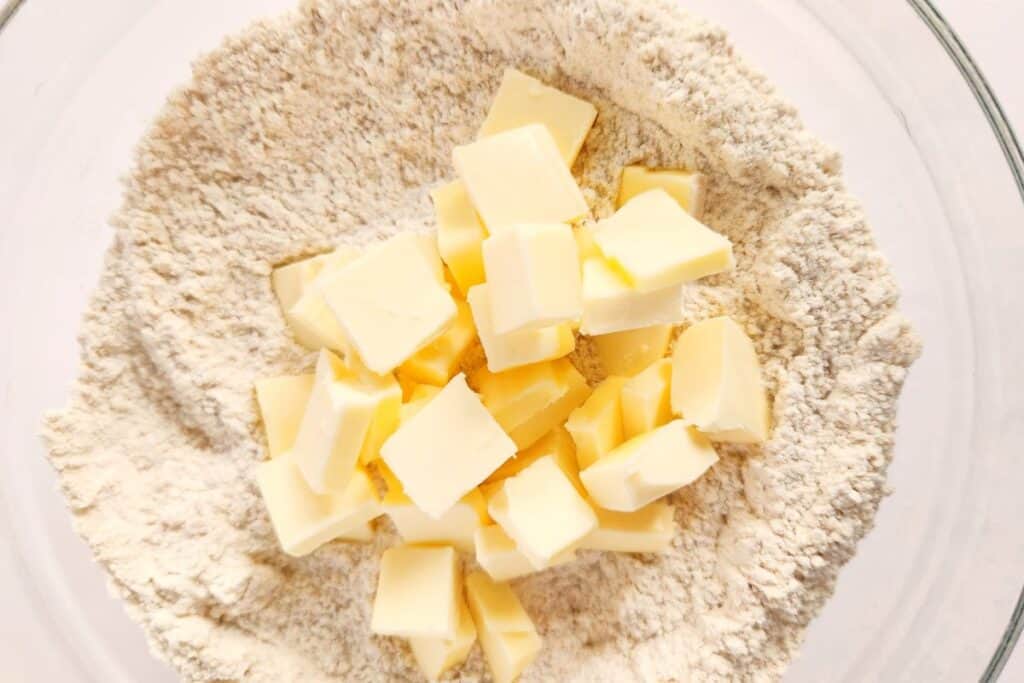 After mixing in the wet ingredients, it's time to fold in the strawberries and form the scones.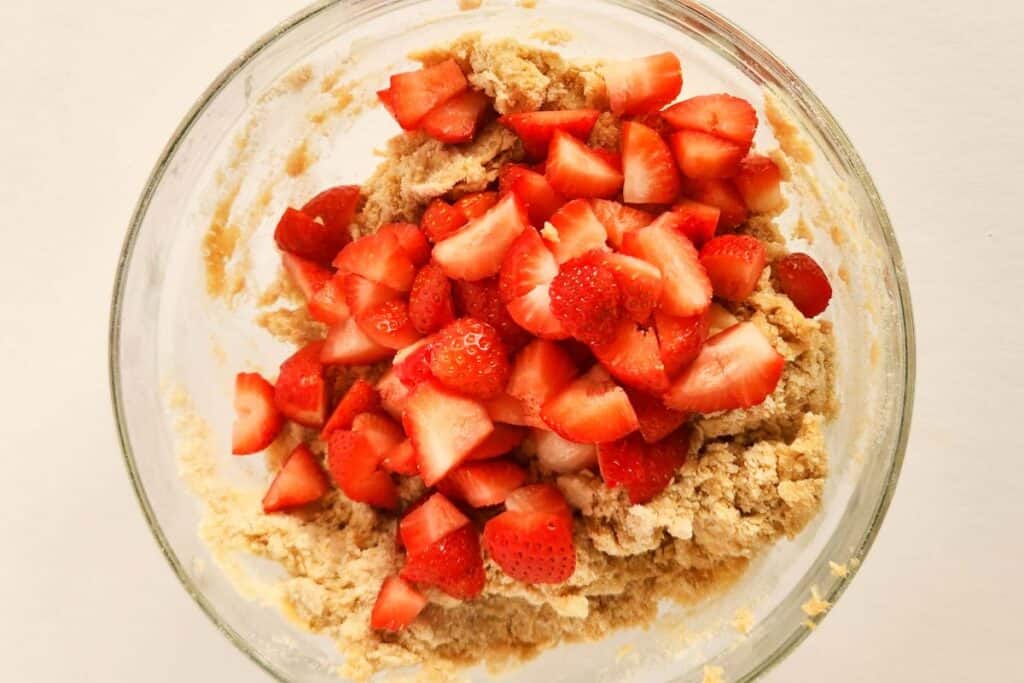 You can use either a baking sheet or a pizza stone if you have one. Parchment paper makes for easier cleanup in either case.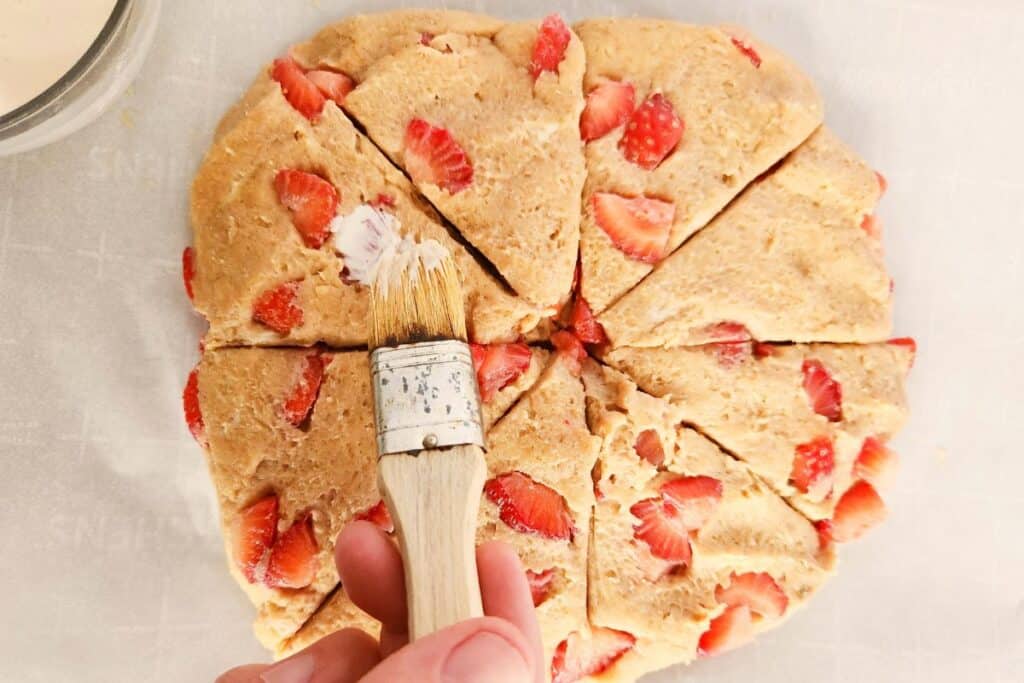 The hardest part is waiting for freshly baked scones to cool, but it's worth the wait! A rich glaze with powdered sugar and heavy cream awaits your finished dessert.
Serve it up with some coffee for a post-Valentine's Day dinner, OR invite some friends for an impressive brunch menu.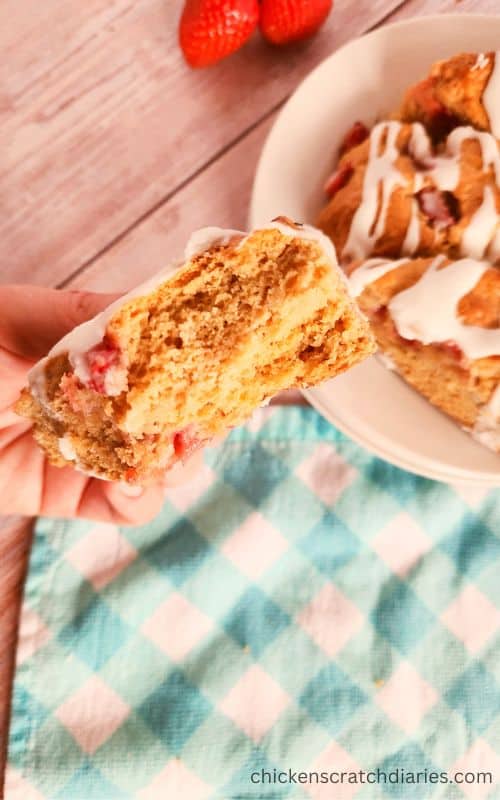 No one will know how simple it is to whip up glazed strawberry scones that even the kids can help make, with a little direction!
Yield: 8 scones
Glazed Strawberry Scones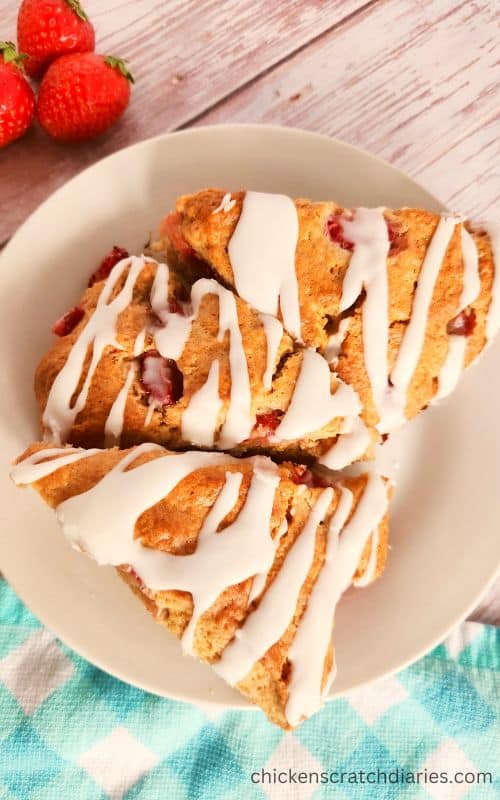 Delicious sweet and fruity scones drizzled with a rich glaze makes for the perfect Valentine's Day dessert or brunch.
Additional Time
15 minutes
Ingredients
For Scones:
2 cups all purpose flour
1 tsp baking powder
¼ tsp baking soda
⅓ cup brown sugar
8 TBS butter, cubed
½ cup heavy cream
1 egg
1 ¼ cup diced strawberries
For Glaze:
¾ cup powdered sugar
3 TBS heavy cream
Instructions
Preheat the oven to 400 degrees F. Line a baking sheet with parchment paper and set aside.
In a large mixing bowl, whisk together flour, baking powder, baking soda, and brown sugar.
Using a pastry cutter, cut the cold butter into the flour mixture until well incorporated.
In a small mixing bowl whisk together egg and heavy cream.
Pour wet ingredients into the dry ingredients and stir until almost incorporated.
Fold in strawberries until all ingredients are well incorporated.
Transfer mixture onto the prepared baking sheet and press into a circle roughly 1 ½ inch
thick.
With a sharp knife score the dough into 8 pieces and brush top of scones with 1/2 cup of heavy cream.
Bake for 20 min or until golden brown.
When scones come out of the oven separate them on a baking tray to cool.
For the icing, whisk powdered sugar and heavy cream until well incorporated.
Generously drizzle cooled scones with glaze and enjoy!
If you liked Glazed Strawberry Scones, you might also like:
Red, White and Blue Cookie Pizza Dessert
Valentine Peanut Butter Heart Cookies
Puff Pastry Cinnamon Twists (Easter Bunny version)