These peach pie turnovers make for an easy Sunday morning breakfast or after-dinner treat.
Often, I like to do things the hard way.
Like making bread, growing a garden and preserving produce in the summer.
Don't most of us love a good challenge?
And those things bring me joy. But you know what else brings me joy, sometimes?
NOT having to make something from scratch.
There are just some shortcuts I relish in, and this easy peach pie turnover recipe is one of them!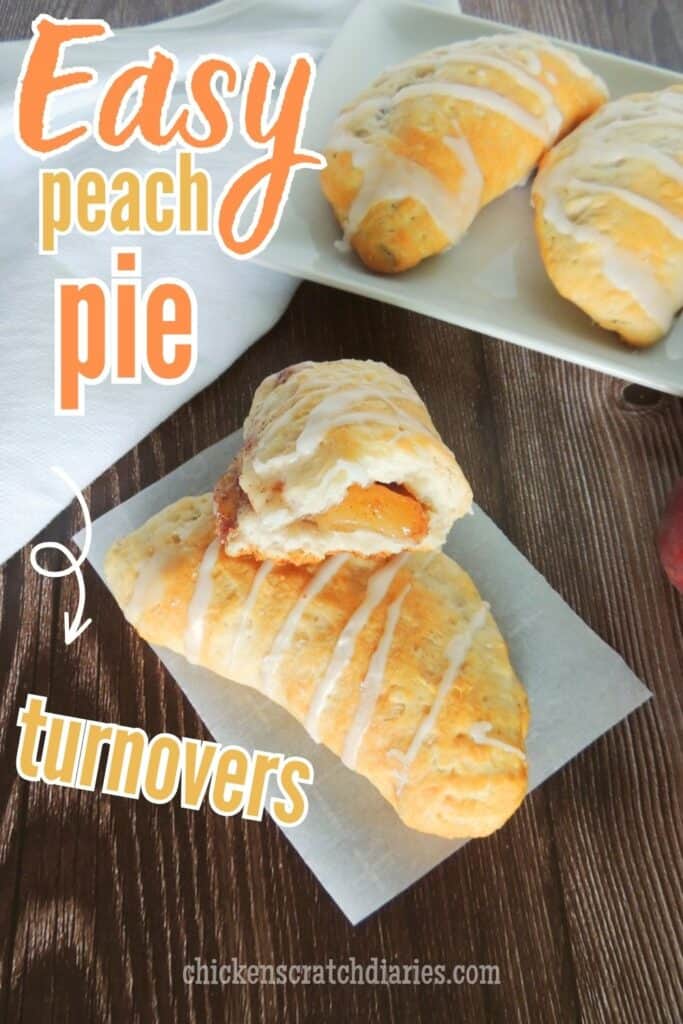 The Anything-Fruit Turnover Recipe
I think you'll love how easy and versatile this recipe is, too.
You can use any kind of fruit pie filling you like: cherry, apple, blueberry, etc.
Today we're using peach pie filling because it's a favorite at our house.
You could even add some cream cheese on top of the fruit filling to really jazz it up.
I'm even thinking pumpkin pie filling with some chopped pecans would be great this fall!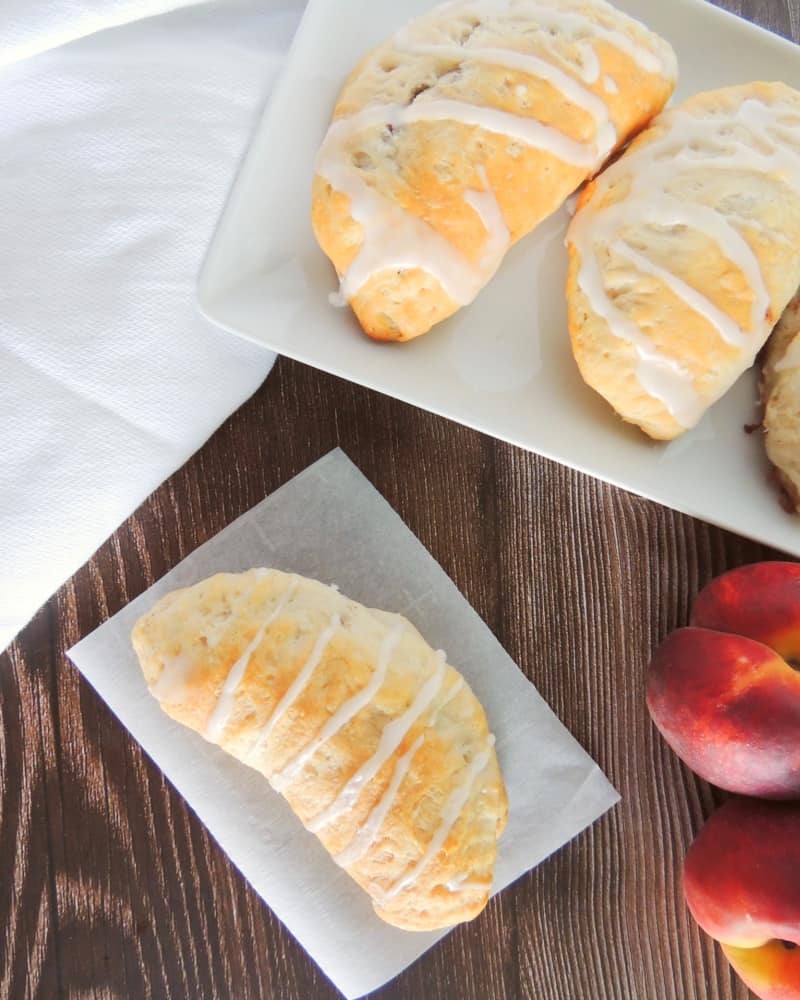 Making Easy Peach Pie Turnovers
Basic jumbo biscuits make up the crust for these fruit turnovers.
You'll stretch them out a little, add the filling and cinnamon mixture in the center.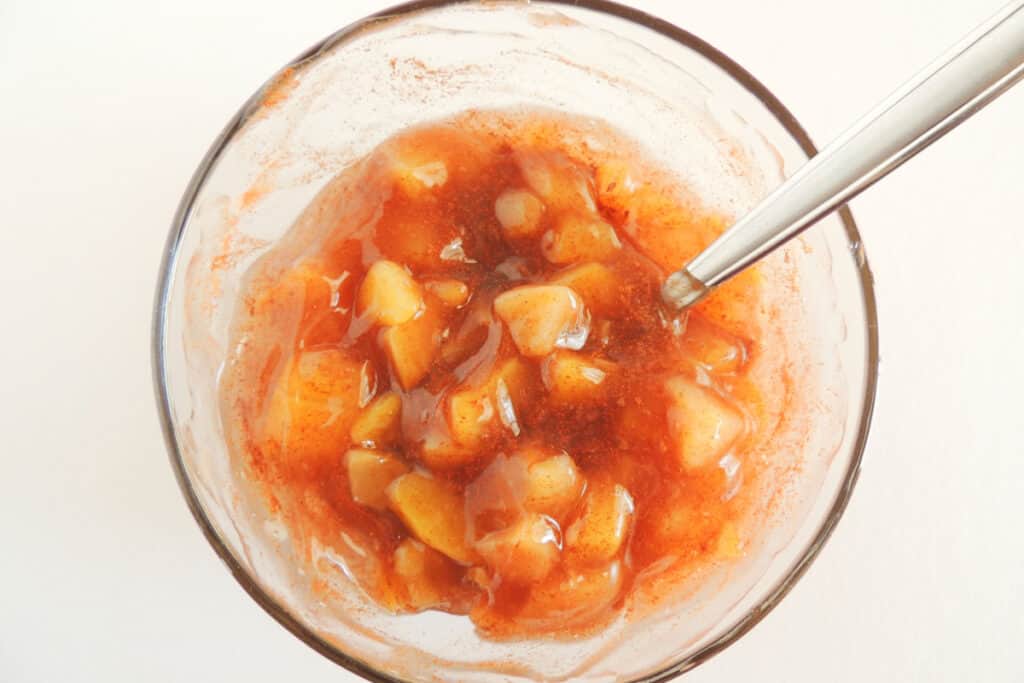 Then simply fold the biscuits over and crimp the edges with a fork.
The icing is made with powdered sugar and milk.
(Add some vanilla if you choose, for extra flavor.)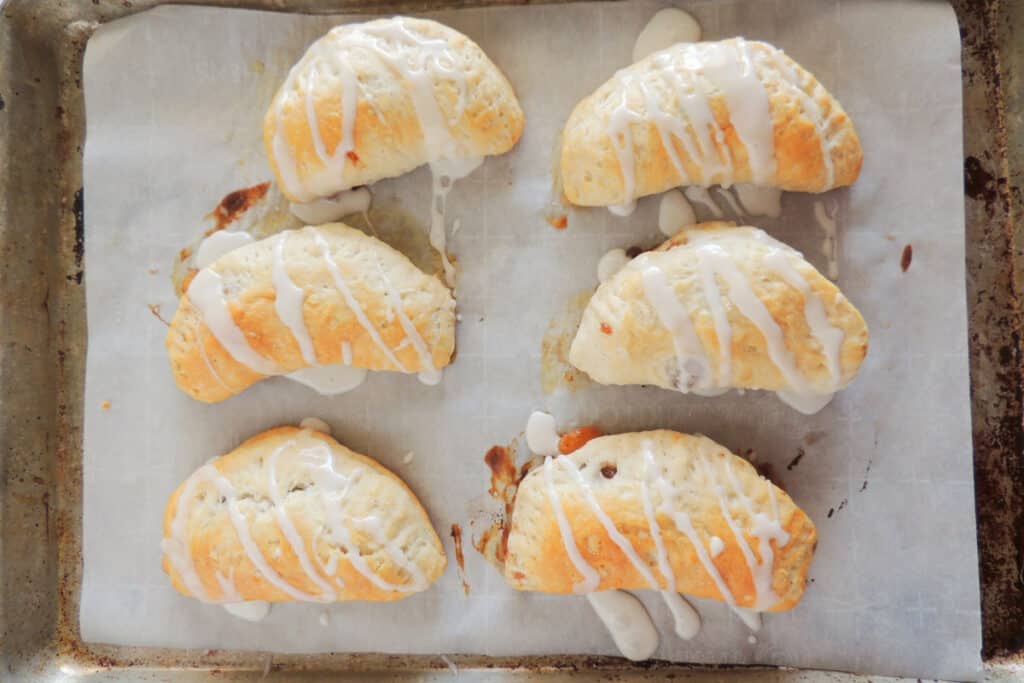 Of course, if you're in a biscuit-making mood, by all means- you could use homemade biscuit dough.
For me, that kinda defeats the purpose of keeping it simple.
But if I'm already making biscuits, I might make up an extra batch for this dessert now and then.
Kid-friendly dessert idea
With just five ingredients, you have an easy-to-make dessert that is fun for kids to make, too.
My ten-year-old has been on a baking kick lately, so this is one of his favorite recipes for a Sunday morning breakfast or after-dinner treat.
This project is actually a little too easy for him (at least he would say- ha!).
So your littles could definitely get in on the fun and help make this sweet treat for the family.
P.S., if your kids are interested in cooking, this is a great online course to try out!
Yield: 16
Quick Peach Pie Turnovers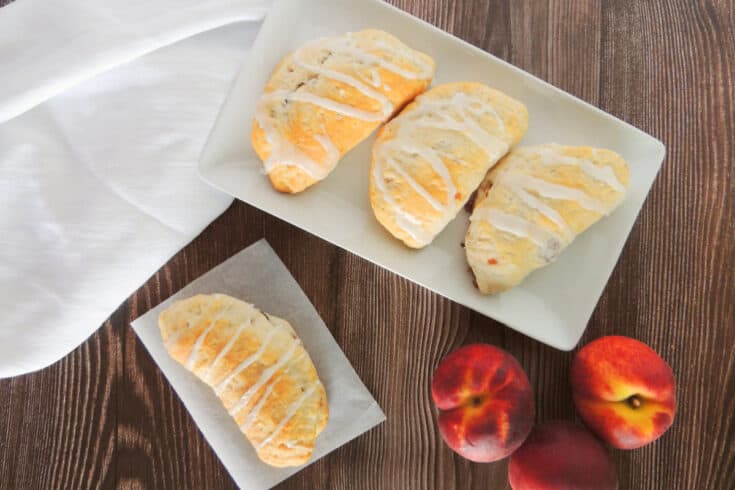 The easiest fruit pie turnover recipe, with only 5 ingredients.
Additional Time
25 minutes
Ingredients
2 cans jumbo biscuits (16 biscuits total)
1 can peach pie filling (approx 21 ounce)
2 teaspoons cinnamon
To make icing:
1 cup powdered sugar
4 teaspoons milk
1/2 teaspoon vanilla (optional)
Instructions
Preheat oven to 350 degrees F. Line a baking sheet with parchment paper and set aside.
Dump a can of pie filling into a small bowl, using kitchen scissors to cut the peach slices into small pieces.
Add cinnamon to pie filling and mix until well incorporated.
Using your finger press out the biscuit until it is about 4 inches wide.
Spread 1-2 TBS of pie filling across the center of each biscuit.
Fold the biscuit over and crimp edges together with a fork.
Bake for 15-20 minutes or until golden brown across the top.
Once pies are completely cooled, prepare icing.
In a small bowl add milk and powdered sugar and whisk until fully combined. (Add more milk if consistency is too thick.)
Drizzle icing over each turnover.
Enjoy!






You might also like: