Easy valentine peanut butter cookies make for a tasty activity on a cold February day.
Simplicity rules in this house. Especially when it comes to crafts and food – and especially where kids are involved.
My two youngest love to help in the kitchen, so I'm always looking for ways to make that happen. Frustration-free recipes are the key to happy holiday baking memories!
For Valentine's Day this year, I wanted to find something they would love to make AND eat.
And, with some prodding, they'll hopefully share with others since that's kind of the point of the holiday.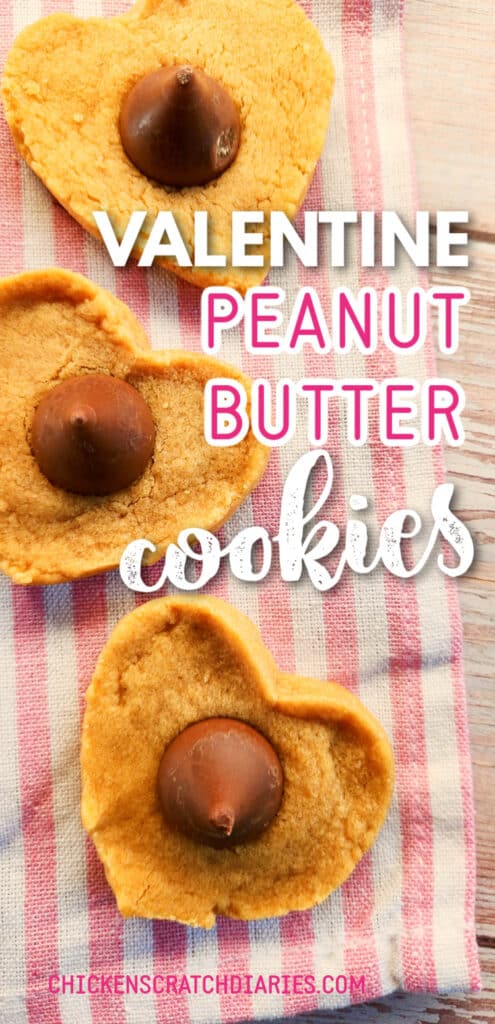 If you have peanut-butter-loving kids who also like to cook, I can wholeheartedly recommend these heart-shaped peanut butter cookies.
Read next: Frosted Mocha Brownie recipe
Four-ingredient peanut butter cookies
The best part is, these cookies only use four ingredients, including peanut butter, sugar and an egg . These are pantry staples in our house, and likely are in yours as well.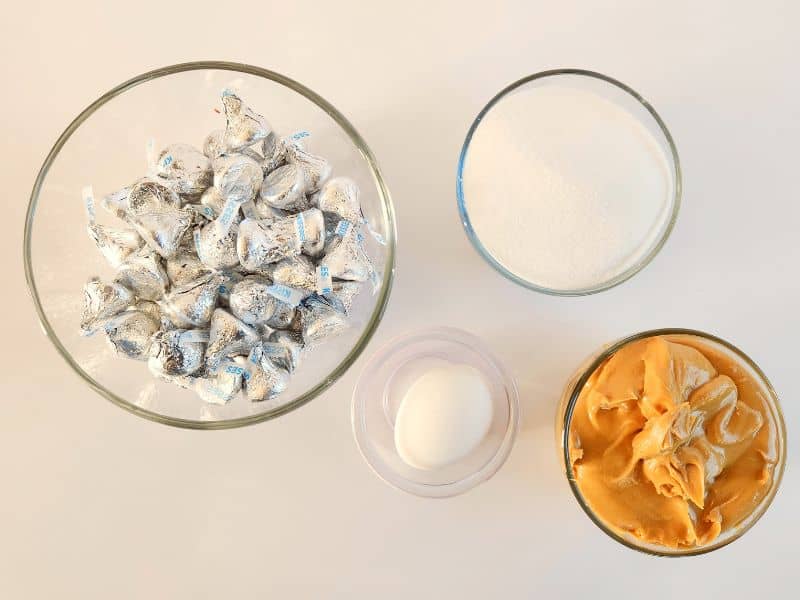 The chocolate kisses may require a grocery store run, but that's about it.
(True story: I seriously hoard peanut M&Ms in my secret stash. Maybe the chocolate Kisses should join them, hmm…)
How to make Valentine's Day peanut butter cookies
With four ingredients, you can imagine that it takes very little to put these together!
You can mix these up by hand, but an electric mixer will make them smoother and will speed up the process.
Instead of rolling out dough (as with sugar cookies), you will actually press the dough into a 1.5-inch cookie cutter. This one would work well.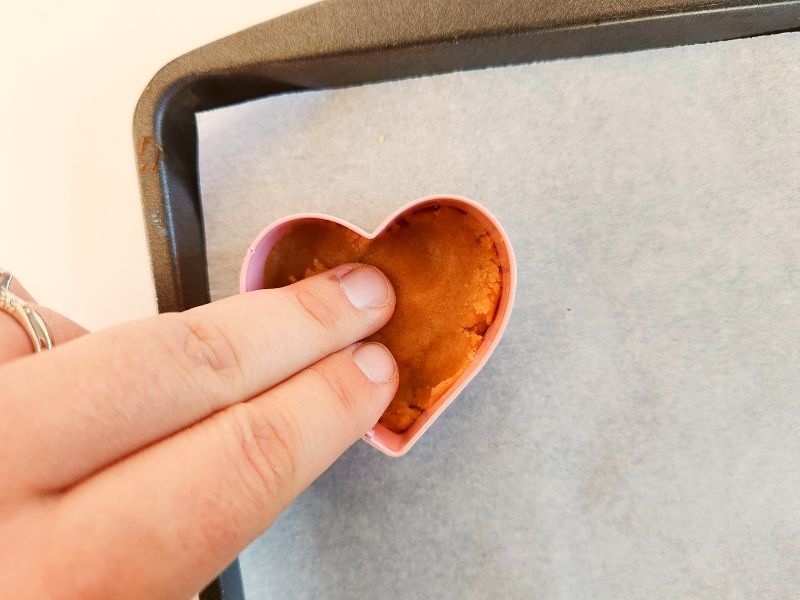 If you order more than one, your kids won't have to fight over – I mean, share – the same cookie cutter. Just a tiny helpful hint.
Of course, you can use a larger sized cookie cutter or whatever shape you prefer. The mini 1.5-inch size will yield about 24 cookies, depending on how much dough you press into them.
I prefer to make these somewhat thin. Just keep an eye on them if you make a thinner version as they won't take as long to bake.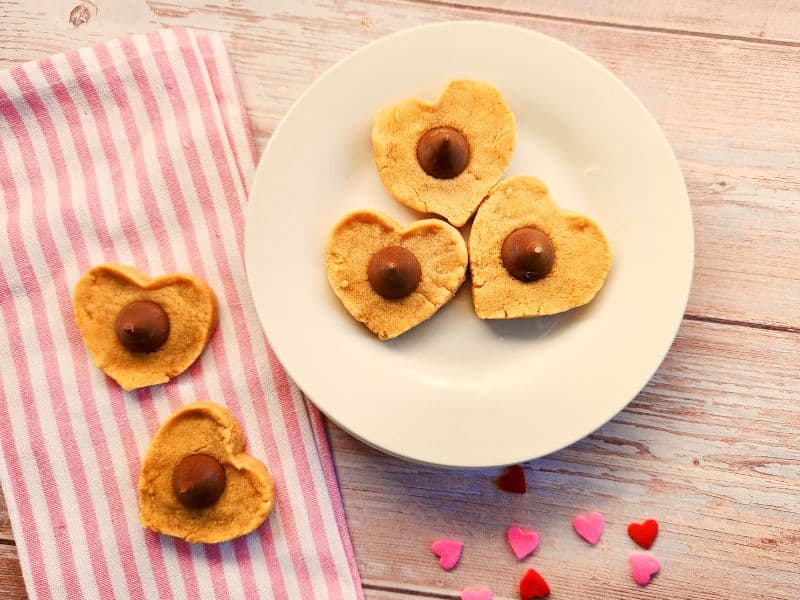 Read Next:
Valentine Treat Box- Free Printable template
Glazed Strawberry Scone Recipe
Other ideas- Valentine Peanut Butter Cookies
You can get really creative with these Valentine peanut butter cookies if you wish. Your kids might even have some great ideas for decorating them.
Here's a few options:
Melt semi-sweet chocolate chips for a few seconds in the microwave, stirring often. Dip your baked and cooled cookies halfway and let dry on waxed paper.
Use Valentines M&Ms (or mini M&Ms) and outline the border of your cookies. Simply press into the dough before baking.
Sprinkle with sprinkles or finely crushed peppermint before baking.
Decorate cooled cookies with icing or pipe icing around the border. Maybe hearts-within-hearts if you're feeling fancy?
Consider taking them to your neighbors, church family or maybe a friend who needs a little pick-me-up this Valentines Day.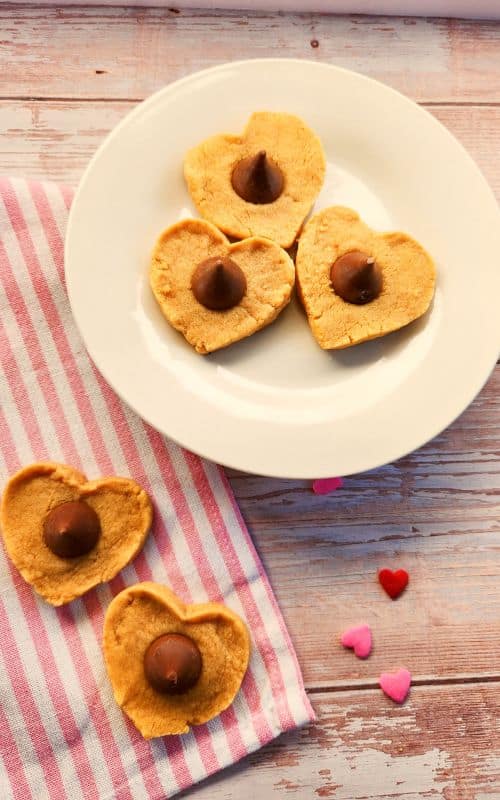 Print the recipe below to make these with your favorite kiddos. And let us know what fun ideas you come up with to make them unique!
*You can find more easy snacks that even preschoolers can make here.
Yield: 24
Valentine Peanut Butter Cookies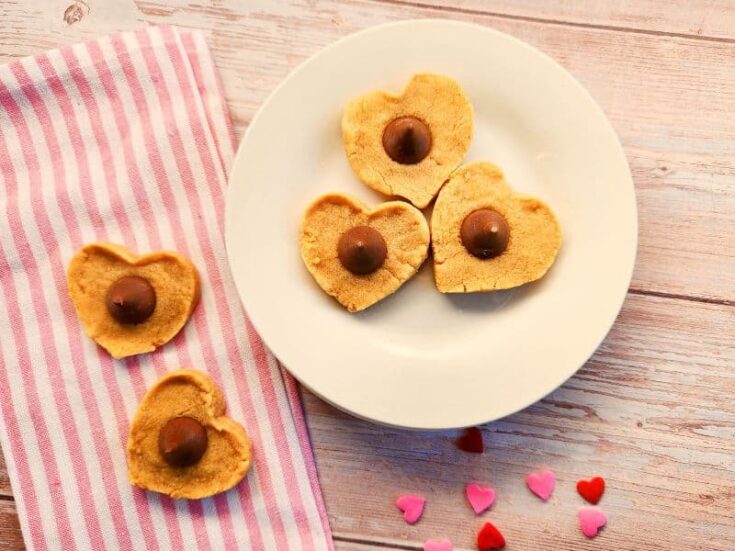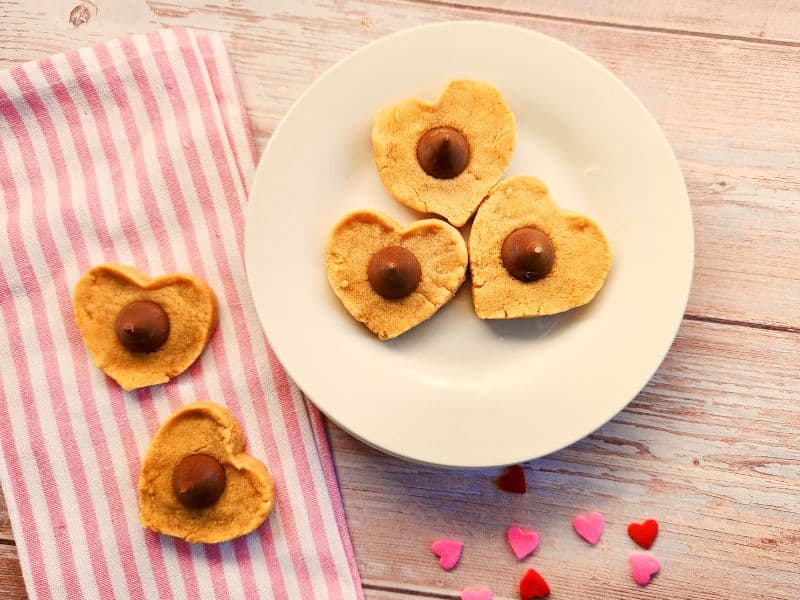 Crispy, sweet peanut butter treats to make with your sweets this Valentines Day.
Ingredients
1 cup peanut butter (smooth or crunchy)
1 cup granulated sugar
1 large egg
24 chocolate kisses
Instructions
1. Preheat oven to 350 degrees F. Line a cookie sheet with parchment paper or a reusable oven-safe baking mat.
2. Add peanut butter, sugar and egg to a medium sized mixing bowl and combine with an electric mixer until a crumbly dough forms.
3. Using a 1.5 inch heart cookie cutter, press cookie dough into the cutter to create a heart shape. Repeat for the remaining dough.
4. Bake for 6-8 minutes. Gently lift the bottom of one cookie to check for doneness.
5. While still hot, press a chocolate kiss into the middle of each cookie.
Serve and enjoy with your Valentines once cookies have cooled!
You might also like:
Printable Valentine Kitten Card Craft
5-ingredient chocolate chip cookie bars
Quick and easy no bake energy balls
40 Cold weather activities for Kids
Best oatmeal gingerbread cookies