Need an easy Valentine craft that doubles as a treat box? This DIY Valentine party favor is fun and simple to make!
I have too often overlooked Valentines Day and how much my kids look forward to it.
We seem to focus on the Thanksgiving and Christmas holiday (the Big Ones), and then by the time February rolls around my brain just goes into hibernation mode.
When one of my older kids was in elementary school, I even forgot to buy and send Valentine cards one year. So sad!
Since we started homeschooling our younger two kids a few years back, though, we have enjoyed making our own valentines.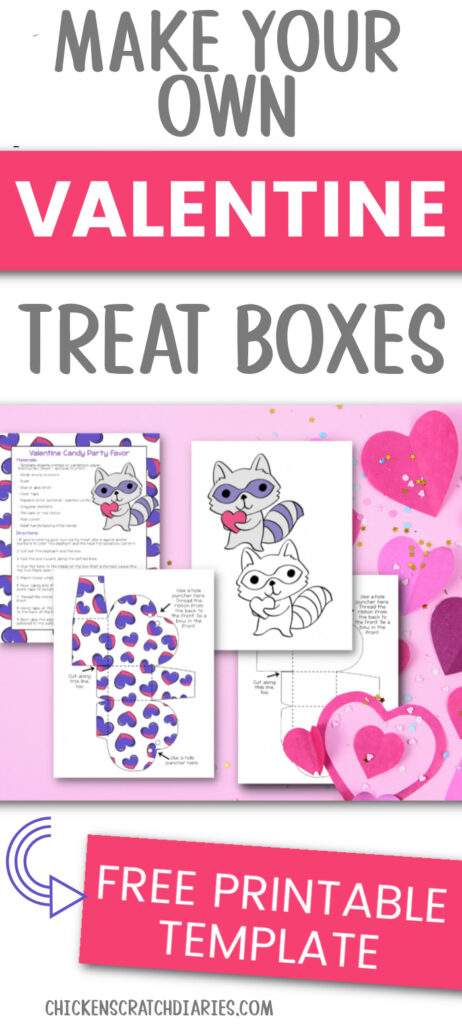 (Of course, there's way less pressure at home. But that's another story.)
It's fun to think of different ways to celebrate and who we can bless with a special card or treat on Valentine's Day.
Ideas for Valentine treat boxes
If you're looking for a cute way to package treats like candy hearts, these printable valentine treat boxes make it easy.
Don't like candy hearts? Pick your favorite candies instead! Chocolate kisses, homemade candies – take your pick.
With some simple cardstock, you'll be on your way to making your own Valentine party favors in no time.
Honestly, with a free valentine printable pdf like this one, it makes planning for Valentine's Day a little more fun. And you end up with a more unique Valentine with a personal touch.
In this printable template, we've included a black & white version that kids can color themselves, along with a pre-colored version.
You can choose which one works best for your kids' ages.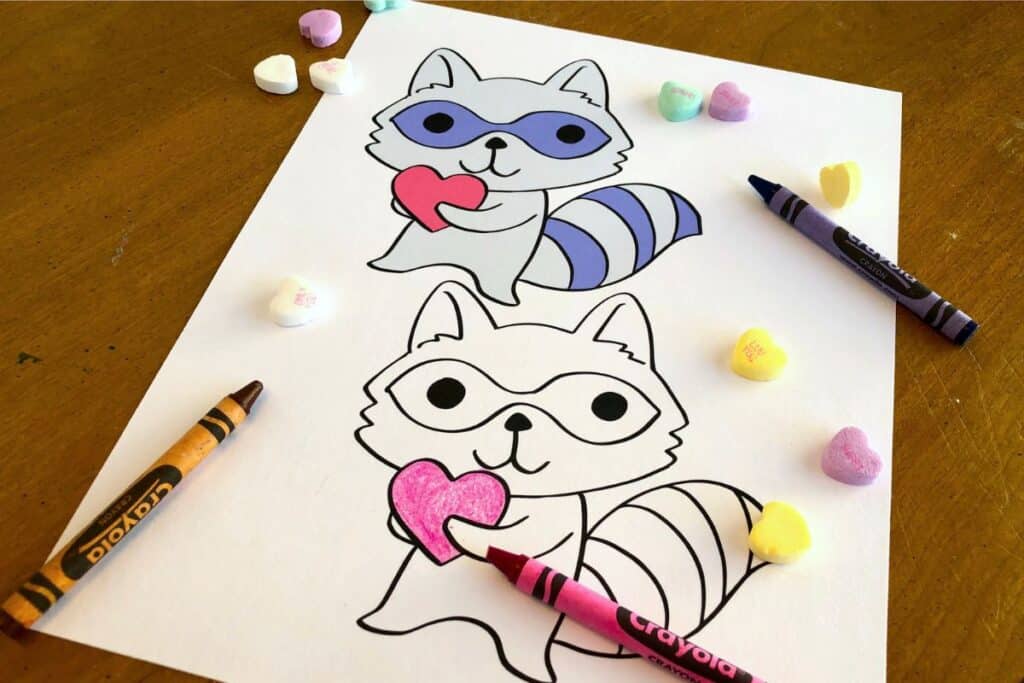 I think these would be fun to give out at a Valentines Day party at school or homeschool groups, or even for Sunday School.
P.S., I also found these conversation hearts that I think I'll use in my treat boxes for Sunday School this year! (They are individually wrapped, too.)
DIY Valentine Party Favor Instructions
Below, you'll find a quick step-by-step video of putting this project together.
There are printable instructions below as well as more images showing the steps, in case you need the visuals to refer to.
DIY Valentine Party Favors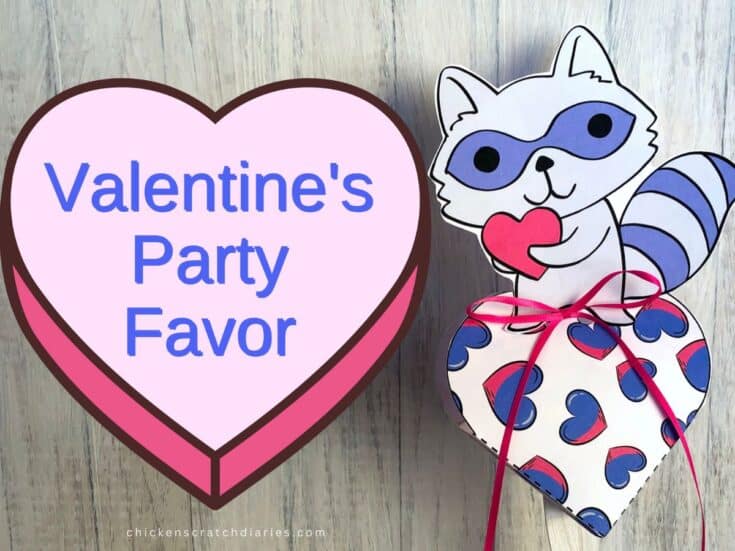 Print, glue and fill your Valentine treat boxes. Attach to a large popsicle stick for easy transport.
Materials
Template Sheets printed on Cardstock paper
Small, sharp scissors
Ruler
Glue or Glue Stick
Clear Tape
Jumbo Popsicle Stick
Crayons, Markers (optional)
Thin Pink or Red Ribbon
Hole Punch
Instructions
If you're coloring your own treat box, use crayons and/or markers to color the racoon and the heart-shaped box pattern.
Cut out the raccoon and the box template.
Fold the box inward, along the dotted lines.
Glue the tabs to the inside of the box that is formed. Leave the top two flaps open to insert candy.
Punch holes where the small circles are.
Pour candy (or individually wrapped pieces) into the top of the heart box. You may want to use some tape to secure the two flaps in place.
Thread the ribbon from the back to the front. Tie a bow in the front./
Using tape, or thick craft glue, fasten the top of a popsicle stick to the back of the heart-shaped box to use as a handle.
Finally, glue the raccoon to the front of the box. His legs should be adhered to the outsides of the two holes.
Let us know in the comments how you plan to use these Valentine treat boxes with your kiddos!
You might also like:
•Super Easy Valentine Heart Cookies