Make this Fourth of July Cookie Pizza that comes together quickly for a festive dessert!
Freedom, fireworks, family, fun…and food!
All the components of a great 4th of July celebration.
(And mosquitoes. Note to self: Always pack bug repellant.)
We always have some sort of gathering with friends or extended family during the Fourth of July.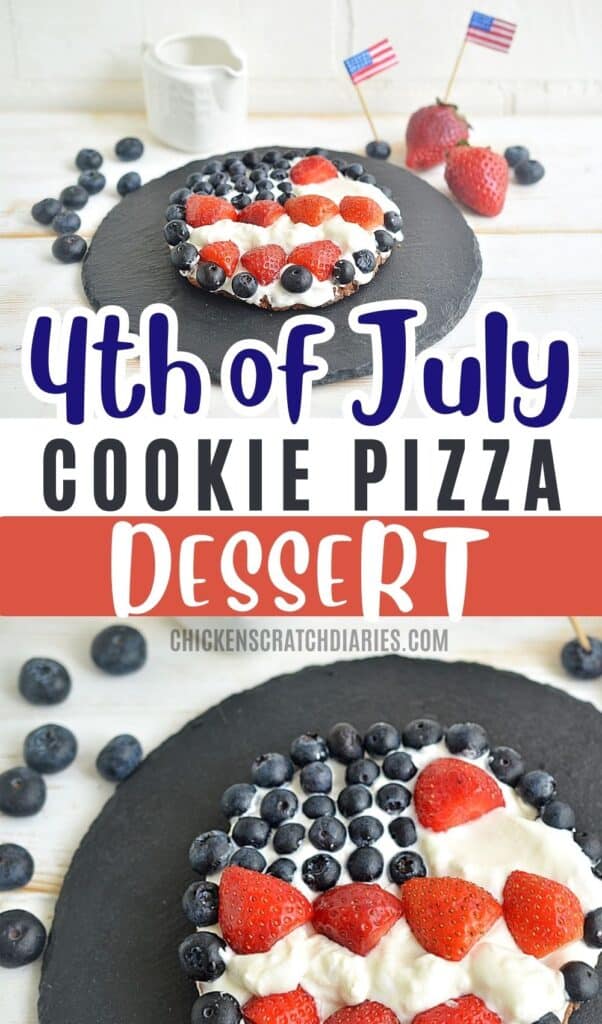 And that means, of course, potlucks and all the red-white-and-blue things!
If you're looking for an easy and colorful 4th of July dessert, try this red, white and blue cookie pizza for this year's get-together.
4th of July Dessert Pizza
Cookie pizza is a fun sweet treat that we love to make for the kids' birthdays.
Typically, we just ice them with some homemade frosting and sprinkles.
(The kids like to do this themselves!)
They always look deceptively fancy.
But the secret is, cookie pizzas are faster than making a cake OR individual cookies.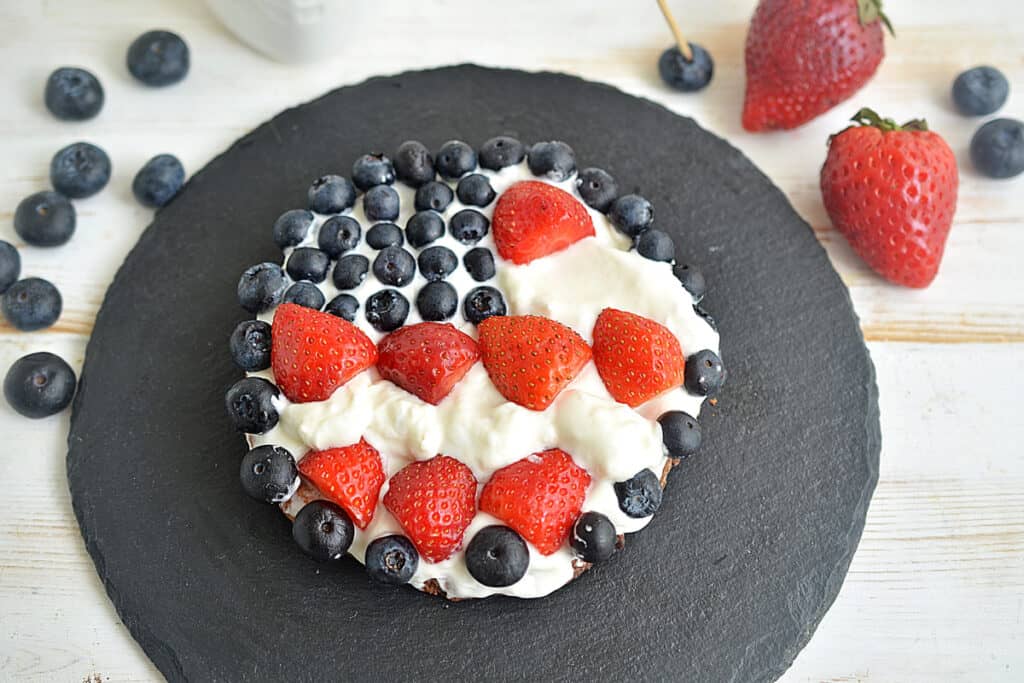 This summer, I thought- what if we made a Fourth of July cookie pizza version?
Instead of frosting, add some red, white and blue berries in the shape of a flag.
It's fresh and festive – and actually super easy to make.
This post likely contains affiliate links. Please see our disclosure for more info.
How to make this red, white and blue dessert pizza
The ingredients for this patriotic dessert pizza are very simple.
The base is a simple chocolate chip cookie dough (minus eggs).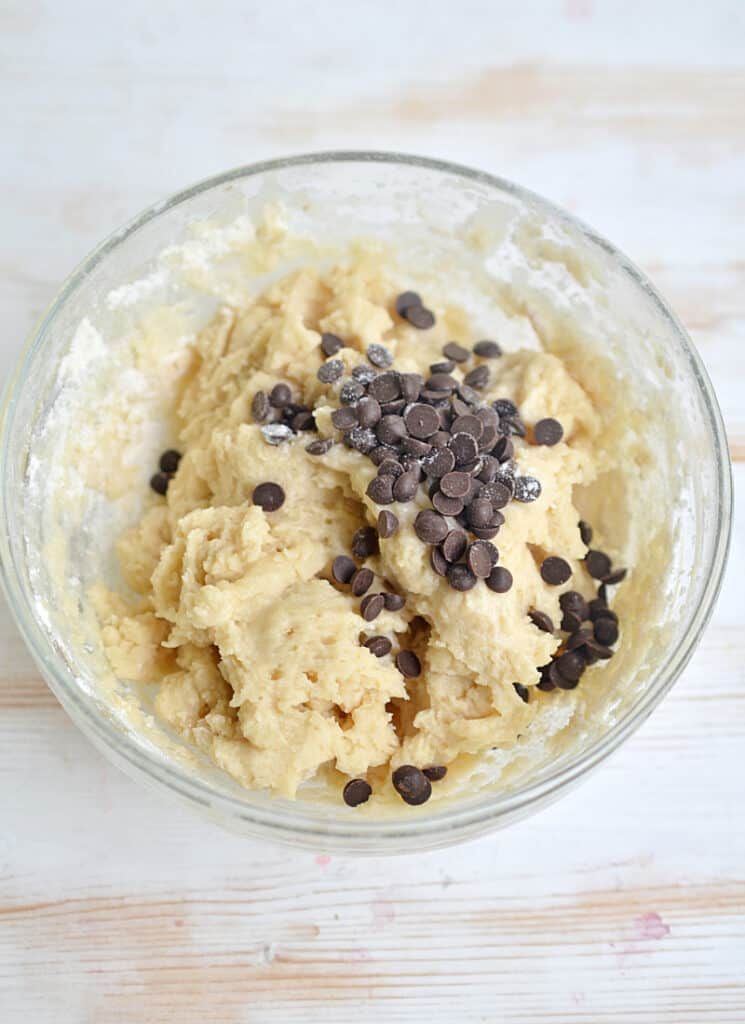 Once the pizza is baked and cooled, you only need cream cheese, strawberries, and blueberries for topping.
Additional Notes: Fourth of July Berry Pizza
This recipe makes a medium-sized cookie pizza, not a full pizza-pan size.
You can easily double the ingredients to make a larger dessert.
I like to use a well-seasoned pizza stone for either size.
Another idea is to double the recipe and make the 2 smaller crusts; then layer the cream cheese and berries between the 2 crusts.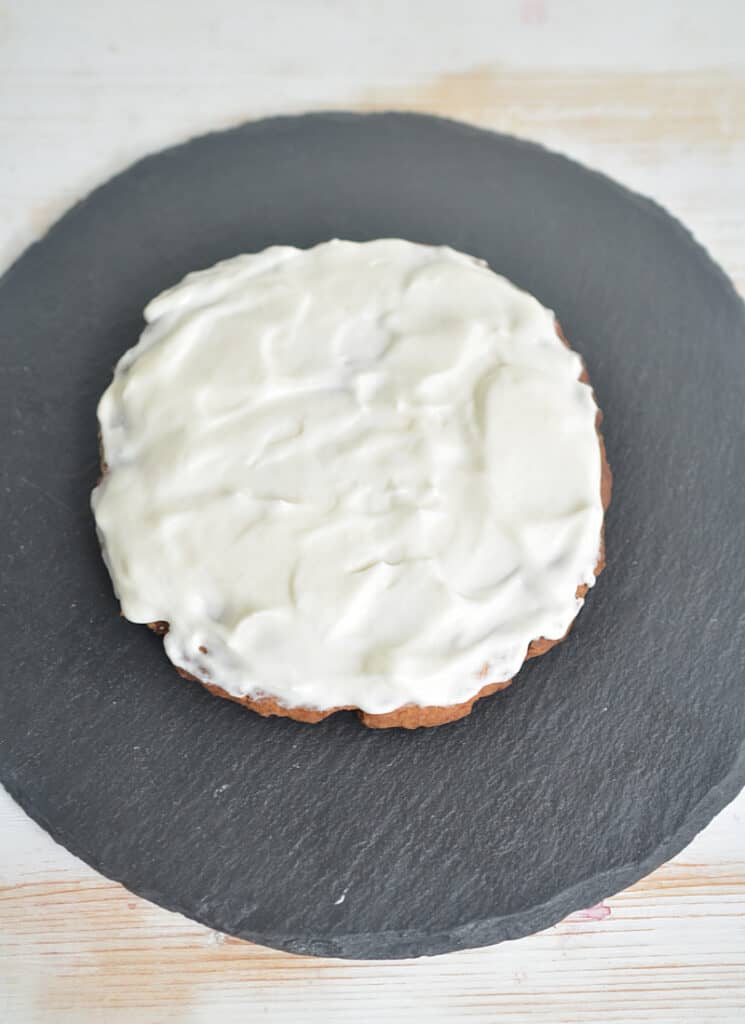 Add more cream cheese and berries to the top for a double-layered fourth of July cookie pizza.
Happy Fourth, friends!
Fourth of July Cookie Pizza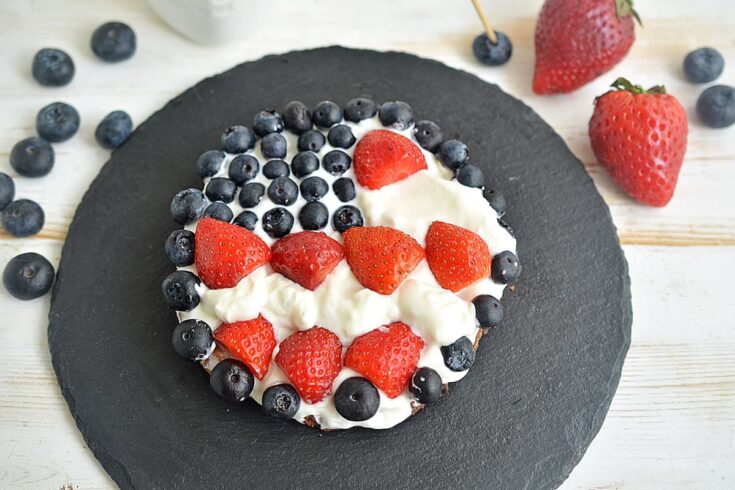 A red, white and blue cookie pizza that is festive and super easy to make!
Additional Time
15 minutes
Ingredients
For the cookie crust:
1/4 cup flour
2 Tablespoons butter, softened
2 Tablespoons brown sugar
1 Tablespoon granulated cane sugar
1 Tablespoon milk
1/2 teaspoon vanilla extract
Pinch of salt
2 Tablespoons mini chocolate chips
For the topping:
4 ounces of cream cheese, softened
1/2 cup fresh blueberries
1/2 cup fresh strawberries, sliced in half
Instructions
Preheat oven to 375 degrees F.
In a mixing bowl, blend together the softened butter, sugars, milk and vanilla until well combined.
Add the flour and a pinch of salt; mix until combined.
Stir in the mini chocolate chips with a large wooden spoon.
Form a round "pizza" shape with the dough and place on a cookie sheet or pizza stone, lined with parchment paper.
Bake at 375 degrees F for approximately 30 minutes.
Allow to cool for at least 15 minutes.
Remove the parchment paper.
Spread the softened cream cheese over the cookie pizza crust.
Top with blueberries and strawberries, forming the shape of the American flag.
Enjoy!
You might also like:
Quick and Easy Chocolate Chip Cookie Bars
Sweet Glazed Strawberry Scones