This is such an easy bar recipe – with few ingredients – that you'll want to keep these pantry staples on hand from now on, for a quick treat any time.
If you're needing a last-minute dessert, these 5 ingredient chocolate chip cookie bars are simple and quick, gooey goodness.
They've become my go-to carry-along treat for church dinners, school functions and holiday snacks.
If you have just a few basic baking staples and a yellow cake mix –
-chocolate chip cookie bars are just minutes away from becoming your favorite shortcut, too.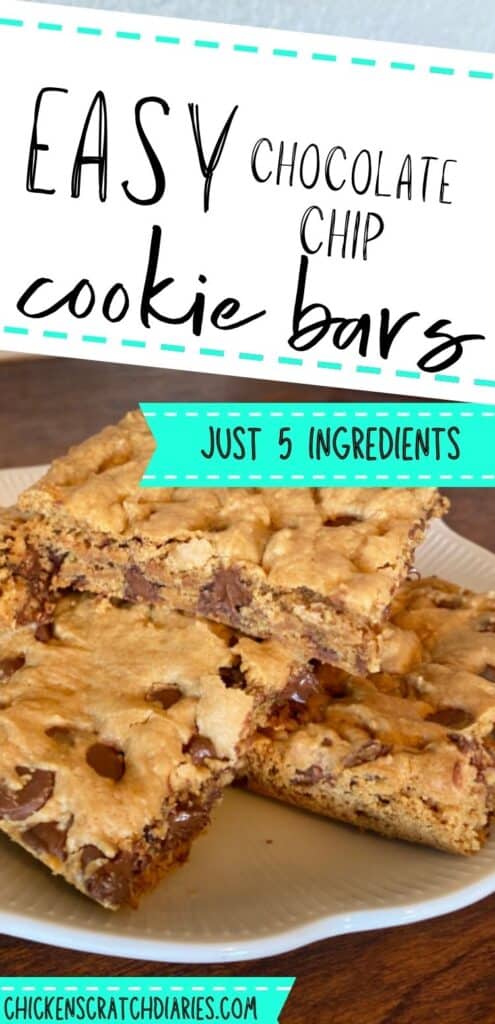 5 ingredient dessert- to the rescue
Let's say it's 9:00 on Sunday morning and you just realized you haven't made anything for the after-church potluck today.
You contemplate stopping at the bakery on your way to church and serving a perfect-looking Boston Creme Pie.
You could easily slide it onto your grandma's fancy platter.
No one would be the wiser. 😉
But, you'd rather make something homemade.
Digging through the pantry, you take stock of your sad assortment of pasta, neglected Shredded Wheat…
…a bag of chocolate chips and stockpile of tomato sauce you bought on sale.
You wonder what on Earth you could throw together and still have time to wash your hair (for the first time all week).
Sound familiar?
This post likely contains affiliate links. Please see our disclosure for more info.
Read next: Best Strawberry Scone Recipe
Enter: 5 Ingredient Chocolate Chip Cookie Bars!
This is why I love 5 ingredient desserts.
You can keep these basic pantry staples on hand and make these bars anytime you need a quick last-minute dessert or potluck treat.
And if you don't, I guess you *could* get really creative with that pasta and cereal but I wouldn't suggest it.
Looks like you'll be stuck making that bakery run, because it doesn't get much easier than this!
There may not be time to make actual chocolate chip cookies and still get everyone to church on time. (What a dream!)
But you can throw these together in five minutes.
And they should be cool before you run out the door – with clean hair and all. 🙂
Ingredients
1 yellow cake mix
1 stick of butter (salted or unsalted)
2 large eggs
1 package of chocolate chips (or 2 cups)
1 teaspoon of vanilla (the four fold vanilla from Azure Standard is my favorite!)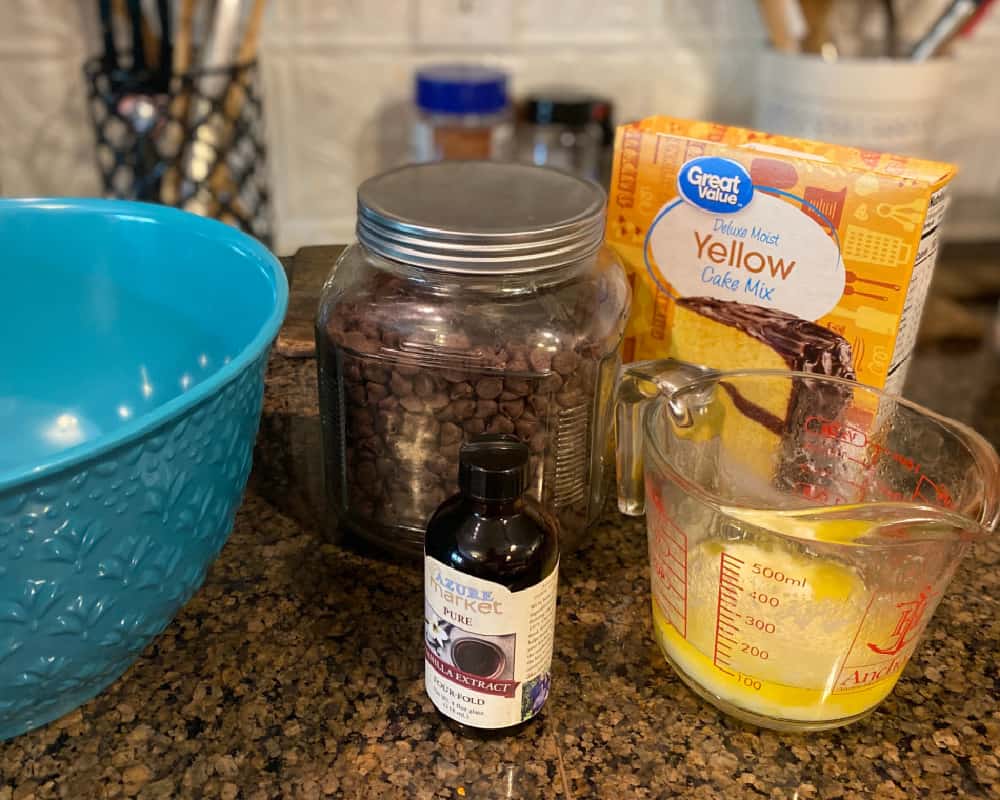 Instructions:
1| Preheat oven to 350 degrees and use your stick of butter to grease a 9×13 baking pan.
(I don't like to use cooking spray- it gunks up all my pans! Butter is healthier anyhow.)
2| Melt the butter in the microwave in a glass bowl.
3| Add the package of cake mix into the same bowl with the melted butter and stir with a sturdy wooden spoon.
Add the 2 eggs and vanilla and stir some more.
Most of the versions of this recipe I've seen omit the vanilla but I really think it makes it more chocolate-chip-cookie-ish.
So definitely throw it in there if you have some.
But yes, if you don't have vanilla it can totally be 4-ingredient cookie bars.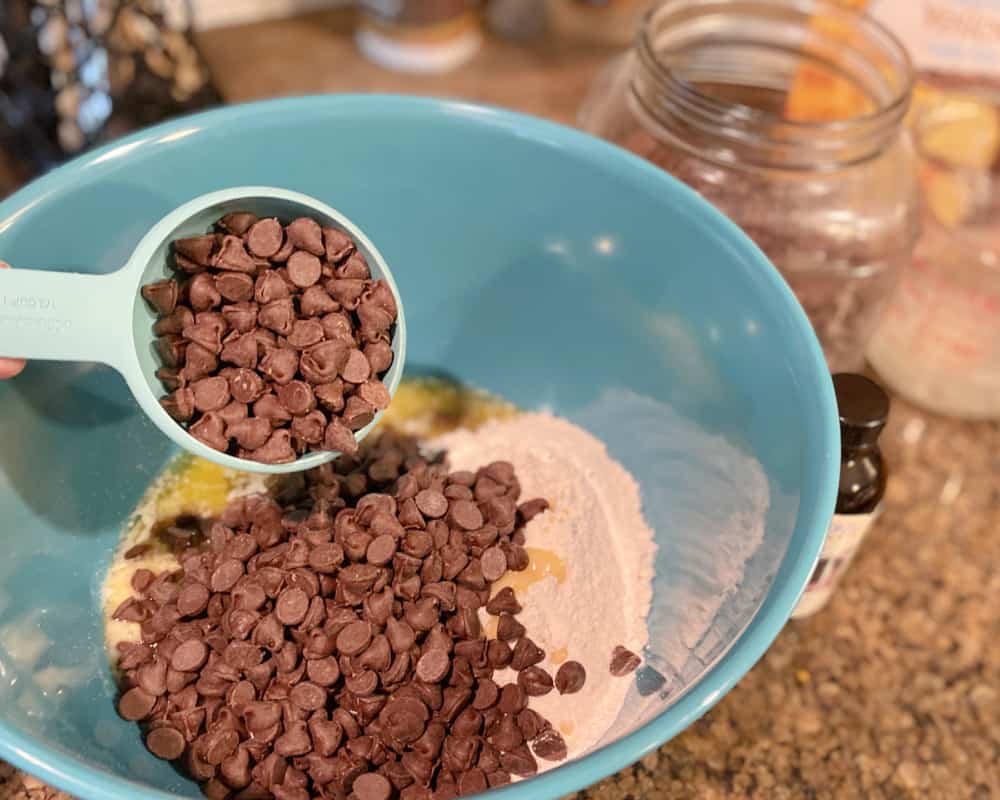 4| Stir in your bag (or 2 cups) of chocolate chips.
Transfer mixture to your baking pan and spread the mixture evenly in the pan.
5| Bake at 350 for approximately 20 minutes. Let cool and cut into squares.
Chocolate chip desserts are almost universal crowd-pleasers, so good luck having any leftovers with this one!
Enjoy!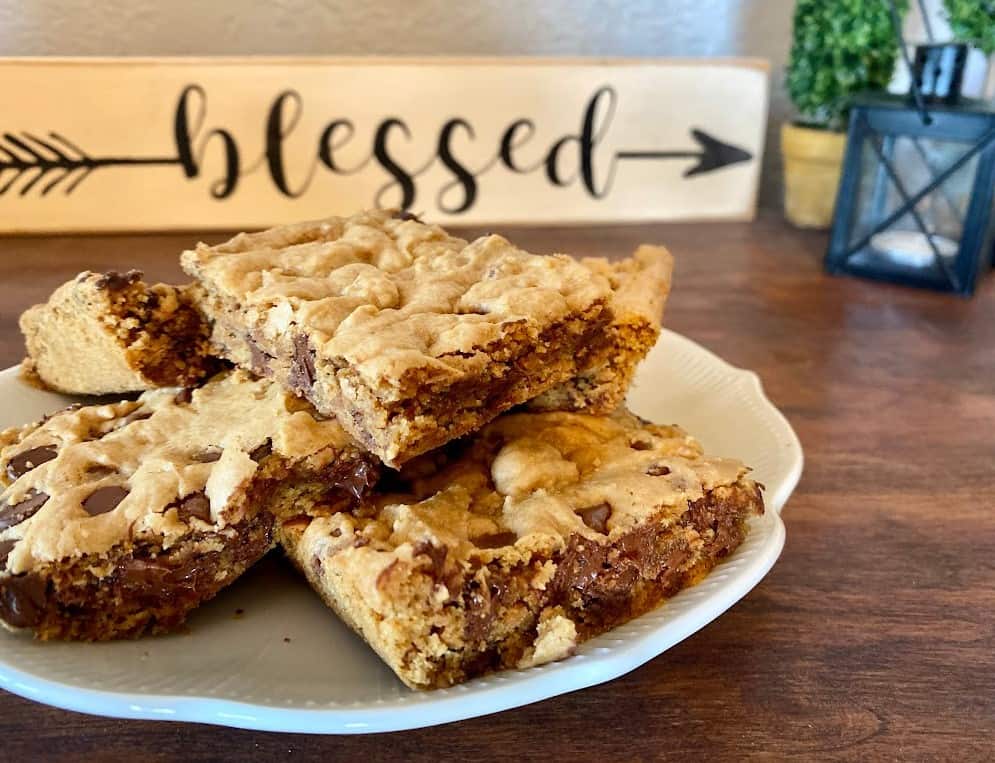 5 Ingredient Chocolate Chip Cookie Bars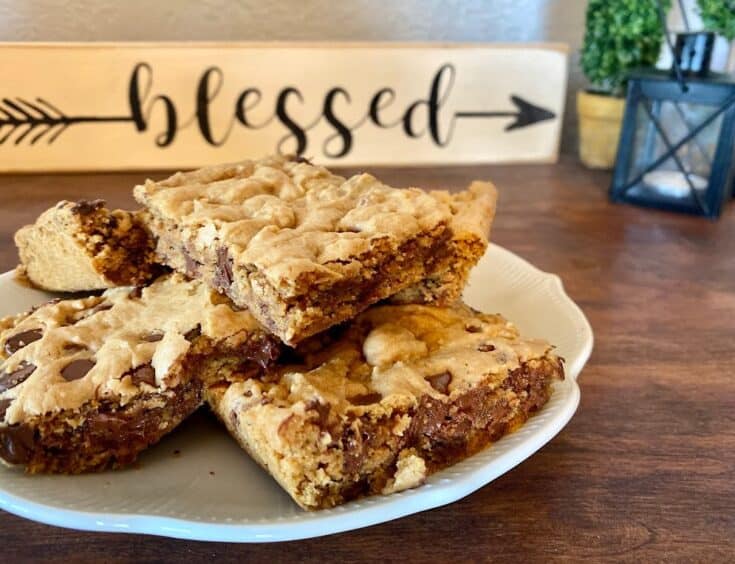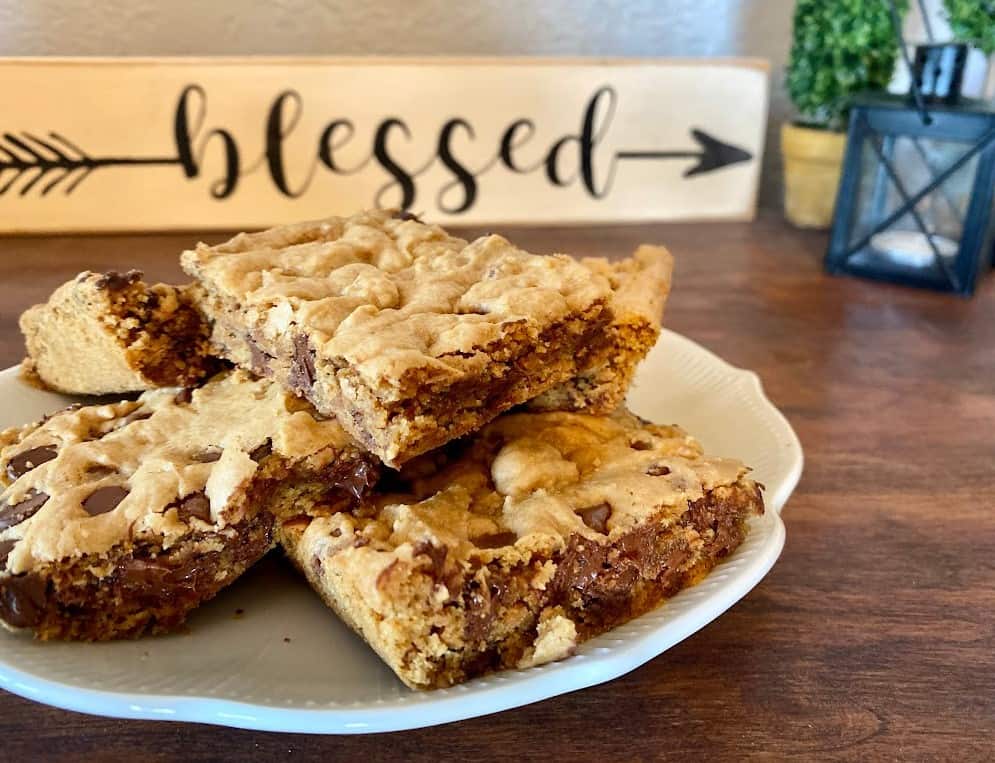 Ingredients
1 yellow cake mix
1 stick of butter
2 large eggs
1 package of semi-sweet chocolate chips (or 2 cups)
1 tsp vanilla
Instructions
Preheat oven to 350 degrees.
Use a stick of butter to grease a 9x13 baking pan.
Melt the stick of butter in the microwave.
In a large bowl, stir together the cake mix, butter, eggs and vanilla. Add chocolate chips last, stir until combined.
Spread mixture evenly in bottom of baking pan.
Bake approximately 20 minutes at 350. Let cool, cut into bars and serve!
Nutrition Information:
Yield:
20
Serving Size:
1
Amount Per Serving:
Calories:

156
Total Fat:

7g
Saturated Fat:

4g
Trans Fat:

0g
Unsaturated Fat:

2g
Cholesterol:

31mg
Sodium:

234mg
Carbohydrates:

23g
Fiber:

0g
Sugar:

13g
Protein:

2g
You Might Also Like:
Chocolate Chip Peanut Butter Energy Balls (no-bake)
Graham Cracker Icebox Cake (Pumpkin Version for fall)
Patriotic Cookie Pizza with Fresh Berries