There's nothing better than a DIY body butter recipe to nourish your skin!
Have you ever tried to make your own body butter?
It's surprisingly easy.
I should have made it much sooner myself!
I'll show you how to make a DIY body butter with only 6 ingredients.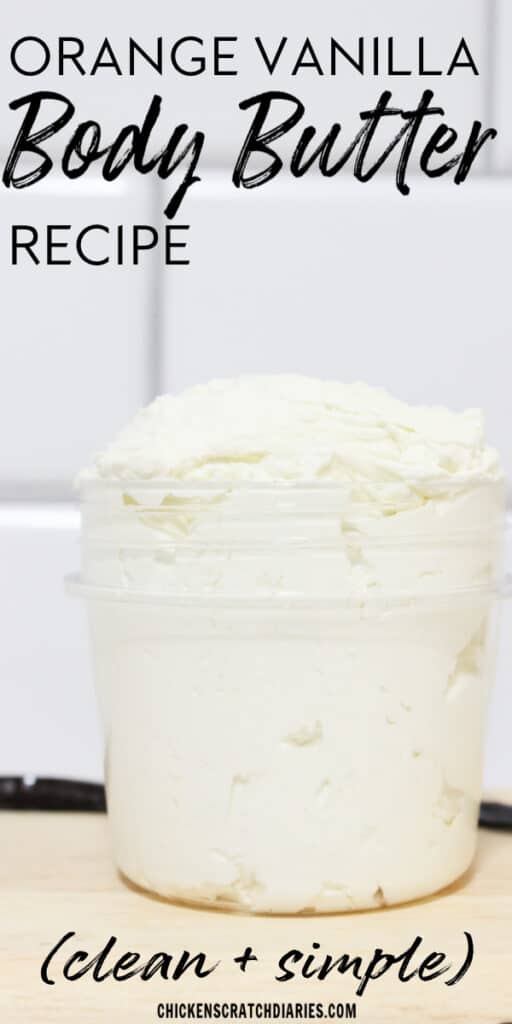 Benefits of homemade skincare
For years, I spent way too much on expensive, fragrance-loaded body lotions and body butters.
As it turned out, my body didn't love me for it.
Those chemical fragrances gave me headaches that never went away.
I had dry, irritated hands that were sensitive to who-knows-what chemicals that are packed into those fun-smelling hand soaps.
That all resolved when I started making my own clean products instead.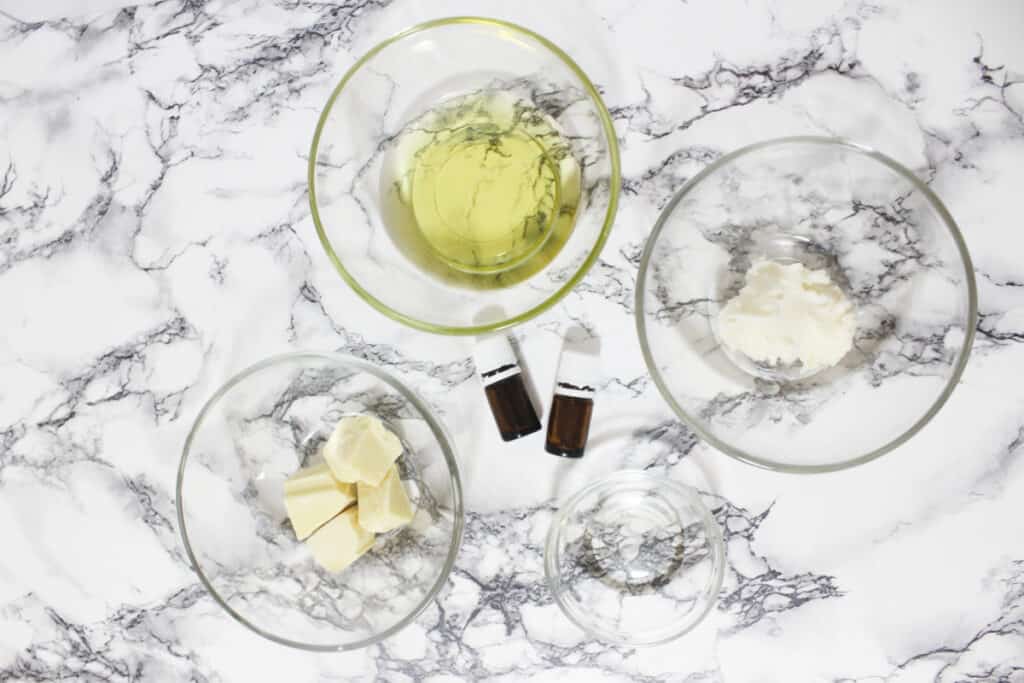 Not to mention: I've save SO much money through the years by making things like:
-I don't think I'll ever go back to buying those things from the store again.
How to make your own moisturizing body butter
DIY body butter only requires 6 ingredients: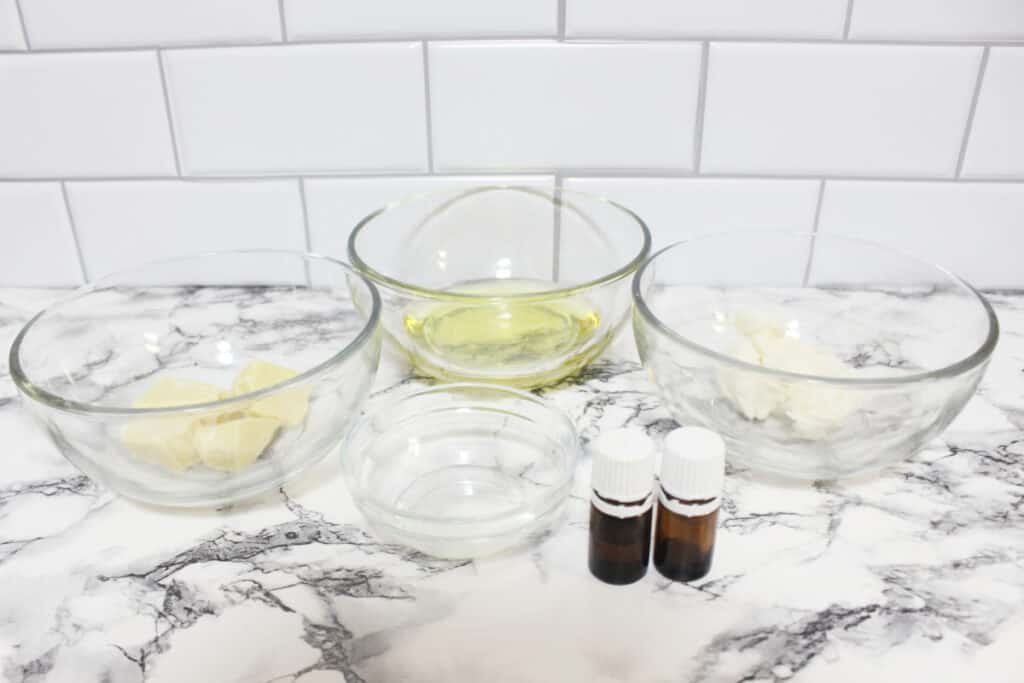 Note: you can substitute your favorite essential oils for the orange and vanilla.
Peppermint, coffee, or a blend like tropical luau would all be great options.
The process for blending these ingredients requires some indirect heat to avoid scorching.
I like to use a double boiler for this purpose.
You can try using the microwave; just use it on low heat, and in short bursts.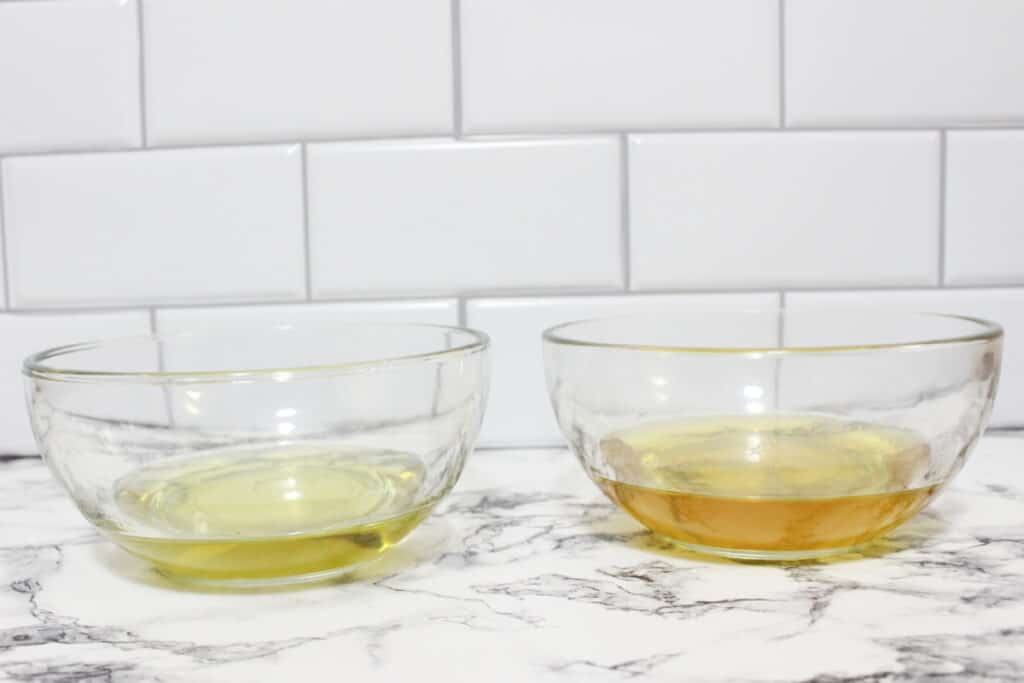 Either way, you'll need to stop and stir frequently.
Once the butters and oils are warmed, they will go into the fridge for 30 minutes to cool and thicken.
The last step, after ingredients have cooled, is adding the essential oils, and whipping the mixture with an electric mixer.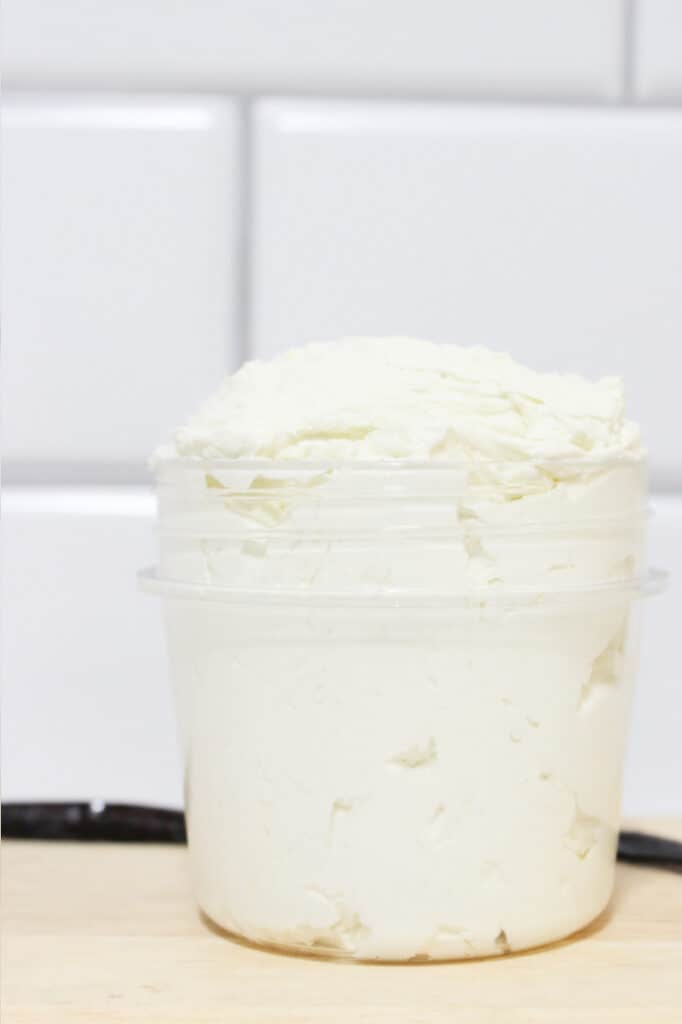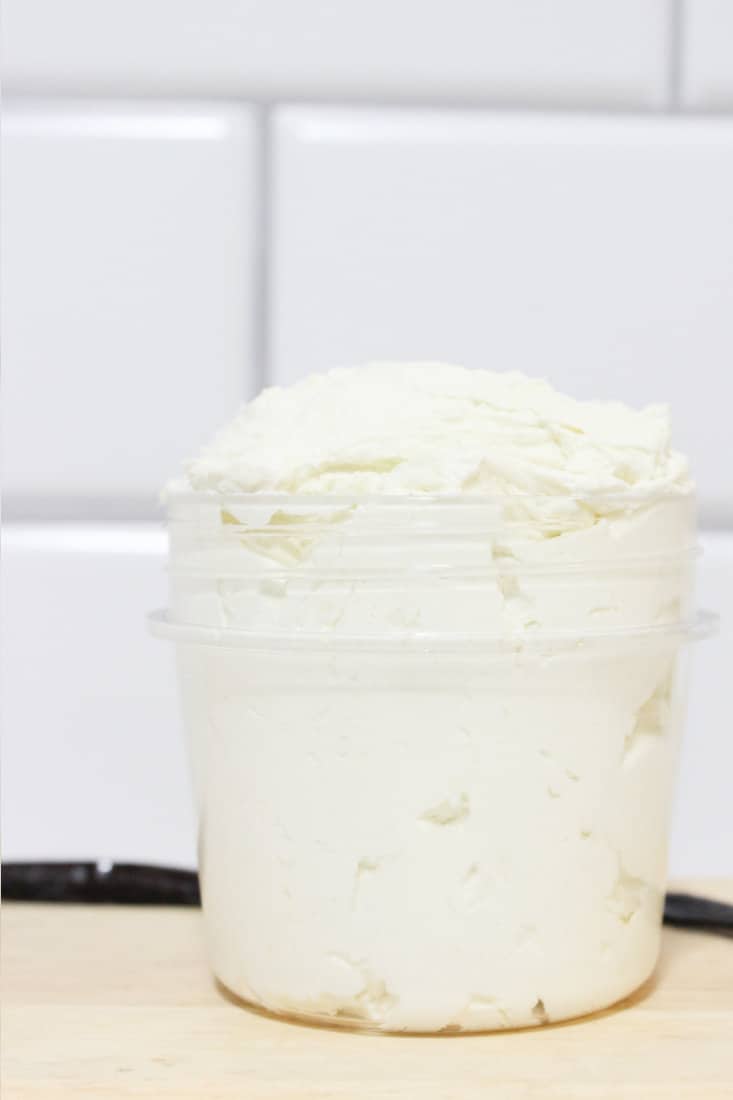 This will take about 5-10 minutes to create the best consistency.
And that's it!
After storing in an airtight container, it should last several months.
The Vitamin E acts as a preservative, as well as a moisturizer!
Replace your lotions with homemade body butter
Once you get into the routine of keeping the supplies on hand, it's really easy to (literally) whip up DIY body butter as needed.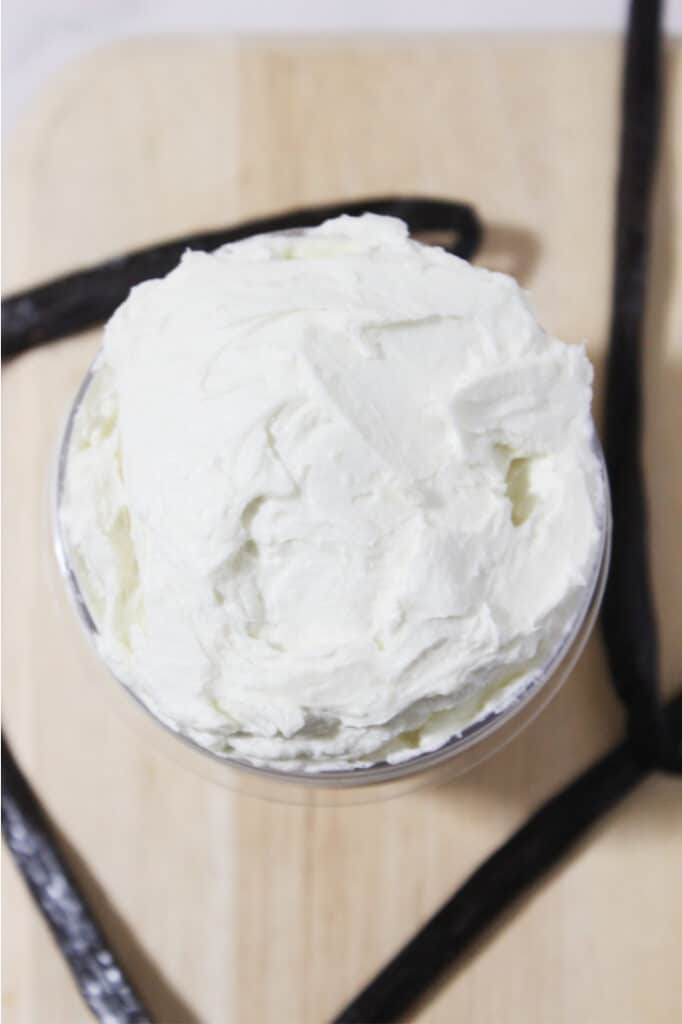 If you're like me and you want to avoid harsh chemicals —
–you'll be so glad you tried this homemade recipe!
Replace all those nasty chemicals in store-bought lotions (including fragrances) with this natural, DIY recipe.
Your skin will thank you for it!
DIY Body Butter Recipe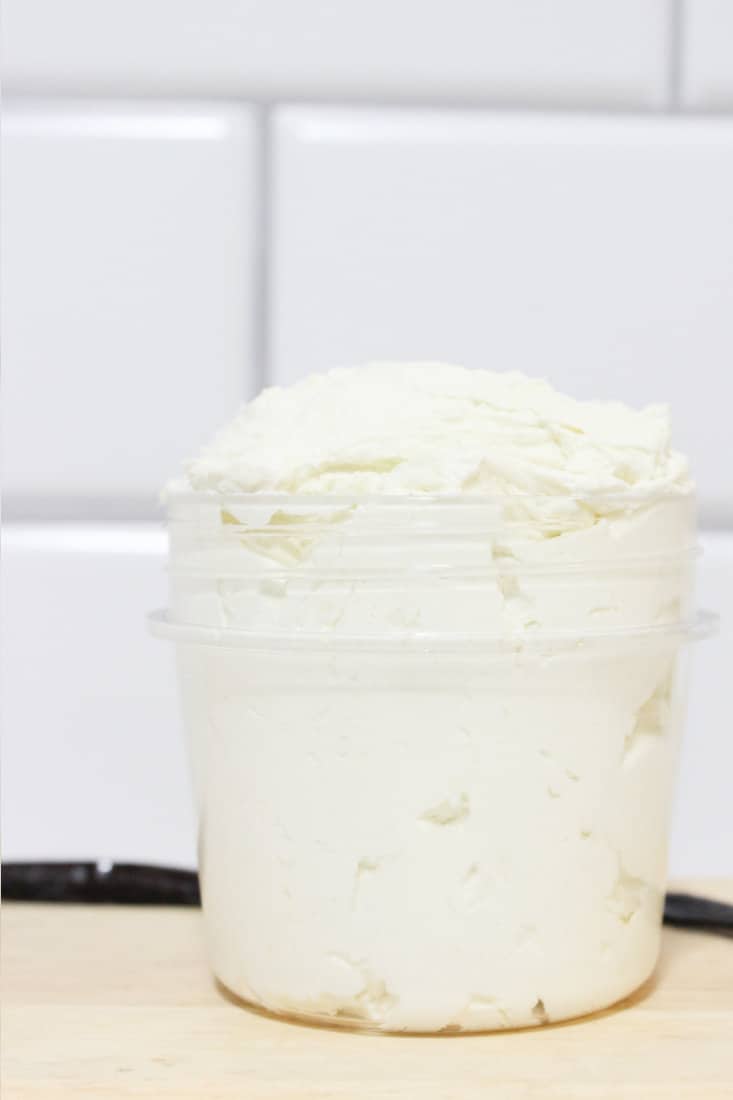 Make your own nourshing body butter and ditch the chemicals in the store bought versions!
Additional Time
30 minutes
Ingredients
1/3 cup shea butter
1/3 cup cocoa butter
1/2 cup avocado oil
1 teaspoon Vitamin E oil
25 drops vanilla essential oil
15 drops orange essential oil
Instructions
Add the shea butter and cocoa butter to a glass bowl.
Heat over a double boiler until completely melted, stirring frequently.
Alternatively- you can microwave in short bursts, stirring frequently.
Add the avocado oil to the melted shea and cocoa butter mixture; heat until warm.
Remove from heat.
Add the Vitamin E oil.
Transfer mixture to the fridge for about 30 minutes, until mixture is cooled and slightly thickened.
Add essential oils.
Using an electric mixture, whip for approximately 5-10 minutes until thick and fluffy.
Transfer to airtight glass container.
Enjoy!
Notes
*You can substitute your favorite essential oils for the vanilla and/or orange scents.
*This mixture should last several months, as Vitamin E not only moisturizes, but acts as a preservative.
*Use caution when applying before sun exposure, as essential oils can make skin sensitive to the sun.
You might also like:
Simple Foaming Hand Soap Recipe
Cocoa Powder Dry Shampoo Powder Recipe
DIY Face Wash for Sensitive Skin
Beginner's Guide to Essential Oils
Last Minute Homemade Gift Ideas