Use our free Proverbs 31 coloring pages in Sunday school or at home with your kids.
One of the best ways I've found to teach my younger kids Scripture is with good visual aids.
Honestly, visuals are helpful for me as well.
So when I was thinking about Mother's Day this year, I started thinking about coloring pages that could convey the truths found in Proverbs 31.
A printable Proverbs 31 coloring page set came to mind as the perfect way to teach the "Wife of Noble Character" passage that I planned to use for Sunday School.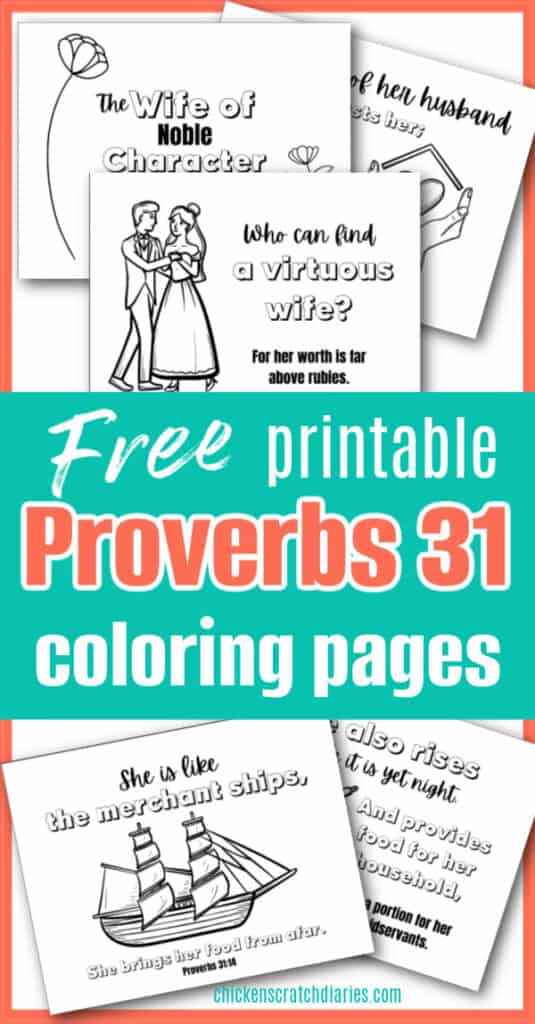 A Wife of Noble Character
In verses 10-31 of Proverbs 31, we read about the infamous "Proverbs 31 wife".
The New King James Version reads:
10 Who can find a virtuous wife?
For her worth is far above rubies.
11 The heart of her husband safely trusts her;
So he will have no lack of gain.
12 She does him good and not evil
All the days of her life.
13 She seeks wool and flax,
And willingly works with her hands.
14 She is like the merchant ships,
She brings her food from afar.
15 She also rises while it is yet night,
And provides food for her household,
And a portion for her maidservants.
16 She considers a field and buys it;
From her profits she plants a vineyard.
17 She girds herself with strength,
And strengthens her arms.
18 She perceives that her merchandise is good,
And her lamp does not go out by night.
19 She stretches out her hands to the distaff,
And her hand holds the spindle.
20 She extends her hand to the poor,
Yes, she reaches out her hands to the needy.
21 She is not afraid of snow for her household,
For all her household is clothed with scarlet.
22 She makes tapestry for herself;
Her clothing is fine linen and purple.
23 Her husband is known in the gates,
When he sits among the elders of the land.
24 She makes linen garments and sells them,
And supplies sashes for the merchants.
25 Strength and honor are her clothing;
She shall rejoice in time to come.
26 She opens her mouth with wisdom,
And on her tongue is the law of kindness.
27 She watches over the ways of her household,
And does not eat the bread of idleness.
28 Her children rise up and call her blessed;
Her husband also, and he praises her:
29 "Many daughters have done well,
But you excel them all."
30 Charm is deceitful and beauty is passing,
But a woman who fears the Lord, she shall be praised.
31 Give her of the fruit of her hands,
And let her own works praise her in the gates.
What we can learn from "The Virtuous Wife"
I don't know about you, but I've often wondered who could ever measure up to the Proverbs 31 woman.
She seems so perfect in every way: industrious, loving, hardworking and most of all, wise.
If we reflect on these characteristics, though, we can understand why it's important to understand this passage for both the sake of our sons and daughters.
Who we choose to marry is incredibly important.
And we should take great care to not only choose a godly and wise spouse, but to first be that godly and wise person.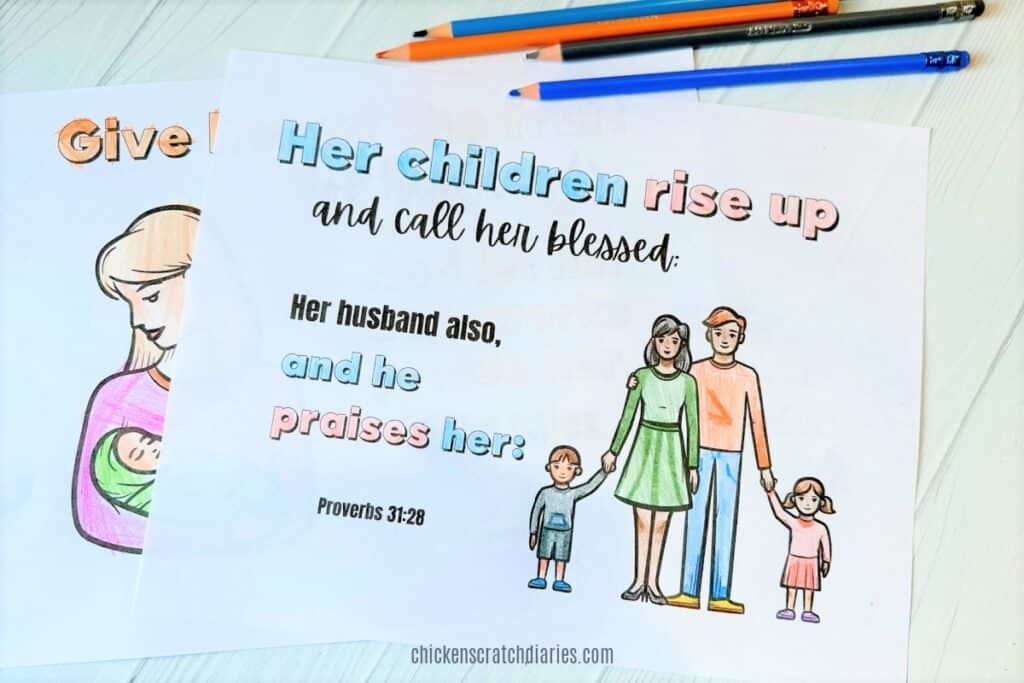 We have the opportunity to use Scripture to instruct our children in righteousness (2 Timothy 3:16).
When we commit it to memory, we begin to internalize God's Word and can apply it to our lives more readily.
Using Proverbs 31 coloring pages as a teaching tool
This Proverbs 31 printable pack features 22 pages, with each page having one verse and a visual aid to help us remember that verse.
You could print the entire packet and use it over several lessons.
Kids can color each page while working towards memorization of each verse.
Then, use a hole-punch and some twine and bind your "book" on the last day.
Or of course, feel free to pick a verse or two that you want to focus on and just print those pages.
You might want to incorporate these into your Mother's Day Sunday School or homeschool lesson plan, as we're doing this year.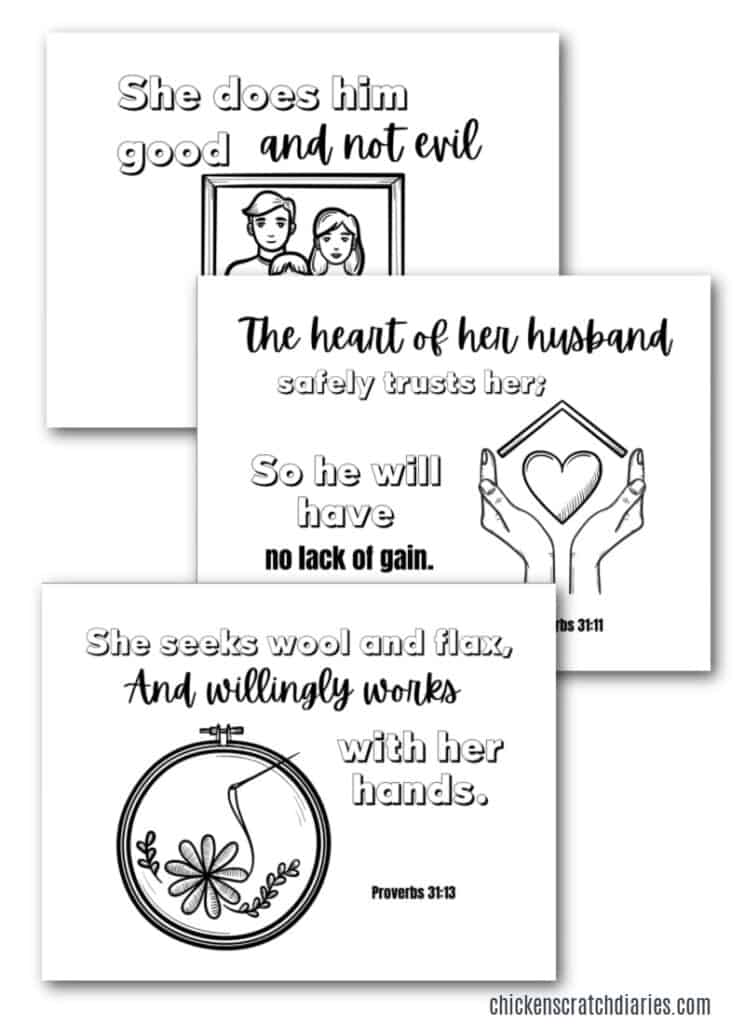 Fun Fact
If we were reading this passage in Hebrew, it would be an acrostic.
Each verse begins with a successive letter of the Hebrew alphabet (Aleph, Bet, Gimel, and so on.)
It's been called "The ABC's of wisdom" by commentators. You can read more here.
Print 22 Free Proverbs 31 coloring pages
To download your Proverbs 31 Coloring Page Pack, simply click on the image below.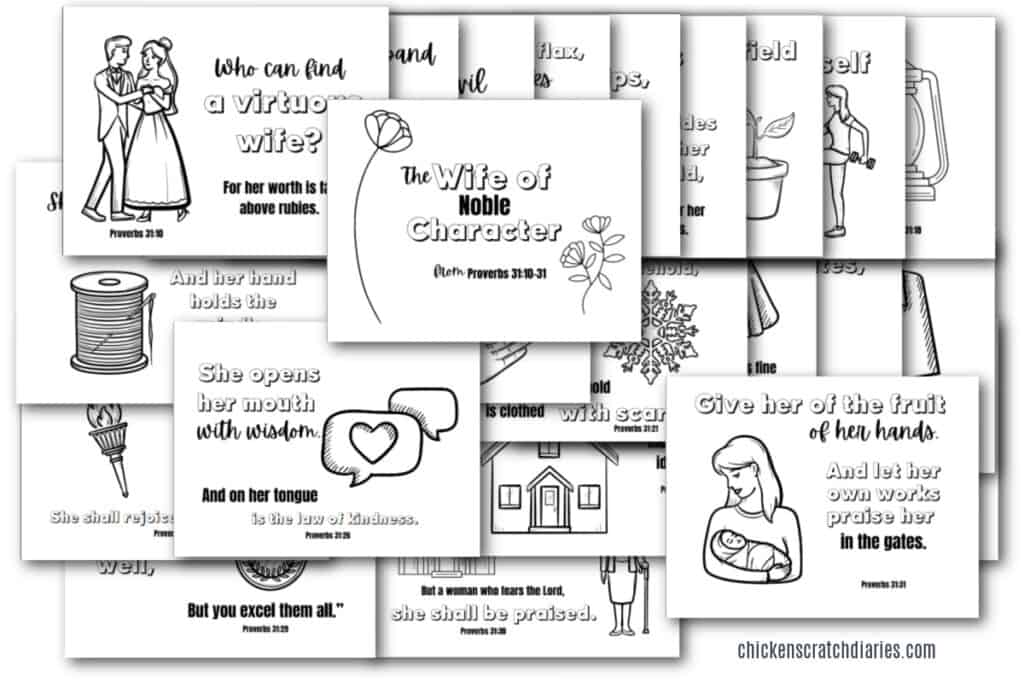 Let us know how you use these with the kiddos you teach!
You might also like:
Thanksgiving Sunday School Lessons: FREE Printables
Practical Tips for Teaching Children about Faith
Resurrection Eggs Printable Easter Activity
13 Scripture passages on a Mother's Love