Nothing screams fall like a no bake Pumpkin Icebox Cake. Be warned though: it might become a year-around favorite.
When it comes to pumpkin, you're either in or out. Lover or hater. There's really no middle ground among my family, anyhow.
Needless to say, when you're a pumpkin fan, you're not too sad when half of your family is not. More for me!
They just don't know what they're missing.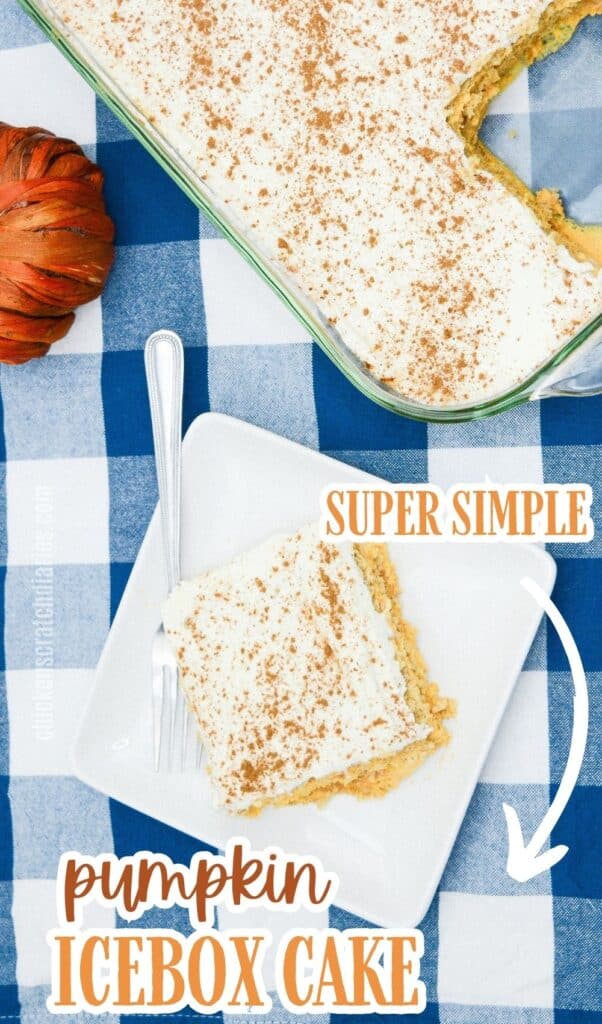 If you've ever had tiramisu, this pumpkin icebox cake has a similar design as a layered, no bake dessert.
Basically, it's the easier-to-make, sober, fall flavored cousin of tiramisu.
This post likely contains affiliate links. Please see our disclosure for more info.
Thanksgiving Icebox Cake?
In my opinion, this could be an awesome dessert for taking to Thanksgiving dinner.
It's a fun divergence from basic pumpkin pie, and it stretches a little further, filling a 13×9 baking dish.
Make sure to use pumpkin puree (whole pumpkin) and NOT pumpkin pie filling
And keep in mind, it's an icebox cake with graham crackers in the recipe; you don't want to make it too far in advance.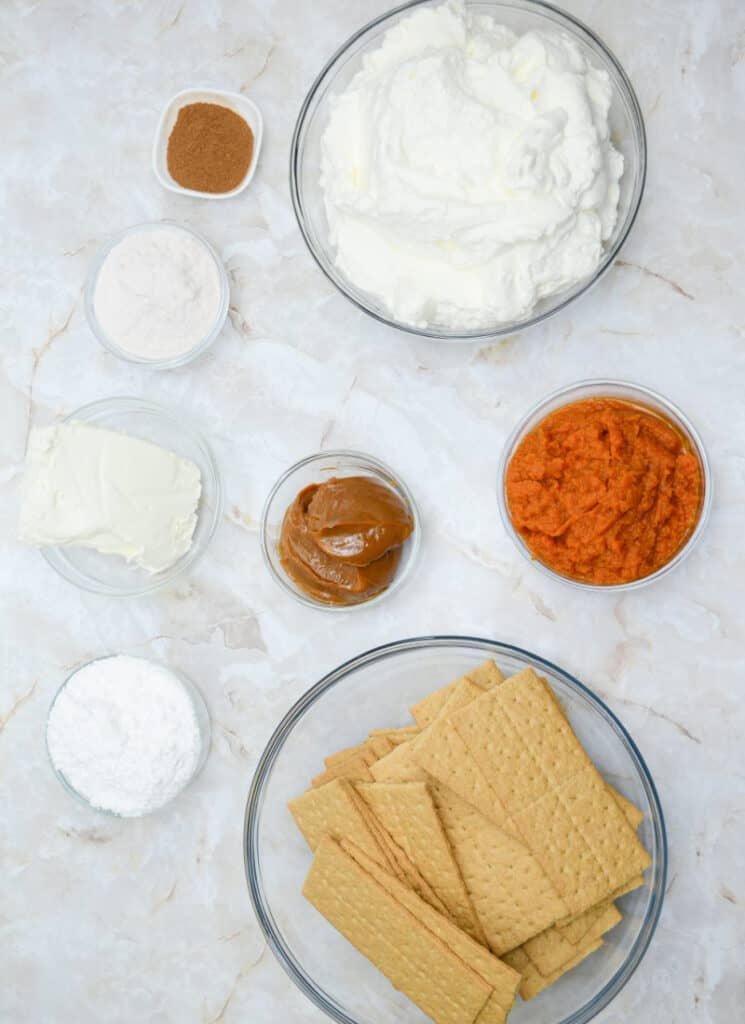 Pro tip: use name-brand graham crackers when you can. They are usually a little sturdier.
I suggest making it the morning-of, whenever possible. It won't last that long anyhow; trust me!
An Easy Pumpkin Dessert (with some options)
There is absolutely no skill required for no bake pumpkin icebox cake.
If you can mix, fold and layer, you've got this.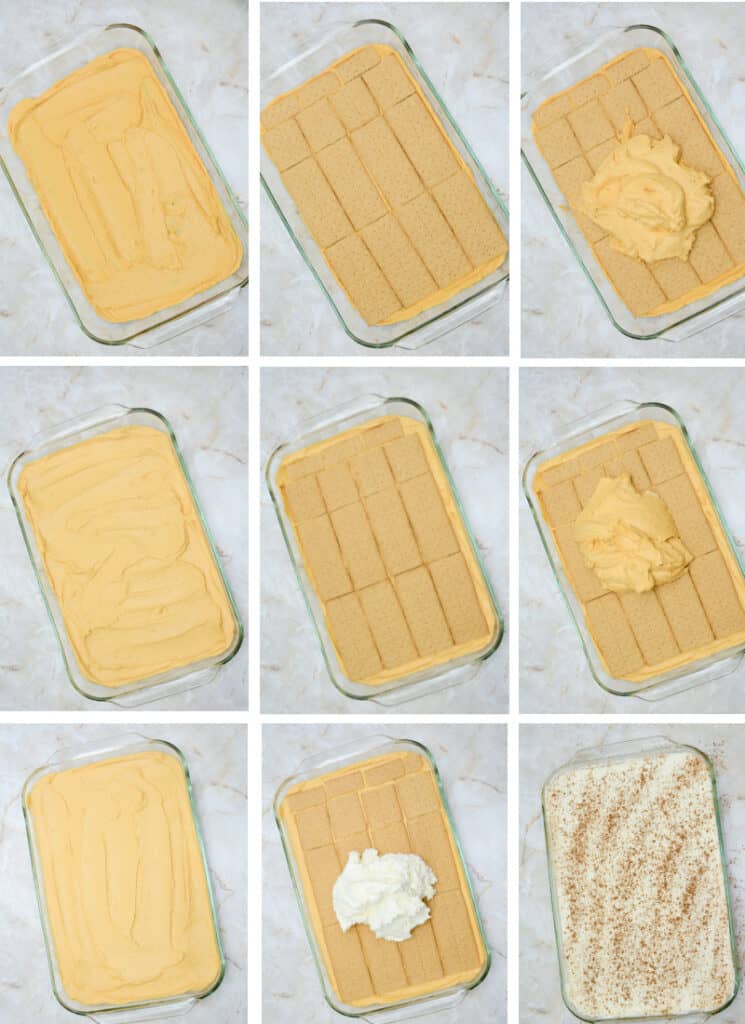 Now, if you take it a step forward and make homemade dulce de leche (caramel sauce), there is a time commitment. In my opinion, it's a worthwhile one.
But store-bought dulce de leche is a completely acceptable choice.
Cool whip versus homemade whipped cream is another choice you'll have to make. Decisions, decisions.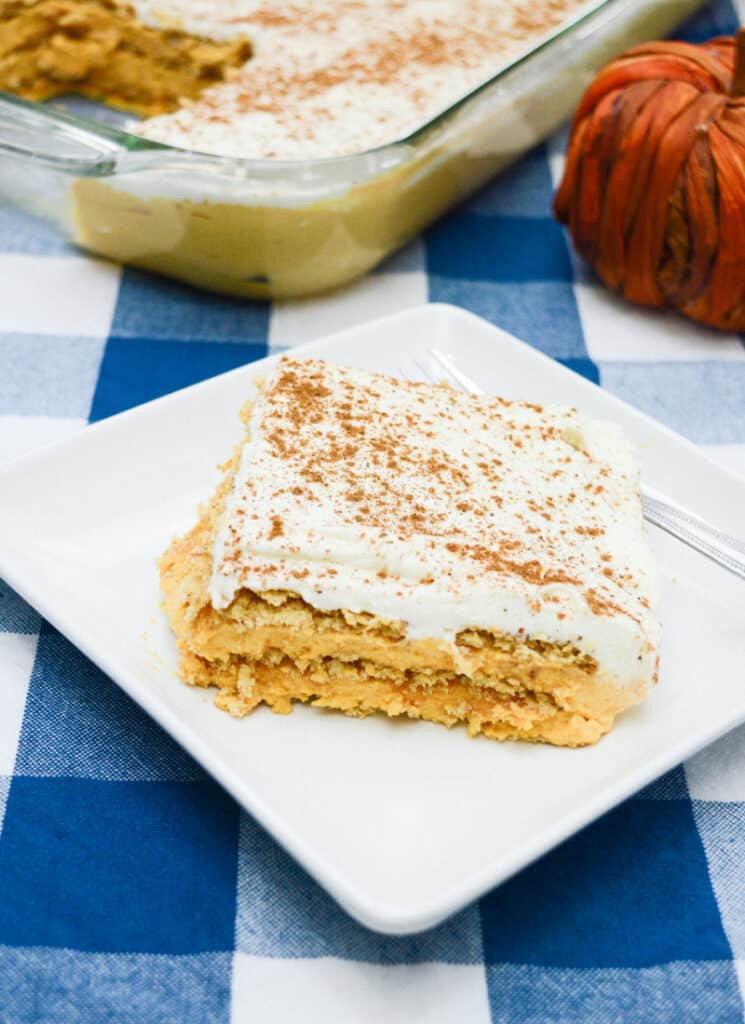 Instructions for both the homemade dulce de leche and homemade whipped cream are in the notes section of the recipe card –
–should you decide to go that route.
Yield: 12 slices
No Bake Pumpkin Icebox Cake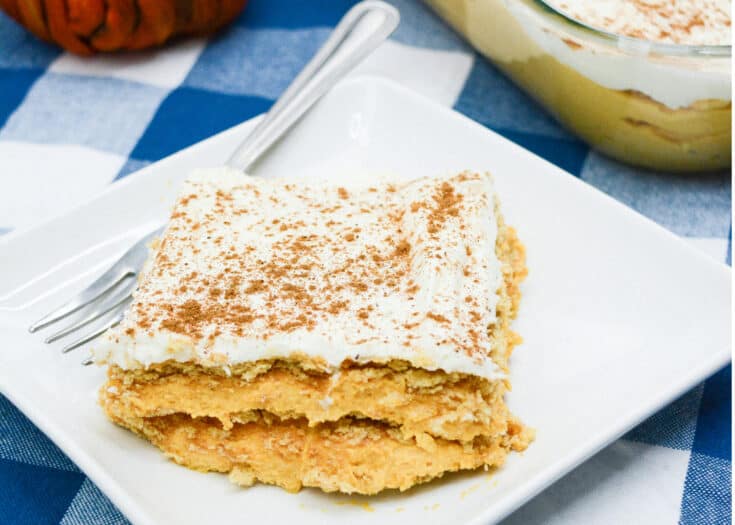 Bring this easy icebox cake - instead of basic pumpkin pie - to your next holiday gathering!
Total Time
4 hours
20 minutes
Ingredients
1 - 15 oz can pumpkin puree
1 - 3.4 oz package vanilla pudding
½ c dulce de leche (store bought or homemade-see notes section)
1 c powdered sugar
4 c cool whip (or homemade whipped cream-see notes)
8 oz cream cheese, softened
4 sleeves honey graham crackers
Pumpkin pie spice to sprinkle (for topping)
Instructions
1. In the bowl of a stand mixer, combine the pumpkin puree, pudding, powdered sugar, cream cheese, dulce de leche and mix well. Stop the machine, scrape down the sides and mix again.

2. Gently fold in approximately 2 cups worth of cool whip - saving the rest for later.

3. In a 13x9 pan, spread about ½ cup worth of the pumpkin mixture across the bottom of the pan.

4. Place a layer of graham cracker sheets across the entire surface, as best as you can, of the pan - breaking off pieces if needed to help fit.

5. Measure out approximately half of the pumpkin mixture and spread evening. Layer with another layer of graham cracker sheets. Spread out the remaining pumpkin mixture and top with the last layer of graham crackers.

6. Spread the remaining cool whip on top of the graham crackers. Sprinkle with a little pumpkin pie spice for decoration.

7. Allow the mixture to set for at least 4 hours - this allows the moisture to soften the graham crackers and it will cut easier. Enjoy!
Notes
Store in refrigerator; best within 2 days.
Be sure to buy whole pumpkin puree (NOT pumpkin pie filling) for this recipe.
Dulce de leche can be found in the baking isle of the grocery store - or sometimes with the Mexican food items. To make your own dulce de leche: take a can of sweetened condensed milk and punch two holes in the lid with a bottle opener. Place in a sauce pan and fill with water until water reaches about half way up the can. Boil on low heat for approximately 3 hours. Keep an
eye and add additional water as it boils off. Allow to cool and then proceed with recipe.
To make your own whipped cream (rather than cool whip), measure out 2 c. of heavy whipping cream and ¼
c. powdered sugar. Mix in the bowl of a stand mixer on high speed for approximately 3-4 minutes or until stiff peaks. Use as directed in recipe.

You might also like:
Iced oatmeal gingerbread cookies
Winter desserts that aren't boring
Pecan desserts- recipe collection