Free Farmhouse Christmas printables are one of the best ways to decorate your home on a dime. Take a look at these hymn-inspired signs!
Since moving into our "farmhouse" nearly four years ago, I had intended to plaster the walls with cute farmhouse signs and decor.
But instead, I had a baby a few months later and that was that.
This Christmas is the first Christmas I've even thought about decorating.
We normally just put up a tree and I bah-humbug my way through the gift wrapping and the stockings and the chaos that tends to come with this season.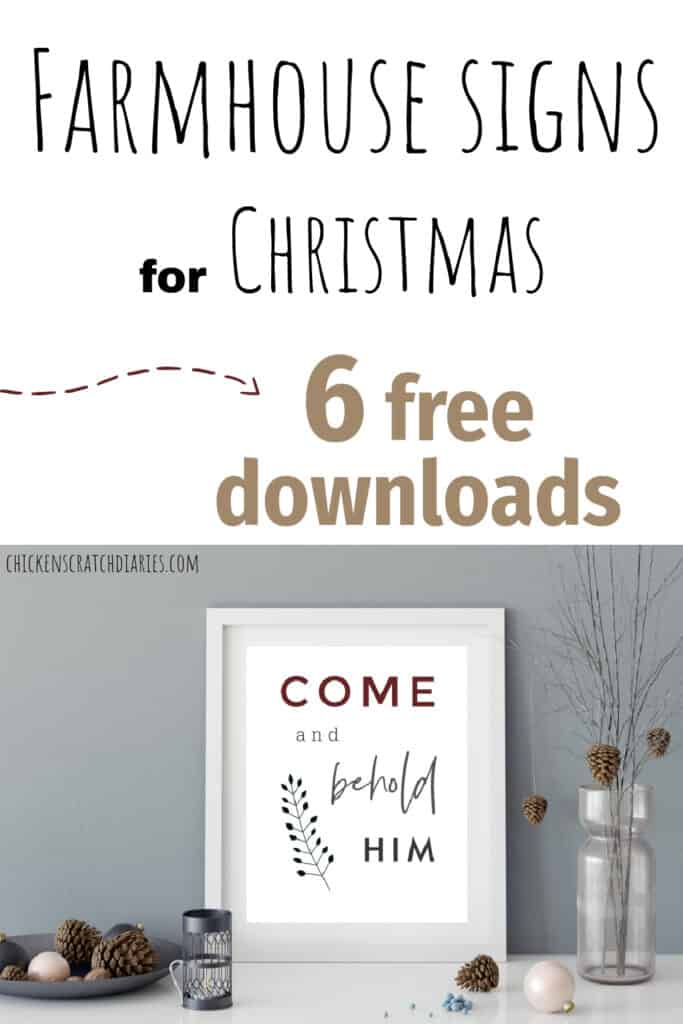 This post likely contains affiliate links. Please see our disclosure for more info.
Getting in the Holiday Spirit
I guess with our youngest being out of the baby stage (sniff) at 3-1/2, I finally thought, hmmm, it might be fun to decorate this year.
And maybe it won't even get destroyed!
Even more surprising was the fact that I found that the more I decorated, the more in the "holiday spirit" I found myself.
I got into an Advent Bible Reading plan, started listening to Christmas hymns, and for the first time in years I am really excited about the Christmas season.
Read next: Inviting Jesus In: Christmas Eve Traditions for Families
A Farmhouse DIY Christmas
As I got a little carried away with the decorating bug I also realized that it can get expensive, fast!
I clipped some sprigs from our evergreen trees and re-used whatever I could find (from Christmases long ago), but I still really wanted some cute Farmhouse signs to add to my decor.
So I decided to make some of my own Farmhouse Christmas printable signs inspired by my favorite Christmas hymns.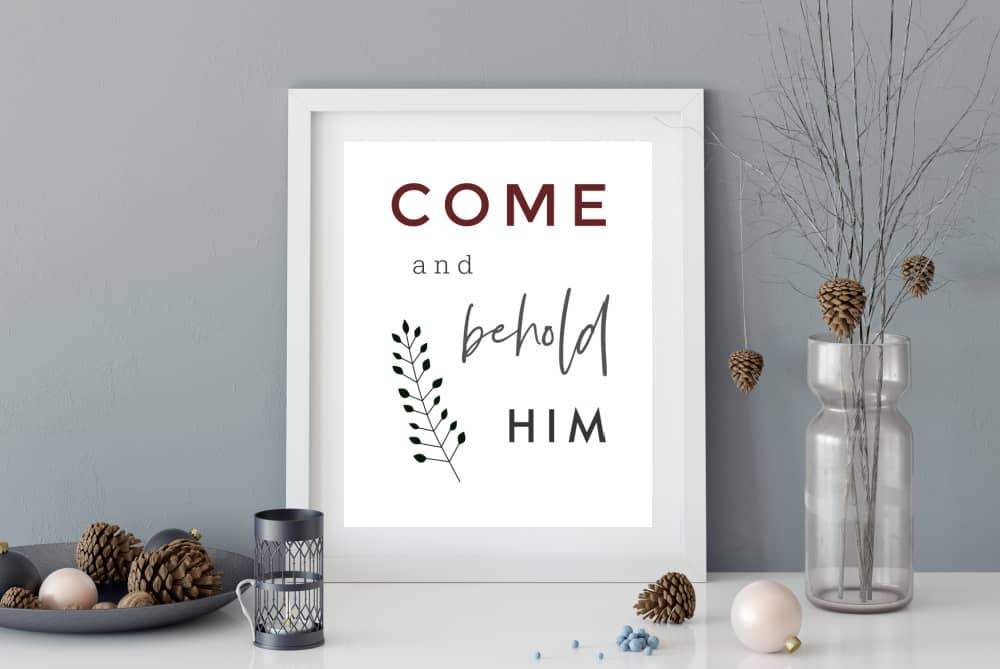 How to Print your Free Christmas Printable Signs
You can read on for ideas on how to decorate with these signs, or go ahead and subscribe to our email list and receive access to these 6 free printables below.
How to decorate with Printable Signs
There are so many things you can do with free Christmas printables like these signs.
First, I recommend printing these on 8×10 cardstock for best results. You will get more of that canvas-art-print look.
I bought some cheap frames from Walmart, but you could definitely repurpose old frames and paint them white, grey or black.
Thrift stores are a great place to find frames for pennies, and you don't even need the glass.
And of course, if you have no time for thrift-store hunting, Amazon always has frames galore to choose from.

Add them to a buffet or mantle display
One idea for displaying these is to add to any tabletop or mantle that might need some visual interest.
I rehabbed an old buffet this fall and this created a big table top that was begging to be decorated.
It's the closest thing I have to a mantle!
These signs were a great addition to our Christmas-flocked buffet.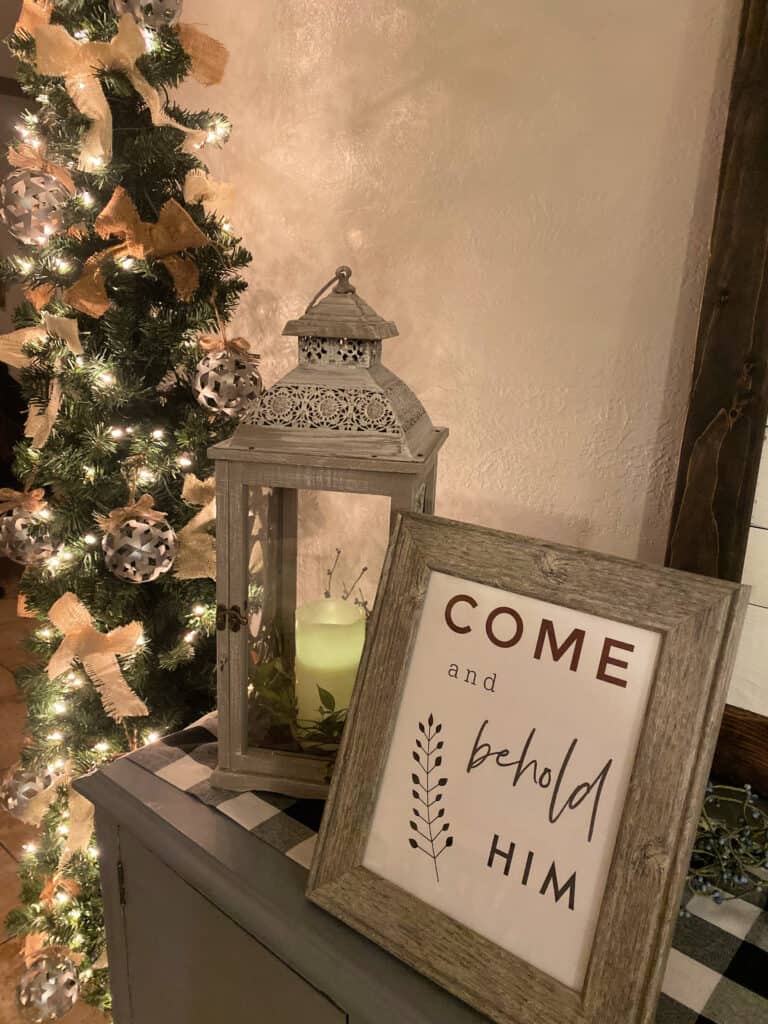 Another example of tabletop decor: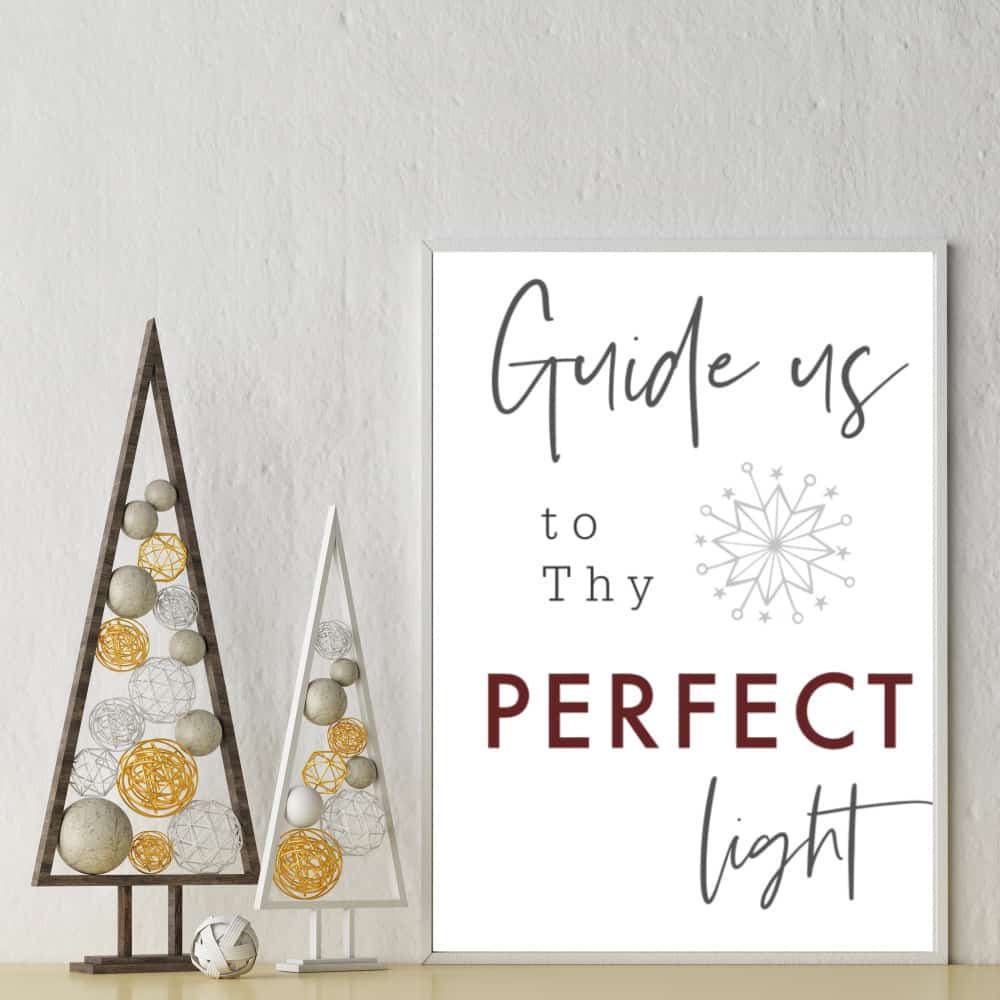 Hang them in a grid
Another idea is to just hang them side by side or in a grid.
You could shrink any of them to 5×7 on your printer settings if you want to get creative and mix and match frame sizes.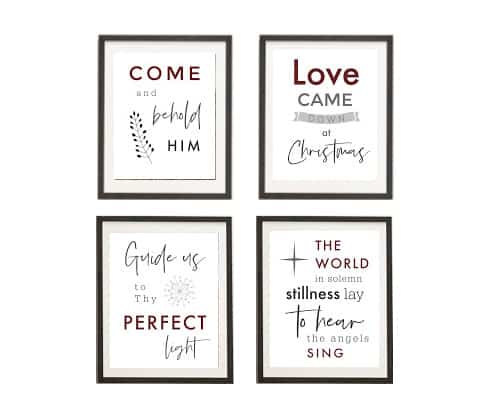 Stand-alone Wall Art
What actually started my printable-making was that I had a blank wall space over my nativity set (a beautiful gift from several years ago).
With an 11×14 frame and mat, it did the trick!
You can bring Christmas into any room, even small spaces by simply hanging on the wall as stand-alone art.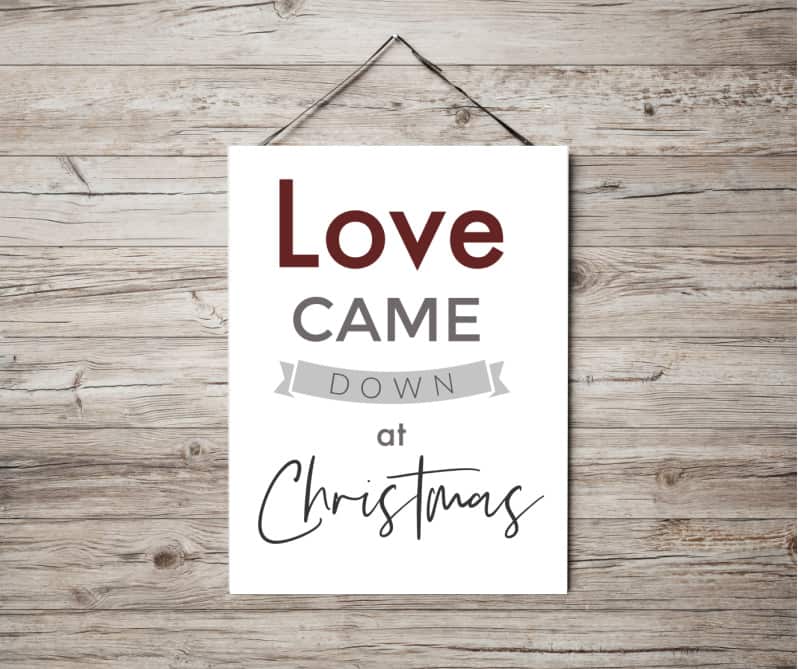 A Reminder of the Reason for the Season
What I love the most about these signs is that every time I pass by them, I not only start humming the song, but I'm reminded of why Christmas is so special in the first place.
It's not about the decorating, the presents or even the family time (which is precious).
But this season should help us to re-focus our priorities and remember that Jesus came, and He's still here in the hearts of Believers.
He still saves. And he has promised to return!
From my MOST favorite Christmas hymn:
"O holy night, the stars are brightly shining
It is the night of our dear Savior's birth
Long lay the world in sin and error pining
Till He appeared and the soul felt its worth.
A thrill of hope – the weary world rejoices
For yonder breaks a new glorious morn;
Fall on your knees
O hear the angels' voices
O night divine
O night when Christ was born
O night divine o night
O night divine"
-O Holy Night, by John Sullivan Dwight
How to print these farmhouse signs
Simply enter your information in the box below to join our newsletter and access your free printable signs:
You might also like:
• Pumpkins and Pickups: Printable Signs for Fall
• Christmas Gift Ideas for Christian Kids
• 23 Last-minute Homemade Gift Ideas
• Christmas on a Budget: Free Printable Organizer
• Perfect Gifts for Perfectly Picky Women (who want "nothing")
*originally published 12/14/19; last updated 12/17/20.