Dwell on these "God is in control" verses that clearly highlight God's sovereignty.
One of our basic human tendencies is to desire control.
In some ways, it isn't a bad thing.
For example, self-control is a fruit of the Spirit, and a discipline we want to cultivate as Believers.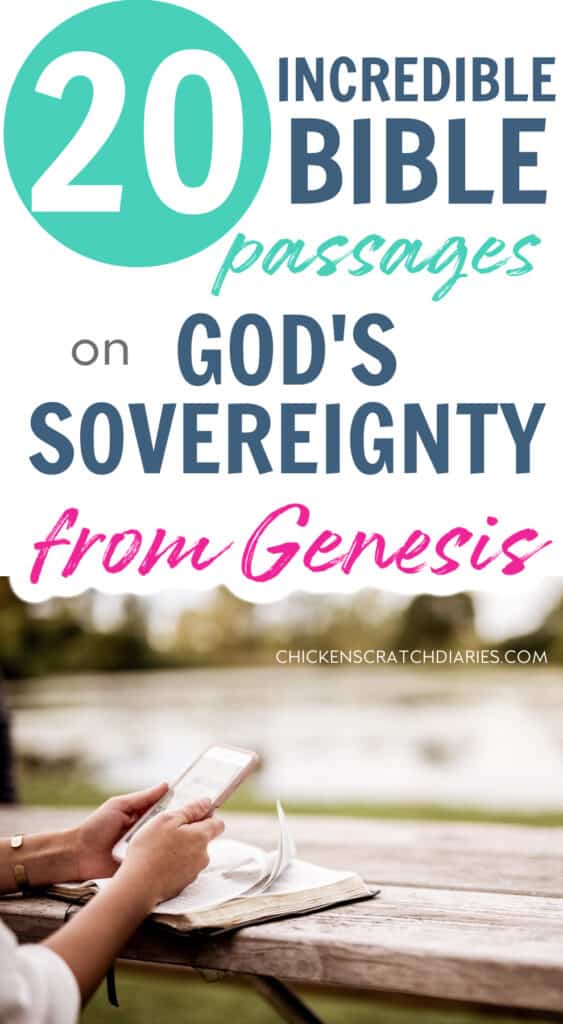 We can (and should) use self-control by tempering our wants and impulses, and seeking to "take every thought captive to obey Christ" (2 Corinthians 10:5).
In this sense, we are responsible for having a measure of control over our behavior and even our thoughts.
But beyond this, we face the reality that so much that happens outside of our own choices is largely not within our control.
Even when we strive to live for God, there is no guarantee of our desired outcomes.
In fact, we can be certain we will face hardship, disappointment, and pain no matter what (if we're human, that is!).
Read next:
Bible verses on God's Faithfulness
Scriptures that display a Mother's Love
This post likely contains affiliate links. Please see our disclosure for more info.
The Beauty of God's Sovereignty
So why do we choose to serve God knowing his Will prevails, not ours?
That's really the age-old question at the crossroads of Humanity and Faith.
The answer is simple, really.
We can walk through life in rebellion – in an illusion of control – or walk with Him in the peace He grants —
–relinquishing the ultimate control we never had to begin with.
Still undecided?
The very first book of the Bible confirms over and over that God is in control —
— and why this is good news for all creation.
The passages below are, I believe, some of the best examples of God's sovereignty as found in the book of Genesis.
Genesis 1:4 (NIV)
"This is the account of the heavens and the earth when they were created, when the Lord God made the earth and the heavens."
We could pick any verse in Genesis, Chapters 1 and 2, to illustrate God's authority over all created things.
He who made all things from nothing, is in ultimate control of all things.
Genesis 7:1 (NIV)
"The Lord then said to Noah, "Go into the ark, you and your whole family, because I have found you righteous in this generation."
The sin of mankind "deeply troubled" the heart of God (Genesis 6:6).
But God had a plan of redemption which he brought forth through Noah and his family.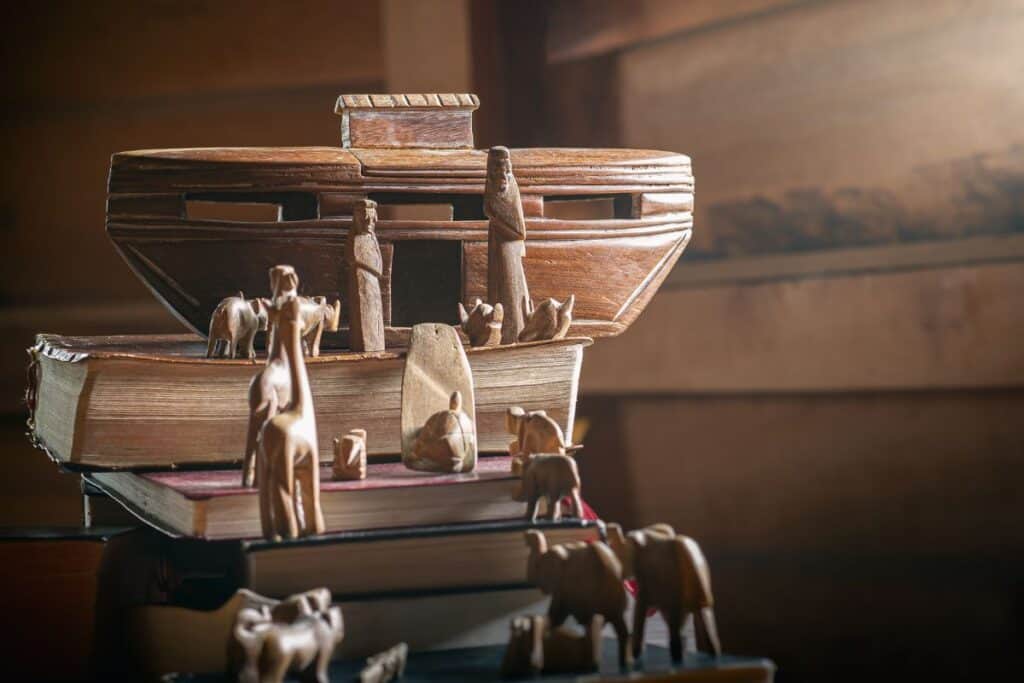 Genesis 11:9
" That is why it was called Babel—because there the Lord confused the language of the whole world. From there the Lord scattered them over the face of the whole earth."
When the pride and rebellion of man became too great once again after the flood — God's plans still prevailed.
Genesis 12:2
"I will make you into a great nation, and I will bless you; I will make your name great, and you will be a blessing."
God's purposes are revealed further as he makes a covenant with Abraham: the father of God's chosen people.
Genesis 12:17
"But the Lord inflicted serious diseases on Pharaoh and his household because of Abram's wife Sarai."
When Abram attempts to conceal the fact that Sarai was his wife while in Egypt, we see God intervene by revealing the the truth to Pharoah.
(Lest he attempt to take her as his own wife).
The plan to establish the Hebrew nation through Abram and Sarai was firmly in God's control the entire time.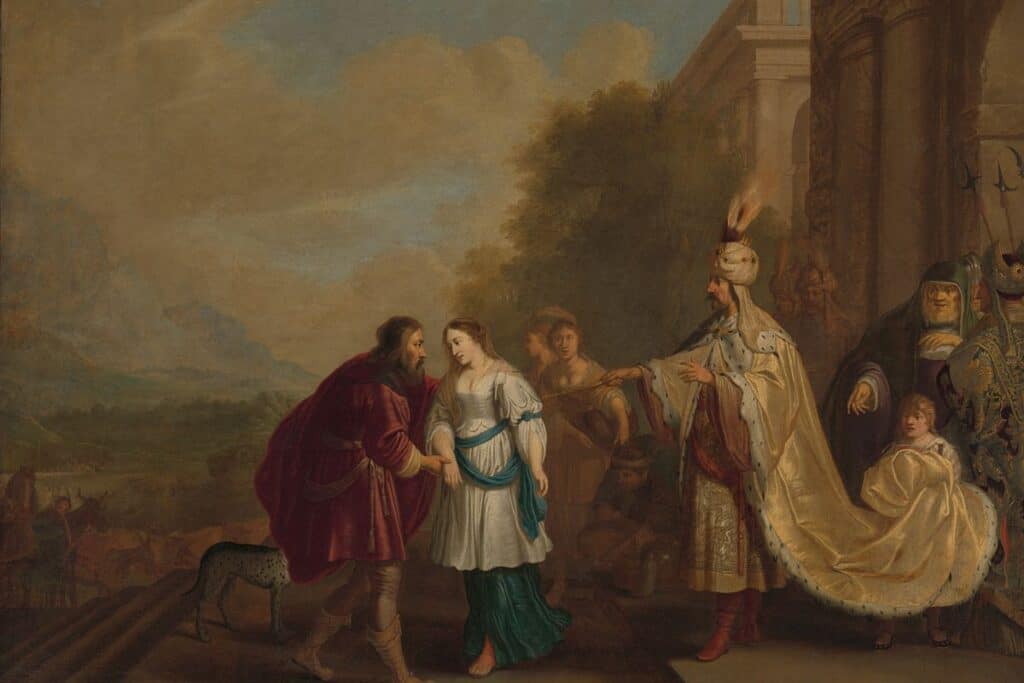 Genesis 17:19
"Then God said, "Yes, but your wife Sarah will bear you a son, and you will call him Isaac. I will establish my covenant with him as an everlasting covenant for his descendants after him."
God reassures Abraham that his plan for Abraham's life and lineage are secure.
He would have a son with Sarah, just as he had promised.
Genesis 19:25
"Thus he overthrew those cities and the entire plain, destroying all those living in the cities—and also the vegetation in the land."
God displays his kindness to Lot and saves his family –
– while pronouncing his righteous judgment on Sodom and Gomorrah.
His sovereign will is carried out, even though he would have saved the city if just ten righteous people were found there.
Genesis 20:17-18
"Then Abraham prayed to God, and God healed Abimelek, his wife and his female slaves so they could have children again, for the Lord had kept all the women in Abimelek's household from conceiving because of Abraham's wife Sarah."
Once again, Abraham's fear of man keeps him from telling the truth about his wife, this time to King Abimelek.
God keeps Sarah safe, however. And he displays his control over all human life through the events in this chapter.
Genesis 22:12
"Do not lay a hand on the boy," he said. "Do not do anything to him. Now I know that you fear God, because you have not withheld from me your son, your only son."
God would not go back on his promise to Abraham to make a great nation through Isaac.
His plan would be fulfilled, and like other "gods", it would never include human sacrifice.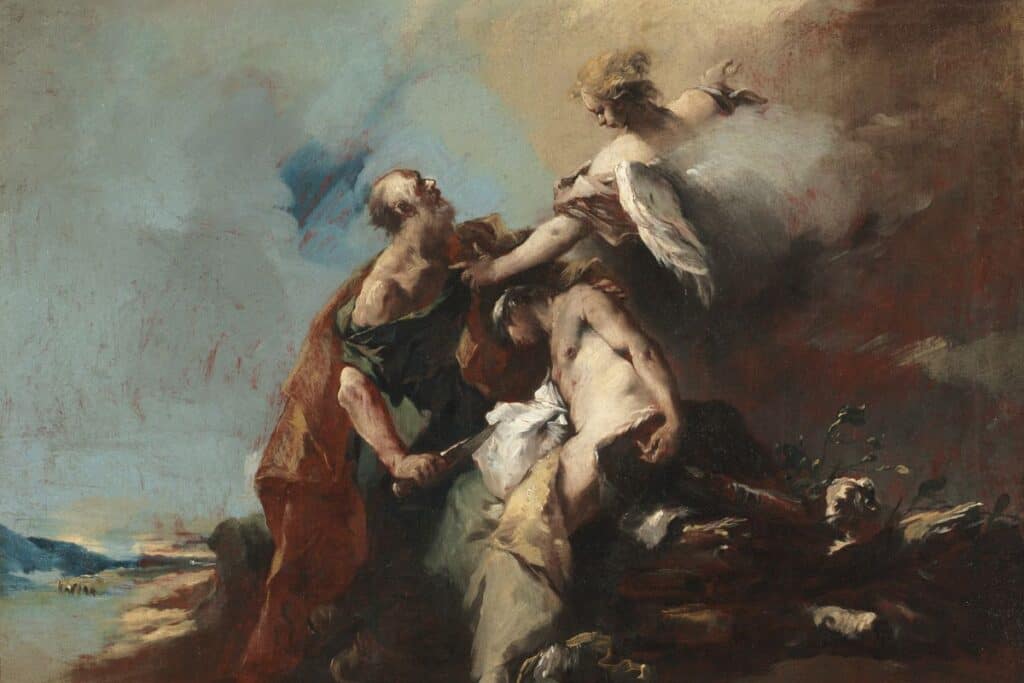 Genesis 26:24
"That night the Lord appeared to him and said, "I am the God of your father Abraham. Do not be afraid, for I am with you; I will bless you and will increase the number of your descendants for the sake of my servant Abraham."
Just as He had been with Abraham, God made it clear he would be with Isaac.
His blessing would be evident to all the nations surrounding Isaac and his family.
Genesis 28:15
"I am with you and will watch over you wherever you go, and I will bring you back to this land. I will not leave you until I have done what I have promised you."
And just like God promised Abraham and Isaac, he reiterates his plan to Jacob, that "all peoples will be blessed through you and your offspring" (vs. 14).
His protection and provision never leaves the house of Israel.
Genesis 30:23
"Then God remembered Rachel; he listened to her and enabled her to conceive."
The story of Jacob's children who would become the 12 tribes of Israel is wrought with struggle and pain.
Yet, we see the compassion of God in his timing, and the redemption he brings from the heartache of the mothers of these twelve sons.
Genesis 31:42
"If the God of my father, the God of Abraham and the Fear of Isaac, had not been with me, you would surely have sent me away empty-handed. But God has seen my hardship and the toil of my hands, and last night he rebuked you."
Jacob confronts Laban after his many years of hard work in his service.
He acknowledges that God's sovereign hand has been on him and his family at every turn.
Genesis 33:4
"But Esau ran to meet Jacob and embraced him; he threw his arms around his neck and kissed him. And they wept."
Many years after Jacob's treachery in acquiring his brother's birthright, Jacob is understandably afraid to meet Esau again.
In Chapter 32, he prays for protection and takes great care in preparing for this reunion.
And, God answers through the peaceable, and loving response of Esau.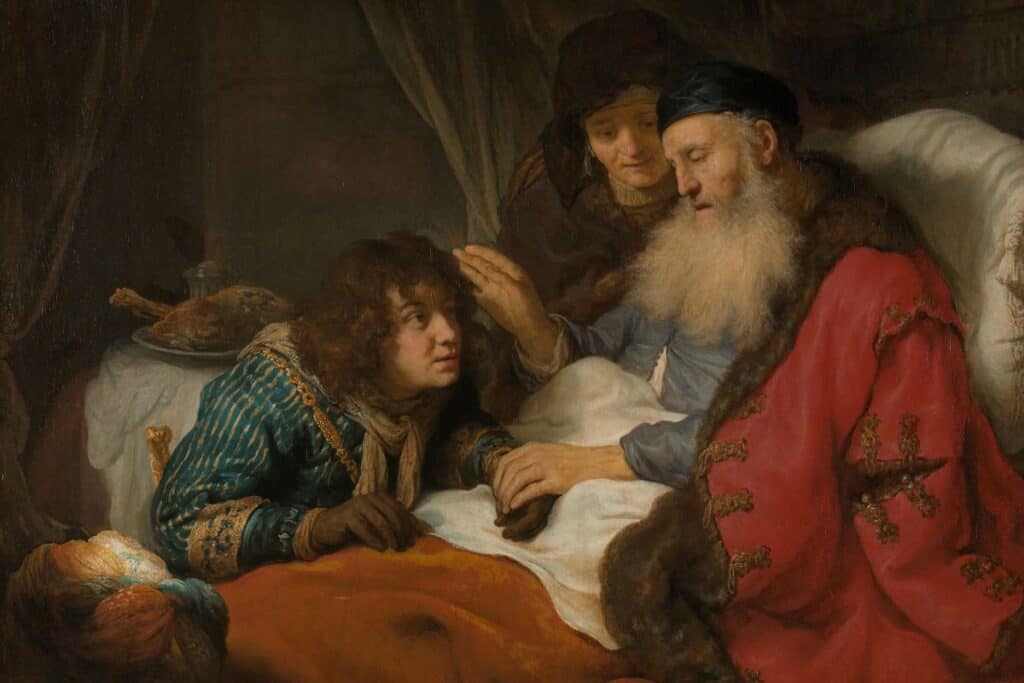 Genesis 39:2
"The Lord was with Joseph so that he prospered, and he lived in the house of his Egyptian master."
After being sold into slavery by his own brothers, Joseph finds favor with Potiphar.
He is soon placed in charge of his entire household.
Genesis 39:20-21
"But while Joseph was there in the prison, the Lord was with him; he showed him kindness and granted him favor in the eyes of the prison warden."
Once again, Joseph is elevated to a position of authority, through God's clear hand of mercy.
Genesis 41:39-40
Then Pharaoh said to Joseph, "Since God has made all this known to you, there is no one so discerning and wise as you. You shall be in charge of my palace, and all my people are to submit to your orders. Only with respect to the throne will I be greater than you."
Once again, God gives Joseph the ability to interpret dreams (as in Chapter 40).
And this time, it is Pharoah's dream, the ruler of the land.
He is forced to acknowledge the wisdom of an almighty God, the only one who could have given Joseph these abililities.
Genesis 41:54
"…and the seven years of famine began, just as Joseph had said. There was famine in all the other lands, but in the whole land of Egypt there was food."
Just prior in verse 49 the Bible tells us that Joseph stored so much grain, they stopped counting it.
God didn't just provide through Joseph's wise planning – he provided abundantly.
And that abundance would be shared with "all the world" (Gen 41:57).
As we see in the following chapters, this terrible famine that God ordained would bring about the repentance, reunion, and the restoration of the house of Jacob –
– which was many years in the making.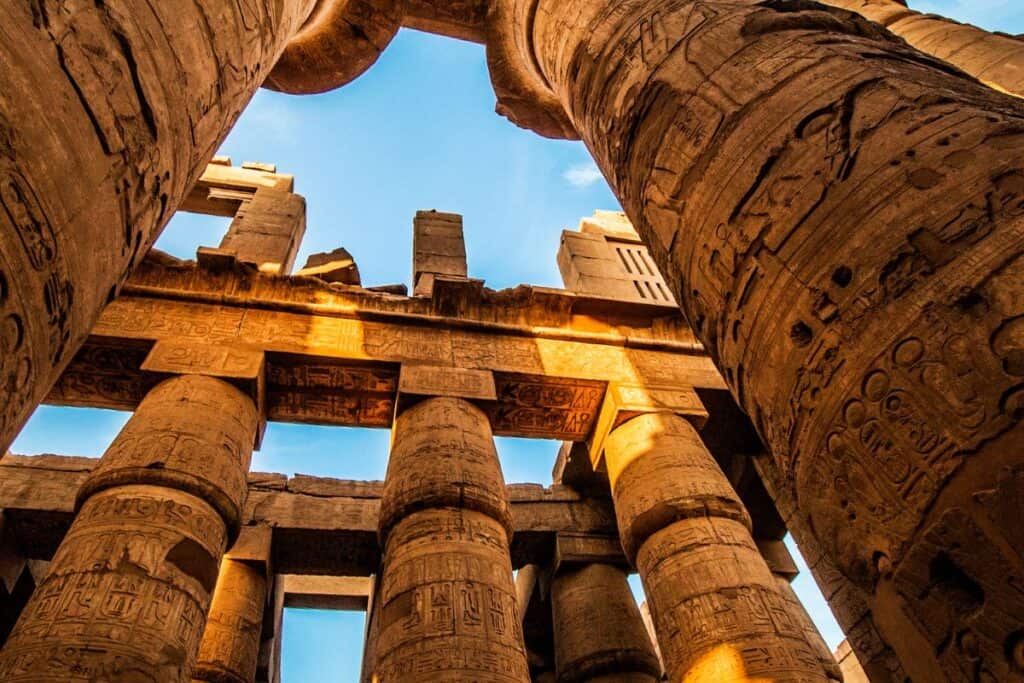 Genesis 46:3-4
"I am God, the God of your father," he said. "Do not be afraid to go down to Egypt, for I will make you into a great nation there. I will go down to Egypt with you, and I will surely bring you back again. And Joseph's own hand will close your eyes.
After learning his son Joseph is alive, Jacob receives reassurance from God as he relocates his entire family to Egypt.
God reminds him once again of his covenant with his people, which has never faltered.
Genesis 50:20
"As for you, you meant evil against me, but God meant it for good, to bring it about that many people should be kept alive, as they are today."
At the climax of Joseph's story, we see God's plan more clearly.
Through many years of hardship, we can now understand why God preserved Joseph's life, not just for his own sake –
-but the preservation of the nation of Israel.
If God is in control, we can find rest
These "God is in control" verses are really more of a continual story explained over the entire Biblical narrative.
The summary of that narrative? God is ruler over all.
His plans are good, and he never stops working for the good of those who love him. (Romans 8:28)
We have these accounts from Adam to Joseph as a snapshot of very real and ordinary people, who followed an extraordinary God.
They didn't just believe in God's sovereignty, they witnessed its power firsthand.
And what does that mean for imperfect sinners just like you and me?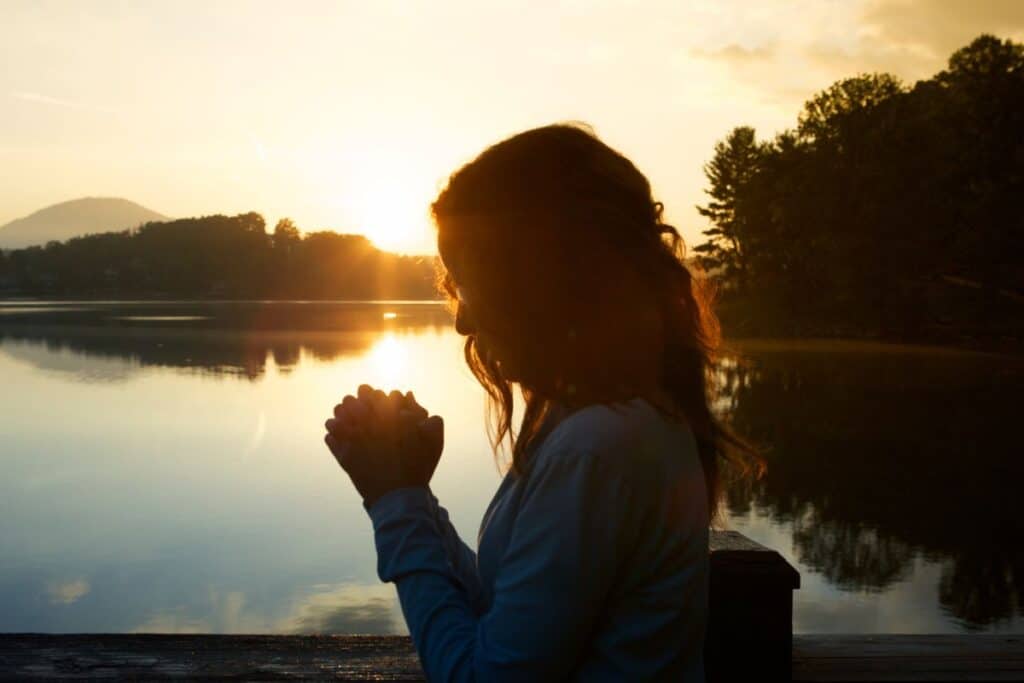 Well, the rest of Scripture makes it known:
We can bear witness to the gracious authority of a loving Father, too.
One step of obedience at a time.
You might also like:
Scripture Passages about a Mother's Love
Verses that Remind us of God's Faithfulness
"Struggle Verses" for facing Life's Trials
Scripture to Combat Worry and Stress
This post likely contains affiliate links. Please see our disclosure for more info.