Use these Thanksgiving Bible lessons with printable thanksgiving crafts for Sunday School this year as an easy yet impactful activity for your students!
If you're like me, you might have waited just a little too late to plan your Thanksgiving Sunday School lesson. And now you're scouring the internet, looking for something that won't require a million last-minute supplies.
I get it! It's hard to keep all those ducks in a row.
For so many years now, the holidays seem to sneak up on me – particularly Thanksgiving – for whatever reason.
With these lessons and Thanksgiving activities, I hope to be more prepared and proactive this year.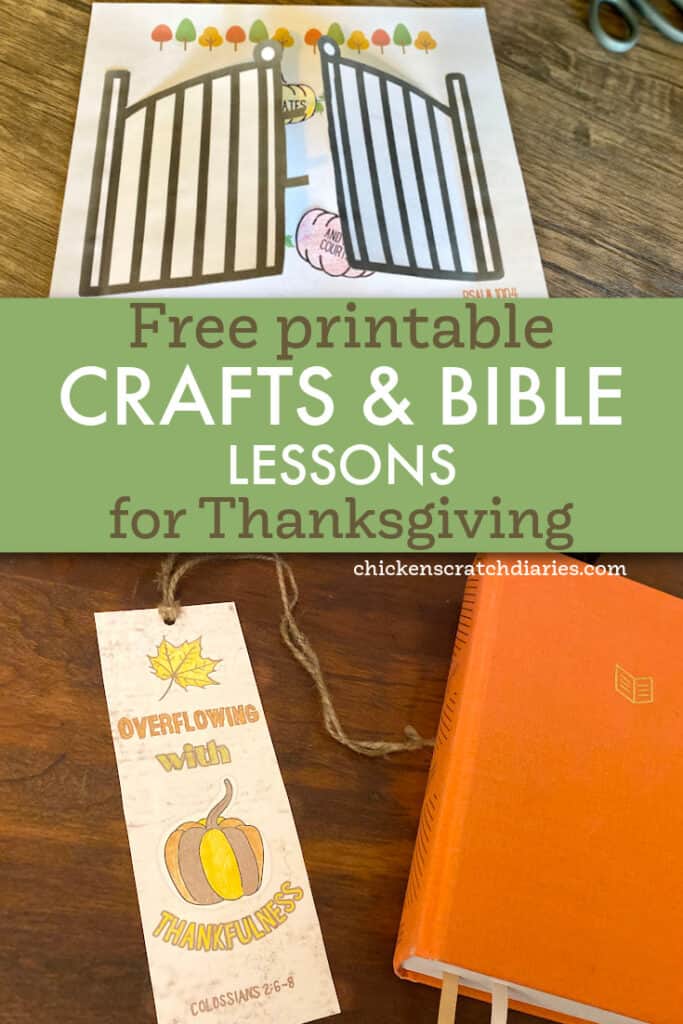 Inspiring Gratitude with Scripture-Centered Thanksgiving Bible Lessons
Honestly, Thanksgiving is a holiday I should pay more attention to, and I hope to be more intentional about in my Sunday School classes and at home this year.
We have so much to be thankful for, regardless of what's going on in the world. But gratitude must be cultivated.
As Christians, we have God's very spirit dwelling within us, to sustain us each and every day!
Our kids need to learn these truths and hold on to them, just as much as we do.
This site contains affiliate links to products. As an Amazon associate, I earn from qualifying purchases. Please read my disclosure for more info.
3 Thanksgiving Bible Lessons + Crafts and activities
Below are three simple Thanksgiving Sunday School lessons.
Included are a few corresponding activities within the lessons, and a free printable craft that you can use to reinforce the lesson.
I tried to keep these as simple as possible, with as few materials as possible. Mainly because I tend to find that simple and easy-to-complete is better than complicated-and-half-finished. 😉
The craft follows each lesson in a separate set of instructions. The printable activities and templates are linked in each set of instructions.
Take a look at the description for each craft to decide which one will best fit your students' age group.
The first one is best suited for preschool/kindergarten; Lesson #2 is for kids a little older (tween ages), and Lesson #3 was written with teens in mind.
Read next:
Simple Advent Ideas for Families
Free Printable Nativity Manger Scene Craft
I hope having these options will make planning your Bible lessons on Thanksgiving just a little easier this year.
Of course, the crafts are optional and you can always mix and match to fit your particular age ranges and circumstances. You know your kiddos best!
P.S., if you are in need of a new printer, we bought this one a year and a half ago, and it's still going strong for projects like these!
The HP Instant Ink program also saves us a ton of money on all our homeschooling and Sunday School needs — check it out! 🙂