Looking for new ways to teach the Bible to your kids? Don't underestimate the power of Bible games!
Disclosure: we received games from Bible Games Central in order to share our opinion about their products, but this isn't a sponsored post. All opinions expressed are our own.
Since venturing into homeschooling recently, we've discovered that learning happens in so many ways.
It can take place through textbooks, literature, in the kitchen; through simply experiencing our world around us.
One of the best ways learning takes place is when it's (successfully) disguised as fun and NOT another school activity.
(I mean…learning should be fun, but sometimes we get it backwards, right?)
Games are the perfect tool for hands-on learning with nearly every subject, including the Bible.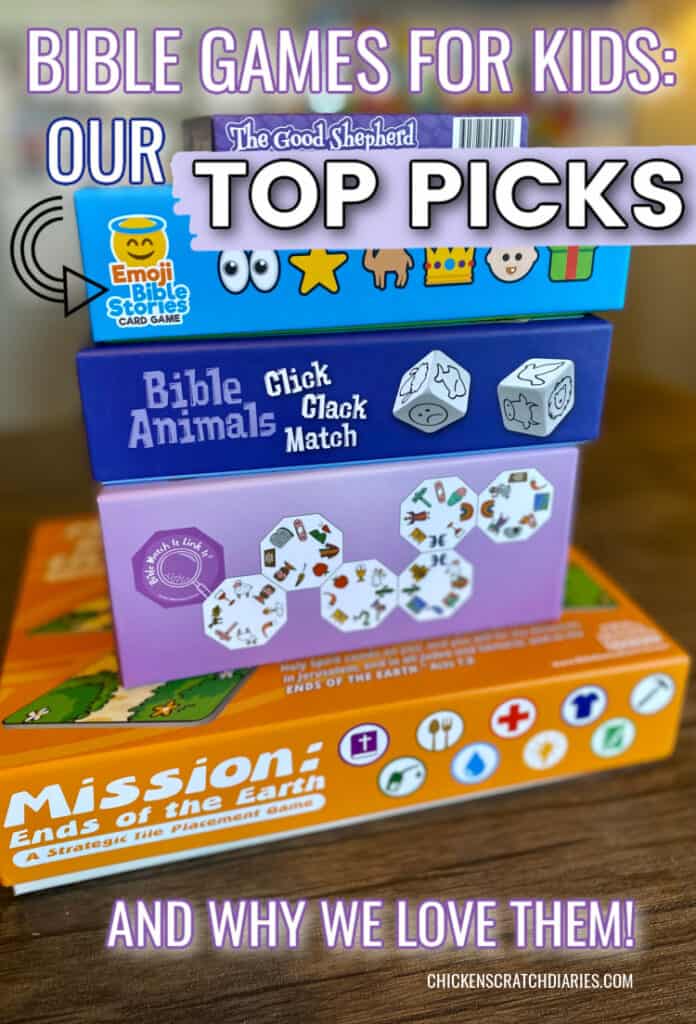 This post likely contains affiliate links. Please see our disclosure for more info.
Sunday School Teaching Tools
When I was teaching a 5th and 6th grade Sunday School class, I relied a lot on games that taught Bible lessons.
Some days, there was so much energy in that room that the only way to keep the chaos at bay was to break out a game or two.
I spent a lot of time creating activities like a DIY Bible Bingo board and scavenging for household objects to use as game pieces. It was a lot of work!
Playing through the Bible
Free or DIY printable Bible games are great – don't get me wrong. But it's also nice to not use up $50 in printer ink and to have some quality Bible board games and activities that require zero prep work.
That's why I didn't hesitate at a chance to partner with Bible Games Central for a review of each of the games they currently offer for kids.
I knew if my kids enjoyed them and learned deeper truths in the process, your kids would, too.
Each of these Bible board games and card games would make an excellent addition to your homeschool, family game night, children's church or Sunday School class.
Here are the nine games we reviewed – and why we give them a big thumbs-up!
Mission: Ends of the Earth
If you've ever played the castle building/strategy game, Carcassonne, then you'll be familiar with the style of this game.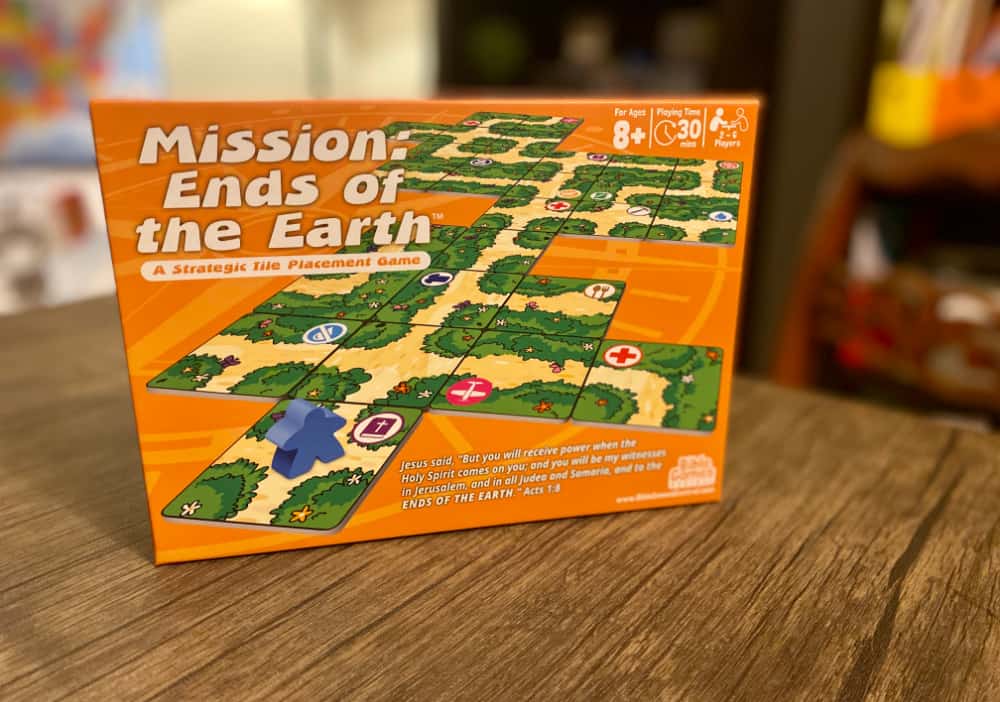 In Mission: Ends of the Earth, instead of building castles your goal is to get your missionary to your designated village, while bringing needed resources along the way.
It symbolizes a different kind of kingdom-building; one that lasts! 😉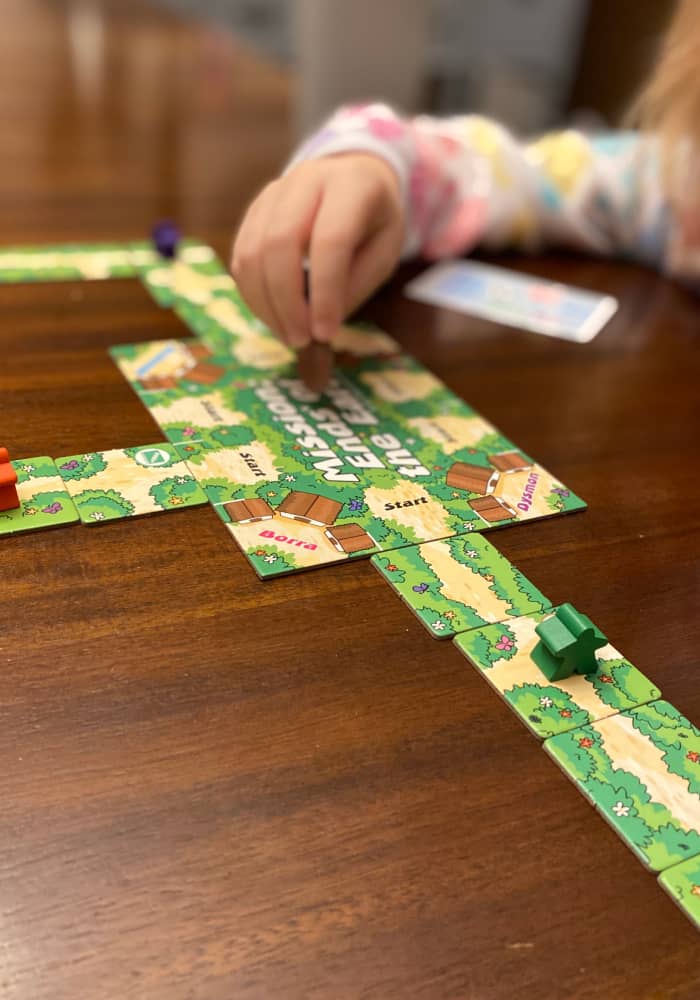 My eight-year-old was really into this game and although it can take a while to complete it, I appreciate the way it encourages careful strategy.
Make sure you start at a large table for this sprawling game, or better yet- the floor!
Bible Match It Link It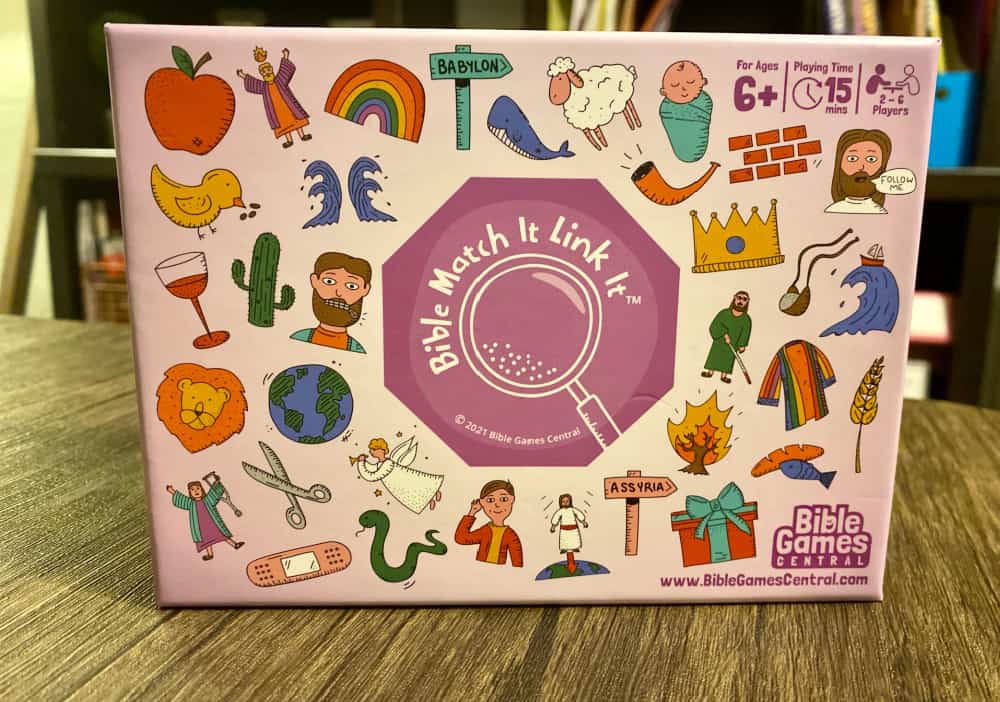 With Bible Match It Link It, there are four options for game play. ranging from a simple lightning round (great for younger kids) to a more complex cooperative group-effort game.
In most options, the objective is to link the depicted Bible-story on one octagonal tile to another tile with the same image. You have to think fast!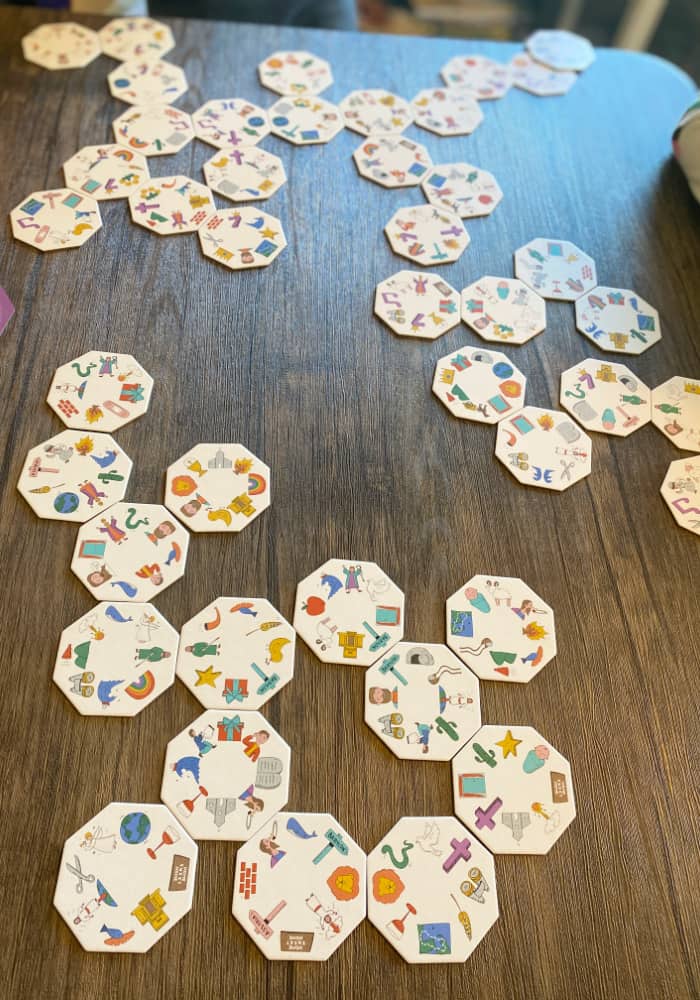 If you have a high-energy group, this one is a great pick, because it can get a little wild!
Like Mission: Ends of the Earth, you'll also need to allow ample space, especially with more than two players.
Also read: Free Thanksgiving Games with Printables
Bible Animals Click Clack Match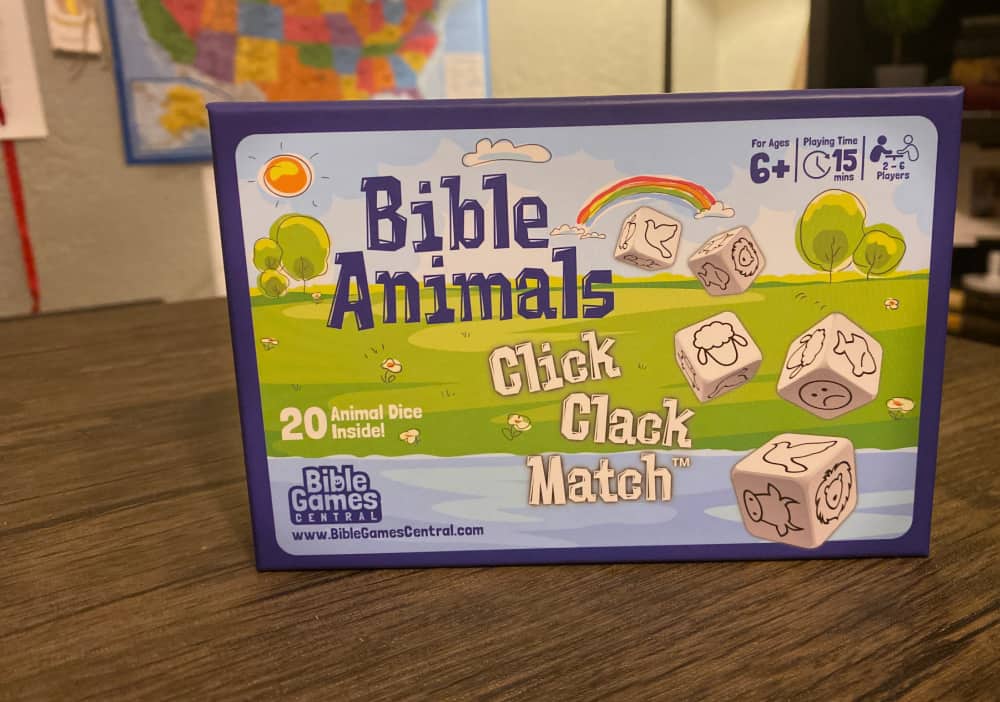 My kids enjoyed this fast-paced game, and it was easy to catch onto right away.
It involves rolling 5 dice at a time, and matching them to the 3 corresponding cards that each player has to try to "claim" by filling up the card with correct matches first.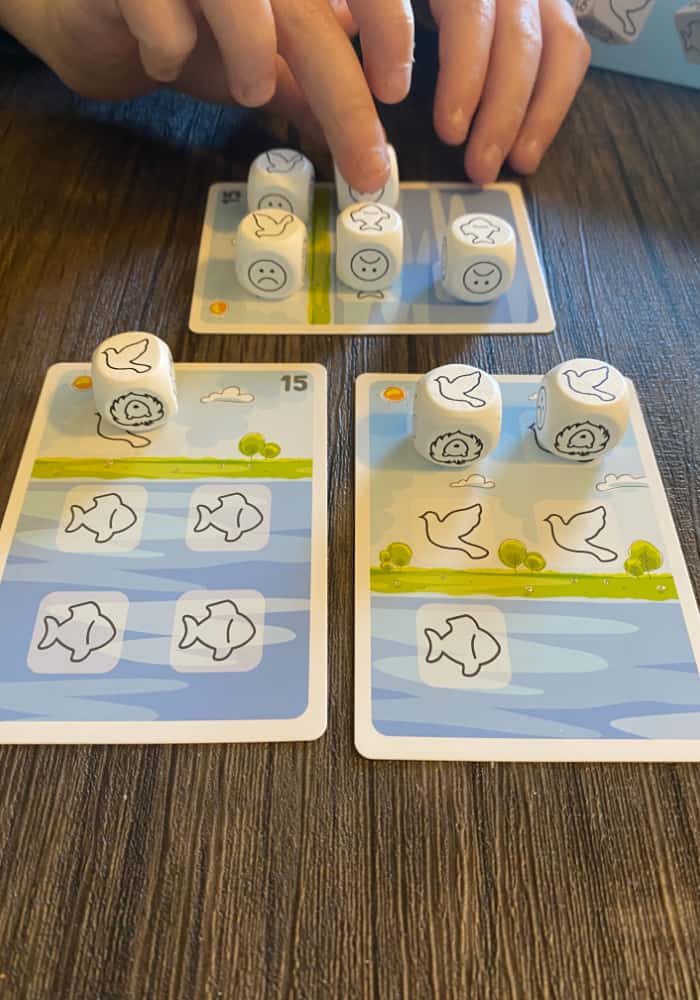 A fact sheet is included to explain to little ones the relevance of each animal in the Bible narrative.
My youngest really loves Bible Animals Click Clack Match and now wants to play it constantly!
The Good Shepherd
When my daughter (now in Kindergarten) saw this game, she was excited because she had just learned John 10:14 the week before.
So it was nice to have a reinforcement for her Bible memory work!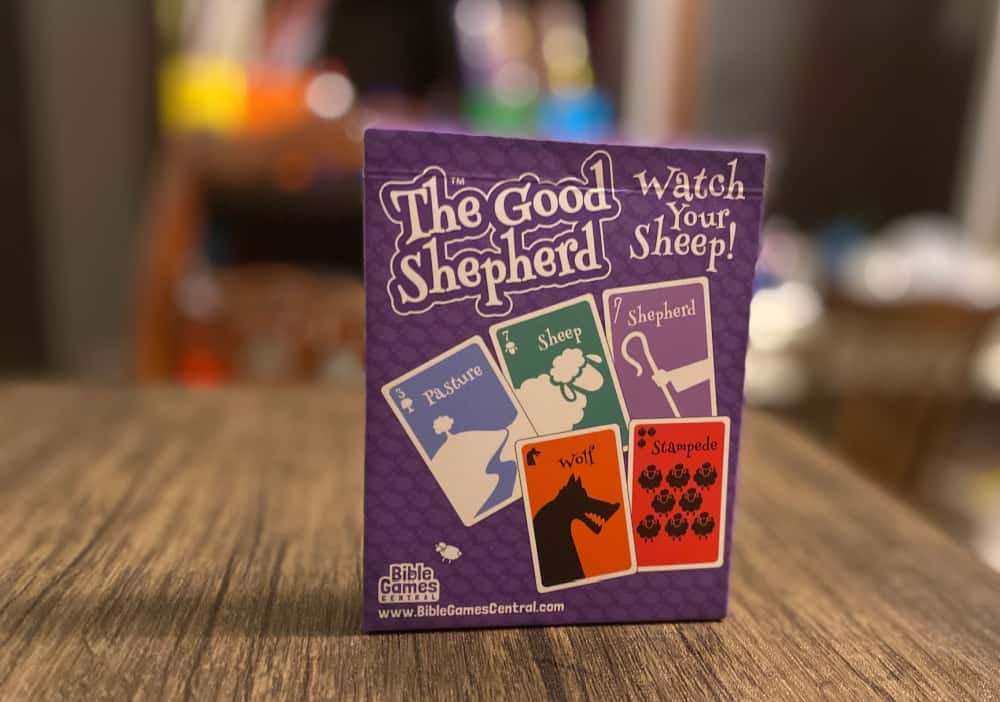 The Good Shepherd card game is simple and fun especially for younger kids.
The goal is to guard your Sheep and Pasture cards as best you can by playing your "Shepherd" card to guard against the threat of wolves and stampedes.
It's a game that doesn't take long to play, and would be great even for car trips or even in a busy bag.
Emoji Bible Stories Card Game
I wasn't sure what to expect when I opened this box. Bible games for children + emojis??
But I have to admit, it might be my kids' favorite out of all 9!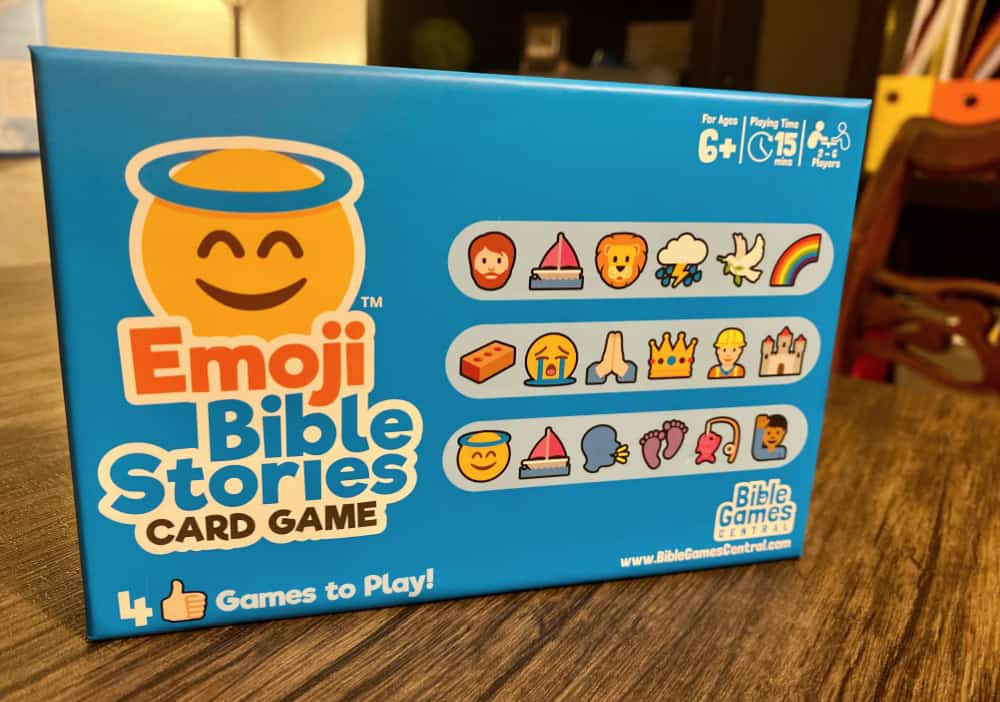 There are four options for game play. Game 1 was to simply draw a Green Story Card card and then choose from 120 emoji cards to tell the story while the other players guess it.
We took some liberty and used more than 3 cards, but it was actually pretty hilarious how creative the kids were in telling their Bible story through emojis.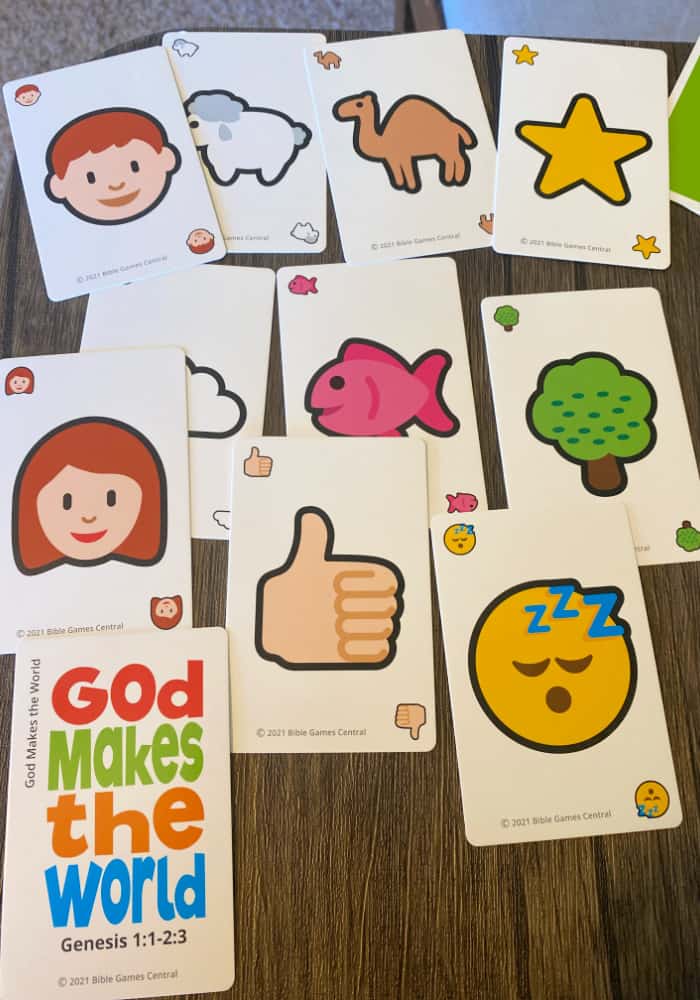 Hint: sort your emoji cards into stacks by topic (people, objects, weather etc), to make it easy to find what you're looking for.
We haven't even gotten through all four modes of play yet, but we found this game to be tons of fun and easy for all ages in our household to play.
Read next: Christmas Game Ideas
Bible Bingo
Bible Bingo, like most of the games we received, is recommended for ages 6 and up.
But my youngest (starting at age 4) was able to easily play by matching the pictures on the calling card to her card.
The goal is to get 5 books of the Bible in a row. You have bingo cards that are divided into 8 sections: Law, History, Poetry, Major Prophets and Minor Prophets (Old Testament); and Gospels & History, Letters from Paul, and General Letters & Prophecy (New Testament).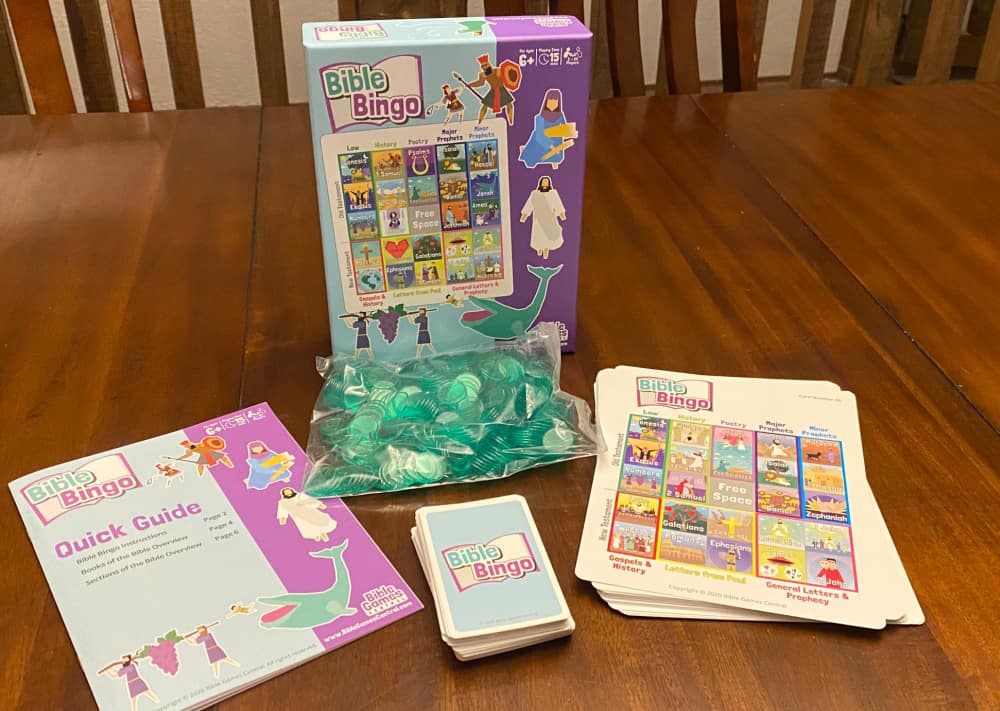 Each section has a color coded border and the images that depict that particular book of the Bible coordinates with the calling card.
So as you call out each book, you will say, for instance, "Galatians: Yellow: New Testament Letters from Paul".
In my opinion, this game was very thoughtfully organized and is a great way to help memorize the books of the Bible and also associate their location and purpose in Scripture.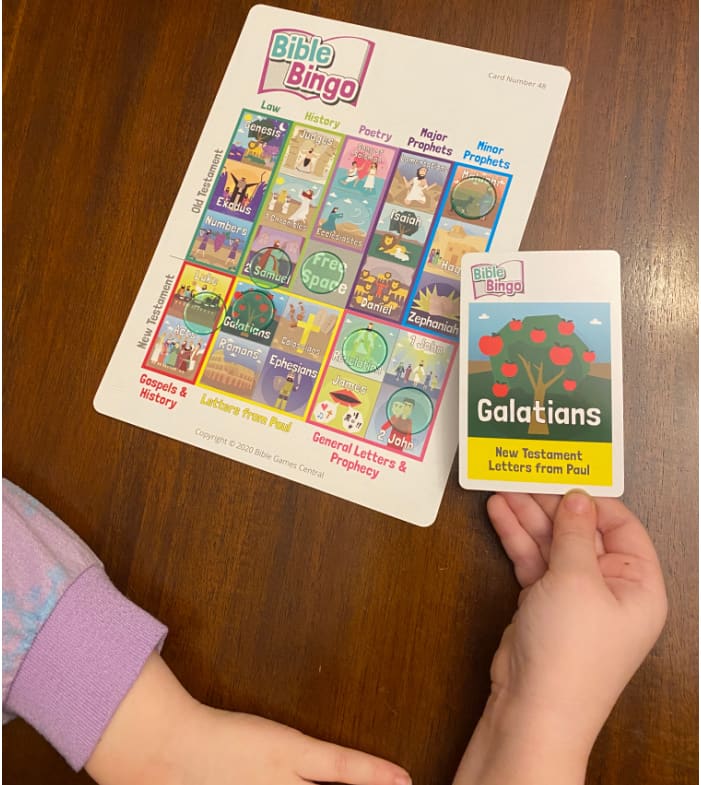 One thing I sometimes do is ask the kids to tell me one thing about the book before we move on to the next calling card.
Or I might just comment about the book to jog their memory. "The Book of James; remember those verses about the power of the tongue?"
This is another favorite at our house and it makes it simple to learn and play together as a group.
Christmas Bingo + Memory Game
With this game, you get two games in one.
Christmas Bingo is the traditional Bingo game everyone knows and loves: perfect for Christmas parties and get-togethers.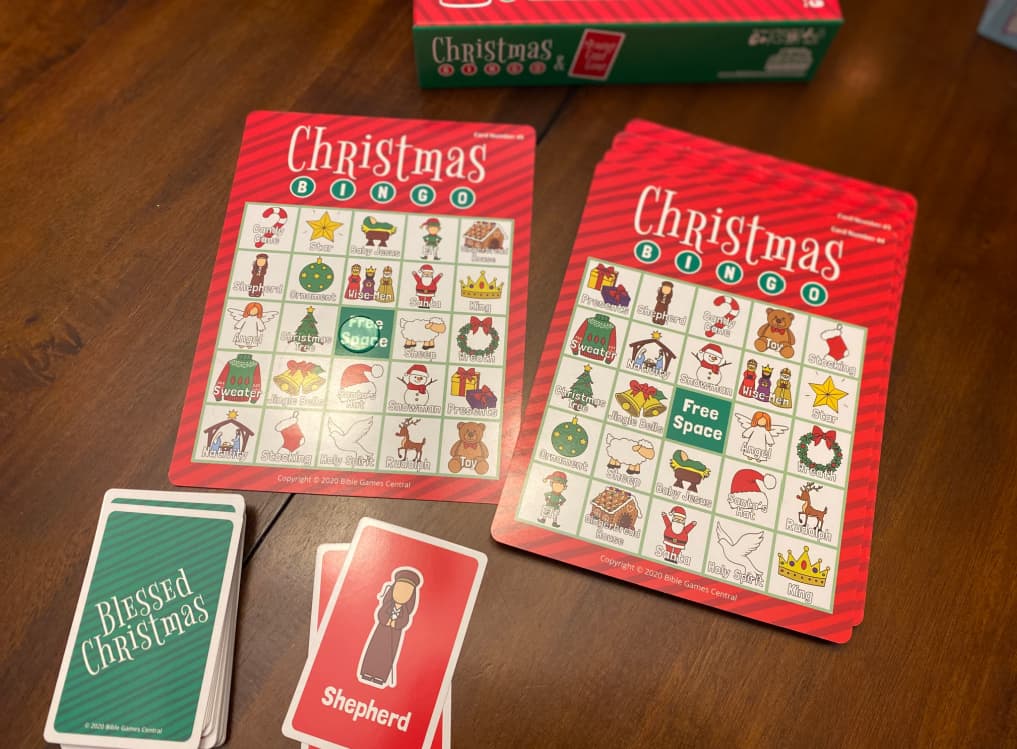 The Christmas memory cards are cute, simple and easy for little ones to join in the fun.
My four-year-old could seriously play the memory game all day.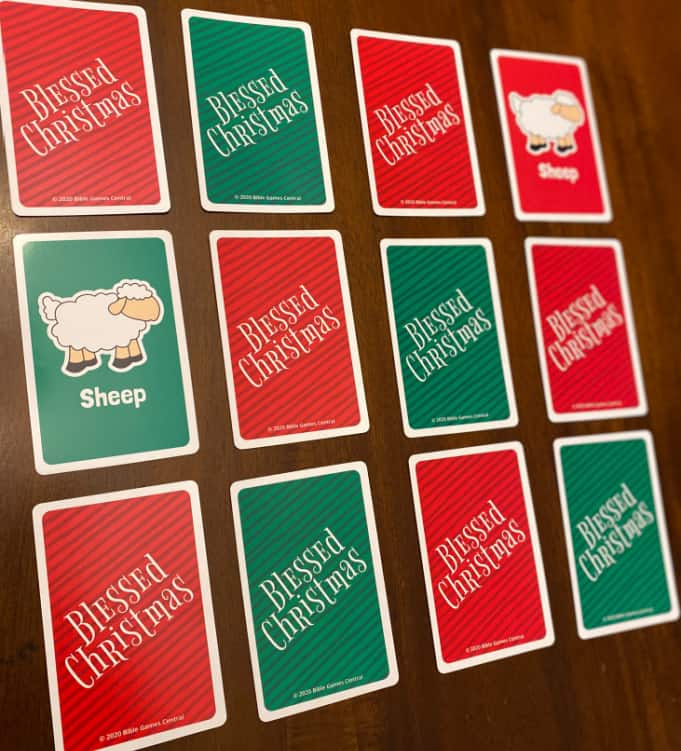 Activities like these are always a nice way to keep the conversation going before the turkey-coma sets in after Christmas dinner!
Bible Memory Game
Bible Memory is another straightforward game, and with this particular version you can really stretch your memory muscles!
If you play with the full deck there are 66 pairs, for – you guessed it – 66 books of the Bible.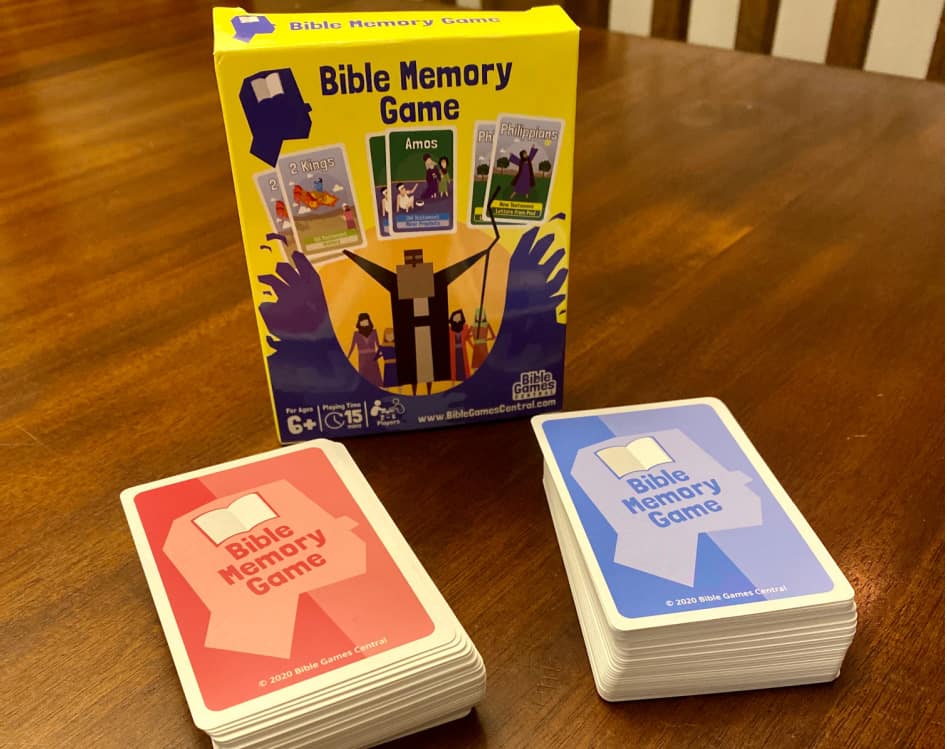 I would recommend splitting the deck by Old Testament/ New Testament and playing with one or the other for younger kids (or even split into sections of the Bible).
When playing with the full deck, the nice thing is that the they are split between red and blue cards (the side facing you) and you will pick one of each in order to have a pair.
This makes the game a little easier when you're playing with 132 cards.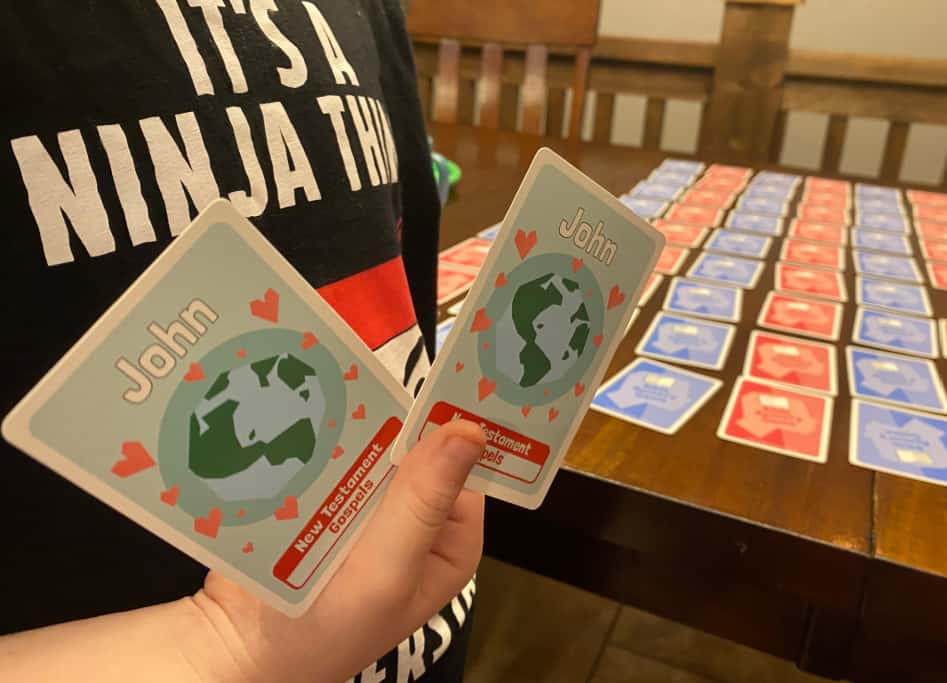 Either way you play, this game will help your kids learn and remember the names of the Bible and where each is located.
Like the Bible Bingo game, each book is labeled and color-coded by the section of the Bible it belongs to (Letters from Paul, Gospels, Poetry, etc.)
Parable Parade
My middle schooler and I loved playing this game together. It involves sets of parable cards and kingdom cards.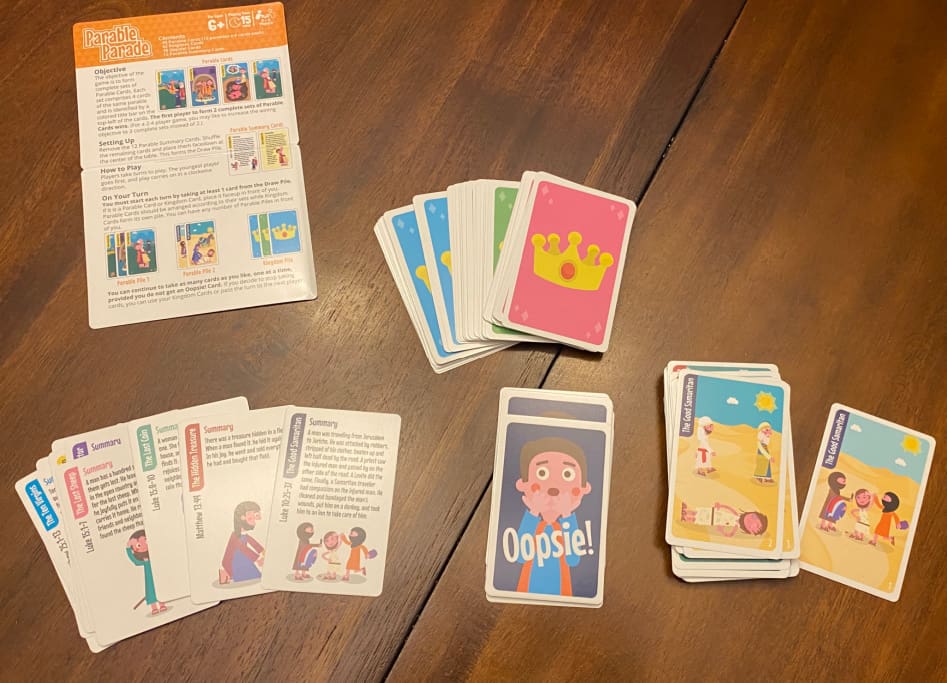 The object is to be the first to complete your parable sets, which then tells the story of Bible parables in a series of pictures.
There are chances to steal your opponent's parable cards, but you can also be forced to give your cards up if you draw the "oopsie" card.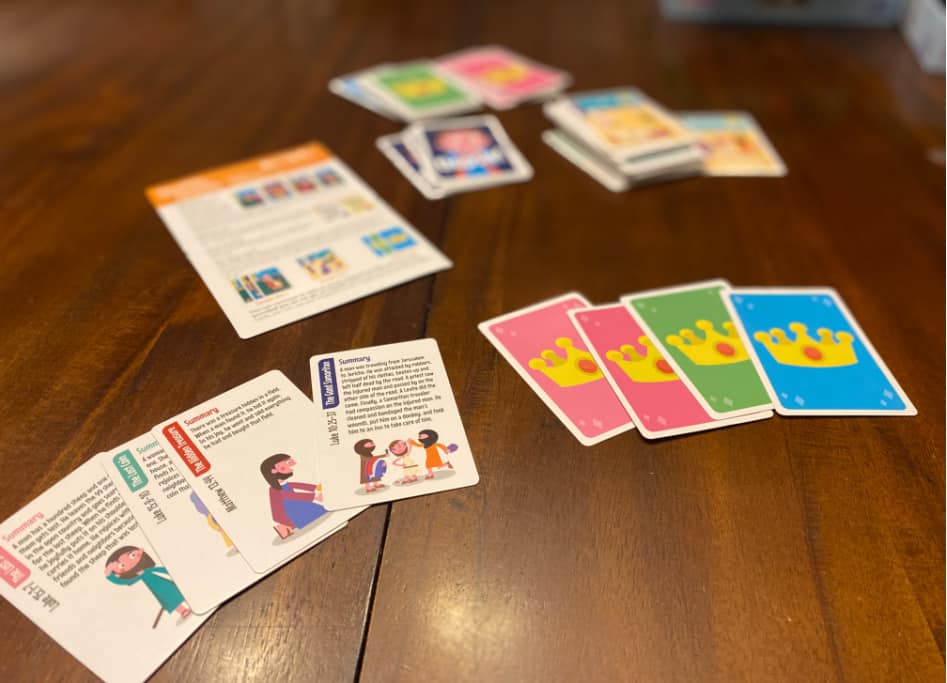 There are 12 parable summary cards that explain the full context of each parable.
Once the game is over, you can take turns telling the parables depicted in your completed sets, referring back to the summary cards for any details you might have missed.
This card game was probably my personal favorite.
I love that it gives us a chance to narrate parable accounts from memory and further reinforce the meaning of each one as we play.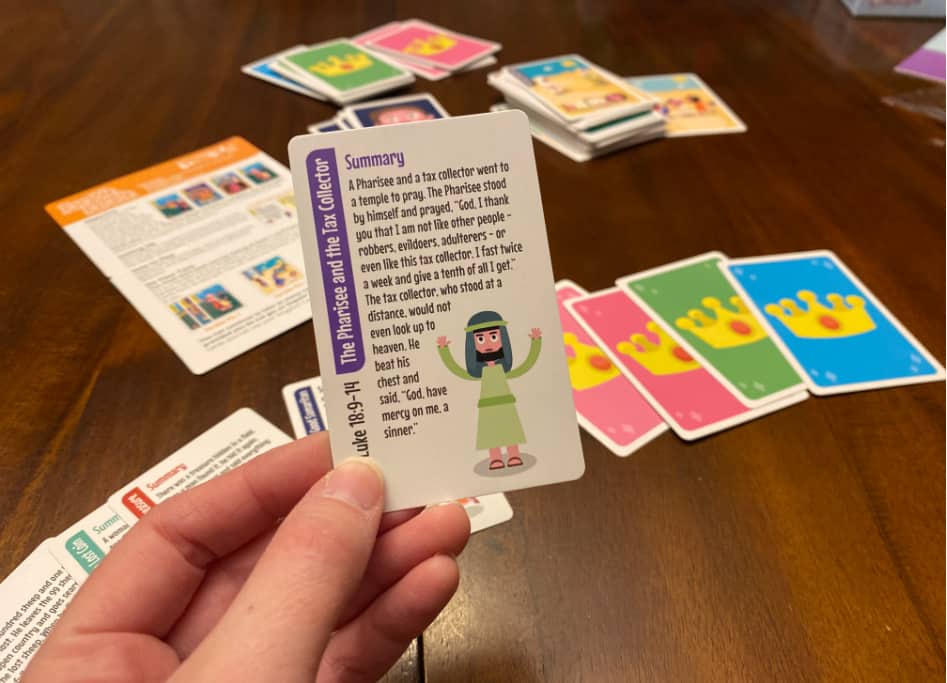 Bible games for the win
As a Christian parent, it can feel like swimming upstream, trying to raise godly children who really know God's Word – when there are so many other things competing for their attention.
Fun Bible games like these are simply one more way we can connect with our kids, spend time more together and make talking about Scripture a routine part of our day.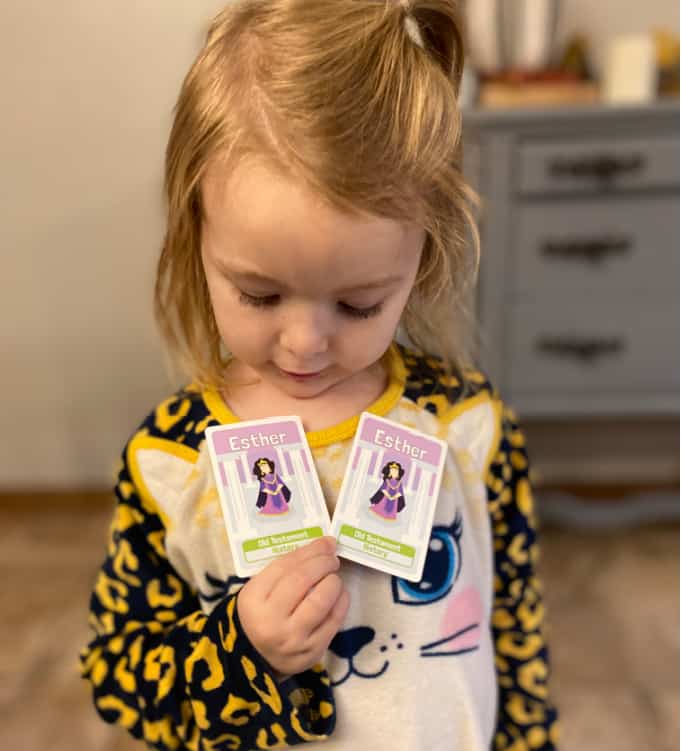 Kids crave in-person connection more than we realize, and we have to be intentional in planning activities that involve less screens and more meaningful conversation.
And time spent learning the Word together is certainly never wasted!
You can view all the games from Bible Games Central here. And if you do, come back and let us know how you're using them to teach the Bible through play.
At home or at church – we vote for Bible games for kids as time well spent, and memories well made.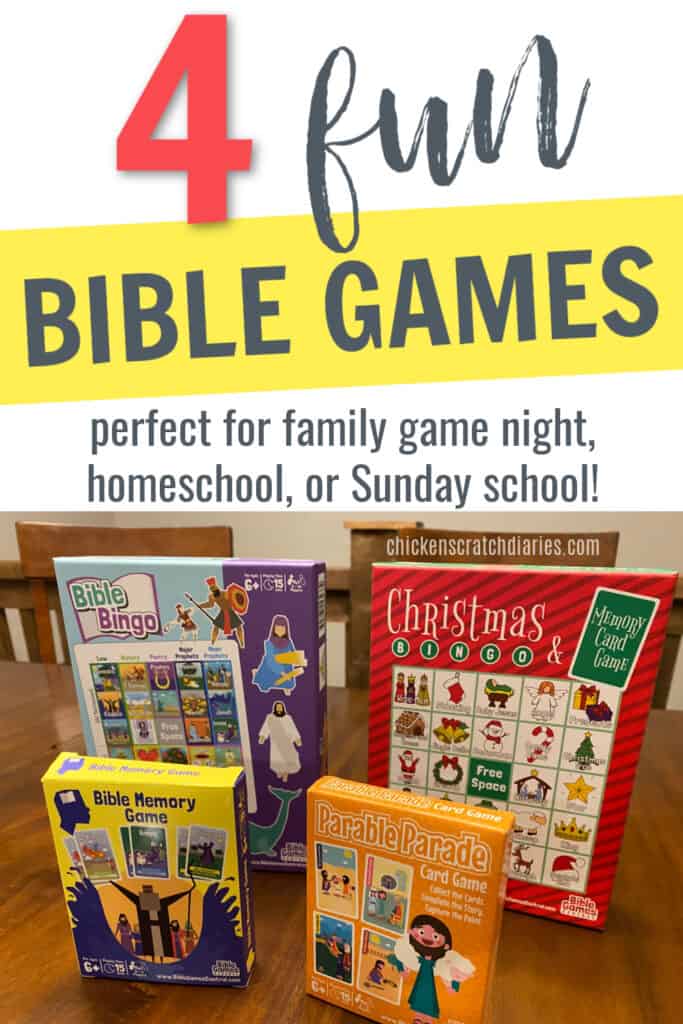 *Originally posted 11/19/20 and last updated 11/11/21.