Teaching children about faith can feel complicated, but it doesn't have to be. The starting point for the most important lessons in life are just a conversation away.
Whether you have babies or teens, you have the ability to teach your children about God.
If you're a Believer who has submitted your life to God and chosen to follow Him, he has already given you the most powerful testimony you can have: His spirit living in you.
So why is it that we tend to complicate things when it comes to teaching our children about our faith and what it means?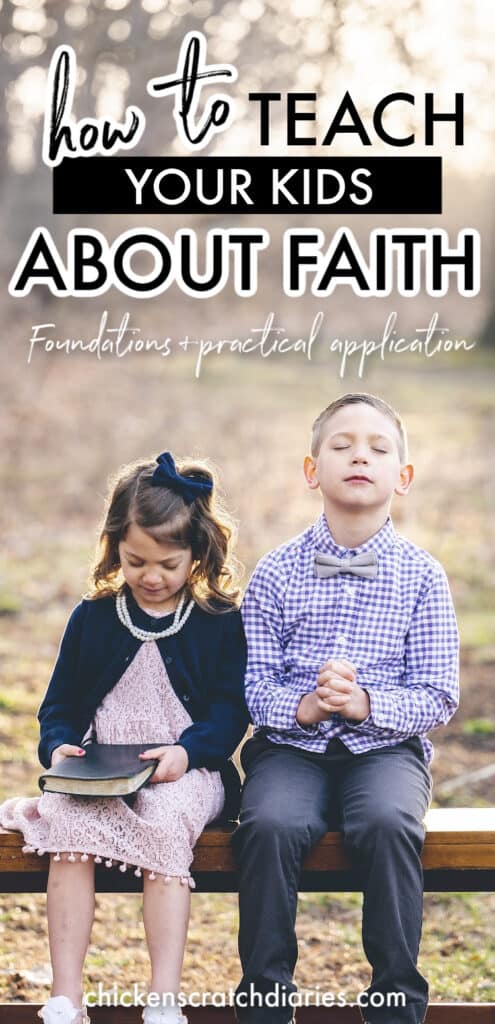 One possible answer is that, sadly, we might tend to compartmentalize faith from the rest of our life.
We relegate conversations about our faith in God to Sunday school or funeral services, and often neglect to make our relationship with God the cornerstone of our lives.
With so many distractions bombarding us from every angle in our busy lives, it can be tempting to skip over the deep applications of faith in the day-to-day monotony.
Yet, a faith that is genuine should impact every moment of our day. When we're connected to our Creator through the study of his Word and prayer, this impact becomes evident.
Table of Contents
Explaining Faith: Take Their Cue
It's funny that we get tangled up explaining faith even to our kids, though. (Or maybe I'm the overthinker in the room.) Ironically, they are the ones who are the most trusting and able to believe.
In Matthew chapter 18, Jesus gives us a glimpse of a stumbling block we tend to encounter as adults:
""…Truly I tell you, unless you change and become like little children, you will never enter the kingdom of heaven. Therefore, whoever takes the lowly position of this child is the greatest in the kingdom of heaven." (Matthew 18:3-4)
So what is that stumbling block? From this passage, it seems to be pride. It keeps us from innocent belief in what God has made known to us.
It keeps us from exercising our faith and therefore communicating it in simple ways to our children (and others).
If only we could strip away the skepticism and weariness that comes with time, and recognize Truth as plainly as a little child. That's the position we need to take if we're going to be effective ministers of the Gospel.
This post likely contains affiliate links. Please see our disclosure for more info.
Teaching Children About Faith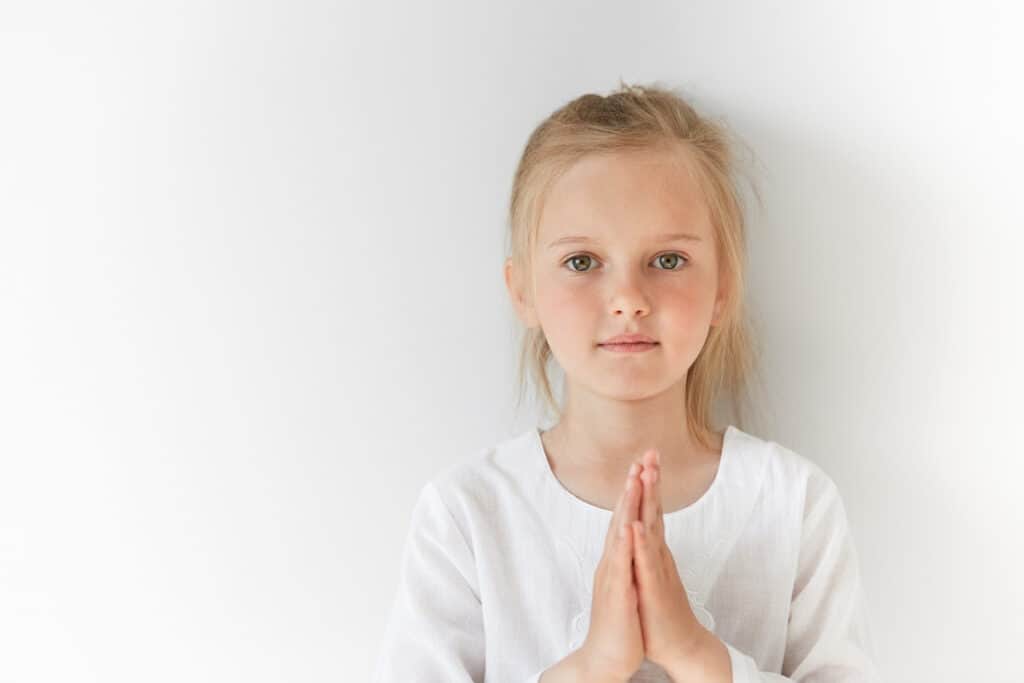 So where do we start? Let's take it one step at a time and lay some groundwork as we go, to make sure we're firmly rooted in our own faith first.
Then we can be equipped for the practical applications of teaching our children about faith.

1| Scripture
The most obvious place to start teaching children about faith is with the Bible. Trusting the Bible as the authoritative Word of God is foundational for Christ-followers.
Scripture gives us not only details about creation and the history of our world, but deep insights into the nature and character of God. It's how we know His heart. It's how we know who He is.
God's Word defines our very purpose and meaning, the nature of sin, and the salvation that is available through faith in Jesus Christ.
Having an understanding of the full arc of Scripture — as author Jen Wilkin says, letting "Scripture interpret Scripture" through cross-referencing passages for context and meaning — is a lifelong process.
But we can know enough to make a rational, informed decision that the Bible is true and infallible.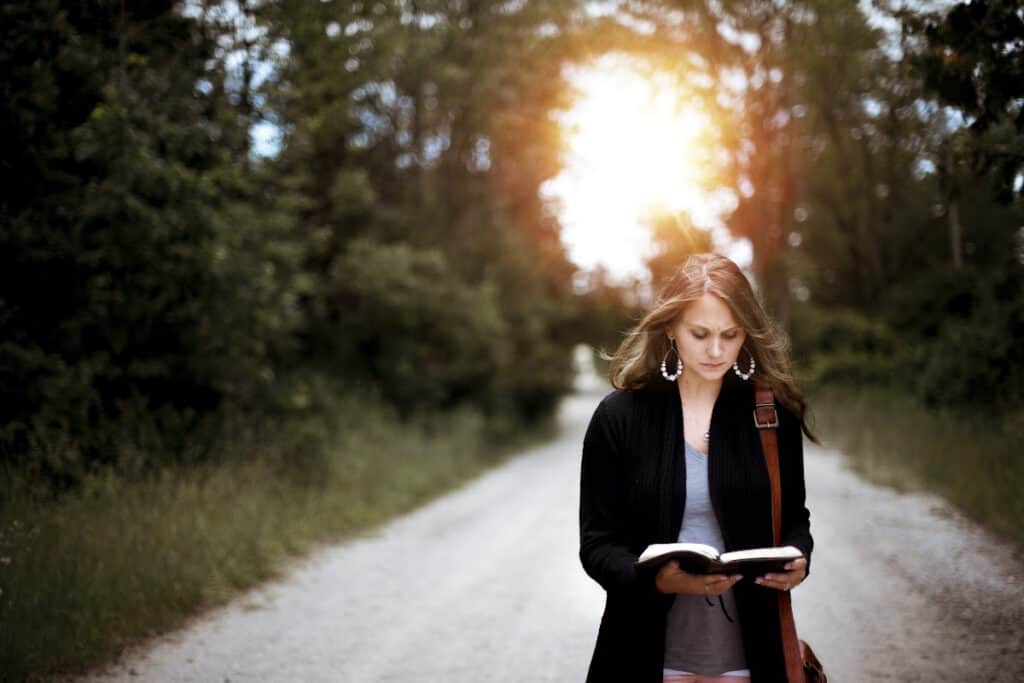 2 Timothy 3:16 (NIV) explains, "All Scripture is God-breathed and is useful for teaching, rebuking, correcting and training in righteousness."
Ordinary People, Extraordinary Faith
Once we establish the authority of the Bible, we can then point to other supporting passages on faith that help to define what it means.
Hebrews chapter 11 gives us a round-up we often call the "Hall of Faith". It recounts several examples in the Old Testament of people who exhibited extraordinary faith, and definitions of what faith is and what it does:
"Now faith is confidence in what we hope for and assurance about what we do not see." (vs 1)
"By faith we understand that the universe was formed at God's command, so that what is seen was not made out of what was visible." (vs 3)
And without faith it is impossible to please God, because anyone who comes to him must believe that he exists and that he rewards those who earnestly seek him. (vs 6)
By faith Abraham, when called to go to a place he would later receive as his inheritance, obeyed and went, even though he did not know where he was going. (vs 8)
And by faith even Sarah, who was past childbearing age, was enabled to bear children because she considered him faithful who had made the promise. (vs 11)
By faith Moses' parents hid him for three months after he was born, because they saw he was no ordinary child, and they were not afraid of the king's edict. (vs 23)
Of course, this is not a comprehensive list by any means. But it highlights the obedience of people whom God used to carry out His extraordinary plans.
The Gift of Faith
As you go through Scripture with your children and see these examples, take time to dwell on the faithfulness of these people we can all relate to. They had struggles, faults and sin, just like us.
This is one important way to establish what is possible through faith, and to point out that God himself imparts and sustains our faith.
Even faith (that saves) is a gift; it's not something we muster up on our own!
In other accounts, we can point back to God's faithfulness in spite of His people's unfaithfulness. Anyone is subject to sin and rebellion- even God's chosen people.
God's faithfulness can be relied upon, even when we as humans are unreliable and we stumble in our faith-walk. (And, we will.)
As long as we're still breathing, we have a chance to repent and turn back to our faithful God. We need only to look to the ancient Israelites to know this is true!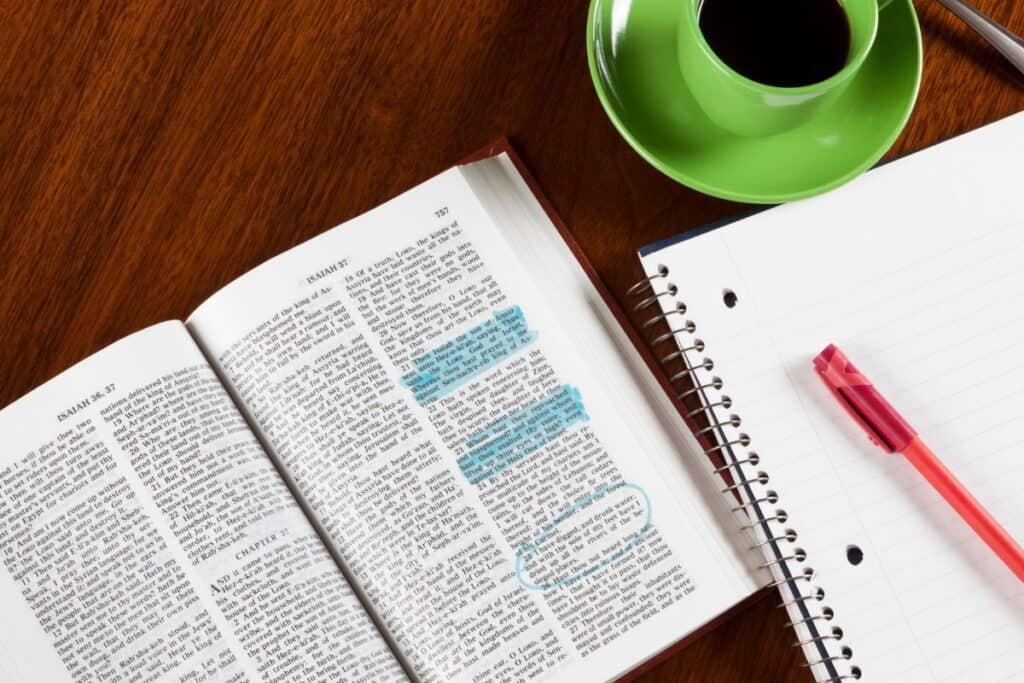 God's intention is always to redeem what was lost and draw us back into relationship with him.
2| God's Creation
One of the easiest ways to explain things is not only found in Scripture, but in the natural world we experience every day.
Kids have an innate sense of awe for nature, animals, insects, weather — all of God's handiwork. This makes a logical springboard for conversations about faith.
I've found that it's too easy to gloss over the fact that God created everything out of nothing, but it's really a big deal!
It takes faith to see the design, intent and order of the universe was orchestrated carefully – not happenstance. Yet at the same time, it's a logical conclusion we can make based on science and compelling evidence.
(ICR is a great resource on this topic.)
Books on Creation
For young kids, you can also find children's books that explain the wonder of creation beautifully. One of my new favorites is "Who gave the Birds Their Song", written by my friend Tabatha Hull.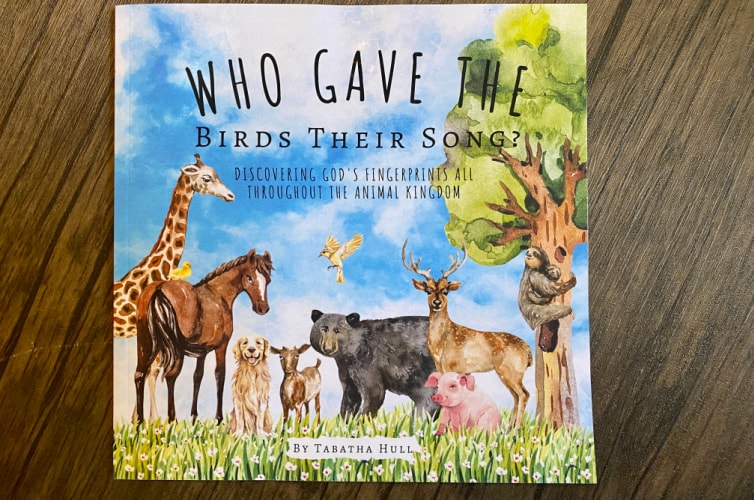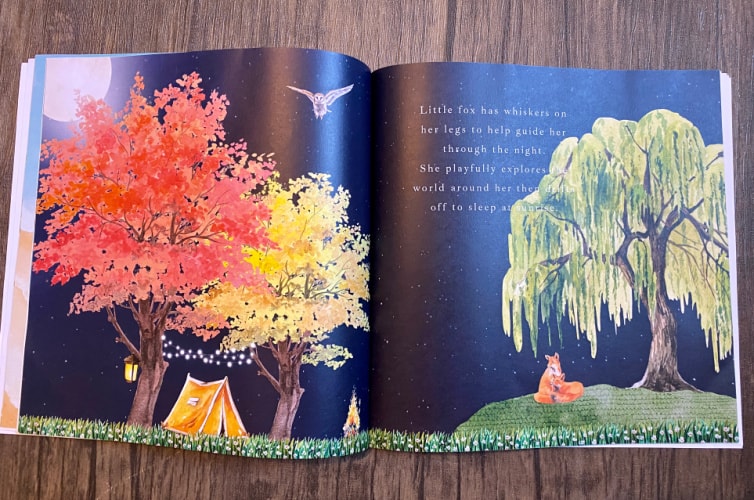 The beautiful illustrations match the beauty of the truth expressed in this book: God is creator of all, and he has given each of his masterpieces a distinct purpose.
Most kids easily connect to animal stories and love to read them over and over (at least, mine do!).
Books like this one, which includes fun animal facts at the end, can be used early on as a tool to highlight God's awesome power reflected in everything He has made.
The intelligent design we see in the animal kingdom is just one more proof that can make the case for faith in an intelligent, intentional Creator.
The next time you're watching the birds outside your window, talk about God's provision for the wild animals and how they simply have to trust that they are taken care of. (Psalm 104:27).
Maybe they know something we don't! Listen to their song and help your kids connect the dots of creation-to-Creator.
The Nature Effect
No matter your kids' ages, simply spending time in nature will provide countless opportunities for Big-Picture discussions about faith.
The vastness and diversity of animal and plant life, a bright sky overhead and a day to enjoy it all simply can't be over-rated.
Maybe it's partly the chance to unplug from the drone of electronics and daily obligations. But I think a hike through the woods might be the calm our souls need to let God speak to us in a different way.
However you can spend time outdoors, look for the details that make nature so appealing: the bright colors; the warm sunshine; the smells; the crisp air and the breezes.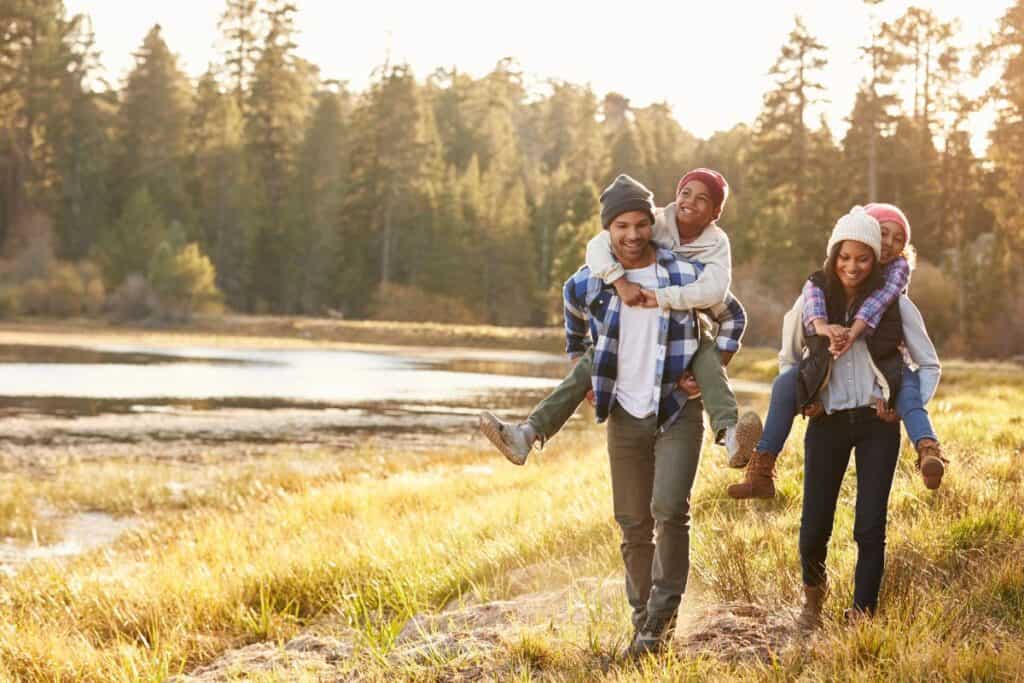 I'm reminded of Luke 19:40 where Jesus says essentially that if the praise of his followers was silenced, "the stones would cry out". It is the nature of Creation to acknowledge its Creator!
Are we listening? Do our kids know how to listen? It's a habit we have to carefully cultivate.
3| Faith in Action
The most powerful way to teach faith, of course, is to model faith. We can read about it in Scripture or in stories of missionaries far away, but kids need to see what faith looks like in our daily lives.
So, how I react when my car gets a flat tire on the highway, matters. How I respond to my eight-year-old's incessant questioning, matters.
How I acknowledge (or fail to acknowledge) the blessings God has given to me and our family, matters.
How I treat God's Word- with reverence and priority in my life, or with carelessness – matters.
Our child's worldview is developing right before our eyes, parents, and it will be shaped around what they learn from us primarily.
If the most influential people in their lives only talk about faith, it means very little without the practical application to match.
It may feel like a tall order, as living a life of faith is much harder under such a lens of scrutiny!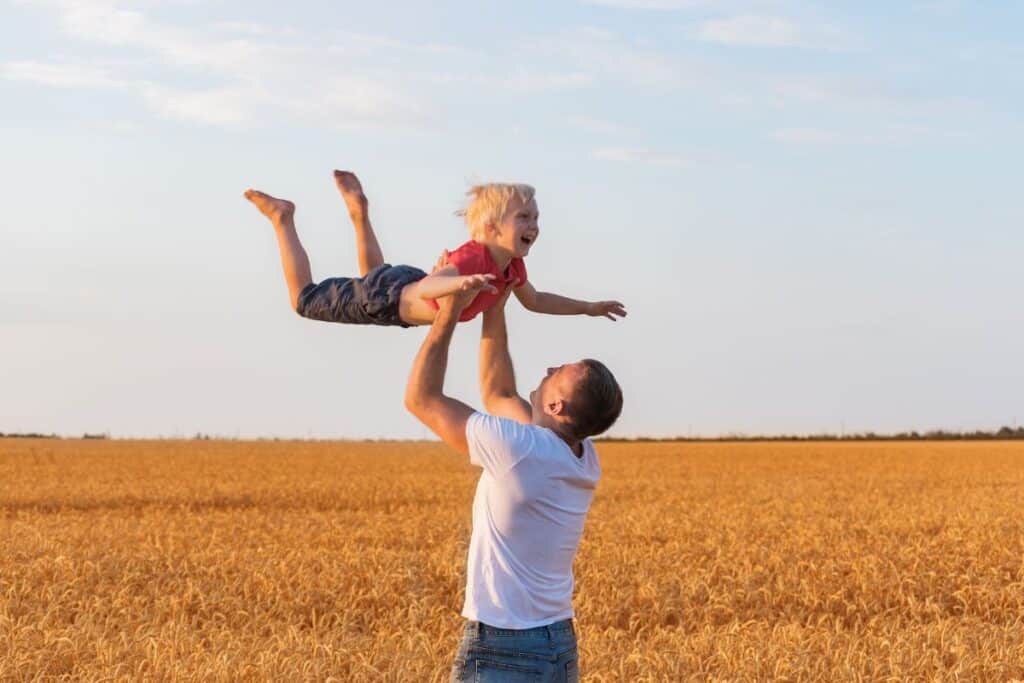 What I have to remember is that, just as faith itself is a gift from God, so is our ability to live it. He will grow our faith as we walk in obedience and trust him to do the rest.
Even when we fail (and we will), we have an opportunity to ask for forgiveness, and to change. That in itself is another way our kids can see that our faith is real, as it's worth turning back to every time we stumble.
And really, the stumbling is the reason we chose faith in Jesus to begin with! We need Him so very much.
Teaching Children about Faith with Evidence
In our culture, our kids are constantly admonished to "have faith". It's a vague charge because, as my pastor says, "Your faith is only as strong as the evidence of your faith."
Knowing they can have faith in Jesus changes the conversation entirely, from a distant wish to a certainty in the person, character, and promises He has made to all who will believe.
Faith that is real is not blind, by any means.
As R.C. Sproul said, ""The Bible never tells us to take a leap of faith into the darkness and hope that there's somebody out there. The Bible calls us to jump out of the darkness and into the light. That is not a blind leap. The faith that the New Testament calls us to is a faith rooted and grounded in something that God makes clear is the truth." (From Defending Your Faith: An Introduction to Apologetics.)
A Faith that Answers the Important Questions
One last important thing to note when teaching children about faith is that although we have evidence to believe, we should be clear that being a Christian does not give us the answer to every single question in life.
Faith in Christ can lead us to answers to the most important questions in life, however.
As we prayerfully study Scripture and grow in wisdom, we will find many answers to the big questions that plague humanity.
But having some room for disagreements on the non-essentials of our faith is ok. It's healthy (and humbling), in fact, to acknowledge our limitations in understanding some things in this life, including some details about Scripture.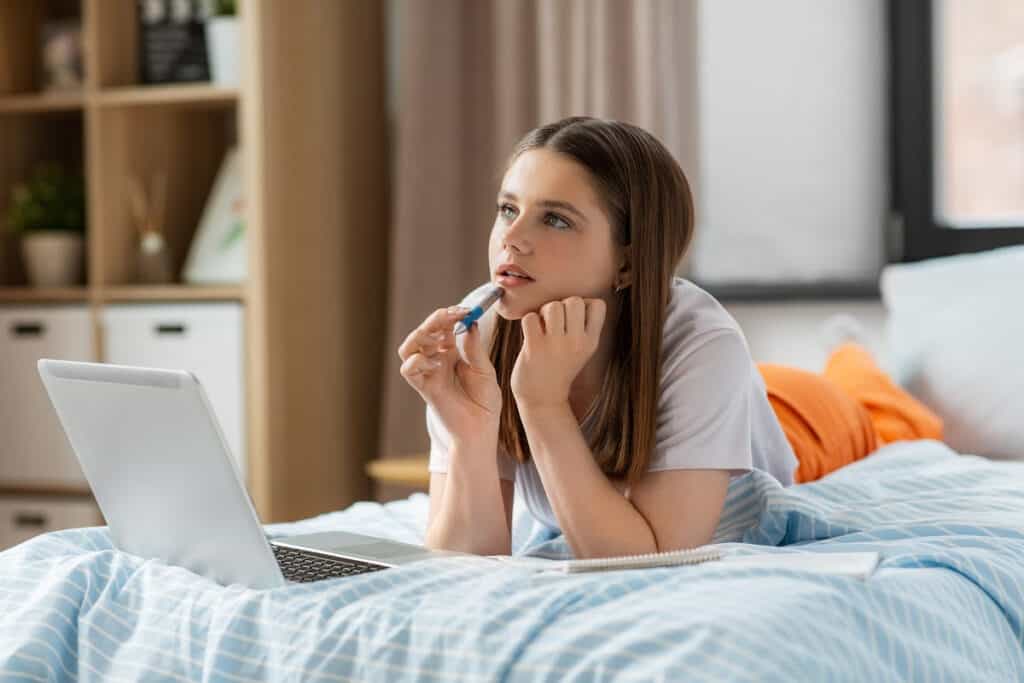 Specific answers to some questions will remain a mystery until the Holy Spirit is ready to reveal them to us – or even until we're in Heaven.
In other words: some concepts take more faith to grasp than others.
If our kids know at a young age that they will have these limitations even as Christians, they will be better able to face doubt and disagreements on the issues that do really matter- particularly regarding salvation.
In Summary
The evidence in Scripture, of the Holy Spirit speaking to us and working through us, and creation itself testifies to the reality of a Creator God who has gone to great lengths to know and redeem us.
As we grow closer to God through our relationship with Jesus, we can more clearly communicate and exercise our faith in front of our kids.
Explaining faith to kids may seem complicated at times; but don't be discouraged. Often our actions explain what words can fail to encompass; and at the right time and with diligence, God will give us the words we need as well.
You might also like:
•Scripture that Reminds us God is Faithful
•Verses about a Mother's Love for her Children
•50 Questions to get Kids Talking about Life and Faith