Use our free printable fall signs to spruce up your home decor, the frugal way!
I used to never decorate for the seasons; only sparingly for Christmas.
We lived in small spaces, and I reasoned that it wasn't a good use of our precious, frugal budget to be upgrading our decor every few months.
Once we moved into a larger home and had a few big, blank walls I learned a new appreciation for seasonal decor.
And I've discovered that it's possible to spruce up our spaces without spending a fortune.
So when the leaves start to change, fall printable signs are one way that I love to inaugurate the season.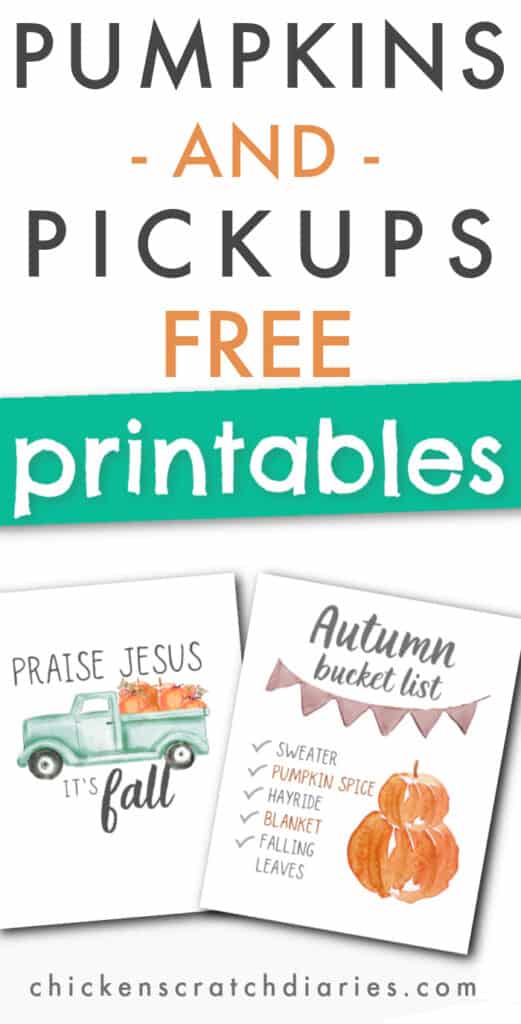 This post likely contains affiliate links. Please see our disclosure for more info.
How to save money on printer ink (i.e., cheap fall decor!)
You might be thinking that printer ink isn't cheap, and therefore it's not cost effective to print your own decor at home.
I definitely wasted money on printer ink before I tried out the HP Instant Ink program.
We've always had HP printers, but until this spring when the kids needed to print constantly (thanks, school closures), I didn't know of many money-saving printing options.
Generic ink had proven disastrous a few times in the past (clogging up printer heads, which destroyed my last printer), so that was ruled out too.
Then, we officially became a homeschooling family this fall (two of our four kids) and I needed a reliable printer PLUS affordable ink.
So I bought this HP printer and enrolled in the free trial for the instant ink.
To be honest, I ignored this option for the first few months because I assumed it was another ploy to get me to spend more on HP products. Thankfully, that wasn't the case.
It really has been more economical for me. It might be the case for you, too, especially if you do a fair amount of color printing at home.
How to use HP Instant Ink to print free printable fall signs
Just a quick rundown of how it works: you sign up at the HP Instant Ink site (use this link and you'll get one free month for enrolling).
After you login, you enter your printer information and choose a plan.
I use the 100 pages/month for $5.99 plan and it suits my needs perfectly. (You can choose the right plan for you).
When I'm low on ink, it will automatically re-order it for me, which has proven to be pretty awesome.
No more running out of ink. No second mortgage needed for ink refills, either. 😉
Pumpkins and Trucks – 3 free fall printables
Nostalgic pumpkins and pickup trucks have been seen everywhere in home decor the last few years, and I wanted to tie this into a farmhouse-y feel in my home.
Old trucks surely belong with farmhouses!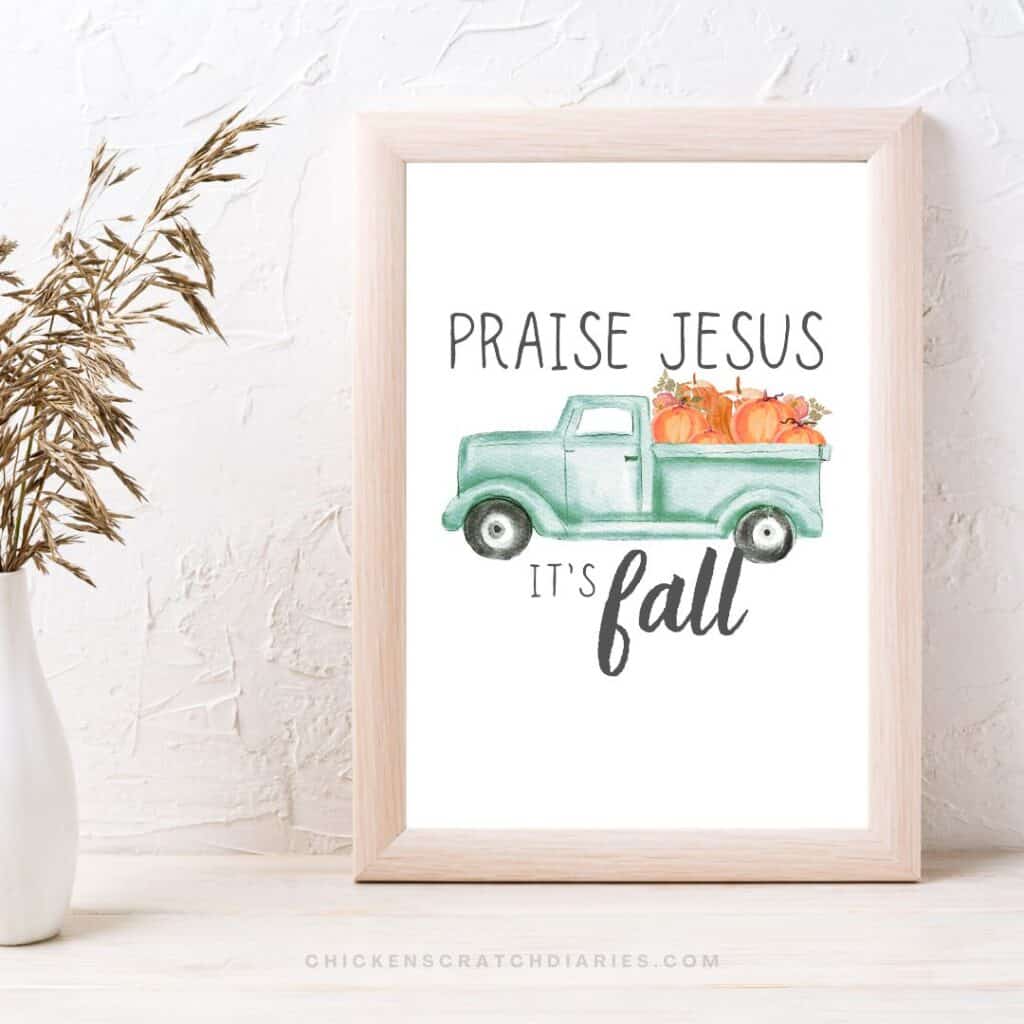 There are times I just want a plain black-and-white sign that will go with anything.
But I'm also a sucker for anything in watercolor these days, so that's what won out this time.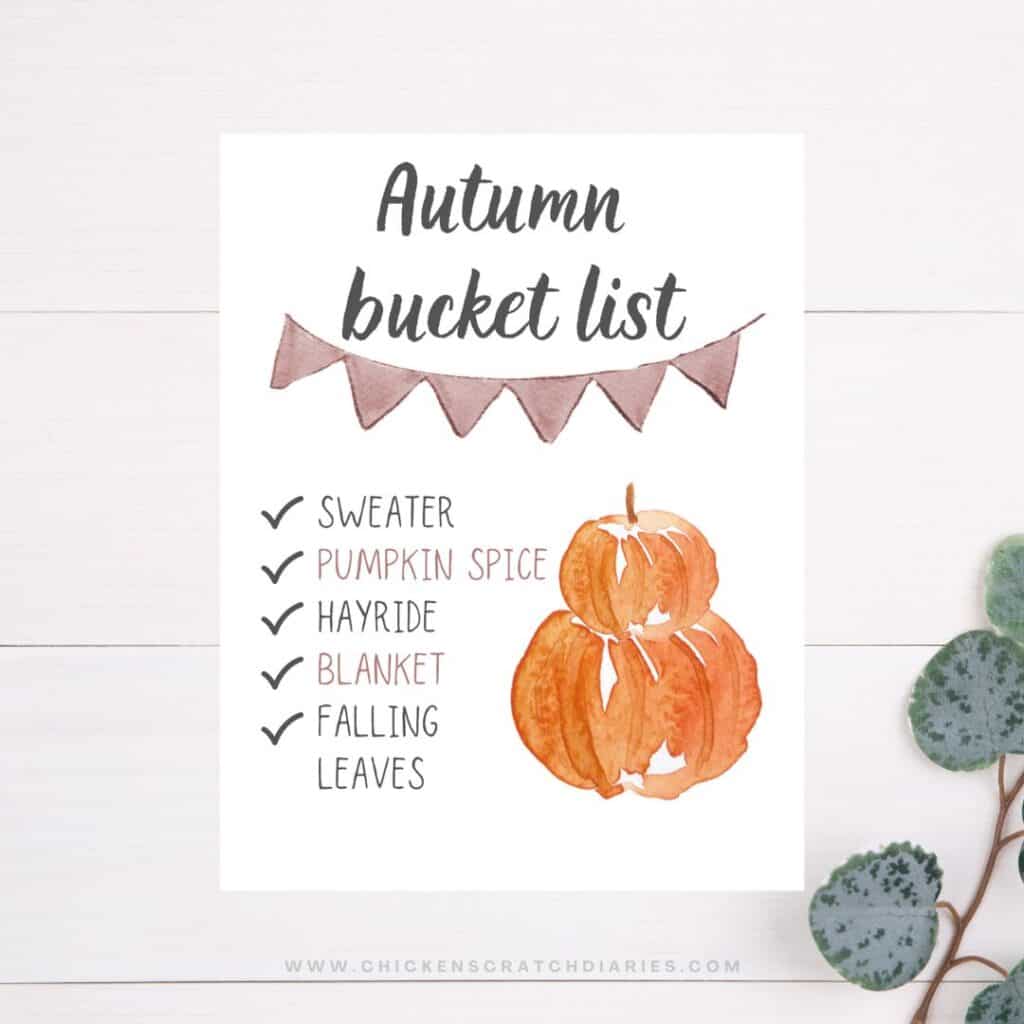 You can choose to print all three or however many you need.
Honestly, I have one main space I decorate (an old buffet in my kitchen), and one sign is usually plenty for a simple tabletop display.
Read next: Free Thanksgiving Crafts and Lessons for Sunday School
You might have several spaces, though, and want to have different sizes for trays, walls, or shelves in separate areas of your home.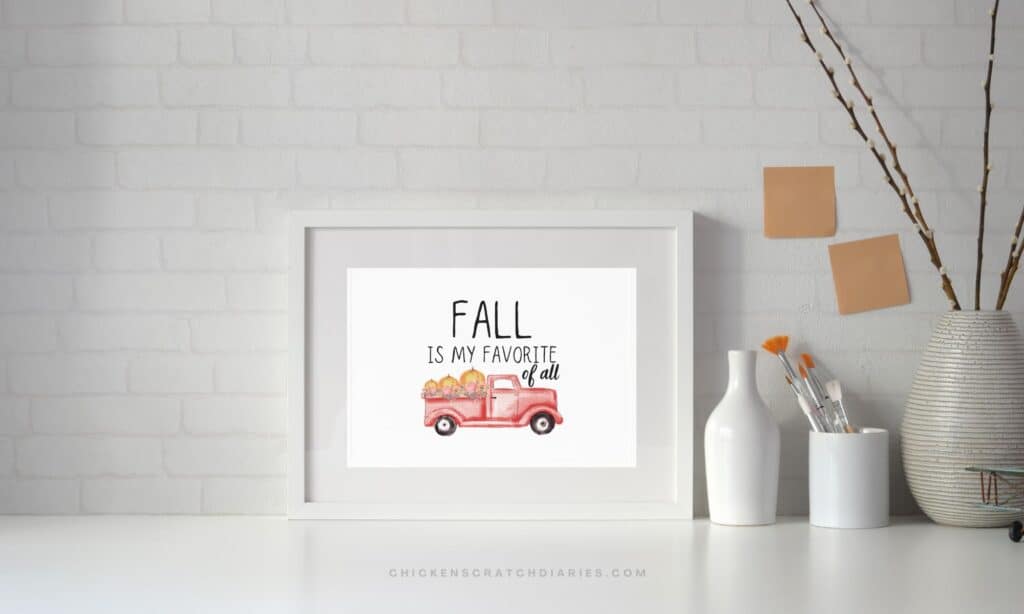 You can't go wrong with fall pumpkin signs, in my opinion.
The nice thing about fall home decor signs in general is that they can take you right through to Thanksgiving!
Free fall printables: Formatting and printing
These 3 fall signs are formatted to 8×10 but you can easily change them to a smaller size with your printer settings, and trim them down to fit a 5×7 or 4×6 frame.
Cardstock is a good choice for DIY signs as the color will show up bolder and the paper won't wrinkle as you're framing it.
I tend to use whatever frames I have lying around. You can always paint them with craft paint (white or black are good standbys.)
Thrift stores are a great place to find picture frames for your printable fall decor on the cheap!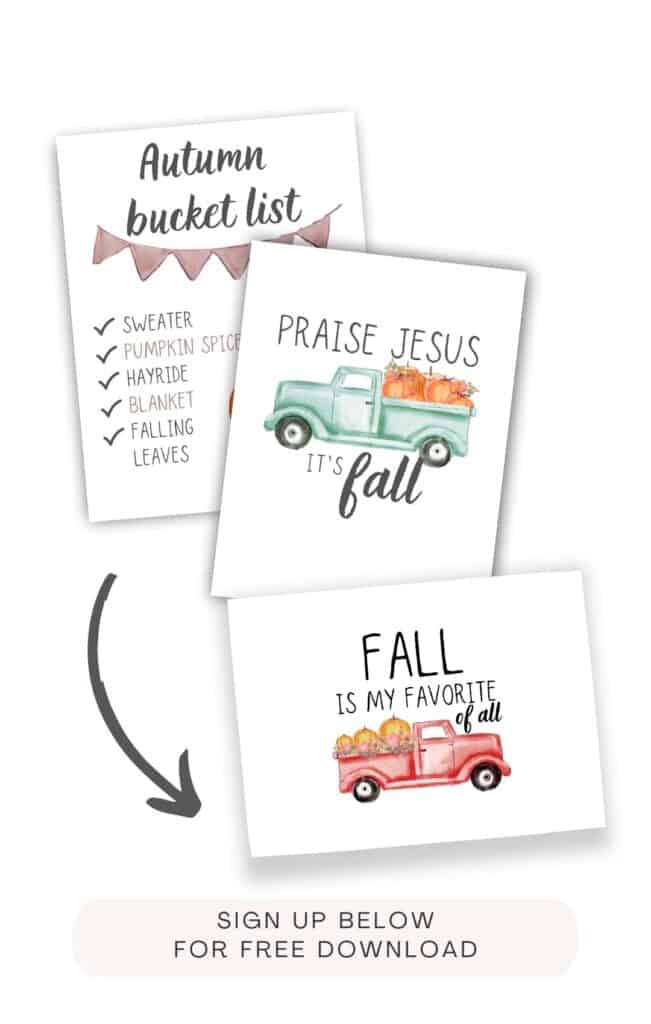 Join our list in the box below to access all three free printable fall signs.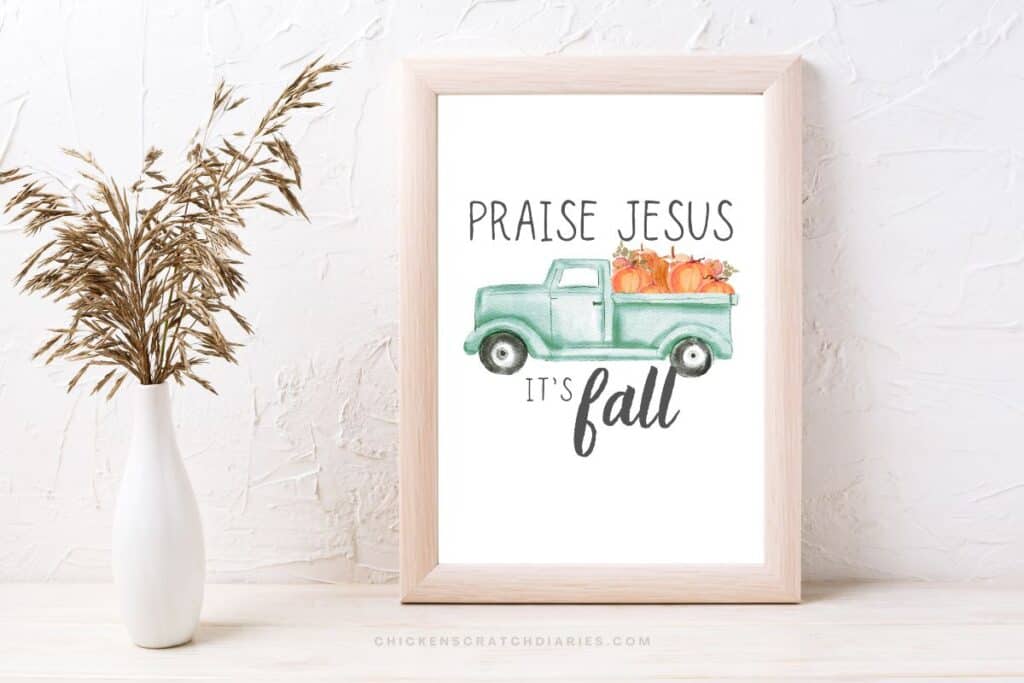 Happy fall, ya'll! (Sorry, couldn't resist.)
You might also like:
Farmhouse Christmas Hymn Printables
Thanksgiving Lessons and Sunday School Crafts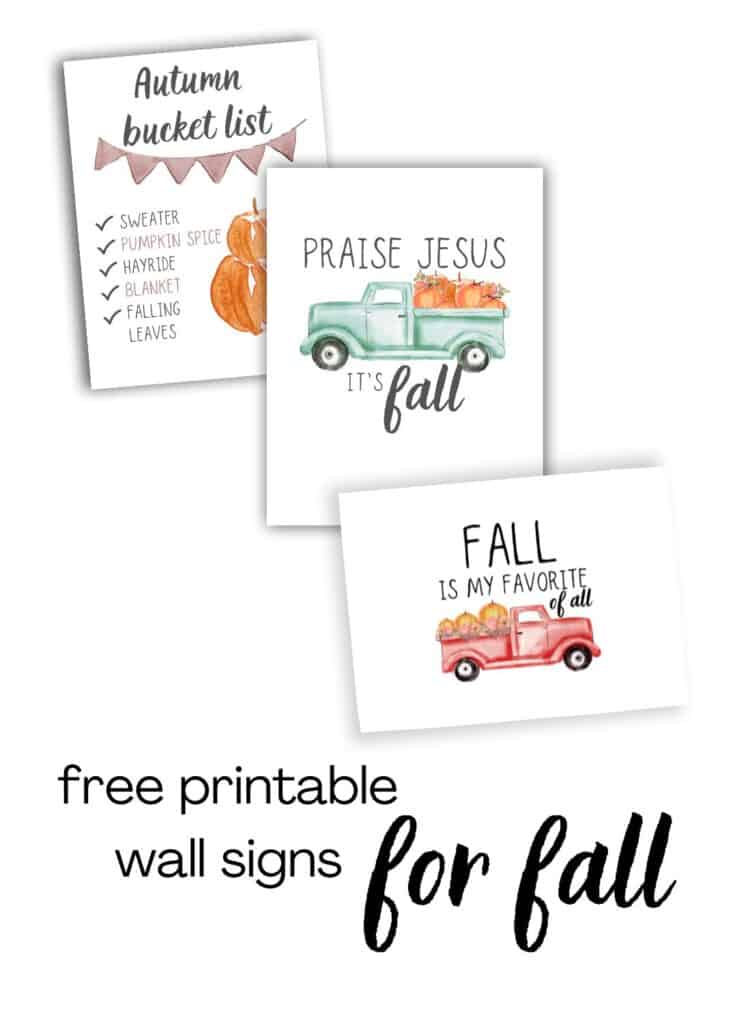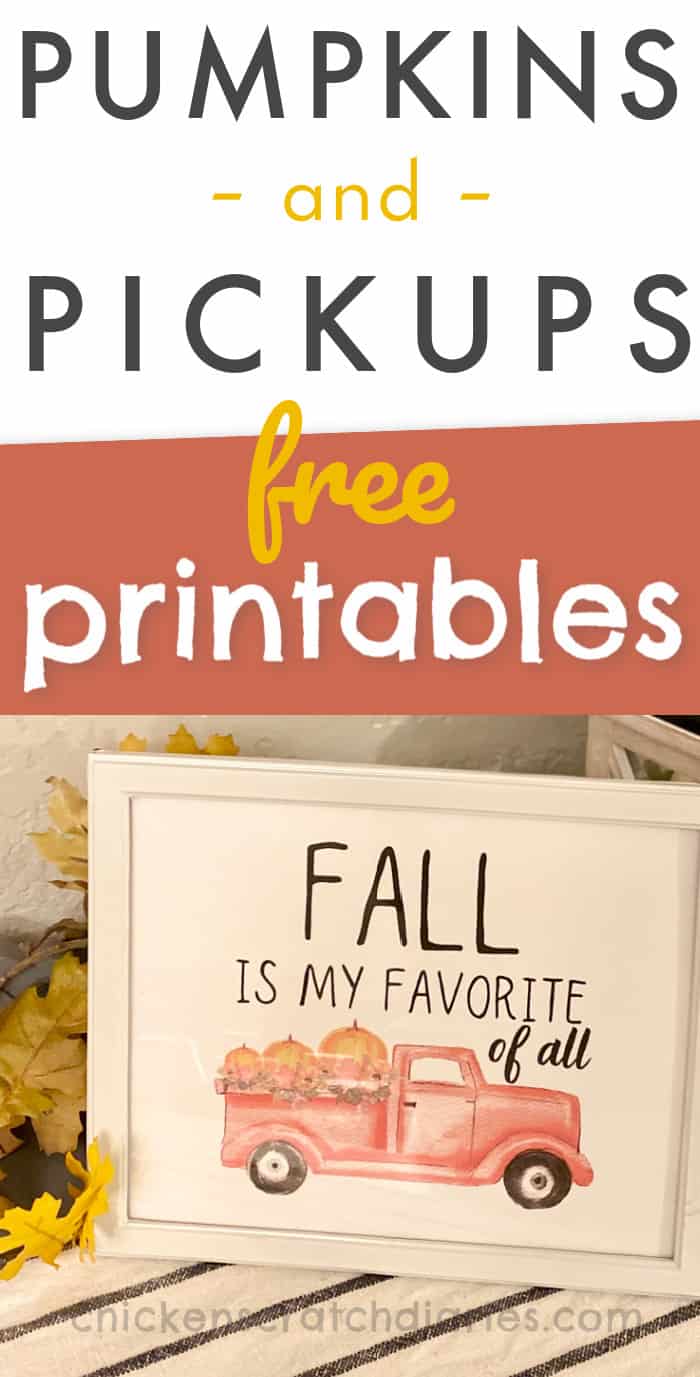 Originally published 9/16/20; last updated 7/15/23.