Wondering how to make your own dry shampoo at home? This is the best DIY dry shampoo recipe I've found, and how to make it.
Like most moms, dry shampoo has become sort of essential in my life in recent years.
I try not to wash my hair more than every two to three days, to keep it healthy. Dry shampoo makes that possible!
But it wasn't long ago that I realized something in the formula of my favorite brands had changed.
My scalp had become really itchy (gross, and annoying).
And it wasn't really doing the job anymore.
After a few hours, my hair would look just as greasy as before!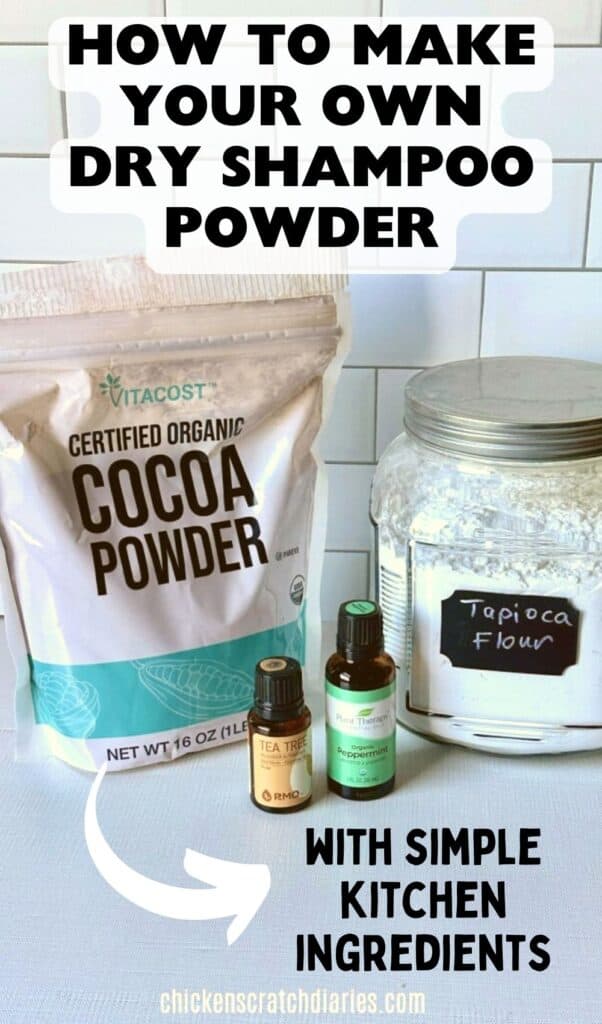 Homemade dry shampoo: why not?
I also realized that, after reading the ingredients list on several dry shampoo products, they contained some pretty icky stuff.
For instance: alcohol and PROPANE. How did I not even realize propane was used in spray hair products as a propellant??
It just seems like something I'd like to avoid.
My skin has always been super sensitive, hence my venture into homemade foaming hand soap and DIY face wash years ago.
So it was not much of a leap to figure out how to make a homemade dry shampoo recipe that my body wouldn't revolt against.
If you have sensitive skin, DIY dry shampoo is something you'll want to try, too!
This post likely contains affiliate links. Please see our disclosure for more info.
Ingredients for DIY Natural Dry Shampoo
There are many variations I've found for making your own dry shampoo at home.
For my dry shampoo home remedy (for itchy scalp), I wanted as few ingredients as possible.
Most of the recipes I browsed called for a wide range of ingredients such as: baking soda, cornstarch powder, arrowroot powder, hair color powder, cocoa powder, bentonite clay, kaolin clay, charcoal powder, baby powder, and a variety of essential oils.
For the spray versions, most contained alcohol, which (like propane) I wanted to keep out of my DIY dry shampoo recipe. It only makes dry skin worse.
I figured all that was really necessary was some type of powder to absorb the oil; cocoa powder for color, and essential oils for smell and scalp benefits.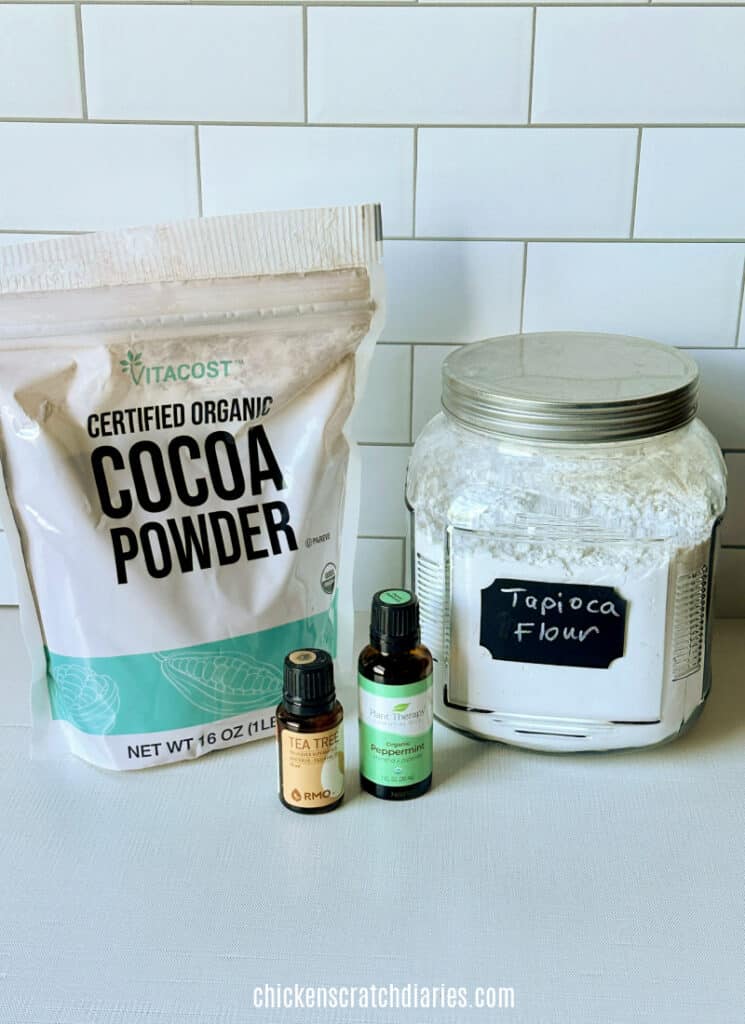 Tapioca flour (also called tapioca starch) is something I started using in my kitchen lately as a healthier alternative to cornstarch, so I decided it would be the powder base for my recipe.
Cocoa powder is used for coloring, and you can just adjust the amount based on the color of your hair.
You'll have to experiment with the right amount of cocoa powder after trying it on your own hair, although I found that it absorbed pretty quickly into my hair without being noticeable.
Tea tree oil is supposed to stimulate hair growth, so I'm using this along with peppermint oil for a nice scent.
(Tea tree oil by itself is a little strong, in my opinion.)
How to make your own Dry Shampoo Powder with Natural Ingredients
Making dry shampoo powder seriously couldn't be easier.
And, it's super cheap to make!
Since I always have these ingredients in my kitchen, I can make up a new batch in just a few minutes.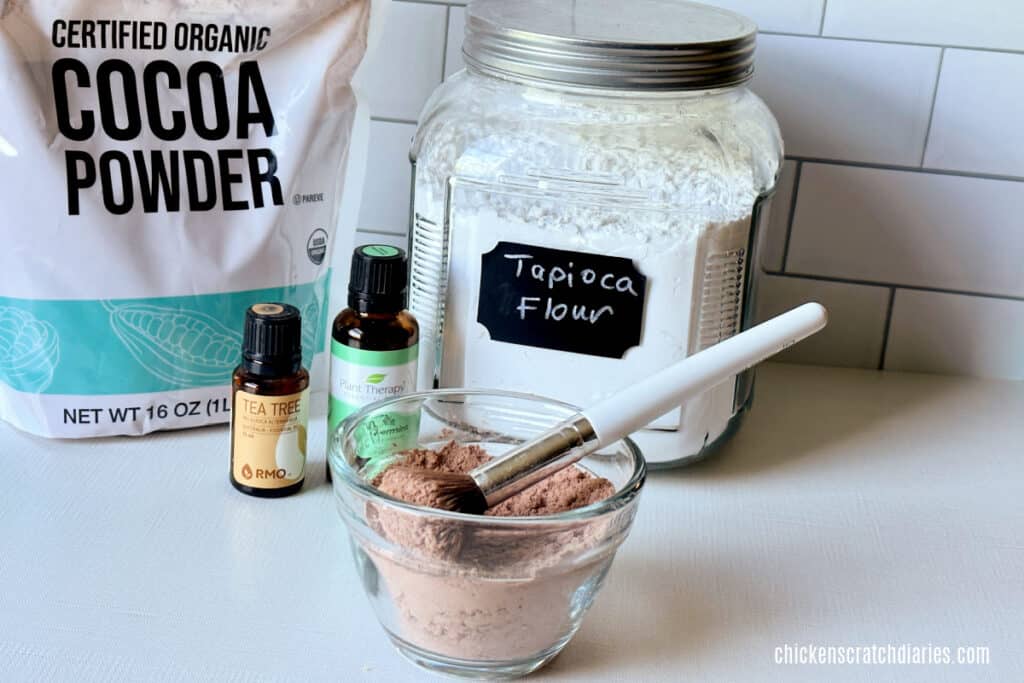 Mix together in a bowl:
¼ cup tapioca powder
2 tablespoons unsweetened cocoa powder (adjust up or down as needed)
5 drops tea tree essential oil
5 drops peppermint essential oil
Stir well, and store in a small container with a lid.
The powder will sometimes clump around the essential oils, but all you have to do is stir it again before applying.
How to apply homemade dry shampoo
I simply apply this dry shampoo powder with a makeup brush.
Swirl in the powder, tap a few times and apply directly to your roots or wherever your hair is the most oily.
Then take your fingers and rub it in a circular motion until you no longer notice the powder.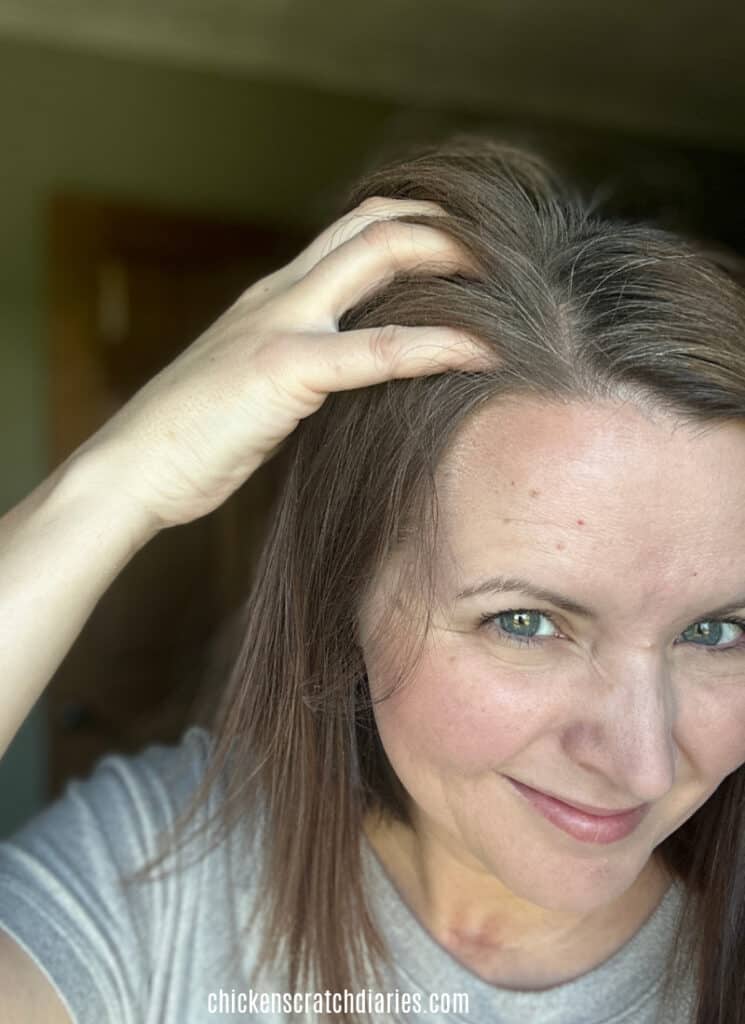 Cocoa Powder dry shampoo for the win
I was really surprised how well this homemade dry shampoo with cocoa powder and just a few other basic ingredients, really works.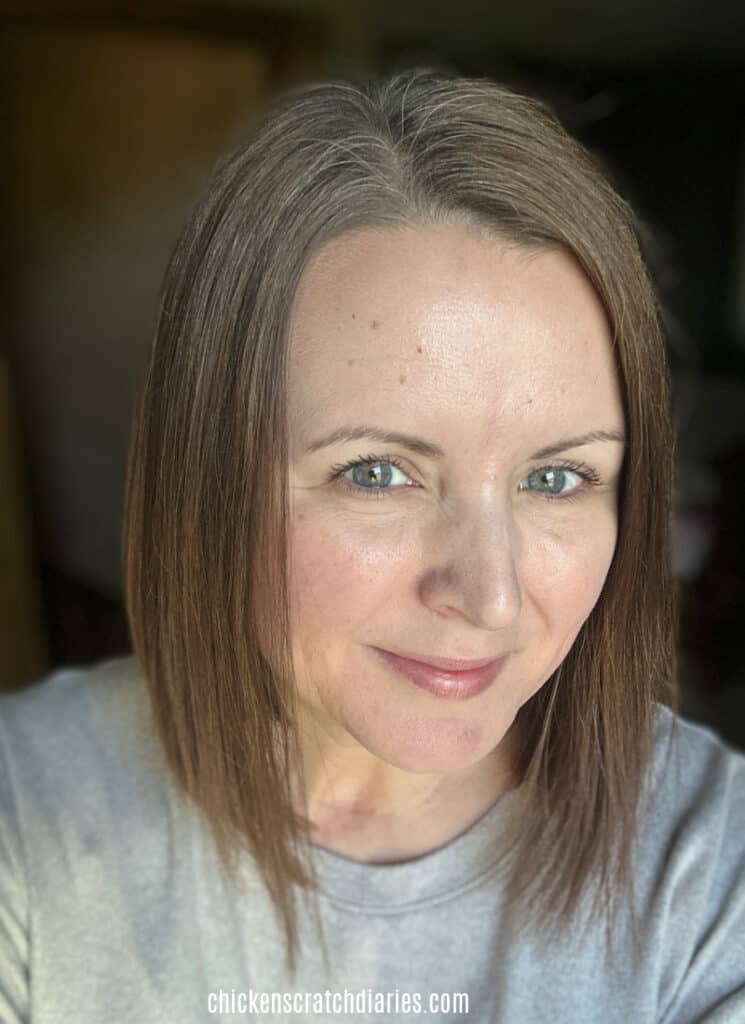 Maybe it was a coincidence – but my itchy scalp completely resolved after I started making my own dry shampoo at home.
Try it and let us know how it works for you!
How to Make Your Own Dry Shampoo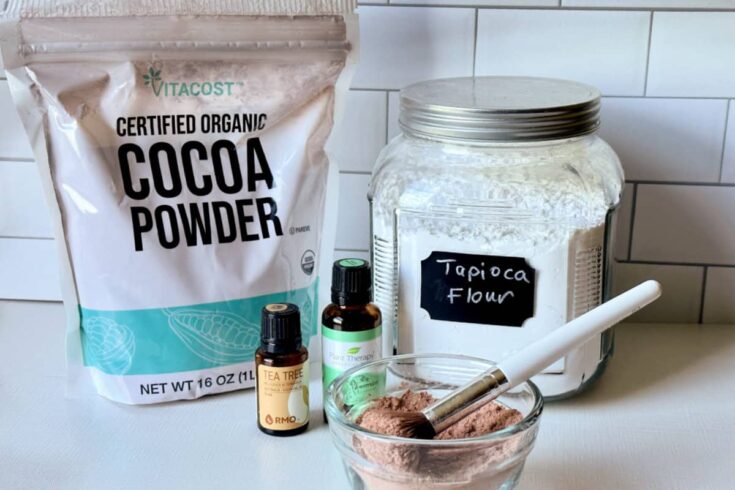 Making your own dry shampoo is simple; it saves money in the long run; and it's better for your health.
Materials
1/4 cup tapioca flour (also called tapioca starch)
2 Tablespoons unsweetened cocoa powder (use more or less to blend with your hair color)
5 drops tea tree essential oil (optional)
5 drops peppermint oil (optional)
Instructions
Mix all ingredients in a small glass container.
Stir well before each use.
Using a makeup brush, swirl and tap powder a few times before applying.
Apply to roots and oily areas of hair.
Massage powder in until it's no longer noticeable.
Store in a container with a lid between uses. (Glass is best if you're using essential oils.)
You might also like:
Homemade Face Wash recipe for sensitive skin
Beginner's Guide to Essential Oils (use these 6)