Make smores chocolate chip cookies for a campfire dessert- minus the smoke!
If there is one sweet treat that my kids go nuts over, it's definitely s'mores.
S'mores with marshmallows cooked over the firepit in the fall; s'mores piled high and nuked in the microwave.
Any time there are graham crackers, chocolate and marshmallows in the same vicinity- s'mores are just bound to happen, right?
At least, my family would never let that opportunity go to waste.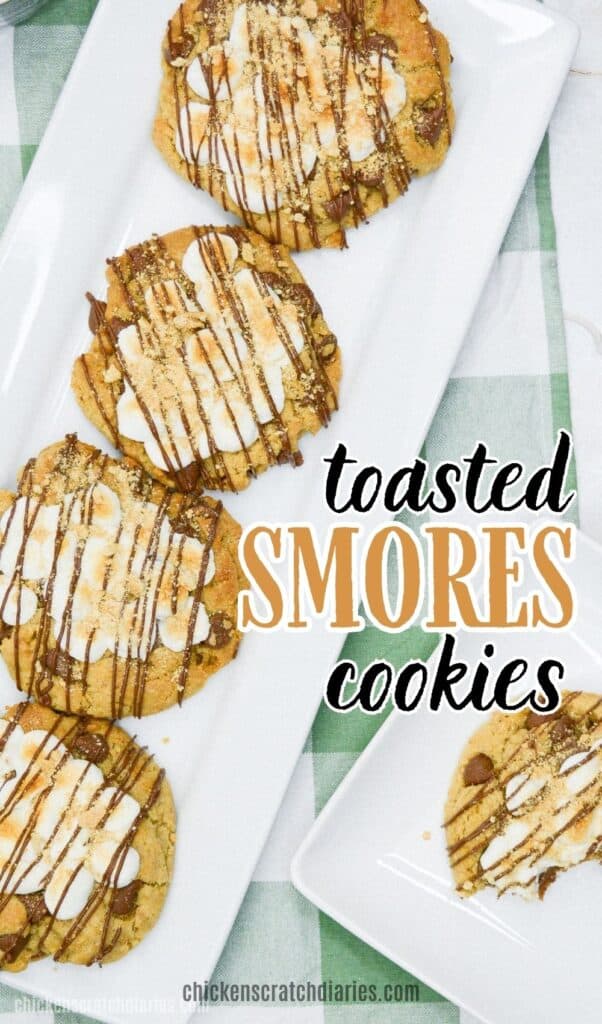 This post likely contains affiliate links. Please see our disclosure for more info.
Toasted s'mores cookies anytime
With s'mores chocolate chip cookies, you don't have to wait for bonfire weather to have your toasted smore's.
(And my kids' dentist may have more job security than ever.)
When you make s'mores cookies, you get all the flavor, minus the campfire smoke. (In your clothes, your hair…)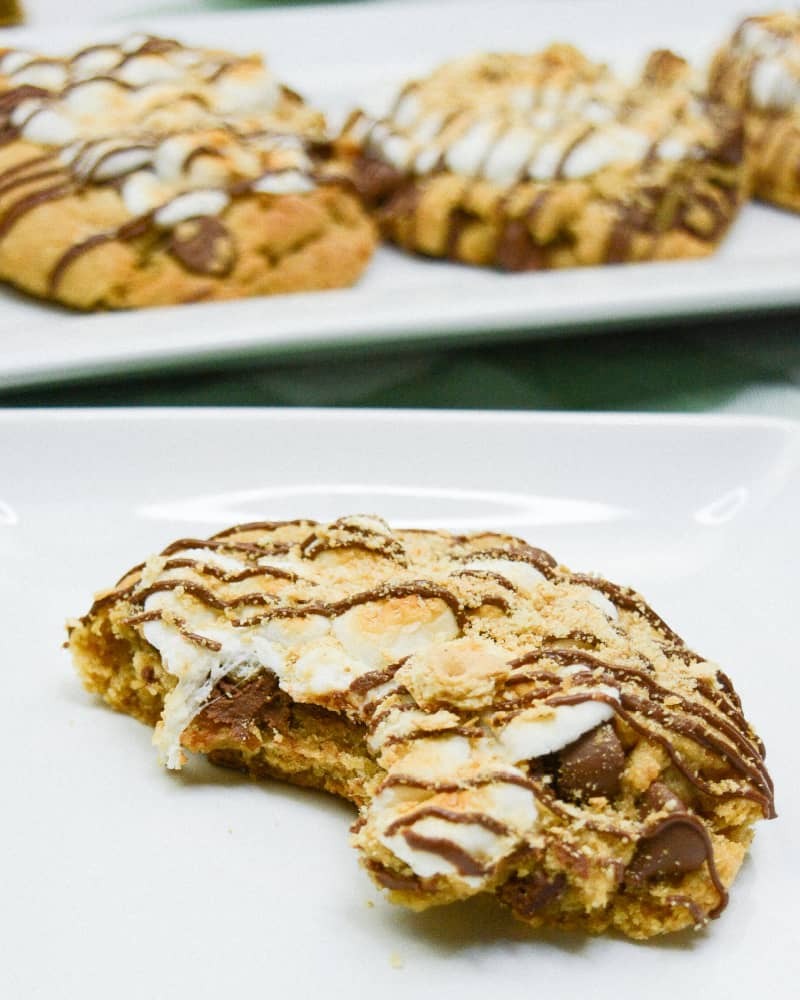 And even better, they're a smidgen less messy than their fireside counterparts.
Making smores chocolate chip cookies
S'mores chocolate chip cookies look impressive, but they're actually quite simple to make.
You'll start by making a basic chocolate chip cookie dough, with crushed graham crackers mixed in.
The marshmallows get added on top toward the end of the cooking process, then toasted lightly under the broiler.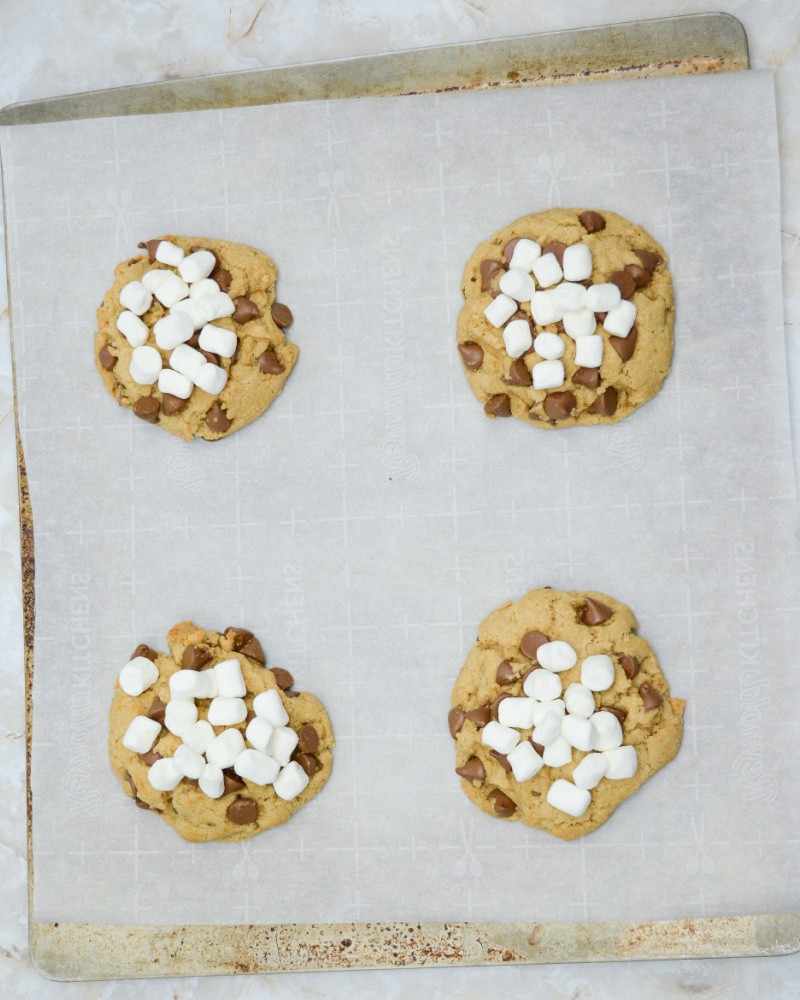 If you really want to add some excitement, use a kitchen torch (like the kind used in restaurants for Baked Alaska.)
More chocolate chips are then melted and drizzled over the finished s'mores cookies, along with more graham cracker crumbs.
Note: you can easily double or triple the recipe as needed.
In fact, they would be great for making big batches for bake sales as a creative twist on classic chocolate chip cookies.
Because, of course, marshmallow chocolate chip cookies are just more fun.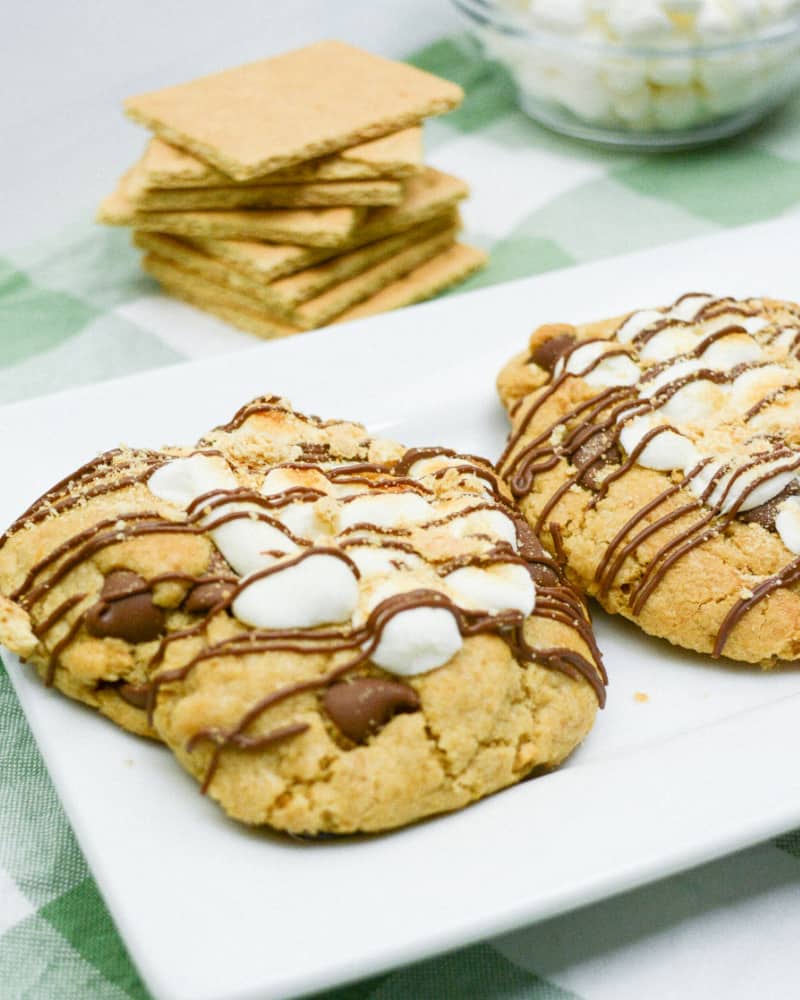 Yield: 8 cookies
Toasted S'mores Chocolate Chip Cookies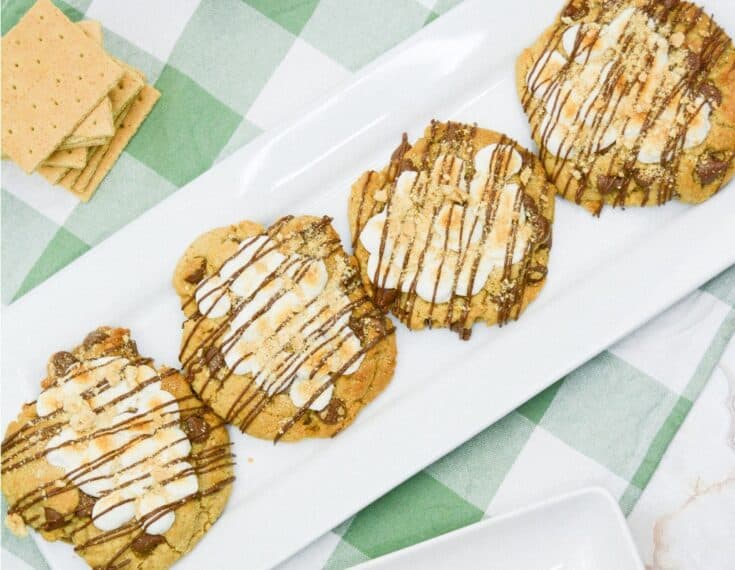 Replicate the classic campfire treat by toasting your s'mores in the oven, in cookie form!
Ingredients
½ c unsalted butter
½ c brown sugar
⅓ c granulated sugar
1 large egg
1 teaspoon vanilla
1 ⅓ c flour
4 sheets honey graham crackers
1 teaspoon baking soda
¼ teaspoon salt
1 c milk chocolate chips
1 c mini marshmallows
For topping:
Additional 1/2 cup chocolate chips (for drizzle)
Additional graham cracker crumbs to sprinkle on top (1-2 sheets)
Instructions
Preheat the oven to 350 degrees and line baking sheets with parchment paper.
Place graham crackers in a ziploc bag and use a rolling pin to crush.
In a large bowl, melt the butter. Mix in the brown sugar and granulated sugar.
Add in the egg, vanilla, flour, crushed graham cracker crumbs, baking soda and salt. Mix well.
Fold in the chocolate chips. Measure into 8 equal size dough balls and flatten into a disc.
Bake in the preheated oven for 10 minutes, or until edges are just starting to brown.
Remove from oven and immediately press 5-6 mini marshmallows into the the cookie.
Change the oven setting to broil and place one sheet of cookies back in the oven. With the door
open, watch the cookies under the broiler. It will only take a minute or two for the marshmallows
to toast a golden brown. Remove promptly before they burn.
Allow to cool until set.
Melt about ¼ - ½ c of additional chocolate chips in the microwave until smooth. Drizzle over the cookies.
Immediately sprinkle additional crushed graham cracker
crumbs over top. Can be served warm or allow to cool completely.
Notes
You may use already crushed graham crackers for this recipe. Substitute about ½ c worth of
graham cracker crumbs for the 4 sheets and another 1/4 cup or so for the topping.
If you have a kitchen torch, you may use that rather than the broiler setting.
Storage: Cookies can be stored in an air tight container for up to 3 days
You might also like:
Peanut butter and chocolate kiss cookies
Iced oatmeal gingerbread cookies
Easy chocolate chip cookie bars